New York Mets:

Kenley Jansen
May, 18, 2014
May 18
8:04
PM ET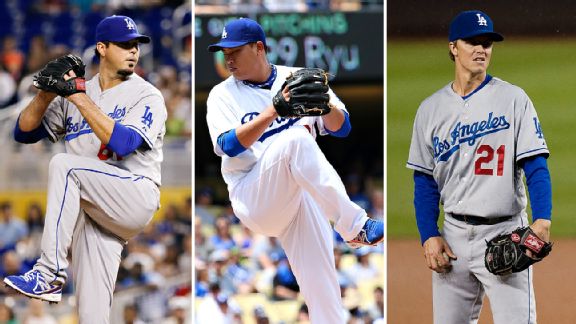 Getty ImagesThe Mets face Josh Beckett, Hyun-Jin Ryu and Zack Greinke at Citi Field.
METS (20-23, fourth place/NL East) vs. LOS ANGELES DODGERS (23-22, third place/NL West)
Tuesday:
RHP
Rafael Montero
(0-1, 4.50) vs. RHP
Josh Beckett
(1-1, 2.38), 7:10 p.m. ET
Wednesday:
RHP
Jacob deGrom
(0-1, 1.29) vs. LHP
Hyun-Jin Ryu
(3-2, 3.00), 7:10 p.m. ET
Thursday:
LHP
Jonathon Niese
(2-3, 2.54) vs. RHP
Zack Greinke
(7-1, 2.03), 7:10 p.m. ET
Dodgers short hops
•
Josh Beckett
on Tuesday earned his first win since Sept. 30, 2012. He had been 0-6 in 14 starts. Beckett did not pitch after mid-May last season and ultimately underwent surgery to remove a rib. That procedure attempted to alleviate thoracic outlet syndrome -- a pinched nerve affecting his right arm. For the season, the 34-year-old Beckett leads the L.A. rotation in WHIP (1.056) and hits per nine innings (6.3). Beckett is throwing his fastball a career-low 35.5 percent of the time. He now throws a curveball a career-high 30.1 percent.
•
Hyun-Jin Ryu
pitched a four-inning simulated game Friday and will reenter the rotation Wednesday, officially pushing originally listed starter
Paul Maholm
to the bullpen. That also could push reliever
Chris Withrow
to the minors despite a 2.77 ERA, because Withrow is not out of options. Ryu landed on the DL with left-shoulder inflammation.
Maholm (1-4, 5.40 ERA) enters the series off a start against the
Miami Marlins
in which he allowed 10 runs (five earned) on 11 hits and three walks in 3 2/3 innings.
Reed Johnson
homered against him on a 62 mph curveball, the slowest pitch resulting in a long ball in the majors since
Jose Bautista
sent a 61.7 mph offering also from Maholm over the outfield wall on May 28, 2013, according to ESPN Stats & Information. Maholm made three relief appearances in March/April, including during the club's season-opening trip to Australia.
Darron Cummings/Associated PressEx-Met Justin Turner will be at Citi Field with the Dodgers on Tuesday.
•
Justin Turner
, a surprise non-tender by the Mets on Dec. 2, returns to Citi Field as a visitor. Turner (.230, 0 HR, 5 RBIs in 74 at-bats) started five times at third base in a six-game stretch through Wednesday with
Juan Uribe
dealing with a mild hamstring strain.
• Dodgers outfielders
Carl Crawford
,
Andre Ethier
,
Matt Kemp
and
Yasiel Puig
have combined to hit .354 (79-for-223) with 15 doubles, 10 homers and 40 RBIs in May.
Puig lost a pair of lengthy streaks Sunday by going 0-for-3 and getting hit by a pitch on the back of the leg in his final plate appearance. He had produced an RBI in eight straight games, matching the franchise record previously accomplished four times, most recently by
Adrian Beltre
in 2004. He also lost a career-high 16-game hitting streak. Showing more strike-zone discipline than a year ago, Puig ranks seventh in the NL in batting average (.322) and tied for second in RBIs (35). The story about Puig's defection from Cuba, which includes black-market smugglers, was chronicled in April
in ESPN The Magazine
.
Ethier largely has been the odd man out. With Kemp resting Sunday, Ethier started for only the third time in L.A.'s past 10 games.
•
Zack Greinke
has allowed two earned runs or fewer in 21 straight starts. That matches
Roger Clemens
(1990-91) for the longest streak in the majors since earned runs became an official stat in 1913, according to the Elias Sports Bureau. Greinke ranks first in the NL in wins (seven) and third in ERA (2.03), trailing only Cincinnati's
Johnny Cueto
(1.25) and Chicago's
Jeff Samardzija
(1.62). Greinke has thrown six different types of pitches this season.
• Second baseman
Dee Gordon
leads the majors with 25 steals. That's 10 ahead of runner-up
Eric Young Jr
.
• Backup catcher
Drew Butera
, the son of former major-league catcher Sal Butera, originally was a Mets farmhand. Two years after he was drafted in the fifth round, Butera was sent to the
Minnesota Twins
with Dustin Martin on July 30, 2007 for
Luis Castillo
.
No. 1 catcher
A.J. Ellis
returned from the disabled list Wednesday after missing 34 games with a left-knee injury that resulted in April 8 arthroscopic surgery.
Miguel Olivo
was dispatched to Triple-A Albuquerque with Ellis' activation.
Butera, incidentally, has pitched twice for the Dodgers since Wednesday in lopsided losses. He tossed a 1-2-3 inning, topped out at 94 mph and capped the initial appearance with a strikeout of Miami's
Marcell Ozuna
. Three days later at Arizona, Butera surrendered a double and then two-run homer to
Paul Goldschmidt
in the eighth inning of an 18-7 loss. Butera subsequently recorded two outs, including an inning-ending strikeout of
Martin Prado
.
•
Adrian Gonzalez
's 10 homers are tied for third the NL, trailing only
Troy Tulowitzki
(13) and
Giancarlo Stanton
(12).
•
Kenley Jansen
has 12 saves in 14 chances and has struck out 31 batters in 18 2/3 innings.
•
Brian Wilson
, who looked so dominant in the season opener in Australia, has mightily struggled. Wilson, 32, has a 9.45 ERA and has allowed 18 hits and 13 walks (one intentional) in 13 1/3 innings. He already has allowed three homers -- a total he has not exceeded since serving up seven long balls in 62 1/3 innings in 2008 as
San Francisco Giants
closer.
•
Clayton Kershaw
has made two starts since returning from the DL, a trip required because of a strained muscle in his upper back. He'd like to forget the latter outing. Kershaw surrendered seven runs in 1 2/3 innings against the Diamondbacks on Saturday. He allowed four extra-base hits in the second inning alone -- matching the combined total from his three previous starts this season. Kershaw came into the outing with a 25-to-1 strikeout-to-walk ratio, but issued two free passes in a seven-run second inning.
August, 12, 2013
8/12/13
12:26
AM ET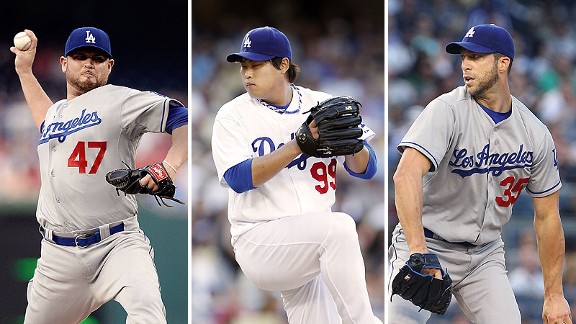 Getty ImagesThe Mets face (l to r) Ricky Nolasco, Hyun-Jin Ryu and Chris Capuano at Dodger Stadium.
METS (54-61, third place/NL East) vs. LOS ANGELES DODGERS (67-50, first place/NL West)
Monday:
RHP
Jenrry Mejia
(1-1, 1.96) vs. RHP
Ricky Nolasco
(8-9, 3.65), 10:10 p.m. ET
Tuesday:
RHP
Matt Harvey
(9-3, 2.09) vs. LHP
Hyun-Jin Ryu
(11-3, 2.99), 10:10 p.m. ET
Wednesday:
RHP
Dillon Gee
(8-8, 3.82) vs. LHP
Chris Capuano
(4-6, 4.50), 10:10 p.m. ET
Dodgers short hops
• The Dodgers are 37-8 since June 22, matching the best 45-game stretch in franchise history. They also posted that record in 1899 and 1953.
The turnaround spared manager Don Mattingly getting fired, he said last week while revealing a late-May meeting with team president Stan Kasten. The Dodgers were a season-low 12 games under .500 before their current 45-game surge.
"Stan was really honest. He didn't want to do anything but he said, 'Donnie, at some point I got to do something,'" Mattingly said, as quoted by ESPNLosAngeles.com. "I understood it. I was fine with that. I understand. At some point you need a change of voice, a different voice."
•
Hanley Ramirez
(.359, 11 HR, 37 RBIs) continues to experience pain in his right shoulder a week after diving into the stands during a catch attempt at Wrigley Field. He has not started any of the past seven games. The disabled list is a consideration, although the Dodgers lost some backdating ability when Ramirez was used as a pinch hitter Friday.
Nick Punto
and
Dee Gordon
have shared the shortstop duty with Ramirez banged up.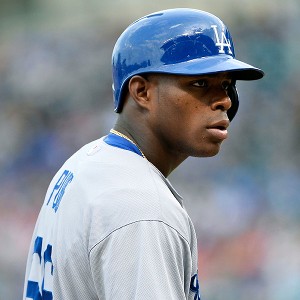 Brian D. Kersey/Getty ImagesYasiel Puig is a leading candidate for NL Rookie of the Year.
• First baseman
Adrian Gonzalez
departed Sunday's game in the ninth inning with dizziness. Gonzalez leads the Dodgers in homers (16) and RBIs (72).
•
Ricky Nolasco
was acquired from the
Miami Marlins
on July 6 for
Angel Sanchez
, Steve Ames and
Josh Wall
. Nolasco is 3-1 with a 3.00 ERA in six starts since joining L.A. He has exceeded 5 2/3 innings only once since arriving, in his Dodgers debut at Arizona.
• Cuban defector
Yasiel Puig
, a 22-year-old rookie, is hitting .441 (15-for-34) with 12 walks in 10 August games. Puig became the first player since Joe DiMaggio in 1936 to have 70 or more hits and 10 homers in his first 50 major league games.
Writes ESPN.com's Dave Schoenfield: "Puig got two hits in his debut with the Los Angeles Dodgers on June 3, then hit two homers the next game, and has been a lightning rod ever since for his play on the field and for his on-field antics that have upset opponents -- a brawl, a bat flip, a confident attitude, a spikes-high slide that Dusty Baker complained about. He plays the game with the flair of someone who escaped Cuba and enjoys displaying his talent for the entire world."
• Former
San Francisco Giants
closer
Brian Wilson
, returning from Tommy John surgery, signed with the Dodgers and is working his way back. He tossed a perfect inning Sunday with Triple-A Albuquerque. He has another minor league appearance scheduled for Tuesday, the day before he is eligible to be activated from the disabled list. The Mets, including pitching coach Dan Warthen, flew to California to watch Wilson during the offseason, and were disappointed Wilson was not further along in his rehab from the elbow surgery at that point.
• Center field
Matt Kemp
has been sidelined since injuring his left ankle sliding into home plate on June 21. He shagged fly balls and took batting practice Sunday, signaling a return is getting closer.
• Closer
Kenley Jansen
had retired 27 straight batters -- the equivalent of a perfect game -- before surrendering a single to St. Louis'
David Freese
on Thursday. Jansen became the first Dodger to retire 27 straight since
Greg Maddux
retired 32 straight from Aug. 13-19, 2006, according to the Elias Sports Bureau.
• Ex-Met
Chris Capuano
allowed five runs on 10 hits in 4 1/3 innings against the Rays on Friday. The southpaw had combined to toss 13 scoreless innings over his previous two starts, against the
Cincinnati Reds
and
Chicago Cubs
.
• Reliever
Carlos Marmol
was acquired from the Cubs on July 2 for reliever
Matt Guerrier
. Marmol made his Dodgers debut 20 days later, after a minor league stint.
•
A.J. Ellis
sees the most pitchers per plate appearance in the NL.
• Third baseman
Juan Uribe
became the victim of a hidden-ball trick by the Rays when he stepped off third base Saturday.
• L.A. acquired
Drew Butera
, a former Mets farmhand, from the
Minnesota Twins
for a player to be named and assigned the catcher to Albuquerque.
June, 28, 2012
6/28/12
2:01
PM ET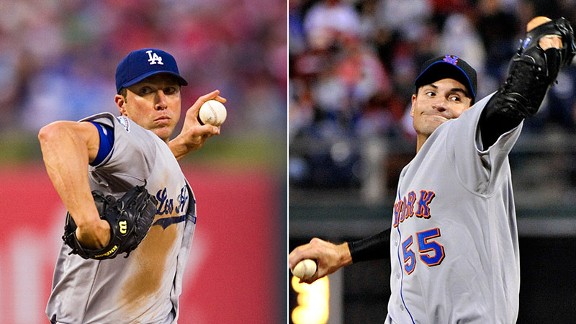 Howard Smith/US Presswire
Former teammates Chris Capuano and Chris Young square off in Thursday's series opener at Dodger Stadium.
METS (40-34, third place/NL East) vs. LOS ANGELES DODGERS (43-33, first place/NL West)
Thursday:
RHP
Chris Young
(1-1, 3.42) vs. LHP
Chris Capuano
(9-2, 2.60), 10:10 p.m. ET
Friday:
RHP
R.A. Dickey
(11-1, 2.31) vs. RHP
Aaron Harang
(5-4, 3.81), 10:10 p.m. ET
Saturday:
LHP
Johan Santana
(5-4, 3.00) vs. RHP
Nathan Eovaldi
(0-4, 4.04), 7:15 p.m. ET
Sunday:
RHP
Dillon Gee
(5-6, 4.42) vs. LHP
Clayton Kershaw
(5-4, 2.74), 8 p.m. ET, ESPN
Dodgers short hops
•
Frank McCourt's
ownership ended May 1, when controlling owner
Mark Walter
, the CEO of a Chicago financial services company, and president
Stan Kasten
took over the Dodgers. Sale price: $2.15 billion, more than double any previous amount for a major league team. The ownership group includes
Magic Johnson
as the face. Johnson has McCourt's old corner office, but he is not a key decision maker, and actually has not been around Dodger Stadium much because of his responsibilities as an NBA commentator. McCourt, who went through a high-profile divorce that added debt to the team, had owned the Dodgers since 2004. Kasten formerly served as president of the Atlanta Braves and Washington Nationals.
• Right fielder
Andre Ethier
was forced from Wednesday's game in San Francisco with a left oblique strain that likely will land him on the disabled list. Ethier joins fellow slugger
Matt Kemp
as unavailable. Kemp (.355, 12 HR) has been on the DL since straining his left hamstring May 30, and is not projected to return until after the All-Star break. Ethier's 55 RBIs rank second in the NL, trailing only
Carlos Beltran's
59. Assuming Ethier is placed on the DL, ex-Pirate
Andy Van Slyke's
son
Scott Van Slyke
could be promoted from Triple-A Albuquerque.
Jerry Sands
is another option.
• San Francisco pulled even with the Dodgers atop the NL West standings after completing a three-game sweep at AT&T Park in which L.A. did not score a run. It marked the first time the Dodgers had ever failed to score in a series of three-plus games, according to ESPN Stats & Information. L.A. has lost four straight and eight of nine. The Dodgers have been held scoreless for 30 innings, since
Adam Kennedy's
sacrifice fly scored
Juan Rivera
in the sixth inning Sunday in a loss to the Angels. L.A. will try to avoid getting shut out four straight games for the first time in franchise history on Thursday night. How bad did things get in San Francisco? The Associated Press reported the Dodgers' equipment truck broke down on the 101 freeway after the series.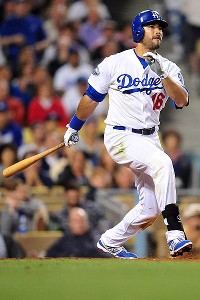 Gary A. Vasquez/US Presswire
Andre Ethier appears headed to the DL with an oblique strain.

• The Dodgers have reached agreement with outfielder
Yasier Puig
for $42 million over seven years pending a physical, ESPNDeportes.com's
Enrique Rojas
reports. It would be the largest contract ever for a Cuban defector, surpassing the four-year, $36 million deal the A's gave to outfielder
Yoenis Cespedes
.
• Ex-Met
Chris Capuano
evened his career record at 66-66 in his most recent start, when he limited the Angels to one run and seven hits in seven innings. He is 5-0 with a 1.57 ERA at Dodger Stadium this season, while limiting opponents to a .215 batting average at home.
• Right-hander
Nathan Eovaldi
stepped into the rotation after
Ted Lilly
experienced shoulder inflammation and landed on the DL. Eovaldi, 22, went to Alvin (Texas) High, which also produced
Nolan Ryan
. His fastball has averaged 94.8 mph this season. He also throws a slider (13.6% of the time), curveball (10.1%) and changeup (5.0%). Eovaldi has been pitching well; his winless record is a function of no run support.
• Second baseman
Mark Ellis
is due to begin a rehab assignment Saturday. Ellis required an urgent surgical procedure May 19 to drain blood and other fluid, or otherwise risked losing part of his left leg. He was injured absorbing a slide at second base from St. Louis'
Tyler Greene
.
Jerry Hairston Jr.
, brother of
Scott Hairston
, has manned second base.
• Catcher
A.J. Ellis
(no relation to Mark) has a .417 on-base percentage. That ranks fourth in the National League, trailing only
Joey Votto
(.478),
David Wright
(.449) and
Carlos Ruiz
(.430).
• Right-handed reliever
Ronald Belisario
has allowed only three runs and 11 hits in 24 1/3 innings since returning from a 25-game suspension on May 4. The suspension was related to a positive cocaine test that also forced him to miss last season with a visa issue,
ESPNLosAngeles.com reported
.
• Third baseman
Juan Uribe
is hitting .132 (5-for-38) in the two weeks since returning from the DL. His slump has resulted in switch-hitting rookie
Elian Herrera
starting two of the past four games at the position. Herrera wasn't on the 40-man roster or even in big-league spring-training camp, but has bounced around multiple positions and plays most days, batting second.
• The lone Dodgers starter the Mets do not face is
Chad Billingsley
, who overlapped at Defiance (Ohio) High with
Jon Niese
.
• The Dodgers'
Sue Falsone
(
@SueFalsone
) is the lone female head athletic trainer in the history of a major professional sports organization, according to the team.
• Shortstop
Dee Gordon's
24 steals match the Cubs'
Tony Campano
for the major league lead.
• Closer
Kenley Jansen
has converted 12 of 15 save chances.
Last series results
Mets won, 3-1, at Dodger Stadium, July, 4-8, 2011 (AP game recaps)
Mets 5, Dodgers 2:
Angel Pagan, Carlos Beltran and Daniel had RBI doubles in the sixth inning after the Mets were held hitless through five by Rubby De La Rosa. Chris Capuano (8-7) allowed six hits and two runs in six innings. Francisco Rodriguez pitched the ninth to earn his 21st save in 24 chances. Terry Collins said he's willing to play with a 24-man roster for a few days while Jose Reyes recovers from a strained left hamstring rather than immediately placing him on the disabled list.
More
Mets 6, Dodgers 0:
Jason Bay made it 3-0 with a leadoff homer in the sixth against Ted Lilly and broke the game open in the eighth with his sixth of the season, a three-run shot off Blake Hawksworth. It was his first multihomer game since June 28, 2010, at Florida, when he went deep twice against Ricky Nolasco. Carlos Beltran also went deep and Mike Pelfrey (5-7) stranded seven runners in scoring position through six gritty innings.
More
Mets 5, Dodgers 3:
Ruben Tejada doubled home two runs while filling in again for injured shortstop Jose Reyes, helping lead the Mets to their fourth straight victory. Carlos Beltran doubled twice and scored twice. Jon Niese (8-7) allowed three runs and five hits over seven innings, improving to 8-4 over his past 14 starts. Hiroki Kuroda (6-10) gave up four runs and eight hits over six innings for Los Angeles, dropping to 1-5 with a 5.75 ERA in seven career starts against the Mets.
More
Dodgers 6, Mets 0:
Clayton Kershaw scattered five hits over eight innings and the Dodgers parlayed extra-base hits by Matt Kemp, Juan Uribe, Aaron Miles and Dioner Navarro into a five-run sixth inning. Kershaw got out of a bases-loaded jam in the eighth by striking out Ronny Paulino to end the inning after getting a visit from manager Don Mattingly. The Mets loaded the bases again in the ninth against Kenley Jansen before Hong-Chih Kuo got the final two outs. Dillon Gee (8-3) gave up five hits and six runs -- five earned -- struck out two and walked one to lose his second straight. Jose Reyes went on the 15-day disabled list with a strained left hamstring.
More