New York Mets:

Kenny Hernandez
August, 15, 2014
8/15/14
5:23
AM ET
NEW YORK
FIRST PITCH:
Sharknado? No. Just the
Washington Nationals
.
After a woeful series against the D.C. ballclub, the Mets now entertain the
Chicago Cubs
in a four-game wraparound series at Citi Field.
Zack Wheeler
(7-8, 3.53 ERA) opposes left-hander
Travis Wood
(7-9, 4.86) in Friday's 7:10 p.m. opener.
Read the Mets-Cubs series preview
here
.
Friday's news reports:
• Terry Collins ruled out
Matt Harvey
pitching in games in 2014 and told the ace during a phone conversation Thursday to
stop pushing so hard
and jeopardizing next season. "Back off," the manager told Harvey. Collins also told Harvey not to do radio interviews during Mets games. Sandy Alderson also spoke with Harvey.
Columnist Joel Sherman
in the Post
writes:
He has become the 2.0 version of Manny being Manny. Oh, that is just Harvey being Harvey.
The Mets insist it is not malicious by Matt Harvey, mostly just immaturity or defiance, and they claim the defiance betrays a stubbornness and resolve that will serve him well back on the mound as an ace in New York.
This is spin greater than you will find on Harvey's slider. Mets officials have mainly mastered the eye roll when it comes to this behavior. But there is a weariness that has set in, as well, when Harvey, say, was told he could have a few days off after enduring some knee pain during his rehab and -- next thing they knew -- he had posted an Instagram photo with his buddies vacationing in Cape Cod. During the season. Terry Collins said he talked to Harvey about how bad that looked.
Read more in the
Post
,
Daily News
,
Newsday
,
Star-Ledger
and at
MLB.com
.
•
Adam LaRoche
and
Bryce Harper
homered against
Dillon Gee
and the Mets were swept by the Nationals
with a 4-1 loss Thursday
. Washington has won 11 straight games at Citi Field -- the longest winning streak by a visiting team against the Mets in franchise history. Gee walked a batter ahead of both homers. The Mets went 0-for-17 with runners in scoring position in the series.
After the Mets were swept, Collins
addressed the players
and told them the season is not lost.
Read game recaps in the
Post
,
Daily News
,
Times
,
Star-Ledger
,
Record
,
Journal
,
Newsday
and at
MLB.com
.
• Countering a
CBSSports.com report
that Collins is "likely" to return as manager barring a Mets collapse, Sherman
in the Post
asserts Collins in Queens in 2015
is far from assured
.
"I like Terry. I have a good relationship with him," David Wright
told the Daily News
. "Terry has my back and I have his."
• Mark Simon
at ESPNNewYork.com
has a baseball-themed Q&A with Mets fan and comedian Jerry Seinfeld.
• Stephen Hayes
in Newsday
discusses the improvements Wheeler has made.
• A day after the
Colorado Rockies
announced shortstop
Troy Tulowitzki
will have season-ending hip surgery for a torn labrum, outfielder
Carlos Gonzalez
is done for the season, too. Gonzalez will undergo surgery Monday to repair a left patella tendon tear, Nick Groke writes
in the Denver Post
.
• The Mets re-signed 40-year-old
Bobby Abreu
to a minor-league contract and have
assigned him to Triple-A Las Vegas
. Read more in the
Star-Ledger
.
• The Mets inked 16-year-old Venezuelan infielder Kenny Hernandez for a
reported $1 million signing bonus
.
• Sunday is the one-year anniversary of
Travis d'Arnaud
's major league debut, notes Joe Lemire
in the Journal
.
• Although
Jacob deGrom
feels good and expects to reenter the rotation next Saturday at Dodger Stadium, he has
yet to return to a mound
.
• Matt Reynolds homered twice, including a solo shot in the top of the 12th, but Chasen Bradford allowed two runs in the bottom half as Iowa beat Las Vegas, 6-5. Jayce Boyd went 3-for-4 with three RBIs in Binghamton's 9-4 win against Erie. Beck Wheeler walked the bases loaded and forced in the winning run by hitting a batter in St. Lucie's 9-8 walk-off loss at Fort Myers. Logan Taylor tossed 8 2/3 scoreless innings as Savannah blanked Greenville, 4-0. Ivan Wilson homered twice in Kingsport's 5-3 win against Bristol. Read the full minor-league recap
here
.
•
From the bloggers …
Faith and Fear
makes the case for informed impatience where Met progress is concerned. ...
Blogging Mets
ventures into Alderson's head.
BIRTHDAYS:
Oliver Perez
turns 33. ... Duffy Dyer is 69. ... Kingsport Mets right-hander Gaby Almonte is 22.
TWEET OF THE DAY:
I just tip my cap and call the Nationals my daddy. #Mets

— KFC, Kevin Clancy (@KFCBarstool) August 15, 2014
YOU'RE UP: Would you be concerned about acquiring Troy Tulowitzki or Carlos Gonzalez given their injury histories?
August, 14, 2014
8/14/14
12:13
PM ET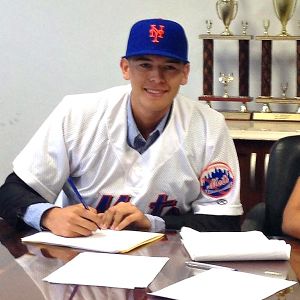 Courtesy of New York MetsKenny Hernandez signs with the Mets a day after his 16th birthday.
NEW YORK -- The Mets made their biggest international signing of the summer, inking 16-year-old Venezuelan Kenny Hernandez. Hernandez was rated the No. 13 international prospect by Baseball America, which reported the signing figure at $1 million.
Paul DePodesta described Hernandez as an "advanced left-handed hitting infielder."
Writes Ben Badler
at Baseball America
:
At 6 feet, 160 pounds, Hernandez has a simple, low-maintenance swing from the left side with good bat speed and balance at the plate. He's an offensive-oriented player who has showcased all around the infield, though most scouts seem to think he fits best at third base, which is where he's expected to begin his career. Hernandez trained at the Carlos Guillen academy.
July, 3, 2014
7/03/14
5:30
AM ET
ATLANTA
FIRST PITCH:
The fan base may be calling for blood, but they are unlikely to receive it before the Mets reconvene this weekend.
Although the Mets enter Thursday's team off-day 11 games under .500 and 10 games out of first place -- both season worsts -- no firings or releases are imminently expected, a team insider told ESPNNewYork.com.
That means Terry Collins, the coaching staff and even
Chris Young
should be able to exhale for a day.
After completing a stretch in which they played 25 of 33 games on the road, the Mets will host the injury-decimated
Texas Rangers
this weekend.
Jonathon Niese
(5-4, 2.88 ERA) opposes right-hander
Nick Tepesch
(3-3, 3.65) in the Fourth of July series opener.
Chris Trotman/Getty ImagesTerry Collins expects David Wright back in the lineup Friday.
The Mets will have a moment of silence before Friday's game to remember the late Frank Cashen, who served as the team's GM from 1980 through 1991.
Collins reiterated postgame Wednesday that he expects
David Wright
to reenter the lineup Friday. That would come a full week after the captain was scratched from a game in Pittsburgh with what subsequently was diagnosed as a bruised left rotator cuff.
Incidentally, online voting for the All-Star Game concludes at 11:59 p.m. Thursday. In the final intermediate tally released Tuesday, Wright trailed
Milwaukee Brewers
third baseman
Aramis Ramirez
by 235,060 votes for the starting nod for the National League at the hot corner.
Daniel Murphy
was nowhere to be found among the second-base leaders.
Thursday's news reports:
•
Chris Johnson
delivered a three-run double past third baseman
Eric Campbell
's backhand with two outs in the first inning and the Braves completed a three-game sweep
with a 3-1 victory Wednesday
. Collins said postgame that
the Mets sorely missed Wright
for the past week.
The Amazin's went 1-6 on a trip to Pittsburgh and Atlanta. Only a six-game losing streak by the
Philadelphia Phillies
has kept the Mets out of last place.
Read game recaps in the
Post
,
Daily News
,
Newsday
,
Star-Ledger
,
Journal
and at
MLB.com
.
• Citing the team's run differential being close to even, Sandy Alderson suggested the Mets are
better than their record indicates
. Alderson added that he is uninterested in trading Jonathon Niese. Overall, the direction the Mets take at the trade deadline will be dictated by how the team plays in the next 10 to 12 days, the GM added. Read more at
CBSSports.com
and in the
Star-Ledger
and
Newsday
.
• Beginning Friday, the
Mets will wear a patch
for the remainder of the season honoring Cashen on their right sleeves, below a patch recognizing Ralph Kiner. Cashen died Monday at age 88.
• Will the Mets trade Murphy before the July 31 non-waiver trade deadline?
Jim McIsaac/Getty ImagesAssistant GM John Ricco indicated the Mets have not had serious recent dialogue about trading Daniel Murphy.
"We haven't specifically talked about Dan recently," assistant GM John Ricco told Tim Rohan
in the Times
. "He is one of the more valuable guys we have. He leads the league in hits. He's settled in as one of the best second basemen in the game, certainly offensively, and is a leader on our team."
Asked about the optics of trading Murphy, Ricco added to the newspaper: "It depends what the return is."
• The Mets
signed 11 players
on the day international 16-year-olds are eligible to ink contracts: shortstops Yoel Romero and Edgardo Fermin, outfielder Yordin Araujo, right-handers Jhoander Chourio and Jurgen Jimenez and left-hander Daniel Guzman from Venezuela and right-handers Agustin Casilla and Jose Moreno, outfielder Claudio Geraldo, shortstop Hansel Moreno and catcher Luis Lebron from the Dominican Republic.
None ranked in the top 30 in Baseball America's rankings.
On Romero, who turned 16 in April and received a reported $300,000 signing bonus, Paul DePodesta told ESPNNewYork.com: "He's a very solid defender at shortstop -- definitely stays at the position."
Baseball America also forecasts the Mets will sign Venezuelan shortstop Kenny Hernandez, who is not eligible to sign until turning 16 on Aug. 13. The magazine ranks Hernandez the 13th-best international prospect
and writes
:
He fits better at third base or possibly second than he does at shortstop, but he stands out most at the plate with one of the sweetest swings in the class. Two of the Mets' top signings last year -- Dominican outfielder Ricardo Cespedes and Venezuelan shortstop Luis Carpios -- were also two of the youngest players in their class. It looks like they're ready to go that route again.
• Although the Mets have agreed to the financial terms with first-round pick Michael Conforto at the recommended $2,970,800 slot figure, the Oregon State outfielder is not yet officially on board. A source familiar with the negotiations recently told ESPNNewYork.com that no snags are expected and Conforto just wants some time to relax after the college baseball season.
Alderson told Jon Heyman
at CBSSports.com
about Conforto: "There are three or four [mostly] non-financial clauses that we are talking about. … I certainly expect this deal to get done."
• Left-hander
Scott Rice
, on the Triple-A disabled list with an elbow injury, is traveling to New York for an MRI. He has been dealing with a nerve issue, SNY correspondent Robert Brender
tweeted
.
• St. Lucie rallied in the ninth to beat Charlotte, 7-6, as Gilbert Gomez doubled and scored the go-ahead run on a passed ball. Jon Leroux doubled and scored the tiebreaking run as Savannah beat Charleston, 7-4. Read the full minor-league recap
here
.
• The bullpen has become sturdy with
Jeurys Familia
and
Jenrry Mejia
at the back end, Jared Diamond writes
in the Journal
.
• Collins said he did not believe Julio Teheran's pickoff move, which caught
Eric Young Jr.
on Wednesday, is legal. Read more in the
Star-Ledger
.
BIRTHDAYS:
Moises Alou
turns 48. ... Frank Tanana is 61.
TWEET OF THE DAY:
I swear I feel bad for David Wright! He's being penalized for displaying loyalty...bc let's face it my #Mets are awful!!!!!!

— Justin (@IAmGoalDigger) July 3, 2014
YOU'RE UP: Who should represent the Mets at the All-Star Game?