PORT ST. LUCIE, Fla.
FIRST PITCH: And the award for best summary of Day 2 at Mets camp goes to … "Morning Briefing."
Meanwhile, Mets pitchers and catchers continue their work at camp on Monday morning.
Position players have been outdoors doing voluntary workouts at 11 a.m. They officially report Tuesday, with the first full-squad workout set for Thursday.
Monday's news reports:
• David Wright acknowledged that, at age 32, he needs to adjust his expectations and accept strategic days off during the season to stay healthy. The captain believes the left-shoulder injury that affected him during last season's second half is behind him, although he cannot be sure until he gets into Grapefruit League games.
Columnist Bill Madden in the Daily News notes Wright is vital if the Mets are to be successful this year. Hitting coach Kevin Long says Wright is not in decline.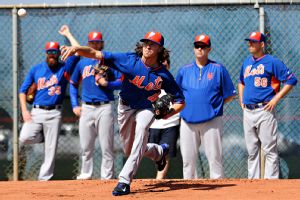 Adam Rubin
Jacob deGrom throws off a mound Sunday at Mets camp.
"Believe me, I know a player in decline when I see him," Long told Madden. "The swing is slower, the balls don't come off the bat like they should. David is only 32 -- that's prime for a player. The most important thing we have to do with him is to keep him healthy and not [allow him to play] through injuries."
Read more in the Journal, Post, Record, Newsday, NJ.com and at MLB.com.
• Matt Harvey expects to face hitters in a batting-practice setting Thursday or Friday. He threw a roughly 40-pitch bullpen session Sunday that included incorporating a slider for the first time. That pitch is usually the last reintroduced because of the stress it places on the elbow. Read more in the Post, Daily News, Record, NJ.com, Newsday and MLB.com.
• Terry Collins suggested Ruben Tejada is in the shortstop competition, although that merely appears a motivational tactic to inspire Tejada. Sandy Alderson has made it clear that Wilmer Flores will be the regular shortstop, with the potential exception of days in which groundball-inducing Jonathon Niese pitches. Read more at NJ.com and in the Daily News.
• Zack Wheeler returned to camp Sunday after missing Day 1 with strep throat. He will work this spring training on challenging batters and keeping his pitch count down. Despite second-half success, Wheeler averaged only 5 2/3 innings a start in 2014. Read more from Wheeler at MLB.com.
• Kevin Burkhardt's successor, Steve Gelbs, spoke in the Post about assuming SNY's field-reporting role. Gelbs, 28, grew up a Yankees fan in Greenwich, Connecticut. He reportedly is due to be officially announced as the replacement by the network on Monday, although it widely has been known for some time.
Regarding Burkhardt, who now has a big-time multisport role with Fox, Gelbs told the newspaper: "I would say this: I'm not trying to replace him. I'm certainly trying to be my own guy and build up a trust with the players and the fan base. To that end, he has put an awfully fantastic legacy out in front of me. I would say that in getting to know him last year, he was so great in terms of helping me along, not just with the players, but teaching me about everything that goes into this. I can't thank him enough for that. So certainly while I hope to be my own person, I also have to continue upon what he has built up here over the last eight years."
• Long Island native Steven Matz, the left-handed prospect who rivals Noah Syndergaard for attention, is profiled in the Post, Daily News and at NJ.com.
• Dillon Gee is unenthused about the prospect of moving to the bullpen.
"I feel like I should be starting somewhere," Gee told Mike Vorkunov at NJ.com. "I think my record and stuff have proven that I could be a starter in the big leagues. … It's frustrating in that regard. If I stay on this team then obviously, number-wise, something is going to have to happen. I'm going to do the best I can where ever that is."
• From the bloggers … Faith and Fear delivers its annual Oscars-style montage paying tribute to the Mets who have stopped being Mets over the past 12 months. … Mets Report suggests Wright bouncing back is a key for the Amazin's.
BIRTHDAYS: Bobby Bonilla, who is on payroll through 2035, turns 52. ... Ron Hunt is 74. ... Ken Boswell is 69.
TWEET OF THE DAY:
Congrats to @NewhouseSU alum @SteveGelbs on the new gig w @Mets #OrangeNation

— MikeTirico (@miketirico) February 22, 2015
YOU'RE UP: Who should be the Mets' Opening Day shortstop?