New York Mets:

Kevin Mitchell
August, 7, 2014
Aug 7
5:20
AM ET
WASHINGTON
FIRST PITCH:
Reigning NL Rookie of the Month
Jacob deGrom
is making a run at a franchise rookie record.
DeGrom (6-5, 2.77 ERA) has won five straight starts, the longest streak by a Mets rookie since
Dillon Gee
also won five straight in 2011.
The Mets rookie record is seven straight starts with a win, according to the Elias Sports Bureau. It was accomplished three times: by
Jason Isringhausen
(1995), Ron Darling (1984) and Dwight Gooden (1984).
DeGrom opposes right-hander
Jordan Zimmermann
(7-5, 3.00) at 12:35 p.m. Thursday in the rubber game against the
Washington Nationals
.
Thursday's news reports:
•
Jonathon Niese
surrendered homers to
Adam LaRoche
and
Danny Espinosa
and dropped to 0-4 with a 5.76 ERA in four starts since returning from the disabled list as
Washington beat the Mets, 7-1
, Wednesday. Niese
insisted he is healthy
. He suggested he revised his mechanics to avoid irritating his shoulder and has struggled with command as he adjusts to the delivery tweaks.
With Wednesday's loss, the Mets (54-60) trail the first-place Nats by eight games. The Amazin's run differential now stands at only plus-one for the season. The Mets are seven back in the wild card.
Read game recaps in the
Post
,
Daily News
,
Newsday
,
Star-Ledger
,
Record
,
Times
and at
MLB.com
.
•
David Wright
faults his struggles on tinkering, not injury. Writes columnist John Harper
in the Daily News
:
He insists his left shoulder, in which he received a cortisone shot nearly a month ago, is not a factor in hitting .194 so far in the second half.
Instead Wright is convinced that he turned himself into a mental mess at the plate, so quick to make changes and adjustments that essentially he has forgotten how to hit.
"I've made some mistakes this year, revamping some things with my swing that I probably shouldn't mess with," he was saying on Wednesday. "Especially after the All-Star break I started trying to change things when I didn't get the results I wanted. Pretty soon you're trying something new every at-bat and thinking about all the wrong things.
"Instead of realizing there are going to be times during the season when you're going to have a hiccup and you need to ride it out, I was too quick to make adjustments, and you get to the point where you can't remember what it felt like when you were going good."
• Mets ownership has yet to pick up Sandy Alderson's 2015 option, but columnist David Lennon
in Newsday
expects that to be a formality. Writes Lennon:
Alderson has a job now, presumably one he enjoys, and the impression here is that it should be only a matter of weeks before some kind of extension is announced. Alderson's original four-year contract expires in October. But he has an option for 2015, and we've always believed the only way he is ever stripped of the GM title is if Alderson chooses to leave Flushing on his own.
Although that's always possible, Alderson sounded Wednesday like someone who wants to stay on to see the Mets become a legitimate contender again -- and that won't be accomplished by the end of this season.
• Darren Rovell
at ESPN.com
has more on the Mets' toy truck giveaway that included a Phillies logo. Essentially, the manufacturer took responsibility for a packaging error.
• Bill Price
in the Daily News
has a feature on deGrom, with additional material
here
.
•
San Francisco Giants
right fielder
Hunter Pence
had a playful response Wednesday
to those weekend signs at Citi Field taunting him.
• Greg Peavey tossed 6 2/3 scoreless innings and Brian Burgamy and Dustin Lawley homered in Binghamton's 5-1 win against Richmond. Dilson Herrera departed the game in the sixth after jamming a finger on a headfirst slide. Brandon Nimmo has been sidelined since Sunday with hand soreness.
Jeremy Hefner
allowed three runs and lasted only one inning, but St. Lucie scored six unearned runs in a 6-5 win against Fort Myers. Rob Whalen and Akeel Morris combined on a shutout in Game 1 and Stefan Sabol had two long balls, including a walk-off shot, in the nightcap as Savannah swept a doubleheader against Charleston. Read the full minor-league recap
here
.
• The
Toronto Blue Jays
acquired Class A right-hander Hunter Carnevale
from the Mets for cash
.
•
Matt Harvey
dunked himself in an ice-cold pool
for a good cause.
• Sandy Alderson
discussed with ESPNNewYork.com
why
Kirk Nieuwenhuis
was promoted over
Matt den Dekker
.
• Alderson all but said
Bartolo Colon
had
not completed the waiver process
as of Wednesday.
• Will Noah Syndergaard or
Rafael Montero
appear in the majors this season? Alderson was noncommittal with Mike Puma
in the Post
. "I'm not really speculating about what we're going to do a month from now, in terms of bringing [Syndergaard] up or Montero or what have you," Alderson told Puma. "We'll see what happens here and see how they continue to perform."
Syndergaard is due to face Albuquerque on Thursday. He has allowed only two runs (one earned) in 17 1/3 innings over his past three starts. Montero has tossed 14 2/3 scoreless innings over his past two starts.
Read more in the
Daily News
.
• Jared Diamond
in the Journal
examines
Lucas Duda
against left-handed pitching.
• Read more on Darryl Strawberry serious allegation against former teammate Kevin Mitchell
in the Post
.
BIRTHDAYS:
Nieuwenhuis turns 27. ... Hawaiian
Tyler Yates
is 37. ...
Danny Graves
is 41.
TWEET OF THE DAY:
Just remember God loves the #Mets.....not really pic.twitter.com/go9eFXS53t

— Mike (@mr77714) August 7, 2014
YOU'RE UP: How do you predict Jacob deGrom will fare against the Nats on Thursday?
August, 6, 2014
Aug 6
5:24
AM ET
WASHINGTON
FIRST PITCH:
The Mets entered their series at Washington having lost 10 of their last 11 games against the Nationals.
Now, after a victory in Tuesday's opener, the Mets attempt to make it two in a row on Wednesday at 7:05 p.m. at Nationals Park.
Jonathon Niese
(5-7, 3.24 ERA) opposes right-hander
Doug Fister
(10-3, 2.68).
Before the game, the Mets will visit Walter Reed Army Medical Center.
"It's going to be a humbling experience,"
Daniel Murphy
said.
Wednesday's news reports:
•
Zack Wheeler
had a 33-pitch second inning and allowed the first two batters to reach in four of his seven innings. Yet Wheeler managed to limit Washington to one run in 6 2/3 innings as the
Mets beat the Nationals, 6-1
, Tuesday. Wheeler is
4-0 with a 1.59 ERA in his past seven starts
.
Eric Campbell
threw out
Jayson Werth
at the plate and
Juan Lagares
had another big-time catch
to stymie the Nats
.
The Mets now own a 54-59 record and trail first-place Washington by seven games. The Mets also are seven games out in the wild card.
Lucas Duda
, starting against a left-hander, went 0-for-3 against
Gio Gonzalez
but contributed after the southpaw's departure.
Read game recaps in the
Post
,
Daily News
,
Star-Ledger
,
Record
,
Newsday
,
Times
and at
MLB.com
.
• Columnist John Harper
in the Daily News
believes that while the Mets might trade from their pitching surplus this offseason, Wheeler is making himself practically untouchable.
• In his first "official" mound session,
Matt Harvey
threw 20 pitches in Port St. Lucie, Fla., on Tuesday afternoon and
pronounced the activity a success
. Watch video
at TCPalm.com
. Read more in the
Times
,
Daily News
,
Newsday
,
Journal
and at
MLB.com
.
• Stan Conte, vice president of medical services for the
Los Angeles Dodgers
, tells Marc Carig
in Newsday
that 12 months appears the minimum prudent recovery time following Tommy John surgery.
"When we start seeing some of these guys with a second Tommy John, it worries me as the guy who does the rehab that we're going too fast," Conte told Carig. "I don't want the perception to be that everybody comes backs at 12 months, and if they come back at 14 months, they're behind schedule. We do this all the time. Everybody quotes the same thing. It's 12 to 18 months. But nobody pays attention to the 18 months."
• Columnist Mike Vaccaro
in the Post
suggests that
Masahiro Tanaka
and Harvey throwing on consecutive days provide hope for both New York teams.
• Mets games on SNY are the seventh-most popular programming in prime time in New York -- one of the lowest rankings for a team in its home city, according to Nielsen data compiled by Maury Brown
at Forbes
. Yankees games on YES rank third in NYC in prime time. Twelve teams are the most popular prime-time programming in their home cities.
•
Rafael Montero
allowed one hit in eight scoreless innings and
Matt den Dekker
had another multi-hit game as Las Vegas blanked Sacramento, 3-0. Tyler Pill tossed seven scoreless innings and Brian Burgamy had four RBIs as Binghamton built a big lead and held on to beat Richmond, 9-6. Miller Diaz had a seven-inning shutout as Savannah split a doubleheader with Charleston. Read the full minor-league recap
here
.
• Ever spot those red marks on the necks of Mets players, particularly on
Daisuke Matsuzaka
? Jared Diamond
in the Journal
speaks with players about the ancient Chinese technique of cupping therapy, which several Mets -- and other major leaguers -- employ with the team's blessing.
Not everyone is sold it is effective, though.
"There's absolutely zero evidence that cupping has any kind of positive role in medicine," Barrie Cassileth, the chief of integrative medicine service at Memorial Sloan Kettering Cancer Center in New York, told Diamond. "I cannot conceive of any benefit except a psychological benefit."
• The Mets accidentally gave away a toy truck with a Phillies logo on the side during their last homestand, Eliot Shorr-Parks writes
at NJ.com
.
• Darryl Strawberry said allegations that a former teammate beheaded a cat in the mid-1980s are true, Bernie Augustine writes
in the Daily News
.
•
Kirk Nieuwenhuis
, who had a pinch-hit RBI single in his return to the majors Tuesday,
told MLB.com
pregame about his season of promotions and demotions: "You try and keep it on as much of an even keel as possible. I think one thing that's really been more evident to me this year is that it kind of builds character. I think you can really take some good stuff out of it. You really learn that you can only control how you play. You learn that it's a business in baseball."
BIRTHDAYS:
Wilmer Flores
turns 23. ...
Victor Zambrano
, who once was traded for
Scott Kazmir
, is 39. ... Reigning South Atlantic League Pitcher of the Week John Gant is 22.
TWEET OF THE DAY:
.@MattHarvey33 is doing all the baseball things. pic.twitter.com/kJBAyiLkQC

— Jeremy Hefner (@jeremy_hefner53) August 5, 2014
YOU'RE UP: Can Zack Wheeler be a No. 1 starter?
March, 20, 2014
Mar 20
6:26
AM ET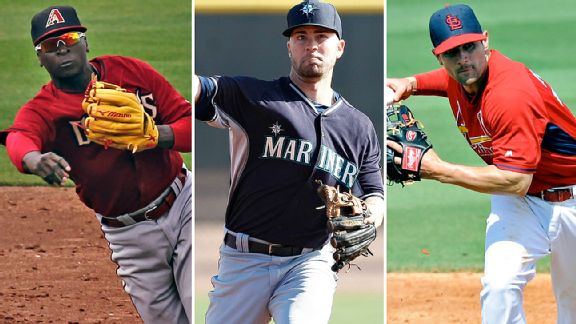 USA TODAY SportsDidi Gregorius and Nick Franklin are shortstop options for the Mets, but not Pete Kozma.
PORT ST. LUCIE, Fla.
FIRST PITCH:
The Mets break camp in exactly one week to fly to Montreal for a pair of final exhibition games. And Terry Collins says it is now time to get down to serious business.
On Thursday at 1:10 p.m. at Tradition Field,
Zack Wheeler
is scheduled to oppose
Ervin Santana
(SNY).
Santana will be
making his Braves debut
after signing a one-year, $14.1 million deal. Atlanta needed the pitching help after losing
Kris Medlen
and
Brandon Beachy
. (See the Braves full travel list
here
.)
For the Mets, Collins has pledged that either
Lucas Duda
(hamstring) or
Ike Davis
(calf) will start at first base against the Braves. Both have been getting at-bats in minor-league games, but not running after making contact. It has been 17 days since Duda and 18 days since Davis last appeared in a Grapefruit League game. A healthy bit of skepticism exists among scouts that Davis will be ready for the season.
Jonathon Niese
is expected to resume throwing, at least on flat ground, after receiving a cortisone shot in New York on Monday to address elbow inflammation.
Thursday's news reports:
• The
Washington Nationals
announced
Stephen Strasburg
will start on Opening Day
, on March 31 against the Mets at Citi Field.
Gio Gonzalez
will start Game 2 and
Jordan Zimmermann
will start Game 3.
Didi Gregorius
, not
Chris Owings
, is the shortstop the
Arizona Diamondbacks
are willing to trade,
sources tell ESPNNewYork.com
. One industry source unaffiliated with the Mets or D-backs believes a potential trade between the teams "has legs."
Nick Franklin
of the
Seattle Mariners
is a potential alternative acquisition. The
St. Louis Cardinals
are making
Pete Kozma
available, but the Mets are
unlikely to be interested
because the offensively challenged Kozma is not a clear upgrade over
Ruben Tejada
.
Three Arizona scouts, including special assistant
Todd Greene
, watched a Mets intrasquad game Tuesday in which Noah Syndergaard, Jacob deGrom, Logan Verrett and Jeff Walters pitched. With the loss of planned Opening Day starter
Patrick Corbin
, the D-backs are looking for MLB-ready pitching in exchange for Gregorius.
ESPN.com's Matt Meyers, meanwhile,
makes the case
for
Wilmer Flores
at shortstop. Meyers notes the Mets' starting pitchers are fly-ball oriented anyway, and reminds readers stocky Kevin Mitchell started at shortstop on days Sid Fernandez pitched in 1986.
Flores is expected to see ample time at shortstop with Triple-A Las Vegas in April, with the Mets open to having him oust Tejada as the shortstop early in the season if Flores can demonstrate competency there.
Read more on potential shortstop trades from Jon Heyman at
CBSSports.com
. Read more on Flores in the
Star-Ledger
.
• Paul DePodesta told ESPNNewYork.com
plenty of options are on the table
for conserving Syndergaard's innings count with Las Vegas, including five-inning/60-pitch appearances, sporadic one-inning relief appearances rather than full starts, and a six-man rotation.
• DePodesta did a podcast with "Who Are You" sports about his life and baseball. Listen
here
.
• Triple-A pitching coach Frank Viola has found solace at the ballpark after the passing of his father and mother in a four-week span during spring training, writes Anthony Rieber
in Newsday
. Read more on Viola in the
Record
.
• The Mets' bullpen is projected to include
Bobby Parnell
,
Jose Valverde
,
Vic Black
,
Jeurys Familia
,
Carlos Torres
,
Scott Rice
and Lannan, despite Black's struggles.
Kyle Farnsworth
has a contract "out" Sunday, so there should be a resolution soon on his expected failure to make the Opening Day roster. Read a bullpen review in the
Post
.
• Read more on Wheeler in the
Post
.
• Águilas Cibaeñas has hired
Andy Barkett
as manager of its Dominican winter-league team. Wally Backman recently had interviewed for that position in Port St. Lucie. Read more (in Spanish) in
El Caribe
.
• Mets fan Daniel Franklin (
@Stan_Kankels
), a 22-year-old from Chappaqua who now lives in Manhattan, has been selected to participate in MLB's "Fan Cave" this season. He is a sound-board operator at WABC 770 AM in NYC. Read more at
MLB.com
.
• Jared Diamond
in the Journal
notes the Mets still have question marks with Tejada, at first base and with
Jenrry Mejia
's role. Marc Carig
in Newsday
focuses on the uncertainty with Tejada and first base.
•
From the bloggers …
John Delcos at
Mets Report
suggests the Mets are playing unreasonable hardball with
Matt Harvey
. …
Blogging Mets
predicts the club will trade Niese and
Dillon Gee
.
BIRTHDAYS:
Manny Alexander
was born on this date in 1971.
TWEET OF THE DAY:
Should the #Mets just plan on going with Murphy at first base at this point? This is a mess

— Mitch Petanick (@FirstPitchMitch) March 19, 2014
YOU'RE UP: Do you believe Lucas Duda, Ike Davis or neither will be in the Mets' Grapefruit League lineup on Thursday against the Braves?
October, 25, 2011
10/25/11
12:01
AM ET
By
Mark Simon, ESPN Stats & Information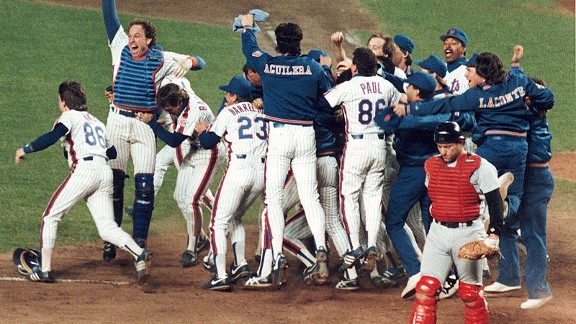 Focus on Sports/Getty Images Rich Gedman (front right) is the picture of Red Sox despair as the Mets celebrate the most improbable win in team history, a 6-5 triumph over the Red Sox in Game 6 of the World Series.
Over the last three weeks, Mark Simon has reminisced here about the 1986 postseason. The 1986 Mets won the World Series in an exhilarating fashion. Here's a look at Game 6 of the 1986 World Series, played on October 25, 25 years ago.
"I'm sitting here and I still don't believe it."
That's what Hall of Fame-honored sportswriter
Bus Saidt
wrote to open his story for my former employer, the
Trenton Times
, and it still holds true 25 years to the day after the most remarkable, unbelievable and amazing of the Mets' 3,854 regular-season and postseason wins. Let's review all that went into the greatest game of the greatest season in Mets history.
Game 6, Shea Stadium: Mets 6, Red Sox 5
Game 6 of the 1986 World Series began as Game 6 of the 1986 NLCS did, with Mets starting pitcher
Bob Ojeda
on the ropes early.
He allowed a run in the first inning on a two-out double by
Dwight Evans
that hit the top of the fence in left center and a run in the second on a two-out RBI single to left field by
Marty Barrett
just in front of
Mookie Wilson
.
The lead could have been bigger. Evans' ball hit the top of the fence. Had it gone over, it would have been a three-run homer instead of a single-run double. In the second inning, a catch by backpedaling right fielder
Darryl Strawberry
on
Bill Buckner's
fly ball to right field saved two more runs from scoring.
As
Vin Scully
pointed out on NBC's telecast, there had not been a come-from-behind win in the World Series yet. With AL MVP
Roger Clemens
on the mound for the Red Sox, that stat hung over the Mets through the first four innings, in which they were hitless.
But Ojeda settled down, as he did in Game 6 of the NLCS, and that kept the Mets in the game.
They would rally to tie in the fifth inning. Strawberry walked, then stole second and
Ray Knight's
single past Clemens into center field on a 2-2 breaking ball brought Strawberry home.
Wilson then had a great at-bat after falling behind 0-2. He took two balls well out of the strike zone to even the count, than fouled two off before hitting a breaking ball into right field for a hit. When Evans bobbled the ball, Knight went to third base.
That turned out to be huge, because it meant he could score to tie the game rather than just advance to third when pinch-hitter
Danny Heep
grounded into a double play
Hernandez made a nice play on a Clemens bunt to get a force play that thwarted a Red Sox threat in the sixth. The Mets then left runners at the corners in the home sixth when Clemens struck out Mets catcher
Gary Carter
with a nasty fastball on the outside corner and got Strawberry to ground out.
In the seventh, the Red Sox took the lead partly thanks to Knight's throwing error at third base, which put runners at first and third with one out (instead of having a man on second with two outs). On a 3-2 pitch, with
Jim Rice
running on reliever
Roger McDowell's
delivery, Evans grounded out. The Mets were unable to get a double play, allowing a run to score and Boston to take a 3-2 lead.
The Red Sox had a chance for another run, but Wilson threw Rice out at the plate on
Rich Gedman's
hit to end the inning.
Clemens got through the seventh, but was pinch-hit for in the eighth inning with the Red Sox threatening (he'd exceeded 130 pitches by this point and there is controversy over whether Clemens asked out due to a blister, or was removed by manager
John McNamara
). The Red Sox had another chance to add to the lead, but
Jesse Orosco
got Buckner to fly out to end the eighth.
Trailing by a run with six outs left in their season, the Mets rallied.
Lee Mazzilli
got a two-strike single and was safe at second when Red Sox reliever
Calvin Schiraldi
's throw on
Lenny Dykstra's
bunt couldn't be handled cleanly by Red Sox shortstop
Spike Owen
.
Wally Backman
advanced the runners to second and third with a sacrifice bunt.
An intentional walk to
Keith Hernandez
loaded the bases for Carter, who took three balls, then lined to deep enough left to plate Mazzilli with the tying run. Strawberry flied out to leave the teams tied heading to the ninth.
After Gedman's double play ended the Boston ninth, the Mets had a great chance to win in the home frame, putting the first two men on base (after Boston botched another bunt). But
Howard Johnson
failed on his first bunt attempt, then struck out. Mazzilli and Dykstra both flied out to send the game to extra innings.
Red Sox center fielder
Dave Henderson
, whose home run in Game 5 of the ALCS helped the Red Sox overcome a 3-1 deficit against the Angels, got a low fastball to his liking from reliever
Rick Aguilera
and pounced on it, crushing it for a home runjust below the loge seats in left field.
The Red Sox tacked another run on at the end of the inning when Wilson misjudged
Wade Boggs'
two-strike liner to left, which turned into a double, and Boggs scored on Barrett's full-count single (Barrett was 10-for-14 in the series with men on base). That made it 5-3 and put the Red Sox within half-an-inning of their first championship since 1918.
The only solace a Mets fan could take at this point, with the season three outs from devastating completion, was that the team had the 2-3-4 hitters up in the bottom of the 10th. But when Backman popped to left and Hernandez skied to center, it looked like the Mets were done for the year.
"Everybody sitting very quietly in that New York Mets dugout," said Mets radio announcer
Bob Murphy
, "hoping against hope that something will start to happen."
The public address system played "Charge!" as Carter came to the plate and, perhaps overeager, Carter popped the first pitch foul, but it went out of play behind home plate. Schiraldi then missed up-and-in with one fastball and down and away with another. On his 2-1 offering, Carter slammed the pitch into left field for a hit.
Kevin Mitchell
came up as a pinch-hitter representing the tying run. He started to swing at an inside fastball checked it and fouled it off. Schiraldi then went to a curveball away and Mitchell whacked it to center for another hit.
With two men on, the Mets had some life, and had one of their best clutch hitters up in Knight, who took a fastball down the middle for a strike, then hit a slow roller down the third base line that Boggs let roll foul.
The next pitch is an oft-forgotten one in the grand scheme of what happened, but the results were impressive. Schiraldi threw a tailing fastball, that came inside but Knight adjusted, curled his back foot, and got just enough of the good part of the bat on the ball to muscle it into shallow center for a hit, allowing Carter to score and Mitchell to advance to third base.
With the Red Sox lead now a run but still just an out from victory, McNamara pulled Schiraldi for
Bob Stanley
, with Wilson at the plate.
Wilson fouled off the first pitch solidly, than took a fastball wide for ball one and another high for ball two. Wilson fouled the next pitch off his foot, to put Boston within a strike of the title. He fouled the next pitch straight down into the dirt, and another foul behind the plate on a pitch away.
Stanley reversed course on the next pitch and tried to come inside, but came too far inside. Gedman, the catcher, reached for the ball, but never moved his body to block it as Wilson leapt to avoid it, and the ball went to the backstop. Mitchell came racing home with the tying run.
Wilson fouled the next two pitches off and the Mets were fortunate on the last of those, because according to TV analyst
Joe Garagiola
, had Stanley tried for a pickoff at second base, he'd have had Knight out easily.
Instead came the 10th pitch of the at-bat, one that Wilson was able to roll along the first base line. The ball trickled to Buckner at first base, but then bounced right through his legs for the most infamous miscue in sports history. Knight leapt on the plate with the winning run.
As Scully noted they were "not only alive, they are well" and they would be playing the Red Sox in a Game 7 for the championship.
Turning Point
There were so many turning points in this game, and we were able to document most of them above, but there were also a couple of bad karma moments of which you may not have been fully aware.
The more well known of them is that McNamara didn't bring
Dave Stapleton
in to play first base in the bottom of the 10th inning. Stapleton, a far better and far healthier defender than Buckner, had relieved Buckner at first base in all seven of the Red Sox postseason wins.
McNamara had the perfect opportunity to do so after Buckner grimaced when hit just below the belt buckle by a pitch in the top of the 10th, but chose not to make the switch.
Interestingly, Buckner was left in to play first base in the ninth inning of Game 4 of the ALCS, with the Red Sox leading the Angels, 3-0. The Red Sox blew that game too, losing 4-3 in 11 innings.
Also, someone saw fit to vandalize the visitors bullpen with spray-paint graffiti, as the initials R.C. can be seen in the background of a couple of NBC's pre-celebration shots of Red Sox players in the 10th inning. We don't know who committed the "crime," but one of the shots did feature Clemens exchanging high-fives with his teammates.
What They Wrote
"Bill Buckner has just limped off the field, carrying the weight of the world on his back. He can ice those aching ankles all night so he can play in Game Seven of the World Series tonight, but there isn't enough ice to freeze the pain in his heart."
-- Ray Sons, Chicago Sun-Times
"The ghosts of World Series past, of seven-game losses in 1946 and 1967 and 1975, wrapped their cold fingers around the Red Sox' throats Saturday night and choked the life out of what the people of Boston had been calling 'The Possible Dream.'
"If the Red Sox couldn't win their first World Series in 68 years after leading ... by two runs ... with two out ... and the bases empty in the bottom of the 10th inning of Saturday's sixth game, well, maybe it's impossible after all."
-- Kevin Modesti, L.A. Daily News
"Their history has been one of pathos and heartbreak, of lofty dreams and crushing disappointments. But no night in the 68-year-old losing legacy of the Boston Red Sox could match what befell them last night."
- Peter Pascarelli, Philadelphia Inquirer
"It was enough to make you believe there are curses that haunt this team. It was enough to make you believe that the Mets are on some highway toward destiny."
-- Jayson Stark, Philadelphia Inquirer
"From 200 miles away, you could practically feel New England quaking with fear, grief and disbelief. The Boston Red Sox were one out away from their first World Series championship since 1918 early this morning, and the New York Mets rose up like the ghosts of Denied Christmases past and extended big-league baseball's most extraordinary postseason by one more game.
"The denouement of this stirring October drama is scheduled tonight at Shea Stadium, but the forecast is for rain, possibly lasting two days. But 48 hours of steady showers would likely not produce more moisture than the tears shed by the Red Sox's long-suffering fans last night."
- Barry Lorge, San Diego Union
"I can only imagine what the good citizens of Boston are doing now. Are the blindfolds in place? Are they out on the window ledges? Have they wrapped up the sharp instruments?"
- Tony Kornheiser, Washington Post
"If the World Series had been a pleasure cruise to the fans of most teams, it has been to two generations of Bostonians, a stateroom on the Titanic, a deck chair on the Lusitania, first class passage on the Hindenburg."
-- Bruce Lowitt, St. Petersburg Times
"It would not happen this time, the Boston Red Sox had promised. Not in this World Series. Their failures belong to the past. That was then, this is now. Alas, the team that lived by the last strike in the American League playoffs died by the last strike when the World Series was in hand against the New York Mets in Game 6."
-- Hal Bock, Associated Press
Quote of the Day
"My legs didn't have any effect. I felt good out there. It just shows you anything can happen. I feel lousy. Tomorrow, hopefully, will be a different story. We don't have a day or two to forget about it. You can't get down about it.
"Hey, we outhit them tonight. We hit good out there. We just made some big mistakes. I hate to say I missed a ground ball. I did concentrate on that ball. I saw it well. It bounced and bounced and then it didn't bounce. It just skipped. I can't remember the last time I missed a ball like that, but I'll remember that one."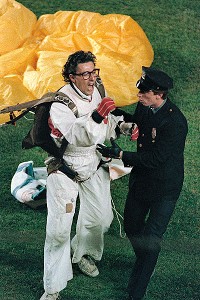 Amy Sancetta/A.P. PhotoMichael Sergio chanted "Let's Go Mets" as police escorted him off the field.
"It was a slow roller with a lot of spin on it. I thought I watched it good. I was playing deeply Than I normally do because I didn't want it to get through the infield.
"If Mookie didn't run so fast I'd get down on a knee to block it. It bounced and bounced And then skidded right under my glove. I was waiting for it to bounce. It didn't."
-- Bill Buckner
Further Reading
Perhaps foreshadowing a bizarre night, with Buckner at the plate in the first inning, a Mets fan,
Michael Sergio
, parachuted onto the playing field. He would be escorted away by police, but not before getting some laughs and a high-five from Mets pitcher Ron Darling.
Earlier this year, New York attorney
Eric Turkewitz
interviewed Sergio for his blog. His story can be found
here
.
Stats/Notes To Remember
1-- There have only been three instances in World Series history in which a game ended on a play that was ruled as an error.
The Mets have been involved in two of them- this one and Game 4 of the 1969 World Series, in which the Mets won when Orioles pitcher Pete Richert hit
J.C. Martin
in the back with his throw on Martin's bunt attempt, allowing
Rod Gaspar
to score the winning run.
2-- Baseball Info Solutions, a Pennsylvania-based company, does video review of every play from every major-league game. Their video tracking found that in 2011, there were 20 balls hit to the same area, and at the same approximate speed that Wilson's ball was hit to Buckner. All 20 of those were turned into outs.
3--
Bill Buckner
made his major league debut for the Dodgers on September 21, 1969. He pinch-hit in the ninth inning and popped out.
What was prominent about that game? The Giants beat the Dodgers that day, 4-3 in walk-off fashion.
The game ended on a ground ball to Dodgers shortstop
Maury Wills
.
It went through his legs for a game-ending error.