New York Mets:

Kyle Kendrick
August, 27, 2013
8/27/13
9:30
PM ET
NEW YORK --
Jonathon Niese
handled the roles of
Matt Harvey
and
Marlon Byrd
on Tuesday night.
Niese retired 17 straight batters at one point en route to his second career shutout, ran through Tim Teufel's stop sign to score the game's opening run, then produced a three-run double later as the Mets beat the
Philadelphia Phillies
, 5-0, Tuesday night at Citi Field in the first game of the post-Byrd/
John Buck
era.
The Mets (59-71) moved back even with the Phillies (60-72) for third place in the NL East, albeit nearly a percentage point behind. The Mets snapped a five-game losing streak.
Niese, who you may recall actually was the Opening Day starter, not Harvey, was every much the ace on this night. After surrendering a leadoff single to
Michael Young
in the second inning, Niese erased him by coaxing a double-play grounder from
Darin Ruf
. The Phillies did not place another runner on base until Young doubled just beyond the range of
Juan Lagares
in left-center to lead off the eighth.
Niese's line: 9 IP, 3 H, 0 R, 0 ER, 1 BB, 4 K. He threw 113 pitches.
His other career shutout came June 10, 2010, in a one-hitter against the
San Diego Padres
.
The Mets had one other shutout this season: Harvey against the
Colorado Rockies
on Aug. 7.
Niese returned Aug. 11 after missing nearly two months with a partially torn rotator cuff in his pitching shoulder. In the three starts subsequent to that return outing at Arizona, the southpaw has now limited opponents to two runs on 14 hits and five walks while striking out 22 in 22 innings.
Meanwhile, four innings after scoring from second base on
Daniel Murphy
's single, Niese came to bat with the bases loaded and two outs in the sixth. He fouled off one full-count offering from
Kyle Kendrick
, then delivered a three-run double into the left-center gap for a 5-0 lead.
Niese became the first Mets pitcher with three RBIs in a game since
Al Leiter
also had a three-run double, against
Woody Williams
of the Padres at Shea Stadium on Aug. 12, 1999. The last time a Mets pitcher had three RBIs against the Phillies: Pete Falcone on Sept. 29, 1981 at Veterans Stadium.
What's next:
Daisuke Matsuzaka
makes his second Mets start. Matsuzaka (0-1, 9.00 ERA) was roughed up for five runs in the opening two innings Friday against the
Detroit Tigers
before following with three scoreless frames. He opposes left-hander
Cole Hamels
(5-13, 3.62) on Wednesday at 7:10 p.m.
July, 18, 2013
7/18/13
4:29
PM ET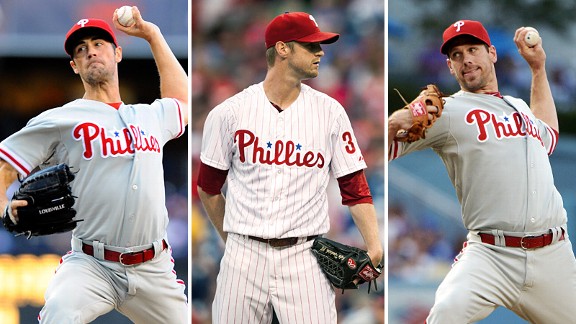 USA TODAY SportsThe Mets face Cole Hamels (Saturday), Kyle Kendrick (Friday) and Cliff Lee (Sunday) in the second-half-opening series.
METS (41-50, fourth place/NL East) vs. PHILADELPHIA PHILLIES (48-48, third place/NL East)
Friday:
RHP
Jeremy Hefner
(4-6, 3.33) vs. RHP
Kyle Kendrick
(8-6, 3.68), 7:10 p.m. ET
Saturday:
RHP
Zack Wheeler
(3-1, 3.54) vs. LHP
Cole Hamels
(4-11, 4.05), 1:10 p.m. ET
Sunday:
RHP
Matt Harvey
(7-2, 2.35) vs. LHP
Cliff Lee
(10-3, 2.86), 1:10 p.m. ET
Phillies short hops
• The Phillies are 6-3 but averaging only 3.6 runs a game since losing
Ryan Howard
to left knee surgery. The debridement surgery is expected to cost Howard six to eight weeks. Rookie
Darin Ruf
has handled first base in Howard's absence. Ruf slugged 38 homers last season with Double-A Reading. He has reached base safely in 18 straight games at the major league level.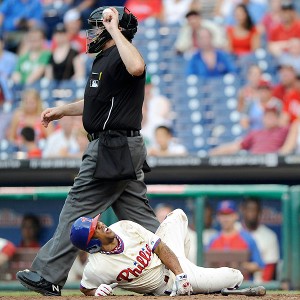 Michael Perez/Associated PressBen Revere suffered a broken right ankle on foul ball while batting.
• Center fielder
Ben Revere
underwent surgery Tuesday for a broken right ankle and also is expected to miss six to eight weeks. It is a big blow to the offense. Revere, the team's leadoff hitter, had been hitting .305 with 22 steals. Revere suffered the injury fouling a ball off the foot. He had two screws inserted.
GM Ruben Amaro has said the Phillies will shop for a fill-in center fielder.
John Mayberry Jr
. has handled the position the past two games. Prospect
Cesar Hernandez
has moved from second base to center field in the minors to provide another option.
• First-time All-Star
Domonic Brown
is third in the National League with 23 homers, trailing Colorado's
Carlos Gonzalez
(25) and Pittsburgh's
Pedro Alvarez
(24). Brown's 67 RBIs rank fourth.
•
Cole Hamels
has a 1.57 ERA with 19 strikeouts and one walk in his last three starts.
•
Cliff Lee
is the only active left-hander to pitch in four All-Star Games.
• The Phillies could be buyers or sellers depending upon the direction their season takes before July 31. They reached .500 on Sunday for the first time since June 7, when they were 31-31. Before the first-half-closing win, they had spent only five days at or above .500 this season. They have won five of their past six series.
Potentially on the block if things go south: centerpiece players
Chase Utley
,
Jonathan Papelbon
,
Carlos Ruiz
and Lee as well as
Delmon Young
and
Michael Young
. Utley and Ruiz are eligible for free agency after the season. Lee is owed a combined $50 million in 2014 and '15, and also has a $12.5 million buyout owed if a $27.5 million club option for 2016 is not exercised. Papelbon is signed at $13 million a season through 2015. He also has a vesting option at that amount for 2016.
•
Kyle Kendrick
limited the
Washington Nationals
to one run in seven innings in a win in his last start, despite four errors committed by his fielders, including three by Utley.
• Since June 17, Papelbon has five blown saves in 12 chances. Manager Charlie Manuel told SiriusXM that Papelbon was dealing with occasional hip soreness. Papelbon nonetheless has reached 20 saves for the eighth straight season. That is the longest active streak in the majors and the eighth-longest in major league history.
Mariano Rivera
holds the record with 15 straight 20-plus save seasons, from 1997-2011.
•
Jimmy Rollins
has gone 156 at-bats without a homer.
• Infielder
John McDonald
was acquired from the
Cleveland Indians
on June 27 for a player to be named or cash.
• Backup catcher
Erik Kratz
was activated from the disabled list Sunday after missing 4½ weeks with a left knee injury.
• Manuel has 995 career wins. He is due to become the 59th manager in major league history to reach the 1,000-win plateau. There are seven active managers at that level: Dusty Baker, Bruce Bochy, Terry Francona, Davey Johnson, Jim Leyland, Mike Scioscia and Buck Showalter.
April, 27, 2013
4/27/13
7:01
AM ET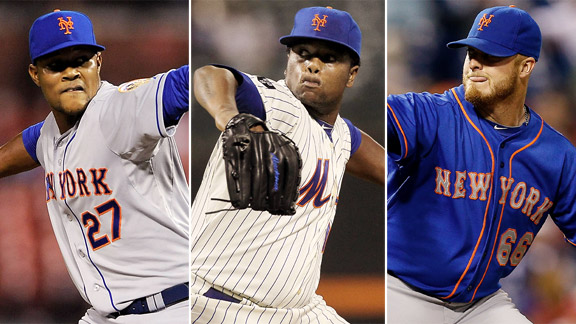 Getty Images
The Mets will need to clear a roster spot for Shaun Marcum. The candidates (l to r): Jeurys Familia, Robert Carson and Josh Edgin.
FIRST PITCH:
Shaun Marcum
, who signed a $4 million deal on Jan. 30 that included the
opportunity to double that amount
by achieving incentives, is due to make his Mets debut today as the Mets oppose the
Philadelphia Phillies
at 1:05 p.m. at Citi Field.
Marcum received injections on April 4 to calm an inflamed nerve that was causing pain in his neck and shoulder. He never appeared in an official minor league rehab game, instead pitching in extended spring training against low-level competition. Marcum threw 52 pitches in five scoreless innings Monday in Florida, then continued to toss on the side to try to up his pitch count. He likely will be capped at roughly 90 pitches today, Terry Collins indicated.
The Mets will need to make a pregame roster move, subtracting a member from the bullpen, in order to clear room for Marcum.
Josh Edgin
has struggled badly, although he had a 1-2-3 ninth Friday. The alternatives:
Jeurys Familia
or, seemingly less likely,
Robert Carson
. Familia tossed two scoreless innings in the series opener against Philadelphia. That workload led to speculation he may be out.
Marcum faces right-hander
Jonathan Pettibone
in the rookie's second major league start.
Saturday's news reports:
• The Mets dropped below .500 for the first time this season with
a 4-0 loss to the Phillies
in Friday's series opener.
Dillon Gee
matched zeroes with
Kyle Kendrick
until the sixth, when Gee surrendered a run-scoring single to
Michael Young
and three-run homer to
Ryan Howard
. Kendrick produced a three-hit shutout. It marked the fourth time in five games the Mets mustered five hits or fewer. Perhaps recognizing the Mets like to take pitches, Kendrick threw a season-high 71 percent first-pitch strikes, according to ESPN Stats & Information.
Howard, the active home run leader against the Mets with 36, now has four homers in 12 career at-bats against Gee. That is the most homers Gee has surrendered to any player. Read game recaps in the
Post
,
Daily News
,
Star-Ledger
,
Record
,
Newsday
,
Times
,
Philadelphia Inquirer
and
MLB.com
.
• Collins preached patience and insisted any consideration about demoting
Ike Davis
is a long way away. The manager tried to compare Davis' struggles to the woes of
Matt Kemp
, who arrived in Queens with the Dodgers this week homerless. Yet Kemp still was respected by the Mets as a dangerous bat, according to Collins.
"I looked at Matt Kemp's numbers the other day," Collins said. "They weren't very good for Matt Kemp. I'm still scared to death of him. And you can be sure that the Philadelphia Phillies, when Ike Davis gets in the batter's box, they're worried, because they know he's going to get out of it."
Davis was dropped to No. 7 in Friday's lineup and went 0-for-2 with a walk. His average dipped to .169. Read more in the
Record
,
Post
and
Star-Ledger
.
• Collins' Friday lineup juggling also included
Daniel Murphy
moving into the No. 3 slot and
David Wright
to cleanup, both for the first time this season. Read more in the
Times
.
• Read more on Marcum's Mets debut and the impending roster move in the
Journal
,
Post
and
Star-Ledger
.
• Columnist Ken Davidoff
in the Post
analyzes the state of the struggling Phillies and
Washington Nationals
, and wonders if the Mets will make a trade if those teams stumble and the Mets end up more in contention than they thought. Writes Davidoff:
The Mets say they have the funds to add payroll during the season, and their prospect/trade chip base has grown with the development of pitchers like Rafael Montero, Luis Mateo and Cory Mazzoni. Will they have cause to make a move, courtesy of the Phillies and Nationals? I'd like to see it, just to learn whether the Mets would live up to their word. After a night like this, though, you wonder whether the possibility of the 2013 Mets being relevant is the true mirage.
• In a batter of young NL East phenoms,
Matt Harvey
is scheduled to oppose Marlins right-hander
Jose Fernandez
on Monday in Miami. Fernandez, who limited the Mets to one run in five innings in his major league debut on April 7, had allowed nine runs in nine innings over his past two starts -- at Cincinnati and at Minnesota.
In Miami, lightning-rod owner Jeffrey Loria denied influencing which game of a doubleheader Fernandez pitched at Minnesota this week, according to Manny Navarro
in the Miami Herald
.
• Catcher
Carlos Ruiz
is due to join the Phillies on Sunday after completing a 25-game suspension for amphetamines. "It's been a little hard for me," Ruiz told John Smallwood
in the Philadelphia Daily News
while rehabbing with Double-A Reading. "Definitely, I would like to be with the team. I want to help the ballclub win games. But now it's just about over. I'm real close, and I can't wait to see [Sunday]. It was tough, but at the same time, you had to prepare yourself to be ready for when you came back. I'm not happy with what happened, but there was nothing I could do except work every day."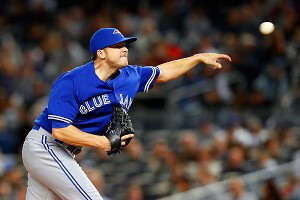 Jim McIsaac/Getty Images
Aaron Laffey was ineffective Friday night in the Bronx after being claimed by the Jays.

•
Aaron Laffey
, claimed off waivers by the
Toronto Blue Jays
a day after being designated for assignment by the Mets, started in the Bronx on Friday night in place of
Josh Johnson
, who had triceps tightness. Laffey lasted only 2 2/3 innings and walked five. He was charged with two runs.
Brad Lincoln
inherited the bases loaded from Laffey and stranded three by striking out
Ichiro Suzuki
.
Richard Griffin
in the Toronto Star
notes Jays GM Alex Anthopoulos has made a massive number of waiver claims. Writes Griffin:
The Jays have made 21 such claims since Oct. 17, 2012. That is crazy high. Here is the list: OF Scott Cousins; RH Cory Wade; RH Tyson Brummett; C Bobby Wilson; RH David Herndon; RH Chad Beck (twice); LH Scott Maine; C Eli Whiteside; RH Mickey Storey; IF Russ Canzler; RH Tommy Hottovy; 1B Lars Anderson; RH Guillermo Moscoso; RH Todd Redmond; 1B Clint Robinson; RH Alex Burnett; RH Edgar Gonzalez; 1B Mauro Gomez; OF Casper Wells and Laffey. Only eight of the 20 different claims (Beck twice) are still in the organization. Only Laffey is on the Jays' 25-man roster. Only Laffey, Robinson, Gomez and Redmond remain on the 40-man roster.
• Howard Johnson, back in baseball as the first-year hitting coach for Triple-A Tacoma (
Seattle Mariners
), is in Las Vegas this weekend facing Mets-affiliate Las Vegas. Regarding 51s manager Wally Backman getting a major league managerial gig, HoJo
told the Las Vegas Sun
: "One of these days, Wally is going to get a shot. I would love to be one of his coaches. It's important to have people that you know and trust. We go back a long way and share a lot of the same experiences."
• Zack Wheeler is 0-1 with a 5.79 ERA in five starts with Las Vegas. He has allowed 26 hits and 15 walks while striking out 28 in 23 1/3 innings. Opposing Pacific Coast League batters are hitting .283 against him.
"His velocity is good and his mechanics are good," Sandy Alderson told columnist John Harper
in the Daily News
. "That's what's most important. And he threw well for four innings [Thursday]. We're looking for his development as opposed to his line scores. But there's no question it's a big adjustment pitching in that league."
Read more in the
Star-Ledger
.
• Rafael Montero suffered his first 2013 loss as Binghamton was blanked by Akron, 4-0. Montero (3-1, 1.95 ERA) allowed two runs on four hits and two walks in five innings. He struck out eight. Dustin Lawley homered twice as St. Lucie beat Bradenton, 5-2. Read the full minor league recap
here
.
• Jonathan Lehman
in the Post
profiles Binghamton left-handed reliever Jack Leathersich. Although he allowed two hits and a walk last night, Leathersich also struck out three in a scoreless ninth to keep his ERA at 0.00 for the season. The 2011 fifth-round pick from UMass-Lowell has 157 Ks in 95 2/3 professional innings.
• ESPN West Palm launched a weekly video segment featuring the St. Lucie Mets. Watch the first installment
here
.
•
From the bloggers …
Faith and Fear in Flushing
realizes some losses are less miserable than inevitable. … Shannon from
Mets Police
has some thoughts about the Mets' efforts on social media.
BIRTHDAYS:
Smithtown, Long Island's
Frank Catalanotto
is 39. …
Orber Moreno
turns 36. … Eric Hillman is 47. … Brian Giles turns 53.
TWEET OF THE DAY:
My secret life before the Mets has come out. Posed for January,1979 issue of GQ. twitter.com/Jay_HorwitzPR/…

— Jay Horwitz (@Jay_HorwitzPR) April 26, 2013
YOU'RE UP: Who should the Mets demote/release from the bullpen to clear a roster spot for Shaun Marcum?
April, 26, 2013
4/26/13
11:36
PM ET
Terry Collins' new-look lineup didn't show up Friday night.
After Collins tinkered with the top of the lineup, the
New York Mets
were blanked for the first time this season in their 4-0 loss to the
Philadelphia Phillies
on Friday night. The Mets managed just three hits against Philadelphia's
Kyle Kendrick
.
Collins said after the game he hasn't decided if he will keep this lineup.
"[I will] make a decision tomorrow," Collins said.
The main changes to the Mets lineup involved moving
Daniel Murphy
from the second spot to the third and moving
David Wright
from third to cleanup. The move was aimed to give Wright more opportunities to drive in runners, with
Mike Baxter
and
Ruben Tejada
placed in the top two spots.
While Tejada and Wright both recorded singles during the game, the Mets offense never found a way to rally. They managed just one runner in scoring position the whole game, in the first inning, and did not advance a runner to third all game. Kendrick tossed just his second career shutout.
"He threw the ball well," Murphy said. "Sometimes, you have to tip your cap."
Murphy hit in the No. 3 hole for the first time all season and went 0-for-4 with three ground outs. The new spot didn't make a difference for him.
"I just want to be in the lineup; I don't really care where it is. It's nice to be in the three spot, I guess," Murphy said. "Skipper thinks I'm swinging the bat well. I still feel good in there. At-bats are at-bats no matter where you get them."
Below .500:
The Mets' loss Friday dropped them below .500 for the first time as they are now 10-11. Collins said his team is aware.
"They are not naive. They are pretty aware of what's going on. They know they slipped below .500 tonight, and that's why we got to pick it up and get after it tomorrow," Collins said. "Come out here and fight. Certainly, I'm not going to go in and hold meetings and say, 'we're under .500, we got to pick it up.' They know better than that … We'll rally tomorrow and get the guys out there and hopefully get some hits."
No roster move yet:
The Mets have not announced the roster move that will accompany
Shaun Marcum
's activation from the disabled list for his start Saturday.
Two of the candidates to be sent down, relievers
Jeurys Familia
and
Josh Edgin
, both pitched Friday. Familia went two innings, giving up one hit and striking out one. Edgin struck out two in the ninth. Familia said after the game he hadn't been notified about any roster move.
Ump leaves:
With Wright coming to bat in the bottom of the first, the game paused for approximately 10 minutes as plate umpire Brian O'Nora left with flu-like symptoms. First base umpire Adrian Johnson took over behind the plate after O'Nora's departure.
"Brian O'Nora got very sick," Collins said. "It came on really fast and [he] came in the dugout because he was going to be sick to his stomach, and he really was. He couldn't go back out."
April, 10, 2013
4/10/13
10:28
PM ET
WHAT IT MEANS:
Jeremy Hefner
allowed the first six batters to reach base in what became a five-run first inning and the Mets lost a rubber game to the
Philadelphia Phillies
, 7-3, on Wednesday night at Citizens Bank Park.
Lucas Duda
homered twice and
John Buck
had a solo shot in the loss.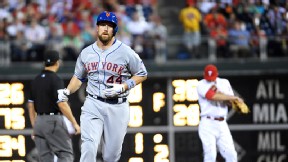 Eric Hartline/USA TODAY SportsJohn Buck produced his fifth homer of the season -- matching the total of all Mets catchers in 2012.
The damage against Hefner came on a two-run homer by
Chase Utley
and three-run homer by
Domonic Brown
.
Hefner had failed to retire any of the seven batters he faced in a Sept. 20 start against the Phillies last year at Citi Field. Combine the two outings and 13 straight Phillies reached base against him over two starts.
After being charged with five earned runs on six hits and three walks over three innings Wednesday, Hefner now has a career 15.68 ERA against the Phillies in four appearances (three starts).
Since Sunday, Mets starting pitchers have logged 4 1/3 innings (
Aaron Laffey
), seven innings (
Matt Harvey
), three innings (
Dillon Gee
) and three innings (Hefner). That has strained the bullpen.
LaTroy Hawkins
surrendered a two-run homer in the sixth to
Laynce Nix
to push Philadelphia's lead to 7-2.
The game included a 27-minute rain delay in the fourth.
BUCK O' FIVE:
Buck mashed his fifth homer of the season, a solo shot in the second against
Kyle Kendrick
that pulled the Mets within 5-1. Buck's long-ball total matches the total the Mets received from all of their catchers in 2012 (
Kelly Shoppach
3,
Josh Thole
1,
Mike Nickeas
1).
The Mets have now homered in all nine games, establishing a new franchise record to open a season. They went deep in eight straight to begin the 1987 season.
Buck's 15 RBIs are two shy of matching his career high for a month (17 in August 2004). He has homered in three straight games for the first time in his career.
'SPINSANITY:
After Buck's second-inning homer, the Mets loaded the bases trailing 5-1. But Hefner and
Jordany Valdespin
consecutively struck out looking to end the threat.
Valdespin had fouled off three full-count pitches before being called out on strikes on a borderline pitch deemed on the inside corner by plate umpire John Hirschbeck.
Valdespin did finish with a career-high three hits (all in the infield). And he had a stellar play in center field. He charged in to take away a potential bloop hit from
Erik Kratz
that ended the third inning and left the bases loaded.
Duda's solo homer in the fourth pulled the Mets within 5-2.
Justin Turner
, pinch-hitting for Hefner, stranded
Mike Baxter
at third base with an inning-ending groundout that frame and the Mets got no closer.
MUPHY'S FLAW:
In the fifth, the Mets had two runners in scoring position with one out after Kendrick delivered a wild pitch. But on
Ike Davis
' ensuing flyout to shallow center,
Daniel Murphy
started toward third base and did not retreat in time. He was doubled off second base by center fielder
Ben Revere
.
WHAT'S NEXT:
The Mets fly into wintery Minnesota tonight and spend Thursday's off-day in the Twin Cities. Several players plan to watch the NHL's Minnesota Wild and St. Louis Blues face off.
Jonathon Niese
(1-0, 2.13 ERA) opposes right-hander
Vance Worley
(0-1, 5.73), a former Phillie, in Friday's series opener. Weather permitting.
August, 30, 2012
8/30/12
3:31
PM ET
WHAT IT MEANS:
Mike Baxter
and
Scott Hairston
staked the Mets to an early lead with solo homers against
Kyle Kendrick
, but the
Philadelphia Phillies
avoided getting swept in the three-game series by rallying for
a 3-2 win
against
Jon Niese
and the Amazin's.
Philadelphia regained sole possession of third place in the NL East -- not that it's a goal or anything.
The Mets finished the Philadelphia portion of the season series with a 7-2 record at Citizens Bank Park. That fell one win shy of matching their most in a season in the City of Brotherly Love. In 1972, the Mets went 8-1 at Veterans Stadium, the Phillies' former home.
Niese surrendered three runs on nine hits, a hit batter and an intentional walk in six innings. He departed with the Mets trailing 3-2.
Ryan Howard
produced the tiebreaking sacrifice fly in the fifth that plated
Kevin Frandsen
, who had doubled.
The Mets placed two runners aboard with two out in the eighth against Kendrick, but ex-Met
Raul Valdes
entered and retired
Ike Davis
on a grounder to Howard at first base to end the threat.
The pair of solo homers marked the first time two different outfielders had homered in the same game for the Mets since June 15, when Hairston and Kirk Nieiwenhuis both took Cincinnati's
Bronson Arroyo
deep. Hairston's last long ball came in San Francisco on July 30, the day before the non-waiver trade deadline, in a two-homer performance.
WHAT'S NEXT:
The Mets head to Miami.
R.A. Dickey
bids for win No. 17 in the series opener. He opposes right-hander
Nate Eovaldi
(4-9, 4.54) on Friday at 7:10 p.m.
July, 2, 2012
7/02/12
9:30
AM ET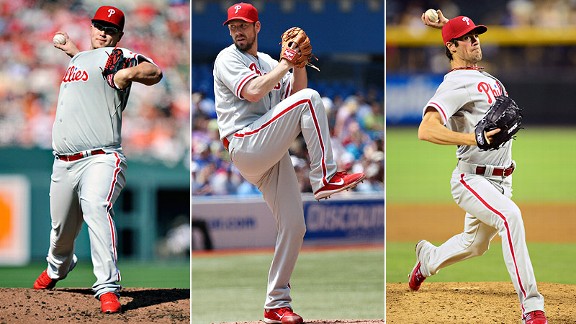 US Presswire
The Mets are expected to face (l to r) Vance Worley, Cliff Lee and Cole Hamels during the midweek series.
METS (43-37, second place/NL East) vs. PHILADLEPHIA PHILLIES (36-45, fifth place/NL East)
Tuesday:
LHP
Jon Niese
(6-3, 3.55) vs. RHP
Vance Worley
(4-4, 2.92), 7:10 p.m. ET
Wednesday:
RHP
Chris Young
(2-1, 3.30) vs. LHP
Cliff Lee
(0-5, 4.13), 1:10 p.m. ET
Thursday:
RHP
R.A. Dickey
(12-1, 2.15) vs. LHP
Cole Hamels
(10-4, 3.08), 7:10 p.m. ET
Phillies short hops
• The underwhelming Phillies traded a pair of veterans to the American League during the weekend. They dealt
Jim Thome
to the Baltimore Orioles for minor league catcher
Gabriel Lino
and right-hander
Kyle Simon
. A day later, reliever
Chad Qualls
was sent to the Yankees for cash or a player to be named. Thome, 41, was hitting .242 with five homers and 15 RBIs in 62 at-bats, but back woes made it difficult for him to man first base. Qualls (4.60 ERA) had been designated for assignment Thursday.
Ex-Met
Jason Pridie
and left-hander
Jeremy Horst
took their roster spots. Horst had been acquired by the Phillies in January in the trade that sent infielder
Wilson Valdez
, another ex-Met, to Cincinnati. Pridie had signed with Oakland as a minor league free agent during the winter, was suspended 50 games by MLB for a second positive test for a drug of abuse in March, was released by the A's last month and signed with Philadelphia on June 15.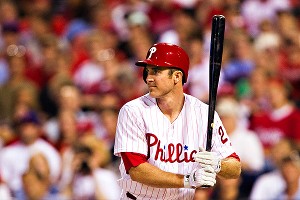 Howard Smith/US Presswire
Chase Utley made his season debut last week after dealing with chronic knee woes.

• ESPN's
Buster Olney
reports the dismantling may not be limited to peripheral players, with pending free agent
Cole Hamels
as well as
Shane Victorino
also potentially available.
• Hamels, catcher
Carlos Ruiz
and closer
Jonathan Papelbon
will represent the Phillies in the July 10 All-Star Game in Kansas City, although San Francisco's
Buster Posey
will start over Ruiz behind the plate. Ruiz, a first-time All-Star, leads the majors in batting at .356, two points ahead of
David Wright
.
• Second baseman
Chase Utley
made his season debut last Wednesday with a three-hit game. He homered against the Pirates'
James McDonald
in his first at-bat. Utley, who played in 10 rehab games, has started three of five games since being activated from the DL. The absence was caused by chronic left knee woes.
Mike Fontenot
has started the other two games at second base since Utley's return.
• First baseman
Ryan Howard
may not be too far behind Utley. He began a rehab assignment Thursday with Class A Lakewood. Howard underwent surgery in October on his left Achilles and suffered a setback when the area got infected.
• Rookie infielder
Freddy Galvis
, who had started 45 games at second base in Utley's absence, was suspended by MLB for testing positive for a performance-enhancing drug. He already was sidelined with a back injury and will be allowed to serve the suspension while on the disabled list. In a statement, Galvis denied knowingly using the banned substance.
• The Phillies are nine games under .500 for the first time since July 25, 2006, when they were 44-53. A loss in the series opener against the Mets would drop Philadelphia 10 games under .500 for the first time since July 22, 2002. The Phillies had not had this bad a record at the midpoint of a season since they were 23-58 in 1997.
• After using
Vance Worley
in the series opener, the Phillies are expected to skip
Kyle Kendrick
and go with
Cliff Lee
and Hamels in the series.
• Lee remains winless through 13 starts. The last MLB pitchers to open a season with that many starts and not have one victory to show for it? They would be
Kenshin Kawakami
with Atlanta and
Kevin Millwood
with Baltimore, two seasons ago. They both failed to be credited with a win in their first 14 starts of 2010. Lee has allowed five or more earned runs in three straight starts, one shy of matching his career high, which came with Cleveland in 2007.
•
Roy Halladay
threw a bullpen session Friday for the first time since landing on the DL with a back strain.
Last series results
Philadelphia won, 2-1, at Citi Field, May 28-30 (AP game recaps)
Phillies 8, Mets 4:
Ty Wigginton drove in a career-high six runs with a homer and a pair of two-out hits and Cole Hamels won his eighth straight decision. Scott Hairston and Vinny Rottino each hit tying two-run homers for the Mets. Down 5-4, the Mets threatened in the eighth when pinch hitter Andres Torres doubled. With one out and Torres on third, Daniel Murphy grounded out and then David Wright also grounded out to end the inning. Wright has gone hitless in his last 14 at-bats, dropping his average to .373.
More
Mets 6, Phillies 3:
Jeremy Hefner earned his first victory in the majors and highlighted the occasion by homering for his first big league hit. The 26-year-old rookie became the first major league pitcher to hit his first homer in his first win since 2002, when Dennis Tankersley did it with San Diego, STATS LLC said. Pinch hitter Scott Hairston had a two-run homer, and newcomer Omar Quintanilla doubled twice and singled.
More
Phillies 10, Mets 6:
Carlos Ruiz came off the bench with a sore hamstring to hit a tying homer in the seventh inning, Jimmy Rollins added a three-run shot and the Phillies busted loose late. Shane Victorino drove in the go-ahead run with a sacrifice fly in the eighth and Philadelphia bailed out winless Cliff Lee to take two of three in the series. Ty Wigginton also homered for the Phillies, who improved to 3-6 against the Mets this season. Lucas Duda went deep twice, including a two-run shot off Lee in the sixth that gave the Mets a 3-1 lead. Dillon Gee pitched 6 2/3 effective innings, but the New York bullpen was battered after he left -- beginning with the pinch-hit homer by Ruiz.
More
May, 9, 2012
5/09/12
10:02
PM ET


WHAT IT MEANS: They're the comeback kings.

For the MLB-leading 11th time this season, the Mets produced a comeback victory. It lifted them to a 10-6 win Wednesday at Citizens Bank Park and their first sweep of a three-game series in Philly since June 2006.

The Mets (18-13) moved five games over .500 for the first time since July 19, 2010, when they were 49-44.

The reeling Phillies, at 14-18, dropped four games under .500 for the first time since May 9, 2007 -- exactly five years ago. (Don't look up how that season turned out in the NL East.)

The Mets had rallied from a 2-0 deficit in Monday's series opener, then a 4-0 deficit Tuesday for victories. This time, they trailed 4-2 after six innings.

PEN PALTRY: After Cliff Lee departed at 84 pitches in his first outing since returning from the disabled list, the Mets rallied with a three-run seventh against reliever Kyle Kendrick. The first five batters reached, then Andres Torres delivered a run-scoring groundout to give the Mets a 5-4 lead.

Kirk Nieuwenhuis opened the frame with a walk. Justin Turner and Ike Davis consecutively doubled. Rob Johnson walked to load the bases. Then Kendrick plunked pinch hitter Lucas Duda to force in the tying run and set up Torres' at-bat.

It marked the Phillies' fifth blown save in their past 10 games.

Kendrick remained in for the eighth and surrendered a leadoff double to David Wright, then broken-bat RBI double to Scott Hairston as the Mets claimed a two-run lead. Later that inning, after Hunter Pence dropped a routine fly ball in right field, Davis launched a mammoth three-run homer off the façade of the second deck in right field against Jose Contreras to give the Mets a 9-4 cushion. It was Davis' first long ball since April 18, against Atlanta's Jair Jurrjens.

The Phillies had taken a 4-2 lead in the bottom of the sixth while chasing Dillon Gee on a tiebreaking double by Freddy Galvis and RBI single by Laynce Nix.

HEY THERE MR.: D.J. Carrasco pitched the ninth in his first 2012 appearance with the Mets. He allowed one run.

WHAT'S NEXT: A day off at South Beach for the Mets on Thursday. The Amazin's then open a weekend series against Jose Reyes and the Marlins on Friday -- their first glimpse at Miami's new stadium. The opener, which features southpaws Johan Santana and Mark Buehrle, is the 8,000th regular-season game in Mets history. And, presumably, the 8,000th game in franchise history without a no-hitter. Reyes went 1-for-12 during the series at Citi Field.
May, 6, 2012
5/06/12
11:35
PM ET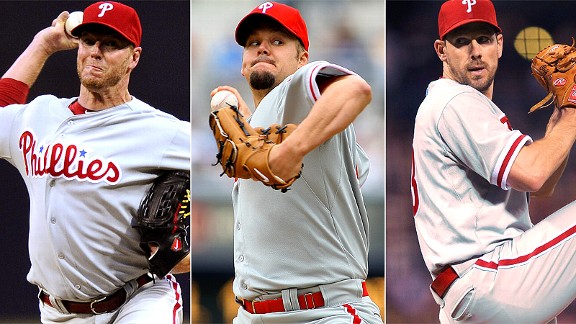 US Presswire/Getty Images
The Mets face (l to r) Roy Halladay, Joe Blanton and Cliff Lee in Philly this week.
METS (15-13, third place/NL East) vs. PHILADELPHIA PHILLIES (14-15, fifth place/NL East)
Monday:
LHP Jon Niese (2-1, 4.08) vs. RHP Roy Halladay (3-2, 3.40), 7:05 p.m. ET
Tuesday:
RHP Miguel Batista (0-1, 6.92) vs. RHP Joe Blanton (3-3, 2.83), 7:05 p.m. ET
Wednesday:
RHP Dillon Gee (2-2, 4.50) vs. LHP Cliff Lee (0-1, 1.96), 7:05 p.m. ET
Phillies short hops
•
Cliff Lee
returns from a left oblique strain for Wednesday's start. The southpaw had been on the disabled list since April 21. With Lee's return,
Kyle Kendrick
reverts to bullpen use. Kendrick made three starts in Lee's absence, going 0-2 with a 6.43 ERA. On Friday at D.C., Kendrick did limit Washington to one run in five innings to outperform
Stephen Strasburg
(three runs in six innings), although the Nats won, 4-3, in 11 innings.
•
Ryan Howard
, who is trying to work back from left Achilles surgery and an ensuing infection in the repaired area, expects to hit and run at the team's Clearwater, Fla., complex this week. Meanwhile,
Chase Utley
(knee) also could begin working out there this week, in a quasi-beginning to spring training. Utley spent the past five weeks rehabbing in Arizona. Since
Jim Thome
landed on the DL on May 2 with a lower-back strain, righty-hitting
Ty Wigginton
and lefty-hitting
Laynce Nix
exclusively have shared first-base duties. Meanwhile, with rookie
Freddy Galvis
(.198) underperforming,
Pete Orr
has started seven of the past 12 games at second base. Philly media speculation is former Cub/Giant
Mike Fontenot
soon could be promoted from Triple-A Lehigh Valley, with Galvis demoted.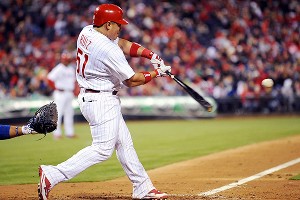 Miles Kennedy/Getty Images
Carlos Ruiz had seven RBIs in a game against the Braves last week.

•
Roy Halladay
enters Monday's start having allowed eight earned runs and 12 hits in 5 1/3 innings in his most recent outing, at Atlanta. The damage, which came after Halladay needed only 46 pitches to navigate the opening four innings, included a grand slam by
Brian McCann
. It was the most earned runs allowed by Halladay since surrendering nine in 5 1/3 innings at Texas on May 5, 2007 while with the Toronto Blue Jays. The last grand slam allowed by Halladay? That came in 2008, courtesy of
Evan Longoria
. Halladay's fastball has averaged 90.4 mph this season, down from 92.0 mph last season and 92.6 mph in 2010.
• Right fielder
Hunter Pence
homered twice Sunday night against the Nats. He has a nine-game hitting streak.
•
Joe Blanton
tossed a three-hit shutout Thursday at Atlanta. It was the third shutout of Blanton's career, and first since June 2, 2007 with Oakland against Minnesota.
• Philadelphia's bullpen has blown three of its past five save chances, although that is before the ball got to
Jonathan Papelbon
. The former Red Sox closer is 9-for-9 this season. He was named MLB's Delivery Man of the Month for April. Since a single by
Angel Pagan
on April 16, Papelbon has not allowed a hit in the last 18 at-bats against him. Papelbon's nine saves are tied with Atlanta's
Craig Kimbrel
for the National League lead.
• The Phillies snapped a string of seven straight losses to the Nationals with a 9-3 win Sunday night.
• Catcher
Carlos Ruiz
produced seven RBIs against Atlanta on Wednesday. That was one RBI shy of matching the Phillies' single-game record, which is held by
Jayson Werth
(2008),
Mike Schmidt
(1976) and
Willie Jones
(1958).
• Shortstop
Jimmy Rollins
, who moved to the leadoff spot April 28 as
Charlie Manuel
tried to jumpstart the Phillies' offense, went 5-for-27 on Philadelphia's six-game trip.
• Reliever
Jose Contreras
was activated from the DL on April 16. He had undergone elbow surgery on Sept. 2, 2011.
•
Cole Hamels
told Philly reporters he purposely plunked Washington's
Bryce Harper
during Sunday's first inning. Harper got the last laugh, ultimately stealing home that inning. Nats pitcher
Jordan Zimmermann
subsequently hit Hamels with a pitch in the left leg. "I'm not gonna lie," Hamels said, according to the Philadelphia Daily News. "It's kind of welcome to the big leagues. He kind of did the same to me."
Matchups
Niese vs. Phillies (career: 4-4, 3.58 ERA)

Ty Wigginton .500, 1 BB, 1 K, 3 PA
Placido Polanco .417, 6 RBI, 2 BB, 2 K, 26 PA
Carlos Ruiz .357, 2 RBI, 4 K, 14 PA
Freddy Galvis .333, 1 K, 3 PA
John Mayberry .294, 2 HR, 4 RBI, 2 K, 17 PA
Shane Victorino .278, 1 HR, 2 RBI, 1 BB, 3 K, 19 PA
Jimmy Rollins .263, 2 BB, 3 K, 21 PA
Hunter Pence .143, 1 BB, 4 K, 15 PA
Brian Schneider .000, 1 K, 4 PA
Batista vs. Phillies (career: 3-3, 4.42 ERA)

Jimmy Rollins .550, 1 HR, 5 RBI, 4 BB, 1 K
John Mayberry .500, 1 RBI, 2 PA
Placido Polanco .343, 3 RBI, 4 BB, 2 K, 40 PA
Ty Wigginton .308, 4 RBI, 3 K, 13 PA
Carlos Ruiz .286, 1 RBI, 2 BB, 9 K
Hunter Pence .250, 1 BB, 1 K, 5 PA
Brian Schneider .231, 1 RBI, 2 BB, 16 PA
Juan Pierre .227, 4 BB, 1 K, 27 PA
Laynce Nix .000, 2 RBI, 1 BB, 1 K, 10 PA
Shane Victorino .000, 1 RBI, 1 BB, 1 K, 5 PA
Pete Orr .000, 1 PA
Gee vs. Phillies (career: 2-1, 7.85 ERA)

Jimmy Rollins 1.000, 1 RBI, 1 BB, 4 PA
Brian Schneider .500, 2 BB, 4 PA
Shane Victorino .286, 2 RBI, 2 BB, 1 K, 10 PA
Laynce Nix .200, 1 RBI, 1 BB, 1 K, 6 PA
Carlos Ruiz .200, 1 K, 5 PA
Hunter Pence .167, 3 BB, 1 K, 9 PA
John Mayberry .167, 1 HR, 3 RBI, 1 BB, 1 K, 7 PA
Placido Polanco .167, 1 BB, 7 PA
Pete Orr .000, 1 K, 1 PA
Halladay vs. Mets (career: 9-2, 2.88 ERA)
Justin Turner .500, 1 K, 2 PA
Josh Thole .438, 2 K, 16 PA
Scott Hairston .333, 1 BB, 2 K, 7 PA
Andres Torres .231, 1 BB, 2 K, 14 PA
Ike Davis .211, 1 RBI, 1 BB, 5 K, 20 PA
Daniel Murphy .167, 1 K, 6 PA
David Wright .143, 1 RBI, 1 BB, 11 K, 22 PA
Ruben Tejada .000, 1 RBI, 8 PA
Lucas Duda .000, 1 K, 6 PA
Mike Baxter .000, 1 K, 2 PA
Blanton vs. Mets (career: 3-1, 3.50 ERA)
Scott Hairston .500, 1 HR, 1 RBI, 2 K, 6 PA
Ike Davis .455, 2 RBI, 1 BB, 2 K, 12 PA
Andres Torres .333, 1 HR, 1 RBI, 1 BB, 1 K, 4 PA
David Wright .261, 2 RBI, 1 BB, 6 K, 24 PA
Josh Thole .111, 1 RBI, 3 K, 9 PA
Daniel Murphy .000, 1 BB, 2 K, 4 PA
Ruben Tejada .000, 3 PA
Lucas Duda .000, 2 K, 3 PA
Justin Turner .000, 1 PA
Lee vs. Mets (career: 2-1, 1.61 ERA)
Andres Torres .500, 2 K, 7 PA
Ruben Tejada .500, 6 PA
Josh Thole .500, 2 PA
Daniel Murphy .333, 1 RBI, 2 K, 6 PA
David Wright .286, 3 K, 7 PA
Lucas Duda .167, 3 K, 6 PA
Scott Hairston .143, 1 HR, 1 RBI, 2 K, 14 PA
Justin Turner .000, 1 BB, 3 K, 10 PA
Ike Davis .000, 2 K, 6 PA
Last series results
Mets won, 2-1, at Citizens Bank Park, April 13-15 (AP game recaps)
Mets 5, Phillies 2:
R.A. Dickey threw seven sharp innings, Jason Bay hit a two-run homer and the Mets beat Cliff Lee. Scott Hairston also homered. Freddy Galvis hit his first major league homer for the Phillies. Dickey (2-0) allowed one run despite nine hits. The knuckleballer struck out seven and lowered his ERA against Philadelphia to 2.40 in seven career starts. Dickey has compiled 14 straight quality starts -- six or more innings with three earned runs or less -- dating to last July 25. Lee (0-1) gave up four runs and five hits in seven innings, striking out seven. He allowed just nine runs in his previous 11 starts, spanning 83 2/3 innings. The Mets played without David Wright for the third straight game.
Mets 5, Phillies 0:
Jon Niese and two relievers combined on a six-hitter and David Wright homered despite a broken finger. Niese (2-0) allowed five hits and struck out five in 6 2/3 innings. Bobby Parnell got four outs and Jon Rauch pitched the ninth. Wright was 3-for-5, including a long homer on the first pitch he saw after missing three games with a broken right pinkie. Lucas Duda also connected for the Mets, who are off to a surprising 6-2 start. Phillies starter Vance Worley (0-1) allowed four runs and eight hits in six innings.
Phillies 8, Mets 2:
Cole Hamels pitched seven strong innings and Ty Wigginton drove in four runs. Hamels (1-1) struck out 10 to help the Phillies avoid a three-game sweep at home against the Mets for the first time since June 13-15, 2006. Philadelphia struggled to cross the plate until scoring twice in the seventh inning against Ramon Ramirez (1-1). The Phillies blew the game open with five unearned runs in the eighth off two Mets relievers. The Phillies tied it at 2 in the seventh on Wigginton's sacrifice fly that scored Jimmy Rollins. Rollins could've been the second out of the inning, but right fielder Lucas Duda misjudged Rollins' lazy flyball to short right field, allowing Rollins a single. Helped by Ruben Tejada's throwing error, the Phillies tacked on five unearned runs run in the eighth. Manny Acosta walked Hunter Pence with the bases loaded before Wigginton hit a bases-clearing double off Miguel Batista for the five-run lead. Ike Davis' two-run homer in the first had staked the Mets to a 2-0 lead.
July, 17, 2011
7/17/11
9:30
AM ET
By
Mark Simon
| ESPNNewYork.com
Kyle Kendrick stat to watch
The current group of Mets batsmen has hit Kendrick in limited samplings. Josh Thole, Ronny Paulino, Carlos Beltran and Willie Harris, all have batting averages of .300 or better against Kendrick, with between 13 and 19 plate against him.

Kendrick has been very hittable in the first inning this season-- eight runs allowed in his seven starts, but is someone who settles down afterwards. He's yielded no second-inning runs in his seven starts this season.

Mike Pelfrey stat to watch
All that needs to be said about Pelfrey can be shown in his home-road splits:

Pelfrey at home vs the Phillies: 5-2, 2.70 ERA-- 60 IP, 3 HR
Pelfrey on road vs the Phillies: 1-3, 9.38 ERA-- 31 2/3 IP, 9 HR

Chase Utley enters with four career home runs against Pelfrey, matching his most against any pitcher (he has four against Johan Santana). That's also the most Pelfrey has allowed to any hitter. He's yielded three to both Ryan Howard and Chipper Jones.

How Mike Pelfrey can help himself
Pelfrey is 1-for-30 at the plate this season and his career batting average now stands at .086. Mets pitchers are now 13-for-160 this season (the Phillies, by comparison, have 27 hits from their pitchers), 6-for-87 at Citi Field.

Daniel Murphy Watch
Murphy continues to sizzle, his batting average now up to .312. Murphy had his ninth game this season with at least three hits on Saturday, second-most on the team this season. Five of those have come in his last 19 games. He had only four in the first 70 games of the season. With a hit on Saturday, he's also raised his batting average with runners in scoring position this season to .349.

Leftover from Saturday
Cole Hamels fell to 3-10 career against the Mets. Via the Elias Sports Bureau: Only one pitcher had fewer wins at the time of his 10th loss to the Mets-- former Brave Rick Mahler, whose 10th loss dropped him to 2-10 for his career against them.


April, 5, 2011
4/05/11
8:51
AM ET
The Mets open a three-game series on Tuesday night in Philadelphia. Read the series preview
here
.
On to the day's news reports:
• Philadelphia Inquirer columnist
Bob Brookover
says the
Mets and Phillies aren't the rivals
they're portrayed to be. Writes Brookover:
In the 49 years since the Mets filled the New York void left by the California emigration of the Giants and Dodgers in 1962, they have had a heated competition with the Phillies for the National League East title exactly two times: 2007 and 2008. The Mets did rival the 1964 Phillies with their monumental collapse in 2007 when they allowed a seven-game lead to slip away with 17 to play, triggering the Phillies' current run of four straight division titles and nightly home sellouts. A year later, the teams staged another entertaining race to the wire with the Phillies erasing a 3 1/2-game deficit on Sept. 10 on their way to their second World Series title in franchise history. Since then, the Phillies have had more of a rivalry with the Yankees than the Mets.
• The Mets are having a
tough time selling out Friday's home opener
against the Washington Nationals, according to the Bergen Record. Write authors
Jeff Roberts
and
Dave Sheingold
:
The e-mail landed Monday morning in the inboxes of Mets' fans throughout North Jersey and beyond. The "Mets Ticket Guide" advertised seats that still are available for Friday afternoon's home opener at Citi Field against the Washington Nationals. And if the first home game -- normally a sellout -- isn't enough of a draw, the team is giving away a Mr. Met bobblehead to the first 25,000 fans who arrive. But that still doesn't appear to be enough. The franchise has resorted to using e-mail blasts as it struggles to sell seats, with several still available on its website and thousands more available on the secondary ticket market -- including websites such as stubhub.com and seatgeek.com.
The Times recently reported the Mets have sold only the equivalent of about 10,000 season tickets this year when partial plans are included as fractions.
•
Pedro Feliciano
accepts that he was not abused by the Mets
while setting franchise records for appearances three straight seasons (86, 88 and 92). Still, the left-hander may be a little too stung by pitching coach
Dan Warthen's
comments. "I feel a little hurt by that," Feliciano said, as quoted by Newsday. "They said they didn't sign me because [they knew] I'm going to blow up this year. That hurts. But I will come out from this injury and I will be telling him there is still a lot of Feliciano to go."
Warthen didn't precisely say the Mets knew Feliciano would break down. The pitching coach did say Feliciano's usage, which increases risk of injury, prompted the Mets not to go to beyond one year on Feliciano, while the Yankees offered two years, $8 million with an option.
The direct quote: "That was part of the reason we decided to not re-sign him -- because we knew we had used him 270-some times in the last three years." (Read Warthen's entire comments
here
.)
Remember, the Mets did offer Feliciano arbitration (which netted them a draft pick as compensation). If Feliciano had accepted arbitration, he would have been back with the Mets, with a salary of potentially $4 million or more.
Read more in the
Daily News
,
Times
and
Newsday
.
•
Jose Reyes
tells the Record's
Steve Popper
the Phillies are, yes,
the team to beat
. Says Reyes: "They are the team to beat. But we still can compete with any team. We've got a very good team, too. Last year we played very good baseball against the Phillies. If you see our record I think we won the series [actually the two teams tied with nine wins each]. We still can play with them." ... The Star-Ledger also looks at the
trip to Philly
.
•
Daniel Murphy
should get Thursday's start at second base
against
Roy Halladay
, Newsday's
David Lennon
reports. Lennon can foresee a platoon developing. The Mets, like every team, face more right-handers than left-handers, and it's unlikely the lefty-hitting Murphy will get the majority of the starts early on. Rule 5 pick
Brad Emaus
started two of the first three games, and
Terry Collins
indicated Murphy may not even get a third of the early starts. But if Murphy competently handles second base, like he did Sunday, he will begin chipping away there and Collins could find him other opportunities to get in the lineup.
• Reports are starting to surface that the Mets' payroll is $118,847,309, based on a USA Today database that is being promoted, such as
this one in Newsday
. Even
Sandy Alderson
brought up over the weekend that's incorrect. The calculation only uses current players, so you won't find
Oliver Perez's
$12 million and
Luis Castillo's
$6 million counted. It also omits players in the minors such as
Ryota Igarashi
, who happens to be making $1.75 million this year. When you consider the bases salaries of
Chris Young
($1.1 million) and
Chris Capuano
($1.5 million) are a fraction of the $4.5 million they each can earn based on games started and innings, the Mets' payroll is more likely to settle in around $145 million -- unless
Jose Reyes
,
Carlos Beltran
or another high-cost player is traded at the deadline.
If you wish to reward USA Today despite those factors,
here's the link
to the Mets' salaries.
• The Mets will face
Cole Hamels
and
Roy Halladay
in Philly, but miss
Cliff Lee
and
Roy Oswalt
. Newsday notes the Mets got a preview of what may be in store on Opening Day by facing Marlins ace
Josh Johnson
, who held them hitless through six innings. The day after Johnson's gem, hitting coach
Dave Hudgens
showed Collins the video of the right-hander's dominance. "We saw the film the next day, and in the first six innings, [Johnson] made like zero mistakes," Collins said,
as quoted by Newsday
. "He finally got a ball over the plate to
Willie
[
Harris
]. We know how tough it is. But you've got to stay within your game plan and stick with it. Even the best of the best once in a while give up some hits."
•
Andy Martino
of the Daily News says Collins
is a better communicator
than predecessor
Jerry Manuel
. Writes Martino:
Those wounded last year by Jerry Manuel's lapses in communication have appreciated Collins' clarity. Manuel had a habit of surprising players by first criticizing them to reporters. One incident came last April in Denver, after John Maine surrendered eight runs in a game against the Rockies. Before speaking with Maine, Manuel told reporters that the righty's rotation spot was in jeopardy. Maine has long since left in a huff, but others remain from last year's mess. "It got so weird in here by August," said one player. "It's so much better now."
•
David Waldstein
in the Times exposes
Stanley
, the mobile tool chest the Mets
roll out to the bullpen every game
. There are practical items such as binoculars and whimsical, such as a Magic 8 Ball. Writes Waldstein:
The purpose of the [Magic 8 Ball] game depends on the user and his belief in the supernatural. It could serve as a mere diversion, or a portent, as [bullpen coach Jon] Debus demonstrated recently by grabbing it out of the chest and asking it a question. "Debo, am I going to pitch tonight?" he asked it, pretending to be one of the Mets' seven relief pitchers. Debus shook the ball and read the response as it popped into the small window: "It is decidedly so." He looked at it again and asked, "Am I going to get fired for this interview?" The ball's response: "My sources say no."
•
Brian Costa
of The Wall Street Journal looks at how
Chris Young
makes his mid-80s mph fastball
look so much faster
. The short answer: One, Young does a great job of hiding the ball from the batter by shielding it with his left elbow, like Washington's
Tyler Clippard
does as well. And then there's Young's 6-foot-10 frame, which means he has a longer stride and is releasing the ball closer to the plate. Costa notes one study says an 84 .1 mph fastball from Young seems to the batter like 92.1 mph. Writes Costa:
There is only one active pitcher in baseball as tall as Young, a former Princeton basketball star. Toronto Blue Jays right-hander Jon Rauch is also listed at 6-foot-10. And while height and wingspan are not inherent advantages for a pitcher, they are for Young, perhaps more so than for anyone else. "When you're standing there on deck and you see the ball coming out of his hand, there's nothing special to it," said Florida Marlins outfielder Logan Morrison. "But when you get in the box, it gets on you quick. Even though he's throwing 85, you have to treat it like 90, 92." ... The length of most pitchers' stride -- the distance between the rubber and where they plant their front foot -- is about 80 percent of their height. That alone would give Young a longer stride than other pitchers. But he also lunges forward to a greater degree than most. Warthen estimated Young's stride to be about eight feet, about 115 percent of his height.
•
Dan Martin
of the Post
speaks to Young's college coach
, Princeton's
Scott Bradley
, about the right-hander making his Mets debut. "It's a big start for him, but he's so even-keeled, it's not going to affect him," said Bradley, a former Yankees catcher, who worked with Young in the offseason. "He finished strong last year and was pleased with spring training, so there's no reason not to be optimistic."
• Phillies pitcher
Kyle Kendrick's
World Series ring has been stolen
from his Seattle-area home, the Seattle Times reportde.
BIRTHDAYS:
Lastings Milledge
turns 26.