New York Mets:

Lance Lynn
June, 18, 2014
Jun 18
4:24
PM ET
ST. LOUIS -- Miracles do happen! And, cripes, we're not talking about the Mets winning a stinking game.
Bartolo Colon
's leadoff double -- yes, a leadoff double -- in the sixth sparked a two-run inning that gave the Mets the lead. Colon also contributed eight strong innings as the Amazin's beat the
St. Louis Cardinals
3-2
on a steamy Wednesday afternoon at Busch Stadium.
The Mets hung on for the win despite a rocky ninth by
Jenrry Mejia
that included surrendering a two-out run.
Dana Eveland
entered and retired lefty-hitting
Matt Adams
for the game's final out with the tying run at first base. Eveland produced his first save since 2005.
The Mets (32-40) snapped an eight-game road losing streak. After winless series at Chicago and San Francisco their last trip, the Mets avoided getting swept for a third straight road series.
Colon doubled down the third-base line on an 89 mph fastball from
Lance Lynn
and chugged into second, snapping a personal 0-for-43 drought. His last hit came with the
Los Angeles Angels
on June 10, 2005, at Shea Stadium against the Mets on a single off
Mike DeJean
. Colon produced the first extra-base hit of his career.
Colon comfortably scored the tying run when
Eric Young Jr.
followed with a double to the right-center gap. The Mets took a 2-1 lead when
David Wright
blooped a hit to right field that plated E.Y. Jr. He then was staked to a 3-1 lead on E.Y. Jr.'s seventh-inning RBI double against
Seth Maness
.
Colon's only other run scored came on Aug. 9, 2002, with Montreal at Milwaukee.
At 41, he became the second-oldest pitcher in major league history to produce his first career extra-base hit, according to the Elias Sports Bureau.
Pittsburgh Pirates
pitcher Diomedes Olivo was 43 years old in 1962 when he got the first and only extra-base hit of his brief career.
Terry Collins, incidentally, placed Colon at No. 9 in the batting order Wednesday because of his hitting ineptitude. The Mets had batted the pitcher in the No. 8 slot for the only instances in franchise history the previous two games.
Not only did Colon double, he also had two sacrifice bunts in three trips to the plate.
On the mound, Colon limited St. Louis to one run on four hits in an 86-pitch effort spanning eight innings. He is 5-0 with a 1.66 ERA (8 ER, 43 1/3 IP) in his past six starts.
The lone damage against Colon came when he surrendered a leadoff homer to
Matt Carpenter
on the third pitch of the bottom of the first.
What's next:
The Mets head to Miami for a four-game series. In the 7:10 p.m. series opener Thursday,
Zack Wheeler
(2-7, 4.38 ERA) opposes
Andrew Heaney
in the left-hander's major league debut.
April, 25, 2014
Apr 25
5:45
AM ET
NEW YORK
FIRST PITCH:
The Mets head into the weekend on an upbeat note, having taken three of four from the defending National League champion
St. Louis Cardinals
.
Next up to complete the homestand: the
Miami Marlins
.
Zack Wheeler
(1-2, 4.63 ERA) opposes right-hander
Henderson Alvarez
(1-2, 2.66) in the 7:10 p.m. series opener.
Friday's news reports:
•
Bartolo Colon
allowed one run in seven innings and the
Mets beat the Cardinals, 4-1
, Thursday afternoon at Citi Field.
Chris Young
produced his first Mets homer, a solo shot against
Lance Lynn
. Lynn had been 12-0 in March/April in his career -- the best record in that time period in MLB history -- before suffering the defeat.
Kathy Willens/Associated PressDaisuke Matsuzaka reacts after completing his first save since 2000 in Japan.
The Mets moved two games over .500 for the first time since April 16, 2013, when they were 7-5. Mets starting pitchers have a 1.84 ERA in the past 10 games.
Scott Rice
inherited two runners from heavily used
Carlos Torres
with two outs in the eighth and retired lefty-hitting
Matt Adams
on a comebacker to preserve the three-run lead.
Daisuke Matsuzaka
then
notched his second professional save
with a scoreless ninth. The other save came in 2000 in Japan with the Seibu Lions. Already, four different pitchers have recorded saves for the Mets this season:
Jose Valverde
,
Kyle Farnsworth
, Torres and Matsuzaka. Farnsworth remains the primary closer right now when he is available, although Matsuzaka will be a second option, Terry Collins indicated.
Bobby Abreu
made his first start since July 15, 2012 and went 1-for-3 before
Curtis Granderson
replaced him late in right field. Colon and Abreu gave the Mets two 40-something-year-olds in their starting lineup for the first time since that devastating 2007 season finale against the Marlins in which
Tom Glavine
surrendered seven first-inning runs.
Moises Alou
also started that game.
Read game recaps in the
Post
,
Daily News
,
Times
,
Star-Ledger
,
Record
,
Newsday
,
St. Louis Post-Dispatch
and at
MLB.com
.
Read more on Matsuzaka in the
Post
,
Star-Ledger
,
Newsday
and at
MLB.com
.
Read more on Abreu in
Newsday
.
• Columnist Steve Serby
in the Post
goes position by position, getting the starters to comment on Colon's outing.
• Jared Diamond
in the Journal
asserts the Mets defy logic being two games over .500 while being outscored by four runs on the season.
• The Mets did not offer any concerns despite the Cards' Lynn having a dark spot on the bill of his cap. Read more in the
Daily News
.
• The Mets have a majority of the fans nowhere in New York City according to Facebook, whose analysis is charted
in the Times
.
•
Zach Lutz
went 3-for-3 with two homers, three RBIs and four runs scored and Rafael Montero allowed three runs in six innings as Las Vegas beat Tacoma, 11-4. Kyle Johnson's sacrifice fly in the bottom of the 10th plated Cory Vaughn as Binghamton produced a 5-4 walk-off win against Portland. Steven Matz tossed 5 2/3 scoreless innings, Brandon Nimmo walked four times and Aderlin Rodriguez homered and had four RBIs as St. Lucie beat Palm Beach, 15-5. Victor Cruzado homered and Stefan Sabol had a three-run double as Savannah beat Lakewood, 10-3.
• NYPD officer James Li, who was shot in both legs in February while attempting an arrest, will be honored at Citi Field on Saturday, Matt McNulty writes
in the Post
. Read more in the
Daily News
.
• Keith Hernandez is not a big fan of Twitter, writes Charles Curtis
in the Star-Ledger
.
•
From the bloggers …
Faith and Fear
considers the long-range forecast where baseball loyalties in the tri-state area are concerned. ...
Metsmerized
catches up with prospect Dilson Herrera. …
Blogging Mets
explains how the Mets won the series against the Cardinals.
BIRTHDAYS:
Right-hander Luis Cessa turns 22. He is 0-2 with a 4.24 ERA in three starts for Class A St. Lucie this season.
TWEET OF THE DAY:
Now beat the Marlins. Seriously. #Mets

— Greg Prince (@greg_prince) April 24, 2014
YOU'RE UP: Who is the Mets' best closing option?
April, 24, 2014
Apr 24
7:49
PM ET
By
Mark Simon
| ESPNNewYork.com
Twenty two games into the season and the Mets are now nestled into a wild-card spot, two games over .500, thanks to winning three of four games from the
St. Louis Cardinals
.
Here's a look at some of the statistical highlights from the surprising success.
Start means finish
Mets starting pitching is in the midst of a fantastic run, in which it has allowed three runs or fewer in 10 straight games.
In that span, their combined ERA is 1.84 (13 earned runs in 63 2/3 innings pitched). All but one of the starts lasted at least six innings.
Mets pitchers continue to put up great numbers with
Anthony Recker
catching. Their ERA is 2.78 and opponents' batting average is .204 with Recker catching.
One thing Mets pitchers are struggling with: their own hitting. They are now a combined 0 for 37 this season. Though even if you factor that out, the team is still hitting .228.
Mejia continues to dominate
Jenrry Mejia
improved to 3-0 with a 1.99 ERA with a win in the series opener.
The key for Mejia has been keeping the ball down. He ranks fifth among starting pitchers in percentage of pitches in the lower-third of the strike zone or below (think "knee-high or lower").
When Mejia puts a ball there, he has two ways to get you. He can induce a missed swing (opponents have missed on 40 percent of their swings against those pitches, which rates well above-average) or he can get a called strike (he gets strikes on 37 percent of those pitches that are taken, which doesn't sound high, but ranks second-best in the majors to
Bartolo Colon
's 42 percent).
Granderson starting to get hits
Curtis Granderson
had hits in each of the last two games, both of which came on balls that our batted-ball system classified as "hard-hit."
Granderson was 2 for 11 when hitting a hard-hit ball. The typical hitter gets hits at about a 70 percent rate on hard-hit balls.
My colleague in Stats & Info, Evan Abrams, pointed out a stat that will make Mets fans, particularly those drawing comparisons from Granderson to
Jason Bay
, uncomfortable.
Granderson is trying to avoid the list of worst batting averages by those 30 or older who qualified for the batting title -- one currently headed up by Dave Kingman, who hit .204 in 1982.
Jeromy Burnitz
ranked second-worst -- .215 in 2002.
No longer sitting on 714
Bobby Abreu
became the 715th player in Mets history to get a base hit. He now has 566 doubles, the most among active players.
That was among a bunch of statistical firsts from Thursday's win.
Chris Young
became the 387th different Met to hit a home run. And
Daisuke Matsuzaka
is the 132nd to earn a save since the save became an official stat in 1969.
View from the other side
The Mets became the first team to defeat
Lance Lynn
in the months of March and April. Lynn was 12-0 prior to May 1 prior to his loss on Thursday.
April, 22, 2014
Apr 22
5:38
PM ET
NEW YORK -- Terry Collins did not say a specific date. But the manager suggested he might give this lineup a month -- with
Curtis Granderson
No. 2,
Daniel Murphy
No. 4 and
Lucas Duda
No. 6 -- before eventually placing Duda in the cleanup spot.
"We've put a lot on Lucas' plate in the past week," Collins said about the reluctance to use Duda as a cleanup hitter now. "I don't want to pile on."
Start of something:
Bobby Abreu
's first start as a Met likely will come in Thursday's matinee series finale. Collins likes the matchup with Cardinals starter
Lance Lynn
. Although Abreu's only fielding experience while with Triple-A Las Vegas was in right field, Collins advised Abreu to be prepared to play left field at the big-league level.
Off and running:
Juan Lagares
, on the DL with a pulled right hamstring, has started running in Port St. Lucie, Fla. He is eligible to return from the DL on April 30.
Q PT:
Why is
Ruben Tejada
on the bench a night after making two stellar diving plays up the middle? Collins said he scripted out before the series that
Omar Quintanilla
's lone start against St. Louis would come Tuesday. Quintanilla is 4-for-12 with two doubles lifetime against
Adam Wainwright
. Collins added that Wednesday starter
Michael Wacha
"eats up" lefty hitters, so the only alternative would have been Thursday. Collins said Tejada will start the final two games of the series.
Close call:
Collins did not know Tuesday afternoon if he would have
Kyle Farnsworth
available to close. Who is the alternative? The manager was not sure.
Carlos Torres
would be a natural choice, but likely is unavailable because of a heavy recent workload. So it might fall to
Daisuke Matsuzaka
... or even
Jose Valverde
.
April, 21, 2014
Apr 21
8:45
AM ET
Jeff Roberson/Associated PressTyler Lyons will be promoted from Triple-A Memphis to face the Mets on Monday at Citi Field.
METS (9-9, third place/NL East) vs. ST. LOUIS CARDINALS (11-8, second place/NL Central)
Monday:
RHP
Jenrry Mejia
(2-0, 2.81) vs. LHP
Tyler Lyons
(2-0, 3.32 at Triple-A), 7:10 p.m. ET
Tuesday:
RHP
Dillon Gee
(1-0, 3.71) vs. RHP
Adam Wainwright
(3-1, 1.80), 7:10 p.m. ET
Wednesday:
LHP
Jonathon Niese
(0-2, 2.84) vs. RHP
Michael Wacha
(2-1, 1.73), 7:10 p.m. ET
Thursday:
RHP
Bartolo Colon
(1-3, 5.40) vs. RHP
Lance Lynn
(4-0, 3.42), 1:10 p.m. ET
Cardinals short hops
• Left-hander
Tyler Lyons
will be promoted from Triple-A Memphis to start Monday's game against the Mets. Lyons, 26, replaces
Joe Kelly
, who landed on the disabled list with a strained left hamstring, which he injured running to first base after hitting a groundball.
Kelly's absence likely will be short term. Otherwise, the Cards would have considered using 22-year-old flamethrower
Carlos Martinez
, who currently is excelling in late-inning relief -- including contributing multi-inning performances.
Lyons went 2-4 with a 4.75 ERA in 12 appearances (eight starts) for St. Louis last season as a rookie. Right-hander
Jorge Rondon
will be demoted to clear the roster spot for Lyons.
David Goldman/Associated PressJhonny Peralta is off to a slow start at the plate after signing a $53 million deal with St. Louis.
• St. Louis struck quickly in free agency, signing shortstop
Jhonny Peralta
for four years, $53 million on Nov. 24 despite Peralta returning from a Biogenesis-related suspension. After going 0-for-4 Sunday to extend his hitless streak to 12 at-bats, Peralta's average has sagged to .172. He has displayed some power, having produced four homers.
• The Cards have an entirely new look to their infield. Last year, it primarily was
Allen Craig
at first base,
Matt Carpenter
at second,
Pete Kozma
at shortstop and
David Freese
at third. Now,
Matt Adams
handles first base (with Craig in right field),
Kolten Wong
and
Mark Ellis
share second, Peralta is at shortstop and Carpenter is locked into third.
Carpenter, a 2013 All-Star, shifted with the trade of Freese to the
Los Angeles Angels
. Freese was sent to Anaheim with
Fernando Salas
for
Peter Bourjos
and Randal Grichuk.
Adams lifted his average to .357 Sunday with a 2-for-4 game against the
Washington Nationals
.
The lefty-hitting Wong and righty-hitting Ellis are not in a strict platoon. For instance, Ellis started against the right-handed
Stephen Strasburg
on Sunday. Ellis had opened the season on the DL with left knee tendinitis. Ellis, who made his Cards debut last Tuesday, was signed to a one-year, $5.25 million deal in December after playing the previous two seasons with the
Los Angeles Dodgers
.
•
Lance Lynn
has the best March/April record in MLB history among pitchers with at least 10 starts. He is 11-0 in 12 starts, topping Babe Ruth's previous-best .929 winning percentage (13-1 in 16 starts). The last unbeaten March/April pitcher was Ray Fisher, who was 9-0 from 1910 through 1920.
• Catcher
Yadier Molina
has an 11-game hitting streak. He has won six straight Gold Gloves behind the plate.
• The lefty-hitting
Jon Jay
and righty-hitting Bourjos share time in center field.
•
Adam Wainwright
, who logged 241 2/3 innings in 2013, retired 18 in a row at one point while tossing a two-hit shutout against the Nats in his last outing. It was Wainwright's 17th career complete game, which is seventh-most in the majors since 2007.
• Although his arsenal appeared just fine in 2013, right-hander
Michael Wacha
is trying to incorporate a cutter this season and become a three-pitch pitcher. He also is more frequently flipping a curveball.
• Ex-Yankee
Randy Choate
has been solid in lefty relief while producing a 1.59 ERA. He has not surrendered a homer since Aug. 1, 2012.
• The Cardinals planned to take a three-car Amtrak train from Washington to New York on Sunday night.
May, 13, 2013
5/13/13
10:04
PM ET
WHAT IT MEANS:
Rick Ankiel
and the pitcher whose glove he borrowed played central roles as the Mets dropped a season-worst seven games under .500.
Ankiel, in his Mets debut, charged hard and lunged forward, but had pinch-hitter Ty Wigginton's sinking liner pop out of the glove he borrowed from
Scott Rice
.
Wigginton, credited with a seventh-inning double, then scored when
Matt Carpenter
sent a comebacker at Rice. The shot struck the pitcher and ricocheted into foul territory.
John Buck
retrieved the baseball, leaving the plate vacant, and Wigginton scored the tiebreaking run from second base.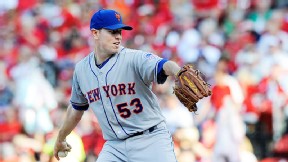 Bill Boyce/Associated Press
The Mets are 0-7 in games started by Jeremy Hefner this season.

Scott Atchison
served up a two-run homer to
Matt Holliday
later in the inning and the Mets lost, 6-3, to the
St. Louis Cardinals
on Monday night at Busch Stadium.
Although
Jeremy Hefner
received a no-decision, the Mets dropped to 0-7 in games he has started this season. They also fell to 0-8 the game following
Matt Harvey
's start.
The seven straight losses in Hefner starts match the third-longest streak in franchise history for the Mets for one pitcher to open a season.
The Mets lost Anthony Young's first 10 starts in 1993 (although that streak started in June, after he moved from the bullpen to the rotation). They lost the first eight starts by Randy Jones in 1981, and the first seven starts by
Dave Mlicki
in 1997 and Wally Whitehurst in 1992.
DEBUTANT:
Ankiel walked in his first plate appearance as a Met and finished 0-for-3 with two strikeouts. He now has K'd in 37 of 65 at-bats this season.
SILENT NIGHT:
In seven innings against
Lance Lynn
and the remainder against the bullpen, the Mets mustered only four hits -- three from
Daniel Murphy
, who had snapped an 0-for-17 skid Sunday.
The Mets (14-21) really were gifted their three runs because of unusually shaky Cardinals fielding. Ex-Met
Carlos Beltran
, now ranged-challenged and playing right field, misplayed Murphy's line drive into a two-run double. Murphy then scored from second on a tapper by
David Wright
just past the pitcher's mound that was ruled an infield single as the Mets took a short-lived 3-2 lead in the second.
The Mets did walk five times, getting Lynn's pinch count to 124. But they mustered only one hit after the second inning.
START OF SOMETHING:
Hefner retired the final 10 Cardinals he faced and did not allow a hit after a second-inning RBI single by Carpenter that evened the score at 3. Hefner, although he remained winless, finished with a decent line: 6 IP, 5 H, 3 R, 3 ER, 4 BB, 2 K. He threw 97 pitches (58 strikes).
WHAT'S NEXT:
Dillon Gee
(2-4, 5.55 ERA) opposes
John Gast
in the southpaw's major league debut Tuesday at 8:15 p.m. ET.
May, 13, 2013
5/13/13
8:45
AM ET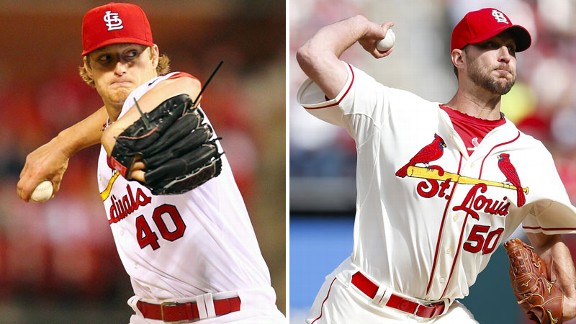 Getty Images
The Mets face Shelby Miller and Adam Wainwright consecutively to close this week's series.
METS (14-20, fourth place/NL East) vs. ST. LOUIS CARDINALS (23-13, first place/NL Central)
Monday:
RHP
Jeremy Hefner
(0-4, 4.63) vs. RHP
Lance Lynn
(5-1, 2.72), 7:05 p.m. ET
Tuesday:
RHP
Dillon Gee
(2-4, 5.55) vs. LHP John Gast (0-0, -.--), 8:15 p.m. ET
Wednesday:
RHP
Shaun Marcum
(0-3, 8.59) vs. RHP
Shelby Miller
(5-2, 1.58), 8:15 p.m. ET
Thursday:
LHP
Jonathon Niese
(2-4, 5.93) vs. RHP
Adam Wainwright
(5-2, 2.30), 1:45 p.m. ET
Cardinals short hops
•
Shelby Miller
and
Adam Wainwright
combined to retire 40 straight
Colorado Rockies
from the second batter of Friday's game through the 13th batter Saturday. That matched the major league record for most consecutive batters retired in a series, initially set by the
Texas Rangers
against the
Detroit Tigers
on May 3-4, 1996.
The 22-year-old Miller, the 19th overall pick in the 2009 draft, allowed a game-opening single to
Eric Young Jr.
, then retired 27 straight. The following day, Wainwright had a no-hit bid end after 7 1/3 innings on a
Nolan Arenado
single.
Despite missing an entire season, Wainwright is tied for the second-most shutouts in the majors since 2010 (six), trailing only
Cliff Lee
(seven). Miller, 22, made his major league debut last Sept. 5 against the Mets with two scoreless innings.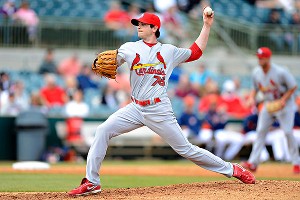 Mike Janes/Four Seam Images/AP Images
John Gast makes his major league debut Tuesday in place of Jake Westbrook.

St. Louis starting pitchers had a 21-7 record and MLB-leading 2.11 ERA until
Jaime Garcia
modestly tarnished that by allowing five runs in six innings in a loss Sunday.
•
Jake Westbrook
(2-1, 1.62 ERA), who had been scheduled to face the Mets, instead landed on the disabled list with right-elbow inflammation. Left-hander John Gast has been promoted from Triple-A Memphis and will start Tuesday in his major league debut in Westbrook's place. Although not a top prospect like Michael Wacha (who is 4-0 with a 1.99 ERA in seven starts with Memphis), Gast is 3-1 with a 1.16 ERA in six starts for that Pacific Coast League club this season.
•
Lance Lynn
had a personal 10-game winning streak dating to last Sept. 9 snapped with a 2-1 loss to the
Chicago Cubs
on Tuesday. It had been the longest active winning streak in the majors. Lynn (24-9 in his career) has never lost consecutive games.
•
Yadier Molina
, who ranks fourth in the NL in batting at .343, lost an 11-game hitting streak Sunday. He has started all but one game this season. However, backup
Tony Cruz
is expected to get one start against the Mets. Cruz's only start so far came April 19 at Philadelphia.
•
Pete Kozma
showed enough during spring training to beat out ex-Met
Ronny Cedeno
for the shortstop job in place of the injured
Rafael Furcal
. Kozma, a 2012 postseason hero, provides steady defense (one error so far), albeit with unexceptional range or flair.
Furcal strained an elbow ligament near the end of the 2012 regular season and missed the postseason. After visiting James Andrews during spring training, Furcal concluded he would need Tommy John surgery and miss the entire season.
Kozma had the tiebreaking two-run single in the ninth inning of Game 5 of the Cards' division series, which knocked the
Washington Nationals
out last October.
• Second baseman
Matt Carpenter
never played that position in the minors. He is a natural third baseman who also played first base and the outfield with St. Louis in 2012. Fellow lefty hitter
Daniel Descalso
, who competed for the job in spring training, also sees some action at the position when Carpenter slides over to third base in place of
David Freese
.
• Left fielder
Matt Holliday
left Saturday's game with an ankle injury after tripping at first base, but returned to action Sunday.
•
Carlos Beltran
went 0-for-4 Sunday as his average dipped to .298. Despite reduced mobility in right field at this stage of his career, Beltran entered the series finale against Colorado hitting .345 since April 15.
•
Jason Motte
, who had an NL-leading 42 saves last season, underwent Tommy John surgery on Tuesday after initially hoping to rehab and avoid the procedure.
Edward Mujica
is 9-for-9 in save chances.
The Cards' bullpen still has the worst ERA in the NL, but it has dramatically improved with a shakeup that involved demoting left-hander
Marc Rzepczynski
on April 27 and right-hander
Mitchell Boggs
on May 3. Entering Sunday, when rookie
Carlos Martinez
surrendered three runs in relief, the Cards' bullpen had a 0.73 ERA in 12 1/3 innings since May 3.
Martinez's fastball has averaged 96.4 mph since a promotion from Double-A Springfield 10 days ago. He is the No. 3-rated prospect in the St. Louis organization, according to Baseball America. He nearly exclusively started in the minors but is getting introduced to the majors as a reliever, which is tradition with the Cards. Pitching prospect
Seth Maness
, like Martinez, was promoted for bullpen use after primarily starting in the minors.
•
Chris Carpenter
, whose career appeared in jeopardy because of nerve damage in his arm, may return this season. He threw a 75-pitch bullpen session Friday.
June, 1, 2012
6/01/12
10:00
AM ET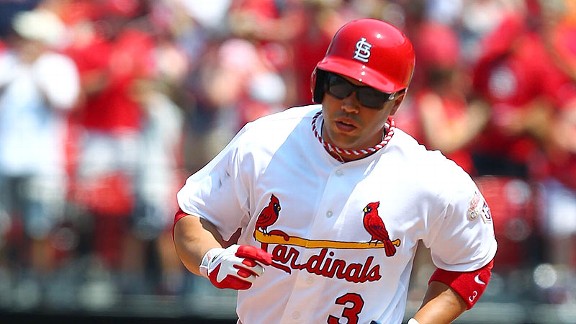 Dilip Vishwanat/Getty Images
Carlos Beltran returns to Citi Field as a visitor this weekend.
METS (28-23, third place/NL East) vs. ST. LOUIS CARDINALS (27-24, second place/NL Central)
Friday:
LHP
Johan Santana
(2-2, 2.75) vs. RHP
Adam Wainwright
(4-5, 4.45), 7:10 p.m. ET
Saturday:
RHP
R.A. Dickey
(7-1, 3.06) vs. RHP
Lance Lynn
(8-1, 2.54), 4:10 p.m. ET
Sunday:
LHP
Jon Niese
(3-2, 4.55) vs. RHP
Jake Westbrook
(4-4, 3.69), 8:05 p.m. ET, ESPN
Monday:
RHP
Miguel Batista
(1-1, 3.95) or RHP
Jeremy Hefner
(1-2, 5.60) vs. RHP
Kyle Lohse
(5-1, 3.36), 1:10 p.m. ET
Cardinals short hops
• Ex-Met
Carlos Beltran
leads the National League with 15 homers, while his 42 RBIs trail only Los Angeles'
Andre Ethier
(44). Beltran did not start Wednesday because of right-knee discomfort, although he entered in the eighth and singled. Beltran nonetheless has started 43 of St. Louis' 51 games in right field and has appeared in all but two games. He signed a two-year, $26 million deal with St. Louis on Dec. 23. Beltran's next steal will be the 300
th
of his career. He has 317 career homers, and will become the eighth member of the 300/300 club. He will join
Barry Bonds
,
Bobby Bonds
,
Andre Dawson
,
Steve Finley
,
Willie Mays
,
Alex Rodriguez
and
Reggie Sanders
.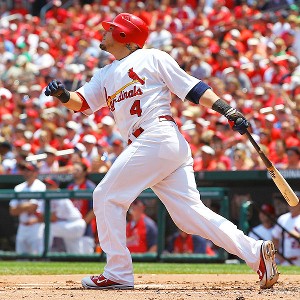 Dilip Vishwanat/Getty Images
Yadier Molina signed a $75 million contract extension during spring training.

• Left-hander
Jaime Garcia
, originally scheduled to face the Mets in the series opener, will be skipped this turn in the rotation because of elbow inflammation. Thursday's off-day allows the Cardinals to slide the other members of the rotation up a game, including moving
Kyle Lohse
into the Mets series.
•
Lance Lynn
is tied with
Cole Hamels
for the major league lead in wins with eight.
•
Mike Matheny
has taken over for
Tony La Russa
as manager, and is one of two former players who has stepped right into managing without any coaching experience. The other: ex-Met
Robin Ventura
as skipper of the Chicago White Sox. Matheny was a catcher for the Cardinals from 2000 through 2004, during a 13-year career.
•
Skip Schumaker
will land on the DL after pulling a hamstring Wednesday against the Braves. He likely will be replaced by first baseman/outfielder
Allen Craig
, who is due to be activated. Schumaker began the season on the DL with an oblique strain, but had seen considerable playing time with center fielder
Jon Jay
(shoulder) and Craig (hamstring) sidelined. Also on the injury front, third baseman
David Freese
has missed three straight starts with right wrist soreness, although he entered Wednesday's game as a replacement.
• Minus
Albert Pujols
, and with
Lance Berkman
lost for at least another eight to 10 weeks following surgery last Friday to repair damage in his right knee, rookie
Matt Adams
had settled in of late at first base.
•
Adam Wainwright
has a pedestrian 4-5 record and 4.45 ERA as he returns from Tommy John surgery. But he has allowed one run in 15 innings over his past two starts, against San Diego and Philadelphia, as he puts more distance between himself and the procedure.
• Catcher
Yadier Molina
signed a five-year, $75 million extension during spring training. Molina left Sunday's game in the fifth inning with dizziness, which was attributed to dehydration. Molina has caught 46 of the team's 51 games, the most in that span to start a season in his career.
• The Cardinals promoted
Maikel Cleto
from Triple-A during Thursday's off-day. Cleto originally was a Mets farmhand. He was traded to Seattle in the deal that returned
J.J. Putz
and
Sean Green
. Cleto made his major league debut last season with St. Louis, allowing six runs in 4 1/3 innings over three relief appearances.
• Left fielder
Matt Holliday
scored an MLB-high 25 runs in May. He hit .340 with six homers and 21 RBIs during the month. He also walked 17 times, for a .432 on-base percentage.
Last series results
St. Louis won, 2-1, at Busch Stadium, Sept. 20-22 (AP game recaps)
Cardinals 11, Mets 6:
Pinch-hitter Ryan Theriot's go-ahead double with the bases loaded in the seventh inning gave St. Louis its 11th win in 13 games kept it 2½ behind the Braves in the wild-card chase. The Cardinals scored six times in the seventh to come back from an early 4-0 deficit after the Braves beat Florida 4-0. Albert Pujols went 4-for-5. Theriot hit a pitch from Tim Byrdak into the gap in left-center to bring in Pujols and Lance Berkman, who both singled against Josh Stinson (0-2), for a 7-6 lead.
More
Cardinals 6, Mets 5:
David Freese drove in five runs with a go-ahead three-run homer and a triple. The Cardinals moved within 1½ games of Atlanta in the National League wild-card race. Jaime Garcia (13-7), making his 30th start, pitched around four unearned runs in 7 2/3 innings. The Mets led 4-3 after six and the Cardinals were going quietly in the seventh when Albert Pujols singled off reliever Miguel Batista with two outs. Terry Collins brought in lefty Daniel Herrera (0-1) to make Lance Berkman bat right-handed, but Berkman foiled the strategy by singling. Collins then went to Pedro Beato, and Freese tagged him for a 389-foot, opposite-field homer to give the Cardinals a 6-4 advantage.
More
Mets 8, Cardinals 6:
Tony LaRussa insisted his playoff-hopeful team wouldn't be crushed after blowing a four-run cushion in the ninth inning. The loss dropped St. Louis two games behind idle Atlanta for the wild card, with each team having six games left. The Cardinals lost for only the third time in 16 games. Shortstop Rafael Furcal misplayed a potential double-play grounder at the start of the Mets' six-run burst, fueling the comeback. Ahead 6-2, the Cardinals walked three batters in helping the Mets take the lead. Willie Harris drew a walk to begin the inning and capped it with a tiebreaking, two-run single with two outs. It was the Mets' biggest ninth-inning comeback since they scored five to beat the Cubs 6-5 on May 17, 2007.
More