New York Mets:

Larry Vanover
August, 6, 2013
8/06/13
10:30
PM ET
NEW YORK -- A pair of ex-Rockies combined to lead the Mets to a 3-2 win against Colorado on Tuesday night.
Eric Young Jr.
, acquired from Colorado on June 18 for
Collin McHugh
, hustled to score the tiebreaking run from second base in the bottom of the eighth on a trickler infield single to the right side by
Juan Lagares
.
Young had combined with another ex-Rockie,
Carlos Torres
, to bail the Mets out in the sixth.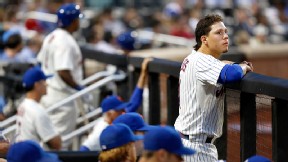 John Minchillo/Associated PressWilmer Flores went 0-for-4 with an error in his major league debut.
Torres had inherited the bases loaded from
Jenrry Mejia
with one out and coaxed a fly ball from
Wilin Rosario
to center field that was too shallow for a sacrifice fly. Young then made a lunging grab of
Todd Helton'
s sinking liner in shallow left field to end the half-inning and preserve a 2-all score.
Mejia had cruised through five innings, surrendering only an unearned run precipitated by an
Ike Davis
error. But after a lengthy delay early in the top of the sixth after plate umpire Manny Gonzalez was struck in the jaw with a bunted ball, play resumed and Mejia served up a game-tying homer to pinch-hitter
Charlie Blackmon
.
Mejia eventually departed with the bases loaded and one out that inning and was bailed out by Torres' pitching and Young's catch.
Mejia's line: 5.1 IP, 4 H, 2 R, 1 ER, 2 BB, 7 K. He threw 96 pitches (65 strikes) in a no-decision.
Mejia had been coming off an outing in Miami in which the bone spur in his pitching elbow was particularly bothersome.
Gonzalez, the first-ever Venezuelan ump in major league history, departed after Blackmon's bunt hit the dirt in foul territory, bounced up and struck him in the jaw. Larry Vanover took over behind the plate after a delay and a three-man crew completed the game.
Closer call:
LaTroy Hawkins
was given the first save opportunity with
Bobby Parnell
on the DL and pitched a scoreless ninth. Hawkins earned his first save since May 6, 2012, as an Angel. He allowed a pair of two-out singles in the ninth, but stranded runners on the corners.
John Franco, Roberto Hernandez and Hawkins are now the 40-year-olds to have earned saves for the Mets.
Debutant:
Wilmer Flores
grounded back to Rockies starter
Chad Bettis
in his first major league at-bat and finished 0-for-4 in his debut, which came on his 22nd birthday. Flores, who had just started to again receive exposure to third base on Saturday with Triple-A Las Vegas, also committed a fielding error.
Flores departed for
Justin Turner
on a double-switch when Hawkins entered for the ninth.
That's offensive:
Lagares contributed a two-run triple in the first inning as the Mets grabbed a 2-0 lead. He officially finished with three RBIs after Young scored from second base on the eighth-inning infield single.
Davis, reinstalled in the cleanup spot, went 2-for-2 with a pair of doubles and two walks (one intentional).
What's next:
Matt Harvey
Day! Harvey (8-3, 2.21 ERA) opposes right-hander
Jhoulys Chacin
(10-5, 3.40) at 7:10 p.m. Wednesday.
July, 14, 2012
7/14/12
7:37
PM ET
WHAT IT MEANS: Bob Geren, managing after Terry Collins' ejection, asked Bobby Parnell to convert a five-out save, which included inheriting two runners in the eighth.

Parnell, working with a two-run cushion, allowed both to score, on RBI singles by Michael Bourn and Martin Prado. He then surrendered an RBI single to Jason Heyward past a diving Ronny Cedeño at shortstop as the Braves rallied for an 8-7 win with a three-run eighth.

Geren had removed Ruben Tejada at shortstop for Cedeño on the double-switch on which Parnell was inserted.

Parnell suffered his first blown save in three chances in Frank Francisco's absence with an oblique injury that recently had a setback.

The last five-plus-out save by a Met remains by Francisco Rodriguez against the Phillies on Aug. 7, 2010.

The Mets fell to 46-42.

MEN IN BLUE: A reversed call in the fifth inning opened the door for the Braves to take a 5-3 lead.

Left fielder Jordany Valdespin initially was ruled to have caught a fifth-inning fly ball off the bat of Heyward. Runner Martin Prado, who had believed the ball bounced and proceeded toward second base, was doubled off first to end the inning.

However, after huddling, the umpires reversed the call -- correctly, since the ball actually had short-hopped the sliding Valdespin. Not wanting to penalize Prado for accurately seeing the ball drop, even though he was tagged out, Prado was placed on second base, while Heyward was awarded first base.

After Collins argued, and was ejected for the second time this season, Dickey retired Chipper Jones on a groundball for the second out as both runners advanced. Freddie Freeman followed with a tiebreaking two-run double to right-center.

Dickey, who departed for a pinch hitter the following half-inning, has now allowed five earned runs apiece in three of his past four starts. His lone two outings this season in which he failed to complete six innings have come at Turner Field.

Collins' other ejection this season came April 11 against Washington, by Larry Vanover while disputing the strike zone.

Valdespin actually was in the middle of two disputed calls in the fifth. Leading off the top half of that inning, he incorrectly was ruled out by first base ump C.B. Bucknor. On a bunt play, Valdespin actually had beaten right-hander Tommy Hanson's throw to first.

CHARMED: Dickey departed trailing 5-3, but ended up in a position to win a half-inning later. Justin Turner, who pinch hit for Dickey, as well as Tejada and Valdespin delivered RBI singles as the Mets took a 6-5 lead in the sixth. Tejada added another run-scoring single in the eighth for a two-run cushion.

The eighth-inning comeback instead resulted in a no-decision.

Since losing in rainy Atlanta on April 18, Dickey nonetheless has won 10 straight decisions, trailing only a streak of 16 winning decisions by Tom Seaver that spanned the 1969 and '70 seasons, and a 14-decision winning streak by Dwight Gooden in 1985.

Dickey has failed to complete six innings only twice this season -- both times at Turner Field.

Knuckleball predecessor Phil Niekro attended Saturday's game.

INSIDE EDGE: Josh Edgin made his second major league appearance, and had resounding success while protecting a 6-5 lead. The rookie left-hander struck out three in the frame. The lone batter who reached, Matt Diaz, came on a semi-intentional walk. In two appearances, Edgin has now struck out five of the six lefty hitters he has faced. The other, Freeman, doubled Friday.

WHAT'S NEXT: Johan Santana's first start of the second half, delayed to rest a cranky right ankle, is on tap as the Mets try to avoid the sweep. Santana opposes Ben Sheets, who is making his first major league start in two years, in Sunday's 1:35 p.m. finale. Shortstop Paul Janish, acquired from Reds during Saturday's game for right-hander Todd Redmond, is likely to make his Braves debut.
April, 12, 2012
4/12/12
8:34
AM ET
Stephen Strasburg
allowed two hits in six scoreless innings to outduel
Johan Santana
and the
Washington Nationals beat the Mets, 4-0
, in Wednesday afternoon's rubber game. After opening the season with four straight wins, the Mets headed into Thursday's off-day losers of two straight and tied with the Nats atop the division standings.
After mustering a season-low three hits and issuing 10 walks in the series finale against Washington, the Mets attempt to regroup in Philadelphia on Friday night, when
R.A. Dickey
opposes
Cliff Lee
.
Jon Niese
then faces
Vance Worley
on Saturday, followed by
Mike Pelfrey
and
Cole Hamels
on Sunday.
By the way, on the Citi Field revised dimension tracker, the Mets now have taken advantage of the new specs for two additional homers, whereas opponents have yet to capitalize.
Lucas Duda
went deep in the fourth inning Saturday against Atlanta's
Jair Jurrjens
, while
Kirk Nieuwenhuis
took advantage in the fourth inning two days later against Washington's
Edwin Jackson
.
I'll be chatting Mets at SportsNation at 11 a.m. today. Please join me
here
.
Thursday's news reports:
• Santana tossed 99 pitches, four over the soft cap
Terry Collins
had publicly identified, and the southpaw's highest pitch count in any organized game since Aug. 28, 2010. With a short bench minus active
David Wright
, Collins used Santana to bunt in the bottom of the fifth. Santana tossed 84 pitches in his first 2012 start. Collins said the Mets actually hoped to keep Santana to 105 pitches Wednesday, not 95. He was removed Wednesday after a six-pitch leadoff walk in the sixth to
Jayson Werth
. The lone run to score against Santana came on a second-inning wild pitch. He became the sixth pitcher in franchise history to limit an opponent to no more than one run in each his first two starts to a season and yet not be credited with at least one win. The others:
Pat Mahomes
(2000),
Pete Harnisch
(1995),
Rick Anderson
(1986),
Ron Darling
(1985) and
Don Cardwell
(1969). Read game recaps in the
Star-Ledger
,
Times
,
Record
,
Journal
,
Daily News
,
Post
and
Newsday
.
• Collins expressed confidence
Wright
will return to the lineup Friday
, four days after suffering a fracture to his right pinkie diving back into first base on a pickoff throw from the Nats' Jackson. (Of course, the manager initially also wishfully believed Wright's abdominal tear would be a day-to-day thing.) Wright, who received a customized splint Wednesday, is due to see a hand specialist at the Hospital for Special Surgery today. "I'm not a doctor," Collins told reporters. "I don't mean to step on the doctor's toes. I will never do that. But when they give us a final diagnosis of the whole thing, my gut tells me that you'll see him Friday."
After Wright's Thursday visit to the specialist, there may be more clarity about whether a disabled list trip is required. If Wright lands on the DL, Collins expects to shift
Daniel Murphy
to third base. Wright has only been on the DL twice in his career -- after a 2009 beaning by San Francisco's
Matt Cain
that resulted in a concussion, and last season after discovering he was playing with a stress fracture in his lower back. Read more in
Newsday
and the
Star-Ledger
.
• Columnist
Bob Klapisch
in the Record
offered this review of Santana-Strasburg and the Mets' three-hit attack:
That's the surcharge they're paying for David Wright's injury: Without him, the lineup looks lost, rudderless. Ike Davis is a walking ghost with one hit in his first 20 at-bats, and Lucas Duda (.136) and Jason Bay (.158) aren't much better. In all, the Mets struck out 15 times, and not just because of Strasburg. Washington's relief corps registered six of the last nine outs with punch-outs. The effect was impossible to ignore -- it was as if the four-game winning streak never happened. Collins watched in disgust as the Mets issued 10 walks, seven by his relievers in the last four innings. And he couldn't help but criticize the Mets' passivity at the plate, noting in particular how many pitches they took "right down the middle." This underscores just how narrow the Mets' axis of success really is. They can't generate enough offense without Wright, and they'll soon need Santana to go deeper than five or six innings per start.
• Columnist
David Lennon
in Newsday
echoed the concern about a Wright-less lineup. Wrote Lennon:
This lineup, as currently constructed, can't sustain Wright's prolonged absence. The only righthanded threat, and we're using that term loosely here, is Bay and he's 3-for-19 with eight strikeouts after whiffing twice more Wednesday. Ike Davis snapped an 0-for-18 opening skid with his sixth-inning single to avoid tying Todd Pratt for the dubious record of hitless streak for a Mets position player to start a season. It was one of only three hits by the Mets as they slipped to .167 (9-for-54) with runners in scoring position. Wright, remember, was batting .583 (7-for-12) with a .647 on-base percentage, a home run and four RBIs before he injured his finger diving back to first base. The Mets can't come close to replacing that. Not now, anyway.
• Wrote columnist
Bill Madden
in the Daily News
:
You could just feel the pall once again settling in over Citi Field as all the dire prognostications for this Mets team seemed back on track. Ordinarily, a 4-2 home stand in which Johan Santana turned in two strong, almost vintage, though abbreviated outings would be cause for optimism -- if only all the things Terry Collins privately worried about hadn't reared their ugly heads so quickly.
• Columnist
Joel Sherman
at his Post blog
advocates MLB creating a seven-game DL because of situations like Wright's knuckle injury. Writes Sherman:
Would some teams abuse the seven-day DL as a way, for example, to remove a starter who wasn't going to play seven days anyway and get an additional player on for a week? Probably. But you can minimize the abuses by a) Making it a seven-game, not seven-day DL so that off-days and/or rainouts cannot be used to manipulate. b) Create an injury clearing house at MLB whereby any seven-game DL stint has to be signed off on by a doctor not affiliated with the team. c) Not allow the use of the seven-game DL after the All-Star game, so teams are not abusing the privilege during a pennant stretch. Remember that rosters can expand to 40 men after Sept. 1 anyway.
•
Ike Davis'
sixth-inning single Wednesday snapped an 0-for-18 start. It was the longest season-opening skid by a Mets position player since
Todd Pratt
opened the 2001 season hitless in 19 at-bats, according to the Elias Sports Bureau.
Jason Bay
, meanwhile, went 0-for-3 with two strikeouts as his average dipped to .158. Collins was ejected by plate umpire
Larry Vanover
for arguing a called third strike against Bay. "I actually feel pretty good," Bay told reporters afterward. "I've faced some good pitching the last couple days and it's really a matter of just building on it. I feel like I'm having good at-bats as far as seeing the ball and doing certain things. There were times the last few years you're kind of guessing and not even close. But I don't feel like I'm there at all." Read more in
Newsday
and the
Daily News
.
• Duda had an entertaining Q&A with
Steve Serby
in the Post
. The exchange includes:
Q: Bo Jackson was your boyhood idol?
A: Bo Knows Everything. Bo Knows tennis, Bo Knows cycling, Bo Knows bowling ... I had that picture of him where he had like the football pads and he had like a baseball bat in his hand and ... cycling shorts on. I just think he was a freak athlete. It's awesome to see anybody climb up a wall and run two steps on the side of the wall and catch a ball.
•
Sean Ratliff
, who underwent four eye surgeries and missed all of last season after being struck late in 2011 spring training with a foul ball, played his first regular-season game on Wednesday night since Sept. 6, 2010. Ratliff started in left field for Class A St. Lucie. Meanwhile, in Triple-A Buffalo's home opener,
Zach Lutz
launched two homers in a win against the Scranton/Wilkes-Barre Yankees. Read the full minor league recap
here
.
• On the 50th anniversary of the first game in Mets history,
Roger Craig
threw out the ceremonial first pitch at Citi Field before Wednesday's game. Craig started Game 1 for the 40-120 Amazin's, on April 11, 1962 -- an 11-4 loss at St. Louis. Read more in the
Record
,
Post
and
Newsday
.
• Strasburg was allowed to reach the 100-pitch plateau for the first time. Read more in the
Times
.
• 1986 Met
Ray Knight
said in a radio interview he has felt shunned by the organization,
according to the Daily News
. "I've never been able to get anybody from the Mets to really call me," Knight said, the newspaper reported. "I get invited to the big events, but the Mets have just never treated the players the way the other clubs do. Detroit, Houston, Cincinnati, I always get notes, cards, stuff from them. I never get anything from the Mets. I don't know what I did to the front office. I always tried to be a professional and comport myself with class. But I've never had anybody act as if it mattered."
•
Mike Harrington
profiles
Jordany Valdespin
in the Buffalo News
. Valdespin started a fifth straight game in center field Wednesday.
TRIVIA:
Strasburg beat the Mets on Wednesday in his second career start against them. Which current MLB pitcher had the most starts against the Mets before finally being credited with a win?
Wednesday's answer: The other six active MLBers who have 500 career RBIs and primarily play third base, along with Washington's
Ryan Zimmerman
and Wright:
Alex Rodriguez
,
Chipper Jones
,
Scott Rolen
,
Aramis Ramirez
,
Adrian Beltre
and
Eric Chavez
.
NBA
NHL
COLLEGE BASKETBALL
MLB
MLS