New York Mets:

Las Vegas 51s
September, 8, 2013
Sep 8
7:11
AM ET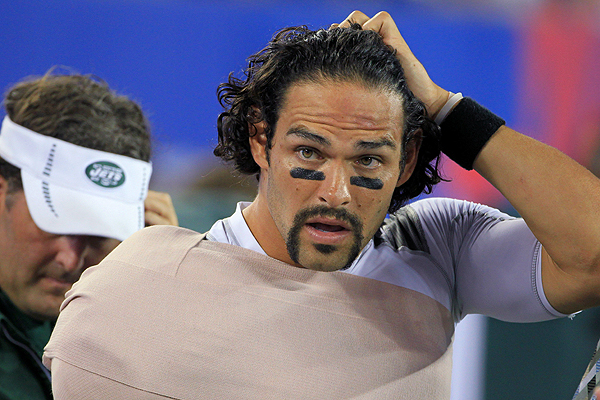 John Munson/The Star-Ledger/USA TODAY SportsMark Sanchez will be watching the Jets, not the Mets, on Sunday afternoon.
FIRST PITCH:
Are you ready for some …
Daisuke Matsuzaka
?
Going up against the Jets game versus the Tampa Bay Buccaneers, Matsuzaka faces the
Cleveland Indians
at 1:05 p.m. as the Mets look to avoid getting swept at Progressive Field.
Matsuzaka pitched for the Indians' Triple-A affiliate for most of this season. He brings an 0-3 record and 10.95 ERA into his matchup with rookie right-hander
Danny Salazar
(1-2, 3.00).
The Mets (63-77) now have the eighth-worst record in the majors, which would translate into getting a first-round draft pick that is protected regardless of how aggressive they are in free agency next offseason.
A loss today would drop the Mets 15 games under .500, which would match the season's low-water mark. They were 24-39 on June 15, and 25-40 two days later. A loss, or
Atlanta Braves
win, also would mathematically eliminate the Mets from NL East contention. The wild card tragic number is 5.
Sunday's news reports:
• Whether it is because they are shorthanded or intend to trade him, the Mets decided to bring
Frank Francisco
back to the major league level
with Binghamton's postseason elimination. Francisco had been out the entire season after undergoing seemingly benign surgery last Dec. 18 to remove a bone spur from his pitching elbow. If the Mets were to trade Francisco, he would be ineligible for the acquiring team's postseason roster. Still, he could help a team like the Yankees get to October, while providing the Mets some salary relief.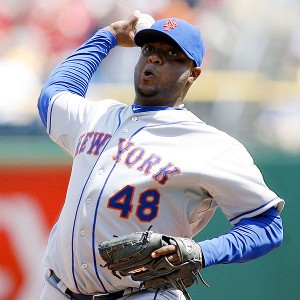 Charles LeClaire/US PresswireThe Mets welcome back Frank Francisco today.
ESPN's Pedro Gomez recalled the Yankees acquiring left-hander Rick Honeycutt on Sept. 25, 1995. (He subsequently faced only six batters.) More recently, the Mets considered trading
Chris Capuano
to the
Boston Red Sox
two years ago for one late-season start.
Francisco is owed $781,420.77 from today through the remainder of the season (22 days of a 183-day season). Mets insiders previously had predicted Sandy Alderson would release Francisco before letting him get to the major league level.
Read more in the
Post
,
Star-Ledger
,
Daily News
and
Record
.
• The Mets announced postgame Saturday that reliever
Greg Burke
would
join the Mets today in Cleveland
. The team also is expected to add veteran right-hander
Aaron Harang
before next Saturday's doubleheader against the
Miami Marlins
at Citi Field.
Team insiders told ESPNNewYork.com that the Mets, as of Friday, also planned to call up
Ruben Tejada
,
Mike Baxter
and catcher Juan Centeno, but abruptly reversed course midday Saturday.
The Mets still may intend to call up Tejada at a later date -- the Daily News reported they will Monday -- but there was conflicting information because of the seemingly sudden reduction in the number of call-ups. If the Mets wait until Tuesday, they would delay Tejada's free agency by a year, although it is now hard to envision him in the team's plan four seasons down the road anyway. Alderson did not reply to a text message Saturday about whether Tejada eventually would be promoted.
• Las Vegas was
eliminated Saturday in its best-of-five series
. The lone Mets affiliate still alive is low-Savannah, which opens its South Atlantic League championship series Monday at Hagerstown, a
Washington Nationals
affiliate.
•
Jonathon Niese
allowed five first-inning runs and
Scott Atchison
surrendered a three-run homer to
Asdrubal Cabrera
in the seventh as the
Mets lost to the Indians, 9-4
, Saturday. The Mets dropped into fourth place in the NL East.
Read game recaps in the
Post
,
Daily News
,
Times
,
Record
and
MLB.com
.
• Jorge Castillo
in the Star-Ledger
revisits with
Michael Bourn
the Mets' failed pursuit of him as a free agent last offseason. Mets officials visited Bourn at his home in Texas, but have suggested they backed off at the end because they may have needed to forfeit the first-round draft pick they eventually used on high school first baseman Dominic Smith.
• Marc Carig
in Newsday
discusses
Travis d'Arnaud
's major league performance so far.
•
David Wright
is
returning to New York
with minor league seasons complete and the Mets' Port St. Lucie, Fla., complex barren. Wright, on the DL with a strained right hamstring, will take batting practice and do other baseball activities at Citi Field. He is not ready for games. Read more in the
Star-Ledger
.
BIRTHDAYS:
Bobby Parnell
, on the disabled list with a herniated disc in his neck, turns 29.
TWEET OF THE DAY:
Ad from 1969 #NYJets game program. What are odds we see this again? @darrenrovell #mets #NFL pic.twitter.com/zbz5B0Bibw

— john_kucko (@john_kucko) September 7, 2013
YOU'RE UP: Do you think the Mets should call up Ruben Tejada?
September, 1, 2013
Sep 1
5:45
AM ET
WASHINGTON
FIRST PITCH:
Ike Davis
' season almost assuredly is over. Now the question becomes: Is his career with the Mets done, too?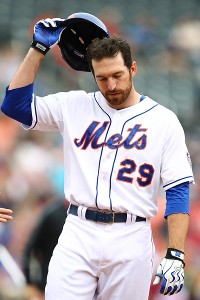 Al Bello/Getty ImagesIke Davis is likely done for the season ... and possibly his Mets career.
Davis
strained his right oblique muscle
on a third-inning sacrifice fly Saturday night. Because Davis is making $3.125 million and is eligible for arbitration, his salary is likely to drift modestly upward, even with unsatisfactory production.
So Sandy Alderson will have to decide whether to bring Davis back in 2014 at a potential $3.5 million to $4 million salary, attempt to trade him early in the offseason, or cut the first baseman loose at the December non-tender deadline.
You may recall the Mets dumped
Mike Pelfrey
at the non-tender deadline last December because they did not want to pay the arbitration-eligible pitcher anywhere near the $5.7 million he earned in 2012.
Some factors to consider when trying to forecast the Mets' ultimate decision: So much money is coming off the books, it might be palatable to carry Davis' salary rather than non-tender him if no trade materializes. And can the Mets do better anyway?
In Davis' absence,
Lucas Duda
and
Josh Satin
will share first base for now.
Tonight, the Mets go for a sweep Sunday at Nationals Park, in an 8:05 game televised by ESPN.
Jonathon Niese
(6-6, 3.69 ERA) opposes Washington right-hander
Ross Ohlendorf
(2-0, 2.58).
Sunday's news reports:
• Read more on Davis in the
Post
,
Daily News
,
Newsday
,
Star-Ledger
,
Record
and
MLB.com
.
• Las Vegas clinched its Pacific Coast League division title and a playoff berth. The 51s will open their first-round series at Salt Lake on Wednesday. Las Vegas joins Mets affiliates Binghamton, Savannah and Kingsport as having secured postseason appearances. Brooklyn lost to Aberdeen, 7-0, to drop a half-game out of first place in its New York-Penn League division with four games remaining. Stefan Sabol drove in five runs in a doubleheader as Savannah swept Greeneville on Saturday. Read the full minor league recap
here
.
• Right-hander
Vic Black
, left-hander
Tim Byrdak
and corner infielder
Zach Lutz
are
expected to join the Mets today
as rosters expand. Lutz's call-up stems from Davis' injury.
Robert Carson
swaps lefty relief spots with Byrdak and
heads to Vegas
. Black was acquired from the
Pittsburgh Pirates
in the trade for
Marlon Byrd
and
John Buck
. The Mets also added ex-Yankees right-hander
Cory Wade
and
assigned him to the Triple-A club
.
•
Zack Wheeler
took a scoreless effort into the sixth and the Mets produced a six-run third inning en route to a season-high 17 hits and
an 11-3 win against Washington
on Saturday night.
Matt den Dekker
produced his first major league hit and RBI.
Juan Lagares
produced his
NL-leading 12th outfield assist
, tying
Tsuyoshi Shinjo
's franchise rookie record. Terry Collins did advise Wheeler to
stay a little quieter
with his candor about his fatigue at this stage of the season.
Read game recaps in the
Daily News
,
Times
,
Newsday
,
Star-Ledger
and
MLB.com
.
• Mike Puma
in the Post
reviews the Mets' month of August.
BIRTHDAYS:
Left-hander David West turns 49.
TWEET OF THE DAY:
Champagne in Wally's eyes. He has won a championship at every pro level. Independent to MLB. pic.twitter.com/RjLZLlA5sO

— Las Vegas 51s (@LasVegas51s) September 1, 2013
YOU'RE UP: Do you think Ike Davis will be a Met in 2014? Should he be?
June, 8, 2013
Jun 8
12:47
AM ET
In what could be his final Triple-A tune-up before being promoted,
New York Mets
top pitching prospect Zack Wheeler fizzled late and did not last five innings. Wheeler gave up eight hits and four earned runs in 4 2/3 innings while striking out seven. He left with Las Vegas ahead of Tacoma on Friday night.
Wheeler breezed through the first four innings, allowing just one run, but it fell apart in the bottom of the fifth. Three singles, a double and a walk sliced Las Vegas' lead to 6-4, and he was pulled for a reliever. Wheeler's ERA bumped up to 4.14 and he will stay 4-1 on the season.
ESPNNewYork.com has reported that the Mets are targeting next Friday against the
Chicago Cubs
to be Wheeler's debut. Factors such as weather conditions could factor into that date potentially being moved. But for now, it seems that Wheeler is on track to head to Flushing.
June, 4, 2013
Jun 4
6:14
AM ET
PORT ST. LUCIE, Fla.
FIRST PITCH:
After a day off in D.C. to regroup from getting swept against the
Miami Marlins
, the Mets get back to work.
Jeremy Hefner
(1-5, 4.74 ERA) and right-hander
Jordan Zimmermann
(8-3, 2.37) meet in today's 7:05 p.m. opener at Nationals Park.
Read the Mets-Nats series preview
here
.
Tuesday's news reports: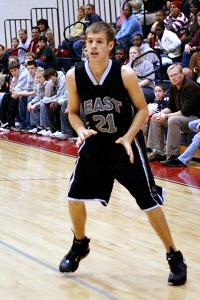 Courtesy of Wheeler familyCan you name this soon-to-be Met? It's Zack Wheeler, playing high school basketball for East Paulding (Ga.) High.
• ESPNNewYork.com
profiles Zack Wheeler
, with input from father Barry, brother Jacob and
Matt Harvey
. (Warning: A young Zack is seen wearing a Braves jersey and hat.)
• After being examined in New York, catching prospect Travis d'Arnaud will
remain in a protective boot
for another week, but can begin walking while wearing it. D'Arnaud originally fractured the first metatarsal in his left foot on April 17 with Triple-A Las Vegas. Read more in the
Post
and
Star-Ledger
.
•
David Wright
is trying to do too much and is chasing pitches outside the strike zone rather than taking walks, writes Marc Carig
in Newsday
. Wright's average has dipped to .277. He is hitting .174 (8-for-46) with one homer, two RBIs and 11 strikeouts in his past 12 starts.
• Pitching coach Dan Warthen believes
Bobby Parnell
should be an All-Star. "Because [Parnell] should have a below 1.00 ERA, because he's striking out a guy an inning, because he's done the job each and every time he's walked out to the mound," Warthen told Mike Puma
in the Post
. "I don't see anybody who has done any better than him, including [Braves closer Craig] Kimbrel." Read more
in the Record
.
• Dr. James Andrews agreed that
Scott Atchison
does
not need surgery now
to remove a bone spur from his right elbow.
• Columnist Joel Sherman
in the Post
suggests Mets fans were deceived by the Subway Series. Writes Sherman:
And there is no one quite as human as you, Met fans. Five straight wins, particularly those four against the Yankees, had you sweeping two months of dreadful baseball aside. Here came the Marlins for six of the next nine and soon after Zack Wheeler would arrive, and maybe Travis d'Arnaud before long and maybe -- just maybe -- Sandy Alderson could make a trade for an actual major league outfielder in July.
Amazin' what five good days could do for the soul of even a despondent fan. "Honey, where did I put my Mets cap?"
Except no fan base should know the devilish realities of small sample sizes better than those who root for the Mets. They should recognize just how deceptive even a dreadful team could be for a week, a month or even a couple of months.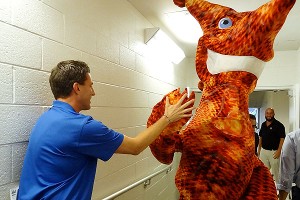 Adam RubinSNY field reporter Kevin Burkhardt has a new NFL gig to keep his fall active.
• SNY field reporter Kevin Burkhardt will be the newest NFL play-by-play man on Fox, according to
SI.com
.
• Hefner says he is unconcerned about his rotation spot being affected by Wheeler's looming arrival. "I don't worry about it anymore," Hefner told Kristie Ackert
in the Daily News
.
• Brian Costa
in the Journal
reviews how the Mets got to Las Vegas as their Triple-A affiliate. The short summary: Norfolk kicked the Mets out. So the Mets temporarily went to New Orleans. Buffalo then became available and the Mets went there. Then Buffalo booted the Mets, too. "They're undesirable," Dave Rosenfield, the longtime Norfolk Tides GM, told Costa. "Nobody wants them."
• ESPN's Keith Law
continues to project the Mets will select
Gardena, Calif., high school first baseman Dominic Smith with the 11th overall pick in the draft on Thursday.
"There are some guys obviously that we like more than others, but there are definitely 11 guys that we like a lot," Paul DePodesta told Anthony DiComo
at MLB.com
. "In fact, there are more than 11. So going into this year, I think we're very comfortable with what the outcome is likely to be on June 6. We don't know the name of the player or the position or anything like that, but we're going to have a good choice, and we're going to get someone we like an awful lot."
The Mets will have a $6.99 million bonus pool to spread over their first 10 rounds' selections.
•
Scott Rice
tells Jorge Castillo
in the Star-Ledger
that the development of a split-finger fastball last year finally helped him reach the majors in his 15th professional season.
• Kevin J. Ryan in
ESPN The Magazine
profiles The 7 Line merchandise founder Darren Meenan.
• Noah Syndergaard surrendered a two-run double in the fifth inning and no other damage, but was tagged with the loss as Lakeland beat St. Lucie, 2-1.
Carlos Torres
tossed a three-hit shutout for Las Vegas. Read the full minor league recap
here
.
•
BIRTHDAYS:
Catcher
Rick Wilkins
, who appeared in five games for the Mets in 1998, is 46.
TWEET OF THE DAY:
the #Mets are poised to have elite SP staff soon, headlined by @MattHarvey33, @Wheelerpro45 , and @Noahsyndergaard #CantWait #NYM

— Marissa Fried (@marissafriedcj) June 4, 2013
YOU'RE UP: When do you predict Zack Wheeler will make his major league debut?
May, 14, 2013
May 14
8:26
AM ET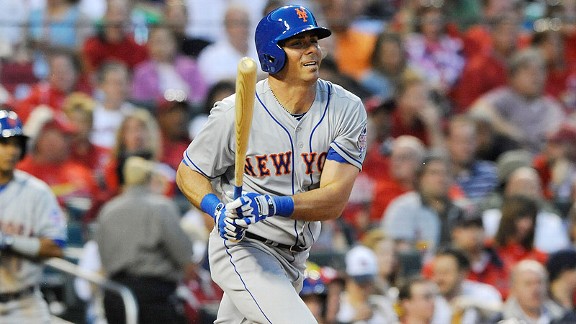 Bill Boyce/Associated Press
Rick Ankiel made his Mets debut last night at Busch Stadium.
ST. LOUIS
FIRST PITCH:
Less Cowgill. More Ankiel?
Desperate for outfield production, the Mets signed strikeout-prone
Rick Ankiel
and
will use him in a center-field platoon
with
Juan Lagares
. Ankiel debuted last night at Busch Stadium, going 0-for-3 with a walk and two strikeouts.
The signing seemed to be met by widespread dismay from Mets fans.
And this is not a slam at Ankiel.
The question becomes: If the Mets are not going to be a playoff team this season --
and who seriously thinks they are
-- why not just experiment with young players? Get them experience for when the Mets again are relevant.
It doesn't even matter which young player -- Lagares …
Kirk Nieuwenhuis
…
Jordany Valdespin
… anyone.
The Mets will counter that line of thinking by saying that Ankiel is a placeholder. And if they had someone ready to step in, they would be up, which is an indictment in itself.
Let's not kid ourselves. The Mets, no matter the GM, have a tradition of trying to squeeze out a few wins in meaningless seasons by using the veteran at the expense of a young person playing, which leaves the prospect less prepared to contribute to brighter days.
It happened pre-Sandy Alderson, too.
Remember when
Hisanori Takahashi
was compiling saves late in the 2010 season after K-Rod's family meltdown at Citi Field?
All that did was deprive
Bobby Parnell
of some closing experience back then and set up Takahashi for a two-year, $8 million deal that offseason as a free agent with the
Los Angeles Angels
.
Lagares, by the way, does start Tuesday.
Dillon Gee
(2-4, 5.55 ERA) will face left-hander
John Gast
in the southpaw's major league debut at 8:15 p.m. ET.
Tuesday's news reports:
• Having borrowed a glove from
Jonathon Niese
because his had yet to find its way from Houston, Ankiel
dropped a sinking liner
off the bat of
Ty Wigginton
in the seventh inning Monday night. Wigginton eventually scored the deciding run when the Mets failed to cover home plate and the
Cardinals won, 6-3, at Busch Stadium
. Read game recaps in the
Post
,
Daily News
,
Star-Ledger
,
Newsday
,
Record
,
Times
,
St. Louis Post-Dispatch
and
MLB.com
.
• The Mets optioned
Andrew Brown
to Las Vegas and moved
Jenrry Mejia
to the 60-day DL in order to clear a spot for Ankiel. Mejia will continue to pitch in the minors uninterrupted. Until early June, though, he will not count against the 40-man roster. Read more on Ankiel's signing in the
St. Louis Post-Dispatch
and
Star-Ledger
.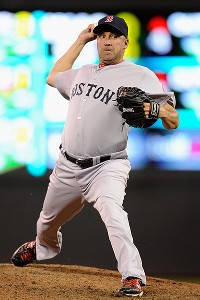 Hannah Foslien/Getty Images
While pitching for the Red Sox last season, Scott Atchison passed on Tommy John surgery and instead let his elbow calm down for a couple of months.

•
Scott Atchison
, who served up a two-run homer to
Matt Holliday
that capped Monday's scoring, is
dealing with numbness in his fingers
related to a torn elbow ligament discovered last year. Atchison passed on Tommy John surgery in 2012 while with the
Boston Red Sox
. He hopes the tingling sensation goes away with rest this time, too. Otherwise, the alternative would appear not good. The next step: a doctor's examination today. Read more in the
Post
,
Star-Ledger
,
Daily News
and
MLB.com
.
•
Frank Francisco
was examined Monday in New York for continued elbow discomfort. He was
diagnosed with a strained flexor pronator tendon
in his right elbow and was advised to refrain from throwing for 72 hours. He may then attempt to resume activity. Bottom line: He is making $6.5 million this season. And he likely will not contribute anytime soon. Read more in the
Star-Ledger
.
• Catching prospect Travis d'Arnaud, who fractured the first metatarsal in his left foot four weeks ago, has an exam scheduled for Friday in New York. He hopes to be cleared to shed an immobilizing boot and begin weight-bearing activity.
• Alderson, appearing on WFAN, touched on a variety of topics:
--Alderson said he couldn't foresee rock bottom any lower. "I'm not sure that things can devolve any further," he said.
--He said this time of year, the only players available are generally via waiver claims and releases, as was the case with Ankiel. In other words: Don't expect a cavalry.
"This is not the time of year when clubs, at least most clubs, are making massive changes," Alderson said. "… At this particular juncture, there is not a lot that is available to us. Some of the players who are not playing well have to play better. It's as simple as that.
February, 21, 2013
Feb 21
6:39
AM ET
PORT ST. LUCIE, Fla.
FIRST PITCH:
Top prospect
Zack Wheeler
dazzled Mets veterans
who got their first glimpse of the phenom Wednesday, when Wheeler threw batting practice.
Justin Turner
likened the late life on Wheeler's fastball to the oomph on
Stephen Strasburg
's heater.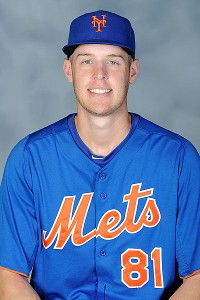 Courtesy of New York Mets
Zack Wheeler

Barring an injury, Wheeler appears ticketed for Las Vegas to open the season. If he follows the track of
Matt Harvey
, he will be promoted to the majors this summer.
"He's the real deal, and it tells me there's a tremendous light at the end of the tunnel here," Terry Collins said.
Writes columnist John Harper
in the Daily News:
All in all, this was reminiscent of the day in Yankee camp back in 2007 when Phil Hughes wowed the veterans, to the point where Jason Giambi labeled the can't-miss prospect a "young Rocket,'' as in Roger Clemens. Hughes turned into a solid major-league pitcher, but has never lived up to such expectations of greatness.
And that happens [with] a lot with prospects. It takes more than pure stuff to become a No. 1 starter, or even something close to it, and so it remains to be seen if Wheeler has the smarts, the competitiveness and the ability to command different pitches to become a franchise pitcher.
Meanwhile, today is Photo Day at the Mets' complex, when media outlets shoot feature photos of the players. The Players' Association also is making its annual spring-training visit to Mets camp this morning for a meeting to discuss union issues.
The team has an intrasquad game Friday.
Grapefruit League play opens Saturday at 12:10 p.m. against the
Washington Nationals
at Tradition Field. The game will be televised by SNY.
Please join me for a 2 p.m. ET chat today (
link here
).
Thursday's news reports: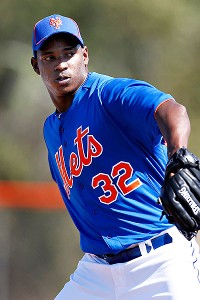 Jeff Roberson/Associated PressJenrry Mejia has been cleared after an age and identity review.
• MLB
confirmed the age and identity
of
Jenrry Mejia
and the right-hander has been granted a visa to report to camp, the Mets announced. Mejia should arrive today or Friday. Read more in the
Star-Ledger
and
MLB.com
.
•
Daniel Murphy
returned to camp Wednesday
, after a medical exam in New York. Murphy received a cortisone injection in his right side for a strained intercostal muscle. He was limited to
icing his side and riding a stationary bicycle
on his first day back. Read more in the
Times
,
Star-Ledger
,
Newsday
,
Record
,
Post
and
MLB.com
.
• Collins said
Kirk Nieuwenhuis
will have the
first chance to earn the leadoff role
. Nieuwenhuis will bat No. 1 Saturday when the Mets open Grapefruit League play against Strasburg and the Nats. Read more in the
Daily News
and
MLB.com
.
• Anthony DiComo
at MLB.com
profiles Wheeler. Writes DiComo:
When his brother texted him on the first day of spring training, wondering how it felt "to be around all the big dogs," Wheeler replied that "it ain't no different."
"That's not temporary, that's not false," Adam Wheeler said. "That's just the way he is. We pounded in his head to be humble -- no matter what happens, be humble. My family is like that. We don't like all the attention, I guess. I'm not sure why."
Columnist Mike Vaccaro
in the Post
describes fans watching Wheeler with a mix of hope and cynicism given past organization letdowns.
Read more on Wheeler in the
Record
,
Newsday
,
Post
and
Star-Ledger
.
• Outfield prospect
Cesar Puello
referred questions to the Players' Association
a day after being identified in an
"Outside the Lines" report
as being linked to the South Florida clinic at the heart of an alleged performance-enhancing drug scandal. Read more in the
Times
,
Star-Ledger
and
MLB.com
.
David Wright
again stood by his agents, who also represent Puello. The firm has had other clients linked to performance-enhancing drugs, including
Melky Cabrera
, who allegedly had ties to the same South Florida clinic as Puello.
"I can obviously tell you that they've never tried to push me in a direction towards that," Wright told Marc Carig
in Newsday
. "They've been great to me. I'm extremely happy with them. That's been my stance the entire time. That's not going to change."
Wright told Andy Martino
in the Daily News
: "If you cheat, I hope you get caught. I don't care if you're with the same agency I'm with or not. If you're a cheater, I hope you get caught, and I hope you get punished."
• Wally Backman acknowledges to Jared Diamond
in the Journal
that he will have a challenge keeping his Triple-A players in line given the temptations of Las Vegas, the Mets' new Pacific Coast League home. "Guys are going to go out, go to the casinos, lose their money. It's going to happen," Backman, who will manage Vegas, told Diamond. "Just trying to keep it under control and monitored is not going to be easy."
•
Frank Francisco
is now scheduled to throw on flat ground Monday for the first time in camp, pitching coach Dan Warthen told the Post. Francisco reported to Port St. Lucie with elbow inflammation.
• The Mets signed right-hander Andy Wells and outfielder James Roche. Both players will proceed straight to the minors. They played in the independent Atlantic League last season. Wells played collegiately at Staten Island's Wagner College, which also produced
Andrew Bailey
.
• Forty-two prospects, including most recent first-round picks Gavin Cecchini and Brandon Nimmo, will be
part of the Mets' "STEP" camp
for top full-season minor leaguers beginning Friday at the complex. Other minor leaguers do not report until next month.
•
From the bloggers
...
Faith and Fear
listens in as the Mets telemarket themselves to a town that no longer feels quite so connected to the club's fortunes. …
The Eddie Kranepool Society
asks, "Who doesn't know David Wright is the leader of the Mets?" …
The Mets Police
wonder if you would come to Mercury Mets Night.
BIRTHDAYS:
Native New Yorker Joe Foy, who appeared in 99 games for the Mets, was born on this date in 1943. He passed away in 1989.
TWEET OF THE DAY:
Thank god for the #Mets on Saturday because the Knicks aren't quite cutting it right now.

— Amanda Wood (@amandarx17) February 21, 2013
YOU'RE UP: Would you put Zack Wheeler on the Opening Day roster, even if it made him a free agent a year earlier (after the 2018 season instead of after the 2019 season)? If so, who would you bump from the rotation -- Johan Santana, Shaun Marcum, Jonathon Niese, Matt Harvey or Dillon Gee?
Please use the comments section to weigh in
February, 4, 2013
Feb 4
6:33
PM ET
The Mets' Triple-A affiliate has shifted from Buffalo to Las Vegas for the next two seasons. But Sandy Alderson said the geographical distance between Las Vegas and New York will not cause the club to hold back at least a couple of Triple-A-worthy players at Double-A Binghamton, so that a minor leaguer will be close by in case a call-up to the majors is needed on short notice.

"There are more flights from Las Vegas than there are from Binghamton," Alderson said, dismissing any concern about getting a call-up in from the West coast on little notice. "Let's put it that way."

Along similar lines, Las Vegas' Pacific Coast League is known for its gaudy offensive numbers and high ERAs as opposed to Buffalo's International League. But Alderson said there is no concern and no intention to hold back talented pitchers in Double-A to avoid them having to confront the high altitude and dryness that will make it more challenging to succeed.

"Las Vegas provides lots of challenges, but they can have a positive effect as well," Alderson said. "For pitchers, it won't be a sheltered existence in Las Vegas or in the Pacific Coast League. Keeping somebody in Binghamton because it's closer, that wouldn't be a significant factor. Keeping somebody there because it's an easier place to pitch, for example, it's unlikely that would be a significant factor, either."
January, 3, 2013
Jan 3
7:15
PM ET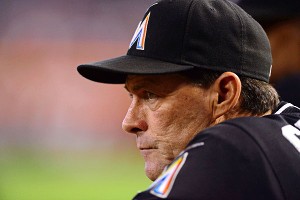 Mark J. Rebilas/USA TODAY Sports
Randy St. Claire most recently served as pitching coach of the Miami Marlins.

Randy St. Claire is expected to join the Mets' organization as Triple-A Las Vegas pitching coach, working alongside Wally Backman, a baseball source told ESPNNewYork.com.
St. Claire, 52, appeared in the majors during parts of nine seasons as a reliever, primarily with the Montreal Expos.
He has served as a pitching coach in the division with the Nationals and Marlins -- the latter until he was fired along with manager Ozzie Guillen after this past season.
September, 20, 2012
9/20/12
8:00
AM ET
Matt Harvey
allowed a game-opening homer to
Jimmy Rollins
and did not surrender another hit in seven innings against the
Philadelphia Phillies
on Wednesday night. But
Josh Edgin
surrendered a two-out, two-run homer in the ninth
to
Ryan Howard
and the
Mets lost, 3-2, in Harvey's final 2012 start
.
The Mets fell to 4-25 at home since the All-Star break and saw their tragic number sliced to two for postseason elimination with St. Louis' win against Houston. The Mets (66-82) also clinched their fourth consecutive losing season. They have scored three runs or fewer in 15 straight home games, three shy of matching the major league record, held by the 1915 Yankees, according to the Elias Sports Bureau.
Jeremy Hefner
takes the mound at 7:10 tonight trying to avoid the sweep. Hefner (2-6, 4.99 ERA) opposes Phillies rookie right-hander
Tyler Cloyd
(1-1, 4.95).
Thursday's news reports:
• Harvey is disappointed his season is ending two weeks before his teammates because of an innings limit, but
he ended on a solid note
. He will not be allowed to throw off a mound on the side during the remainder of the season to work on things -- it's a complete shutdown. Read game recaps in the
Post
,
Times
,
Newsday
,
Star-Ledger
,
Record
and
Daily News
.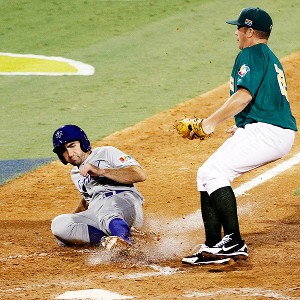 Alan Diaz/Associated Press
Mets farmhand Josh Satin scores in the seventh inning of Israel's 7-3 win against South Africa in a World Baseball Classic qualifier in Jupiter, Fla., Wednesday.

•
David Wright
had homered against
Cole Hamels
to give the Mets a 2-1 lead in the sixth. The long ball moved Wright within five hits of matching
Ed Kranepool's
franchise-record 1,418. Read Wright's thoughts on approaching Kranepool
here
.
• Reiterating previous comments, commissioner
Bud Selig
again
offered his staunch support
for
Fred Wilpon
and family. Read more in
Newsday
.
•
Frank Francisco
was unavailable Wednesday
because of what
Terry Collins
labeled elbow tendinitis. The closer had undergone an MRI this week. Read more in the
Record
.
•
Josh Satin
went 1-for-3 with two walks and two runs scored for Team Israel in a 7-3 win against South Africa in the opening game of World Baseball Classic qualifying on Wednesday in Jupiter, Fla. Fellow Mets farmhand
Jeff Kaplan
recorded the final two outs, walking one. Other Mets minor leaguers will be competing for Canada, Germany and Great Britain beginning today in WBC qualifying in Regensburg, Germany.
•
Phil Niekro
and
Tim Wakefield
visited
R.A. Dickey
at Citi Field and
held an informal press conference
pregame. The documentary "Knuckleball!" launches at IFC Center in New York City today. For more details on the movie screenings, click
here
. Read more
in the Daily News
.
• Dickey spoke to a Rutgers journalism class at Citi Field, telling them according to
Cody Derespina
in Newsday
: "When I have something that I want to share, I will find the [reporter] that I trust the most in the clubhouse. And the way that I gauge that is how the person has asked questions. How he has been curious. What has he been curious about? What has he done with some of my teammates? How has he presented an argument? The smarter players, the players you're going to want the stories from mostly, will pay attention to that kind of stuff."
•
Andy McCullough
in the Star-Ledger
found mixed reviews of the Pacific Coast League from those with experience in the Triple-A league. Hitters love it. Pitchers, not quite. The Mets will be relocating from Buffalo in the International League to Las Vegas in the hitter-friendly PCL for the next two seasons. "The PCL is a dream,"
Mike Baxter
told McCullough. Said Hefner: "That's a place that you don't want to be as a pitcher. That almost ruined my career."
TRIVIA:
Behind
Chipper Jones
, who is next among active players in career homers against the Mets?
Wednesday's answer:
Steve Trachsel
was the winning pitcher the day the Mets clinched the NL East title with a 4-0 victory against the Florida Marlins on Sept. 11, 2006.
September, 18, 2012
9/18/12
8:38
AM ET
R.A. Dickey
surrendered solo homers to
Jimmy Rollins
and
Domonic Brown
and failed to win his 19th game because the Mets again
mustered little scoring at home in a 3-1 loss
to the
Philadelphia Phillies
on Monday. Dickey will have three more starts to try to notch two wins -- Sunday against the
Miami Marlins
at Citi Field, then games at Atlanta and Miami.
Tonight, weather permitting,
Matt Harvey
(3-5, 2.92 ERA) makes his final 2012 start before being shut down due to an innings count. He opposes Phillies rookie right-hander
Tyler Cloyd
(1-1, 4.95).
One more loss by the Mets would clinch their fourth straight losing season.
Tuesday's news reports: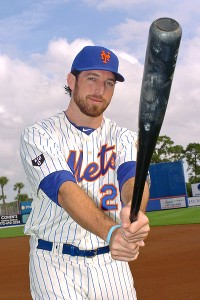 Steve Moore/Associated PressIke Davis may be traded this offseason.
• The Mets
will consider trading
Ike Davis
this winter, which would open first base for
Lucas Duda
and potentially address other areas of need, a baseball source told ESPNNewYork.com.
Mike Puma
in the Post
also weighs in on the Davis vs. Duda debate, writing:
The 25-year-old Davis said he would like to stay in the organization that selected him No. 1 (18th overall) in the 2008 draft. But he said he won't be bitter if he's dealt. "If they trade me, they trade me -- I can't do anything about it," Davis said. "I have to do my job where I am at." Does Davis consider himself a cornerstone-type player? "I think I can help teams win baseball games," Davis said. "That is all I want to do."
• After the Buffalo Bisons showed no interest in renewing their four-year-old affiliation agreement, the Mets
signed a two-year deal
-- the shortest available -- with the Triple-A Las Vegas 51s of the Pacific Coast League.
Terry Collins
, who managed in that league for five years, acknowledged the altitude and dryness of the West Coast ballparks
present challenges to pitchers and inflate batters' statistics
. But pitchers can still thrive, the manager added. Top prospect
Zack Wheeler
, who likely is ticketed for Triple-A to open next season,
tweeted after the news became official
that he is familiar with those types of conditions because he played with San Jose in the California League while in Class A with the
San Francisco Giants
.
"The Mets have been in the PCL before -- not quite this far out West -- but I think it will be good,"
Paul DePodesta
told
Todd Dewey
in the Las Vegas Review-Journal
. "There are a lot of direct flights to New York from Las Vegas. It adds a little flavor to our development system. We play at a lot of pitcher-friendly parks throughout our system ... It will be a challenge for us and our fans not to get too distracted by some of the statistics and focus on the development of the player. On the other hand, our hitters might have a field day."
You can view a PDF of the 51s' 2013 schedule
here
. Read more in
Newsday
and the
Star-Ledger
.
• Dickey
had no margin for error
in Monday's loss. The Mets have now scored three or fewer runs in a franchise-record 14 straight home games. They are 4-22 at Citi Field since the All-Star break. Read game recaps in the
Star-Ledger
,
Newsday
,
Record
,
Times
,
Post
and
Daily News
.
• Columnist
Tyler Kepner
in the Times
tackles the state of the Mets. Writes Kepner:
The few positives from the second half, manager Terry Collins said, have been the emergence of Matt Harvey, the development of some young relievers and the improved play of Ike Davis. "So there's been some things," Collins said. "It just shows you guys are not just pitching the tent together and packing it up. There's still some individual goals that want to be achieved here, and guys are going out every day to achieve them."
Yet even the best individual seasons, by R.A. Dickey and David Wright, are tinged with some concern about their futures with the Mets. Neither is signed past 2013. Only one player has a guaranteed contract beyond next season -- the left-hander Jon Niese, who signed a five-year, $25.5 million deal in April. The Mets are not used to such flexibility, but the question is what they will do with it. Niese, for one, is interested.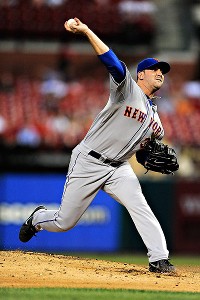 Jeff Curry/Getty Images
Matt Harvey's final 2012 start is scheduled for tonight.

"I signed that deal because I thought it was in everybody's best interest, including myself," said Niese, who is 11-9 with a 3.46 earned run average. "That's what I wanted to do, I wanted that financial security and that feeling of not having to worry about anything besides pitching, and I think that's helped me out a lot this year. Obviously, with R. A.'s situation and David's situation, I am curious to see what's going to happen. And even beyond R. A. and David, I'm kind of interested to see what else we do to improve the team."
• Harvey
understands the decision to shut him down
after this outing. But, like
Stephen Strasburg
with the
Washington Nationals
, that does not mean he is ecstatic about not completing the season in the rotation. Read more in the
Record
.
•
Ruben Tejada
and
Manny Acosta
will
represent Panama in World Baseball Classic qualifying
from Nov. 15-19 in their native country. Afterward, Tejada said, he plans to return to New York to train with
Jose Reyes
at a Garden City, Long Island, facility. The Mets have
five farmhands participating in WBC qualifying
this week --
Josh Satin
and
Jeff Kaplan
with Israel in Jupiter, Fla., and
Adam Loewen
(Canada),
Kai Gronauer
(Germany) and
Hamilton Bennett
(Great Britain) in Regensburg, Germany.
• The Mets
added seats in foul territory behind home plate
at Citi Field to test out the configuration for next year's All-Star Game.
• The mayors of Boston and New York are
declaring "Knuckleball Day" this week
in their cities to coincide with the official release of the documentary that focuses on
Tim Wakefield
and Dickey. Read more in
Newsday
.
•
Jeremy Hefner
will reenter the rotation Wednesday.
Collin McHugh
also will get another start, according to Collins. The manager would like to see
Jeurys Familia
continue in a relief role for now, since that is the rookie's likely 2013 role with the major league club. Still, Familia may get a start the last week of the season. Read more in
Newsday
.
• Triple-A pitching coach
Mark Brewer
will not be retained by the organization,
Sandy Alderson
told
Andy McCullough
in the Star-Ledger
.
TRIVIA:
Who was involved in the last trade between the Mets and Phillies?
Monday's answer: Since the trade of
Shane Victorino
to the
Los Angeles Dodgers
,
John Mayberry Jr.
has been the Phillies' primary center fielder.
September, 17, 2012
9/17/12
7:17
PM ET
The Mets and the Pacific Coast League's Las Vegas 51s officially are partners for the next two years.

The Triple-A club and the Mets have reached a player-development agreement.

The Mets had been affiliated with Buffalo the past four seasons in the International League. Buffalo prioritized winning, whereas the Mets wanted more of a balance between wins and losses and player development, a Mets official said. Still, it was Buffalo's call to part ways.

Toronto, which formerly called Las Vegas home, will take over in Buffalo.

Mets farmhands played Triple-A ball in Tidewater/Norfolk, Va., from 1969 to 2006, then New Orleans in 2007 and '08, followed by Buffalo the past four seasons.

In an unrelated development, Triple-A pitching coach Mark Brewer will not be retained, the Star-Ledger reported.
September, 17, 2012
9/17/12
5:17
PM ET
The Mets appear ticketed for Las Vegas for Triple-A next season.
That will prove a logistical challenge, because call-ups will be playing in the western U.S. and may have difficulty getting to New York with some urgency. It also will make it tougher on the team's pitching, potentially including top prospect Zack Wheeler, who is expected to open next season in Triple-A.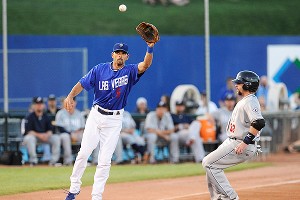 Josh Holmberg/Associated Press
Ex-Met Chris Woodward played for Las Vegas this season while a Blue Jays farmhand. Now the Mets appear headed to Vegas for the 2013 Triple-A season.

Case in point about the relative challenges in the Pacific Coast League for pitchers: The eighth, ninth and 10th best ERAs in the PCL this season all were 4.00 or above. By contrast, the 10th-best ERA in the International League -- which includes the Mets' former home, Buffalo -- was 3.50. Among the issue are high altitude and dry conditions that cause balls to fly. Dryness also can make it more difficult to snap off breaking pitches.
"The biggest fallacy is you can't pitch well at high altitudes," said Terry Collins, who managed five seasons in the PCL with Albuquerque. "That's not true. I can go back and look at the 1988 team when we were in Albuquerque. We had an outstanding pitching staff, headed by
Ramon Martinez
. He was really good. Billy Krueger was real good. Bill Brennan was pretty good. We had some good pitching. You've got to go pitch. Just because you're at high altitudes doesn't mean you don't have to pound the strike zone. In Vegas, it's the desert. The ball will break. It's tough because the air is lighter. It carries a little bit more. Keep the ball down.
"As far as offense goes, yeah, sometimes it can be a little deceiving when you see guys that are hitting six and seven home runs all of a sudden hitting 15 or 16. You can sometimes overrate the power issues. It's the same with base hits. The ground is so hard out there -- the major league fields are so well watered and taken care of -- that some of those balls aren't going to get through major league infields. But what you do is you really use your scouts and your player-development people to find the skills. Sometimes you have to back off the results.
"I remember for years in Albuquerque they used to take 25 points off your batting average immediately because you were playing in Albuquerque. Well, I saw Kevin McReynolds play in Las Vegas and hit 30-something homers. And he's still a pretty good hitter. Again, I think if you're good enough you can pitch or player anywhere."
September, 17, 2012
9/17/12
7:24
AM ET
Chris Young
surrendered three solo homers, including
Ryan Braun
's 39th and 40th long balls of the season, and the Mets lost Sunday's rubber game at Milwaukee, 3-0.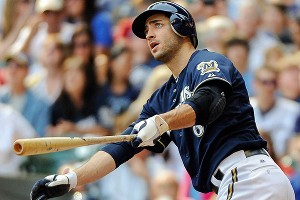 Benny Sieu/US Presswire
Ryan Braun homered twice Sunday against Chris Young.

The Mets' tragic number for postseason elimination dropped to six as they return home for their final 2012 homestand -- 10 games against the
Philadelphia Phillies
,
Miami Marlins
and
Pittsburgh Pirates
.
R.A. Dickey
aims for win No. 19 in Monday's homestand opener, when he opposes Phillies left-hander
Cliff Lee
. Dickey has four starts remaining, including tonight, to try to produce two wins and become the Mets' first 20-game winner since
Frank Viola
in 1990. If the pattern of pitching every fifth
game
holds, the knuckleballer also is due to face the Marlins on Sunday at Citi Field, then pitch at Atlanta on Sept. 28 and at Miami in the regular-season finale on Oct. 3.
Washington Nationals
left-hander
Gio Gonzalez
, another Cy Young Award candidate, failed in his attempt to notch his 20th win Sunday night, as the
Atlanta Braves
beat the Nats, 5-1. Gonzalez, who allowed two runs in five innings, is now 19-8 with a 2.95 ERA.
The Phillies, who oppose Dickey tonight, arrive at Citi Field having lost three of four to Houston this weekend. They are four games behind St. Louis for the second wild-card slot.
Because of an innings cap,
Matt Harvey
(3-5, 2.92 ERA) makes his final 2012 start Tuesday, opposite right-hander
Tyler Cloyd
(1-1, 4.95).
Cole Hamels
(15-6, 3.06) handles Wednesday's series finale for the Phillies.
Monday's news reports:
• Major league clubs and minor league teams began a 15-day window Sunday to seek new affiliation agreements. As expected, the
Toronto Blue Jays
and Triple-A Buffalo Bisons spoke and appear to be nearing a deal. That would push the Mets to the lone vacant affiliate, Las Vegas in the Pacific Coast League, which has been the home of the Blue Jays.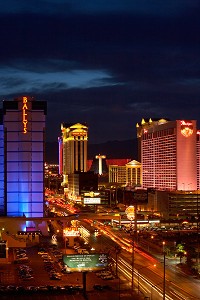 Thinkstock
The Las Vegas skyline looks like it will become a familiar sight to Mets' Triple-A players.

Why did the Bisons want the Mets out of Buffalo? For one thing, their attendance slid each season during the four-year affiliation, to an all-time-low 515,000 in 2012. That partly had to do with the Mets' record. Over the four years of the affiliation, Mets farmhands went 260-313 in Triple-A. According to Bisons beat writer
Mike Harrington
, that was the third-worst winning percentage (.454) by an MLB club's farmhands in all of Triple-A over that four-year period, better than only the Twins with Rochester at .424 and the Padres with Portland and Tucson at .417.
"I would never question the Mets' effort, especially this year," Bisons GM
Mike Buczkowski
told Harrington
in the Buffalo News
. "They made a real effort to sign players, to keep our roster full. They did a lot of things to make us successful. It didn't just translate to victories. ... We get a bad rap that we're demanding a championship team. That's not what we're saying. We need a competitive team. Win more than you lose. Play some games in August that mean something."
Buffalo will be the second International League city to boot the Mets in the past six years. Norfolk kicked the Mets out after the 2006 season.
•
Jeurys Familia
, originally slated for his first major league start Wednesday, will remain in the bullpen.
Terry Collins
has liked what he has seen out of Familia in relief and will keep him in that role, especially since Familia would be more likely to break camp with the Mets out of spring training next season in the bullpen.
Collin McHugh
or
Jeremy Hefner
instead should take Wednesday's start opposite Hamels. Collins indicated postgame Sunday that Hefner was the likely starter. Read more in the
Star-Ledger
.
• Rookie
Wily Peralta
and
John Axford
combined to limit the Mets to two singles and two walks as the Mets were shut out for the 11th time this season on Sunday. "Two hits isn't going to get us very far," Collins said. Read Sunday recaps in the
Times
,
Newsday
,
Star-Ledger
,
Record
,
Post
and
Daily News
.
TRIVIA:
Who has started the most games in center field for the Phillies since the trade of
Shane Victorino
to the Dodgers?
Sunday's answer: The Brewers moved from the AL to the NL in 1998, coinciding with the launches of the expansion
Arizona Diamondbacks
and Tampa Bay Devil Rays.