New York Mets:

Lastings Milledge
May, 5, 2014
May 5
5:40
AM ET
DENVER
FIRST PITCH:
The Mets conclude a three-city trip by facing the best home team in the majors …
the Miami Marlins?
Yes, the Marlins, who improved to 14-5 at Marlins Park this season when
Giancarlo Stanton
bashed two homers Sunday in a rubber-game win against the
Los Angeles Dodgers
.
Jonathon Niese
(2-2, 2.20 ERA) opposes right-hander
Nate Eovaldi
(2-1, 2.58) in Monday's 7:10 p.m. series opener.
Monday's news reports:
•
Dillon Gee
tossed six scoreless innings
and the Mets salvaged the finale of a four-game series at Coors Field with a
5-1 win against the Rockies
on Sunday. Outfielders
Juan Lagares
,
Curtis Granderson
and
Chris Young
combined to hit .404 (21-for-52)
in the series. Granderson produced five RBIs against the Rockies; he had only four RBIs in his previous 20 games. Lagares extended his hitting streak to 13 games Sunday.
Read game recaps in the
Post
,
Daily News
,
Times
,
Star-Ledger
,
Record
,
Journal
,
Newsday
and at
MLB.com
.
•
Eric Young Jr.
ended up at the hospital
for X-rays and a CT scan after a ball hit in a batting cage pregame by
Lucas Duda
ricocheted off a screen and struck E.Y. Jr. below the right eye. The outfielder, scratched from the game, had a bruise and headache but no fracture and is day-to-day. Read more in
Newsday
and at
MLB.com
.
• Terry Collins says the Mets plan for
Jenrry Mejia
to start Friday against the
Philadelphia Phillies
at Citi Field. The manager added that
bullpen work is "always in the conversation"
regarding Mejia's future. Read more in the
Post
,
Daily News
and
Star-Ledger
.
•
Daisuke Matsuzaka
, who experienced calf discomfort Saturday, was warming as Sunday's game ended and
is apparently OK
.
• Mookie Wilson tells Brian Lewis
in the Post
it is possible the Mets can win 90 games this season. "If, all things being equal, guys stay healthy, we have a chance," Wilson said.
•
Kyle Farnsworth
remains the closer
despite a blown save Saturday, according to Collins.
•
Kirk Nieuwenhuis
banged an elbow making a catch against the outfield wall and was
forced to leave Las Vegas' game
Sunday, but the injury is not thought to be severe.
• Matt Koch and Seth Lugo combined on the shutout as St. Lucie beat Charlotte, 5-0. 2012 first-round pick Gavin Cecchini departed after seven innings in Savannah's 7-3 loss to Rome, although the reason was not immediately clear. Read the full minor-league recap
here
.
• Ex-Met
Lastings Milledge
's season in Asia is being interrupted by a shoulder injury, Jason Coskrey writes
in The Japan Times
.
•
From the bloggers ...
Faith and Fear
finds that as a starter, Dillon Gee knows how to relieve stress. ...
Blogging Mets
points out that the Mets made a return appearance on Sunday's episode of "Mad Men."
BIRTHDAYS:
Juan Acevedo
turns 44.
TWEET OF THE DAY:
@AdamRubinESPN these guys seem to be about the right age for the Mets to give them another shot

— Todd Chambers (@tchambers31) May 4, 2014
YOU'RE UP: If the Mets had to win one game, would you want Dillon Gee or another member of the rotation on the mound?
March, 22, 2013
3/22/13
7:15
AM ET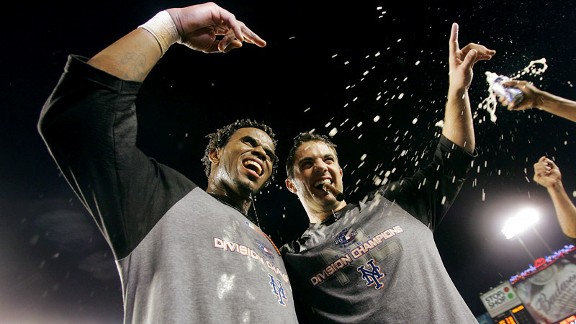 Nick Laham/Getty Images
David Wright has experienced one celebration for clinching a division title, with Jose Reyes at Shea Stadium after a win against the Marlins on Sept. 18, 2006.
PORT ST. LUCIE, Fla.
FIRST PITCH:
David Wright
is the
fourth captain in Mets history
. And deservedly so.
Wright, officially given the honor Thursday, has a lifelong attachment to the ballclub and has always represented it well.
"I've been here for long enough to experience a little bit of good, some bad and some ugly," Wright said. "But I am 100 percent confident and excited and just crazy excited about the direction we're going with some of the young players that we have. And sooner rather than later."
As a youngster growing up in Norfolk, Va., Wright would attend International League games involving the Norfolk Tides, then the Mets' Triple-A affiliate. He would always leave games with an autograph, even if it had to be RipTide, the Tides' mascot.
Wright was drafted by the Mets in 2001 with a supplemental first-round selection obtained for losing
Mike Hampton
as a free agent to the
Colorado Rockies
.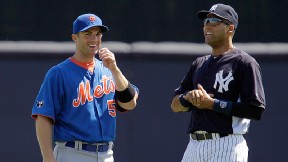 Kathy Willens/Associated Press
Wright joins Derek Jeter as captains of New York's baseball clubs. The only other captain in MLB: Paul Konerko of the Chicago White Sox.

Among my favorite remembrances covering Wright since virtually the beginning of his pro career:
• Wright was such a diligent worker, he hit 100 points higher while playing on the road with the Class A St. Lucie Mets as compared with at home. Why? The belief is that Wright would get to the ballpark so early for home games and put in so much extra work in the batting cages, he was exhausted by the game's first pitch.
• When Wright landed at LaGuardia before his major league debut, there was a voicemail waiting for him from Howard Johnson telling the fellow third baseman to break his Mets records. Wright used to refer to HoJo as his "baseball father."
Before Wright's 2004 promotion, third base was a revolving door for the Mets. In the 10 seasons before Wright's arrival, 32 different players appeared at third base for the Mets. The most frequent from 1994-2003:
Edgardo Alfonzo
(515 games), Robin Ventura (436),
Ty Wigginton
(169),
Bobby Bonilla
(153),
Matt Franco
(94),
Jeff Kent
(89),
Tim Bogar
(72),
Joe McEwing
(56), Butch Huskey (48),
Lenny Harris
(37) and Alvaro Espinoza (37).
• In his first major league camp, Wright had dinner cooked by McEwing's wife virtually every night of spring training.
• Wright usually is ultra-politically correct, but he did express his frustration publicly at least a couple of times. When
Lastings Milledge
arrived only an hour before a day game in Philadelphia in 2006, Wright called it unacceptable. A year earlier, when the Braves were en route to their 14
th
straight division title and the Mets played a sloppy game at Turner Field, Wright said slowly and with outward frustrating, enunciating each syllable: "There's a reason they do it E-VER-Y SIN-GLE YEAR."
• The Great Gazoo helmet he wore in Colorado.
• An over-the-shoulder, barehanded catch in San Diego while retreating into left field, and ramming into the stands in Seattle
Derek Jeter
-style.
• His commitment to doing things right. Wright, despite now having an eight-year deal, annually continues to arrive at spring training early. He reported last month the day after the Super Bowl.
• After the Mets faded from wild-card contention late in 2005, Wright and Willie Randolph walked together back to the team hotel. Randolph told Wright to remember the feeling, and use it as a motivation. The next season the Mets came within a game of the World Series.
• The image of David Wright and
Jose Reyes
celebrating on the field after they clinched the NL East at Shea Stadium on Sept. 18, 2006.
• Finishing second at the Home Run Derby in the All-Star Game in Pittsburgh in 2006, in his first year selected to the Mid-Summer Classic.
• Playing for more than a month in 2011 through discomfort, which turned out to be a broken back.
Meanwhile, the Mets face the
Miami Marlins
at 7:05 tonight at Roger Dean Stadium in Jupiter. Newly named Opening Day starter
Jonathon Niese
opposes right-hander
Henderson Alvarez
.
Friday's news reports:
• Read more on Wright's captaincy in the
Post
,
Daily News
,
Star-Ledger
,
Journal
,
Times
,
Newsday
,
Record
and
MLB.com
.
•
Shaun Marcum
, who received a cortisone shot his pitching shoulder Tuesday in New York, said he has now
received that injection during spring training
three years in a row. He insisted he will only miss the one Grapefruit League rotation turn. Read more in the
Post
,
Star-Ledger
,
Newsday
,
Daily News
and
MLB.com
.
• Niese
officially has been named Opening Day starter
.
Johan Santana
is not officially on the DL, but that's coming. "By no means do I want to say that I'm the leader of this staff," Niese said. "Obviously Johan and Marcum. They do a very good job like that." Read more in the
Post
,
Record
,
Star-Ledger
,
Times
,
Newsday
,
Daily News
and
MLB.com
.
• Matt den Dekker had a two-run triple and
Jeremy Hefner
pitched very well while surrendering two runs in five innings, but the
Mets lost to the Cardinals, 3-2
, Thursday at Tradition Field.
•
Justin Turner
(ankle) pinch-hit in Thursday's game and also saw action on the minor league side.
Kirk Nieuwenhuis
(knee) batted in a minor league game.
Daniel Murphy
(side) is not yet ready for such game activity, and his availability for Opening Day is in jeopardy.
•
From the bloggers
…
Mets Police
wonders if the timing of the Wright announcement was part of an attempt to distract from the problems with the roster. …
Faith and Fear in Flushing
pens an ode from the captain. … John Delcos at
Mets Report
reports on Wright's captaincy.
BIRTHDAYS:
Ike Davis
turns 26. … Sidearm reliever
Joe Smith
, who was traded to the
Cleveland Indians
on Dec. 11, 2008, turns 29.
TWEET OF THE DAY:
Great move by the @mets naming David Wright the Captain of the team... He's a class act & leader both on & off the field... Congrats David!!

— Dwight Gooden (@DocGooden16) March 22, 2013
YOU'RE UP: What is your favorite memory involving David Wright?