New York Mets:

Lee Mazzilli
March, 6, 2014
Mar 6
6:25
AM ET
PORT ST. LUCIE, Fla.
FIRST PITCH:
It's a tripleheader for the Mets on Thursday.
The Mets send a pair of squads to Kissimmee, Fla., to face the
Houston Astros
. At 10 a.m. in a "B" game, Logan Verrett,
Vic Black
, Jack Leathersich and
Erik Goeddel
are scheduled to pitch.
Jeff Roberson/Associated PressFifth-starter contender John Lannan starts Thursday's Grapefruit League game.
Then, in the 1:05 p.m. official Grapefruit League game at Osceola County Stadium, fifth-starter contender
John Lannan
opposes ex-Met
Collin McHugh
. Rafael Montero and
Steven Matz
also now are listed for that game.
Meanwhile, there is plenty of action crammed into three innings in a structured intrasquad game on a back field at the Mets' complex, which will not be open to the public. Now at 10 a.m.,
Bartolo Colon
,
Jonathon Niese
and
Bobby Parnell
have their first game action of spring training.
Colon was slowed early in camp by a calf issue. Niese had to be dispatched to New York for an MRI of his shoulder (which came back not alarming). Parnell, returning deliberately from herniated-disk surgery anyway, has a lingering quadriceps issue, too. This will be his first game-type action since last July 30.
The batters, primarily minor leaguers, should also include
David Wright
,
Daniel Murphy
,
Ike Davis
and maybe
Ruben Tejada
.
Terry Collins kept Wright and Murphy out of the first week of Grapefruit League games to ease them into action and guard against injury. Each should make his first official spring-training start Friday against the
St. Louis Cardinals
in Port St. Lucie. Davis (calves) and Tejada (hamstring) both have been dealing with injuries.
Lucas Duda
(hamstring) is not ready to participate, Collins added.
Thursday's news reports:
• The Mets were swept in split-squad games,
losing in Viera, 11-5
, to the
Washington Nationals
and
losing, 5-2, in 10 innings
in Port St. Lucie to the
Miami Marlins
.
Jenrry Mejia
-- who may get bullpen consideration late in camp, but who for now is
eyeing the fifth-starter role
-- allowed one unearned run in two innings against the Nats. Cory Mazzoni was tagged for seven runs in the eighth in that loss. Facing Miami's
Jose Fernandez
and Washington's
Gio Gonzalez
, the Mets went scoreless for a combined 5 1/3 innings against the aces.
Gonzalez Germen
allowed three 10th-inning runs after Matt den Dekker's sacrifice fly tied the score in the bottom of the ninth.
Read more on Mejia in the
Star-Ledger
,
Daily News
,
Record
and
Newsday
.
• Collins understands he could use a backup shortstop with some offensive capability, so the manager wondered aloud if
Wilmer Flores
could serve in that role. Still, it seems very tentatively more like that Anthony Seratelli gets that nod over Flores or
Omar Quintanilla
, at least with the roster as presently constituted.
Anthony DiComo
at MLB.com
profiles Seratelli's long route to the Mets, including the emotional loss of his father in 2011 in an auto accident.
Read more on Seratelli in the
Star-Ledger
.
• Collins is
considering batting his pitcher eighth
on occasion. Columnist Joel Sherman tackles that topic
in the Post
. Sherman also suggests that
Juan Lagares
will make the team at least as a bench player, although the columnist asserts there ought to be consideration to sending Lagares to Las Vegas. Meanwhile, a friend of
Stephen Drew
labeled it "very slim" to Sherman that the free-agent shortstop lands with the Mets.
• Murphy
tells the Daily News
about the conflict between the team's offensive philosophy and his own mindset: "I struggle with thinking that a walk is a win. I struggle with that, because I look at a walk as, 'I didn't get a hit.' And so what I'm trying to really, really learn is that 0-for-2 with two walks, that is a win. But I don't always view it like that."
• After pitching a perfect ninth inning at Tradition Field against the Marlins on Wednesday,
Jose Valverde
told Mike Puma
in the Post
about trying to make the club: "For me, every year I try to compete like a minor-league guy -- always. All my life, what I've done in spring training is like I've never played in the big leagues. The first day in Arizona, Houston, Detroit and now with the Mets, that was my mindset all the time -- 'It's my first spring training.'"
• Parking prices are rising at Citi Field,
Mets Police reports
. After charging $20 last season, the new posted rates for cars are $22 for the regular season, $25 for the postseason, $30 for special events and $22 for the U.S. Open.
•
Matt Harvey
will
earn a base salary of $547,000 in 2014
-- $47,000 above the MLB minimum -- plus another $60,000 in bonuses, according to the Associated Press.
• Columnist Kevin Kernan
in the Post
asks original Generation K member
Jason Isringhausen
about the Harvey,
Zack Wheeler
, Noah Syndergaard trio. "Three guys coming up, there's a lot of expectation," Izzy, a guest instructor with the Cardinals, told Kernan. "But, with us, there were a lot of injuries. So hopefully these kids stay injury-free and they are able to pitch for 20 years. That would be great. That's what everybody wants. The reality is you got to take care of these kids.''
• Read more on the plan for Mets players returning to Grapefruit League play from injuries in the
Star-Ledger
,
Record
and
Newsday
.
• Jared Diamond
in the Journal
questions whether Duda's fractured wrist during the 2012-13 offseason impacted his performance a year ago.
• Frank Viola's son Frank III, who has tried to revive his career as a knuckleball pitcher, has signed a minor-league deal with the
Toronto Blue Jays
after a successful tryout, the former Cy Young winner
tweeted
. The younger Viola, a right-hander, is 29 years old.
• Tim Rohan
in the Times
profiles Mets farmhand L.J. Mazzilli, the son of Lee Mazzilli. L.J. was assigned No. 13 in minor-league camp, which his father wore from 1986 through '89 with the Mets. L.J. has attention deficit hyperactivity disorder, so he needs to be extra vigilant concentrating in the field, Rohan writes.
• Matz is profiled
in the Post
. The Long Island native is expected to open the season in Class A St. Lucie's rotation, with a potential jump to Double-A Binghamton for the second half.
• Chris McShane
at Amazin' Avenue
interviews Paul DePodesta.
• The Binghamton Mets will host a "Welcome Home" dinner for the Double-A club on April 2 at the DoubleTree in Binghamton. Tickets for the event/autograph session are $25. Call 607-723-METS or purchase at the NYSEG Stadium ticket office.
•
From the bloggers …
The Eddie Kranepool Society
addresses WOR's Mets radio booth still being in flux. …
Faith and Fear
hears spring training is the cure for the common winter. … John Delcos at
Mets Report
wonders why there are so many tight muscles in camp.
BIRTHDAYS:
No player to appear for the Mets was born on this date, but Shaquille O'Neal, Tom Arnold, Alan Greenspan and Michelangelo celebrate birthdays today.
TWEET OF THE DAY:
I've got to accept that the sports gods hate me #Isles #Mets

— Michael Beckwith (@mikeb_17) March 6, 2014
YOU'RE UP: Do you prefer Wilmer Flores, Omar Quintanilla or Anthony Seratelli as the backup shortstop?
July, 14, 2013
7/14/13
5:48
AM ET
PITTSBURGH
FIRST PITCH:
The Mets soon will have a chance to recharge their batteries -- well, with the exception of
David Wright
and
Matt Harvey
, who should be plenty busy over the next few days.
Dillon Gee
(6-7, 4.60 ERA) opposes rookie right-hander
Gerrit Cole
(4-2, 3.68) in today's 1:35 p.m. first-half finale at PNC Park as the Mets look to avoid getting swept. All-Star southpaw
Jeff Locke
was
scratched from the start
by the Pirates.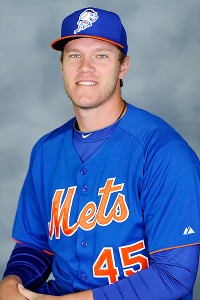 Courtesy of New York MetsNoah Syndergaard is the starter for Team USA in today's Futures Game.
Less than a half-hour after the Mets-Pirates game gets under way, the All-Star events at Citi Field begin with the 2 p.m. Futures Game, which will be televised live on ESPN2.
Mets farmhands Noah Syndergaard (Team USA) and Rafael Montero (World) will start opposite each other on the mound. The squads will be managed by Mookie Wilson and
Edgardo Alfonzo
. 2011 first-round pick Brandon Nimmo will come off the bench for Team USA.
Mets special assistant J.P. Ricciardi,
in a radio interview Saturday
, projected Montero as a No. 4 starter in the majors and raved about Syndergaard's electric fastball and power sinker.
The celebrity softball game featuring
Mike Piazza
,
John Franco
, Darryl Strawberry, Dwight Gooden and
Rickey Henderson
will be played today at Citi Field after the Futures Game. It will be televised by ESPN on Monday, after the 8 p.m. Home Run Derby, at approximately 10:30 p.m.
Sunday's news reports:
• After Saturday's game,
Jordany Valdespin
was
demoted to Triple-A Las Vegas
.
Scott Atchison
will return from the disabled list to give the Mets an extra relief arm for the first-half finale. Valdespin was 2-for-his-last-36. Read more in the
Star-Ledger
and
Post
.
• Despite
Carlos Torres
contributing five solid innings
in his first major league start in three years, the Mets lost to the Pirates, 4-2, Saturday at PNC Park.
Ike Davis
was
unable to make a pair of fielding plays
in Pittsburgh's two-run seventh inning.
Read game recaps in the
Post
,
Daily News
,
Newsday
,
Star-Ledger
,
Record
,
Times
and
MLB.com
.
• Sandy Alderson
told ESPNNewYork.com
he does not foresee the roster "looking substantially different" after the July 31 trade deadline.
Alderson, in a separate interview
in Newsday
, said about
Marlon Byrd
: "We're not looking to move Marlon. Obviously, we have our eye on the future, but we want to be as good as we can be this year as well. Now, if what we can get for the future exceeds the value of the present, we'd have to look at that. But we're not anxious to do it."
Regarding
Bobby Parnell
, the GM added: "We've been looking for a closer for two years. Looks like we've found one. Why would we want to give him away immediately? This is not a guy we're looking to move, either."
Ricciardi, matching Alderson's comments, said the Mets are
not eager to trade
Byrd.
Read more in the
Post
.
• Alderson told Kristie Ackert
in the Daily News
that Harvey skipping Saturday's start primarily was to curtail his innings and was not about the All-Star Game. "He would pitch in the All-Star Game whether he pitched today or not," Alderson told Ackert on Saturday. "That wasn't the reason we made the decision. We made the decision on his projected workload over the course of the season. His blister was a factor."
• John Harper and Anthony McCarron
in the Daily News
catch up with Tom Seaver, Jerry Koosman, Jon Matlack, Gooden, Ron Darling and
Al Leiter
about their first All-Star Game experiences. Ken Davidoff
in the Post
talks with 72-year-old Ron Hunt, the last Met to start an All-Star Game in Queens, back in 1964 at Shea Stadium.
• Seaver will serve as the grand marshal of Tuesday's 1 p.m. All-Star parade, which will travel across 42nd St., beginning at Sixth Ave. and continuing to Third Ave.
• Regarding his first All-Star Game, Harvey tells Kevin Kernan
in the Post
: "This is a huge honor for me, and to be able to put that uniform on is really awesome, especially being there with David. David told me to keep my eyes open, keep my ears open and really just enjoy it. All of this is new, and I'm taking it in stride. But when it comes to
Cliff Lee
and guys who have done it multiple times, it's really something I'm looking forward to. And, hopefully, it's not my last All-Star Game."
• Anthony Rieber
in Newsday
talks with Wright on the eve of another All-Star appearance, while colleague Marc Carig
in Newsday
talks with Harvey about his first-half success.
•
Jeremy Hefner
will start the second-half opener for the Mets against the
Philadelphia Phillies
on Friday at Citi Field.
Zack Wheeler
starts on Saturday, followed by Harvey on Sunday. Gee then gets next Monday's series opener against the
Atlanta Braves
, followed by Torres.
• Terry Collins identifies outfield production as one reason for the Mets' improved team performance,
the Times writes
.
• Wright's
pitcher in Monday's Home Run Derby
is bullpen catcher Dave Racaniello. Read more in the
Star-Ledger
.
•
Justin Turner
began a rehab assignment
for a strained intercostal muscle on his left side on Saturday as the DH in the Gulf Coast League. He is expected to play for Class A St. Lucie on Sunday, signaling a return right after the All-Star break.
•
Jenrry Mejia
, on a rehab assignment, tossed five scoreless innings as Binghamton completed a doubleheader sweep of Portland. Wilmer Flores, who had been due to play in the Triple-A All-Star Game on Wednesday, departed Sunday's Las Vegas game after one inning with a hamstring injury. Anthony Chavez's RBI double in the top of the ninth lifted Brooklyn to a 2-1 win against Connecticut. Read the full minor league recap
here
.
• Ken Belson
in the Times
discusses the benefit to the host team of putting on an All-Star Game. Writes Belson:
The main financial lift for the host club is to use the All-Star Game to help push ticket sales to every other game on the schedule.
"For us, the big plus is you expand your season-ticket base going into that year," said Kevin Uhlich, the senior vice president for business operations for the Kansas City Royals, who were the hosts for the All-Star Game in 2012. "While our play on the field didn't change, our season tickets were up 25 percent because the only way to guarantee All-Star tickets was to buy a ticket plan."
• Jorge Castillo
in the Star-Ledger
discusses
Kirk Nieuwenhuis
' improved performance with the center fielder.
• Cody Derespina
in Newsday
suggests Harvey has pitched better than his 7-2 record indicates.
• Jordan Lauterbach
in Newsday
profiles Brooklyn second baseman LJ Mazzilli, son of Lee Mazzilli.
• Steven Marcus
in Newsday
writes that All-Star venue Citi Field evokes memories of Ebbets Field, as Fred Wilpon intended.
BIRTHDAYS:
White Sox manager/ex-Met Robin Ventura turns 46. He will be one of the AL coaches at Tuesday's All-Star Game, along with Blue Jays manager John Gibbons. The NL coaches also have Mets ties: Collins and Davey Johnson. ... Las Vegas reliever Jack Leathersich is 23.
TWEET OF THE DAY:
RT @SFGiants: July 13, 2013 – Tim Lincecum throws his 1st Career No-Hitter #SFGiants pic.twitter.com/h1qvXpg2SE

— Baseball Tonight (@BBTN) July 14, 2013
YOU'RE UP: Should Terry Collins use Josh Satin at first base on Sunday, even though the Pirates now are using a right-hander?
June, 14, 2013
6/14/13
5:48
PM ET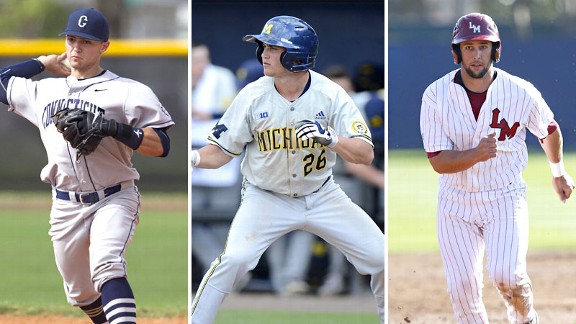 Associated PressDraft picks (l to r) LJ Mazzilli, Patrick Biondi and Colton Plaia are on board with the Mets.
NEW YORK -- LJ Mazzilli, the UConn product and son of ex-Met Lee Mazzilli, will man second base for the Brooklyn Cyclones, who open play Monday.
First-round pick Dominic Smith is expected to sign soon and be assigned to the Gulf Coast League.
Signings from the draft confirmed by the Mets:
Rd. 6 (176), Champ Stuart, CF, Brevard (N.C.) College
Rd. 8 (236), Ricky Knapp, RHP, Florida Gulf Coast
Rd. 9 (266), Patrick Biondi, CF, Michigan
Rd. 10 (296), Luis Guillorme, SS, Coral Springs (Fla.) Charter HS
Rd. 12 (356th overall), Jeff McNeil, SS, Cal St. Long Beach
Rd. 13 (386th overall), Kevin McGowan, RHP, Franklin Pierce
Rd. 15 (446th overall), Colton Plaia, C, Loyola Marymount
Rd. 16 (476th overall), Zach Mathieu, 1B, Franklin Pierce
Rd. 18 (536th overall), Brent McMinn, RHP, Nevada
Rd. 23 (686th overall), Gaither Bumgardner, RHP, South Carolina Upstate
Rd. 34 (1016th overall), Cameron Griffin, RHP, Santa Ana College
The Mets also have signed third-round picks Ivan Wilson for $624,900 and Casey Meisner for $500,000 and 11th-round pick Ty Bashlor for $550,000, according to Baseball America. Seventh-round pick Matt Oberste has tweeted he has signed and will play with Brooklyn.
June, 7, 2013
6/07/13
6:33
PM ET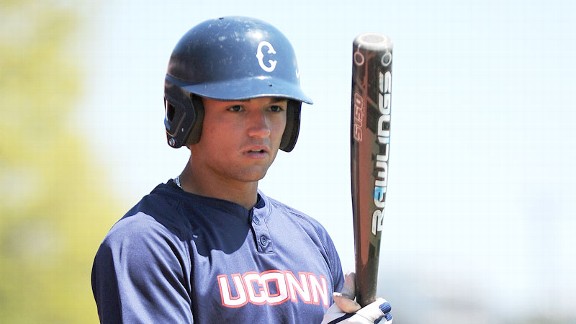 Tomasso DeRosa/Associated PressThe Mets selected Lee Mazzilli's son L.J., a UConn second baseman, in the fourth round.
WASHINGTON -- Selections resumed Friday in the three-day MLB draft. Here is the full rundown of the activity. Rounds 11 through 40 will be selected Saturday.
Rd. 3 (76th overall),
Ivan Wilson
, CF, Ruston (La.) HS.
Wilson has committed to Grambling. Read more
in the Monroe (La.) News-Star
.
Rd. 3 (84th),
Casey Meisner
, RHP, Cypress Woods (Texas) HS.
A Texas Tech signee, Meisner stands 6-foot-7, 190 pounds. Read more
in the Cypress Creek Mirror
.
Rd. 4 (116th),
L.J. Mazzilli
, 2B, UConn.
Son of ex-Met Lee Mazzilli. Read college bio
here
.
Rd. 5 (146th),
Jared King
, LF, Kansas State
Read college bio
here
.
Rd. 6 (176),
Champ Stuart
, CF, Brevard (N.C.) College
Stuart is from the Bahamas. Read college bio
here
.
Rd. 7 (206),
Matt Oberste
, 1B, University of Oklahoma
Read college bio
here
.
Rd. 8 (236),
Ricky Knapp
, RHP, Florida Gulf Coast
Knapp is the son of former Tigers pitching coach Rick Knapp. Read college bio
here
.
Rd. 9 (266),
Patrick Biondi
, CF, Michigan
Biondi was 6-for-6 in steal attempts against Eastern Michigan on April 24, setting a Big Ten record,
according to the Michigan Daily
. Read college bio
here
.
Rd. 10 (296),
Luis Guillorme
, SS, Coral Springs (Fla.) Charter HS
Venezuela native who moved to U.S. as teenager.
June, 7, 2013
6/07/13
3:22
PM ET
The Mets had success drafting a Mazzilli in 1973.
Forty years later, they're trying their luck again.
The Mets used their fourth-round pick on UConn second baseman L.J. Mazzilli, son of former Mets first-round pick Lee Mazzilli. The elder Mazzilli spent parts of 10 seasons with the Mets, winning a World Series ring in 1986, and batted .264 while playing first base and the outfield in Flushing.
[+] Enlarge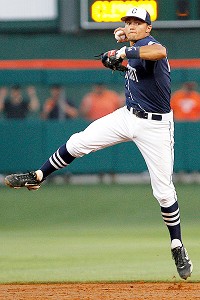 Daniel Shirey/USA TODAY SportsThe Mets drafted LJ Mazzilli, son of Lee Mazzilli, in the fourth round.
"I'm so grateful for this opportunity from the
New York Mets
and from Jeff Wilpon," L.J. said on a conference call. "I'm so excited to start, whenever I do start, and work hard and try to bring another Mazzilli to the Mets. It's a cool opportunity to be drafted by the same team as my dad, who was picked 40 years [ago]."
L.J. helped the Huskies to a Big East title this season, hitting .354 with a .408 on-base percentage. He stole 29 bases while hitting six homers and 51 RBIs. Last year, he was selected by the
Minnesota Twins
in the ninth round of the draft, but opted to return for his final season in Storrs.
The Mazzilli family watched the draft together Friday on MLB.com, and L.J. said he had an inclination the Mets might take him in the fourth round. When it was announced that the Mets were taking a re-drafted player, which he qualified as since he didn't sign with the Twins last year, he believed he was the pick, and the announcement came shortly after. He said he immediately hugged his father.
"This is a very happy moment for me as a dad to see my son, 40 years after I was drafted, go to a team that I grew up in. I'm a very proud dad at this time. Our family can't be more excited," said Lee, who played for five teams in a 14-year career. "This is a good thing for L.J. and he's off to start his own career, which any parent is very proud of."
L.J., who was born after his father's playing career ended, said Lee taught him about needing to give 100 percent effort all of the time, and how to handle the mental aspect of the game. He also received a tutoring about what it's like to play in the New York market and all that comes with.
Due to his last name, L.J. will certainly have pressure to perform, but he isn't concerned about it. His father believes his son performs well under pressure.
"I'm so excited to be able to have that opportunity that my dad had 40 years ago. There are so many feelings on this day," L.J. said. "I'm looking forward to making my own name out there and carrying my last name with a lot of pride from what my father was able to accomplish in his career, and then take my career as it comes in my own hands."
The Mets have had their eyes on Mazzilli for at least three years.
"He's been on our radar for a long time. Early in the spring this year, since he decided to return to UConn, he was a guy that we wanted to follow closely," said VP of Player Development Paul DePodesta. "He continued to improve from last year to this year and he had a terrific year."
June, 1, 2011
6/01/11
11:51
AM ET
By
Mark Simon
| ESPNNewYork.com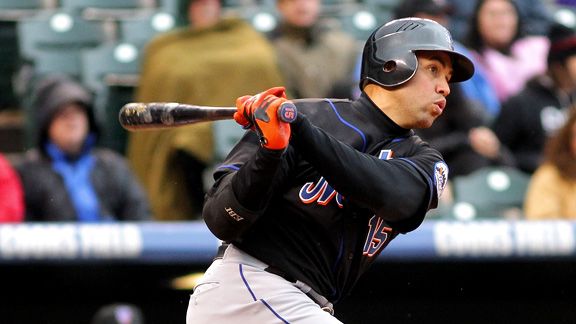 Doug Pensinger/Getty ImagesThe Mets need more games from Beltran like his three-homer game a couple of weeks ago.
In the first two months of the season, shortstop
Jose Reyes
has established himself as potentially the most coveted position player should the Mets look to make deals at the July 31 trade deadline.
It would help the Mets greatly if
Carlos Beltran
could establish himself as the second-most coveted player.
Unless the Mets embark on a major winning run over the next two months, it's almost a certainty that they'll be selling by the end of July. Beltran seems like a certainty.
What should we be watching for Beltran in June? Here are five things to consider.
How does he hit left-handed pitching?
In 2008 and 2009, Beltran hit .326 with 15 home runs in 264 at-bats against left-handed pitching.
So far in 2011, he's 12-for-49 with five home runs, and while the hit total isn't bothersome (one or two more hits, and he's hitting .around .300), his strikeout rate is. Beltran had a three-year run from 2006 to 2008 in which he struck out as often as he walked against southpaws.
In 2011, he has struck out 12 times in those 49 at-bats. He's walked just three times.
How does he hit on the road?
Take out the three-homer game at Coors Field on May 12 and Beltran has done very little away from Citi Field in the first two months of this season. Beltran enters June hitting .225 in road games (20-for-89) with as many strikeouts as hits, and no home runs other than the Coors Field shots.
The Mets will play 16 road games in June -- a 10-game road trip that features three in Milwaukee, four in Pittsburgh and three in Atlanta, then later in the month three in Texas and three in Detroit as part of interleague play.
How does he do against the mistake pitch?
In looking more closely at pitch location data on Beltran, we noticed an extremely unusual issue that he's had against right-handed pitching.
Our data allows us to classify pitches by area (based on Pitch F/X), and usually a hitter's best performance comes against pitches located middle-middle (
Keith Hernandez
would probably call it a "mistake pitch").
Beltran is just 2-for-17 when he puts a mistake pitch from a right-hander in play. Two of the three line drives he's hit have been caught. All seven of his fly balls against those pitches have been turned into outs. Of his seven groundballs, only one has produced a hit.
Other hitters with comparable numbers from the left side against right-handers include
David DeJesus
,
Emilio Bonifacio
and
Mark Kotsay
. Those are hitters that Beltran was far better than when he was going good.
The typical hitter against these pitches gets a hit about one of every three times he puts the ball in play. As recently as 2009, Beltran's BABIP against mistake offerings from righties was .458. Either Beltran has run into some bad luck that has cost him three to four hits, or there's an issue
Dave Hudgens
needs to address.
How does he run?
It's pretty significant that Beltran has not even attempted a stolen base this season. Unfortunately, he is not performing at a level close to the sort of baserunner he used to be either.
Consider this, courtesy of
Baseball-Reference.com's baserunning stats
section:
From 2005 to 2009, Beltran scored from second base on nearly two-thirds of the time when a single was hit (61-of-94). In 2011, he's scored just three times from second base on nine singles, or one-third of the time.
Is this something that can improve in a month's time? We don't profess to be experts in knee surgery recovery, but it seems unlikely.
How does he defend?
The advanced defensive metrics rated the in-his-prime Beltran as one of the best defensive center fielders in baseball, as far as turning batted balls into outs, with his speciality being the ability to glide back with ease and haul in long flies hit to some of the deepest parts of the ballpark.
The Beltran of April and May 2011 has lost a step, but he has been better than you might think. Of the 35 right fielders who have played the most innings in the major leagues, Beltran ranks ninth-best in that statistic (known as advanced plus-minus). The key will be whether he can maintain that over the next-third of the season.
Five stats that sum up May for the Mets
1
: The Elias Sports Bureau reports that
Jose Reyes
had 40 hits in May, matching
Lee Mazzilli's
club record, set in 1978. Reyes finished with 15 multi-hit games, one shy of
Felix Millan's
record for the most in any calendar month (16 in July 1973, and July 1975).
2
: Elias also checks in via
Justin Turner
, who had both a seven-game RBI streak and a six-game RBI streak, netting an RBI in 13 of 15 games.
Only two other rookies in major-league history had an RBI in at least 13 games over a 15-game span, and both did it more than 80 years ago:
Pinky Whitney
of the 1928 Phillies and
Buster Chatham
of the 1930 Braves (13 of 15). The shame of it for Turner is that some of those RBIs were wasted. The Mets went 7-8 in those 15 games.
3
:
Jason Bay
had seven RBIs in 86 May at-bats, during which he hit either fourth, fifth or sixth in every game. By comparison across town,
Andruw Jones
had eight RBIs in 37 May at-bats. His teammate,
Francisco Cervelli
, had eight RBIs in 26 May at-bats.
4
: The Mets closed May by not hitting a home run in their last 10 games at Citi Field, tied for the fourth-longest homerless streak in home games in club history, and the longest since a 10-gamer in 1979. The "record" of 14 games, set in 1967, is within their sites on this home stand.
5
: In their first 49 games, the Mets lost a game in which they had an eighth-inning lead once. In their last five games of May, they lost games in which they had an eighth-inning lead three times. Remember the bullpen's streak of 23 1/3 scoreless innings in a nine-game stretch from May 4-13? It's been wiped out by their recent efforts -- 27 runs allowed in a 20 2/3-inning span to close the month.