New York Mets:

Leigh Castergine
March, 25, 2013
3/25/13
4:30
PM ET
Mets executive vice president for business Dave Howard is leaving the ballclub. He will become president of MSG Sports, the company announced. He will begin work April 9.
The Mets indicated that team executives Paul Asencio, Leigh Castergine and David Newman will now join Mike Landeen in reporting to Jeff Wilpon to absorb Howard's role for the near future. Wilpon also will pick up some of Howard's duties.
Here is the full release from MSG Sports:
Hank Ratner, president and chief executive officer of The Madison Square Garden Company, today announced that distinguished sports executive, Dave Howard, has joined the company as president, MSG Sports, effective April 9. In this role, Mr. Howard will be responsible for running the business operations of the New York Knicks, New York Rangers, New York Liberty and Hartford Whale, as well as the management of the company's Sports Properties unit.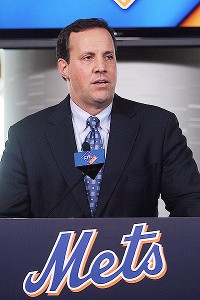 Rick Maiman/Bloomberg News/Getty Images
Mets executive VP Dave Howard is departing for MSG Sports.


"Dave has been one of New York's premier sports executives for over two decades, and we are pleased he will be joining our Company to lead our sports business," said Mr. Ratner. "MSG Sports represents some of the most popular and enduring brands in the world, and we're confident Dave's vision and management skills will ensure we continue to earn the passionate loyalty of generations of fans, while developing strategic growth opportunities that help drive our business."

As president of MSG Sports, Mr. Howard will have a wide range of responsibilities tied to the successful operations of the sports division, including optimizing the core businesses, while creating and driving new revenue streams, and enhancing the value of the MSG Sports brand. In addition to managing the strategic plan, budgets and forecasting for the businesses, he will oversee the marketing and game presentations of the Knicks, Rangers and Liberty, as well as the sale of their season and individual game tickets, suites and Madison Club memberships. He will help direct integrated sales, including establishing strategic sponsorships through the development of new inventory packages that drive increased marketing partnerships. Mr. Howard will manage the Sports Properties division, including the presentation of sporting events such college and high school basketball, boxing and tennis, along with the development of new growth opportunities.

"I am honored to be joining The Madison Square Garden Company, and particularly thrilled to have the privilege of leading MSG Sports," said Mr. Howard. "There are very few organizations anywhere with the strength of MSG's sports brands, and I look forward to utilizing my experience to ensure we build on MSG's position as one of the world's leading sports organizations. I would also like to thank the Mets' ownership and organization for what has been an amazing professional experience in Flushing."

Mr. Howard joins MSG Sports following more than two decades at the New York Mets organization and Major League Baseball. Most recently, he served as executive vice president of business operations for the Mets, where he oversaw all business departments, including ticket sales & services, corporate sales & partnerships, marketing &communications, broadcasting, media relations, venue services, ballpark operations, guest experience and security. In addition, he was responsible for the team's Florida training facility and the St. Lucie Mets and Brooklyn Cyclones minor league business operations. During his 20 years with the Mets organization, Mr. Howard held a number of significant roles, including as the team's general counsel, corporate secretary, vice president of business affairs and senior vice president of business and legal affairs. He played a key role in moving the Mets from Shea Stadium to Citi Field, where he was also instrumental in attracting other premier events, including top concerts and college lacrosse, as well as the first-ever major soccer matches. Prior to joining the Mets, Mr. Howard was an associate counsel in the office of the commissioner's office at Major League Baseball, and an associate at the firm of Davis Polk & Wardwell. He began his career as a law clerk for the Honorable George C. Pratt at the U.S. Court of Appeals for the Second Circuit.

Mr. Howard graduated cum laude from Fordham University of Law and received his bachelor's degree in Economics from Dartmouth College, where he graduated magna cum laude. He has served on a number of community and charitable boards, including: The Bridge Church of the Nazarene, Rockville Centre Little League; Baseball Chapel, Inc; Molly College Board of Trustees; CCFA-Long Island Chapter Advisory Board; Tufts University Athletics Board of Advisors. Mr. Howard, his wife, Nancy, and their children make their home on Long Island.
February, 27, 2011
2/27/11
6:17
AM ET
Time to go to the University of Michigan. Actually, not. The University of Michigan comes to the Mets on Sunday. But most of the media should be at Disney World. That's where
Chris Young
,
Oliver Perez
and the major league staff will be participating in a split-squad game against the Atlanta Braves.
On to Sunday's news reports ...
•
Ken Belson
and
Richard Sandomir
of The New York Times report: "One person close to the team said that advance ticket sales for the 2011 season were going so poorly that
a sense of panic
had begun to take hold in the team's front office. The team has recently initiated a broad shake-up of its ticket operations. Over the last several months,
Bill Ianniciello
, the longtime head of ticket sales, was replaced by
Leigh Castergine
, an executive brought in to overhaul the department in the wake of last year's steep decline in attendance."
• Commissioner
Bud Selig
, speaking in Scottsdale, Ariz., where he named
Joe Torre
executive VP of baseball operations for MLB, was mum Friday regarding his friends with the National League club in New York, declining to even
acknowledge he extended a $25 million loan
to the Mets' owners, writes
Ken Davidoff
in Newsday. The report quotes Selig saying: "I do have great affection for
Fred Wilpon
, make no mistake about that. I have great affection, and I have great respect." Despite the circumspect answer, Davidoff says the commissioner's office has concern about whether the Wilpons can retain ownership. ... Wilpon, wearing a University of Michigan baseball cap, was
even more quiet
at Mets camp. "You'd have a hard time finding half the guys in here that know about what's going on,"
David Wright
told Newsday. "And the other half that has heard about it, I don't even know how to begin to explain something or comment on something that I don't fully understand. To me, it doesn't affect anything that we're doing this year. Beyond this year, I guess we can answer those questions then. But as far as I'm concerned, I trust what the Wilpons are saying and you kind of go from there. I'm not too worried about it."
• Former commissioner
Fay Vincent
tells the Post's
Dan Martin
the Mets' $25 million loan from Major League Baseball is a
major red flag
about how dire things may be financially with the organization. Vincent, according to the report, once loaned the Detroit Tigers money before their 1992 sale and tells Martin: "Any time a team has to come to baseball for money, it's a great concern. Other teams have to be worried. There are implications for everyone."
•
Michael Cramer
, former president of the Texas Rangers, which happens to be the last major league club to go into a bankruptcy proceeding, similarly tells
Anthony Rieber
of Newsday that the Wilpons' need for a loan from MLB
does not bode particularly well
for their current state. "There's no way you hit up the MLB credit agreement for a liquidity loan for $25 million unless you just don't have the cash or any other way to do it," Cramer, director of the Texas Program in Sports and Media at the University of Texas at Austin, tells Rieber. "My gut is that's not a good sign."
•
Steve Popper
of the Bergen Record talks to Mets pitchers about why they wanted pitching coach
Dan Warthen
to return
. "I was sitting there thinking there's no way you can get rid of this guy, as much as he did with the injuries that happened,"
Mike Pelfrey
tells Popper. "He had guys coming in. Guys stepped up. Guys performed. I think that's a reflection, big-time reflection, of the pitching coach. No way you can get rid of a guy after that. ... The thing about his personality is that he is blunt. If you weren't very good, he's going to tell you that you weren't very good. He'll make a joke about it, but it's sarcastic truth like, 'Hey, I went back and watched the tape yesterday and you were awful. You were worse than I thought.' I'm like, 'Thanks, Dan.' I'm sitting there thinking I knew that. I threw the pitches. I knew I wasn't very good. But the next time in the bullpen, he comes with a plan." Third base coach
Chip Hale
and Warthen are the two holdovers from
Jerry Manuel's
staff.
•
Andy McCullough
of the Star-Ledger
does a Q&A
with
Ike Davis
. One question: An accomplished pitcher at Arizona State, could he have success now on the mound in the big leagues? "Well, I could throw hard," Davis says. "It's just I don't have the mechanics and arm strength right now. They do a lot of work, you know? I could throw 90 for four pitches. That's not good for a game."
• McCullough
also profiles Warthen
, who reveals he has no feeling in his fingers because of the effects of overpitching and the need for Tommy John surgery that was not yet perfected as a player.
•
Luis Castillo
gets a positive grade
for his performance in the Grapefruit League opener, according to Newsday. "I feel like I'm a rookie," Castillo said. "I have to show people I can still play. I'm going to play hard, like it's my last game, and I'm going to fight for the job. I think I can still play." ... Read more on Castillo
in the Record
. ... The Star-Ledger
does note
Castillo "failed to stretch for a
Jason Heyward
grounder in the fourth, and hit into a double play in his second at-bat."
•
Jason Bay
played in a game for the first time Saturday since getting shut down in July following the concussion he suffered at Dodger Stadium. You can read about Bay's return at
ESPNNewYork.com
. ... Post columnist
Mike Vaccaro
wonders how the Mets' 2010 season
might have turned out
had Bay been healthy for the entire year. Vaccaro notes the Mets were 6 1/2 games out of first place, and four games out of the wild card, when Bay's season ended. "We'll never know either way, right?" Bay tells Vaccaro. "
Carlos
[
Beltran
] was just coming back. We'd had our whole team together for a week. There's no telling what might have happened, especially when you consider the great pitching we got all year."
•
Mike Puma
of the Post notes the staff
will get their first glimpse
of
Young in a game today in a Mets uniform. Young thought he returned too quickly from shoulder surgery last spring training, and ended up making only one April appearance before again being shut down. "Last year I thought I was going through a normal spring training," Young tells Puma. "But I couldn't have the throwing days between starts the way I've been able to do here between bullpen sessions. Here, there have been no issues bouncing back, and I'm pretty excited about the way I feel."
•
Andy Martino
in the Daily News reminds that Perez, in addition to Young,
makes his first Grapefruit League appearance
Sunday at Disney against the Braves. "This spring training is different for me because I'm looking for a spot on this team," Perez tells Martino. "You have to treat it like the regular season. It's very different than when you come here just to get ready for the season." Warthen says the field of rotation starters should be narrowed about March 10, with Perez reassigned to the bullpen audition group then if he's faltering. After that, you know what is next. Young and
Chris Capuano
(who starts the other split-squad game Sunday, against the University of Michigan), should emerge as the final two members of the rotation if the Mets follow the script.
BIRTHDAY:
Pete Smith
, who made 21 starts for the Mets in 1994 and went 4-10 with a 5.55 ERA, was born on this date in 1966.