New York Mets:

Little Jerry Seinfeld
July, 11, 2012
7/11/12
2:00
PM ET
US Presswire/Tim FarrellJohan Santana's June 1 no-hitter certainly was cause for celebration.
Here's a ranking of 10 memorable moments from the first half of 2012, with write-ups largely as they appeared on those days.
Obviously,
Johan Santana's
historic no-hitter -- the first in franchise history -- ranks No. 1. So what's your next favorite?
10. FRACTURED HOPE, April 14:
Broken pinkie? Idle for four days? No problem.
David Wright
pounced on the first pitch
he saw in his return to the lineup, sending a first-inning offering from
Vance Worley
over the center-field wall for a 428-foot homer in his return as the Mets beat the Phillies, 5-0. Wright avoided the DL and played through the fracture while unexpectedly missing minimal time.
9. BELL RUNG, April 26: Kirk Nieuwenhuis
hit a walk-off RBI single
with two outs in the bottom of the ninth inning as the Mets swept the Marlins. Ex-Met
Heath Bell
walked four of the first five batters he faced and forced in the tying run with a 13-pitch free pass to
Justin Turner
. Bell threw 46 pitches in the ninth.
8. OPENING ACT, April 5:
Santana
successfully returned
after missing the 2011 season while recovering from surgery to repair a torn anterior capsule in his left shoulder. And the Mets again were winners on Opening Day, improving their MLB-best mark to 33-18 in season openers, thanks to an RBI single from Wright
and clutch relief from
Tim Byrdak
only 23 days after undergoing surgery to repair a torn meniscus in his left knee. The Mets beat the Braves, 1-0.
7. CHICKEN DELIGHT, June 22: Frank Francisco
labeled the Yankees "chickens" before the Subway Series opener at Citi Field. He ended up getting a save in the opener, in a 6-4 win. Things got weird, though, when Byrdak had a clubhouse attendant purchase a chicken in Chinatown for $8. Byrdak had the bird running around the Mets clubhouse. The good-luck chicken, dubbed "
Little Jerry Seinfeld
," eventually
found a home at an upstate sanctuary
.
6. RAY OF HOPE, June 12-14:
The Mets
answered getting swept
in the Subway Series in the Bronx in resounding fashion. The Amazin's scored 29 runs in a three-game sweep of the Tampa Bay Rays, who had led the American League with a 3.40 ERA entering the series. The Mets -- who scored 11, nine and nine runs -- last posted at least nine runs in three straight games in 2006. They last did it consecutively in the same series back in 1990, when they scored 43 runs in the final three games of a four-game set against the Chicago Cubs.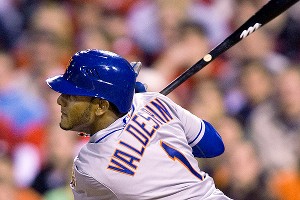 Howard Smith/US Presswire
Jordany Valdespin's first major league hit was a game-deciding homer against Phillies closer Jonathan Papelbon on May 7.

5. PAPEL-BUMMERS, May 7 & July 5: Omir Santos
… again?
Phillies closer
Jonathan Papelbon
, who had not allowed a hit in the last 18 at-bats against him entering the series, surrendered a one-out walk to
Ike Davis
, two-out double to
Mike Nickeas
, then a three-run homer to pinch hitter
Jordany Valdespin
in the top of the ninth inning to
lift the Mets to a 5-2 win
on May 7 at Citizens Bank Park. Then, July 5, also against Papelbon, Wright
blooped in the game-winning single
with two outs. It was Wright's seventh-career game-ending hit and first since Aug. 7, 2008 (a home run). The third baseman finished with three hits -- including a homer -- and four RBIs.
4. CATCH 23, June 1:
He struggled to put on his shirt in front of his locker, the
pain of a crash into the left-field wall
still reverberating through his left shoulder. The crash, which followed a catch that proved to be the biggest defensive play in preserving Santana's no-hitter, knocked him from the game, forcing him to watch the final innings in the training room and bringing on a litany of tests. The crash resulted in the best sore shoulder
Mike Baxter
has ever suffered in his 27 years. "Absolutely," Baxter said. "I'll take it any day of the week."
3. GENTLEMAN'S AGREEMENT, March 19:
The
owners of the Mets settled
with trustee
Irving Picard
for $162 million, their alleged profit from certain Ponzi scheme funds in the six years before
Bernard Madoff's
arrest. In reality,
Fred Wilpon
and family will be on the hook for only a fraction of that amount -- and will not be required to make any payments until 2016 and 2017. That's because, as part of the settlement, the Wilpons will be able to apply to the trustee to be reimbursed for $178 million in losses from certain funds.
2. ZEROES, June 13: R.A. Dickey
ran his
scoreless streak to a franchise-record 32 2/3 innings
before
Wright's ninth-inning error, a pair of passed balls from Nickeas
and an RBI groundout ended the run. Dickey nonetheless passed previous record-holder
Jerry Koosman
(31 2/3 innings in 1973) as the Mets beat the Rays, 9-1, at the Trop. Dickey retired 22 straight batters at one point in claiming his 10th win.
1. NO-HAN:
After more than a half-century and 8,020 games, Santana
pitched the first no-hitter in New York Mets history
. Aided by an umpire's missed call and an incredible catch by a left fielder who grew up in Queens as a Mets fan, Santana's start is also the first no-hitter of his career. Mets manager
Terry Collins
said before the game that he wanted to limit Santana to a maximum of 110-115 pitches. Santana finished with a career-high 134. Afterward, an emotional Collins expressed his wariness about going after history instead of preserving Santana's long-term health.
June, 25, 2012
6/25/12
7:03
PM ET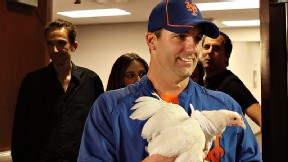 Getty ImagesLittle Jerry Seinfield (pictured with Tim Byrdak) has been replaced by a doll bearing the bird's likeness.
CHICAGO --
Terry Collins
said he is concerned about a letdown in the opener against the woeful Cubs, who enter the series at 24-48, including 3-16 against left-handed starters. The Mets did not land in the Windy City until 5:10 a.m. ET after playing on Sunday night, then getting delayed while trying to leave New York.
"Right now we have to focus on the job at hand, and that's not to have a letdown after all this," Collins said. "I'm really concerned about tonight because of the weekend series -- all the hoopla, all the excitement, all the adrenaline, and absolutely a brutal trip in here last night. Those guys, I'm sure, are absolutely out of gas today. We're going to see if we can rise the energy up a little bit.
"We sat 45 minutes at the airport, couldn't get to the plane. ... That's a long day."
•
Daniel Murphy's
'70s style mustache did not make the road trip.
•
Tim Byrdak
had a replacement for
Little Jerry Seinfeld
in his locker Monday at Wrigley Field. Byrdak had a stuffed chicken doll that plays "The Chicken Dance."
Said Collins: "He tried to make it hilarious, add some humor to it, to kind of back off the damage that the statement made. It's all over the country now."
June, 25, 2012
6/25/12
7:48
AM ET
R.A. Dickey's
streak without allowing an earned run ended at 44 2/3 innings when
Mark Teixeira
had a sacrifice fly in the third inning and
Nick Swisher
belted a three-run homer later in the frame. The Mets did rally in the sixth to even the score at 5 and take Dickey off the hook, but
Miguel Batista
surrendered a tiebreaking eighth-inning solo homer to
Robinson Cano
as the
Yankees beat the Mets, 6-5
, in Sunday's Subway Series rubber game before a Citi Field-record crowd of 42,364.
"Not bad for a bunch of chickens," Swisher
crowed afterward
.
Dickey's streak was the second longest in franchise history without allowing an earned run, narrowly shy of
Dwight Gooden's
franchise-record 49 innings in 1985. The knuckleballer's streak without allowing an earned run was the longest in the majors since
Orel Hershiser
posted his MLB-record 59-inning streak without allowing
any
runs in '88. (Hershiser was Dickey's pitching coach with the Rangers when Dickey went from conventional pitcher to committing full time to the knuckleball.)
According to Elias, Dickey had held opposing batters without an extra-base hit in 105 consecutive at-bats before Swisher's long ball, the longest streak in the majors this season. Dickey also was charged with his first wild pitch this season.
The Mets completed a stretch of eight straight series against teams with winning records -- versus the Phillies, Cardinals, Nationals, Yankees, Rays, Reds, Orioles and Yankees again -- with a 12-13 record (including 1-5 against their Bronx rivals).
The Amazin's now open a three-game series at Wrigley Field at 8:05 p.m. Monday, with
Johan Santana
(5-3, 3.00 ERA) opposing left-hander
Travis Wood
(1-3, 4.14). The Cubs are an MLB-worst 24-48.
Monday's news reports:
• Read game recaps in the
Post
,
Star-Ledger
,
Record
,
Times
,
Newsday
,
Daily News
and
Journal
.
•
Frank Francisco
landed on the disabled list
before Sunday's series finale with a left oblique strain. The Mets also demoted
Jordany Valdespin
, freeing roster spots for the returns of shortstop
Ruben Tejada
and reliever
Ramon Ramirez
from the disabled list.
Terry Collins
had indicated
Bobby Parnell
would get the first crack at closing in Francisco's absence Sunday, but the opportunity did not materialize. Valdespin's playing time would have been minimal with the number of middle infielders active -- Tejada,
Ronny Cedeño
,
Daniel Murphy
,
Justin Turner
and
Omar Quintanilla
. Quintanilla is out of options, and team officials had been concerned they would lose him off waivers if they tried to get him through in order to attempt to send him to Triple-A Buffalo. Read more in
Newsday
, the
Post
,
Record
and
Star-Ledger
.
• Tejada went 2-for-4 with two RBIs and committed a throwing error in his return. Read more in the
Post
,
Record
and
Star-Ledger
.
• In
obvious need of a second-lefty
in the bullpen to pair with
Tim Byrdak
, which was made even clearer after Cano took Batista deep, the Mets designated for assignment
Vinny Rottino
postgame and called up ex-Padre
Justin Hampson
. Writes columnist
Mike Vaccaro
in the Post
about
Terry Collins'
own regret in hindsight for not using Byrdak to face Cano:
These are the torturous tests you endure sometimes as a manager. We already know how many headaches and how much heartburn the Mets' bullpen has given Terry Collins -- and anyone else with a remote interest in the team's fortunes. We already knew they have only one left-handed arm, Tim Byrdak's, in that bullpen. And we already knew they were playing a man down, since Frank Francisco was placed on the disabled list early last night. We all know that. And Terry Collins knows that. We can get irrational about managers sometimes, so it's best to think about them the way you think about commercial airline pilots if you happen to have a fear of flying: The man in the cockpit doesn't want to crash, either.
Read more from columnist
John Harper
in the
Daily News
.
As for external assistance,
Buster Olney
tweeted: "Mets need bullpen help, but there aren't many sellers now, so they'll probably wait until the All-Star break before they dig into the market."
•
Little Jerry Seinfeld
will lead a long life, at least by poultry standards. The chicken -- purchased by a clubhouse attendant in Chinatown for $8 at Byrdak's request for a gag, after Francisco called the Yankees "chickens" -- was
presented to Farm Sanctuary of Watkins Glen, N.Y.
, in a pregame ceremony Sunday outside the clubhouse. Even
Jerry Seinfeld
seemed to embrace the ridiculousness. As the Mets rallied Sunday night, the devout-Mets-fan Seinfeld
tweeted
: "Yes! @mets #rallychicken comes through!!"
Francisco, by the way, maintained he own a chicken farm in his native Dominican Republic.
David Waldstein
of the Times reported
via Twitter
that Francisco raises fighting chickens. Read more in the
Post
,
Daily News
,
Journal
and
Newsday
.
• Dickey, whose ERA rose to 2.31 although he remained 11-1,
said about his knuckleball
Sunday: "It was coming out kind of wobbly a little bit and I kept searching for it through the innings."
Writes columnist
Steve Politi
in the Star-Ledger
:
They don't sing country songs about knuckleball pitchers, but R.A. Dickey sure sounded like he writing a couple stanzas as he reflected on pitching like an actual human being again. "I was going to live and die with my girl," he said. "She'd been nice so far. That's just the way of it, you know?" Well, that she left him last night, of all nights, was downright cruel. This was a nationally televised game. This was the largest crowd in Citi Field history. This was against the hated Yankees. But even if Dickey had controlled her over his previous five starts like no pitcher in baseball history, there is no pitch in the sport as fickle as a knuckleball, relying on whims and winds to sneak past batters.
Writes columnist
Bob Klapisch
in the Record
about the hyped Dickey-
CC Sabathia
matchup:
How did his best pitch suddenly become so vulnerable? The answer speak to the volatility of the pitch itself, especially at the speeds Dickey throws it. He's got an 80-mph freak of nature on his hands, and make no mistake the butterfly effect of Dickey's knuckleball has turned him an All-Star this year. But try to squeeze even an extra mile or two out of the pitch, overthrow it by just a little, and the ball loses its mystery. And that seemed to be what sabotaged Dickey over the next four innings -- a clear case of too much adrenaline, too much arm-speed, which kept him to doing all the little things that's previously made his knuckleball a nightmare for hitters. "You have to remember that throwing the knuckleball properly is like a symphony of micro-movements -- the back, the legs, the arm," Jim Bouton was saying over the weekend. "All of it has to be perfect. That's the thing about a knuckleball. You can be a little off with your fastball; it comes in at 89 instead of 92. But a knuckleball that's a little off turns into a home run."
Read more about Dickey's outing in the
Times
,
Newsday
,
Daily News
and
Post
.
• The three-game series drew a combined attendance of 124,677. The Mets had been averaging 28,279 per game entering the series. (It's fair to note that the season average includes midweek/bad-weather games earlier in the year, whereas the Yankees series fell during a time attendance would naturally be higher anyway -- although not as high, obviously, had the Bombers not been visiting Queens.)
ESPN's
Jayson Stark
notes the Subway Series, and other natural rivalries, now are slated to be reduced to four games a season -- two apiece in each ballpark -- rather than the six games a season that has been the norm.
•
Ike Davis
was out of the starting lineup for a second straight day with a suspected case of food poisoning, which he believes is related to bad oysters. Davis pinch hit for Turner with two out in the ninth and
Lucas Duda
on first base. Yankees closer
Rafael Soriano
retired Davis on flyout to right field.
• The two-week program to prepare
Jenrry Mejia
at Triple-A Buffalo for major league bullpen readiness is now complete, Bisons manager
Wally Backman
said, via broacaster
Ben Wagner's
tweet. However, that does not mean Mejia will be an imminent call-up. Mejia has struggled in the role, allowing seven runs (six earned) on nine hits, three walks and a hit batter in four innings spanning five appearances since the June 15 conversion. "When you have that natural cutter like he's got, you've got to be able to command it," Collins told reporters Sunday. "And Wally said right now everything's in the middle."
•
Matt Harvey
allowed two runs in five innings in a no-decision with Buffalo, while
Robert Carson
recorded a five-out save for Binghamton and
Cam Maron's
South Atlantic League hitting streak ended at 16 games. Read the full minor league
here
.
• Dickey's knuckleball likely will pave the way for
others to follow in his footsteps
. There are only two minor leaguers throwing the pitch right now -- Double-A Akron's
Steven Wright
(Cleveland Indians) and Class A Boise's
Joe Zeller
(Chicago Cubs).
•
Brittany Viola
, the daughter of
Frank Viola
, qualified for the Olympics in diving by winning the 10-meter platform competition at the U.S. trials. The ex-Met currently serves as the pitching coach for the organization's Class A Savannah affiliate. Read more in the
Miami Herald
and
Newsday
.
• With
David Wright
and Dickey likely representatives already and Santana at only 5-3, it seems unlikely the southpaw would make the All-Star squad. Regardless, GM
Sandy Alderson
told
Mark Hale
in the Post
that the team would not stand in the way of Santana participating if selected, even though Santana missed last season with shoulder surgery. (New MLB guidelines make it tougher for players to wriggle free if selected anyway. They must be injured or excused, per the new CBA.)
TRIVIA:
Who hit the homers for the Mets in a Sept. 25, 2004 game against the Cubs at Shea Stadium that dealt a critical blow to Chicago's postseason aspirations?
Sunday's answer:
Jon Rauch
was tied with Houston's
Fernando Rodriguez
for the MLB lead in losses by a reliever, with seven.
June, 24, 2012
6/24/12
7:35
PM ET
By
Mike Mazzeo
| ESPNNewYork.com


The Mets were busy making roster moves on Sunday:

Closer Frank Francisco was placed on the disabled list with a strained left oblique. Bobby Parnell and Jon Rauch are the likely candidates to close games in Francisco's absence.

Shortstop Ruben Tejada and right-handed reliever Ramon Ramirez were activated from the DL. Jordany Valdespin was demoted to Triple-A.

First baseman Ike Davis still isn't ready to return to the lineup after suffering from a bout of food poisoning on Saturday.

Chicken "Little Jerry Seinfeld" was picked up and will be headed to the Farm Sanctuary in Watkins Glen, N.Y.
June, 24, 2012
6/24/12
7:02
PM ET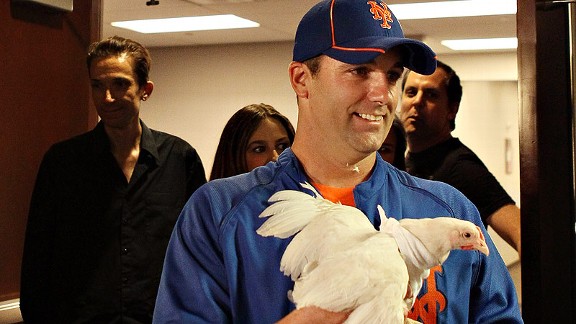 Elsa/Getty ImagesTim Byrdak holds Little Jerry Seinfeld before Sunday night's game.
The Mets' new team mascot,
"Little Jerry Seinfeld,"
has found a permanent home.
The chicken will be heading to Farm Sanctuary in Watkins Glen, N.Y., according to a spokesperson for the sanctuary.
Lefty reliever
Tim Byrdak
, who came up with the idea to purchase the chicken and didn't want to see it killed, presented the chicken to Farm Sanctuary representatives in a ceremony outside the Mets' clubhouse on Sunday night.
"We're so thrilled that this chicken will get to enjoy his days with the other chickens at Farm Sanctuary," Farm Sanctuary spokesperson
Meredith Turner
said. "He's a very lucky bird, luckier than the rest of the market and the others who suffer.
"We couldn't be more thrilled. Tim contacted us and made sure this bird would be able to enjoy the life that all chickens deserve."
Click here for the complete story.
June, 23, 2012
6/23/12
10:31
PM ET
Recap
|
Box score
|
Photos
WHAT IT MEANS: Little Jerry Seinfeld
may be the chicken, but it was the Mets who laid an egg in the seventh inning as the Yankees rallied to win 4-3 on Saturday before a Citi Field-record crowd of 42,122.
Chris Young
had breezed through six innings, blanking the Yankees while allowing only two hits. Things then unraveled quickly.
With the Mets leading 3-0 thanks to an RBI single by Young that chased
Ivan Nova
the previous half-inning, Young walked
Mark Teixeira
to open the seventh.
Nick Swisher
followed by sending a sinking line drive to right field.
Lucas Duda
initially stepped backward. He changed direction too late. Not only did the catchable ball drop in front of Duda, it also skipped by the novice right fielder. Swisher was credited with a double.
Raul Ibañez
then sent the next pitch over the right-field wall for a three-run homer that evened the score.
That ended Young's night, but not the Yankees' surge. Two batters later,
Eric Chavez
delivered his first career pinch-hit homer, against
Jon Rauch
, as the Yankees grabbed a 4-3 lead.
Rauch suffered his seventh defeat, which moved him even with Houston's
Fernando Rodriguez
for the most losses in the majors.
ON STRIKES:
A pair of strikeouts in the seventh, then two more in the eighth, undermined a Mets comeback bid.
Jordany Valdespin
had a leadoff double in the seventh and reached third on a groundout, but southpaw
Boone Logan
entered and consecutively struck out Duda and
Daniel Murphy
as the opportunity to even the score at 4 went for naught.
The Mets placed two runners on base with one out in the eighth against
David Robertson
, but pinch hitter
Justin Turner
and
Kirk Nieuwenhuis
consecutively struck out.
THE SCORE:
The Mets had owned a 3-0 lead. They opened the scoring in the third when Nieuwenhuis tucked a homer inside the left-field foul pole. An inning later,
Alex Rodriguez's
error on
Scott Hairston's
leadoff grounder to third base led to an unearned run and two-run lead. Hairston advanced to third on
Omar Quintanilla's
double and scored on
Josh Thole's
groundout. (
Derek Jeter
, like A-Rod, committed an error in the game.) Young's RBI single in the sixth made it 3-0 after a two-out intentional walk to the No. 8 hitter Thole had placed runners at the corners.
WHAT'S NEXT: R.A. Dickey
(11-1, 2.00 ERA) takes a streak of 42 2/3 innings without allowing an earned run into Sunday night's ESPN-televised game opposite
CC Sabathia
(9-3, 3.55). The Mets' franchise record for consecutive innings without allowing an earned run is within Dickey's reach -- 49 by
Dwight Gooden
in 1985.
June, 23, 2012
6/23/12
4:59
PM ET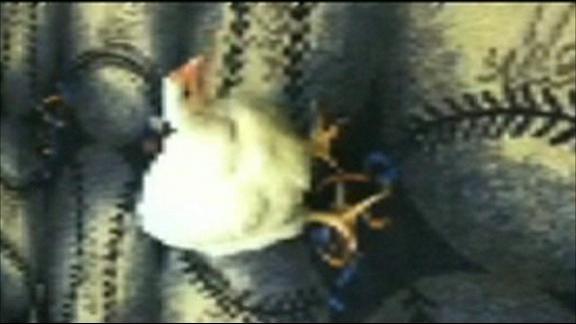 The chicken
Tim Byrdak
sent someone to buy for $8 in Chinatown as a gag apparently will have a long and healthy life. The bird, which Byrdak named "Little Jerry Seinfeld," should end up in some sort of sanctuary, according to Byrdak.
Read the full news story
here
.
NBA
NHL
COLLEGE BASKETBALL
COLLEGE FOOTBALL
NBA
NHL
COLLEGE BASKETBALL
NFL