New York Mets:

Logan Forsythe
August, 15, 2013
8/15/13
1:15
PM ET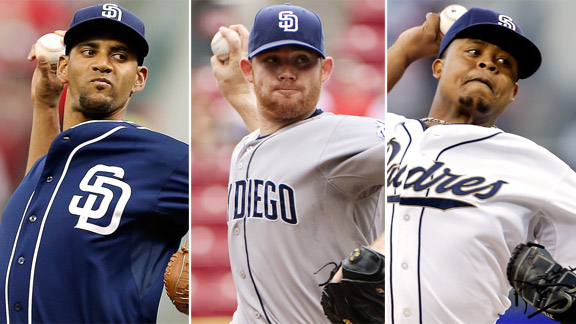 Getty ImagesThe Mets face (l to r) Tyson Ross, Ian Kennedy and Edinson Volquez during the opening three games of a series at Petco Park.
METS (54-64, third place/NL East) vs. SAN DIEGO PADRES (54-66, fourth place/NL West)
Thursday:
RHP
Zack Wheeler
(5-2, 3.63) vs. RHP
Tyson Ross
(3-5, 2.75), 10:10 p.m. ET
Friday:
LHP
Jonathon Niese
(4-6, 4.45) vs. RHP
Ian Kennedy
(4-8, 4.97), 10:10 p.m. ET
Saturday:
RHP
Jenrry Mejia
(1-2, 2.22) vs. RHP
Edinson Volquez
(8-10, 5.80), 8:40 p.m. ET
Sunday:
RHP
Matt Harvey
(9-4, 2.23) vs. LHP
Eric Stults
(8-10, 3.68), 4:10 p.m. ET
Padres short hops
• Outfielder
Will Venable
has a career-high 11-game hitting streak.
• Third baseman
Chase Headley
is hitless in his last 13 at-bats.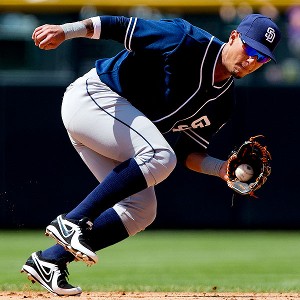 Justin Edmonds/Getty ImagesEx-Met Ronny Cedeno has replaced suspended Everth Cabrera at shortstop.
• Closer
Huston Street
has converted eight straight save chances and has made 12 straight scoreless appearances. He is 46 for 48 in save chances as a Padre since joining the club for the beginning of the 2012 season. That is the best save percentage in the majors during that span.
•
Edinson Volquez
's 5.80 ERA is the highest in the NL among qualified starters, but he remains in the rotation. The Cubs'
Edwin Jackson
is second-worst at 5.05. Volquez is a candidate to be designated for assignment in the not-to-distant future without an upturn in performance.
• The Diamondbacks dealt underachieving right-hander
Ian Kennedy
to the Padres at the trade deadline for situational left-hander
Joe Thatcher
, potential future closer Matt Stites and a draft pick. Kennedy, a 21-game winner two years ago, was 3-8 with a 5.23 ERA in 21 starts for Arizona this season. With San Diego, he blanked the
Cincinnati Reds
for seven innings in his last outing before surrendering a two-run homer to
Xavier Paul
in the eighth.
• Ex-Met
Ronny Cedeno
joined the organization on a minor league deal on Aug. 2, a week after being released by the
Houston Astros
. He had been in spring training with the
St. Louis Cardinals
. Cedeno made his Padres debut Aug. 7 and has started the past two games at shortstop. He is sharing the role with
Logan Forsythe
. The Padres lost
Everth Cabrera
to a 50-game Biogenesis-related suspension.
• Left fielder
Carlos Quentin
is eligible to return from the DL for the series opener against the Mets, but is experiencing continued knee soreness and will remain inactive through the weekend. Fellow outfielder
Cameron Maybin
also had a knee flare-up, during a rehab assignment with Triple-A Tucson, and remains on the DL. Maybin may be lost for the season.
•
John Buck
is not the only catcher potentially departing on paternity leave this weekend. Padres catcher
Nick Hundley
's wife is due -- overdue, actually -- as well. Hundley's wife had been due Sunday.
Yasmani Grandal
is on the DL with a right knee sprain.
Rene Rivera
is the current backup. Rivera played for Triple-A Buffalo as a Mets farmhand in 2009.
• Rookie second baseman
Jedd Gyorko
has struggled since returning July 12 from a right groin strain that cost him 30 games. Although he is hitting only .165 since his activation from the DL, he did homer twice during this past series at Colorado.
• Right-hander
Tyson Ross
, who was acquired from the
Oakland Athletics
in November, is 3-1 with a 1.33 ERA in four starts since reentering the rotation from the bullpen. Opponents are hitting .135 against him during that span.
March, 31, 2013
3/31/13
10:15
AM ET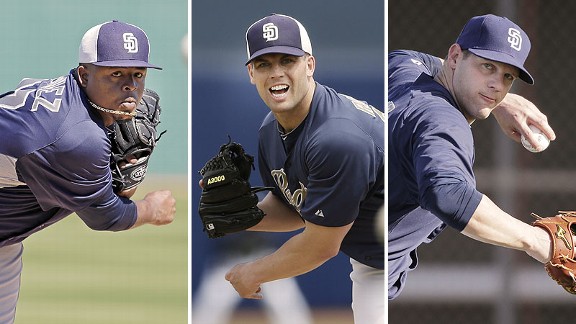 Associated Press
The Mets face (l to r) Edinson Volquez, Clayton Richard and Eric Stults during the season-opening series.
METS (74-88, fourth place/NL East) vs. SAN DIEGO PADRES (76-86, fourth place/NL West)
Monday:
LHP
Jonathon Niese
(13-9, 3.40) vs. RHP
Edinson Volquez
(11-11, 4.14), 1:10 p.m. ET
Wednesday:
RHP
Matt Harvey
(3-5, 2.73) vs. LHP
Clayton Richard
(14-14, 3.99), 7:10 p.m. ET
Thursday:
RHP
Dillon Gee
(6-7, 4.10) vs. LHP
Eric Stults
(8-3, 2.92), 1:10 p.m. ET
Padres short hops
•
Chase Headley
, who finished fifth in NL MVP balloting last season and won the NL's Gold Glove at third base, will open the season on the DL with a fractured tip of his left thumb.
Logan Forsythe
, who was due to fill in, is dealing with plantar fasciitis. So
Cody Ransom
is the Opening Day starter.
Ransom, 37, signed a minor league contract with San Diego in December. He hit a combined .220 with 11 homers and 42 RBIs in 246 at-bats with the
Arizona Diamondbacks
and
Milwaukee Brewers
last season. In 2008, Ransom became the first player in Yankees history to homer in his first two plate appearances with the club.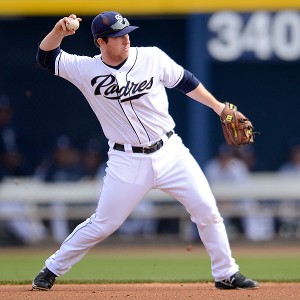 Andy Hayt/San Diego Padres/Getty Images
Jedd Gyorko, who had 30 homers in the minors last season, makes his major league debut against the Mets.

• Volquez will make his third straight Opening Day start, which includes 2011 with the
Cincinnati Reds
. Volquez made three World Baseball Classic appearances for the victorious Dominican Republic, including notching the win against the Netherlands in the semifinals. He walked six in his final Cactus League start, but nonetheless limited the Cincinnati Reds to one run and two hits in five-plus innings.
• Rookie Jedd Gyorko, a second-round pick in 2010 from West Virginia University, will make his major league debut on Opening Day. He hit a combined .311 with 30 homers and 100 RBIs in 2012 between Double-A San Antonio and Triple-A Tucson. The righty-hitting Gyorko will move to third base in place of Ransom, and lefty-hitting
Alexi Amarista
should start at second base, Wednesday against Harvey. The diminutive Amarista has picked up the nickname "Little Ninja."
•
Carlos Quentin
, who had two surgeries on his right knee last year, missed more than two weeks of spring training because of soreness but returned to Cactus League action Tuesday. He is poised to start in left field.
• After dropping a season-worst 22 games under .500 on June 29, the Padres produced a 48-36 record to close last season.
• First baseman
Yonder Alonso
set a Padres rookie record with 39 doubles last season, passing Benito Santiago's former mark (33 in 1987).
• Shortstop
Everth Cabrera
became the first Padre to lead the NL in steals when he produced 44 in 2012. He was 59 for 63 in steal attempts between Triple-A and the majors. His 24 straight successful steals in the majors set a franchise record to start a season. Cabrera is the reigning Nicaraguan Pro Sports Athlete of the Year.
• The Mets reportedly turned down a swap of
Daniel Murphy
for right-handed reliever
Luke Gregerson
last year.
• Right fielder
Chris Denorfia
twice has represented Italy in the World Baseball Classic. He hit .381 in five games in this month's tournament for Mike Piazza's squad.
• Center fielder
Cameron Maybin
hit .198 in his first 71 games and .286 over his final 76 games last season.
• Richard logged 218 2/3 innings last season, which ranked fourth in the NL. He also allowed an NL-high 31 homers.
• Closer
Huston Street
converted 23 of 24 save chances last season (95.8 percent). The only better conversion percentages in franchise history:
Rod Beck
(100 percent, 2003) and
Trevor Hoffman
(98.1 percent, 1998). Street signed a two-year, $14 million extension last July that includes a $7 million team option for 2015.
• A waiver claim last May from the
Chicago White Sox
, Stults went 7-1 with a 2.79 ERA in his final 10 starts last season.
• San Diego's projected Opening Day lineup:
Denorfia, rf
Cabrera, ss
Quentin, lf
Alonso, 1b
Gyorko, 2b
Nick Hundley
, c
Ransom, 3b
Maybin, cf
Volquez, rhp
February, 27, 2011
2/27/11
9:27
PM ET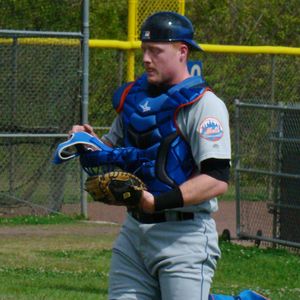 Adam Rubin
Catcher Blake Forsythe was the Mets' third-round pick in last year's draft.

Catcher
Blake Forsythe
, the Mets' third-round pick last year out of the University of Tennessee, hit .238 with three homers and eight RBIs in 101 at-bats in the draft. He talks about his brief pro baseball career and his older brother,
Logan
, an infielder who plays in the San Diego Padres organization.
Here's a Q&A with Forsythe, who is part of an early, invite-only camp for the Mets' top prospects.
Your brother Logan plays professional baseball too?
"He's with the Padres. He's two years older than me. We actually played one year together in high school. He was a senior. I was a sophomore. We won the state championship. It was an awesome experience to play with him."
He's a second baseman now?
"They moved him around a lot. He was a third baseman all through his life -- college. His first year of pro ball he was at third. And then last year they moved him to second. This year they're even putting him a little at short. I guess they're just trying to get him up to the big leagues somehow."
So in the offseasons you'll train together?
"Well, he trains at Arkansas, where he went to college. And I train up in Knoxville, at Tennessee, where I went to college."
At least that's not the biggest Southeastern Conference rivalry.
"It's not the biggest, but within our family it's a rivalry, obviously. It's not as big as like a Tennessee-Alabama or a Tennessee-Florida. That's just off the scale. Arkansas didn't join the conference until late. It's not that big of a rival."
So you overlapped one year in college?
"Yes. We played against each other my freshman year in college. I actually didn't catch the first two games [of the series]. I caught the Sunday game. My parents were so thrilled. We had a bunch of family come up that weekend. It was amazing. Of course, my brother is talking to me while he's hitting, telling me little things and talking about my last at-bat, trying to give me pointers. He's always been there for me."
You knew what pitches to call?
"Absolutely. But it was fun. It was a blast."
On to your Mets career. You threw out 33 percent of the runners. Defensively, your first professional season went well?
"I take a lot of pride in my catching. ... I can control the running game. I have to give my pitcher that confidence. We have to work on that level. If I can control the running game, it just allows the pitcher to do more of what he's capable of. So I take a lot of pride in my defense, as well as the offense and hitting."
Playing at Tennessee, you would have played against Matt den Dekker from the University of Florida. What do you remember about him from those Tennessee-Florida series?
"He was amazing. He was one of the best center fielders I've seen in the league. He's just quick, good reads. Everything he did caught my eye. Before Matt even came here, I just knew we were getting another good player."