New York Mets:

Magic Johnson
June, 28, 2012
6/28/12
2:01
PM ET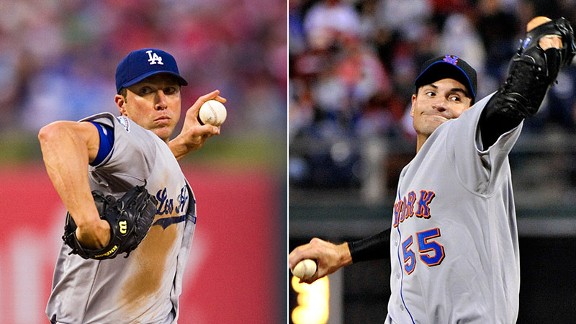 Howard Smith/US Presswire
Former teammates Chris Capuano and Chris Young square off in Thursday's series opener at Dodger Stadium.
METS (40-34, third place/NL East) vs. LOS ANGELES DODGERS (43-33, first place/NL West)
Thursday:
RHP
Chris Young
(1-1, 3.42) vs. LHP
Chris Capuano
(9-2, 2.60), 10:10 p.m. ET
Friday:
RHP
R.A. Dickey
(11-1, 2.31) vs. RHP
Aaron Harang
(5-4, 3.81), 10:10 p.m. ET
Saturday:
LHP
Johan Santana
(5-4, 3.00) vs. RHP
Nathan Eovaldi
(0-4, 4.04), 7:15 p.m. ET
Sunday:
RHP
Dillon Gee
(5-6, 4.42) vs. LHP
Clayton Kershaw
(5-4, 2.74), 8 p.m. ET, ESPN
Dodgers short hops
•
Frank McCourt's
ownership ended May 1, when controlling owner
Mark Walter
, the CEO of a Chicago financial services company, and president
Stan Kasten
took over the Dodgers. Sale price: $2.15 billion, more than double any previous amount for a major league team. The ownership group includes
Magic Johnson
as the face. Johnson has McCourt's old corner office, but he is not a key decision maker, and actually has not been around Dodger Stadium much because of his responsibilities as an NBA commentator. McCourt, who went through a high-profile divorce that added debt to the team, had owned the Dodgers since 2004. Kasten formerly served as president of the Atlanta Braves and Washington Nationals.
• Right fielder
Andre Ethier
was forced from Wednesday's game in San Francisco with a left oblique strain that likely will land him on the disabled list. Ethier joins fellow slugger
Matt Kemp
as unavailable. Kemp (.355, 12 HR) has been on the DL since straining his left hamstring May 30, and is not projected to return until after the All-Star break. Ethier's 55 RBIs rank second in the NL, trailing only
Carlos Beltran's
59. Assuming Ethier is placed on the DL, ex-Pirate
Andy Van Slyke's
son
Scott Van Slyke
could be promoted from Triple-A Albuquerque.
Jerry Sands
is another option.
• San Francisco pulled even with the Dodgers atop the NL West standings after completing a three-game sweep at AT&T Park in which L.A. did not score a run. It marked the first time the Dodgers had ever failed to score in a series of three-plus games, according to ESPN Stats & Information. L.A. has lost four straight and eight of nine. The Dodgers have been held scoreless for 30 innings, since
Adam Kennedy's
sacrifice fly scored
Juan Rivera
in the sixth inning Sunday in a loss to the Angels. L.A. will try to avoid getting shut out four straight games for the first time in franchise history on Thursday night. How bad did things get in San Francisco? The Associated Press reported the Dodgers' equipment truck broke down on the 101 freeway after the series.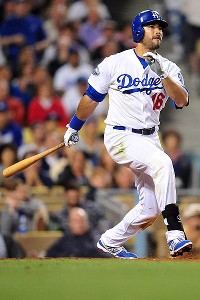 Gary A. Vasquez/US Presswire
Andre Ethier appears headed to the DL with an oblique strain.

• The Dodgers have reached agreement with outfielder
Yasier Puig
for $42 million over seven years pending a physical, ESPNDeportes.com's
Enrique Rojas
reports. It would be the largest contract ever for a Cuban defector, surpassing the four-year, $36 million deal the A's gave to outfielder
Yoenis Cespedes
.
• Ex-Met
Chris Capuano
evened his career record at 66-66 in his most recent start, when he limited the Angels to one run and seven hits in seven innings. He is 5-0 with a 1.57 ERA at Dodger Stadium this season, while limiting opponents to a .215 batting average at home.
• Right-hander
Nathan Eovaldi
stepped into the rotation after
Ted Lilly
experienced shoulder inflammation and landed on the DL. Eovaldi, 22, went to Alvin (Texas) High, which also produced
Nolan Ryan
. His fastball has averaged 94.8 mph this season. He also throws a slider (13.6% of the time), curveball (10.1%) and changeup (5.0%). Eovaldi has been pitching well; his winless record is a function of no run support.
• Second baseman
Mark Ellis
is due to begin a rehab assignment Saturday. Ellis required an urgent surgical procedure May 19 to drain blood and other fluid, or otherwise risked losing part of his left leg. He was injured absorbing a slide at second base from St. Louis'
Tyler Greene
.
Jerry Hairston Jr.
, brother of
Scott Hairston
, has manned second base.
• Catcher
A.J. Ellis
(no relation to Mark) has a .417 on-base percentage. That ranks fourth in the National League, trailing only
Joey Votto
(.478),
David Wright
(.449) and
Carlos Ruiz
(.430).
• Right-handed reliever
Ronald Belisario
has allowed only three runs and 11 hits in 24 1/3 innings since returning from a 25-game suspension on May 4. The suspension was related to a positive cocaine test that also forced him to miss last season with a visa issue,
ESPNLosAngeles.com reported
.
• Third baseman
Juan Uribe
is hitting .132 (5-for-38) in the two weeks since returning from the DL. His slump has resulted in switch-hitting rookie
Elian Herrera
starting two of the past four games at the position. Herrera wasn't on the 40-man roster or even in big-league spring-training camp, but has bounced around multiple positions and plays most days, batting second.
• The lone Dodgers starter the Mets do not face is
Chad Billingsley
, who overlapped at Defiance (Ohio) High with
Jon Niese
.
• The Dodgers'
Sue Falsone
(
@SueFalsone
) is the lone female head athletic trainer in the history of a major professional sports organization, according to the team.
• Shortstop
Dee Gordon's
24 steals match the Cubs'
Tony Campano
for the major league lead.
• Closer
Kenley Jansen
has converted 12 of 15 save chances.
Last series results
Mets won, 3-1, at Dodger Stadium, July, 4-8, 2011 (AP game recaps)
Mets 5, Dodgers 2:
Angel Pagan, Carlos Beltran and Daniel had RBI doubles in the sixth inning after the Mets were held hitless through five by Rubby De La Rosa. Chris Capuano (8-7) allowed six hits and two runs in six innings. Francisco Rodriguez pitched the ninth to earn his 21st save in 24 chances. Terry Collins said he's willing to play with a 24-man roster for a few days while Jose Reyes recovers from a strained left hamstring rather than immediately placing him on the disabled list.
More
Mets 6, Dodgers 0:
Jason Bay made it 3-0 with a leadoff homer in the sixth against Ted Lilly and broke the game open in the eighth with his sixth of the season, a three-run shot off Blake Hawksworth. It was his first multihomer game since June 28, 2010, at Florida, when he went deep twice against Ricky Nolasco. Carlos Beltran also went deep and Mike Pelfrey (5-7) stranded seven runners in scoring position through six gritty innings.
More
Mets 5, Dodgers 3:
Ruben Tejada doubled home two runs while filling in again for injured shortstop Jose Reyes, helping lead the Mets to their fourth straight victory. Carlos Beltran doubled twice and scored twice. Jon Niese (8-7) allowed three runs and five hits over seven innings, improving to 8-4 over his past 14 starts. Hiroki Kuroda (6-10) gave up four runs and eight hits over six innings for Los Angeles, dropping to 1-5 with a 5.75 ERA in seven career starts against the Mets.
More
Dodgers 6, Mets 0:
Clayton Kershaw scattered five hits over eight innings and the Dodgers parlayed extra-base hits by Matt Kemp, Juan Uribe, Aaron Miles and Dioner Navarro into a five-run sixth inning. Kershaw got out of a bases-loaded jam in the eighth by striking out Ronny Paulino to end the inning after getting a visit from manager Don Mattingly. The Mets loaded the bases again in the ninth against Kenley Jansen before Hong-Chih Kuo got the final two outs. Dillon Gee (8-3) gave up five hits and six runs -- five earned -- struck out two and walked one to lose his second straight. Jose Reyes went on the 15-day disabled list with a strained left hamstring.
More
March, 28, 2012
3/28/12
8:17
PM ET
Fred Wilpon
served on a committee that screened prospective Los Angeles Dodgers owners. So Wilpon said he could not discuss the yet-to-be-officially completed $2 billion sale of the West Coast ballclub.
Still, when asked Wednesday afternoon about the impact of the Dodgers' impending sale on the value of Major League Baseball franchises including his Mets, Wilpon said: "I'm smiling, aren't I?"
A week after Forbes valued the Mets at $719 million, sports business consultant
Marc Ganis
estimated Wednesday that the organization actually is worth more than double that amount in light of the Dodgers' price tag.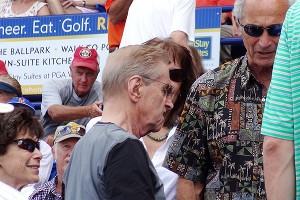 Adam Rubin
Fred Wilpon departs last Thursday's game with Sandy Koufax.

The Yankees? They're likely worth as much as $4 billion, according to Ganis, president of Chicago-based sports marketing company SportsCorp.
"Let me tell you, if the Dodgers are worth $2 billion, the Yankees are worth $3.5 to $4 billion," Ganis said. "The Red Sox are worth $2.5 billion. And the Mets go from being worth, say, in the low $1 (billion)s to the mid- to high-$1 (billion)s."
That does not mean all Major League Baseball teams will see a sizable jump in value because of the impending deal for the Dodgers.
"This only relates to the top, top of the food chain," Ganis said. "It only relates to the Yankees, the Red Sox, the Cubs, the Mets. That may be it. Maybe there is some relevance to a lesser degree to the Giants and the Padres. But no one should expect this has any meaningful impact on the Pittsburgh Pirates or Kansas City Royals or the Cleveland Indians. It's really just the big-market clubs that have unique local broadcasting opportunities."
Part of the reason the Mets are worth a fraction of the other big-market clubs is that they own their television network, SportsNet New York, and are essentially locked into that arrangement. The Dodgers, on the other hand, can freely solicit open bids for when their local TV package, which is up after the 2013 season, Ganis explained.
March, 28, 2012
3/28/12
6:47
AM ET
Jon Niese
takes the mound as the Washington Nationals visit Port St. Lucie to face the Mets this afternoon.
Jordan Zimmermann
is listed as Niese's opponent.
Wednesday's news reports:
• In a memoir that will hit bookstores Thursday entitled "Wherever I Wind Up,"
R.A. Dickey
writes that he was the
victim of sexual abuse
by two different perpetrators during the summer when he was 8 years old. Dickey also writes that he considered suicide in 2006. And he discusses finding a syringe in the Texas Rangers clubhouse in 2001. There are
lighter and more contemporary moments
too, such as breaking into a football field last spring training so
Mike Pelfrey
could attempt 50-yard field goals. Listen to Dickey discuss the most sensitive topics in
this podcast
of a Tuesday afternoon clubhouse interview. Read more in the
Star-Ledger
,
Daily News
,
Times
,
Record
,
Post
,
Journal
and
Newsday
.
• Sources tell ESPNNewYork.com that there is far more
clarity among Opening Day roster spots
.
Mike Baxter
is expected to beat out
Adam Loewen
for the lefty-hitting backup outfielder role.
Mike Nickeas
should be
Josh Thole's
backup catcher, sending
Rob Johnson
and
Lucas May
to Triple-A Buffalo alongside Loewen. And with
Tim Byrdak's
recovery from knee surgery being so rapid -- he is due to begin throwing off a mound today and may only miss the first four games of the season -- the Mets appear poised to put
Daniel Herrera
in the Opening Day bullpen as the lone southpaw. The logic is that the spot will be so short term, it might as well be someone expendable rather than a player who might get claimed off waivers or otherwise lost when Byrdak is ready.
Garrett Olson
is expected to work in Buffalo's rotation, very likely with
Matt Harvey
and
Jeurys Familia
. And left-handed prospect
Josh Edgin
can get more minor league seasoning. Edgin presumably would be a fit for Double-A Binghamton, after excelling at two Class A levels last season. Read more in the
Daily News
.
• NBA great
Magic Johnson
and former Nationals and Braves president
Stan Kasten
have the
winning bid for the Los Angeles Dodgers
-- a whopping $2 billion. The relevance to the Mets:
Steven Cohen
, one of the three finalists, already had purchased a 4 percent share of the Mets for $20 million. Now, Cohen will not have to put that Mets stake up for sale. Meanwhile, the value of the Dodgers would appear to be good news for
Fred Wilpon
and family, since it suggests all MLB teams are worth even more staggering amounts. The more the team is worth, the lower the percentage of the existing debt. That, at least in an academic sense, should make it easier to borrow -- or at least make banks more patient -- since the lending institutions know there is plenty of collateral. Still, the Dodgers' price tag is not a complete apples-to-apples comparison. The sale includes some parking lots around the stadium, and the local broadcasting rights reportedly can be peddled for the 2014 season, whereas the Mets have a long-term relationship with Wilpon-owned SportsNet New York. Still, the Dodgers sale will shatter the U.S. pro sports (Miami Dolphins, $1.1 billion, 2009) and MLB (Chicago Cubs, $845 million, 2009) sale-price records.
•
Lucas Duda
delivered his fourth Grapefruit League homer -- and another to the opposite field -- but
Freddie Freeman
went deep twice off Mets relievers and the
Braves beat the Mets, 7-5
, on Tuesday at Digital Domain Park.
David Wright
played for second straight day. He is due to be off Wednesday, then play consecutive games Thursday night and Friday afternoon. Watch video highlights from Tuesday's game
here
. Read more in the
Post
,
Record
and
Newsday
.
•
Scott Hairston
had four plate appearances in a minor league game Tuesday and manned an inning in center field. Hairston
expects to be in his first Grapefruit League game
Wednesday, with a strained left oblique perhaps behind him and Opening Day realistic.
Jason Bay
, who was struck Sunday in the right forearm with a fastball from Washington's
Stephen Strasburg
, also plans to be in the lineup today.
Terry Collins
expressed optimism
Andres Torres
was making strides a week after straining his left calf muscle. Hairston would be the righty-hitting outfielder for the bench or starting center fielder, depending on Torres' readiness. Righty-hitting
Vinny Rottino
seemingly could slip onto the Opening Day roster if Torres weren't ready.
•
Josh Satin
intends to
play for Israel in the World Baseball Classic qualifying round
in November in Jupiter, Fla. Former major league catcher
Brad Ausmus
placed a call to Satin to invite him to participate. One team from that qualifying pool of Israel, France, South Africa and Spain will advance to the WBC during 2013 spring training. Ausmus also planned to place a call to
Ike Davis
to invite him. Satin is Jewish, and Davis' mother was raised in that religion. Ex-Mets outfielder
Shawn Green
as well as
Gabe Kapler
also are recruiting for the Israeli entry.
• Former Long Islander
Bob Kolb
has
loaned a ticket from the first Mets home game
in 1962 to the organization. The ticket will be on display at the museum at Citi Field during the club's 50th anniversary season this year, then returned to Kolb.
•
Johan Santana
told ESPNNewYork.com he will not face the Marlins in his final Grapefruit League tuneup Saturday. The ace thought a minor league game probably would be the assignment, but said he still needed to discuss the organization's plan with pitching coach
Dan Warthen
.
Andy McCullough
writes
in the Star-Ledger
that Santana could simply throw a simulated game in preparation for Opening Day against the Braves at Citi Field next Thursday afternoon.
TRIVIA:
Which Met was born on an Air Force base?
Tuesday's answer:
Daniel Murphy
hit a game-tying pinch-hit homer last April 27 against
Tyler Clippard
en route to a 6-3 win at Nationals Park.
March, 28, 2012
3/28/12
12:07
AM ET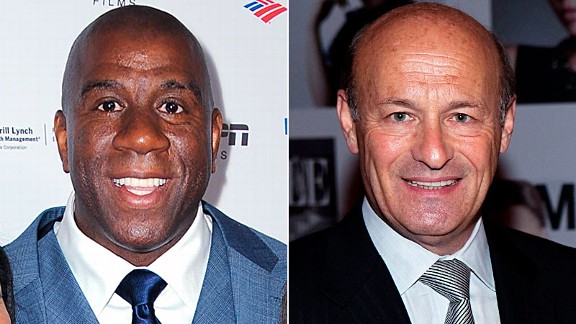 Getty Images
NBA great Magic Johnson and former Braves and Nats president Stan Kasten have the winning bid for the Los Angeles Dodgers.
Steven Cohen
, who has been identified as a purchaser of one of the 4 percent, $20 million minority shares in the Mets, came up short in his pursuit of the Los Angeles Dodgers.
A group headed by
Magic Johnson
and former Braves and Nationals president
Stan Kasten
had the winning bid -- $2 billion.
As a result, Cohen will not have to sell his recently purchased Mets share.
Read the Dodgers sale story
here
.