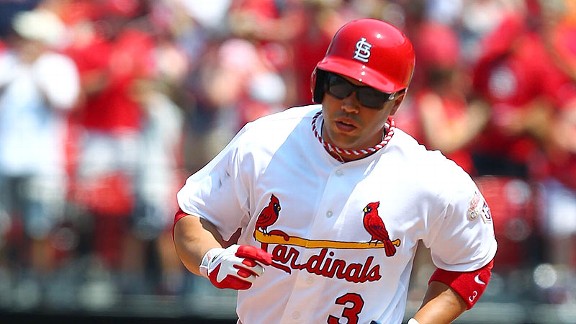 Dilip Vishwanat/Getty Images
Carlos Beltran returns to Citi Field as a visitor this weekend.
METS (28-23, third place/NL East) vs. ST. LOUIS CARDINALS (27-24, second place/NL Central)
Friday: LHP Johan Santana (2-2, 2.75) vs. RHP Adam Wainwright (4-5, 4.45), 7:10 p.m. ET
Saturday: RHP R.A. Dickey (7-1, 3.06) vs. RHP Lance Lynn (8-1, 2.54), 4:10 p.m. ET
Sunday: LHP Jon Niese (3-2, 4.55) vs. RHP Jake Westbrook (4-4, 3.69), 8:05 p.m. ET, ESPN
Monday: RHP Miguel Batista (1-1, 3.95) or RHP Jeremy Hefner (1-2, 5.60) vs. RHP Kyle Lohse (5-1, 3.36), 1:10 p.m. ET
Cardinals short hops
• Ex-Met Carlos Beltran leads the National League with 15 homers, while his 42 RBIs trail only Los Angeles' Andre Ethier (44). Beltran did not start Wednesday because of right-knee discomfort, although he entered in the eighth and singled. Beltran nonetheless has started 43 of St. Louis' 51 games in right field and has appeared in all but two games. He signed a two-year, $26 million deal with St. Louis on Dec. 23. Beltran's next steal will be the 300th of his career. He has 317 career homers, and will become the eighth member of the 300/300 club. He will join Barry Bonds, Bobby Bonds, Andre Dawson, Steve Finley, Willie Mays, Alex Rodriguez and Reggie Sanders.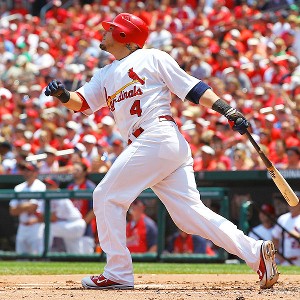 Dilip Vishwanat/Getty Images
Yadier Molina signed a $75 million contract extension during spring training.
• Left-hander Jaime Garcia, originally scheduled to face the Mets in the series opener, will be skipped this turn in the rotation because of elbow inflammation. Thursday's off-day allows the Cardinals to slide the other members of the rotation up a game, including moving Kyle Lohse into the Mets series.
• Lance Lynn is tied with Cole Hamels for the major league lead in wins with eight.
• Mike Matheny has taken over for Tony La Russa as manager, and is one of two former players who has stepped right into managing without any coaching experience. The other: ex-Met Robin Ventura as skipper of the Chicago White Sox. Matheny was a catcher for the Cardinals from 2000 through 2004, during a 13-year career.
• Skip Schumaker will land on the DL after pulling a hamstring Wednesday against the Braves. He likely will be replaced by first baseman/outfielder Allen Craig, who is due to be activated. Schumaker began the season on the DL with an oblique strain, but had seen considerable playing time with center fielder Jon Jay (shoulder) and Craig (hamstring) sidelined. Also on the injury front, third baseman David Freese has missed three straight starts with right wrist soreness, although he entered Wednesday's game as a replacement.
• Minus Albert Pujols, and with Lance Berkman lost for at least another eight to 10 weeks following surgery last Friday to repair damage in his right knee, rookie Matt Adams had settled in of late at first base.
• Adam Wainwright has a pedestrian 4-5 record and 4.45 ERA as he returns from Tommy John surgery. But he has allowed one run in 15 innings over his past two starts, against San Diego and Philadelphia, as he puts more distance between himself and the procedure.
• Catcher Yadier Molina signed a five-year, $75 million extension during spring training. Molina left Sunday's game in the fifth inning with dizziness, which was attributed to dehydration. Molina has caught 46 of the team's 51 games, the most in that span to start a season in his career.
• The Cardinals promoted Maikel Cleto from Triple-A during Thursday's off-day. Cleto originally was a Mets farmhand. He was traded to Seattle in the deal that returned J.J. Putz and Sean Green. Cleto made his major league debut last season with St. Louis, allowing six runs in 4 1/3 innings over three relief appearances.
• Left fielder Matt Holliday scored an MLB-high 25 runs in May. He hit .340 with six homers and 21 RBIs during the month. He also walked 17 times, for a .432 on-base percentage.
Last series results
St. Louis won, 2-1, at Busch Stadium, Sept. 20-22 (AP game recaps)
Cardinals 11, Mets 6: Pinch-hitter Ryan Theriot's go-ahead double with the bases loaded in the seventh inning gave St. Louis its 11th win in 13 games kept it 2½ behind the Braves in the wild-card chase. The Cardinals scored six times in the seventh to come back from an early 4-0 deficit after the Braves beat Florida 4-0. Albert Pujols went 4-for-5. Theriot hit a pitch from Tim Byrdak into the gap in left-center to bring in Pujols and Lance Berkman, who both singled against Josh Stinson (0-2), for a 7-6 lead. More
Cardinals 6, Mets 5: David Freese drove in five runs with a go-ahead three-run homer and a triple. The Cardinals moved within 1½ games of Atlanta in the National League wild-card race. Jaime Garcia (13-7), making his 30th start, pitched around four unearned runs in 7 2/3 innings. The Mets led 4-3 after six and the Cardinals were going quietly in the seventh when Albert Pujols singled off reliever Miguel Batista with two outs. Terry Collins brought in lefty Daniel Herrera (0-1) to make Lance Berkman bat right-handed, but Berkman foiled the strategy by singling. Collins then went to Pedro Beato, and Freese tagged him for a 389-foot, opposite-field homer to give the Cardinals a 6-4 advantage. More
Mets 8, Cardinals 6: Tony LaRussa insisted his playoff-hopeful team wouldn't be crushed after blowing a four-run cushion in the ninth inning. The loss dropped St. Louis two games behind idle Atlanta for the wild card, with each team having six games left. The Cardinals lost for only the third time in 16 games. Shortstop Rafael Furcal misplayed a potential double-play grounder at the start of the Mets' six-run burst, fueling the comeback. Ahead 6-2, the Cardinals walked three batters in helping the Mets take the lead. Willie Harris drew a walk to begin the inning and capped it with a tiebreaking, two-run single with two outs. It was the Mets' biggest ninth-inning comeback since they scored five to beat the Cubs 6-5 on May 17, 2007. More