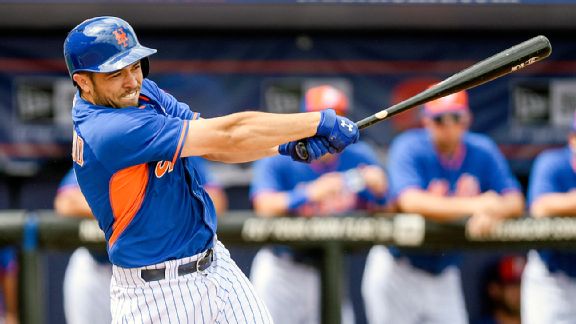 Brad Barr/USA TODAY Sports
Travis d'Arnaud delivers a two-run double against Manny Banuelos in the first inning Friday.PORT ST. LUCIE, Fla. -- Wilmer Flores went 3-for-4 with a three-run homer and three runs scored as the Mets routed a Braves split squad, 13-2, at Tradition Field on Friday.
The Mets knocked out ex-Yankee Manny Banuelos with two outs in a five-run first inning that included a two-run double by Travis d'Arnaud.
Jonathon Niese tossed 3 2/3 scoreless innings. He would have completed a full four innings, but first baseman Eric Campbell could not scoop a rushed, short-hopped throw from Flores at shortstop on Rio Ruiz's potential inning-ending grounder. Flores was charged with an error on the play, although an accomplished first baseman likely would have handled the throw. Regardless, Flores later made a solid diving play to his left to initiate a double play with the bases loaded and none out in the sixth to support Rule 5 pick Sean Gilmartin.
"It was a hard-hit ball," Flores said. "It was mostly reaction. You feel good every time you help the pitcher."
Said manager Terry Collins: "Flo knows what he's doing. He knows how to play. He swings the bat. He's got huge bat potential. He's got to get comfortable at shortstop. He's got to relax and realize what it takes to play there. He's got to slow the game down a little bit. It's natural when you're young to try to hurry things. ... Last year he looked comfortable out there, and we've got to get him that way this spring."
Gilmartin did little to distinguish himself in the competition for a lefty relief role. He walked two and allowed two hits and was charged with one run in 1 2/3 innings. Two of the three left-handed batters he faced reached base.
Collins expressed more encouragement about the way left-handed reliever Jack Leathersich performed in the eighth, although the prospect appears a long shot for the Opening Day roster because of his general propensity for walks. Leathersich allowed one infield single -- on a play he did not cover first base in time -- and struck out one in a scoreless frame. He induced groundballs from three of the four batters he faced.
"They were better today, especially Leathersich," Collins said about the club's shaky lefty relief corps in Josh Edgin's absence. "We told him after the game, 'You got three groundballs because you pounded the strike zone. And movement on the fastball will work if you're in the strike zone.' I hope that leads to some more good outings for him. ... What we've read is he's up in the zone a lot, which we've seen. Today he wasn't. He was down in the zone and got outs."
GM Sandy Alderson expects the Mets to carry one southpaw in the pen, even with Edgin opening the season on the disabled list. Collins noted that no left-hander has distinguished himself in the bullpen competition.
"Not yet," the manager said.
What's next: The Mets host the Nationals at 1:10 p.m. Saturday (WPIX/WOR). Right-hander Tyler Pill substitutes for the scratched Zack Wheeler (elbow tendinitis/blister). Pill, who went 9-5 with a 3.83 ERA in 21 starts for Double-A Binghamton last season, opposes right-hander Tanner Roark.