New York Mets:

Manny Gonzalez
August, 7, 2013
8/07/13
12:20
AM ET
Jenrry Mejia
, who was bothered by the bone spur in his right elbow during his previous start in Miami, this time suggested it was not an issue.
"I didn't feel it today. Today was better," said Mejia, who has indicated the spur will need to be surgically removed after the season.
Mejia ultimately was charged with two runs (one earned) on four hits and two walks while striking out seven in 5 1/3 innings Tuesday night against Colorado. He departed with the bases loaded and one out, but none of the runners inherited by
Carlos Torres
scored.
The Mets ultimately won, 3-2, at Citi Field.
After cruising through five innings, Mejia struggled in the sixth. Terry Collins speculated the delay early that frame caused by umpire Manny Gonzalez getting struck in the jaw by a foul ball got Mejia out of his rhythm. Still, Mejia and Collins suggested that was not an excuse, since the crew offered as much time as Mejia wanted to warm up once play resumed.
Gonzalez, who departed the game, was OK afterward, a Mets spokesman said.
NEW YORK --
August, 6, 2013
8/06/13
10:30
PM ET
NEW YORK -- A pair of ex-Rockies combined to lead the Mets to a 3-2 win against Colorado on Tuesday night.
Eric Young Jr.
, acquired from Colorado on June 18 for
Collin McHugh
, hustled to score the tiebreaking run from second base in the bottom of the eighth on a trickler infield single to the right side by
Juan Lagares
.
Young had combined with another ex-Rockie,
Carlos Torres
, to bail the Mets out in the sixth.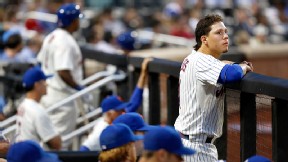 John Minchillo/Associated PressWilmer Flores went 0-for-4 with an error in his major league debut.
Torres had inherited the bases loaded from
Jenrry Mejia
with one out and coaxed a fly ball from
Wilin Rosario
to center field that was too shallow for a sacrifice fly. Young then made a lunging grab of
Todd Helton'
s sinking liner in shallow left field to end the half-inning and preserve a 2-all score.
Mejia had cruised through five innings, surrendering only an unearned run precipitated by an
Ike Davis
error. But after a lengthy delay early in the top of the sixth after plate umpire Manny Gonzalez was struck in the jaw with a bunted ball, play resumed and Mejia served up a game-tying homer to pinch-hitter
Charlie Blackmon
.
Mejia eventually departed with the bases loaded and one out that inning and was bailed out by Torres' pitching and Young's catch.
Mejia's line: 5.1 IP, 4 H, 2 R, 1 ER, 2 BB, 7 K. He threw 96 pitches (65 strikes) in a no-decision.
Mejia had been coming off an outing in Miami in which the bone spur in his pitching elbow was particularly bothersome.
Gonzalez, the first-ever Venezuelan ump in major league history, departed after Blackmon's bunt hit the dirt in foul territory, bounced up and struck him in the jaw. Larry Vanover took over behind the plate after a delay and a three-man crew completed the game.
Closer call:
LaTroy Hawkins
was given the first save opportunity with
Bobby Parnell
on the DL and pitched a scoreless ninth. Hawkins earned his first save since May 6, 2012, as an Angel. He allowed a pair of two-out singles in the ninth, but stranded runners on the corners.
John Franco, Roberto Hernandez and Hawkins are now the 40-year-olds to have earned saves for the Mets.
Debutant:
Wilmer Flores
grounded back to Rockies starter
Chad Bettis
in his first major league at-bat and finished 0-for-4 in his debut, which came on his 22nd birthday. Flores, who had just started to again receive exposure to third base on Saturday with Triple-A Las Vegas, also committed a fielding error.
Flores departed for
Justin Turner
on a double-switch when Hawkins entered for the ninth.
That's offensive:
Lagares contributed a two-run triple in the first inning as the Mets grabbed a 2-0 lead. He officially finished with three RBIs after Young scored from second base on the eighth-inning infield single.
Davis, reinstalled in the cleanup spot, went 2-for-2 with a pair of doubles and two walks (one intentional).
What's next:
Matt Harvey
Day! Harvey (8-3, 2.21 ERA) opposes right-hander
Jhoulys Chacin
(10-5, 3.40) at 7:10 p.m. Wednesday.
June, 30, 2012
6/30/12
6:00
AM ET
LOS ANGELES --
R.A. Dickey
tossed eight scoreless innings to improve to 12-1,
Daniel Murphy
matched a career high with five RBIs and
Ruben Tejada
reached base a career-high five times as the
Mets blanked the Dodgers, 9-0
, Friday night.
Johan Santana
(5-4, 3.00 ERA) attempts to increase the Mets' winning streak to four games when he opposes right-hander
Nathan Eovaldi
(0-4, 4.04) at 7:15 p.m. ET today at Dodger Stadium.
Saturday's news reports:
• After his latest stellar outing, Dickey said starting the All-Star Game would be a
validation of the knuckleball
, and combat the perception among some that it is a "gimmick" pitch.
Terry Collins
said team officials had discussed skipping Santana for the remainder of the first half after Saturday's outing as a way to ensure the southpaw's health down the stretch in addition to giving Dickey an extra start before the All-Star break. But, the manager added, that plan is unlikely to materialize because Santana is opposed. Before the game, Collins had suggested Dickey
might have been distracted
by all the attention he was getting leading into a Subway Series start, although Dickey dismissed that late Friday.
•
Brian Costa
in the Journal
writes this about Dickey's incredible run:
Bill James invented the game score as a way to determine how good a pitcher was in a given game. The highest known mark for a nine-inning game is 105, set by Kerry Wood in 1998 when he struck out 20 Houston Astros and gave up just one hit. Dickey's one-hitters are the only time in Baseball-Reference.com's database, which goes back to 1918, that a pitcher has scored 95 or higher two straight times in one season.
• Read game recaps in
Newsday
, the
Post
,
Star-Ledger
,
Times
and
Daily News
.
•
Ike Davis
was
fined $750 but will receive no suspension
for touching, apparently inadvertently, umpire
Manny Gonzalez
on Tuesday in Chicago.
• A baseball official familiar with the Mets' plans told ESPNNewYork.com he did
not foresee the Mets acquiring a large-salaried closer
from another team at the trading deadline -- a
Brett Myers
type -- since the Mets already have
Frank Francisco
. The official added that trade talks really have not started percolating yet since most teams are not willing to concede publicly they are out of postseason contention. Clearly, though, the focus of any Mets improvements will be the bullpen. Read more in the
Star-Ledger
and
Daily News
(which suggests San Diego's
Huston Street
is an option, although he seems to fall in the same category as Myers).
• ESPN's
Buster Olney
believes Murphy is a
fit in a trade with the Dodgers
.
• After Murphy had a 2-for-5, five-RBI game Friday that included another homer, Collins said he could not believe the second baseman ever was in a slump. "You're just seeing a quicker bat through the zone, much better balance at the plate," Collins said. "He's seeing the ball probably better. I was shocked as anybody that Dan Murphy ever got in a slump. He's such a good hitter. He has such a great approach at the plate. I mean, I was taken aback. I didn't think this guy could ever get in a slump the way he uses the field to hit -- hits lefties, hits righties. But it shows you it can happen to anybody."
Andrew Keh
profiles Murphy
in the Times
. Writes Keh:
Murphy projects an uncommon air of serenity this season. Even as he admitted his shortcomings, he described this season as "unbelievable" and "extremely enjoyable." His current state of mind, he said, can be traced to a choice he made last fall, as he was rehabilitating his most recent injury, to devote his life to Christianity. He needed to be more humble, he decided. He needed to untether his identity from the game, to untie his mood from the scorecard. "For a long time, if I got hits, I was happy; if I didn't get hits, I was unhappy," Murphy said. "That's how I evaluated my self-worth."
Read more on Murphy in the
Post
.
• Collins said Francisco will
resume the closer's role
when he returns, with
Bobby Parnell
again returning to complementary duty.
• Sixteen-year-old Dominican shortstop
Germán Ahmed Rosario
is due to
sign with the Mets for $1.7 million
on Monday, when the new group of international teenagers is eligible to be signed, according to ESPNDeportes.com's
Enrique Rojas
.
•
Matt Harvey
retired the first 14 batters he faced and tossed seven scoreless innings in Triple-A Buffalo's 8-0 win against Louisville. In Brooklyn,
Rainy Lara
retired the first 12 batters he faced while striking out 10 in 5 2/3 innings. Read Friday's full minor league recap
here
.
• Collins
all but dismissed
using
Lucas Duda
in left field in
Jason Bay's
absence. Bay should
attempt to run
Saturday for the first time since suffering a concussion 15 days ago.
• Right-hander
Chris Schwinden's
crazy waiver journey
this month has taken him from the Mets to the Blue Jays, to the Indians and now to the Yankees in rapid succession.
• Costa
in the Journal
notes that in
Chris Young
and Santana, the Mets have two starting pitchers returning from the same seldom-performed surgery in baseball circles.
TRIVIA:
Who has the worst single-season batting average in Mets history among players with at least 500 plate appearances?
Friday's answer: Behind
David Wright
(582) and
Darryl Strawberry
(580),
Bud Harrelson
ranks third in franchise history in walks with 573.
June, 29, 2012
6/29/12
7:42
PM ET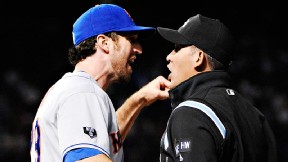 David Banks/US PresswireIke Davis expresses his displeasure to first base ump Manny Gonzalez on Tuesday at Wrigley Field.
LOS ANGELES --
Ike Davis
was slapped with a $750 fine and will not be suspended for making contact with umpire
Manny Gonzalez
on Tuesday at Wrigley Field.
Davis will donate the money to the Baseball Assistance Team, which aids retired players.
Davis' glove made contact with the first-base ump's left arm when he spun to complain about a safe call on a pickoff attempt. He was ejected. Replays showed Davis actually had successfully tagged out the runner, and Davis insisted the contact with Gonzalez was unintended.
June, 29, 2012
6/29/12
6:15
AM ET
LOS ANGELES --
Chris Young
topped former teammate
Chris Capuano
,
David Wright
drove in a pair of runs and
Bobby Parnell
converted his first save attempt as
Frank Francisco's
fill-in as the
Mets beat the Dodgers, 3-2
, Thursday night.
R.A. Dickey
(11-1, 2.31 ERA) opposes right-hander
Aaron Harang
(5-4, 3.81) in Game 2 of the series at 10:10 tonight.
Friday's news reports:
• Parnell flopped in a September audition for closer last season, but he touched 101 mph Thursday night while
tossing a 1-2-3 ninth inning
. Parnell had to wait until the sixth game with Francisco unavailable before finally getting a save chance, since the Mets had lost four straight, then posted a 17-1 win against the Cubs before arriving in L.A.
• Young and Capuano
appreciated lining up against each other
in the opener, since both used opportunities with the Mets to revive their careers. Capuano, who signed a two-year, $10 million deal with the Dodgers last offseason that includes a team option for 2014, fell to 9-3 despite pitching effectively. Read more in
Newsday
.
• Wright, already the franchise's RBI, runs and doubles leader, passed
Darryl Strawberry
for the franchise record for walks in his final plate appearance Thursday. Earlier, Wright had launched a solo shot against Capuano to pull even with
Howard Johnson
for
third on the Mets' all-time homer list
.
• Read game recaps in the
Times
,
Newsday
,
Star-Ledger
,
Post
and
Daily News
.
•
Jack Egbert
picked up the win with two scoreless relief innings as Triple-A Buffalo beat Louisville, 4-2. Read Thursday's full minor league recap
here
.
• On the injury front:
Jason Bay
rode a stationary bicycle Wednesday and
did not have any post-concussion symptoms
arise,
Terry Collins
said.
Mike Baxter
(displaced collarbone) has not done any significant physical activity, the manager added.
Mike Pelfrey
, who is expected to be nontendered and become a free agent in December, is working on strengthening exercises following Tommy John surgery and should begin
tossing a baseball in late August or early September
.
• Despite struggling in a relief role with Buffalo and the organization considering moving
Jenrry Mejia
back into a starting role in the minors, Mejia will
remain doing bullpen work
with the Bisons for now, Collins said.
• Collins, who was overseeing the farm system in 2010, recently told reporters Dickey nearly was released rather than reassigned to minor league camp that spring training when he was the first cut from big league camp.
Brian Costa
in the Journal
speaks with then-GM
Omar Minaya
about how close it came. Writes Costa:
They were wondering if Dickey was even worth sending to Triple-A Buffalo. "There was a possibility he was going to get released," said Omar Minaya, the Mets' general manager at the time. "That was talked about." It turned out to be the best move Minaya never made.
• A resolution could come Friday as
Ike Davis
awaits word
of the amount of his fine and about a potential suspension. The discipline decision stems from Davis touching umpire
Manny Gonzalez
with his glove while disputing a safe call on a pickoff attempt Tuesday in Chicago.
• Dodgers slugger
Andre Ethier
, who suffered an oblique strain Wednesday in San Francisco, will
avoid the DL for now
.
• The Mets' victory in the opener came despite grueling travel. The team spent 4 1/2 hours Sunday evening on a plane with mechanical trouble at O'Hare before shifting to another that could fly the team to L.A. Read more in the
Star-Ledger
and
Daily News
.
• Right-hander
Zack Wheeler
as well as third baseman
Jefry Marte
and first baseman
Eric Campbell
were
selected to represent Double-A Binghamton
in the Eastern League All-Star Game on July 11 in Reading, Pa.
• ESPN's
Buster Olney
writes that Oakland right-handed reliever
Grant Balfour
makes sense for the Mets to pursue
via trade.
•
Lenny Dykstra
wil plead guilty to bankruptcy fraud
and faces as many as 20 years in prison.
TRIVIA:
Wright passed Strawberry for the most walks in franchise history. Who ranks third?
Thursday's answer: First baseman
Jeremy Reed
misfired on a throw to the plate on May 18, 2009 at Dodger Stadium that allowed the winning run to score in the 11th inning.
June, 28, 2012
6/28/12
5:30
AM ET
LOS ANGELES --
Daniel Murphy's
drought without a homer ended in a big way with two long balls and
Ike Davis
crossed .200 for the first time this season as the
Mets routed the Cubs, 17-1
, Wednesday afternoon at Wrigley Field to salvage the series finale.
The Mets snapped a four-game losing streak as they prepared to head to L.A. -- albeit after a several-hour delay at the airport trying to leave the Windy City. The Mets finally touched down in Cali about 3:30 a.m. ET., despite having played a day game at Wrigley Field.
As for his team's erratic spurts -- from series sweeps to getting swept, to sloppy play in two games against the Cubs, to a laugher in the finale,
Terry Collins
said: "If this was a team that had huge expectations, it could bother you. But because we weren't expected to be very good, you can let some of the stuff go because you know that you're dealing with young guys that are learning on the job here."
Now,
Chris Young
(1-1, 3.42 ERA) takes on former teammate
Chris Capuano
(9-2, 2.60) in Thursday's 10:10 p.m. ET series opener at Dodger Stadium. Capuano capitalized on last season's success with the Mets to sign a two-year, $10 million deal in L.A., essentially pricing himself out of the Mets' appetite. He earned $3.925 million with the Mets last season, including incentives.
"That's how guys make what they make -- because of what they did a year ago," Collins said. "And Cappy pitched great for us. Absolutely great. Wonderful guy. He's a tremendous person, one of the hardest workers you've ever been around in your life. I'm really, really happy for him."
Last season, Capuano typically struggled the more he faced a batter in a game, suggesting he might be better in multi-inning relief work. The first time through the order as a starting pitcher, opponents hit .221 in 2011. That jumped to .268 the second time through the lineup, followed by .300 the third time, and .667 beyond that. That still holds somewhat true with the Dodgers -- it's .194, .183 and .318 the first three times through -- but Capuano has enjoyed wild success.
"I think he's another year removed from the surgeries and probably stronger and more confident in what he's doing," Collins said.
Thursday's news reports:
• Murphy
downplayed homering in consecutive plate appearances
after going 352 at-bats without a long ball. But, he allowed about the two shots beyond the ivy-covered outfield wall: "It was funny, I guess, if you go that long. I don't know the at-bats, but apparently it was a long time." It was the first two-homer game of Murphy's major league career.
• Writes columnist
Ken Davidoff
in the Post
:
The baseball season serves as one huge math problem. You expect a certain level of production from every player, and when one player doesn't deliver, another has to contribute more than you anticipate. That the Mets are still in the playoff conversation is a tribute to R.A. Dickey, Scott Hairston and even David Wright, all of whom have overachieved. That trio could keep going, yet you don't want to bet on that in the marathon of a 162-game season. You'd rather be prepared for their slowdowns and have guys ready to accelerate. Enter Murphy and Davis, and maybe Josh Thole, too. And perhaps even some of the struggling relievers, just by luck. They can provide the safety net this team could need.
• From the classic lede department,
Mike Puma
in the Post
writes:
If the Friendly Confines were any friendlier to them yesterday, the Mets would have each needed a postgame cigarette.
Read other game recaps in
Newsday
, the
Star-Ledger
,
Times
,
Journal
and
Daily News
.
• Not only did
Davis cross .200,
he also made amends with umpire
Manny Gonzalez
, whom Davis touched with his glove arguing a call Tuesday. Davis has yet to hear the amount of his fine and whether he will steer clear of a modest suspension. Read more in the
Record
.
• Collins lamented losing
Vinny Rottino
to the Cleveland Indians
. Rottino had been removed from the 40-man roster to clear room for left-hander
Justin Hampson
. He therefore needed to be exposed to waivers before being optioned to Triple-A Buffalo. "It does sting a little bit," Collins said. "He's a good little player. I told him when I sent him out that he would be back. As I said the other night, once we know that
Ruben
[
Tejada
]'s legs are going to be OK, there's a spot for guys like Vinny Rottino. So I'm really disappointed we lost him. And I hope he gets a chance to get more playing time and be a major leaguer for the rest of his career. A right-handed hitter that was having a big year in Triple-A -- I'll tell you, a guy like him that gives you that third catcher and can play other positions, they're huge."
•
Andre Ethier
departed Wednesday's Dodgers game with an oblique injury, meaning the Mets should be
spared having to face
L.A.'s two most potent sluggers --
Matt Kemp
and Ethier. L.A. was shut out in all three games in San Francisco and has not scored in 30 innings. Writes
Dylan Hernandez
in the Los Angeles Times
:
Ethier felt what he described as a "cramp or tight pinch" in his left rib cage when checking his swing to draw a first-inning walk against Tim Lincecum. He was removed from the game after Juan Rivera grounded into an inning-ending double play. "It just didn't get any better," said Ethier, who ranks second in the NL with 55 runs batted in. Ethier and trainer Sue Falsone said they wouldn't know if he would have to be put on the disabled list until he underwent an MRI exam Thursday. But if Ethier is sidelined, he figures to be out awhile: Position players usually take about a month to recover from oblique muscle strains.
•
Jon Niese
posted a 1.89 ERA in June
. A scout watching the Mets at Wrigley Field noted that losing streaks ought not be too long with
R.A. Dickey
,
Johan Santana
and Niese in the rotation, no matter what is going on otherwise with the team.
•
Valentino Pascucci
broke out of a 1-for-22 rut with five RBIs as Buffalo snapped a seven-game losing streak with a 9-4 win against Louisville. Before the game, Pascucci as well as
Matt Harvey
and closer
Fernando Cabrera
officially were
selected as the Bisons' representatives
for the July 11 Triple-A All-Star Game, which Buffalo will host. Read Wednesday's full minor league recap
here
.
•
Kirk Nieuwenhuis
, in a 3-for-26 rut,
sat Wednesday
against right-hander
Jeff Samardzija
. Nieuwenhuis could be out again Thursday with the Mets facing the southpaw Capuano, although fellow-lefty-hitter Murphy figures to start at second base off Wednesday's two-homer performance. Read more in the
Post
,
Star-Ledger
,
Daily News
and
Newsday
.
TRIVIA:
Who was the Mets first baseman who had the errant throw home on May 18, 2009 that allowed the winning run to score in the bottom of the 11th at Dodger Stadium?
Wednesday's answer: Capuano had the higher base salary in 2011 -- $1.5 million, to Young's $1.1 million. Both contracts maxed out at $4.5 million, but Young achieved no performance bonuses because he made only four starts before shoulder difficulty sidelined him.
June, 27, 2012
6/27/12
7:28
PM ET
CHICAGO --
Ike Davis
is off the interstate.
Davis' 3-for-5, four-RBI day that included a three-run homer in the Mets' 17-1 win against the Cubs lifted his batting average to .201.
Davis portrayed himself as unaware postgame. And perhaps that was the case, since he finally crossed the plateau for the first time this season in his final at-bat, and since Wrigley Field does not have the type of scoreboards common in newer ballparks, which constantly relay each player's average.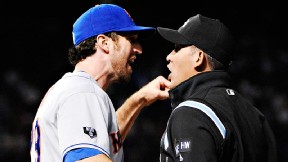 David Banks/US Presswire
Ike Davis tried to make amends with Manny Gonzalez on Wednesday, a day after he jawed with the ump at first base.

"I'm there?" Davis excitedly said. "I didn't know."
Like
Daniel Murphy
when asked about snapping his homer drought, Davis went on to downplay the achievement. He even suggested he will continue to tell himself he is hitting .150 as a motivational tool.
"In my head I am," Davis said about lopping 51 points off his average.
Added Davis: "Obviously, I don't want to hit .200 for the year. But it's a start in the right direction from .1-whatever-I-was-at for a long time. So, hopefully, I can keep building and keep getting my average up."
Davis has been showing signs for a few weeks of breaking out of a season-long rut. And despite the paltry average, he does have 10 homers and 41 RBIs -- neither figure too shabby.
"I've always had decent home runs and RBIs this year somehow," Davis said. "I don't know how."
Meanwhile, Davis said he apologized to umpire
Manny Gonzalez
, who happened to be behind the plate Wednesday afternoon. The previous night, Davis' glove touched Gonzalez as the first baseman disputed a safe call on a pickoff attempt. Davis was ejected and faces a fine. A suspension, although not likely, is possible too.
"I just told him I'm sorry for touching him with my glove, and I didn't mean to touch him," Davis said. "And he said, 'No worries. I know you weren't doing it maliciously.' It was good. He didn't seem like he was too upset at me. And, obviously, I had forgotten about it."
Asked if he had heard yet from discipline czar
Joe Torre
, Davis said he expected it to take at least another day for a resolution.
"Not yet," Davis said. "I'll keep you posted."
June, 27, 2012
6/27/12
6:00
AM ET
CHICAGO --
Terry Collins
said
he was without explanation
after the Mets had a second straight sloppy performance at Wrigley Field and
lost to the Cubs, 5-3
, Tuesday night. Since winning Friday's Subway Series opener, the Mets have lost four straight. Now,
Jon Niese
(5-3, 3.75 ERA) must outduel right-hander
Jeff Samardzija
(5-6, 4.34) in the 2:20 p.m. ET finale for the Mets to avoid getting swept in a three-game series in Chicago for the first time since 2004.
Wednesday's news reports:
• Upset with an apparently missed call at first base on a pickoff attempt,
Ike Davis'
glove made contact with first-base ump
Manny Gonzalez's
left arm as Davis began to argue in the eighth innning. Davis was
ejected and faces a fine and potential suspension
.
• Read game recaps in the
Times
,
Newsday
,
Star-Ledger
,
Daily News
and
Post
.
• Writes columnist
Ken Davidoff
in the Post
about Tuesday's defeat:
This is still a young, developing team, and Collins knows he needs to push different buttons at different times. Yet this is a club that had itself believing it would contend for the duration of the summer. That belief must fuel a Mets resurgence now. The team has enjoyed enough time to rest, even with today's day game following a night game. "There's all kind of different elements. Travel is one of them," Cubs manager Dale Sveum said before the game. "The bottom line is, you have to do it. Day games after night games. You build your roster around people that can handle all of that stuff.Once you get between the lines, you don't know that you're traveling or flying or whatever."
•
Jenrry Mejia
again struggled in a bullpen role with Buffalo on Tuesday night. Now, Mejia should be
heading back to starting duty
in the minors to try to get him on track, even though he still projects as a major league reliever. Read more in the
Star-Ledger
and
Daily News
.
•
David Wright
lost a 15-game hitting streak Tuesday, but Wright (2,687,818 votes) comfortably leads runner-up
Pablo Sandoval
(2,223,269) of San Francisco in NL All-Star balloting. Online voting closes Thursday at 11:59 p.m., so Wright
appears a virtual lock
to be the National League's starting third baseman. Wright made five straight All-Star squads, four as a starter, from 2006 through 2010. The streak ended last year when he missed two months with a stress fracture in his lower back.
•
Brian Costa
in the Journal
gets
Ed Kranepool's
reaction to Wright being destined to break his franchise career hit record. After going hitless Tuesday, Wright remained at 1,340 hits in nine seasons as a Met. Kranepool, in 18 seasons, accumulated 1,418 hits. "If anybody's going to do it, I'm glad it's David Wright, because he's a real gentleman and a class act," Kranepool told Costa. "He's the marquee player of the Mets. He's their
Derek Jeter
." Kranepool will retain one franchise record for a while. He logged 1,853 games as a Met from 1962 through '79. Wright is only at 1,177.
• Collins said
Johan Santana
will be
treated like any other Mets starting pitcher
, not like a pitcher returning from shoulder surgery, the remainder of the season. Read more in
Newsday
and the
Post
.
•
Daniel Murphy
has
not been in the starting lineup
the past four times the Mets have faced a left-handed starter, but he may face former teammate
Chris Capuano
on Thursday at Dodger Stadium.
Regarding Murphy's struggles,
Mike Kerwick
in the Record
writes:
He tries not to let frustration bubble. And he said he doesn't worry that his diminished production will force the Mets to deal him elsewhere. "It would be tough to trade someone when their value's down," Murphy said. "You're not going to get a whole lot of return on your investment if they move me and I'm not swinging the bat well. So I'd say no."
... But Collins continues to use Murphy sparingly against lefties, a tweak from earlier this season when he was an every-game guy. If that bothers Murphy, he isn't showing it. "No, man," Murphy said. "Ronny's playing well. I can't be frustrated when the person in there is swinging the bat so well. I think Ronny against lefties right now gives us the best chance to win."
• Newly promoted left-hander
Justin Hampson
reflects to
Anthony Rieber
in Newsday
about the southpaw's time with the Long Island Ducks in the independent Atlantic League. Hampson pitched for the Ducks in 2009, then four games the following season as well before shoulder woes sidetracked him. "I had a great time there," Hampson told Rieber. "I wish I would have not had the shoulder flare up and had a longer experience there. It was a good time.
Buddy Harrelson
was there. It was surreal to see him.
Dave LaPoint
was the manager there. It was cool. The crowd was -- they really pack it in there. It's a cool stadium and a good experience. First time I'd been in the New York area." Read more in the
Record
.
•
Tim Rohan
in the Times
profiles 2011 first-round pick
Brandon Nimmo
, who was drafted 13th overall out of high school in Wyoming. Nimmo went 0-for-3 Tuesday for the Brooklyn Cyclones as his average slipped to .167 after nine New York-Penn League games, but he walked for the 11th time and has a healthy .405 on-base percentage. Writes Rohan:
But in a family raised on bulls, perhaps no one loved bull riding more than 7-year-old Brandon. His bedroom walls were decorated with posters of his favorite bulls, Bodacious, Mister T and Red Rock, each with his own signature face-flattening routine. Brandon continually watched the movie "8 Seconds," which told the story of Lane Frost, an up-and-coming star killed during the annual Cheyenne Frontier Days rodeo in 1989. For years, [father] Ron Nimmo worked for the Frontier Days, and Brandon could hang out near where the bulls were kept, to feed them, pet them. When Ron Nimmo came home from work, Brandon would put a dog leash around his father's chest and ride him like a bull, finishing his rides with Frost's signature wave after conquering a bull -- opening and closing his palms at ear level.
•
Alonzo Harris Jr.
had four hits and singled to score the winning run in the bottom of the 12th as St. Lucie beat Daytona, 4-3. Read Tuesday's full minor league recap
here
.
TRIVIA:
Former teammates
Chris Young
and Capuano square off Thursday in L.A. Who had the higher base salary in 2011 with the Mets?
Tuesday's answer: Highly regarded first-base prospect
Anthony Rizzo
, who had two hits and the go-ahead RBI in his debut with the Cubs on last night, was traded from Boston to San Diego on Dec. 6, 2010 in the deal that sent
Adrian Gonzalez
to the Red Sox.
June, 27, 2012
6/27/12
12:14
AM ET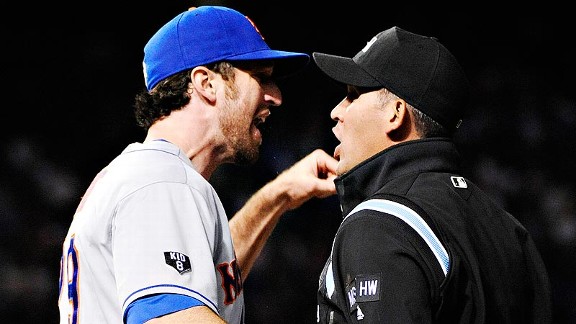 David Banks/US PresswireIke Davis expresses his displeasure to first-base umpire Manny Gonzalez after an eighth-inning safe call on a pickoff attempt.
CHICAGO --
Ike Davis
faces a fine and potentially even a modest suspension, maybe one game, for touching first-base ump
Manny Gonzalez
with his glove while arguing a safe call at first base on a pickoff attempt.
Davis insisted the contact was accidental -- his glove touched Gonzalez's left arm -- as the first baseman swung his arms in disbelief at the safe call.
Davis acknowledged his initial swipe tag missed runner
Steve Clevenger
diving back into first base. But Davis noted that Gonzalez made a safe call at that point without Clevenger ever touching the bag. Davis' second tag attempt, replays suggested, should have resulted in an out call.
A baseball executive watching the game told ESPNNewYork.com that he expected Davis would be fined, but no more than $1,000. He added that a one-game suspension is possible, but perhaps not a likelihood because the contact appeared accidental and the umpire's call appeared to be in error. Gonzalez, 42, is a minor league umpire assigned to work major league games.
Davis said he fully expected to get the monetary penalty, and was prepared to write a check to charity.
"I think ... my glove touched him, so that's probably why he rung me," Davis said. "But I didn't say anything too revolting. I obviously didn't mean to touch him. I was just using my hands as a gesture. But I didn't say anything crazy. ... He said I missed him on the tag, and I said, B.S., in a different form. I said, 'He was out,' with a cuss word in between, but that's about it."
Said
Terry Collins
: "Ike touched (Gonzalez) with the glove. He's automatically ejected. I'm not going to get into it. They aren't responsible for leaving 10 guys on base. It's not (the umpire's) fault that we didn't hit with stinkin' guys sitting all over the bases tonight. That's the way it goes."
June, 26, 2012
6/26/12
11:22
PM ET
WHAT IT MEANS:
Dillon Gee's
career-high streak of seven straight quality starts was snapped and the Mets lost a second straight game to the lowly Cubs,
this time 5-3
on Tuesday night at Wrigley Field.
Gee surrendered the tiebreaking run on an RBI hit to center field in the fourth inning by first-base prospect
Anthony Rizzo
, who was making his Cubs debut. The Cubs added an eighth-inning run in part because of a throwing error by
Ruben Tejada
.
Gee's final line: 5 IP, 9 H, 4 R, 4 ER, 2 BB, 6 K. He threw 93 pitches (63 strikes).
TOSSED: Ike Davis
was ejected in the bottom of the eighth after his glove brushed first-base ump
Manny Gonzalez's
left arm while arguing a safe call on a pickoff attempt at first base. (Davis appeared to be correct in asserting the pickoff attempt was successful.)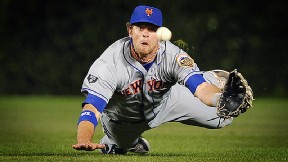 Jim Prisching/Associated Press
Kirk Nieuwenhuis makes a diving fourth-inning attempt.

SNAPPED: David Wright's
hitting streak ended at 15 games with an 0-for-3 night. Wright did produce a fourth-inning sacrifice fly that had evened the score at 3. He also walked to lead off the ninth. Wright had the longest active streak in the majors.
SNAFUS:
The Mets had several borderline gaffes that will not show up in a box score.
In a third inning in which the Mets ultimately failed to produce a run, third base coach
Tim Teufel
waved home
Lucas Duda
from first base on Davis' double into the right-field corner. Duda stopped at third base, and the Mets ended up leaving the bases loaded when
Daniel Murphy
grounded out to first base. (Duda has failed to score on all five chances from first base this season when an ensuing double has been hit, according to ESPN Stats & Information's
Mark Simon
.)
Murphy also left
Scott Hairston
at second base in the seventh with a groundout to first base. Tejada stranded pinch runner
Andres Torres
at third base in the eighth with a groundout to first base as well.
It was not pretty in the field, either.
Tejada initially was charged with an error at shortstop on a backhand play on a grounder from Rizzo in the first inning. After the Wrigley Field crowd booed, though, the official scorer changed the ruling to Rizzo's first-ever Cubs hit.
Meanwhile, Rizzo's go-ahead RBI in the fourth officially was a double, although
Kirk Nieuwenhuis
flubbed the ball in center field, which is what allowed Rizzo to hustle to second base.
TWO-OUT KNACK:
The Mets entered the night with an MLB-best 161 two-out runs. They added to that total Tuesday night.
The Mets grabbed a 2-0 lead in the second against right-hander
Randy Wells
on four straight two-out hits, including
Josh Thole's
RBI single, followed by a broken-bat RBI single into shallow center by Gee.
Thole had only one RBI in 65 at-bats in June before driving in the run, ESPN Stats & Information noted.
WHAT'S NEXT: Jon Niese
(5-3, 3.75 ERA) opposes right-hander
Jeff Samardzija
(5-6, 4.34) at 2:20 p.m. ET Wednesday as the Mets try to salvage the series finale. The Mets have not been swept in a three-game series at Wrigley Field since April 23-25, 2004, when they mustered only two runs amid dominant performances by
Greg Maddux
,
Kerry Wood
and
Matt Clement
.