New York Mets:

Marc Ganis
March, 30, 2012
3/30/12
7:01
AM ET
With six days until Opening Day, the Mets send
Dillon Gee
to the mound today in Jupiter against the St. Louis Cardinals. Friday also is deadline day for select players around baseball with major league experience who are on minor league contracts. Teams can either tell the players today they have made the major league roster, give them a $100,000 retention bonus to remain with the organization in the minors, or make them free agents.
Miguel Batista
is the lone player who falls into that category with the Mets. He is expected to receive Option No. 1 -- being awarded a spot in the Mets' bullpen. Batista actually is listed as Saturday's Grapefruit League starter, while
Johan Santana
instead throws a simulated game in the southpaw's final tuneup for Opening Day against the Atlanta Braves.
Friday's news reports:
• The Mets
trimmed their camp size by six players
Thursday, sending left-hander
Garrett Olson
, catchers
Rob Johnson
and
Lucas May
, infielder
Jordany Valdespin
and outfielders
Adam Loewen
and
Matt den Dekker
to minor league camp -- den Dekker, actually, for the second time.
The moves cemented
Mike Nickeas
as
Josh Thole's
partner behind the plate, and also anointed
Mike Baxter
the backup lefty-hitting outfielder, barring a late acquisition from outside the organization.
With Olson poised to work in Triple-A Buffalo's rotation, left-handers
Daniel Herrera
and
Josh Edgin
remain in camp. But all signs point to Edgin opening the season in Buffalo's bullpen, a nice leap from Class A St. Lucie. Herrera would claim a short-term roster spot assuming
Tim Byrdak
does, in fact, start the season on the disabled list. Byrdak plans to pitch in a minor league game Saturday, his first time against batters since March 13 surgery to repair torn meniscus cartilage in his left knee. Even if Byrdak landed on the DL, he would only be required to miss the season's first four games (six days, including Wednesday), because of DL backdating rules.
Vinny Rottino
also remains in camp, but he only makes the major league team if center fielder
Andres Torres
is not ready for the season. Team officials are optimistic Torres will now be available on Opening Day. Collins said Torres should hit in a minor league game Friday and may play in a Grapefruit League game Saturday.
Pedro Beato
and
D.J. Carrasco
presumably will open the season on the DL, which should secure Batista's spot. Right-hander
Chris Schwinden
also is in camp, but he is projected to join
Matt Harvey
,
Jeurys Familia
,
Jeremy Hefner
and Olson in the Bisons' rotation.
Read more in the
Times
,
Star-Ledger
,
Daily News
,
Journal
and
Record
.
•
David Wright
belted a grand slam against ex-teammate
Livan Hernandez
on a full-count curveball and
Mike Pelfrey
limited Houston to one run on three hits in 6 1/3 innings as the
Mets beat the Astros, 9-1, Thursday night
at Digital Domain Park. Read more in the
Record
and
Newsday
.
•
Andy Martino
in the Daily News
writes the Mets considered releasing Pelfrey in recent days, but quoted a team official saying it was "just what you do in meetings, throwing [stuff] against the wall, and we throw a lot of [stuff] against the wall." The Mets would have been required to pay Pelfrey 24.6 percent of the $5.6875 million he is owed this year -- 45 days' pay, or $1.4 million. In that scenario, Martino writes, Schwinden could have stepped into the rotation and the money could have been redirected toward the bench. (Commentary: It's sad that money needs to be redirected, and the Mets can't just spend at the level required to put together a competitive bench.) The coaching staff was vehemently against releasing Pelfrey anyway, according to the newspaper.
• The Mets added organizational depth, signing utility infielder
Josh Rodriguez
to a minor league deal
.
• Newsday announced Mets beat writer
David Lennon
has been promoted to baseball columnist, succeeding
Ken Davidoff
, who will head to the Post. Lennon covered the Mets since 2002.
• Just because
Bobby Parnell
flopped in the closer role late last year and the Mets acquired
Frank Francisco
as closer and
Jon Rauch
and
Ramon Ramirez
to serve as the primary setup men, that doesn't mean Parnell is excluded from late-inning opportunities, Lennon writes in
Newsday
. "Don't assume anything," pitching coach
Dan Warthen
said. Still,
Terry Collins
tells
Mike Puma
in the Post
that Parnell is ticketed for the sixth or seventh inning to start the season, which was the offseason intention. Early roles tend to morph during the season as the result of success and failure, so Parnell quickly could ascend to more integral roles sooner than later with regular-season success regardless of the initial designations.
Parnell has tossed 8 1/3 scoreless Grapefruit League innings. Those other relievers have not been as sharp, although Rauch contributed a scoreless relief inning Thursday.
Parnell thinks a curveball he picked up last season from then-teammate
Jason Isringhausen
is preventing hitters from sitting on a fastball he's been throwing in the mid-90s mph. The slider he previously relied upon as his secondary pitch did not have as much speed differential with the fastball, so batters could "hunt" the fastball."Throwing in those situations, it wasn't really the pressure of the game but the pressure I put on myself that really was devastating to me," Parnell told Lennon about last year's closing flop. "I'm harder on myself than anybody. I expect a lot out of myself and I didn't perform the way I wanted to. ... But this spring has shown me that sometimes if you just take a step back and relax, look at yourself in a new light, get a new pitch, sometimes it's better to work smarter and not harder." Puma also cites spring-training conversations with
Sandy Koufax
as helping Parnell.
•
Jason Bay
walked twice Thursday night while going 1-for-2. He is now hitting .229 in 35 spring-training at-bats. He has eight walks, for a .386 on-base percentage, along with 10 strikeouts. He tells
Andrew Keh
in the Times
: "I honestly don't know what my average is, but I know I don't have a home run, I know I don't have an RBI. I know all that. I'm not standing here telling you results don't matter. But we've got a timetable to try to figure things out. That's what this time is for, and I feel like now I have a pretty good grasp going forward."
• SNY play-by-play man
Gary Cohen
forecasts the 2012 season
in the Post
.
• Another noted expert in MLB finances placed the Mets' value at about $1.5 billion in light of the Dodgers' impending sale for $2 billion. Smith College economics professor
Andrew Zimbalist
told the Daily News
: "It suggests to me that the value of the Mets will increase somewhat as a result, but not to the level of the Dodgers." In valuing the Mets at $500 million less than the Dodgers' sale price, Zimbalist cited the same factor as SportsCorp president
Marc Ganis
noted to ESPNNewYork.com
: The Dodgers will have open bidding for local TV rights soon, whereas the Mets are locked into SNY.
TRIVIA:
Which New York City high school did Beato attend?
Thursday's answer:
CC Sabathia
is the only pitcher since 2004 to have more strikeouts than Santana. Sabathia has 1,556 during that span, to Santana's 1,479.
March, 29, 2012
3/29/12
2:42
AM ET
The Mets have their third and final night game of spring training, as the Houston Astros visit Port St. Lucie today.
Mike Pelfrey
is due to start for the Mets and will attempt to trim an 11.49 Grapefruit League ERA.
Thursday's news reports:
•
Chris Young
reported to camp Wednesday
, days after formally agreeing to a minor league deal. Young, who underwent surgery to repair a torn anterior capsule in his right shoulder on May 16, 2011, said he is just about ready to face hitters in a batting-practice setting.
Terry Collins
noted the Mets could use a six-man rotation once Young is ready for the majors, assuming the right-hander's shoulder continues to progress. A six-man rotation would be palatable because four of the five incumbent starters -- the exception being
R.A. Dickey
-- would probably be better served with extra rest between starts, the manager said. Of course, if the Mets have faded from the race, a rotation spot could be freed by trading Pelfrey. Young has June 1 and July 1 outs in his contract if he is not at the major league level on those dates. Watch video of Young speaking about his progress
here
. Read more in the
Times
,
Star-Ledger
,
Newsday
,
Record
,
Daily News
and
Post
.
• Appearing on WFAN,
Sandy Alderson
called what has transpired in spring training a "mixed bag." On the positive side, the GM identified the $162 million settlement in the
Bernard Madoff
lawsuit and the $240 million infusion from minority investment blocks as positives because those allow for more planning clarity.
Johan Santana's
health also has been a plus. Alderson expressed disappointment with the team's 6-16-2 Grapefruit League record because it is "some indicator" -- albeit modestly -- of in-season success. Alderson added: "I'm not entirely comfortable with our depth. As part of that, I'm not entirely comfortable with our bench."
On
Jason Bay
, Alderson noted Bay is the left fielder and will play, but added: "I don't think he has driven the ball. From our standpoint, he has had good approaches at the plate."
On Pelfrey, the GM noted, all of his spring training ERAs historically have been poor. "This one isn't even his worst," Alderson added. "The good thing is, last time out his velocity was up. So in some sense we look at Pelfrey and say -- look, this is the analysis we did last fall, when we had to tender him a contract: What does he bring to the table? We're not sure from a qualitative standpoint what he's going to bring this year, but we do know that he pitches through injury, he'll pitch through pain and probably give you 200 innings. What is that worth? ... He probably would be one of five in most rotations."
Alderson acknowledged middle infielder
Jordany Valdespin
-- who has been dabbling in center field -- is unlikely to make the Opening Day roster, which is consistent with what has been expected. The GM expects Valdespin will play "a number of positions" at Triple-A Buffalo, including limited center-field duty, a position where
Kirk Nieuwenhuis
should get the bulk of the starts for the Bisons.
Alderson said center field prospect
Matt den Dekker
is ready defensively to be a major league outfielder, but not offensively. The Mets would be comfortable with Nieuwenhuis starting at the major league level if
Andres Torres
(calf) and/or
Scott Hairston
(oblique) weren't ready.
As for catching, Alderson said
Mike Nickeas
has improved offensively.
The GM said 200 innings is "probably not" a realistic expectation for Santana. Alderson noted that it's unrealistic for Santana to throw 110 or 115 pitches in a game in April either, since the southpaw has topped out at 88 pitches in spring action, in his final Grapefruit League start.
Alderson expressed disappointment with the spring-training showings of his bullpen imports:
Frank Francisco
,
Jon Rauch
and
Ramon Ramirez
. The GM said the bullpen needs a stopper, and "nobody that we've brought in has really shown that this spring. Now, that doesn't mean it won't happen."
• Sports-marketing firm president
Marc Ganis
estimated
the Mets are worth roughly $1.5 billion
, if the Los Angeles Dodgers' sale price is $2 billion.
Fred Wilpon
has no intention to sell. The reason the Mets are worth less than the Dodgers is because L.A. is about to have open bidding for a huge local TV rights package, whereas the Mets are locked into SNY at a smaller right fee, which bulks up the network's profits at the expense of the team's profits/losses. Read more in
Newsday
.
•
Jon Niese
limited the Nationals to two runs in six innings and Hairston (oblique) and Bay (forearm) returned from injuries, but
the Mets lost to Washington, 3-2
, Wednesday afternoon at Digital Domain Park.
•
Tim Byrdak
may be too ambitious, but the left-handed reliever hopes to be in a minor league game Friday. Byrdak also aims to be
on the Opening Day roster
. The organization may be more cautious, in which case team sources indicate
Daniel Herrera
is likely to break camp with the team as a short-term plug as lefty specialist. (Alderson acknowledged that he doubted left-handed prospect
Josh Edgin
would open the season in the majors.)
Mike Baxter
,
Miguel Batista
and Nickeas
also are expected to claim roster spots, with Batista's fate
required to be confirmed by Friday
. Collins said the entire roster should be all but set this weekend. Thursdays generally have been cut days, so the field in major league camp may be whittled somewhat today.
•
Mike Kerwick
profiles Baxter
in the Record
.
• Dickey sat down with ESPN's
Jeremy Schaap
to discuss his traumatic childhood. Watch the video
here
. Read a second excerpt from the knuckleballer's memoir
in the Daily News
.
•
Lucas Duda
should bat sixth in the season-opening series. That's because of the need to separate lefty hitters
Ike Davis
and Duda, considering the quality of the Braves' left-handed relief. However, Duda
should be moving up from No. 6
to a higher slot by the second series, against the Nats, who do not possess the same caliber of left-handed relief.
• Buffalo and Binghamton won minor league games Wednesday, behind two-run homers from
Matt Tuiasosopo
and
Travis Ozga
. Read the full minor league recap
here
. Earlier in the day, the Mets
released from minor league camp
outfielder
Javier Rodriguez
and right-handers
Michael Hebert
and
Michael Powers
.
• Santana
is slated to
pitch in a simulated game Saturday
rather than a Grapefruit League contest, in his final tuneup for Opening Day on April 5 against the Braves at Citi Field. Read more in the
Star-Ledger
.
• Nationals manager
Davey Johnson
wondered to
Mike Puma
in the Post
why
David Wright
doesn't yet have an extension on top of the third baseman's current contract. The Nats locked up
Ryan Zimmerman
long term. Wright is under the Mets' control through 2013 because of a team option. "What's David Wright's future?" Johnson asked Puma rhetorically. "Did they extend him or what are they doing?" Zimmerman, a friend of Wright's since their days growing up in Norfolk, Va., said: "They gave him an opportunity, and anytime you're a loyal person like he is, anyone who gives you an opportunity to come up and treats you well, obviously you would like to be here. He's a guy that works his butt off and plays the game the right way. Anytime you find players like that, I don't want to say it's rare, but he's a special kind of player. He's a good player and an even better person. David has worked his butt off and done a lot of things for the Mets and hopefully it will work out."
•
Mike Sielski
and
Brian Costa
in the Journal
give a position-by-position breakdown of the Mets.
• Costa notes that for the Mets' trio of up-and-coming pitchers --
Zack Wheeler
,
Matt Harvey
and
Jeurys Familia
-- to avoid a repeat of their Generation K predecessors that never matched the hype, the young pitchers must avoid serious injuries. Writes Costa
in the Journal
:
Today, when a Mets pitcher begins his professional career, team officials put him on a multi-year plan to gradually increase his workload. The innings limits for Wheeler, Harvey and Familia are not etched in stone, but [Paul] DePodesta said, "You're not going to see a 50- or 60-inning jump from any of those guys." The Mets also limit minor-league pitchers to 330 pitches per three starts. It's a giant leap from the days of "Generation K." But after a decade of innings limits and pitch counts, teams have learned something else, too: It's not enough.
TRIVIA:
Who is the only major league pitcher to have more strikeouts than Santana from 2004 to the present?
Wednesday's answer: Pelfrey was born at Wright Patterson Air Force Base in Ohio.
March, 28, 2012
3/28/12
8:17
PM ET
Fred Wilpon
served on a committee that screened prospective Los Angeles Dodgers owners. So Wilpon said he could not discuss the yet-to-be-officially completed $2 billion sale of the West Coast ballclub.
Still, when asked Wednesday afternoon about the impact of the Dodgers' impending sale on the value of Major League Baseball franchises including his Mets, Wilpon said: "I'm smiling, aren't I?"
A week after Forbes valued the Mets at $719 million, sports business consultant
Marc Ganis
estimated Wednesday that the organization actually is worth more than double that amount in light of the Dodgers' price tag.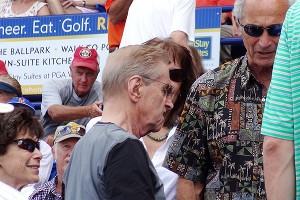 Adam Rubin
Fred Wilpon departs last Thursday's game with Sandy Koufax.

The Yankees? They're likely worth as much as $4 billion, according to Ganis, president of Chicago-based sports marketing company SportsCorp.
"Let me tell you, if the Dodgers are worth $2 billion, the Yankees are worth $3.5 to $4 billion," Ganis said. "The Red Sox are worth $2.5 billion. And the Mets go from being worth, say, in the low $1 (billion)s to the mid- to high-$1 (billion)s."
That does not mean all Major League Baseball teams will see a sizable jump in value because of the impending deal for the Dodgers.
"This only relates to the top, top of the food chain," Ganis said. "It only relates to the Yankees, the Red Sox, the Cubs, the Mets. That may be it. Maybe there is some relevance to a lesser degree to the Giants and the Padres. But no one should expect this has any meaningful impact on the Pittsburgh Pirates or Kansas City Royals or the Cleveland Indians. It's really just the big-market clubs that have unique local broadcasting opportunities."
Part of the reason the Mets are worth a fraction of the other big-market clubs is that they own their television network, SportsNet New York, and are essentially locked into that arrangement. The Dodgers, on the other hand, can freely solicit open bids for when their local TV package, which is up after the 2013 season, Ganis explained.
March, 20, 2012
3/20/12
12:42
AM ET
After an eventful off-day, much of the narrative about the Mets' looming financial ruin is due to take a backseat for the near future.
First, at the U.S. District Courthouse in lower Manhattan on Monday morning, the parties in the
Bernard Madoff
-related lawsuit against
Fred Wilpon
and family announced they had
settled the case for $162 million
. In reality, the Wilpons ultimately will be responsible for repaying far less than that sum, since trustee
Irving Picard
will allow the family to claim losses of $178 million from other Madoff investments. The Wilpons won't be reimbursed that entire $178 million sum, but the fraction to which they are entitled to recoup after Picard collects money from net winners in the Ponzi scheme will be deducted from the $162 million they owe in the settlement. Also relevant: The Wilpons will not have to pay Picard whatever they ultimately owe until 2016 and 2017.
Secondly, word came that the Wilpons
successfully had received a $240 million equity infusion
from minority investors, allowing them to pay off a $25 million emergency loan from Major League Baseball and a $40 million bridge loan from Bank of America. The investment -- albeit with at least half coming from SportsNet New York,
Jeff Wilpon
and
Saul Katz
-- should allow the Wilpons to withstand any 2012 operating losses and meet immediate debt obligations without jeopardizing their ownership of the team in the near term.
Still, this does
not mean the days of payroll austerity have ended
for the Mets.
More may come Tuesday when the Wilpons are expected to be at Mets camp in Port St. Lucie, Fla.
Tuesday's news reports:
• Although the consensus is the Wilpons fared very well with the settlement, both sides had compelling reasons to reach a compromise, which was brokered by former New York Governor
Mario Cuomo
. Even if the Wilpons felt they did not act in bad faith in their investments with Madoff, a jury could have found otherwise and awarded Picard an additional $303 million aside from the up to $83.3 million to which Judge
Jed S. Rakoff
already had decided the trustee would be entitled. On the other side, by settling for $162 million -- the Wilpons' profits from certain funds in the six years before Madoff's arrest -- Picard restored that six-year clawback period as the appropriate standard. Rakoff had ruled that Picard could only go back two years, which would have capped the amount Picard could have recovered at $83.3 million -- unless the trustee could have demonstrated to a jury that the Wilpons acted "willfully blind" to Madoff's Ponzi scheme. The Wilpons, as part of the settlement, are free and clear of any bad-faith accusations.
Wrote
Anthony M. Destefano
and
Steven Marcus
in Newsday
regarding Cuomo's role as mediator:
About 10 days ago, he called Wilpon and Katz again into his office at Willkie Farr & Gallagher in Manhattan for a frank talk. "They came. I spoke to them, I simply made the pitch. 'This is your last chance,' " recalled Cuomo. Then, in the past week lawyers for Picard, Wilpon and [Saul] Katz started to hunker down for some serious deal making. Each knew a trial had risks. "Number one, they may lose. Number two, they may win and then face an appeal. Number three, in either case it's going to cost a fortune," Cuomo said. Lawyers for Picard and the Mets owners swapped proposals and counterproposals through Cuomo, his partner Brian E. O'Connor and firm associate Emma J. James. At times, opposing lawyers talked directly by phone. What solidified the deal for Wilpon and Katz was Picard's willingness to drop his claim they were willfully blind to Madoff's fraud, an allegation that stung them deeply -- and could have cost them $303 million in damages if it stuck.
Read more settlement coverage in the
Journal
,
Times
,
Daily News
,
Post
,
Star-Ledger
and
Newsday
.
• The $240 million equity infusion -- which comes in $20 million blocks each worth 4 percent of the team -- averts any short-term danger of the Wilpons being unable to meet their debt obligations. The only known investor without existing ties to the Mets is
Steve Cohen
, who is a finalist to purchase the majority share of the Los Angeles Dodgers, which would force him to divest his new share of the Mets.
In addition to paying back the $25 million to MLB and $40 million to Bank of America with the newly infused funds,
Josh Kosman
in the Post
reports, $100 million of the money immediately went to pay down roughly $430 million in team debt. Kosman wrote:
The Mets have not refinanced their remaining loans, but have bought the team goodwill. Last year, team lender JPMorgan wrote a letter warning that the team had breached its debt covenants. The owners first must prove they can come close to hitting their budget after missing it badly the last two years, one source said. In 2011, the Mets lost roughly $70 million. After big payroll cuts in the off-season, the team could break even this year.
Marc Ganis
, the president of a prominent sports consulting firm,
told Newsday
: "This is a good day for the Wilpons, but their financial troubles with the Mets are still very significant. It's really a situation that needs a lot of work before Mets fans can start feeling like a corner has turned."
Read more on the minority ownership sale in the
Journal
and
Daily News
.
• Columnist
Bob Klapsich
believes
Mets fans are losers in the settlement
. Writes Klapisch:
So it's fair for Mets fans to ask the Wilpons what's in store, other than years and years of debt pay-down. The family owes $430 million in principal of a loan against the team, due in 2014. They owe $450 million in principal of a loan against SNY, back in 2015. They owe an estimated $600 million, due in $25 million increments every six months, on the ballpark. These are the fiscal realities that figure to keep the Mets locked in a nasty catch-22. They haven't had enough extra cash to upgrade the roster, but without enough on-field talent to compete with, say, the Phillies and Marlins, let alone the Braves and Nationals, how are the Wilpons going to generate ticket-sales that would fund a renaissance?
ESPNNewYork.com columnist
Ian O'Connor
has similar
concerns about the Wilpons as owners
. Writes O'Connor:
The Mets are a big-market joke with small-market bottom lines, and Wilpon's dreadful decisions in business and baseball are to blame. His fan base wants him out, and even the Mets' loyal, good-natured customers were hoping for some outcome before a judge and jury that left them with a new rich guy in charge. So when Mario Cuomo, the Kissinger of this case, told reporters outside federal court in Manhattan that this resolution would allow Mets owners to "return to normalcy," no season-ticket holder was seen popping open a bottle of chilled champagne. For Mets fans, normalcy is a team in the world's biggest, noisiest marketplace that slashes payroll by more than $50 million.
•
Anthony McCarron
in the Daily News
got brief reaction to the settlement. "As players, we've never been preoccupied with Madoff, but we understand it's a huge burden lifted off the shoulders of Fred Wilpon and
Saul Katz
,"
R. A. Dickey
told McCarron. Said
Terry Collins
: "I'm glad this episode is in the past now."
• The Mets return to action Tuesday at 6 p.m. against the Washington Nationals after a team day off. They are winless in their past nine Grapefruit League games and have the worst exhibition record in baseball at 3-11-1. On a positive note,
Daniel Murphy
and
Ruben Tejada
are expected to start against the Nats in the middle infield. The two have logged only six innings together in Grapefruit League play because Tejada has nursed a groin injury for the past week. Read more in
Newsday
.
•
Andrew Keh
in the Times
wonders what the settlement means for the future of
David Wright
. Writes Keh:
The theory was that the Mets, if they found themselves buried in the standings this summer, would be tempted to trade Wright to a contender before the July 31 trading deadline and receive prospects in exchange. But that was before Monday's settlement did away with the financial threat the trustee posed. Whether Wilpon might now feel more tempted to try to keep Wright for the long term remains to be seen. But he might, if for no other reason than to send a signal to the team's discontented fan base that he is willing to make at least one investment in the team's future at some point this season. Jose Reyes was let go this winter without a fight; letting fans know that Wright might be staying put might soothe some wounds.
TRIVIA:
Who led the Triple-A Buffalo Bisons in steals last season?
(Monday's answer: The trial was due to begin Monday in the
Daniel Patrick Moynihan
U.S. Courthouse on Pearl Street in lower Manhattan, which was named for the late U.S. Senator from New York.)
April, 19, 2011
4/19/11
6:42
AM ET
Jason Bay's
activation will wait until Thursday, after two more games with Class A St. Lucie in balmy Florida. Meanwhile, after an off-day, the Mets open their series against the Houston Astros on Tuesday night, looking to improve on a 1-6 record at Citi Field.
Tuesday's news reports:
•
David Waldstein
of The New York Times notes Mets tickets are actually a bargain on the secondary market. He notes there's at least one ticket available for Tuesday's game on StubHub for $3. Writes Waldstein:
For the average fan, who does not often get the opportunity to sit in premium box seats in a new ballpark, the Mets' misery is a windfall. Care to sit directly behind home plate on Tuesday night at Citi Field, and hear Jose Reyes dig his spikes into the dirt of the batter's box? As of Monday afternoon, thousands of tickets for the game were available on StubHub, the ticket exchange Web site, including 33 directly behind home plate for $69 and service charges. Face value for those tickets is $134. If you would prefer to sit in Metropolitan Box 121, between third base and home plate, $28 (and fees) would secure a seat there. Tickets in that area range in price from $80 to $134, according to the Mets' Web site.
Marc Ganis
, a sports marketing consultant, tells the Times: "Those are breathtaking drops in value. That has to be alarming for the Mets. And those tickets aren't even sold yet. That's frightening."
• After meeting with Bay in New York on Monday, Mets officials decided to wait until Thursday to activate the left fielder from a rib-cage strain. And rather than send him to cool and rainy/snowy Buffalo or Binghamton, they dispatched Bay back to Florida for two additional games. When Bay does enter the lineup,
Terry Collins
plans to use
Angel Pagan
in the No. 2 hole, where he figures to get a healthy dose of fastballs with
Jose Reyes
presumably on base. Pagan is hitting .169. Bay has not been active since the weekend he suffered a concussion at Dodger Stadium last July. Read more about Bay's return in
Newsday
, the
Daily News
,
Post
and
Times
.
•
Steve Popper
of the Record writes that
David Wright
is a leader
. Collins reiterates that there won't be an official captain on the Mets, though. Collins previously has said that he learned from
Jim Leyland
while in Pittsburgh that there's only one designated sheriff -- the manager. Popper recounts the story of Wright spontaneously playing catch with some young fans who were in the first few rows of the stands at Turner Field on Sunday, and quoted an usher saying to Wright: "I've been here 12 years, and I've never seen a single player do anything like that. Thank you." (I'm due to discuss that moment on "First Take" at 10:45 a.m. ET on Tuesday.) Writes Popper about Wright:
Players who've been around say Wright has taken on more of a vocal role this year. He intervened when one clubhouse situation seemed to be splitting the room earlier this season. When the Mets flew to Atlanta on Thursday off a doubleheader sweep that dragged the team further down, he was one of the players who spoke up to lighten the mood. After Sunday's game, he was one of the last players in the clubhouse, giving Manhattan dining advice to Jason Isringhausen and clothing guidance to rookie Brad Emaus.
•
Andy McCullough
of the Star-Ledger looks at Pagan's
early season hitting woes
. Pagan bunted on his own twice Sunday in Atlanta after
Ike Davis
reached to open innings. "I think I'm thinking too much at the plate," Pagan tells McCullough. "Maybe I'm trying too hard. And I think I have to maybe relax a little bit, go back to the basics, and just start from zero." The article states:
Pagan speaks like a man hacking wild-eyed at the plate. But after inspection of his underlying statistics, that appears inaccurate. He is swinging at pitches outside the strike zone 24 percent of the time. Last season, he swung at 32 percent of offerings outside the zone. His walk rate is up. His strikeout rate is down. He is seeing about as many pitches as he did last season. But so far, his bat has not provided sufficient pop. Inside Edge, a video scouting company based in Minnesota, keeps a stat called well-hit average, which measures how often a hitter makes solid contact with a baseball. Pagan's well-hit average is .130, which is 78 points below the major-league average.
• Post columnist
Kevin Kernan
likes how Collins
managed Sunday's game like it was the playoffs
, using
R.A. Dickey
and
Chris Capuano
in relief. "I know maybe a couple of the relievers are not necessarily happy," Collins tells Kernan, "but it's about the ballclub first and foremost." Writes Kernan:
Terry Collins' team hasn't won many games, but Collins has shown the kind of fight needed if the Mets are to be relevant ever again. Turning the 16th game of the season into an October battle was a calculated risk for Collins on Sunday, but it was something that had to be done, and something that wasn't done in years past. Changing the losing culture is not easy to do. Collins deserves praise. He already has closed the clubhouse doors and has had a team meeting. He will pull out all the stops to try to win a game. That's how precious victory is to him.
•
Brian Costa
of The Wall Street Journal lists
five problems with the Mets
. He writes:
The rotation's fielding-independent pitching mark -- a statistic that measures performance based only on the factors pitchers can directly control -- is 4.79, the second worst in the National League. ... Mets relievers have thrown 57 2/3 innings, which led the majors entering Monday. ... According to BIS, the Mets' defense has cost them 23 runs, seven more than the next closest team. ... Collins is already losing patience with Brad Emaus, whose .262 on-base percentage ranks last among Mets regulars. ... A healthy Mets team still may not be a playoff team, but an ailing Mets team has no chance.
BIRTHDAY:
Brooklyn Cyclones pitching coach
Frank Viola
turns 51. Viola is the Mets' last 20-game winner, having reached that mark in 1990. The following season he lost 15 games, a mark only three Mets pitchers have reached since (
Dwight Gooden
,
Frank Tanana
and
Anthony Young
, all in 1993).
-Mark Simon