New York Mets:

Mark Rosentraub
March, 28, 2012
3/28/12
8:17
PM ET
Fred Wilpon
served on a committee that screened prospective Los Angeles Dodgers owners. So Wilpon said he could not discuss the yet-to-be-officially completed $2 billion sale of the West Coast ballclub.
Still, when asked Wednesday afternoon about the impact of the Dodgers' impending sale on the value of Major League Baseball franchises including his Mets, Wilpon said: "I'm smiling, aren't I?"
A week after Forbes valued the Mets at $719 million, sports business consultant
Marc Ganis
estimated Wednesday that the organization actually is worth more than double that amount in light of the Dodgers' price tag.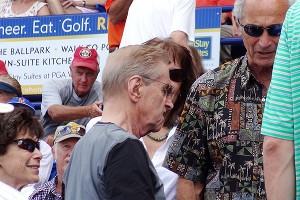 Adam Rubin
Fred Wilpon departs last Thursday's game with Sandy Koufax.

The Yankees? They're likely worth as much as $4 billion, according to Ganis, president of Chicago-based sports marketing company SportsCorp.
"Let me tell you, if the Dodgers are worth $2 billion, the Yankees are worth $3.5 to $4 billion," Ganis said. "The Red Sox are worth $2.5 billion. And the Mets go from being worth, say, in the low $1 (billion)s to the mid- to high-$1 (billion)s."
That does not mean all Major League Baseball teams will see a sizable jump in value because of the impending deal for the Dodgers.
"This only relates to the top, top of the food chain," Ganis said. "It only relates to the Yankees, the Red Sox, the Cubs, the Mets. That may be it. Maybe there is some relevance to a lesser degree to the Giants and the Padres. But no one should expect this has any meaningful impact on the Pittsburgh Pirates or Kansas City Royals or the Cleveland Indians. It's really just the big-market clubs that have unique local broadcasting opportunities."
Part of the reason the Mets are worth a fraction of the other big-market clubs is that they own their television network, SportsNet New York, and are essentially locked into that arrangement. The Dodgers, on the other hand, can freely solicit open bids for when their local TV package, which is up after the 2013 season, Ganis explained.