New York Mets:

Mark Trumbo
December, 13, 2012
12/13/12
3:14
PM ET
Mark Trumbo
could be available in a swap for
R.A. Dickey
with the
Los Angeles Angels
landing
Josh Hamilton
.
Less than an hour after the potential swap began making the rounds on Twitter, a major league insider painted the Mets landing Trumbo as a highly unlikely scenario.
So much for speculation
December, 13, 2012
12/13/12
2:31
PM ET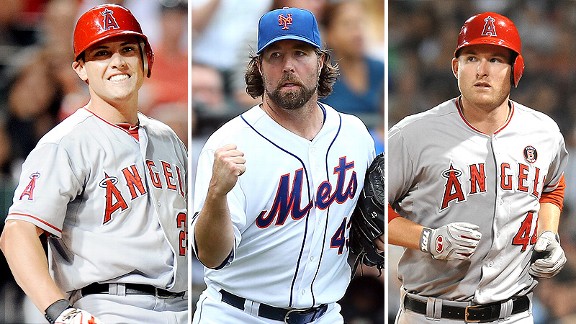 US Presswire
Young outfielder Mark Trumbo (right) or Peter Bourjos (left) could be expendable and swapped for R.A. Dickey now that the Angels are landing Josh Hamilton.
With ESPN's Jerry Crasnick reporting the
Los Angeles Angels
are landing free-agent
Josh Hamilton
on a five-year deal after a stealthy pursuit, two national baseball writers wonder if that will grease the wheels for
R.A. Dickey
to wind up in Anaheim, too.
The Post's Joel Sherman and CBS's Jon Heyman speculate on Twitter that Hamilton to the Angels potentially would free up the club to send
Mark Trumbo
or
Peter Bourjos
to the Mets in a swap for Dickey.
The Mets, as has been well-documented, desperately need a righty-hitting outfielder with power.
Trumbo, 26, hit .268 with 32 homers and 95 RBIs in 544 at-bats last season and would seem more in line with the Mets' needs. Bourjos, 25, hit .220 with three homers and 19 RBIs in 168 at-bats.
UPDATE:
Buster Olney tweets: "Other teams asked about Mark Trumbo, and been told that he's not available; the Angels have said they are keeping him."
And Heyman tweets: "Angels could also decide to trade Kendrys Morales instead of Bourjos and Trumbo sice KM is 1 yr from FA. Trumbo could DH."
July, 10, 2012
7/10/12
11:13
PM ET


R.A. Dickey surrendered a leadoff single to Mike Trout upon entering with an eight-run lead in the sixth inning, and Trout swiped second base, but the 37-year-old knuckleballer eventually stranded the Angels phenom to post a scoreless frame in his first All-Star Game appearance.

Phillies catcher Carlos Ruiz got through the inning unscathed as well, although Dickey told reporters in Kansas City afterward that Ruiz on one knuckleball "looked like he was catching with chopsticks."

Dickey struck out Mark Trumbo and hit Paul Konerko with a pitch before coaxing a 6-4-3 double play from Miguel Cabrera to post the scoreless frame and preserve the NL's eight-run lead.

Speaking to reporters afterward, Dickey said about his knuckleball: "I didn't throw many super-duper ones."

David Wright went 0-for-2. After Pablo Sandoval contributed a three-run triple in the first inning, Wright eventually entered at third base. He grounded into a fielder's choice in the fifth against Jered Weaver and struck out looking against Ryan Cook in the seventh.

Matt Cain, who started over Dickey for the NL, tossed two scoreless innings.

Terry Collins, a coach on Tony La Russa's staff, made a ninth-inning pitching change to get some air time.
NBA
NHL
COLLEGE BASKETBALL
MLB
MLS