New York Mets:

Marlins Park
May, 1, 2013
5/01/13
11:40
AM ET
May, 20, 2012
5/20/12
8:35
AM ET
Brandon Morrow
tossed a three-hit shutout and the
Mets lost to the Toronto Blue Jays, 2-0
, Saturday at Rogers Centre.
Dillon Gee
starts Sunday's 1:07 p.m. game, trying to prevent the Amazin's from getting swept north of the border.
Regarding the Mets' offense,
Terry Collins
said, the Mets can't be patient to a fault in driving up pitch counts.
"We've got to start grinding out some at-bats," Collins said. "It goes back to exactly what we talked about a couple of weeks ago, and that's: It's not about taking pitches. It's about being patient, and when you get the pitch you want, hit it. Brandon was in the strike zone today. He was making good pitches early in the count. And we're down early, 0-1, 0-2. I don't want these guys to think they've got to go up there and just take the good pitches they can hit."
Sunday's news reports:
•
Miguel Batista
was
forced to leave Saturday's game
after tossing two scoreless innings because of a pulled muscle in his lower back.
Jeremy Hefner
, promoted from Triple-A Buffalo, entered in relief and limited the Jays to two runs in five innings but was charged with the loss.
Chris Schwinden
will arrive Sunday in Toronto as a taxi-squad member, and presumably has a good chance of being activated as a hedge against Gee having a short outing, with Batista landing on the DL.
Jordany Valdespin
had been demoted before Saturday's game to make room for Hefner. Valdespin will play second base with the Bisons. The Mets will promote a position player before Monday's game in Pittsburgh, Collins indicated. Collins said Hefner would start in Batista's place Thursday at Citi Field if the 41-year-old right-hander lands on the DL. Read more in
Newsday
, the
Record
,
Star-Ledger
and
Post
.
•
Mike Baxter
was ruled out at second base in the ninth inning
on an apparent blown call
. Had Baxter been credited with a double, the Mets would have had two runners in scoring position with one out in the ninth, trailing by two runs. Read more in the
Post
.
• Read game recaps in the
Post
,
Times
,
Star-Ledger
,
Newsday
,
Record
and
Daily News
.
• There's no indication
Ike Davis
is in imminent danger of a demotion. But the number of notable names getting demoted is, well, notable. First, the Braves sent
Jair Jurrjens
to Triple-A Gwinnett. First baseman
Adam Lind
is reportedly on waivers for the purpose of being removed from the 40-man roster and demoted by the Blue Jays. And, now, first baseman
Gaby Sanchez
, who was hitting .197 with one homer with Miami, has been demoted too. "We don't think he's a .190 hitter," Marlins GM
Michael Hill
told the Miami Herald
about Sanchez, an All-Star last season. "We think he's better than he's showing here. We think he's pressing. We want to take some of the pressure off him, get him down to Triple-A, and get him right." Davis is hitting .160 after going 0-for-3 Saturday in Toronto.
•
Pedro Beato
began an official rehab assignment
Saturday night with Class A St. Lucie, tossing two scoreless innings. He is on the 60-day DL because of a shoulder issue that arose during spring training.
Jenrry Mejia
, meanwhile, allowed one run on six hits while striking out three and walking none in three innings for Double-A Binghamton. He threw only 48 pitches in his first Double-A start since Tommy John surgery, but
Sandy Alderson
said that roughly was the prescribed length. Mejia had higher pitch counts in two previous starts for St. Lucie. Also Saturday,
Vinny Rottino
had three homers for Triple-A Buffalo. Read the Saturday's full minor league recap
here
.
•
David Wright
was
sicker Saturday than the previous day
and was unavailable. Still, he already has informed Collins he wants to play Sunday. Read more in the
Daily News
.
•
Anthony McCarron
pens a feature
in the Daily News
celebrating Wright's leadership by example. Regarding Wright bickering with Collins in the dugout because he wanted to remain in Tuesday's game against Milwaukee to get drilled as payback for
D.J. Carrasco
hitting
Ryan Braun
,
Ron Darling
said: "I think there were probably people on the bench who didn't understand what the hullabaloo was about at all and were taught a valuable lesson. 'What? Get hit? Who wants to get hit?' He basically said, 'I know how the game is played and I know what we have to do in certain situations and I'm willing to do that.' David is one of those rare current players who could've played in any generation. There is a real courage in the way he plays the game. Guy played three weeks with a back that was broken last year, hits a homer with a broken finger because he knows his team needs him. I watch him play, and it makes me proud that I was part of the fraternity."
• Collins believes
Ruben Tejada
(quadriceps) could be in a minor league rehab game as soon as Monday.
Jason Bay
(fractured rib) may take batting practice that day in Pittsburgh.
Chris Young
, who took a brief break with his wife due to give birth, is expected to resume his comeback with Class A St. Lucie on Friday. It will be Young's third minor league start with the Florida State League club since May 16, 2011 surgery to repair a torn anterior capsule in his right shoulder.
•
David Lennon
in Newsday
reviews the early impact of the wall changes at Citi Field. He notes Gee's amusement at hearing during the trip to Miami's new ballpark about Marlins players already expressing discontent with the cavernous dimensions. As a result of the Citi Field changes, there have been 10 additional homers this season that would have remained in play under the old configuration -- six by opponents, four by the Mets (
Kirk Nieuwenhuis
2,
Lucas Duda
, Wright). "I enjoy it," Wright told Lennon. "Obviously, it's smaller, so I enjoy that. But it's tough, I guess, to describe the effect that it has because it's still relatively early. A lot of how the ball carries has to do with the weather, and the weather has been chilly, rainy and windy."
Still, Citi Field has not become a homer haven. Writes Lennon:
Through the first 20 home games, there have been 26 home runs hit at Citi Field, and that frequency of 1.3 per game is tied (with Wrigley Field) for 13th-best in the National League . Only AT&T Park (0.84), PETCO Park (0.96) and Marlins Park (1.24) had produced fewer. Before Citi's changes are deemed inconsequential, however, consider this: According to ESPN Home Run Tracker, 10 home runs needed the new dimensions to clear the walls, and if there were only 16 home runs to this point, that drops the average rate to a minuscule 0.80 -- the lowest in either league. "It's only a small sample size," Mets general manager Sandy Alderson said. "But at the same time, that's still a dramatic impact."
Jeff Wilpon
told Lennon: "It doesn't look like a sore thumb sticking out, in the terms of the changes that we made. I think it's been very successful in that sense. We knew it wouldn't make a huge difference -- we wanted it to be a moderate difference. ... I wish we were hitting more home runs, either with the benefit of the changes or without the benefits."
•
Tyler Kepner
in the Times
pays homage to
Chipper Jones
, who is due to retire at season's end. Writes Kepner:
In Chicago, the Cubs gave him a Braves flag that flew above the scoreboard at Wrigley Field. In Denver, the Rockies gave him a camera to mount on his hunting bow. The Houston Astros gave him a cowboy hat, and the St. Louis Cardinals presented a jersey signed by Stan Musial. "It was really cool in St. Louis when he came up to bat," Braves reliever Craig Kimbrel said. "They kind of stopped the game. They were already losing in the first inning, but he came up to bat and got a standing ovation."
Jones told Kepner about last year's Braves historic collapse relative to the team's current success (25-16, first place): "It's really gratifying because the guys went home in the offseason and used what happened in September as a motivational tool. I've said this all along: If we end up winning an Eastern Division championship or a National League championship or a World Series in the next couple of years, I guarantee you all these players will look back at September and say we learned a lot."
• Critic
Bob Raissman
in the Daily News
praises Collins as a straight shooter. Writes Raissman:
While The Prince of Darkness, John Tortorella, continues perfecting his mummified style, Terry Collins is out in Queens shedding light. The Mets manager will never be cast as Mr. Sunshine. He illuminates by speaking the truth. That's why the media rarely has a discouraging word about him. Of all the head mouths in town, Collins is the straightest shooter.
• Columnist
Jeff Bradley
in the Star-Ledger
compares the 1993 Yankees to the 2012 Mets in terms of success despite low expectations. Warning: extensive
Paul O'Neill
quoting.
TRIVIA:
Who was the last Pittsburgh Pirate to have a multi-homer game against the Mets?
Saturday's answer:
Mike Jacobs
was traded to Toronto for a player to be named or cash in the last swap between the Mets and Jays, on July 30, 2010.
May, 11, 2012
5/11/12
3:56
PM ET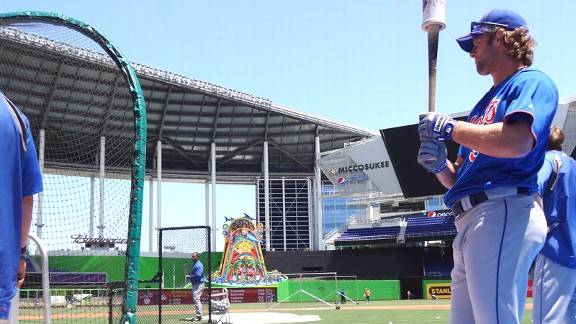 Adam Rubin
Kirk Nieuwenhuis takes early batting practice at new Marlins Park.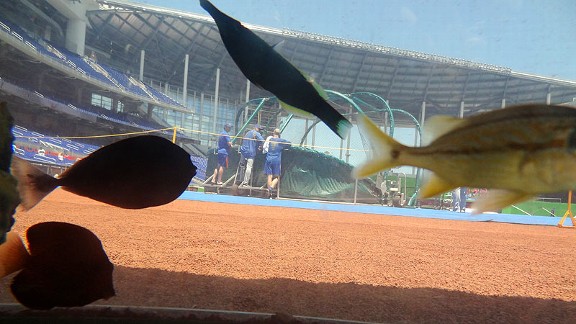 Adam Rubin
Behind home plate is a large fish tank separating fans from the action. Here's a look from the first row, through the tank, at the Mets taking early batting practice.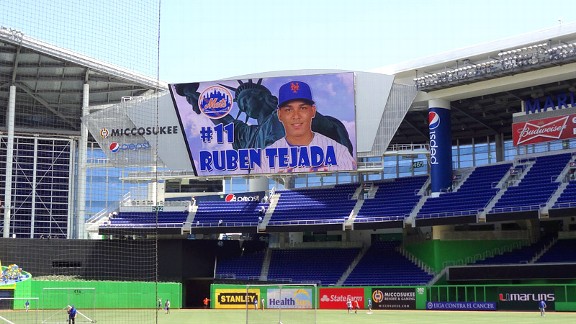 Adam Rubin
Ruben Tejada is on the DL, but he ended up on the scoreboard five hours before game time as Marlins Park staff tested Mets graphics.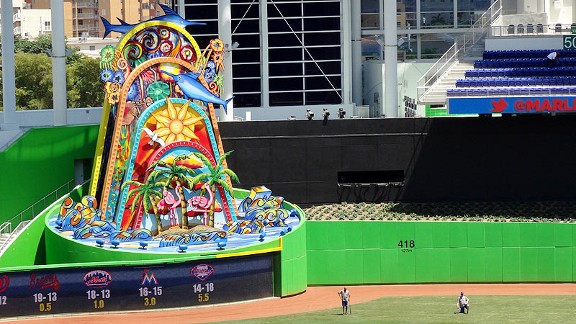 Adam Rubin
Think Citi Field was difficult to hit a homer? Here's a look at gaudy Marlins artwork in center field, plus a massive outfield wall 418 feet from home plate.
April, 24, 2012
4/24/12
12:24
AM ET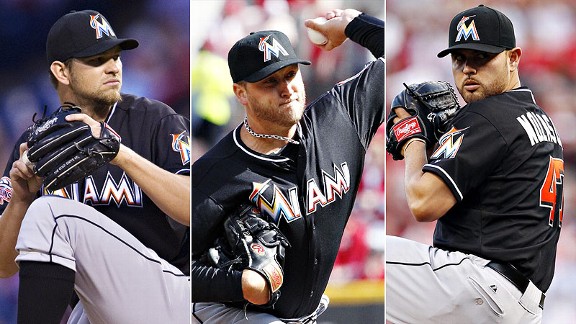 US Presswire
The Mets face (l to r) Josh Johnson, Mark Buehrle and Ricky Nolasco during a midweek series that marks Jose Reyes' return to Flushing with the Marlins.
METS (8-8, third place/NL East) vs. MIAMI MARLINS (7-8, fourth place/NL East)
Tuesday:
LHP Johan Santana (0-2, 3.97) vs. RHP Josh Johnson (0-2, 5.94), 7:10 p.m. ET
Wednesday:
RHP R.A. Dickey (2-1, 5.71) vs. LHP Mark Buehrle (1-2, 2.66), 7:10 p.m. ET
Thursday:
LHP Jon Niese (2-0, 2.89) vs. RHP Ricky Nolasco (2-0, 3.93), 1:10 p.m. ET
Marlins short hops
•
Jose Reyes
is off to a slow start in his first season with the Marlins, with a .230 average, .294 on-base percentage and five errors through 15 games, albeit with a handful of highlight-reel defensive plays as well. After the Mets failed to make an offer, or even send a box of chocolates, Reyes signed a six-year, $106 million deal with Miami.
• Manager
Ozzie Guillen
served a five-game suspension after making comments praising
Fidel Castro
, which angered those in the Cuban-American community, particularly among the Marlins' fan base. Other than at the off-day press conference held by Guillen in Miami to apologize, which drew about 50 protestors, there have been no visible demonstrations outside Marlins Park.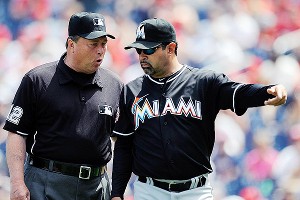 Patrick McDermott/Getty Images
Ozzie Guillen served a five-game suspension for praising Fidel Castro.

•
Heath Bell
, who did not blow consecutive saves at any point during his San Diego Padres career, opened his era with the Marlins by failing to convert his first two opportunities. The ex-Met Bell, who was traded to San Diego with
Royce Ring
for
Jon Adkins
and
Ben Johnson
on Nov. 15, 2006, nonetheless has the fourth-highest save percentage in the majors over the last three-plus seasons, at 89.3 percent. He trails only
John Axford
,
Jose Valverde
and
Mariano Rivera
. Bell signed a three-year, $27 million free-agent deal and was introduced as a Marlin during the winter meetings. After the two blown saves, both of which deprived
Carlos Zambrano
of wins, Bell saved his next two chances.
• Miami's new stadium, known as Marlins Park, is a pitcher-friendly ballpark with a seating capacity of 37,442. The dimensions (from left to right): 344, 386, 418, 392, 335. Despite the imposing dimensions, the Marlins have out-homered opponents 5-1 at the stadium so far, with
Hanley Ramirez
producing three of the long balls. Owner
Jeffrey Loria
also rebranded the Marlins, dropping "Florida" for "Miami" and changing the team logo to more of a South Beach feel.
• Ramirez (.263, 4 HR, 12 RBIs) has moved to third base to accommodate Reyes after logging his first 829 career major league games in the field at shortstop. He has committed only one error and generally looked solid. Slowed by a left shoulder injury last season, Ramirez hit only .243 with 10 homers in 92 games. Ramirez currently is tied with
Miguel Cabrera
for third on the Marlins' all-time home run list with 138. He trails
Dan Uggla
(154) and
Mike Lowell
(143).
•
Josh Johnson's
2011 season ended after a five-inning start on May 16 against the Mets at Citi Field because of right shoulder inflammation. He actually was removed from that outing after getting hit in the right forearm with a comebacker off the bat of
Carlos Beltran
. Johnson threw live batting practice at the end of September, but ran out of time to return during that season. He did not undergo surgery. This season, Johnson rebounded from allowing six runs on 11 hits in 3 2/3 innings against the Phillies on April 11 by limiting the Cubs to two runs on seven hits in seven innings in his most recent start.
• Second baseman
Omar Infante
(left groin tightness) expects to return to the lineup for Tuesday's series opener at Citi Field. Infante has not played since last Tuesday, except for a pinch-hit appearance Saturday in D.C.
Donnie Murphy
(three games) and
Emilio Bonifacio
(one game) started at second base in Infante's absence. Bonifacio otherwise has exclusively served as the Marlins' starting center fielder. He had not taken grounders at second base this season, but Guillen wanted a lefty-dominated lineup Saturday against Washington phenom
Stephen Strasburg
. Infante was on fire before being sidelined. He is hitting .325 with four homers in 40 at-bats. The pinch-hit out against the Nats snapped Infante's eight-game hitting streak.
• The Reyes-Bonifacio combo gives Miami two switch-hitters atop the order as well as a pair of speedsters. The Marlins' 18 steals (in 21 attempts) leads the majors. Bonifacio already has nine steals, the most in the first 15 games of a season by a Marlin in franchise history.
Quilvio Veras
formerly held the record with eight.
• Marlins newcomer
Mark Buehrle
texted former White Sox teammate
Philip Humber
congratulations on becoming one of the 21 major league pitchers to throw a perfect game in the sport's history. Buehrle tossed his perfecto against the Tampa Bay Rays on July 23, 2009. Despite a 13-year major league career, Buehrle has never faced the Mets. That is largely because the Mets and Buehrle's former club, the Chicago White Sox, have not met in interleague play since 2002 -- the longest stretch the Mets have gone in not seeing an American League opponent. Buehrle signed a four-year, $58 million deal with the Marlins on Dec. 8. He is the only major league pitcher to log 200 innings each of the past 11 seasons. His 10-plus wins per year for the past 11 seasons is tied with
CC Sabathia
for the longest active streak in the majors.
•
Logan Morrison
played only five spring-training games because of right-knee soreness.
Giancarlo
(formerly Mike)
Stanton
appeared in only eight spring-training games because of left-knee inflammation. Neither is 100 percent, so they are spotted days off in the outfield. Stanton's full name is Giancarlo Cruz-Michael Stanton. Teachers in middle school in Los Angeles butchered his first name so frequently, he requested to be called Mike. But he has now decided to revert to his actual name. Morrison is one of the most active (and tawdry) players on Twitter at
@LoMoMarlins
.
• The Marlins are featured in the second-annual Showtime series "The Franchise." The first episode debuted Saturday night. The first episode included Guillen being informed of his suspension. The San Francisco Giants were featured last season.
•
Ricky Nolasco
is two wins shy of matching
Dontrelle Willis'
franchise record for wins as a Marlin at 68.
Matchups
Santana vs. Marlins (career: 6-1, 1.47 ERA)

Gaby Sanchez .800, 5 PA
Chris Coghlan .333, 1 RBI, 6 PA
Jose Reyes .250, 4 PA
John Buck .235, 4 RBI, 1 BB, 5 K, 18 PA
Omar Infante .205, 3 RBI, 1 BB, 9 K, 42 PA
Hanley Ramirez .143, 2 BB, 7 K, 23 PA
Austin Kearns .133, 3 K, 15 PA
Emilio Bonifacio .083, 4 K, 12 PA
Donnie Murphy .000, 2 K, 3 PA
Dickey vs. Marlins (career: 5-2, 3.91 ERA)

Omar Infante .500, 1 HR, 3 RBI, 1 BB, 2 K, 24 PA
Hanley Ramirez .400, 3 RBI, 1 BB, 1 K, 16 PA
Gaby Sanchez .333, 1 HR, 6 RBI, 2 BB, 3 K, 19 PA
Austin Kearns .333, 1 K, 3 PA
John Buck .300, 1 RBI, 1 BB, 1 K, 11 PA
Chris Coghlan .286, 2 BB, 3 K, 9 PA
Emilio Bonifacio .200, 1 BB, 3 K, 11 PA
Greg Dobbs .200, 3 K, 10 PA
Logan Morrison .182, 2 BB, 4 K, 13 PA
Brett Hayes .167, 1 K, 6 PA
Donnie Murphy .143, 3 K, 7 PA
Giancarlo Stanton .125, 3 K, 8 PA
Jose Reyes .000, 2 K, 6 PA
Niese vs. Marlins (career: 1-4, 5.67 ERA)

Emilio Bonifacio .500, 3 PA
Logan Morrison .429, 2 RBI, 2 BB, 10 PA
Brett Hayes .333, 1 RBI, 3 PA
Hanley Ramirez .273, 1 HR, 2 RBI, 2 BB, 2 K, 13 PA
Gaby Sanchez .214, 1 RBI, 3 BB, 1 K, 17 PA
Chris Coghlan .200, 1 K, 11 PA
Omar Infante .167, 2 RBI, 1 BB, 2 K, 19 PA
Giancarlo Stanton .000, 1 RBI, 2 BB, 2 K, 6 PA
Donnie Murphy .000, 3 PA
Austin Kearns .000, 3 PA
John Buck .000, 1 K, 3 PA
Johnson vs. Mets (career: 8-1, 2.68 ERA)
Justin Turner .500, 1 RBI, 2 PA
Jason Bay .417, 1 HR, 2 RBI, 4 K, 12 PA
Daniel Murphy .294, 2 BB, 2 K, 19 PA
David Wright .207, 1 HR, 3 RBI, 1 BB, 8 K, 30 PA
Josh Thole .200, 2 K, 5 PA
Ike Davis .143, 1 RBI, 2 BB, 2 K, 9 PA
Scott Hairston .000, 1 BB, 2 K, 6 PA
Ruben Tejada .000, 1 BB, 3 PA
Ronny Cedeno .000, 1 K, 2 PA
Lucas Duda .000, 1 PA
Buehrle vs. Mets (career: never faced)
Ronny Cedeno .444, 1 RBI, 1 K, 9 PA
Jason Bay .235, 2 RBI, 2 BB, 7 K, 19 PA
Nolasco vs. Mets (career: 5-7, 5.27 ERA)
David Wright .389, 4 HR, 13 RBI, 3 BB, 15 K, 57 PA
Daniel Murphy .353, 1 RBI, 3 K, 18 PA
Ruben Tejada .333, 1 K, 6 PA
Scott Hairston .333, 1 HR, 1 RBI, 6 PA
Jason Bay .273, 2 HR, 3 RBI, 2 BB, 2 K, 24 PA
Josh Thole .250, 1 K, 8 PA
Ike Davis .182, 1 RBI, 1 BB, 4 K, 12 PA
Lucas Duda .000, 1 K, 6 PA
Ronny Cedeno .000, 1 K, 6 PA
Mike Nickeas .000, 1 K, 3 PA
Last series results
Mets won, 2-1, at Dolphin Stadium, Sept. 5-7, 2011 (AP game recaps)
Marlins 9, Mets 3:
Chris Capuano failed to reach the fifth inning for the first time in 27 starts this season, lasting only four innings and taking the loss. Capuano (10-12) allowed six runs and eight hits, walked one and struck out three. Florida took a 2-0 lead in the first. Emilio Bonifacio opened with a double, took third on Omar Infante's sacrifice and scored on Capuano's wild pitch. Gaby Sanchez doubled with two outs and scored on Logan Morrison's single to center. Jose Lopez homered with two outs in the third to make it 3-0. Angel Pagan's RBI groundout in the fourth cut Florida's lead to 3-1. The Marlins responded with Bryan Petersen's RBI single and Bonifacio's two-run single in the bottom of the inning. Mike Cameron had an RBI double in the fifth and Sanchez had a two-run single in the sixth to stretch the lead to 9-1. Javier Vazquez pitched seven solid innings for the win. Jason Bay hit his 11th homer, a two-run shot off reliever Chris Hatcher, in the ninth.
Mets 7, Marlins 4 (12 innings):
Nick Evans drove in three runs, including a go-ahead single in the 12th inning, to lead New York over Florida. Jose Reyes, Justin Turner, Angel Pagan and Evans each had three hits for New York, which lost a two-run lead in the bottom of the ninth inning. Marlins reliever Jose Ceda (0-1) gave up three straight hits to begin the 12th, including Evans' soft liner to center that scored Pagan. Later in the inning, Reyes hit an RBI single and Lucas Duda drew a bases-loaded walk to give the Mets a 7-4 lead. Ryota Igarashi (4-1) got the win in a game that lasted 4 hours, 29 minutes, including a 1:14 rain delay.
Mets 1, Marlins 0:
R.A. Dickey made an early run stand up, blanking Florida for seven innings. Dickey is 3-0 against the Marlins this season. The knuckleballer allowed only one run -- it was unearned -- in 20 innings over that span. Jose Reyes led off the game with a single and scored on a one-out double down the left-field line by Lucas Duda for the only run. Dickey (8-11) and relievers Josh Stinson and Manny Acosta combined on a five-hitter. The Mets played their final game at the Marlins' stadium before Florida moves into a new home next season. The Mets finished 75-74 at the park the Marlins had shared with the Dolphins since 1993. Dickey gave up four hits and three walks. He struck out three. Brad Hand (1-6) allowed one run, three hits and four walks in six innings. In the eighth, the Marlins put Emilio Bonifacio on third base, but Stinson struck out Gaby Sanchez swinging to end the inning. Acosta pitched the ninth and recorded his first save since Aug. 11, 2010, at Houston.