July, 4, 2013
7/04/13
11:53
PM ET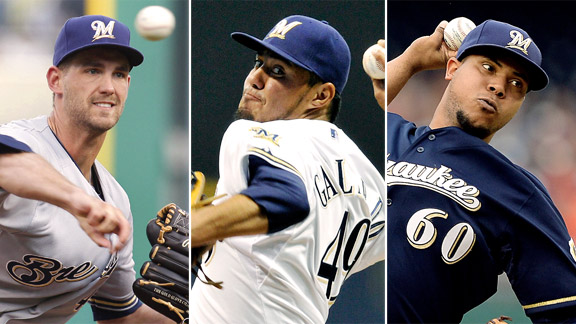 USA TODAY Spors/Associated Press/Getty ImagesThe Mets face (l to r) Johnny Hellweg, Yovani Gallardo and tentatively Wily Peralta this weekend.
METS (35-47, fourth place/NL East) vs. MILWAUKEE BREWERS (34-50, fifth place/NL Central)
Friday:
RHP
Zack Wheeler
(1-1, 5.06) vs. RHP
Johnny Hellweg
(0-1, 20.25), 8:10 p.m. ET
Saturday:
RHP
Shaun Marcum
(1-9, 5.03) vs. RHP
Yovani Gallardo
(6-8, 4.78), 7:15 p.m. ET
Sunday:
RHP
Jeremy Hefner
(3-6, 3.54) vs. RHP
Wily Peralta
(5-9, 5.27), 2:10 p.m. ET
Brewers short hops
•
Wily Peralta
was forced to leave Tuesday's start against the
Washington Nationals
in the sixth inning with a left hamstring strain. He is questionable to make Sunday's start. Fellow starting pitcher
Marco Estrada
already has been on the DL for nearly a month with a left hamstring strain. If Peralta is not able to make the start, right-hander
Tyler Thornburg
, the Brewers' top prospect, who currently is working out of the bullpen, is a candidate to fill in.
• Ex-Met
Francisco Rodriguez
has taken over the closer role from
Jim Henderson
. Manager Ron Roenicke told Milwaukee reporters the decision was performance-based and not intended to showcase K-Rod before the July 31 trade deadline, although Rodriguez clearly is a trade candidate. Rodriguez has a 0.92 ERA and has recorded seven saves. That included the 300th save of his career, which made him the 25th pitcher in major league history to reach that plateau. K-Rod joined the Brewers on May 16, four weeks after signing with the organization. His contract calls for a prorated portion of a $2 million base salary.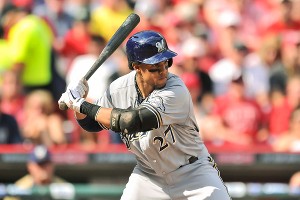 Jamie Sabau/Getty ImagesEx-Met Carlos Gomez leads the NL in WAR.
• Center fielder
Carlos Gomez
signed a three-year, $24 million extension in March. After earning $4.3 million this year, he will receive $7 million in 2014, $8 million in 2015 and $9 million in 2016. Gomez was traded by the Mets to the
Minnesota Twins
in the
Johan Santana
deal. He recently missed a week with a sprained left shoulder, which he suffered crashing into the outfield wall. Gomez's 4.8 WAR leads the NL.
David Wright
ranks second at 4.7.
• Left fielder
Ryan Braun
, who is on the disabled list with an inflamed nerve between the thumb and index finger in his right hand, has started swinging a bat. He potentially could return before the All-Star break.
•
Jean Segura
, acquired from the
Los Angeles Angels
along with
Johnny Hellweg
for
Zack Greinke
before last year's trade deadline, leads the National League in hits. He ranks third in NL All-Star balloting at shortstop. The only major leaguers with 10-plus homers and 20-plus steals this season are Segura and
Mike Trout
.
•
Juan Francisco
was acquired from the
Atlanta Braves
on June 3 for Double-A left-hander Thomas Keeling. A natural third baseman, the Brewers nearly exclusively have used Francisco at first base, although he did play third base Thursday and commit two errors. His only previous pro experience at first base was three games in 2010 in Triple-A with the
Cincinnati Reds
.
• Hellweg, a 6-foot-9 rookie, allowed seven runs (five earned) in 1 2/3 innings in his major league debut last Friday. He then appeared once in relief.
Kyle Lohse
jumped ahead in the rotation because Lohse's June 30 start lasted only 1 2/3 innings before a rain delay ended his outing. Hellweg touched 102 mph in a Triple-A game earlier this season.
•
Yovani Gallardo
was charged with a season-high eight runs against Nats in his last start. That is as many earned runs as Gallardo surrendered in five June outings. The three-inning outing was his shortest since April 27, 2012. Gallardo, although signed for next season, is a trade candidate.
•
Jonathan Lucroy
's 40 RBIs as a catcher rank second in the NL at that position, trailing only St. Louis'
Yadier Molina
.
•
Corey Hart
, who has not appeared this season, needs left knee surgery that will sideline him the entire year. He had undergone surgery in January on his right knee. Hart is eligible for free agency after the season. He is one of three Brewers first basemen who have season-ending injuries. The others:
Mat Gamel
(torn ACL suffered during spring training) and
Taylor Green
(hip surgery).
• Third baseman
Aramis Ramirez
has required sporadic days off for a left knee issue. He twice has sprained the knee this season.
• The Brewers have drawn the fewest walks in the majors.
• Second baseman
Rickie Weeks
hit .355 with five homers in June.
• Former closer
John Axford
has not surrendered a run in his last 23 appearances. Axford reportedly is drawing trade interest.
May, 13, 2012
5/13/12
9:30
PM ET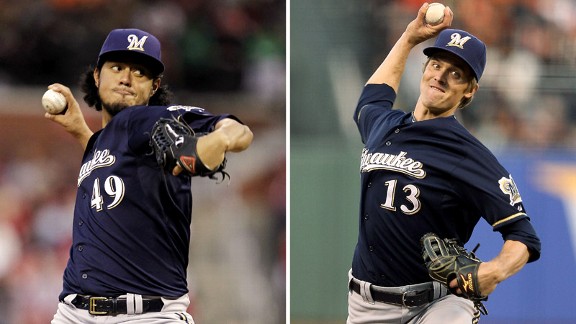 Associated Press/Getty Images
The Mets face Yovani Gallardo and Zack Greinke during a two-game miniseries at Citi Field.
METS (19-15, third place/NL East) vs. MILWAUKEE BREWERS (15-19, fourth place/NL Central)
Monday:
RHP Miguel Batista (0-1, 5.89) vs. RHP Yovani Gallardo (2-3, 5.35), 7:10 p.m. ET
Tuesday:
RHP Dillon Gee (2-2, 4.78) vs. RHP Zack Greinke (3-1, 3.35), 7:10 p.m. ET
Brewers short hops
• 2011 MVP
Ryan Braun
has nine homers since April 21, the most in the National League since that date. St. Louis'
Carlos Beltran
, who again went deep Sunday, is second during that span with eight long balls. Braun successfully contested a 50-game suspension for a positive drug test by challenging the chain of custody of his sample. He has received mixed fan reaction on the road this season -- vociferous booing, for instance, in Atlanta and a rather tame response in San Francisco.
•
Rickie Weeks
suffered a painfully bruised left hand/wrist injury when he was hit by a 96 mph fastball from Cubs reliever
Lendy Castillo
in the 13
th
inning Friday -- the second time he was plunked in that game. X-rays were negative, but the Brewers are waiting for swelling to subside to retest him for a possible hairline fracture. Weeks is not on the DL, but may miss both games of the Mets series.
Edwin Maysonet
started at second base Saturday in Weeks' place and belted a grand slam after an intentional walk to
Travis Ishikawa
.
Brooks Conrad
manned second base Sunday with Maysonet at shortstop so that
Cesar Izturis
could have a day off, but the Mets may see Maysonet both games at second base.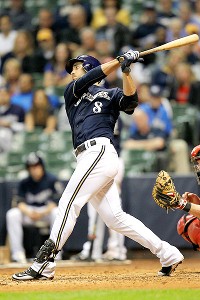 Mike McGinnis/Getty Images
Ryan Braun has received a mixed reaction from fans on the road since successfully combatting a suspension.

• The Brewers actually are without three-quarters of their original infield. The other two absentees are not returning this season.
Mat Gamel
, the successor to
Prince Fielder
at first base, was lost for the season with a torn ACL. Shortstop
Alex Gonzalez
also is out for the season after suffering the identical injury. Ishikawa and
Taylor Green
, with limited Conrad, now are sharing first base. Milwaukee recently spoke with unsigned
Derrek Lee
, but could not reach terms on a contract. The defensively oriented Izturis has taken over at shortstop.
• Closer
John Axford's
streak of consecutive saves ended Friday at 49 with a blown save against the Cubs. Axford was not around after that game to discuss his outing. His wife
Nicole
unexpectedly had gone into labor, and he left this playful note for reporters: "I put my wife into contractions with my performance tonight! The streak is over so now you can talk about it. The luck I've had in the past didn't show up tonight! All I can do is start another streak and keep my head up! Cliché ... cliché ... cliché ... another cliché. Gotta go! Love, Ax."
•
Francisco Rodriguez
is 0-3 with a 5.28 ERA through 17 appearances, but his numbers actually have been skewed by three bad outings; otherwise, he largely has produced in an eighth-inning role, albeit with his familiar tendency to allow baserunners. K-Rod produced his first save as a Brewer on April 10 at Wrigley Field. He had been offered arbitration last offseason with Milwaukee trying to get draft-pick compensation for him signing elsewhere. But with the closer market congested, Rodriguez accepted the arbitration offer and returned for this season for a guaranteed $8 million.
• The Brewers signed
Aramis Ramirez
to a three-year, $36 deal as a free agent to succeed Fielder in the cleanup spot, but the ex-Cub is hitting only .230 with two homers and 19 RBIs through 126 at-bats.
• Milwaukee brass has tabled extension talks with
Zack Greinke
, who is due to be a free agent after the season. The shelving of talks came shortly after
Matt Cain
signed a five-year, $112 million extension to remain with the San Francisco Giants. Greinke, who formerly acted as his own representative, has hired agent
Casey Close
to handle the negotiations.
• GM
Doug Melvin
and manager
Ron Roenicke
received contract extensions last week. Melvin, who also gained the title president of baseball operations, was extended through 2015. Roenicke's deal now goes through '14, with a team option for the following season.
• Ex-Met
Carlos Gomez
has landed on the disabled list with a hamstring strain. He is due to begin a rehab assignment Wednesday with Class A Wisconsin. Lefty hitters
Norichika Aoki
and
Nyjer Morgan
have shared center-field duties -- with Aoki starting against southpaws and the struggling Morgan (.200, no RBIs) against righties. Aoki joined the Brewers from the Tokyo Yakult Swallows, where he was a .329 career hitter and won Central League batting titles in 2005, '07 and '10.
•
Yovani Gallardo's
season totals look a whole lot better if you subtract a pair of starts against the Cardinals. He is 0-2 with a 22.24 ERA (14 ER in 5.2 IP) against St. Louis this season. Against others, he is 2-1 with a 2.45 ERA.
• Catcher
Jonathan Lucroy
was batting .333 as a catcher (29-for-87) before going hitless Sunday in four at-bats. That average matched
Carlos Ruiz's
for tops in the NL at that position. Overally, Lucroy now is hitting .326.
• Milwaukee has bunted in a run an MLB-leading five times this season.
Matchups
Batista vs. Brewers (career: 1-0, 2.72 ERA)

Jonathan Lucroy .500, 1 RBI, 2 PA
Rickie Weeks .333, 1 BB, 1 K, 8 PA
Travis Ishikawa .333, 1 RBI, 1 BB, 1 K, 4 PA
Cesar Izturis .222, 1 HR, 2 RBI, 1 BB, 1 K, 28 PA
Aramis Ramirez .143, 2 BB, 16 PA
Ryan Braun .000, 2 K, 4 PA
Brooks Conrad .000, 1 PA
Gee vs. Brewers (career: 0-1, 3.00 ERA)

Corey Hart .333, 3 PA
Rickie Weeks .250, 2 K, 4 PA
Jonathan Lucroy .000, 1 RBI, 3 PA
Ryan Braun .000, 1 BB, 3 PA
Aramis Ramirez .000, 1 K, 3 PA
Nyjer Morgan .000, 3 PA
Gallardo vs. Mets (career: 2-2, 3.47 ERA)
Lucas Duda .500, 2 HR, 3 RBI, 2 K, 6 PA
Mike Nickeas .500, 1 K, 2 PA
Scott Hairston .333, 2 RBI, 1 K, 6 PA
Ronny Cedeno .300, 2 HR, 4 RBI, 1 BB, 3 K, 11 PA
David Wright .214, 1 HR, 2 RBI, 2 BB, 7 K, 16 PA
Daniel Murphy .167, 1 RBI, 3 K, 6 PA
Justin Turner .167, 2 K, 6 PA
Andres Torres .000, 1 BB, 1 K, 8 PA
Ike Davis .000, 2 BB, 2 K, 6 PA
Greinke vs. Mets (career: 0-1, 6.43 ERA)
Ronny Cedeno .300, 1 RBI, 2 K, 10 PA
Scott Hairston .000, 1 K, 3 PA
Rob Johnson .000, 2 PA
Last series results
Milwaukee won, 3-0, at Citi Field, Aug. 19-21, 2011 (AP game recaps)
Brewers 6, Mets 1:
The Mets became the first team in major league history to lose the opening game in their first 10 homestands of a season, STATS LLC said. Prince Fielder hit a pair of RBI singles and later confronted Mets reliever Tim Byrdak in a late dustup that caused the benches and bullpens to empty. Shaun Marcum pitched the Brewers to their 20th win in 23 games. They closed out this testy victory at 12:51 a.m. Fielder already was 2-for-2 with two walks when he came up in the eighth. Byrdak's first pitch was a fastball at Fielder's chest that backed him away from the plate. Fielder grounded out on the next pitch, then took a sudden right turn after hitting first base, curling back to intercept Byrdak on the way to the dugout. Terry Collins, Josh Thole and plate umpire Angel Campos intervened to prevent any escalation. Order was quickly restored. Brewers reliever Frankie De La Cruz plunked Mike Baxter in the ninth, without incident. Ryan Braun wasn't around at the end. He looked at strike three in the third inning, loitered in the batter's box and was eventually ejected by Campos. Marcum (11-3) improved to 4-0 in nine starts since losing at Yankee Stadium on June 29. He allowed one run in seven innings.
Brewers 11, Mets 9:
Prince Fielder hit a long home run early and a key single in the ninth inning, spoiling the Mets' chances of a win against former closer Francisco Rodriguez. Casey McGehee followed Fielder's tying hit with a two-run single off Manny Acosta, capping a four-run rally. The Brewers blew a late 7-1 lead, but came back after Angel Pagan hit a two-run homer off Rodriguez (5-2) in the eighth. Mets reliever Jason Isringhausen (3-3) couldn't get an out in the ninth and left after a bases-loaded walk. Fielder, Ryan Braun and Yuniesky Betancourt all homered for the Brewers, who have won eight of their last nine games. John Axford pitched the ninth for his 37th save.
Brewers 6, Mets 2:
Prince Fielder drove in the go-ahead run on a botched potential double-play grounder in the eighth and Yovani Gallardo shut down the Mets for seven innings, leading Milwaukee to its first series sweep in New York. Casey McGehee homered off R.A. Dickey in the fourth and Ryan Braun had three hits, an RBI and scored twice after stealing bases for the Brewers. Gallardo (14-8) gave up six hits in the finale to match a career high for wins.
April, 30, 2012
4/30/12
2:44
AM ET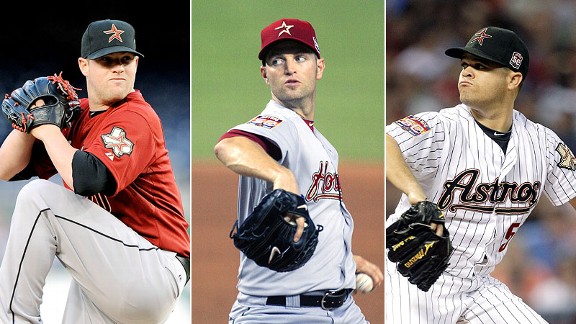 Getty Images
The Mets face (l to r) Bud Norris, J.A. Happ and Wandy Rodriguez during the final trip to Houston with the Astros an NL member.
METS (13-9, third place/NL East) vs. HOUSTON ASTROS (8-14, fifth place/NL Central)
Monday:
RHP R.A. Dickey (3-1, 4.44) vs. RHP Bud Norris (1-1, 5.84), 8:05 p.m. ET
Tuesday:
LHP Jon Niese (2-0, 2.81) vs. LHP J.A. Happ (1-1, 4.70), 8:05 p.m. ET
Wednesday:
RHP Chris Schwinden (0-0, 11.25) vs. LHP Wandy Rodriguez (2-2, 1.72), 2:05 p.m. ET
Astros short hops
• The Astros, who debuted as a member of the National League alongside the Mets in 1962, originally as the Colt .45s, move to the American League West next season as part of the conditions of
Jim Crane's
purchase of the team from
Drayton McLane
. Crane received a $65 million purchase credit to balance the leagues at 15 teams apiece.
As for Astros fans' negative reaction to the AL move, Crane told The Houston Chronicle: "I think it's calmed down considerably once people understand that was our destiny. That's the way baseball had decided -- whoever owned the Astros was going to be in the American League. You can argue anything I guess, but what they did does make some sense for baseball. When you look at the two Texas teams, it evens out that, keeps the Rangers from traveling more. Our TV partner Comcast feels it's a stronger deal for us with the East Coast teams like Detroit and Cleveland and some of the old traditional teams -- the Yankees and Boston. And we're going to do better on the network because of that.
"The downside that we'll see is the DH and a little more travel. And we'll try to get games scheduled so that when we get getaway games they'll be in the afternoon, so you're not going to see that many late-night games."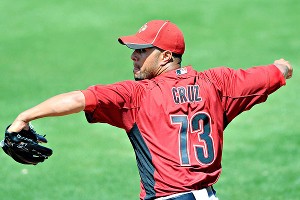 Brad Barr/US Presswire
Rhiner Cruz, a Rule 5 pick from the Mets, is off to a solid start in Houston's bullpen.

• The Astros have lost six straight series, the latest secured with a 6-5 loss at Cincinnati in Sunday's rubber game.
• Diminutive second baseman
Jose Altuve
is among the league's hottest hitters. The 5-foot-5 Altuve went 3-for-5 Sunday to lift his average to .373. That trails only
Matt Kemp
(.425) and
David Wright
(.397) in the National League. Altuve, who turns 22 next Sunday, is the shortest player in the majors this season. He has runner-up
Alexi Amarista
of the Los Angeles Angels beat by two inches. Altuve had been the second-youngest too, behind Toronto Blue Jays right-hander
Drew Hutchison
. But 19-year-old
Bryce Harper
and 20-year-old
Mike Trout
just made their major league debut/return. Altuve began last season at Class A Lancaster, but made his major league debut July 20 after jumping from Double-A.
• The Astros acquired shortstop
Jed Lowrie
and right-hander
Kyle Weiland
from the Boston Red Sox on Dec. 14 for right-handed reliever
Mark Melancon
, Houston's 2011 saves leader with 20. Lowrie opened the season the disabled list with a sprained right thumb. He made his Astros debut April 13. Weiland (0-3, 6.62 ERA) landed on the DL with shoulder bursitis, and
Jordan Lyles
was promoted for a spot start Sunday. Lyles was returned to the minors postgame.
• Catcher
Jason Castro
, the 10
th
overall pick in the 2008 draft, out of Stanford, missed last season while recovering from right knee surgery to repair a torn ACL. He also missed two games last week with a neck issue after a plate collision with Milwaukee's
Mat Gamel
. Castro returned Friday. Opponents have been successful in all 13 steal attempts against Castro this season.
•
Carlos Lee
left Friday's game in the first inning with a left ankle sprain, which he suffered pursuing a low throw from third baseman
Chris Johnson
that eluded him at first base. X-rays were negative, but Lee (.273, 2 HR, 13 RBIs) likely will remain sidelined at least early in the Mets series. Lee exclusively has played first base this season, after splitting time evenly between that position and left field a season ago.
Matt Downs
has filled in at first base in Lee's absence.
J.D. Martinez
is now the full-time left fielder.
• Backup infielder
Marwin Gonzalez
spent the weekend on paternity leave, but was activated for Monday's series opener in the roster spot Lyles held for a day.
•
Wandy Rodriguez
has a 1.72 ERA in five starts.
•
Bud Norris
allowed seven runs in his last start, including two-run homers to Milwaukee's
Travis Ishikawa
and
Corey Hart
.
• Closer
Brett Myers
is 4-for-4 in save chances.
• Right-hander
Rhiner Cruz
(1-0, 2.08 ERA) is Rule 5 pick from Metsm who is drawing rave reviews from scouts because of his 98 mph fastball from a "weird," low arm slot. Cruz, who was not protected on the Mets' 40-man roster, opened eyes with Cibao in the Dominican Winter League, before the December draft. He posted a 1.47 ERA in 18 1/3 innings over 21 relief appearances in winter ball. Cruz has not appeared since last Monday because of a twisted an ankle. Cruz, 25, had control issues last season between Class A St. Lucie and Double-A Binghamton in the Mets organization. He walked 45 and hit seven batters in 71 2/3 innings.
•
Fernando Martinez
, who was claimed off waivers by the Astros from the Mets during the offseason, is hitting .318 with four homers and 21 RBIs in 22 games for Triple-A Oklahoma City. He primarily has played left field, while being assigned to DH the past two games.
• Ex-Brave
Jordan Schafer
was ejected Sunday after disputing a caught-stealing call by ump
Marvin Hudson
in the second inning. Before that, the 25-year-old center fielder extended his streak of reaching base at least once to 22 games, the longest to open a season by an Astro since
Ricky Gutierrez
had a 23-game streak in 1998.
Denis Menke
owns the franchise record -- 25 games in 1969.
• Ex-Mets/Astros outfielder
Richard Hidalgo
is scheduled to throw out the ceremonial first pitch before Monday's series opener.
Matchups
Dickey vs. Astros (career: 1-2, 3.82 ERA)

Travis Buck .667, 1 HR, 1 RBI, 3 PA
Jason Castro .667, 3 PA
Jed Lowrie .500, 1 RBI, 3 PA
Matt Downs .500, 1 HR, 1 RBI, 2 PA
Jordan Schafer .429, 1 K, 7 PA
Carlos Lee .381, 1 HR, 5 RBI, 2 K, 21 PA
Chris Johnson .286, 1 RBI, 14 PA
Brian Bixler .200, 1 K, 5 PA
Chris Snyder .000, 1 BB, 1 K, 6 PA
Niese vs. Astros (career: 1-1, 1.80 ERA)

Brian Bixler .333, 2 K, 6 PA
Chris Johnson .333, 1 RBI, 6 PA
Carlos Lee .250, 1 RBI,1 BB, 9 PA
Jordan Schafer .000, 2 K, 8 PA
Jason Castro .000, 3 PA
Chris Snyder .000, 1 K, 2 PA
Schwinden vs. Astros (career: never faced)
Norris vs. Mets (career: 1-1, 4.85 ERA)
Daniel Murphy .333, 1 HR, 2 RBI, 2 K, 6 PA
Justin Turner .333, 1 K, 3 PA
Josh Thole .250, 1 HR, 1 RBI, 2 BB, 2 K, 10 PA
Ike Davis .250, 1 BB, 2 K, 9 PA
Scott Hairston .200, 1 HR, 1 RBI, 1 BB, 1 K, 6 PA
David Wright .000, 3 BB, 4 K, 12 PA
Andres Torres .000, 1 K, 3 PA
Happ vs. Mets (career: 2-2, 4.82 ERA)
Mike Nickeas .500, 1 HR, 1 RBI, 2 PA
David Wright .462, 3 HR, 6 RBI, 2 BB, 2 K, 15 PA
Andres Torres .333, 1 RBI, 1 K, 3 PA
Scott Hairston .333, 1 K, 3 PA
Daniel Murphy .286, 1 HR, 1 RBI, 1 K, 7 PA
Justin Turner .200, 1 RBI, 5 PA
Ike Davis .000, 1 RBI, 2 PA
Rodriguez vs. Mets (career: 3-2, 2.91 ERA)
Scott Hairston .462, 2 HR, 3 RBI, 2 BB, 4 K, 15 PA
Justin Turner .333, 3 PA
David Wright .316, 3 RBI, 1 BB, 5 K, 21 PA
Andres Torres .000, 1 BB, 1 K, 3 PA
Ike Davis .000, 1 BB, 1 K, 3 PA
Josh Thole .000, 1 BB, 3 PA
Last series results
Mets won, 2-1, at Minute Maid Park, May 13-15, 2011 (AP game recaps)
Mets 6, Astros 4:
David Wright hit a go-ahead homer to cap a four-run eighth inning that rallied the Mets. Wright's two-run shot was the last of three late homers by the Mets that helped them overcome a 4-0 deficit for their sixth win in eight games. Jason Bay got New York going with a solo shot in the seventh and pinch-hitter Fernando Martinez cut it to 4-3 with a long, two-run drive in the eighth. Jose Reyes walked and, with two outs, Wright homered off reliever Jeff Fulchino (0-1) into the Crawford Boxes in left field to put New York on top. It was the sixth home run of the season for the slumping Wright, who had been given the previous day off in Colorado to rest a sore neck and back.
Astros 7, Mets 3:
Carlos Lee delivered his 2,000th hit with an RBI single during a four-run first inning. Lee also hit one of three Astros homers. J.A. Happ (3-4) pitched six innings for the win, scattering five hits and three walks. Michael Bourn tripled to open the game against knuckleball pitcher R.A. Dickey (1-5) and scored on a groundout by Clint Barmes. Hunter Pence and Lee followed with singles, and three more runs scored on a double by Brett Wallace and singles by Chris Johnson and Bill Hall. Dickey allowed six hits in the first inning, then held the Astros in check until the sixth, when Hall and pinch hitter Matt Downs hit solo homers. Dickey pitched 5 1/3 innings, allowed 11 hits, didn't walk a batter and struck out two. Lee became the 17th active player to reach 2,000 hits, and he is the ninth active player to have at least that many hits while also belting 300 or more home runs. The Mets got one run in the third when Jose Reyes doubled and scored on a single to right field by Justin Turner, then added another in the fourth, when Daniel Murphy led off the inning with his third homer of the season. Reyes had an RBI single off reliever Mark Melancon in the ninth. Carlos Beltran sat out the game with swelling in his right eye.
Mets 7, Astros 4:
Justin Turner homered and drove in a career-high five runs and Jason Pridie hit a go-ahead single and stole home for the Mets. Chris Capuano (3-4) allowed six hits and two runs in five innings. He struck out six. Aneury Rodriguez (0-2) didn't allow a hit until the fifth, but finished with five earned runs and four walks in his third major league start. Francisco Rodriguez pitched a perfect ninth for his 12th straight save. He has not allowed a run in 14 appearances since April 14.