February, 23, 2015
Feb 23
3:30
PM ET
PORT ST. LUCIE, Fla. -- Right-hander Matt Bowman has one distinction none of the other 56 players in Mets camp can claim: an Ivy League degree.
Bowman, drafted by the Mets in the 13
th
round in 2012 out of Princeton, twice attended fall-semester classes after turning professional. He wrote his senior thesis last spring training and claimed his economics degree with fellow graduates in last June's commencement ceremony, which favorably coincided with a Binghamton Mets off-day.
"It was extremely convenient the way it worked out," said Bowman, a non-roster invite to big-league camp. "I think we were in Altoona, so it was like a four-hour drive maybe. I went back, walked [in the ceremony] -- it was great, I saw all my friends -- and then I came back and rejoined the team."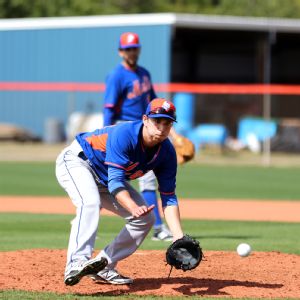 Adam RubinMatt Bowman fields a comebacker during drills at Mets camp in Port St. Lucie.
Bowman, 23, went a combined 10-8 with a 3.22 ERA in 24 appearances (23 starts) between Double-A Binghamton and Triple-A Las Vegas last season. Although fellow prospects
Noah Syndergaard
,
Steven Matz
and
Rafael Montero
get the hype, Triple-A manager Wally Backman on multiple occasions has predicted Bowman will be a major leaguer.
Bowman throws a fastball that sits at 90-94 mph, plus a curveball, slider and changeup. His delivery resembles Tim Lincecum's style, although Bowman said their motions have diverged in recent years.
"When I first got drafted, the two deliveries were very similar. But since then I've tried to move away from it," Bowman said. "I still get the comparison. I looked at his delivery quite a bit, so I feel that I know the nuances and the subtleties of it. In that sense I feel that they've diverged quite a bit. But on the surface, if you just look at them both, I guess I'm too close to it to see how similar they really are.
"His arm angle is a little higher, and I've come down a little bit to get some more movement on the two-seam. And then that exaggerated twist is a bit too much for me. And that head leaning back, where his head seems to go outside his body, I've tried to stay forward with the head instead of drifting off to the side."
Bowman's Triple-A debut came July 5, when he needed 64 pitches to navigate 3 2/3 innings. From there, Bowman had a 1.32 ERA over his next four Las Vegas starts before stumbling at the end of the season, including allowing five runs in one-third of an inning in his lone relief appearance.
"He has great movement on his fastball," Vegas batterymate Kevin Plawecki said. "That's what makes him so effective. He's just got a lot of sink. He's just going to attack the zone. And he's just an athlete on the mound, which helps. He fields the position really well.
"He's got great offspeed stuff, too. He can throw any pitch he wants in any situation. As a game-caller, in my situation, it makes it easier knowing that he can throw just about any pitch he wants in any count -- whether it be his curveball or split finger or whatever."
Meanwhile, Bowman picked a baseball topic for his senior thesis at Princeton. He evaluated how teams performed with free-agent baseball contracts.
He might entertain front-office work someday, after his pitching career.
"It's possible," Bowman said. "I chose that [topic] mostly because it would keep me interested. I have an economics degree. It ended up being 80 pages, I think. You had to be focused on it for half a year. So I wanted something that would keep me interested for that amount of time.
"But certainly, putting a team on the field, we watch decisions be made. We want to know how that works."