June, 11, 2014
6/11/14
8:05
AM ET
NEW YORK -- One year certainly has made a dramatic difference for 23-year-old middle infielder
Matt Reynolds
, the Mets' second-round pick in 2012 out of the University of Arkansas.
A year ago, in his first full professional season, Reynolds hit only .226 in 433 at-bats with Class A St. Lucie.
This season, he has a .361 average in 194 at-bats with Double-A Binghamton. Add in 27 walks and Reynolds has a .437 on-base percentage. The batting average is tied for second in all of minor league baseball.
Reynolds indicated his offseason work with
Rick Strickland
in St. Louis paid big dividends.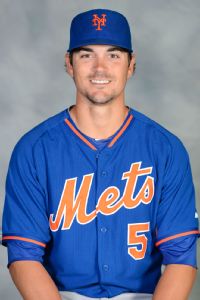 Courtesy of New York MetsMatt Reynolds
Reynolds' agent,
Jason Wood
, sent him to work with Strickland. Another client, the Phillies'
Cody Asche
, also had success working with the part-time Mets scout and former Yankees minor leaguer.
"Luis Rivera, our [Binghamton] hitting coach, has been huge with me, too," Reynolds added. "We've just been working on staying through the middle, having a confident approach at the plate, and really just getting a good pitch to drive. And if they don't give it to me, and I get to two strikes, just battle and find a way to get on base.
"I'm trying to keep a positive attitude, even when things are going bad. So far things really haven't gone too bad. So it's pretty easy to keep a positive mental state. But even when things start going bad, just to stay positive and keep working."
Reynolds missed six days last week with a back issue, but he has come back on fire. He is 11-for-24 in five games since returning.
"It was just muscle tightness," Reynolds said. "They never really said specifically what it was, but they said if I kept having pain to take time off until I was better. I think I took four days off and felt 100 percent. I feel a lot better now."
Reynolds "definitely" continues to aspire to be a shortstop, although deficiencies may result in him playing elsewhere. He also sees roughly two games a week at second base with the B-Mets.
"I only played a couple of games in college at second, but I worked there a lot and practiced and everything," Reynolds said. "I actually played summer ball at second. So I have a little background at second. I just had to get used to it again after playing third and short in college and everything. It's nothing different to me -- just another position to help my value and to get better."
Asked what he wanted to still polish in the minors, Reynolds added: "I really want to improve on being able to pull the ball a little bit better, and my defense, obviously. I want to stay at shortstop or even at second base. And I know there are a lot of things that I need to work on, like my hands and footwork, to be able to stay at that position. I know that may not come today or tomorrow, but eventually I feel like I'll be able to get everything I need to do to play at those positions."
Reynolds is athletic. A point guard in high school, he indicated he had invitations to walk on to basketball programs at Iowa State, Furman and Butler.
"After my sophomore year [of high school], I was almost for sure that I was going to play basketball in college," Reynolds said. "I was close to playing basketball in college. And then I had a good junior year. And in the summer of my junior year I was talking to some professional scouts and they said I really had a chance of being a good player in baseball. I sat down with my parents and decided that baseball was probably my best route to go -- better than basketball – because I was a 6-foot guy trying to make it in an NBA where the point guards are 6-8 now. So it would be have been tough for me."
Organization leaders
Average:
Matt Reynolds, Binghamton, .361; Jairo Perez, St. Lucie, .353; T.J. Rivera, St. Lucie, .351; Kevin Plawecki, Binghamton, .344; Jeff McNeil, Savannah, .341; Brandon Nimmo, St. Lucie, .327; Matt Clark, Binghamton, .313; L.J. Mazzilli, Savannah, .304; Dilson Herrera, St. Lucie, .302; Allan Dykstra, Vegas, .299.
Homers:
Andrew Brown, Vegas, 13; Matt Clark, Binghamton, 9; Allan Dykstra, Vegas, 9; Kirk Nieuwenhuis, Vegas, 9.
RBIs:
Allan Dykstra, Vegas, 46; T.J. Rivera, St. Lucie, 45; L.J. Mazzilli, Savannah, 43; Kevin Plawecki, Binghamton, 40; Aderlin Rodriguez, St. Lucie, 39.
Steals:
Dilson Herrera, St. Lucie, 14; Jeff McNeil, Savannah, 14; Patrick Biondi, Savannah, 13; L.J. Mazzilli, Savannah, 11; Brandon Nimmo, St. Lucie, 9.
ERA:
Steven Matz, St. Lucie, 2.13; Kevin McGowan, Savannah, 2.14; John Gant, Savannah, 2.36; Darin Gorski, Vegas, 2.81; Matt Koch, St. Lucie, 3.24; Gabriel Ynoa, St. Lucie, 3.45; Ricky Knapp, Savannah, 3.99; Luis Cessa, St. Lucie, 4.08; Matt Bowman, Binghamton, 4.44; Noah Syndergaard, Vegas, 4.47.
Wins:
Matt Koch, St. Lucie, 6; John Gant, Savannah, 6; Gabriel Ynoa, St. Lucie, 6.
Saves:
Chasen Bradford, Binghamton, 11; Robert Coles, Savannah, 11; Randy Fontanez, St. Lucie, 9; Vic Black, Vegas, 7; Jeff Walters, Vegas, 6; Beck Wheeler, St. Lucie, 6.
Strikeouts:
Darin Gorski, Vegas, 64; Miller Diaz, Savannah, 59; Dana Eveland, Vegas, 58; Dario Alvarez, Savannah, 58; Noah Syndergaard, Vegas, 57.
Short hops
•
Sandy Alderson
indicated the Mets are within days of signing first-round pick
Michael Conforto
, an outfielder from Oregon State. The GM added that third-round pick
Milton Ramos
, a prep shortstop from Florida, is even closer to being signed. Other picks already in or en route to Port St. Lucie include
Eudor Garcia
(fourth round),
Josh Prevost
(fifth),
Dash Winningham
(eighth),
Erik Manoah
(13th),
Darryl Knight
(14th),
David Roseboom
(17th),
Tyler Badamo
(24th) and
Matt Blackham
(29th).
• Discussing his rationale for the first time for demoting
Travis d'Arnaud
, Alderson said: "He needs to go down without the pressure of playing every day at the major league level, get his swing back, get his confidence back, and I would expect that he'll be back -- hopefully -- relatively soon. It's not unusual. Sometimes we expect that guys will come up and everything will click immediately with a young player and it's nothing but an upward trajectory. And that doesn't always happen. I think we have to recognize that and be a little patient. As far as we're concerned, there's no reason Travis can't come back and be a very productive player for us."
• After seven weeks mysteriously away from the organization,
John Lannan
threw roughly 45 pitches off a mound at the Mets' Florida complex on Tuesday morning. In a post-throwing-session interview with the St. Lucie News Tribune's
Jon Santucci
, Lannan declined to disclose his whereabouts during his absence. The Mets have labeled it a personal/family matter. Lannan will work as a starter in the minors. He will pitch in the Gulf Coast League or Florida State League to ramp up before being dispatched to Las Vegas.
"Let's call it a mini-spring training -- just stretch out and see how it goes," Lannan told Santucci. "I've been throwing, so now I'm just going to get back in the swing of things, face some batters and get my pitch count up. My arm feels good. I just have to get back on a five-day rotation and get my pitch count going."
• Shortstop
Amed Rosario
, temporarily with Savannah, is expected to highlight the roster of the Brooklyn Cyclones, who open play Friday at Staten Island. The 18-year-old Rosario signed two years ago for $1.75 million, a franchise record for an international teenager. The Cyclones also will include 2013 third-round pick
Casey Meisner
, a right-hander out of high school in Texas, as well as infielder
Jhoan Urena
, catcher
Tomas Nido
, outfielder
Joe Tuschak
and right-handers
Marcos Molina
,
Corey Oswalt
and
Brandon Welch
.
Kingsport opens play June 19, with the Gulf Coast League season beginning the following day.
• Vegas reliever
Jeff Walters
, a 40-man roster member, is debating whether to proceed with Tommy John surgery or to try to rehab after being diagnosed with an ulnar collateral ligament tear in his right elbow. Walters unwittingly had been pitching through the tear this season. He produced an 8.86 ERA in 23 Pacific Coast League relief appearances. He had 38 saves last season with Binghamton.
• 2011 first-round pick
Brandon Nimmo
remains sidelined since getting struck with a pitch in the right wrist Friday by Dunedin's
Matt Boyd
. X-rays were negative, but the wrist remains tender and Nimmo is unable to swing. Also injured with St. Lucie, reliever
Beck Wheeler
and shortstop
Phillip Evans
have landed on the DL with right-knee strains.
June, 7, 2014
6/07/14
1:31
AM ET
FRESNO 10, LAS VEGAS 1:
Noah Syndergaard
(A/C joint sprain) watched the game from the stands wearing a sling. Pitching coach
Frank Viola
joined the 51s after recovering from April 2 open-heart surgery. Starter
Darin Gorski
allowed four runs in five innings. Relievers
Zack Thornton
,
Miguel Socolovich
and
John Church
allowed two runs apiece.
Box
NEW BRITAIN 6, BINGHAMTON 3:
New Britain first baseman
Kennys Vargas
produced a grand slam and two-run double to hand the B-Mets their sixth loss in seven games. Before Vargas' power display, Binghamton opened scoring in the first against New Britain starter
Virgil Vasquez
.
Brian Burgamy
worked a one-out walk and moved to third on a single by
Jayce Boyd
.
Darrell Ceciliani
laced a two-out single to plate both runners for a 2-0 lead. B-Mets starter
Matt Bowman
fanned six batters through the first five innings, but ran into trouble in the sixth.
Tony Thomas
started a Rock Cats rally with a single.
Eddie Rosario
then doubled and Bowman walked
Nate Hanson
to load the bases. That brought Vargas to the plate with none out. He smashed a pitch over the right-field wall to give the Rock Cats a 4-2 lead. The B-Mets got a run back in the bottom half on
Matt Clark's
solo homer. That would be all Binghamton could produce against Vasquez. At one point, the veteran righty retired 14 of 15 B-Mets batters. Vargas drove in two insurance runs in the seventh against
Adam Kolarek
. Bowman (3-4) went 5 2/3 innings, gave up four runs and struck out seven.
Cody Satterwhite
and
Ryan Fraser
combined to pitch 2 2/3 scoreless relief innings in the loss.
Box
ST. LUCIE 5, DUNEDIN 0:
Gabriel Ynoa
tossed seven scoreless innings and limited the Blue Jays to four hits. He struck out 11, a season high for any Mets pitcher, and did not

Ynoa
issue a walk. 2011 first-round pick
Brandon Nimmo
was forced to leave the game after he was hit by
Matt Boyd
on the right wrist/forearm in the fifth. He initially stayed in the game, but departed an inning later after trying to swing a bat. In the first inning,
T.J. Rivera
had a two-out single against Boyd.
Jairo Perez
then drilled a ball to left field. With the sun in his eyes,
Dwight Smith Jr.
misjudged the ball and it went passed him, allowing Rivera to score. In the sixth,
Eudy Pina
singled home Perez with the bases loaded to make it 2-0.
Albert Cordero
crushed his first home run of the season, a two-run shot in the eighth, to extend the lead to 4-0. Perez made it a two-hit night in the ninth, driving in
Dilson Herrera
to cap the scoring. Ynoa surrendered a pair of two-out singles in the first, but Cordero tagged out
Marcus Knecht
trying to score on a double-steal bid to end the inning. Ynoa retired 18 of the last 20 he faced, including the final seven.
Gonzalez Germen
, in his fourth rehab appearance, allowed one hit and struck out two in the eighth.
Randy Fontanez
, voted to the Florida State League All-Star Game earlier this week, struck out two and also stranded two in the ninth to close out the game.
Box
SAVANNAH 10, CHARLESTON 4:
L.J. Mazzilli
and
Amed Rosario
homered.
Jeff McNeil
went 3-for-4 with two RBIs and raised his average to .345.
Dario Alvarez
(4-0),
Akeel Morris
and
Tyler Vanderheiden
combined for 4 1/3 innings of scoreless pitching in relief of
Robert Gsellman
.
Box
Compiled with team reports
May, 27, 2014
5/27/14
10:17
PM ET
LAS VEGAS 8, EL PASO 5:
Omar Quintanilla
and
Andrew Brown
drove in two runs apiece as Las Vegas snapped a six-game losing streak. Starter
Dana Eveland
(5-1) allowed two runs in five innings.
Buddy Carlyle
produced a six-out save.
Box
BINGHAMTON 6, NEW HAMPSHIRE 0 (suspended):
The B-Mets and Fisher Cats played

Plawecki
into the bottom of the second inning before heavy rain suspended play. The B-Mets owned a 6-0 lead thanks to a five-RBI performance from
Kevin Plawecki
. Play resumes Wednesday at 5:35 p.m. A seven-inning contest will follow the completion of the suspended nine-inning game. Against New Hampshire starter
Matt Boyd
,
Kyle Johnson
led off the bottom of the first with a single.
Matt Reynolds
worked a one-out walk. Plawecki then came to the plate and smacked a two-run double. Plawecki moved to third on an error by second baseman
Jon Berti
. He scored on
Cory Vaughn's
single for a 3-0 lead. The hot hitting continued in the second inning. Johnson and Reynolds each worked two-out walks. Plawecki then belted a three-run homer. That brought
Jayce Boyd
to the plate in pouring rain. With a full count to Boyd, the game was suspended.
Matt Bowman
started for Binghamton and allowed one hit in two scoreless frames. Plawecki's five RBIs are already the most by a B-Met in a game this season. He has 27 RBIs in May.
Box
BREVARD COUNTY 2, ST. LUCIE 1:
St. Lucie's ninth-inning rally fell short on a night 2011
Nimmo
first-round pick
Brandon Nimmo
suffered what the Mets labeled a sprained left ankle. The center fielder hustled to cut off a double by
Nathan Orf
in right-center in the third inning and came up hobbling. He managed to get the throw into the infield and continued to jump on one leg to the warning track. Nimmo stretched out his leg near the track and did some light jogging and sprints to test himself. He was removed from the game, but managed to walk off the field under his own power.
Jorge Lopez
shut down the Mets through eight innings, allowing two hits and two walks. In the ninth,
Dilson Herrera
led off with a single, advanced to second on passed ball.
Gilbert Gomez
, who replaced Nimmo, then singled to put runners on the corners.
Kevin Shackelford
entered and coaxed a run-scoring groundout from
T.J. Rivera
. He then struck out
Jairo Perez
and
Cam Maron
to end the game. The Manatees mustered five hits, but one was a leadoff homer from
Jose Sermo
against
Michael Fulmer
in the third. The Manatees loaded the bases with no outs that inning and scored another run on a fielder's choice by
Alfredo Rodriguez
. Fulmer got a strikeout and double play to stop the bleeding. Fulmer walked four and hit two batters in his five-inning appearance.
Hunter Carnevale
contributed two scoreless relief innings.
Paul Sewald
tossed a perfect eighth. Gomez finished with two of the Mets' four hits.
Box
SAVANNAH at AUGUSTA (ppd.):
The game was postponed due to unplayable field conditions after the night's rainy weather. The game will be made up as part of a doubleheader Wednesday in Augusta.
Compiled with team reports
May, 17, 2014
5/17/14
10:11
PM ET
LAS VEGAS 6, EL PASO 4:
Brandon Allen
homered as part of a 2-for-5 night as Vegas improved to 31-11.
Buddy Carlyle
,
Zack Thornton
and
Vic Black
(sixth save) combined for three scoreless relief innings.
Box
BINGHAMTON 6, NEW HAMPSHIRE 5:
Travis Taijeron
doubled twice and
Kevin Plawecki
drove in two runs in Binghamton's fourth straight win. Binghamton broke a scoreless tie in the third against Fisher Cats starter
Matt Boyd
. Taijeron had a leadoff double and
Wilfredo Tovar
plated him by bouncing a single off Boyd's foot and up the middle. Following a wild

Taijeron
pitch that moved Tovar into scoring position,
Brian Burgamy
produced an RBI single for a 2-0 lead. Plawecki capped the inning's scoring by singling to right. Burgamy raced home from second, and needed an acrobatic headfirst dive to avoid a tag. B-Mets starter
Rainy Lara's
scoreless effort ended in the fourth on
Ryan Schimpf's
solo homer. Lara then retired seven of the next eight batters. Taijeron struck again for the B-Mets in the sixth. With two outs and
Jayce Boyd
at first, Taijeron smoked a 1-2 pitch from reliever
John Anderson
off the top of the left-field fence for his second double of the game. Boyd scored from first to give the B-Mets a 4-1 advantage. Schimpf's second solo homer of the game pulled New Hampshire within 4-2 in the sixth. A half-inning later, Binghamton opened a four-run lead. Anderson bounced a pickoff throw to first, prompting
Darrell Ceciliani
to scamper to second. With the ball still loose, Ceciliani tried for third. Right fielder
Matt Newman's
throw hit Ceciliani, enabling him to race home.
Cory Vaughn
and Plawecki followed by posting back-to-back two-out doubles. Lara was chased from the game in the seventh. With runners at the corners,
Peter Mooney
stroked an RBI double. Reliever
John Church
entered and surrendered a run-producing infield single to
Jon Berti
.
Kenny Wilson
followed with an RBI groundout, cutting Binghamton's lead to 6-5. Church intentionally walked Schimpf, then retired
A.J. Jimenez
. Church added a perfect eighth.
Cody Satterwhite
struck out two in a 1-2-3 ninth to earn his first save in affiliated baseball since July 23, 2011, when he was a Gulf Coast League Tiger. Lara (4-1) matched a season high with seven strikeouts over 6 1/3 innings.
Box
ST. LUCIE 6, LAKELAND 3:
Unbeaten
Matt Koch
allowed two runs on seven hits in 7 1/3 innings en route to his fifth win in his last five starts. The Mets scored four eighth-inning

Koch
runs to break a 2-all tie. Flying Tigers second baseman
Curt Powell
booted a ball with one out in the eighth that allowed
Maikis De La Cruz
to reach safely.
Dilson Herrera
followed with a double to place two in scoring position. Lakeland intentionally walked
Brandon Nimmo
to load the bases, but the plan backfired when Florida State League RBI leader
T.J. Rivera
singled to plate De La Cruz and put the Mets up 3-2.
Jairo Perez
then drew a bases-loaded walk and
Cam Maron
lined his third single of the game to plate another run and make it 5-2.
Gilbert Gomez
capped the frame's scoring on a sac fly. Koch got one out in the bottom of the eighth before surrendering a single and departing.
Randy Fontanez
recorded the final five outs. The Mets had taken a 1-0 lead in the third when Herrera got caught in a rundown but kept himself alive long enough to allow De La Cruz to score from third. Lakeland made it 1-1 in the fourth when
Chad Wright
tripled and scored on a wild pitch.
James Robbins
gave the Flying Tigers a brief lead when he opened the fifth with a homer. The Mets tied the score in the sixth when Herrera doubled and reached home on Perez's two-out single. Herrera went 3-for-5. Maron went 3-for-4.
Box
CHARLESTON 3, SAVANNAH 1:
The Gnats (28-13) had runners on base in each inning, but finished 0-for-15 with runners in scoring position and left 13 men on base. The RiverDogs scored a pair of unearned runs in the first against starter
Robert Gsellman
, in his return from the disabled list after a three-week absence. Shortstop
Gavin Cecchini
had a game-opening fielding error.
Aaron Judge
and
Miguel Andujar
collected RBI singles later in the frame. Charleston added a run in the fifth against reliever
John Mincone
, on
Michael O'Neill's
RBI single. The Gnats scored their lone run in the ninth.
Champ Stuart
began the inning by beating out an infield single with a dive into first. He advanced to second on Cecchini's single and scored on
Stefan Sabol's
infield tapper. Stuart, in his second game as a Gnat, finished 2-for-5 with a stolen base.
L.J. Mazzilli
was 3-for-5 to lift his season average to .250.
Box
Compiled with team reports