New York Mets:

Melky Cabrera
July, 30, 2012
7/30/12
10:00
AM ET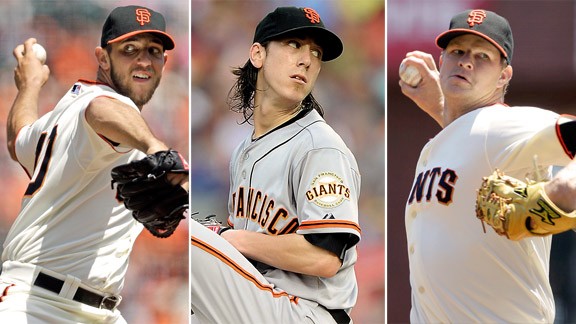 Associated Press/Getty Images
The Mets face (l to r) Madison Bumgarner, Tim Lincecum and Matt Cain during the opening three games of a series in San Francisco.
METS (49-53, third place/NL East) vs. SAN FRANCISCO GIANTS (55-46, first place/NL West)
Monday:
RHP
Jeremy Hefner
(1-4, 5.40) vs. LHP
Madison Bumgarner
(11-6, 3.10), 10:15 p.m. ET
Tuesday:
RHP
Matt Harvey
(1-0, 0.00) vs. RHP
Tim Lincecum
(4-11, 5.88), 10:15 p.m. ET
Wednesday:
LHP
Jon Niese
(7-5, 3.86) vs. RHP
Matt Cain
(10-3, 2.80), 10:15 p.m. ET
Thursday:
RHP
Chris Young
(2-5, 4.58) vs. LHP
Barry Zito
(8-7, 3.89), 3:45 p.m. ET
Giants short hops
• Infielder
Marco Scutaro
made his Giants debut Saturday, starting at third base. Scutaro was acquired from the Rockies for 23-year-old infielder
Charlie Culberson
. Scutaro, 36, hit .271 (102-for-377) with four homers and 30 RBIs in 95 games with Colorado. He last had manned third base in 2008 with Toronto. Scutaro had roughly $2 million remaining on his contract, which the Rockies are subsidizing. He took No. 19, pushing pitching coach
Dave Righetti
to No. 33.
Middle infielder
Emmanuel Burriss
was designated for assignment to clear the roster spot. He was hitting .214 with no homers in 131 at-bats.
Scutaro is being used at third base because NL All-Star starter
Pablo Sandoval
(.299, 8 HR, 33 RBIs) landed on the disabled list with a strained left hamstring. Sandoval suffered the injury while doing a split manning first base on a double play. It was Sandoval's third game appearing at first base this season.
• San Francisco TV station KPIX reports the Giants are poised to acquire
Hunter Pence
from the Phillies, but the San Francisco Chronicle did not corroborate the report.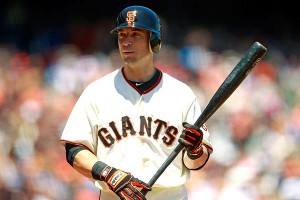 Cary Edmondson/US Presswire
Marco Scutaro made his Giants debut Saturday after being acquired from Colorado.

•
Aubrey Huff
(.150 in 60 at-bats) played Saturday for the first time since July 28. He missed 35 games with a sprained right knee, which he suffered jumping over the dugout railing to celebrate
Matt Cain's
perfect game. Huff will serve as a reserve first baseman/pinch hitter.
• Ex-Met
Angel Pagan
, who was shipped to San Francisco for
Andres Torres
and
Ramon Ramirez
, is hitting .218 (17-for-78) in July. Pagan was caught Sunday for only the fourth time in 21 steal attempts this season. He has started 92 of San Francisco's 101 games in center field.
• First baseman
Brandon Belt
went 1-for-3 Sunday, but is hitting .140 (8-for-57) with four RBIs in 21 games (13 starts) since July 3.
• After limiting Houston and Philadelphia to a combined two runs and 10 hits in 15 innings while striking out 17 and walking three in consecutive starts,
Tim Lincecum
was roughed up by San Diego last week. Lincecum allowed five runs in 4 2/3 innings, including homers by
Chase Headley
and
Jesus Guzman
.
• Cain's .214 opponent batting average ranked fourth in the National League entering Sunday, trailing only Washington's
Gio Gonzalez
(.197), San Diego's
Edinson Volquez
(.209) and Chicago's
Ryan Dempster
(.210).
• All-Star
Melky Cabrera's
.353 average ranks second in the NL, trailing only Pittsburgh's
Andrew McCutchen
(.368).
• The Dodgers completed a weekend sweep of the Giants with a 4-0 win Sunday to pull even in the NL West standings. The teams finish the season with a three-game series at Dodger Stadium from Oct. 1-3.
• A handful of Mets players noticed while watching on TV on Saturday that catcher
Buster Posey
is gun shy on plays at the plate after suffering last year's season-ending leg fracture. Posey stands in fair territory fielding outfield throws and tries to reach back toward the plate for the tag. The positioning added to the scoring damage against
Barry Zito
over the weekend.
•
Hector Sanchez
(left knee sprain) is likely to return from the DL on Thursday and catch Zito.
• Against Cincinnati on June 28,
Madison Bumgarner
became the fourth Giants pitcher age 22 or younger in the live-ball era to throw a shutout while allowing one hit or fewer, according to ESPN Stats & Information. The others:
Mike McCormick
in 1959,
Juan Marichal
in 1960 and Cain in 2006.
• With closer
Brian Wilson
out for season following elbow surgery,
Santiago Casilla
has 24 saves, which ranks third in the NL. However, Casilla has blown six chances, tied for the league high. That includes five blown saves in his past nine attempts.
• Left-handed reliever
Jeremy Affeldt
had an 8 1/3-inning scoreless streak and lefty batters were hitting only .136 against him this season before L.A. touched him for two runs Sunday.
•
Brad Penny
, who began the season with the Fukuoka Softbank Hawks in Japan, signed a minor league deal with San Francisco on May 18 and was promoted June 29. Working in relief, Penny has allowed nine runs (eight earned) on 15 hits and two walks in his past six appearances, spanning eight innings.
• Ex-Met
Joaquin Arias
, who had arrived in New York in a trade with Texas for
Jeff Francoeur
, is 3-for-his-last-45 with runners in scoring position.
• The Giants' AT&T Park will host the semifinals and finals of the World Baseball Classic during spring training.
Last series results
San Francisco won, 3-1, at Citi Field, April 20-23 (AP game recaps)
Giants 4, Mets 3 (10 innings):
Clay Hensley came in and escaped a two-on, none-out jam in the 10th to preserve the win. Hector Sanchez tagged out Kirk Nieuwenhuis to prevent the Mets from winning in the ninth, then singled home the go-ahead run off Frank Francisco in the 10th. San Francisco took a 3-0 lead in the third when Angel Pagan homered in his return to New York, Buster Posey hit an RBI double and Jon Niese threw a run-scoring wild pitch. New York's first two hits off Zito were homers, by Jason Bay in the fourth and Nieuwenhuis in the fifth. Bay reached on an infield hit to deep shortstop off Santiago Casilla leading off the ninth. Javier Lopez entered and retired pinch hitter Lucas Duda, then threw a wild pitch. Nieuwenhuis walked and Josh Thole singled to drive in the tying run.
More
Mets 5, Giants 4:
A high popup that started twisting in the wind turned the ninth inning into an adventure at Citi Field. In one of the craziest endings imaginable, Ruben Tejada scored the winning run on a throwing error by catcher Buster Posey and the Mets won after blowing a three-run lead moments earlier. Mike Pelfrey tossed eight terrific innings, outpitching Ryan Vogelsong and helping the Mets build a 4-1 cushion. Emmanuel Burriss hit an RBI single in the ninth, but New York appeared poised to lock up a fairly simple victory when Jon Rauch entered with two outs and got pinch hitter Brandon Belt to hit a high fly to shallow center. Tejada had trouble with it immediately, though, fighting to get under the ball behind shortstop as it swirled around in the wind. Rookie center fielder Kirk Nieuwenhuis came rushing in and overran the ball, which dropped behind him for a two-run double.
More
Giants 6, Mets 1
Giants 7, Mets 2:
Madison Bumgarner pitched seven neat innings, Pablo Sandoval homered to match a team mark set by Willie Mays and the Giants notched a doubleheader sweep. The Giants took the opener as Tim Lincecum posted his first win of the season. Sandoval hit a three-run homer in the first inning to back Bumgarner. He has a 16-game hitting streak, tying the San Francisco record at the start of a season set by Mays in 1960, STATS LLC said. Hector Sanchez later hit his first big league homer, a two-run shot. Bumgarner (3-1) allowed one run and three hits. He won his third straight start, a streak that began shortly before the 22-year-old lefty signed a $35.56 million, six-year contract. Both games were similar: Sandoval put San Francisco ahead for good in the first inning, the Giants supported their starter with two homers, and they got plenty of pitching. Nate Schierholtz and Buster Posey homered in the opener. Schierholtz had six hits during the day, including two triples. Battered in his first three starts, Lincecum (1-2) allowed one run in five innings and struck out eight. He also walked five and gave up four hits in lowering his ERA from 10.54 to 8.20.
More
April, 19, 2012
4/19/12
8:18
AM ET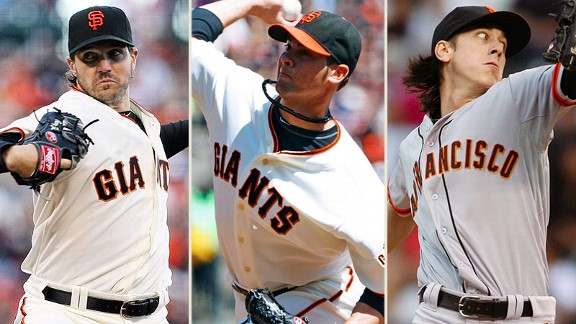 US Presswire
The Mets face (l to r) Barry Zito, Ryan Vogelsong and Tim Lincecum in the opening three games of the series.
METS (7-5, second place/NL East) vs. SAN FRANCISCO GIANTS (6-6, third place/NL West)
Friday:
LHP Jon Niese (2-0, 2.13) vs. LHP Barry Zito (1-0, 1.13), 7:10 p.m. ET
Saturday:
RHP Mike Pelfrey (0-0, 3.09) vs. RHP Ryan Vogelsong (0-1, 2.84), 1:10 p.m. ET
Sunday:
RHP Dillon Gee (1-1, 2.92) vs. RHP Tim Lincecum (0-2, 10.54), 1:10 p.m. ET
Monday:
LHP Johan Santana (0-2, 3.97) vs. LHP Madison Bumgarner (2-1, 3.63), 7:10 p.m. ET
Giants short hops
• After a 3-for-27 start to his Giants career, center fielder
Angel Pagan
had three multi-hit games -- and three triples -- in a four-game span through Tuesday. He looked particularly good facing Phillies ace
Roy Halladay
. Pagan, known for his lapses in the field and on the bases, has been mostly sound in that respect -- albeit with one costly miscue. Playing center field behind
Tim Lincecum
on Monday in the first inning with one out and none on, Pagan did not take charge on a fly ball by Philadelphia's
Placido Polanco
to right-center. He and right fielder
Melky Cabrera
both pulled off and the ball fell for a double that started a four-run rally. Pagan has batted leadoff in all but one of his starts this season. He was traded to San Francisco at the winter meetings in December for
Andres Torres
and
Ramon Ramirez
.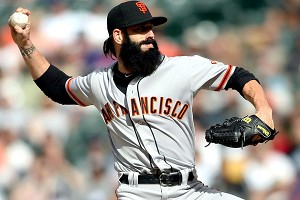 Chris Humphreys/US Presswire
Brian Wilson is expected to undergo Tommy John surgery and miss the remainder of the season.

• Closer
Brian Wilson's
season appears to have ended after an April 12 appearance in Denver because of a right elbow injury that is expected to require Tommy John surgery. Wilson has a second-degree sprain of the UCL, which has not completely torn off the bone. Still, he was expected to opt for the procedure. Wilson has sought opinions from Dr.
Lewis Yocum
in Los Angeles and then Dr.
James Andrews
in Birmingham, Ala., on Wednesday.
Santiago Casilla
handled the first closing opportunity and should get the bulk of the chances in Wilson's absence. Last season, when Wilson did not pitch over the final six weeks except for two appearances, the Giants were 9-for-9 in save conversions. Casilla recorded six. Ramirez, now with the Mets, handled the other three.
•
Barry Zito
tossed a four-hit shutout at Colorado in his first start of the season, then limited the Pittsburgh Pirates to three runs (two earned) in seven innings in his second start. Zito changed radically changed his delivery over winter while working with former major league pitcher
Tom House
. The mechanical changes involve more drive with Zito's legs as well as increased follow through.
Zito and
Matt Cain
, incidentally, attended a Sunday concert by Bay Area-spawned Train and were invited on stage, where they participated in performing "Save Me, San Francisco" and "Don't Stop Believin'."
• The Giants followed the major league trend of locking up young left-handed starting pitching, announcing this week the signing of
Madison Bumgarner
to a five-year extension, though 2017, with options for the following two seasons. Potentially worth as much as $70.5 million, it is the biggest contract ever given to a player with only one-plus years of major league service time. Bumgarner, 22, would not have been eligible for free agency until after the '16 season.
The Texas Rangers similarly locked up left-hander
Derek Holland
and the Mets signed
Jon Niese
-- both for five guaranteed years -- during spring training.
Two starts ago, Bumgarner took a no-hit bid into the sixth inning against the Rockies. The southpaw matched up against
Jamie Moyer
that start -- marking the third-largest age disparity between starting pitchers in MLB history, according to the Elias Sports Bureau.
Bumgarner's deal came two weeks after the signing of Cain by the Giants to an additional five years at $112.5 million on top of the right-hander's existing deal. After the two signings, the Giants made courtesy calls to representatives for Lincecum and catcher
Buster Posey
to say they are interested in extension discussions as well … after the season.
• Cain and Philadelphia's
Cliff Lee
had a scoreless duel into extra innings Wednesday. Lee logged 10 scoreless innings; Cain logged nine. San Francisco won, 1-0, in 11 innings on
Melky Cabrera's
RBI single against
Antonio Bastardo
.
• Posey, whose 2011 season ended with broken left leg suffered in a May 25 plate collision with the Marlins'
Scott Cousins
, now is playing through shingles on his left arm.
• Lincecum is not eligible for free agency until after the 2013 season. The team wanted a longer deal with him, but he only agreed to a two-year, $40.5 million contract. Lincecum has allowed more first-inning runs this season (nine) than he did during all of his 2011 starts (eight). He has allowed at least five earned runs in each of his three starts this season. Since his first start, Lincecum has reincorporated a slider that he had hoped to shelve because it taxes his arm. Lincecum's fastball velocity averaged only 90 mph in his third start, Monday opposite Halladay. His second outing, when he lasted only 2 1/3 innings at Colorado, was the shortest start of his career.
September, 17, 2010
9/17/10
11:27
PM ET
NEW YORK -- Jonathon Niese can trace his struggles Friday night during the Mets' 6-4 loss to the Atlanta Braves back to one at-bat, versus opposing pitcher Tommy Hanson.

All Niese had to do was get one out. Retire his fellow starter, who came into the game hitting just .109 on the year, and he would head to the dugout still up 3-1 heading to the bottom of the fourth inning.

Only, it wasn't that easy. Niese's fastball kept cutting on him, moving out of the zone and being called a ball. The count went full before Niese missed with a cutter to walk the pitcher, a cardinal sin in baseball.

Three batters and six runs later, his walk cost him the ballgame.

"One minute I'm winning 3-0 and then before I know it, we're down 6-3," Niese said. "I tried to get through it, but I couldn't get through it."

Niese's walk to Hanson led to six Braves runs in the top of the fourth, as the Mets' four-game winning streak was snapped at Citi Field. While none of the runs were earned, as third baseman David Wright made a throwing error that prolonged the frame, Niese unraveled with two outs, allowing four straight runners to reach base, including a game-winning three-run homer by Jason Heyward.

"Walking Hanson, there's no excuse for that obviously," Niese said. "But other than that, I felt good. Really [Heyward's] three-run homer is what broke it open, but other than that, I thought it wasn't too bad."

Niese cruised through the first three innings of the game, giving up just one hit, a single to Heyward in the third inning. Meanwhile, Niese's teammates gave him an early cushion as they scored three runs in the second against Hanson, including RBIs from Lucas Duda, Jose Reyes and Niese himself.

In the fourth, though, it all went amuck. Wright's throwing error on a groundball by Matt Diaz put two men on with one out, and loomed large after Niese retired Alex Gonzalez for the second out. Melky Cabrera then singled to slice the lead to 3-1, and then came the dooming walk to Hanson to load the bases.

Omar Infante followed with a chopper down the third-base line that scooted past the glove of a diving Wright and plated two runs to tie the game, and Heyward then smoked a 1-2 curveball off the Subway sign in the right-field bleachers to give the Braves a 6-3 lead.

Niese (9-9) lost for the fourth time in his past five starts, and has now dropped two straight decisions. He said he felt strong going into the game and felt strong as the game progressed, although fatigue did start to set in as he labored during the fourth inning.

According to ESPN Stats & Information, Niese is the first Mets pitcher to give up six or more runs with none being earned since Al Leiter on April 13, 2002. It's also the most team runs allowed, with none being earned, in Mets history.

"It's tough, obviously I want to get through it and help my guys," Niese said about the error that extended the inning. "And it's frustrating not being able to do that."

While the final outcome wasn't pretty for the Mets, as they dropped back to .500 at 74-74, manager Jerry Manuel didn't seem too discouraged about what he saw from his starter. But, like most in the park on this night, he was left wondering what could've been had Niese just been able to retire the opposing pitcher.

"That was probably the biggest swing of the game, that brought back the top of the lineup and they put some good swings on him," Manuel sad. "But I thought Jonathan Niese had good stuff going into tonight. Those first couple of innings, I really thought he had good stuff, but it got away from us, we made an error and was not able to overcome it."
September, 17, 2010
9/17/10
6:21
PM ET
9:46 p.m.: The Mets four-game win streak is over. Billy Wagner shuts down the Mets in the ninth and New York loses 6-4 and falls to 74-74. Niese loses for the fourth time in his last five starts, while Hanson wins for just the second time in 14 starts. Thanks for reading.

9:32 p.m: The Mets are going to have to win in a walkoff. It's 6-4 Atlanta entering the ninth.

9:12 p.m.: Mets waste a pinch-hit double from Nick Evans, and trail 6-4 going to the 8th inning.

9:04 p.m.: The Braves make the call to the bullpen, as Jonny Venters is replacing Hanson. We go to the bottom of the 7th.

8:55 p.m.: The Mets still trail 6-4 as we head to the 7th.

8:25 p.m.: Lucas Duda gets his second hit of the night, a home run to nearly the same spot Heyward hit his to make it a 6-4 game. Niese has been pinch-hit for by Mike Hessman in the bottom of the fourth here. We go to the fifth, Sean Green is in.

8:17 p.m.: Things just got out of hands quickly. Niese walks Tommy Hanson to load the bases, and Omar Infante follows with a chopper down the third base line that squeaks by a diving David Wright to make it 3-3. Heyward then clobbers a home run to right off the subway sign on the Pepsi Porch and it's 6-3 Braves.

8:11 p.m.: The Braves finally crack through with a run. A throwing error to second base by David Wright on a fielder's choice by Matt Diaz prolongs the inning, and Melky Cabrera singles in a run to make it 3-1.

7:58 p.m.: For the first time tonight, Jon Niese has to work himself out of a jam. He walks Omar Infante with two outs, and then gives up a single to Jason Heyward, who reaches second when Carlos Beltran throws to third. Niese works out of it by retiring Martin Prado to end the frame. 3-0 going bottom three.

7:43 p.m.: The Mets strike first and in a big way. Ike Davis works a walk and moves to third when Josh Thole singles to right-center. Davis then scores when Lucas Duda singles to left. Thole later scores when Jon Niese bloops a single to left field to give the Mets a 2-0 edge. Jose Reyes follows with a single to right field past the diving glove of Derrek Lee and it's 3-0. Going to the third.

Braves manager Bobby Cox has aloso been ejected from the game for arguing after Davis' at-bat. It was unsure what his argument was.

7:04 p.m.: Angel Pagan has been scratched from the game because of family issue. Chris Carter is in right field instead and still batting second.

6:17 p.m.: Lineups

Mets
Jose Reyes SS
Angel Pagan RF
Carlos Beltran CF
David Wright 3B
Ike Davis 1B
Josh Thole C
Lucas Duda LF
Ruben Tejada 2B
Jon Niese LHP


Braves

Omar Infante 2B
Jason Heyward RF
Martin Prado 3B
Derrek Lee 1B
Brian McCann C
Matt Diaz LF
Alex Gonzalez SS
Melky Cabrera CF
Tommy Hanson RHP