New York Mets:

Mets Hall of Fame
July, 15, 2013
7/15/13
12:12
AM ET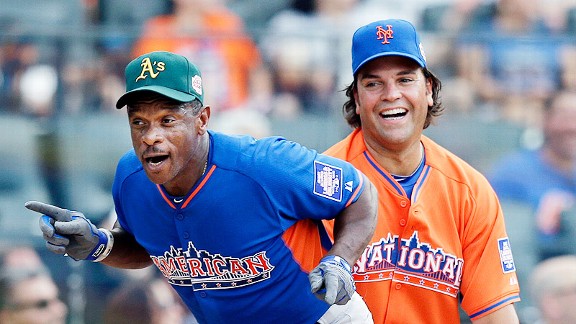 Kathy Willens/Associated PressMike Piazza and Rickey Henderson fool around during Sunday's celebrity softball game at Citi Field, which will be televised by ESPN tonight after the Home Run Derby.
PITTSBURGH
FIRST PITCH:
Barring a shocking turn of events,
Matt Harvey
is expected to be on the dais at a 1:30 p.m. press conference in the Caesars Club at Citi Field today, being introduced as the National League starting pitcher for Tuesday's All-Star Game.
Harvey should become the fifth All-Star pitcher to start in his home ballpark since MLB expanded 52 years ago. He will join
Roger Clemens
(Houston, 2004), Esteban Loiaza (Chicago, 2003),
Pedro Martinez
(Boston, 1999) and Steve Rogers (Montreal, 1982), according to the Elias Sports Bureau.
"I'd be very surprised,"
David Wright
said about anything other than Harvey being named the starter occurring. "I think he's deserving. It sucks that he missed this start [in Pittsburgh], but hopefully he's ready to pitch on Tuesday."
He will be ready. Harvey's
blister issue is resolved
, according to Terry Collins.
Wright takes center stage Monday evening, when he competes on ESPN at 8 p.m. in the Home Run Derby. It is Wright's first time participating in the event since finishing as the runner-up to
Ryan Howard
in Pittsburgh in 2006, in his inaugural All-Star year. That time,
Paul Lo Duca
pitched to Wright. This time, bullpen catcher Dave Racaniello draws the assignment.
"I'd say lefties probably have the better chance, just with the porch," Wright said. "It's probably a little more left-handed friendly down the line."
Meanwhile, since dropping 15 games under .500 on June 17 with a series-opening loss at Atlanta, the Mets have posted a 16-10 record. The positive spurt happens to coincide with
Eric Young Jr.
's arrival.
Still, the Mets (41-50) have dug a deep hole. They are nine games under .500 and own their worst All-Star break record since 2003, when they were 40-53 in Art Howe's first season as manager.
For the optimists, the Mets are 10 games behind the
Cincinnati Reds
for the second wild-card spot and 11 games behind the division-leading
Atlanta Braves
.
"Well, we're disappointed," Collins said. "We're not happy with where we're sitting. We got off to such a good start.
"We've had ups and downs. Heck, we've lost three-fifths of our starting rotation (
Johan Santana
,
Shaun Marcum
and
Jonathon Niese
). We've been scrambling to find guys to replace them. Ike [Davis] had a bad first half. We're hoping he has a tremendous second half, like he did last year. We've lost Lucas [Duda]. We've lost [Justin] Turner. We've had a lot of injuries. We lost our closer.
"Fortunately, we had a guy pick up that (
Bobby Parnell
). We've had to play through a lot, as all teams have. But we're certainly not satisfied with where we are. That's why I'm saying: I'm very proud of the way they've played in the last month. I had one of the guys that's not on our team the other day tell me: 'You know, a lot of teams could have cashed it in in your situation. And your team hasn't.' That's a pat on the back to those guys in that clubhouse."
Said Wright: "You always want to win games, no matter what position you're in. I think it's nice that … we have a little more confidence moving forward into the second half. But there's still a long way to go. But we had a nice month after a couple of pretty bad months. It's nice that we're progressively getting better. So hopefully the best is yet to come and we continue that trend."
Monday's news reports:
•
Jordany Valdespin
reportedly
had a temper tantrum
with dismayed teammates watching after getting demoted Saturday, according to the
Star-Ledger
.
The Post
subsequently reported Valdespin cursed out Collins and demanded to be placed on the disabled list. Given Valdespin's past baggage, who knows if we'll see him again?
•
Mike Piazza
will become the 27th member of the Mets' Hall of Fame
. He will be inducted before a Sept. 29 game against the
Milwaukee Brewers
. Read more in the
Star-Ledger
,
Post
,
Daily News
,
Newsday
and
MLB.com
.
•
Dillon Gee
allowed one unearned run in 6 2/3 innings
and the Mets completed a first-half-closing road trip with a
4-2 win against the Pirates
on Sunday afternoon at PNC Park.
Scott Atchison
returned from the disabled list and stranded two runners inherited from Gee.
Read game recaps in the
Post
,
Daily News
,
Newsday
,
Times
,
Star-Ledger
,
Record
and
MLB.com
.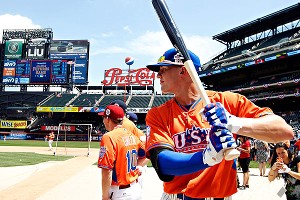 William Perlman/USA TODAY SportsYou could find Brandon Nimmo on Sunday at the Futures Game. He went 0-for-2.
• Noah Syndergaard and Rafael Montero
each tossed scoreless innings
in the Futures Game at Citi Field, with Montero requiring only nine pitches for a 1-2-3 frame. Brandon Nimmo, who
spoke about his season
playing for Savannah pregame, went 0-for-2. See a photo of the Mets' trio of prospects
here
.
Writes columnist John Harper
in the Daily News
about Syndergaard:
He's the new phenom, with [Zack] Wheeler in the big leagues now, showing the same type of stuff that again has scouts drooling.
"There's a lot of buzz about him," was the way GM Sandy Alderson put it on Sunday. "Every call I get [regarding trades] starts with, 'What about Syndergaard?' "
Alderson all but hangs up at that point. Though he doesn't say it, he doesn't argue either when it is suggested that the 20-year old right-hander has become an untouchable.
Indeed, another person in the organization says flatly, "We're not trading Syndergaard."
Read more in the
Times
,
Journal
,
Daily News
,
Ledger
and
Newsday
.
• Wright was booed each plate appearance during all three weekend games in Pittsburgh. The faulty reasoning? He did not originally put
Pedro Alvarez
on the NL's Home Run Derby squad. Alvarez eventually replaced
Carlos Gonzalez
last Thursday. Collins said the
booing was misguided
. Read more in
Newsday
.
•
Josh Satin
reached base twice in four plate appearances, while
Ike Davis
grounded into a double play as a pinch hitter in the ninth. Afterward, Collins was
noncommittal about playing-time distribution
at first base after the All-Star break.
• Read more on Harvey in the
Star-Ledger
.
• Erik Goeddel tossed six scoreless innings and
Pedro Feliciano
inherited and stranded the bases loaded as Binghamton beat Portland, 4-0. Read the full minor league recap
here
.
• Wilmer Flores, who has been selected as the Mets' lone representative in Wednesday's Triple-A All-Star Game in Reno, Nev., only
suffered a "mild" ankle sprain
when he left Saturday game, Paul DePodesta said.
• Anna Benson
appeared on "America's Most Wanted" in the 1990s
. She reportedly was suspected of being linked to an execution-style murder. Read more
in the Daily News
.
• The Post All-Star preview package includes Steve Serby's joint
Q&A with Harvey and Wright
, things to
see around the All-Star Game
, a
look back at the '64 game
in the inaugural year at Shea Stadium, and a fan vote for an
all-time Mets team by position
.
• Jared Diamond
in the Journal
details what goes into readying a stadium for an All-Star Game. Diamond also gives out
midseason Mets awards
.
•
From the bloggers …
Mets Police
takes a look at some tweaks to Citi Field for All-Star Week. … Trading Bobby Parnell or
Marlon Byrd
just creates further holes, writes John Delcos at
Mets Report
.
BIRTHDAYS:
Jerry Manuel-favorite
Fernando Nieve
, currently in Triple-A with Cleveland, turns 31. …
Wilson Delgado
is 41. …
James Baldwin
is 42. … Don Clendenon was born on this date in 1935. He died in 2005.
TWEET OF THE DAY:
@Sarah_Atchison Still not older than Jamie Moyer though. Especially since when Scott made his debut, Jamie already had 18 yrs n the bigs. :)

— Seth Noboa (@STheKid19) July 14, 2013
July, 14, 2013
7/14/13
12:13
PM ET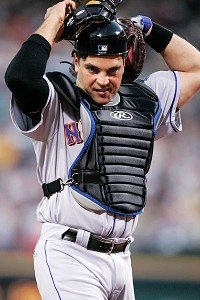 Paul Abell/US PresswireMike Piazza will be the 27th inductee to the Mets Hall of Fame.
PITTSBURGH --
Mike Piazza
came up short in his first bid for Cooperstown immortality, but he will be entering the Mets Hall of Fame later this season.
Piazza will become the 27th inductee during a Sept. 29 ceremony at Citi Field, before the Mets face the
Milwaukee Brewers
.
"Mike Piazza reinvigorated our franchise when we acquired him in May, 1998," Jeff Wilpon, who has final say on such honors, said in a statement. "Mike is one of the greatest players in our history and we are thrilled to induct him into the Mets Hall of Fame."
Piazza is at Citi Field today for the celebrity softball game as part of All-Star festivities.
He will join:
Joan Payson (1981), Casey Stengel (1981), Gil Hodges (1982), George M. Weiss (1982), Johnny Murphy (1983), William A. Shea (1983), Ralph Kiner (1984), Bob Murphy (1984), Lindsey Nelson (1984), Bud Harrelson (1986), Rusty Staub (1986), Tom Seaver (1988), Jerry Koosman (1989), Ed Kranepool (1990), Cleon Jones (1991), Jerry Grote (1992), Tug McGraw (1993), Mookie Wilson (1996), Keith Hernandez (1997), Gary Carter (2001), Tommie Agee (2002), Frank Cashen (2010), Dwight Gooden (2010), Davey Johnson (2010), Darryl Strawberry (2010) and
John Franco
(2012).
August, 1, 2010
8/01/10
7:57
PM ET
By
Mark Simon
| ESPNNewYork.com
Now that the Mets have done the right thing and inducted all-time greats
Darryl Strawberry
and
Dwight Gooden
, and 1980s architects, manager
Davey Johnson
and general manager
Frank Cashen
, it's inevitable to ask: Who's next?
The Mets are unlike some other major league teams in that they don't induct Hall of Fame members on a regular basis -- at least that's been the pattern in recent years. This foursome was the first set of inductees since
Tommie Agee
was inducted in 2002.
A day before the Mets inducted Gooden and Strawberry, the Giants added two names to their Wall of Fame -- infielder
Rich Aurilia
and pitcher
Shawn Estes
-- lesser lights than Gooden and Strawberry. Those two had respectable careers, though you'd hardly compare them to all-time Giants greats like
Willie Mays
or
Juan Marichal
. Later this season, the Phillies will add catcher
Darren Daulton
, who doesn't exactly ring up memories of
Mike Schmidt
when you think of all-time Phillies greats. His credentials, as well as those of Estes and Aurilia are more worthy of the Hall of Very Good, which is good enough for some team Hall of Fames, but not others.
The Mets Hall of Fame doesn't quite have the sorts of inclusionist standards of the Giants or Phillies (the Giants Wall honors anyone who played at least nine seasons with San Francisco, or who played five-plus years and made an All-Star team). But maybe it's time they opened their doors a little wider.
I made the comment as such on Twitter a couple of days ago that I was hopeful that a Mets Hall of Fame Induction could become a regular event again. From 1981 to 1993, inductions were held annually with only one exception –1985. But from 1998 to 2009, the Mets only inducted two former players --
Gary Carter
and
Tommie Agee
.
Within a minute, I got two responses, both saying that they didn't think annual inductions would stand the test of time. I disagree.
Mike Piazza
,
John Franco
and
Howard Johnson
would loom as three likely inductees that wouldn't generate much argument from the Mets fan base. Statistically speaking, their numbers are overwhelming by Mets standards. We're guessing there's a consensus among fans on their status as Mets icons (regardless of what you think of Johnson's ability as hitting coach) that makes them worthy of selection.
If you're a Mets fan with a good sense of the teams history, a good litmus test for your feelings on where the dividing line stands for the Mets Hall of Fame would be a current member of their broadcast crew-- Ron Darling. If you're a Hall of Fame "inclusionist," you're probably strongly in favor of Darling's inclusion. If you want your Hall of Fame to be a very exclusive club, you're opposed, or at least on the fence.
Darling won 99 games in his Mets career, fourth-most in Mets history and was an integral part of the starting rotations of both the 1986 World Series champions and the 1988 NL East titleists. He pitched in multiple memorable games (his scoreless work against the Cardinals in October, 1985 in the game won by Strawberry's off-the-clock home run, is viewed as one of the best efforts in team history). He ranks among the team's all-time leaders in just about every major statistical category.
Darling last pitched for the Mets in 1991 but has not yet been deemed Met Hall of Fame-worthy.
When I went to Cleveland to see the Mets and Indians, I took a very careful look at their Hall of Fame and one name jumped out at me –-
Charles Nagy
.
Nagy won 129 games in 13 seasons for the Indians (1990-2002), a few more than Darling, but he was with the team a bit longer. He had his share of good seasons and bad seasons, as Darling did, had an ERA about as comparable to the league average as Darling, and was an integral part of a couple of World Series-bound teams (close enough to what Darling did). Granted, he doesn't quite rank with Bob Feller or Early Wynn, but he's very highly regarded by the fan base.
I asked a colleague who was from Cleveland why Nagy was in the Hall of Fame, and
his response was such
that it didn't strike him as a difficult call. I'd imagine Royals fans feel the same way about another pitcher of comparable nature to Darling--
Mark Gubicza
, who didn't even finish his career with the team with a record above .500 (132-135). Both Nagy and Gubicza are in their respective teams Hall of Fames, and Estes (64-50 with an ERA nearly matching the league average) is now a member of his.
But Darling is on the outside looking in. As are fellow pitchers
Sid Fernandez
,
Al Leiter
,
Jon Matlack
, and
Jesse Orosco
, and you could argue that they all belong. We're 49 seasons into the team's history and only four pitchers—Gooden,
Tom Seaver
,
Jerry Koosman
, and
Tug McGraw
(blogging colleague Greg Prince has also campaigned actively for 1969 pitching coach
Rube Walker
). That seems like an unnecessarily low total. We can think of a few more hitters who are worthy as well (
Edgardo Alfonzo
and
Ron Swoboda
leading the charge).
The good news is that this is a fixable issue, and on a day like today that was incredibly bleak for the current players, it's good to be reassured that the team is doing at least a little something to recognize some of its former ones.
Mets Hall of Fame Members
Owners/Executives/Pioneers
-- Joan Payson, George Weiss, Bill Shea, Johnny Murphy, Frank Cashen,
Managers
–- Casey Stengel, Gil Hodges, Davey Johnson
Broadcasters
–- Lindsey Nelson, Bob Murphy, Ralph Kiner
Position Players
-– Tommie Agee, Gary Carter, Jerry Grote, Bud Harrelson, Keith Hernandez Cleon Jones, Ed Kranepool, Rusty Staub, Darryl Strawberry, Mookie Wilson
Pitchers
–- Dwight Gooden, Jerry Koosman, Tug McGraw, Tom Seaver
July, 31, 2010
7/31/10
8:26
PM ET
By
Ian Begley
| ESPNNewYork.com
Darryl Strawberry will never get the call to Cooperstown, so he'll have to settle for the Hall of Fame in Queens.

And he's OK with that.

Strawberry, Dwight Gooden, former manager Davey Johnson and former general manager Frank Cashen will be inducted into the Mets Hall of Fame on Sunday at 12:30 p.m. in a pregame ceremony prior to the Mets-Diamondbacks game.

"Of course everybody has their opinions about where we should be. They say, 'You should be in Cooperstown in the Hall of Fame,' " Strawberry said on Saturday night. "Well, guess what? We're going in the Mets Hall of Fame and that's the most important thing and that's all I really care about.

"That's Cooperstown for me, because when I put on the Mets uniform, I believed in winning. Doc Gooden believed in winning. Davey Johnson believed in winning. Frank Cashen believed in winning. And that's what we did."

The Mets were criticized by fans and media when Citi Field opened in 2009 because the park offered little to recognize the great teams in franchise history. They've done well to remedy that this season. And the team's 2010 Hall of Fame class is another step in the right direction.

Cashen was the architect behind the 1986 championship team, bringing in Keith Hernandez, Ron Darling, Sid Fernandez and Bobby Ojeda in via trade and drafting Strawberry and Gooden. Johnson managed the Mets to the 1986 World Series title and his 595 wins are the most in franchise history.

Strawberry, a seven-time All-Star with the Mets, is the team's all-time leader in home runs (252), RBI (733) and runs (662).

Gooden won the NL Rookie of the Year award in 1984 and the CY Young award a year later. He led the league in wins (24), ERA (1.53) and strikeouts (268). Gooden ranks second in franchise history in wins (157) and strikeouts (1,875).

"I'm still just overwhelmed at the whole thing. All I can think about being a kid in Tampa… (I) never even imagined going into a team's Hall of Fame, it never crossed my mind," Gooden said on Saturday. "And now to actually to be here, to accomplish the things I have. It's overwhelming."

CASHEN ON THE BOSS: Cashen built successful Mets teams in the mid to late 1980s. At the same time, across town in the Bronx, George Steinbrenner's Yankees were floundering. So Cashen said on Saturday that he took great pride in dominating the NL and New York City in the late 1980s. He said he was "sad" when Steinbrenner died earlier this month. But, he made sure to point out that The Boss was a "competitor first, friend second."

"He was sort of a half-a--ed friend of mine. But I was sorry," Cashen said when asked about his reaction to Steinbrenner's death. "He was good to compete against."