New York Mets:

Michael Bloomberg
September, 30, 2013
9/30/13
7:40
AM ET
Kathy Willens/Associated PressMike Piazza is flanked by former teammates John Franco and Edgardo Alfonzo during Sunday's Mets Hall of Fame ceremony.
NEW YORK
FIRST PITCH:
The Mets will have a familiar look in 2014, at least in terms of manager and coaches.
Sandy Alderson is due to announce a two-year contract extension for Collins with a team option for 2016 at a noon press conference today at Citi Field. Collins' entire coaching staff also is
expected to return intact
.
The Mets completed their season Sunday with a 74-88 record -- identical to 2012 -- after
beating the Brewers, 3-2
, behind two unearned runs in the eighth inning. They finished in third place, a game ahead of the
Philadelphia Phillies
, although
David Wright
was not impressed
. The Mets will
pick 10th in next June's draft
-- meaning they will not forfeit their first-round pick should they sign a premium free agent.
Want to voice your opinion about which players stay and go? Please vote in our Take 'em or trash 'em poll
here
. We already have more than 2,500 ballots cast.
Monday's news reports:
•
Mike Piazza
became the
27th inductee into the Mets Hall of Fame
on Sunday. Mayor Mike Bloomberg declared it "Mike Piazza Day" in New York City.
Kathy Willens/Associated PressPiazza addresses the capacity crowd during Sunday's pregame ceremony.
Columnist Jim Baumbach
in Newsday
suggests Piazza's ceremony is a vivid reminder of the importance of spending money on players. Writes Baumbach:
Because as the Mets embark on one of their most important offseasons in some time, Piazza's return was a timely reminder of all the good that can come from spending money on the right player. It's easy to forget, but when the Mets acquired Piazza in a 1998 midseason trade and gave him $91 million that next offseason, it represented an organizational shift in strategy.
Burned by a few high-priced contracts in the early 1990s, the Mets grew reluctant to spend and turned their focus within. Sound familiar?
Columnist Kevin Kernan
in the Post
advocates Piazza getting enshrined in that Hall of Fame in Cooperstown, too. Writes Kernan:
There is no getting around the PED scandal and Piazza is pointing out that is the way the game went down in that era. In his heart of hearts he believes he will be in the Hall of Fame someday.
There is no doubt in my mind Piazza is a Hall of Fame player. I voted for him last time and I will vote for him again next time. Piazza received 57.8 percent of the vote his first time on the ballot. He needs 75 percent to get into Cooperstown.
Mike Puma
in the Post
notes Bobby Valentine, who managed Piazza, was not among the group invited to take part in the on-field pregame ceremony. Writes Puma:
According to sources, Valentine -- who worked in-studio for SNY on Sunday -- was not extended an invitation to the event. Piazza provided the club with a list of people he wanted invited.
Read more in the
Daily News
,
Star-Ledger
,
Record
,
Times
,
Newsday
and
MLB.com
.
•
Matt Harvey
continues to undergo physical therapy
at the Hospital for Special Surgery. Collins said he believes Harvey soon will be cleared to begin his throwing program in Port St. Lucie, Fla., in the hopes of avoiding Tommy John surgery. Read more in the
Daily News
.
• Bob Raissman
in the Daily News
notes how Howie Rose handled the Mets' final game on WFAN. The station is switching to Yankees games next season, prompting the Mets to need to find a new home. Writes Raissman:
In the end, Howie Rose was not looking back.
During the eighth inning of the Mets' final radiocast on WFAN, he thanked everyone responsible for getting the games on the air since 1987 when WHN became WFAN. And in the ninth, he said farewell-- for now.
"Well, Shakespeare said the play is the thing," Rose said. "But for a baseball broadcaster the game is the thing."
He said "it's time to listen to the games" in a new location. He did not know where that would be, but told fans to "stay well" and "stay safe."
"And like that old cliché goes," Rose said, "check your local listings."
•
Eric Young Jr.
won the NL steals crown with two on the final day to finish with 46. He entered the day tied with Milwaukee's
Jean Segura
, who sat with a cranky hamstring. Young and father Eric Sr. became the first father-son tandem ever to win league steal honors for a season, according to the Elias Sports Bureau.
• Read game/season recaps and looks ahead to the future in the
Post
,
Daily News
,
Journal
,
Newsday
,
Star-Ledger
and
Record
.
• The representative for free-agent-to-be
LaTroy Hawkins
and the Mets already have spoken about a return in 2014, according to multiple reports.
•
From the bloggers …
Mark Berman at
Blogging Mets
hands out final grades in his Mets report card.
BIRTHDAYS:
Dave Magadan
, now the
Texas Rangers
hitting coach, turns 51.
TWEET OF THE DAY:
Thanks @mikepiazza31 #favoriteplayer #mets #HOF pic.twitter.com/HvZcnCHlzj

— Don Flatts (@DonnyBearFlatts) September 29, 2013
YOU'RE UP: Do you approve of Terry Collins and the entire coaching staff returning?
June, 23, 2012
6/23/12
9:16
AM ET
Justin Turner
delivered a two-run single and
Ike Davis
eked out a three-run homer
that went off the glove of
Nick Swisher
and over the wall in the right-field corner in a five-run first inning. And
Frank Francisco
, fresh off labeling the Yankees "chickens," allowed a pair of batters to reach in the ninth but ultimately notched his 18th save in 21 chances as the
Mets won, 6-4, Friday
at soggy Citi Field. The output, off
Andy Pettitte
, marked the highest scoring first inning by the Mets at Citi Field since April 27, 2009 -- with a six-run outburst against the Marlins during the opening month of the stadium.
Saturday's news reports:
• Francisco said pregame that he did not think the
chicken comment would become such a big deal
. He said he has respect for the Yankees, but still noted that he meant they are chronic complainers. His teammates got a ton of mileage out of the stir Francisco created. They greeted Francisco's arrival in the clubhouse with "The Chicken Dance," and blasted in the clubhouse any song they could find with lyrics that included "chicken."
Tim Byrdak
, it turned out, even went to Chinatown and bought a live chicken, which
he brought into the clubhouse
. Read more in the
Star-Ledger
,
Journal
,
Newsday
and
Times
.
Francisco originally created the stir when he said in the Post: "I can't wait to strike out those chickens. I want to strike out the side against them. I've done it before." The tabloid then slapped
Derek Jeter's
head on a chicken body and made it the front cover on Friday, with the headline "CLUCK YOU!" Writes ESPNNewYork.com's
Wally Matthews
about Jeter's reaction
:
"Why is my head on there?" a bemused Jeter said when shown the paper. Informed he was one of the three Yankees who Francisco struck out -- along with Alex Rodriguez and Jason Giambi -- as a member of the Texas Rangers, Jeter reacted with incredulity. "When did this happen?" he asked. "You're talking about five years ago, man. When was the last time we faced him? 2007? 2004?" Told the game in question took place on May 21, 2004, a 9-7 Rangers win in Arlington, Jeter shook his head. "I've got nothing for you. Really," he said. "The good story's over there. I have no comment. I really don't." The media wasn't going away that easily, of course, and Jeter was pressed to respond to Francisco's comments, which he later expanded to say that the Yankees are "chronic complainers" when it comes to balls and strikes calls. "I don't understand what that means," Jeter said. "I can't be insulted by something I don't understand."
Read more Yankees reaction in
Newsday
.
• Writes columnist
Mike Vaccaro
in the Post
on the chicken saga:
And thus ended another chapter in the wonderfully unpredictable and entirely unscripted world of Frank Frank, the Mets closer who not only enjoys turning the ninth innings of baseball games into something straight out of a Six Flags, he has now become the first participant in this 15-year Subway Series to dare to engage in a little bit of trash talk. Sure, you can ask: does calling someone a "chicken" actually qualify as trash talk? Do six-year-olds called chicken in sandboxes even get their feelings hurt over that kind of thing anymore? Do you even need to summon the sticks and stones to salve those wounds? And, yes: in the long history of intramural New York baseball, this hardly qualifies as a ripple. Hell, back in the day, back before there was even a name for it, the Giants and the Dodgers used to engage in epic spasms of trash talk.
• Writes columnist
John Harper
in the Daily News
:
The question is whether it's merely a sign that Francisco is fearless, perhaps even a little wacky, or a sign of something bigger, perhaps even mystical, transpiring with these Mets in 2012. Call out the big-brother Yankees, call them chickens and proceed to escape with a 6-4 victory , Francisco blowing away Curtis Granderson and Mark Teixeira with the tying runs on base? What's next, a no-hitter? Oh, that's right ...
• Here's columnist
Tara Sullivan's
take
in the Record
.
• Read game recaps in the
Post
,
Times
,
Newsday
,
Star-Ledger
,
Record
,
Daily News
and
Journal
.
•
Ronny Cedeño
started at shortstop after being
activated from the DL
. The Mets demoted
Elvin Ramirez
to clear the roster spot and temporarily will operate with six relievers.
•
Jason Bay
stopped by Citi Field on Friday, a week after suffering a concussion. Read more in the
Post
.
• Mayor
Michael Bloomberg
presented
Johan Santana
with a key to the city
in recognition of the southpaw's June 1 no-hitter. Read more in the
Record
and
Daily News
.
•
R.A. Dickey
is downplaying his hyped Sunday night matchup on ESPN with
CC Sabathia
. "You know, I'm really no more excited about it than it would be if I was starting against the Pirates or the Padres," Dickey said. "It's really for me another game on the schedule. I think that it helps me put it in perspective. I mean, it's one of three games that we have to play in this series against a good team. Every team in the big leagues is a good team, for that matter. I think it's been built up to some kind of crescendo, probably, but for me, I will attack it no differently." Read more in
Newsday
.
• Dickey obviously is a strong candidate to start for the NL in the July 10 All-Star Game in Kansas City. And
Tony La Russa
confirmed as much to
Ken Rosenthal
at Foxsports.com
. La Russa said he doesn't decide such things until closer to the game, "but it's definitely accurate that he's getting as much consideration to start that game as any of the other guys." San Francisco's
Buster Posey
currently leads St. Louis'
Yadier Molina
in fan balloting at catcher, and La Russa said he is confident either could handle Dickey's knuckleball.
•
Ruben Tejada
went 2-for-4 with a walk, scored three times and played a third full game at shortstop for Triple-A Buffalo as his rehab assignment following a quadriceps injury continued. Meanwhile, reliever
Ramon Ramirez
, after two appearances with Class A St. Lucie, also joined the Bisons. He was lit up for three runs on four hits and a walk while recording only two outs.
• Read Friday's full minor league recap
here
.
•
Daniel Murphy
sat for the third time in four games
, but
Terry Collins
pledged to start him Saturday against right-hander
Ivan Nova
. Read more in
Newsday
.
• Davis went 1-for-4 with the three-run homer. His average still sits at .191, but he clearly is beyond his swoon. Read more in the
Star-Ledger
and
Post
.
•
Steve Serby
in the Post
did a Q&A with
Josh Thole
. The exchange includes:
Q: What is the key to catching his knuckleball?
A: Waiting till the last second, I think, as it is any knuckleball. That advice I got from Doug Mirabelli last year when we were in Colorado. He just said, "Catch the ball at the last possible second." So, in my mind, I relax my glove, I don't give him a target, I limp-wrist it, and I just track the ball with my eyes, and where I think it's going to end up, I just go there.
•
Chris Young
(1-1, 3.06 ERA) opposes Nova (9-2, 4.32) Saturday. Read more on Young's successful return from surgery to repair a torn anterior capsule in his pitching shoulder
in the Post
.
TRIVIA:
Which other Mets have been presented a key to the City of New York besides Santana over the years?
Friday's answer: The last time
Derek Jeter
did not start against the Mets at shortstop should be an easy one. It came only two weeks ago, in the June 10 Subway Series finale in the Bronx, when Jeter served as DH and
Jayson Nix
started at shortstop.
June, 22, 2012
6/22/12
6:57
PM ET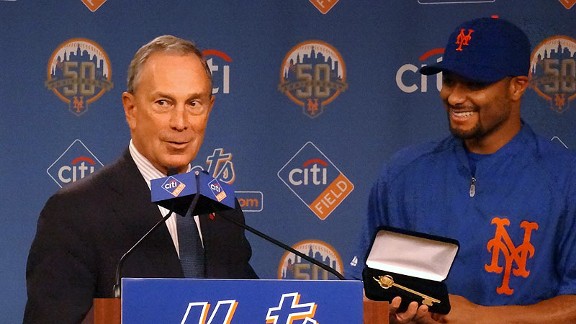 Adam RubinNew York City Mayor Michael Bloomberg presents a key to the city to Johan Santana in recognition of the southpaw's June 1 no-hitter. "The bad news is it doesn't open anything," Bloomberg quipped.
May, 22, 2012
5/22/12
10:26
AM ET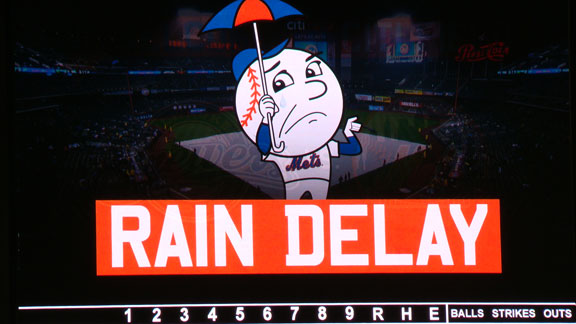 Adam Rubin
With no retractable roof at Citi Field, Mr. Met sometimes needs an umbrella.
PITTSBURGH -- The Mets squeezed in both games against the Milwaukee Brewers last week while dodging raindrops at Citi Field. Yet wouldn't it have been nice to have simply closed a retractable roof and allowed fans not to have to worry?
Of course, unlike the two most recent stadiums visited by the Mets -- new Marlins Park in Miami and Rogers Centre in Toronto -- the Mets' four-season-old ballpark was constructed as an open-air stadium without that feature.
The bottom line: It cost too much.
Yankees president
Randy Levine
told Newsday last year, when Game 1 of the team's American League Division Series was suspended, that incorporating a roof into the new Yankee Stadium would have cost roughly an additional $350 million. Mets chief operating officer
Jeff Wilpon
years ago, before the Mets' stadium had opened, had cited the figure for Citi Field as adding $200 million or more to the cost of what became an $850 million project anyway.
Levine also had cited
George Steinbrenner's
preference for an open-air stadium in the Bronx in the Newsday article. In the Mets' case, that objection may not have existed, but the numbers just did not make sense for these reasons:
The soft Flushing soil conditions near the bay did not support a roof without significant additional costs that made it prohibitive.
Fans residing 75 miles away may stay away with the threat of rain, but fans within closer proximity generally are not dissuaded from attending because they live close enough to the ballpark to make an informed choice closer to the first pitch. The lost business from the threat of inclement weather does not offset the significant additional costs of a roof.
The number of concerts and other dates events able to be booked as the result of a having roof -- say, during the winter -- is limited and does not offset the additional cost, either. A roofed baseball stadium works for major concerts that draw 40,000, but there are only a handful of entertainers who can fill that many seats.
More than a decade ago, in the waning days of
Rudy Giuliani's
tenure as mayor, the original designs for the new New York stadiums included roofs and involved a sizable financial commitment from New York City. Priorities changed after 9/11, and so did the administration. Mayor
Michael Bloomberg
was not as inclined to chip in, and the real stadium designs lost the retractable-roof concepts.
The Mets are footing a large portion of the construction cost through interest payments on bonds. Those payments are now about $50 million annually.
The Mets ended up playing four home doubleheaders last year as a result of rainouts -- April 14 against the Rockies, Aug. 29 against the Marlins, Sept. 8 against the Braves and Sept. 24 against the Phillies. In previous years, those games would be made up as split, day-night doubleheaders that would provide the organization with gate receipts from two separate games. Now, with attendance lagging, the Mets simply do single-admission doubleheaders.
"In-depth" appears Tuesdays during the regular season
May, 21, 2012
5/21/12
4:40
AM ET
The Mets salvaged the finale of their interleague series in Toronto,
holding on for a 6-5 win
when former Blue Jays closer
Frank Francisco
struck out three straight batters
in the ninth after allowing a leadoff walk to
Yunel Escobar
, then single by
Jose Bautista
through the barren right side of the infield.
Monday's news reports:
•
Miguel Batista
landed on the DL on Sunday morning
with a strained oblique or lower-back muscle.
Jeremy Hefner
is likely to start Thursday's game against the San Diego Padres at Citi Field in that rotation slot.
Chris Schwinden
was promoted for Sunday's game as a hedge against
Dillon Gee
having a short outing, but was not needed. The Mets plan to make another roster move before Monday's series opener in Pittsburgh to add a position player.
Vinny Rottino
-- who had a three-homer game for Triple-A Buffalo on Saturday -- would appear a logical choice to return to the major league roster. Schwinden is the easiest to return to Buffalo.
Manny Acosta
would be an alternative, but seemingly less likely choice to get dismissed to free the roster spot.
•
Terry Collins
for the first time Sunday morning allowed for the possibility of
Ike Davis
getting
sent to the minors
if his performance does not show improvement on this trip. Despite a seeming roster crunch looming with
Ruben Tejada
slated to begin rehab games as soon as today and
Jason Bay
due to take batting practice in Pittsburgh for the first time this afternoon, there are demotion candidates. Davis is one. And
Kirk Nieuwenhuis'
production considerably has slowed since the rookie's torrid start.
The added benefit of Nieuwenhuis returning to the minors is it could delay his free agency a year. If Nieuwenhuis were to stay at the major league level continuously, he would be eligible for free agency after his sixth season, during the 2017-18 offseason. If he logs a total of 20 days in the minors this year, he would not get credit for a full major league season in 2012 and would be delayed in free agency at least until the following winter -- 2018-19. Read more in the
Daily News
,
Post
and
Newsday
.
•
Andy McCullough
in the Star-Ledger
writes about Davis' issues:
- He's hitting too many grounders (50 percent of his balls in play before Sunday, according to FanGraphs.com). In the first inning, Davis hacked at a low, 91-mph sinker and tapped the ball back to Alvarez. With the bases loaded in the fifth, he rolled a fastball into what should have been a double play, except second baseman Kelly Johnson fumbled the exchange.
- His luck has been poor. In the fourth inning, Davis smashed a fastball toward the opposite field -- right into the glove of third baseman Yan Gomes. Entering Sunday's game, Davis was hitting line drives 17.4 percent of the time, or slightly better than 2011's 17 percent mark. Except his batting average on balls in play was a miniscule .184, nearly 200 points below his career average. "He just needs those [line drives] to fall," hitting coach Dave Hudgens said.
- He's not drawing walks. Davis saw exactly three pitches in his first three at-bats Sunday.
• Regarding Nieuwenhuis,
Barbara Barker
writes
in Newsday
:
A week ago, he led all major-league rookies with a .302 batting average and was second with 35 hits. He went 1-for-3 with an RBI double and two walks in the Mets' 6-5 win Sunday and is now batting .277 with 38 hits, seven doubles, two home runs, 13 RBIs and 16 walks. "This kid doesn't deserve to go back to Triple-A with the way he's swung the bat so far," Buffalo manager Wally Backman said. "But he needs to play. I think for his development, he needs to play every day." Nieuwenhuis says he can't worry about what the future holds, other than to try to perform his best each day he plays. "It's been pretty cool playing up here with the guys," he said, "but whatever happens, happens. I don't make those decisions. I just have to take one day at a time and focus."
•
David Wright
returned from a day off Saturday and delivered a two-run double in the first inning as part of a 2-for-4 series finale that raised his average to .412. Wright, still sick, passed
Jose Reyes
for second on the franchise's all-time hit list with 1,302. He needs 116 more hits to match Mets record-holder
Ed Kranepool
.
•
Mike Baxter
had a career-high three hits Sunday while starting for the second straight game with the Mets using an extra position player in their lineup in the AL ballpark. Collins
pledged to find Baxter playing time
in Pittsburgh, although the manager said not at first base yet, and not on Monday against Pirates left-hander
Erik Bedard
. Read more in the
Star-Ledger
.
• Gee had a
new look and better results
. Read more
in the Post
.
• Read game recaps in the
Record
,
Times
,
Daily News
,
Journal
,
Newsday
and
Post
.
• Collins reiterated
Jenrry Mejia
is far more likely to
help the Mets as a reliever
at the major league level in 2012. Read more in
Newsday
.
•
Tim Kurkjian
catches up with hot-hitting ex-Met
Carlos Beltran
at ESPN.com
. Kurkjian notes Beltran is two steals shy of 300 swipes and 300 homers in his career, a club that is currently limited to
Barry Bonds
,
Willie Mays
,
Alex Rodriguez
,
Andre Dawson
,
Bobby Bonds
,
Reggie Sanders
and
Steve Finley
. Writes Kurkjian:
If it weren't for Matt Kemp, Beltran, 35, would be the most valuable player in the National League six weeks into the season. If it weren't for the remarkable Josh Hamilton, May would have been all about Beltran. Not only has he replaced the 2011 production of Albert Pujols in the Cardinals' lineup, he has greatly exceeded it while helping take St. Louis to the front of the National League Central, all while dazzling his new teammates. "When I ran out on the field with him the first time in spring training,'' said Cardinals third baseman David Freese, "I knew he was the most complete player I'd ever played with.''
Lance Berkman
, who also was Beltran's teammate during that prolific 2004 postseason with Houston that set up Beltran's seven-year, $119 million contract with the Mets told Kurkjian: "It's funny. An elite player has some things happen to him for three or four years, like injuries, then he becomes an elite player again, and people ask, 'What's going on here?' Just look at the back of his baseball card. He is as complete a player as I've ever played with. He does everything well, and he looks good doing it. When you look at what a player is supposed to do, he's about as good as it gets.''
•
Corey Wimberly
stole home for Buffalo's lone run in a 4-1 loss to Indianapolis on Sunday. It was the second time a Mets farmhand has swiped home this season. Wimberly had a pure steal of the plate, while Binghamton's
Josh Rodriguez
stole home on April 21 as part of a double-steal. Read Sunday's full minor league recap
here
.
• Forty-thousand Orthodox Jews packed Citi Field on Sunday to decry the internet. Read more
in the Daily News
.
•
Michael Howard Saul
in the Journal
revealed that Citi Field, now in its fourth season, still does not have all its full permits from the city in order. Mayor
Michael Bloomberg
at last week's All-Star Game press conference dismissed the issue as procedural and insignificant and insisted the stadium was safe. Wrote Saul, alluding to the City Hall announcement about next season's Mid-Summer Classic:
Unmentioned was the embarrassing fact that the three-year-old stadium in Queens still hasn't received a certificate of occupancy from the city. The stadium has a temporary certificate, which means it is "safe and legal to occupy," said Tony Sclafani, a spokesman for the Department of Buildings, in an email.
TRIVIA:
For which former Pirate Pirate is the yellow bridge spanning the Allegheny River adjacent to PNC Park named?
Sunday's answer:
Jason Bay
was the last Pirate to have a multi-homer game against the Mets. At Shea Stadium on July 24, 2007, Bay went deep off
John Maine
and
Guillermo Mota
.
May, 16, 2012
5/16/12
2:43
AM ET
David Wright
jawed with his manager
,
Terry Collins
, in the dugout, but insisted afterward he was upset in the heat of the moment with the situation, not at his manager. The Mets ultimately
lost to the Milwaukee Brewers, 8-0
, Tuesday at soggy Citi Field. Collins pulled Wright in the bottom of the seventh along with
Daniel Murphy
, trying to protect the third baseman from getting drilled a half-inning after
D.J. Carrasco
served up a homer to
Rickie Weeks
, then plunked
Ryan Braun
with the next pitch. Wright wanted to stand in the batter's box to take the expected retaliatory blow and end the drama.
"At this level, somebody is going to get hit," Collins said about retaliation, to which the Mets skipper felt the Brewers were entitled. "And it wasn't going to be David Wright tonight. I can't control what's going to happen down the road. He's not going to get hurt in this game, in this situation, tonight."
Please join me for a Mets chat at 1 p.m. ET Wednesday
here
.
Wednesday's news reports:
• Before the T.C.-Wright dugout spectacle,
Dillon Gee
had let down the Mets. Gee served up a pair of homers to
Travis Ishikawa
and was charged with seven runs in 5 1/3 innings. "Mistakes that he makes are in the middle of the plate," Collins said. "I mean, when I took him out of the game, Nicky [catcher
Mike Nickeas
] said every mistake he made tonight they drilled."
Said Gee: "I don't know. I'm at a loss for words today. I felt good out there. I felt like I made a lot of good pitches. In my mind, I only made a couple of mistakes."
Meanwhile, Murphy extended his hitting streak to a career-high 11 games before departing the game.
Read game recaps in the
Record
,
Times
,
Post
,
Newsday
,
Star-Ledger
,
Daily News
and
Milwaukee Journal-Sentinel
.
• Columnist
Mike Vaccaro
in the Post
summarizes the Wright-Collins argument this way:
Whether [the hit by pitch] was intentional or not isn't important. Neither is the transaction of removing Wright from the game. This was: Both Collins and Wright care enough about this team and this season as it approaches the quarter pole that they were willing to fill the dugout with noise and rancor, even for a lost cause. They are a fine match, a manager who cares and a player who cares even more.
Read my take
here
. Columnist
Tim Smith
in the Daily News
also opines on the topic.
• Mayor
Michael Bloomberg
, MLB commissioner
Bud Selig
and Mets principal owner
Fred Wilpon
will participate in a ceremony at City Hall during which the 2013 All-Star Game
officially will be awarded to Citi Field
. The long-planned event was delayed in being announced for months as MLB worked out contracts with the Javits Convention Center for a fan fest as well as logistics such as NYPD staffing costs for a midtown parade of All-Stars and Central Park concert. You can watch the official announcement live at 11:30 a.m. on the city's web site
here
. Read more in
Newsday
, the
Times
,
Post
,
Daily News
and
Star-Ledger
.
• Collins told
Anthony McCarron
in the Daily News
that
Jason Bay
"absolutely" will get his left-field job back when he returns from the DL after dealing with a fractured rib. Collins acknowledged the challenge will be finding playing time for
Kirk Nieuwenhuis
as well, but the manager will make it work. "He didn't come here to be an extra player," Collins told McCarron about Bay. Nieuwenhuis went 0-for-3 Tuesday. He is hitting .294 with two homers, 12 RBIs, 14 walks and 39 strikeouts in 119 at-bats.
•
Josh Thole
was
examined Tuesday at Citi Field
and expected to imminently gain clearance to begin athletic activities. The catcher said he should learn the results of a concussion test Wednesday. Thole, who suffered what may be the fourth concussion of his professional career nine days ago in a plate collision with
Ty Wigginton
, said his headaches ended Friday. Read more in the
Star-Ledger
,
Record
,
Daily News
and
Newsday
.
•
Jenrry Mejia
and
Chris Young
are slated to move to Triple-A Buffalo to continue their returns from surgeries that both were performed on May 16, 2011. Mejia
soon should be exposed to relief work
to gauge his ability to contribute at the major league level in that capacity, an organization source told ESPNNewYork.com. Young was due to pitch for Class A St. Lucie on Tuesday night, but
the game was rained out
. He presumably will pitch Wednesday morning for the Florida State League club before moving to Triple-A.
• A special screening of the
Andres Torres
-centered documentary "Gigante," about the center fielder's battle with Attention Deficit Hyperactivity Disorder, will be held at NYU School of Medicine (550 First Ave.) on May 31 at 7 p.m. The free event is open to the public, but preregistration is mandatory at
yungogigante.eventbrite.com
.
• Wright
was noncommittal on his receptiveness to
discussing a contract in-season
if the Mets approached his representatives.
•
Brian Costa
in the Journal
profiles sudden pinch-hitter-extraordinaire/local product
Mike Baxter
. Baxter is hitting .471 (8-for-17) with five RBIs as a pinch hitter this season, including a sixth-inning double Tuesday. The contribution also includes a go-ahead two-run double in the ninth inning Friday at Marlins Park.
Plenty of players have found success in pinch-hit roles, but they tend to be veterans who were starters at one point. Baxter, 27, entered Tuesday with just 58 games of major-league experience and just 10 career starts. "Mike is becoming really good at it in a short window," said Mets third-base coach Tim Teufel, who had 192 pinch-hit appearances during his 11-year major-league career. "Usually for a young player, it takes time. He's taken to the role. He's found a way." The Mets' depth was a perceived weakness going into the season. But despite several injuries, they entered Tuesday with a 20-15 record, thanks in part to some unexpected contributions from players at the fringes of the roster. Players like Baxter.
•
Michael Salfino
in the Journal
looks at the Mets' patience at the plate under hitting coach
Dave Hudgens
. Among the relevant stats: Through Monday, the Mets had seen the most pitches per plate appearance in MLB (3.98), according to Stats LLC, better than runner-up Oakland (3.97) and No. 3 Arizona (3.94). Writes Salfino:
The epitome of the Mets desire to work counts as much as possible, though, is their place as the only team in baseball yet to swing at a 3-0 pitch (70 opportunities). That's widely regarded as the optimal hitter's count. But the Mets clearly don't want to help pitchers work their way out of trouble. New York's patient approach seems to be organization-wide. A spate of injuries have seen four opening day starters head to the disabled list, but replacements Justin Turner (4.22 pitches per plate appearance), Mike Baxter (4.23) and Kirk Nieuwenhuis (4.22) have actually improved the Mets average.
• Baseball America projects the Mets taking Louisiana high school shortstop
Gavin Cecchini
with the 12th overall pick in the draft next month. The magazine also says the Mets have been "strongly linked" to Texas high school outfielder
Courtney Hawkins
and Texas A&M right-hander
Michael Wacha
.
•
Brandon Brown
had three RBIs and
Dustin Lawley
homered as Savannah held on for a 4-3 win at Charleston. Read Tuesday's full minor league recap
here
.
• Collins is not a fan of prescribed roles in the bullpen, but the manager said pregame Tuesday that he needs to accept it as part of the evolution of the game. "Guys are here to do certain jobs," Collins said. "That's what they're paid for. That's what they prepare for. I mean, you have pitchers in the game today who don't even go to the bullpen until the sixth inning. They're not even out there. They're doing stuff in the clubhouse. They're stretching. They're getting rubdowns. That's the way it is and you have to adjust. I don't have to like it, but I have to accept it." Writes columnist
Mark Bradley
in the Star-Ledger
:
No one could have blamed Collins if he took a match and some gasoline to his bullpen roles after Francisco blew the lead twice last weekend in Miami, which was potentially damaging to the psyche of his entire team. And when Francisco got into trouble in the ninth inning on Monday, and the fans were letting him hear it, you wondered, was Collins willing to let another one get away? "The one thing I don't want to do is turn our bullpen inside out because we have a couple of blown saves," Collins said. "Everybody has blown saves. But if you start changing everybody's roles, then all of the sudden it's very uncomfortable for some guys." And then Collins repeated, "That's something I've come to accept."
•
Johan Santana
and
Chris Capuano
appear on columnist
Bob Klapisch's
list of 10 early season MLB surprises
in the Record
. Writes Klapisch on Santana:
You don't dominate hitters with an 88-mph fastball without brains and guts, both of which are still Santana's most precious currencies. His arm has been rebuilt by surgeons, who couldn't restore the left-hander's 94-mph heater of his prime. Still, Santana is so good, he's averaging more than a strikeout an inning. It's hard to believe Santana was on the DL for the entire 2011 season. Put it this way: The 2.92 ERA isn't just surprising, it's magic.
• SNY will televise its "Yearbook" show for the 1962 season for the first time on Thursday at 8 p.m.,
Ken Belson
writes
in the Times
. Writes Belson:
To sports fans, the show, which is called "1962 Yearbook," is a wonderful example of how sports was covered a half-century ago, complete with fawning announcers, eager players and a lack of whiz-bang technology that predominates on sports networks these days. "They were trying to generate interest and enthusiasm among the fans," said Gary Morgenstern, senior vice president for programming at SNY, said of the show and others that would follow. "They weren't terribly successful, so it was about getting people to fall in love with the team." The tapes were discovered in 2008, when the Mets were cleaning out Shea Stadium and moving to Citi Field. The video was not meant to be shown on television. Rather, it was to be used by the team's sales staff to drum up ticket sales in the off-season.
•
Miguel Batista
remains on target for his next start, despite dealing with a groin issue while tossing seven scoreless innings Monday. He is due to pitch at Toronto on Saturday.
• Mets players already were wearing hockey jerseys in the clubhouse Tuesday, in preparation for a dress-up en route to Toronto after Thursday's homestand finale.
Mike Kerwick
in the Record
spotted
R.A. Dickey
in a Predators jersey (he lives in Nashville), the Whitestone native Baxter wearing a Rangers jersey, and Nieuwenhuis -- a Denver-area product -- wearing an Avalanche jersey.
TRIVIA:
Who hit the homers off
Braden Looper
to spoil
Pedro Martinez's
Mets debut in Cincinnati on Opening Day in 2005?
Monday's answer: Gee
attended the University of Texas-Arlington.
February, 8, 2012
2/08/12
2:44
PM ET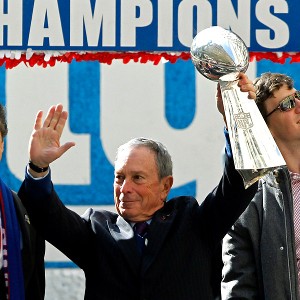 Julio Cortez/Associated Press
Mayor Bloomberg does not intend to buy the Mets.

New York City Mayor
Michael Bloomberg
said at a press conference Wednesday morning that he is not interested in buying the Mets. According to the New York Observer, the question arose after Councilman
Jimmy Oddo
suggested the mayor ought to purchase the club.
"With Jimmy Oddo's money?" Bloomberg replied,
according to the report
. "Look the Mets are fun and I like going, I think Citi Field turned out fine. Why anybody wants to own a sports team, I can't figure out. If you think the business press is tough, and then you get to the political press, the sports press that's just really ... "
The report stated Bloomberg did not complete the thought.
Still, the mayor added: "I like
the Wilpons
. They are nice people. I've known the family for a while. I wish them -- hopefully they work themselves out of their fiscal problems. I like to go and I like to have a beer, and some popcorn and enjoy."
February, 10, 2011
2/10/11
5:48
PM ET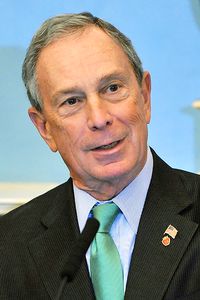 Slaven Vlasic/Getty Images
Mayor Bloomberg

You can count the Mayor out.
Mayor
Michael R. Bloomberg
said Thursday he will not invest in the New York Mets. His comments came while promoting his "WakeUp! NYC" campaign at Isaac Newton Middle School in Manhattan.
"I don't think that I should own a baseball team," Bloomberg said. "I have tickets at the Mets and the Yankees for my daughters to go and I enjoy baseball and a beer and a bag of popcorn there. But, rest assured, I'm not going to buy a baseball team or have an interest in it."
He also briefly touched on
Bernie Madoff
and
Fred Wilpon
.
"I don't know anything about his [Wilpon] relationship with Bernie Madoff," Bloomberg said. "I can just tell you the Wilpons have been a very generous family, they've supported an awful lot of things in New York City and they're really nice people and very generous and I have no idea what their relationship was."
NBA
NHL
COLLEGE BASKETBALL
MLB
MLS