March, 3, 2015
Mar 3
3:51
PM ET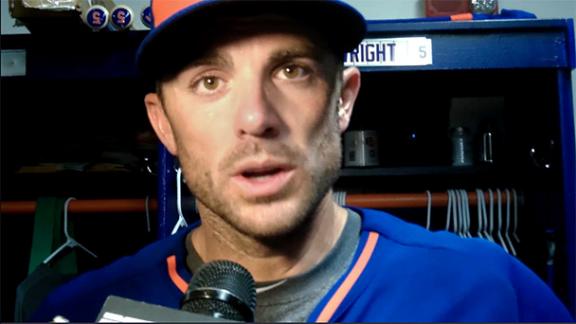 PORT ST. LUCIE, Fla. -- For the first time since last Sept. 8,
David Wright
played in a game Tuesday, albeit only of the intrasquad variety.
Wright, who was shut down with loose ligaments in his non-throwing shoulder last season, fielded a short hop on the backhand off the bat of
Cesar Puello
but otherwise went untested at third base. He also went 0-for-2, grounding into a double play in the first inning and flying out to right field in the fourth.
The game went eight scoreless innings and included no extra-base hits -- either signaling the Mets' pitching dominance, or that hitters are way behind the pitching this early in camp. (Two frames were halted with two outs because the pitcher had reached his pitch limit.)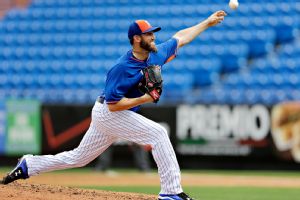 Jeff Roberson/Associated PressJon Niese tossed two scoreless innings in Tuesday's intrasquad game.
Afterward, Wright downplayed the significance of returning to game action, noting his shoulder already felt fine in spring training.
"It felt like every other spring training, which is the goal coming into this," Wright said. "… I'm fine."
Still, Wright added: "You could do whatever you want during the offseason to prepare for games. But once you start getting into the games, it's a different type of moving, a different type of sitting down and getting back up and trying to get hot again. … So all in all a good day."
Niesely done:
Jonathon Niese
breezed through a pair of innings, at one point consecutively striking out
Michael Cuddyer
,
Kirk Nieuwenhuis
and
John Mayberry Jr
.
Niese faced the minimum in two innings. He issued a leadoff walk in the first inning to
Curtis Granderson
, but erased him on Wright's double-play grounder.
Niese was thrilled with how he felt. He noted that by last year's intrasquad game, shoulder troubles left him with little life on his fastball. Niese knew as far back as his first bullpen session in 2014 that something was wrong.
"A lot different than last year," Niese labeled Tuesday's effort. "My intrasquad last year, I don't think I threw over 80 mph. So the ball came out, I think, fairly well today. The shoulder and elbow felt great."
Collins said he can easily tell that Niese's arm slot is higher and his arm speed is better this spring training because the shoulder issue appears behind the southpaw.
Wheels down:
Zack Wheeler
had not previously had a chance to face batters this spring training because his batting-practice session was rained out.
Wheeler struggled with control Tuesday, working opposite Niese.
Wheeler allowed two hits and two walks in 1 2/3 innings. His first inning of work was called after two outs because he had reached a pitch limit.
Wheeler said he was throwing across his body and "herky-jerky," but he labeled it an easy fix.
"Obviously it didn't go the way that I wanted," Wheeler said. "I was just throwing across my body a little bit and couldn't make that adjustment when I was out there. … It's something simple to fix."
First thing:
2014 first-round pick Michael Conforto, who is not in big-league camp, went 0-for-1 and finished the game in left field.
What's next:
The Mets open Grapefruit League play Wednesday against the
Atlanta Braves
at ESPN Wide World of Sports.
Dillon Gee
starts opposite Braves newcomer
Wandy Rodriguez
. Also making the trip: Travis d'Arnaud,
Wilmer Flores
and Kirk Nieuwenhuis.