New York Mets:

Michael Cramer
February, 27, 2011
2/27/11
6:17
AM ET
Time to go to the University of Michigan. Actually, not. The University of Michigan comes to the Mets on Sunday. But most of the media should be at Disney World. That's where
Chris Young
,
Oliver Perez
and the major league staff will be participating in a split-squad game against the Atlanta Braves.
On to Sunday's news reports ...
•
Ken Belson
and
Richard Sandomir
of The New York Times report: "One person close to the team said that advance ticket sales for the 2011 season were going so poorly that
a sense of panic
had begun to take hold in the team's front office. The team has recently initiated a broad shake-up of its ticket operations. Over the last several months,
Bill Ianniciello
, the longtime head of ticket sales, was replaced by
Leigh Castergine
, an executive brought in to overhaul the department in the wake of last year's steep decline in attendance."
• Commissioner
Bud Selig
, speaking in Scottsdale, Ariz., where he named
Joe Torre
executive VP of baseball operations for MLB, was mum Friday regarding his friends with the National League club in New York, declining to even
acknowledge he extended a $25 million loan
to the Mets' owners, writes
Ken Davidoff
in Newsday. The report quotes Selig saying: "I do have great affection for
Fred Wilpon
, make no mistake about that. I have great affection, and I have great respect." Despite the circumspect answer, Davidoff says the commissioner's office has concern about whether the Wilpons can retain ownership. ... Wilpon, wearing a University of Michigan baseball cap, was
even more quiet
at Mets camp. "You'd have a hard time finding half the guys in here that know about what's going on,"
David Wright
told Newsday. "And the other half that has heard about it, I don't even know how to begin to explain something or comment on something that I don't fully understand. To me, it doesn't affect anything that we're doing this year. Beyond this year, I guess we can answer those questions then. But as far as I'm concerned, I trust what the Wilpons are saying and you kind of go from there. I'm not too worried about it."
• Former commissioner
Fay Vincent
tells the Post's
Dan Martin
the Mets' $25 million loan from Major League Baseball is a
major red flag
about how dire things may be financially with the organization. Vincent, according to the report, once loaned the Detroit Tigers money before their 1992 sale and tells Martin: "Any time a team has to come to baseball for money, it's a great concern. Other teams have to be worried. There are implications for everyone."
•
Michael Cramer
, former president of the Texas Rangers, which happens to be the last major league club to go into a bankruptcy proceeding, similarly tells
Anthony Rieber
of Newsday that the Wilpons' need for a loan from MLB
does not bode particularly well
for their current state. "There's no way you hit up the MLB credit agreement for a liquidity loan for $25 million unless you just don't have the cash or any other way to do it," Cramer, director of the Texas Program in Sports and Media at the University of Texas at Austin, tells Rieber. "My gut is that's not a good sign."
•
Steve Popper
of the Bergen Record talks to Mets pitchers about why they wanted pitching coach
Dan Warthen
to return
. "I was sitting there thinking there's no way you can get rid of this guy, as much as he did with the injuries that happened,"
Mike Pelfrey
tells Popper. "He had guys coming in. Guys stepped up. Guys performed. I think that's a reflection, big-time reflection, of the pitching coach. No way you can get rid of a guy after that. ... The thing about his personality is that he is blunt. If you weren't very good, he's going to tell you that you weren't very good. He'll make a joke about it, but it's sarcastic truth like, 'Hey, I went back and watched the tape yesterday and you were awful. You were worse than I thought.' I'm like, 'Thanks, Dan.' I'm sitting there thinking I knew that. I threw the pitches. I knew I wasn't very good. But the next time in the bullpen, he comes with a plan." Third base coach
Chip Hale
and Warthen are the two holdovers from
Jerry Manuel's
staff.
•
Andy McCullough
of the Star-Ledger
does a Q&A
with
Ike Davis
. One question: An accomplished pitcher at Arizona State, could he have success now on the mound in the big leagues? "Well, I could throw hard," Davis says. "It's just I don't have the mechanics and arm strength right now. They do a lot of work, you know? I could throw 90 for four pitches. That's not good for a game."
• McCullough
also profiles Warthen
, who reveals he has no feeling in his fingers because of the effects of overpitching and the need for Tommy John surgery that was not yet perfected as a player.
•
Luis Castillo
gets a positive grade
for his performance in the Grapefruit League opener, according to Newsday. "I feel like I'm a rookie," Castillo said. "I have to show people I can still play. I'm going to play hard, like it's my last game, and I'm going to fight for the job. I think I can still play." ... Read more on Castillo
in the Record
. ... The Star-Ledger
does note
Castillo "failed to stretch for a
Jason Heyward
grounder in the fourth, and hit into a double play in his second at-bat."
•
Jason Bay
played in a game for the first time Saturday since getting shut down in July following the concussion he suffered at Dodger Stadium. You can read about Bay's return at
ESPNNewYork.com
. ... Post columnist
Mike Vaccaro
wonders how the Mets' 2010 season
might have turned out
had Bay been healthy for the entire year. Vaccaro notes the Mets were 6 1/2 games out of first place, and four games out of the wild card, when Bay's season ended. "We'll never know either way, right?" Bay tells Vaccaro. "
Carlos
[
Beltran
] was just coming back. We'd had our whole team together for a week. There's no telling what might have happened, especially when you consider the great pitching we got all year."
•
Mike Puma
of the Post notes the staff
will get their first glimpse
of
Young in a game today in a Mets uniform. Young thought he returned too quickly from shoulder surgery last spring training, and ended up making only one April appearance before again being shut down. "Last year I thought I was going through a normal spring training," Young tells Puma. "But I couldn't have the throwing days between starts the way I've been able to do here between bullpen sessions. Here, there have been no issues bouncing back, and I'm pretty excited about the way I feel."
•
Andy Martino
in the Daily News reminds that Perez, in addition to Young,
makes his first Grapefruit League appearance
Sunday at Disney against the Braves. "This spring training is different for me because I'm looking for a spot on this team," Perez tells Martino. "You have to treat it like the regular season. It's very different than when you come here just to get ready for the season." Warthen says the field of rotation starters should be narrowed about March 10, with Perez reassigned to the bullpen audition group then if he's faltering. After that, you know what is next. Young and
Chris Capuano
(who starts the other split-squad game Sunday, against the University of Michigan), should emerge as the final two members of the rotation if the Mets follow the script.
BIRTHDAY:
Pete Smith
, who made 21 starts for the Mets in 1994 and went 4-10 with a 5.55 ERA, was born on this date in 1966.
February, 13, 2011
2/13/11
9:49
AM ET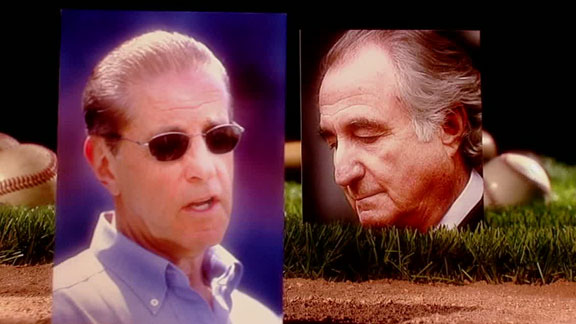 Featuring an interview by former Daily News Mets beat writer
T.J. Quinn
with
Larry King
, ESPN's Outside the Lines tackled the
Fred Wilpon
-
Saul Katz
-
Bernie Madoff
-
Irving Picard
issue Sunday morning.
Here's a summary:
• The piece opened with King, who was asked when he first heard the name Bernie Madoff. "I heard it from Fred," King said.
King revealed he invested about seven years ago with Madoff, relying upon Wilpon's recommendation. The retired CNN talk-show host recovered the $2.3 million he invested over that period, he said.
"Never heard a bad word about Bernie Madoff," King said. "In fact, my wife said to me one day, 'Why don't we put everything with him?'"
Asked for Fred Wilpon's reaction when the Mets' principal owner learned of Madoff's arrest, King said: "He was devastated."
King assigns no blame to the Wilpons, and used the analogy of employing a baseball player when there are whispers that slugger is using performance-enhancing drugs.
"What do you do? Take him off the team?" King asked. "No. Tell him to stop hitting homers? No … if you're Freddy, and this guy is being productive, and you're exchanging money, and friends are exchanging money, and they're doing well. So someone might say, 'You ought to watch out.' If someone said that to me, I don't know what I would have done."
Wasn't 18 percent annual returns on average too good to be true?
"I don't buy that -- 'known or should have known,'" King said. "A lot of people could tell you things. And sometimes if you've had a relationship with him, you're not going to believe them. … See, I think Freddy is getting an enormous bad rap, because Freddy would never, ever do a dishonest thing, or screw a friend. He would be the last person in the world. … I think Freddy will not go down without swinging, and he won't go down. I don't think he'll go down. The tragedy would be if he ever lost that team. I think that would be the tragedy of a lifetime. I pray it never happens."
Of course, King is not making a legal argument. And the allegation the Wilpons were on notice, and that they chose not to check it out even if they did not believe those warnings, could make them liable for the principal they invested in addition to $300 million in alleged false profits.
• OTL then interviewed
Michael Cramer
, former president of the Texas Rangers, an organization that went through the bankruptcy process.
Cramer expressed skepticism the Wilpons would be successful selling 20 to 25 percent of the team without yielding control.
"You could say that you're an owner of the Mets, but that's about all you can say," said Cramer, now the director of the University of Texas program in sports and media. "… You will have nothing whatsoever to say about the operation of the team. You may have some access. You might have a nice parking spot. You might even be able to get some extra tickets if they get to the World Series."
• A pair of undisputed Madoff victims --
Judith Welling
and
DeWitt Baker
-- next were interviewed. They say they lost half of their $1.5 million investment. They maintained any profits the Wilpons made weren't really profits at all.
"They are far more sophisticated investors than we would be based on their own background and investments and ownership of properties, etc.," Welling said.
Said Baker: "If you look at it morally, the money you took was somebody else's."
"It was our money," Welling said.
• Finally, ESPN's
Buster Olney
weighed in on the future.
"Certainly Fred Wilpon is going to get every benefit of the doubt from Major League Baseball in terms of giving him an opportunity to work through this because he's a respected owner," Olney said. "He's been a long-time ally of
Bud Selig
.
"But the big question within Major League Baseball circles is how steep is this debt? How much money can the Mets lose before Fred Wilpon might actually be forced to sell the team … A number of executives are saying the idea of selling 20 to 25 percent of the Mets while not giving up control to another owner is almost unworkable because, of course, if someone invests with the team and then Fred Wilpon put out a cash call to his investors as he dealt with his financial problems, who knows where that would end? That's why, in the end, the question of how much the Wilpons are going to have to give up in this suit is a major factor in whether or not he maintains ownership of the Mets."