New York Mets:

Miguel Cabrera
March, 19, 2014
3/19/14
5:30
AM ET
PORT ST. LUCIE, Fla.
FIRST PITCH:
The Mets have their lone off-day of spring training Wednesday -- major and minor leaguers -- then gear up for a relatively intense final stretch before breaking camp.
Terry Collins said priority No. 1 is getting his first basemen on the field, with the manager pledging either
Ike Davis
or
Lucas Duda
would
start Thursday's Grapefruit League game
against the
Atlanta Braves
.
With camp now down to 38 players, including rehabbing
Matt Harvey
and
Jeremy Hefner
, Collins said starters will get more time and relievers will begin to get action with in-season roles in mind.
The Mets break camp in eight days. They then head to Montreal for a pair of exhibition games against the
Toronto Blue Jays
before Opening Day on March 31 against the
Washington Nationals
at Citi Field.
"You bet it's the critical part of the spring," Collins said. "We're going to tighten some things up around here. … It's time to play like we're getting ready for the season."
Wednesday's news reports:
Mark Cunningham/MLB Photos/Getty ImagesNoah Syndergaard was dispatched to minor-league camp Tuesday.
• Noah Syndergaard
headlined the list of players
sent to minor-league camp Tuesday. The others: right-handers Rafael Montero, Cory Mazzoni, Ryan Reid, Joel Carreño and
Miguel Socolovich
, catcher Juan Centeno and first basemen Brandon Allen and Matt Clark. Allen is in a walking boot because of a calf injury.
"We don't want to keep preaching patience, but there's some real light at the end of the tunnel here," Collins said Tuesday. "[Syndergaard] wasn't the only guy sent down today who is going to pitch in the big leagues, and pitch for a long time in the big leagues. Montero is going to do it. Mazzoni is going to do it."
The Mets likely will be tight with Syndergaard's early season pitch counts so he has innings left in the majors during the second half. Syndergaard logged only 124 2/3 innings last season including the Eastern League playoffs and Futures Game, so 155 innings is a rough approximation for 2014. The Mets likely will consider a promotion for Syndergaard sometime in mid-June or beyond, after delaying his arbitration eligibility.
"He ain't coming out after the fifth up here," Collins said about pitch limits.
Syndergaard, meanwhile,
surrendered one hit but walked four
in four innings in a minor-league intrasquad game hours after receiving his demotion news.
Read more in the
Post
,
Daily News
,
Star-Ledger
,
Record
,
Newsday
,
Journal
and
MLB.com
.
• Harvey remains determined to
return to the Mets in August
, only 10 months after Tommy John surgery. He said he is undeterred by Atlanta's
Kris Medlen
and Oakland's
Jarrod Parker
recently learning they required that procedure for a second time. Harvey also remains adamant he wants to rehab primarily in New York and be around the team, which is his right under the collective bargaining agreement, even if the team disagrees. He dislikes the
team's attempts to muzzle him
from speaking with the media and tweeting, too. Read more in the
Daily News
,
Star-Ledger
,
Newsday
and
MLB.com
.
• Three
Arizona Diamondbacks
scouts, including special assistant
Todd Greene
,
quietly watched Mets minor leaguers
in an intrasquad game Tuesday, furthering speculation that the Mets ultimately could acquire one of their shortstops:
Didi Gregorius
or
Chris Owings
.
Seattle Mariners
scout Joe McIlvaine also was in attendance for an intrasquad game that included Logan Verrett pitching and Kevin Plawecki catching. The Mariners are likely to trade
Nick Franklin
.
On Franklin,
FanGraphs
tackles the topic about whether he can be a passable shortstop.
Scott Cunningham/Getty ImagesSandy Alderson has resumed speaking with teams about Ike Davis, a source told ESPNNewYork.com.
• Sandy Alderson
has started reengaging teams
who expressed interest in Davis during the offseason, a source told ESPNNewYork.com.
•
Jenrry Mejia
still
appears ticketed for Las Vegas
to open the season. So does
Wilmer Flores
, who should see some serious action
at shortstop with the 51s
in April.
•
Jonathon Niese
returned to camp Tuesday
and expressed relief that his second spring-training scare turned out to be only inflammation of the left elbow, with no structural damage. Niese said he does not have an ego about starting Opening Day.
Having him open the season on the DL and making his season debut April 6 against the
Cincinnati Reds
continues to seem the most viable option. The Mets insist they have not yet reset their rotation now that Niese is likely to miss Opening Day, beyond knowing that
Bartolo Colon
and
Dillon Gee
will start during the season-opening three-game series against the Nats.
Read more on Niese in the
Post
,
Daily News
,
Star-Ledger
and
Newsday
.
• The Mets have
arranged their starting pitchers for the next week
of spring training, beginning with
Zack Wheeler
facing the Braves on Thursday at Tradition Field.
•
Daisuke Matsuzaka
allowed two homers, including a shot by
Miguel Cabrera
, but
the Mets rallied for a 5-4 win
against the
Detroit Tigers
on
Andrew Brown
's walk-off RBI single. Read more at
MLB.com
.
BIRTHDAYS:
Former Mets minor-league catcher
Landon Powell
, now a volunteer assistant coach at Furman University, turns 32. ... Prospect Yeixon Ruiz, who hit .304 at Kingsport last season, is 23.
TWEET OF THE DAY:
What a tremendous opportunity but there's still work to be done.

— Noah Syndergaard (@Noahsyndergaard) March 18, 2014
YOU'RE UP: Would you prefer Didi Gregorius, Chris Owings, Nick Frankin, Stephen Drew, Ruben Tejada or Wilmer Flores as the Opening Day shortstop?
March, 18, 2014
3/18/14
5:33
PM ET
PORT ST. LUCIE, Fla. -- Probable fifth-starter
Daisuke Matsuzaka
surrendered homers to
Miguel Cabrera
and
Tyler Collins
and was charged with four runs on seven hits and a walk in five innings, but the Mets rallied to beat the
Detroit Tigers
, 5-4, Tuesday at Tradition Field.
Andrew Brown
plated
Anthony Seratelli
with a walk-off single in the ninth as the Mets improved to 9-10-2 in Grapefruit League play.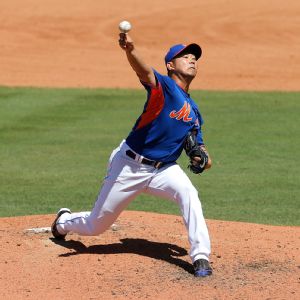 Joel Auerbach/Getty ImagesDaisuke Matsuzaka allowed a pair of home runs Tuesday.
"The situation for me hasn't changed," Matsuzaka said through interpreter Jeff Cutler. "I'm still aiming for a spot in the rotation for Opening Day. I just have to continue doing what I've been doing and make a case for myself."
Hot Soup:
First baseman Eric Campbell homered against Detroit left-hander
Kyle Lobstein
and finished 2-for-4 with two extra-base hits and two runs scored. The 26-year-old Boston College product is now hitting .333 in 36 Grapefruit League at-bats.
The righty-hitting Campbell likely is ticketed for a corner infield/corner outfield role with Triple-A Las Vegas. He is not on the 40-man roster, which is a major obstacle, but nonetheless may have opened eyes this spring training.
"Hopefully," Campbell said. "This is my first big-league camp, so it's really my first time playing a lot in front of T.C. and the other coaches and Sandy and all the higher-ups. It's been good so far."
Campbell had his career on the ropes in 2011 when he hit only .247 with four homers in 126 games with Double-A Binghamton. But he shed 15 pounds that next offseason, returned to the B-Mets and reestablished himself by hitting .297 with a .391 on-base percentage and .439 slugging percentage in 2012.
"I just put my head down and kept working, got in better shape," Campbell said. "I lost some weight and said, 'Hey, I'm going to really focus.' I said, 'I'm going to give it all I've got for one more year.' Since then it's really taken off."
Campbell hit .314 with eight homers and 66 RBIs and had a .435 on-base percentage in 425 plate appearances with Triple-A Las Vegas last season. He logged 29 games in right field, 28 at third base, 27 at first base and 26 in left field and also pitched an inning, albeit allowing four runs, including a homer.
Said Terry Collins: "He's athletic, runs for a big guy."
Lacking gas:
Closer
Bobby Parnell
continued to lack velocity in his fourth exhibition appearance, but Parnell nonetheless tossed a perfect ninth inning.
"The first time out the adrenaline was flying and he threw it up there pretty good," Collins said. "Today I think he might have hit 90 mph. He's still going to need some innings. Next time out he's probably going to go back-to-back, which may help him a little bit. He's throwing good. He feels good. I think he's just getting himself ready."
Said Parnell: "I feel good. Every day it's getting better. I feel like I had good depth on my two-seamer today, so I used it a lot."
As for his velocity, Parnell added: "I'm not worried about it."
In the middle:
Collins acknowledged
Wilmer Flores
, who started at shortstop again Tuesday, would likely see time at both middle-infield positions with Las Vegas assuming he opens the season in Triple-A, which is the projection. "He needs to play both," Collins said.
What's next:
The Mets have their lone off day of spring training Wednesday. Collins indicated the entire team would be off. That includes
Ike Davis
and
Lucas Duda
as well as
Jonathon Niese
, who had indicated he may resume throwing as soon as Wednesday. The Mets reassemble Thursday to face the
Atlanta Braves
in Port St. Lucie at 1:10 p.m., with
Zack Wheeler
expected to start.
August, 24, 2013
8/24/13
10:00
AM ET
By
Mark Simon
| ESPNNewYork.com
Saturday brings with it one of the most compelling pitching matchups of the season and the first regular-season rematch of two All-Star Game starting pitchers with
Matt Harvey
facing Tigers starter
Max Scherzer
.
Here are a few of the statistical storylines tied to this contest.
The unsupported ace
The Mets are 13-12 in Matt Harvey's 25 starts this season, and remember that they won the first five starts of the year.
Harvey is 4-4 with eight no-decisions in his last 16 starts, despite a 2.67 ERA, a 119-17 strikeout-to-walk ratio and four homers allowed in 108 innings pitched. The Mets are 6-10 in those 16 starts.
The Mets have scored 95 runs in Harvey's 25 starts. By comparison: The Tigers have scored 151 runs in Max Scherzer's 25 starts.
Matchup to Watch: Harvey vs Cabrera
Matt Harvey retired
Miguel Cabrera
in the All-Star Game, but getting him multiple times will be a challenge.
Cabrera will have no fear of Harvey's heater. He's 13-for-39 with four home runs in at-bats ending with pitches 95 mph or faster against right-handed pitchers.
Two of those homers came this month, the last a walk-off homer on August 17 against the
Kansas City Royals
and
Aaron Crow
, the other a go-ahead eighth-inning homer against the
Cleveland Indians
and rookie pitcher
Danny Salazar
, who had struck out Cabrera twice earlier in the game.
Against pitchers with comparable velocities and pitch selection, he was 1-for-4 against both
Stephen Strasburg
and
Yu Darvish
earlier this season
Harvey's best shot,
as we noted Friday
, will be to keep the ball down-and-away from Cabrera.
Daisuke Matsuzaka
paid the price when he threw Cabrera a high fastball and Cabrera parked it for a three-run homer, one that allowed him to pass Joe DiMaggio on the career home run list.
The
Stats & Info blog has noted Cabrera's prowess against first pitches
this season and Cabrera added two hits against them yesterday. He's now 41-for-83 in the first pitch of an at-bat this season with 14 home runs. Harvey has not allowed a first-pitch homer this season.
Mets vs Max
Scherzer is 18-1 this season with a 2.82 ERA and 5-0 with a 1.69 ERA in five starts since suffering his only loss of the season.
Elias notes that Scherzer can become the third pitcher to win 19 of his first 20 decisions in a season, joining two New York-based pitchers- Hall-of-Famer Rube Marquard for the 1912 Giants and
Roger Clemens
for the 2001 Yankees.
Scherzer's success is attributable not just to run support, but to becoming more of a four-pitch pitcher who is less reliant on his fastball (a pitch he threw 62 percent of the time from 2010 to 2012, but only 55 percent in 2013).
Scherzer's breaking pitches have been nasty this season. He's getting five outs with his curve and slider for every baserunner he yields with them. Over the previous three seasons, his ratio of outs to baserunners with those two pitches was about 3-to-1.
August, 24, 2013
8/24/13
4:55
AM ET
NEW YORK
FIRST PITCH:
A 2013 Cy Young winner should be pitching at Citi Field today, when the Mets face the
Detroit Tigers
at 4:05 p.m.
No disrespect to
Matt Harvey
, but we're talking about right-hander
Max Scherzer
(18-1, 2.82).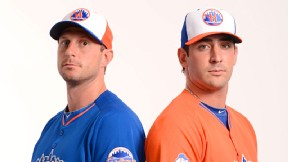 Rob Tringali/Getty ImagesAll-Star starters Max Scherzer and Matt Harvey meet again today.
The Harvey-Scherzer matchup marks the first time in MLB history the two All-Star starting pitchers have faced off in a regular-season game at any point that same year, according to the Elias Sports Bureau.
The Wall Street Journal notes All-Star starters twice have matched up in the World Series, though: Paul Derringer (Reds) versus Red Ruffing (Yankees) in Game 1 in 1939, and
Roger Clemens
(Red Sox) versus Dwight Gooden (Mets) in Game 2 in 1986.
"I think that's what makes Matt Harvey tick, to be honest," Terry Collins said. "It's not just Max Scherzer. It's the fact that he's going to see Prince [Fielder] and [Miguel] Cabrera and Torii [Hunter]. That whole lineup is a challenge. Matt relishes that. That's what makes him go. So he's very excited about pitching.
"It's going to be fun. It's going to be a good ballgame, obviously. Max is pitching great. He can strike you out. And one of the things we've got some issues with sometimes, we strike out. So we've got to be a little more disciplined … and put some balls in play."
After
Travis d'Arnaud
caught Harvey in San Diego last weekend, Collins indicated Friday he plans to pair
John Buck
with the ace today.
"They've been together for 25 or 26 starts. They're pretty comfortable," Collins said about the Harvey-Buck battery. "Travis d'Arnaud will catch him for 15 years. We'll make up that ground."
Saturday's news reports:
•
Daisuke Matsuzaka
allowed early homers to Hunter and Cabrera before retiring the final 10 batters he faced and allowed five runs in five innings as the
Mets lost to the Tigers, 6-1
, Friday at Citi Field. Matsuzaka indicated he
initially was nervous
in his Mets debut. He said he signed with the organization because of the opportunity to immediately pitch in a major league rotation. Matsuzaka will
earn slightly more than $100,000
for the remainder of the season, then be a free agent. Sandy Alderson called Matsuzaka the
Mets' "best option"
to plug a rotation void the rest of the season, since the promising Triple-A pitchers face innings caps.
Read game recaps in the
Post
,
Daily News
,
Times
,
Journal
,
Star-Ledger
,
Record
,
Newsday
and
MLB.com
.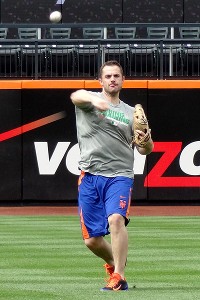 Adam RubinDavid Wright tossed a baseball and took grounders at Citi Field pregame Friday.
•
David Wright
took grounders at third base
pregame Friday. Collins indicated the third baseman should be in Port St. Lucie, Fla., doing significant baseball activities by Tuesday or Wednesday as he returns from a strained right hamstring.
• Read more on the Scherzer-Harvey matchup in
Newsday
.
• Benjamin Hoffman
in the Times
notes Matsuzaka's legendary "gyroball" turned out to be nothing more than a myth when he came to the States in 2007. Writes Hoffman:
Using FanGraphs' pitch-type data, provided by the record-keeping wizards at Baseball Info Solutions, Matsuzaka, like many other pitchers, relied mostly on his fastball, which he threw 53.1 percent of the time with the Red Sox. He also worked in a fair amount of sliders, cutters, changeups, splitters and curves.
The one hope that the gyroball does, or did, exist was that 0.8 percent of his pitches fell into the unknown-pitch-type category. Perhaps those were the gyroballs. Thus, when his 11,607 career pitches are considered, the possibility exists that he threw 93 gyroballs. That's not a whole lot.
•
Wilmer Flores
had a career-high three hits in the series opener. Read a profile of Flores from Mike Kerwick
in the Record
.
•
Frank Francisco
tossed a scoreless inning Friday,
in his second appearance in the Gulf Coast League
in three days.
• Jacob deGrom was charged with six runs in five innings with Las Vegas. Brandon Welch and Carlos Gomez combined on a six-hit shutout as Kingsport beat Bluefield, 7-0.
Alex Sanchez
had a grand slam in Brooklyn's 10-2 win against Vermont. Read the full minor league recap
here
.
•
From the bloggers:
Mark Berman from
Blogging Mets
has a blueprint for success for the 2014 Mets. …
Faith and Fear in Flushing
visits Astoria and stumbles upon a Mets video time capsule.
BIRTHDAYS:
Bartolome Fortunato
, the reliever who came from the Rays with
Victor Zambrano
in the
Scott Kazmir
trade, turns 39.
TWEET OF THE DAY:
My baseball card is already on eBay!

— Rob Whalen (@RobWhalen38) August 23, 2013
YOU'RE UP: Are you encouraged by Daisuke Matsuzaka retiring the final 10 batters he faced?
August, 23, 2013
8/23/13
10:09
PM ET
NEW YORK --
Daisuke Matsuzaka
did not have a charmed Mets debut. Not even semicharmed.
Matsuzaka surrendered homers to
Torii Hunter
and
Miguel Cabrera
before retiring the final 10 batters he faced. The Mets ultimately lost 6-1 to the
Detroit Tigers
on Friday night at Citi Field in the opener to their interleague series.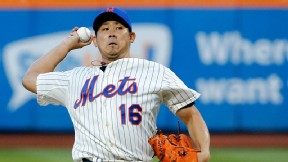 Anthony Gruppuso/USA TODAY SportsDaisuke Matsuzaka allowed five runs in five innings in his Mets debut.
Matsuzaka's line: 5 IP, 6 H, 5 R, 5 ER, 1 BB, 4 K, 2 HR. Working on short rest after pitching for Triple-A Columbus on Monday, he threw 86 pitches.
The Tigers grabbed a 5-1 lead in the second on Cabrera's three-run homer. Cabrera is now 6-for-12 with two homers, six RBIs and two walks in his career against Matsuzaka.
Austin Jackson
added a solo homer in the seventh against
Carlos Torres
, who tossed two relief innings after getting displaced from the start by Matsuzaka's addition.
The Mets' lone run in 6 1/3 innings against Tigers starter
Doug Fister
came in the opening frame, on
Marlon Byrd
's RBI single.
With
Hiroki Kuroda
starting for the Yankees at Tampa Bay, it marked the first time both New York teams started Japanese-born pitchers on the same date since Sept. 11, 1999. That day, the Yankees started
Hideki Irabu
and the Mets started
Masato Yoshii
.
What's next:
For the first time in major league history, the All-Star Game starters also square off during that same regular season.
Matt Harvey
(9-4, 2.25 ERA) opposes right-hander
Max Scherzer
(18-1, 2.82) at 4:05 p.m. ET Saturday.
August, 22, 2013
8/22/13
8:45
AM ET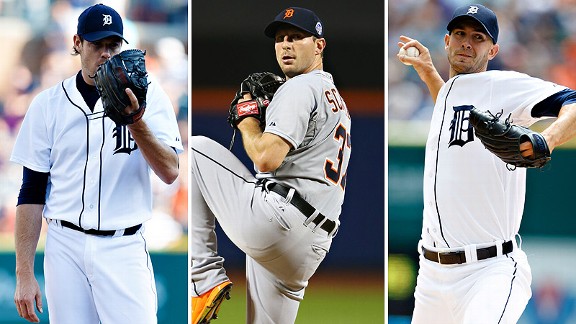 USA TODAY SportsThe Mets face Doug Fister, Max Scherzer and Rick Porcello this weekend at Citi Field.
METS (58-67, third place/NL East) vs. DETROIT TIGERS (74-52*, first place/AL Central)
Friday:
RHP
Daisuke Matsuzaka
(5-8, 3.92 at Triple-A Columbus) vs. RHP
Doug Fister
(10-6, 3.63), 7:10 p.m. ET
Saturday:
RHP
Matt Harvey
(9-4, 2.25) vs. RHP
Max Scherzer
(18-1, 2.82), 4:05 p.m. ET
Sunday:
RHP
Dillon Gee
(9-8, 3.60) vs. RHP
Rick Porcello
(9-7, 4.52), 1:10 p.m. ET
* plays Thursday vs. Minnesota
Tigers short hops
•
Max Scherzer
and Roger Clemens are the only pitchers since 1919 with 18 wins in their first 19 decisions of a season as a starting pitcher, according to STATS. Clemens went on to go 20-3 with the Yankees in 2001.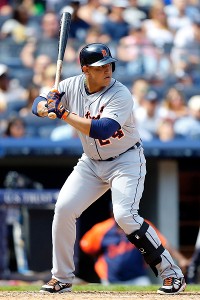 Jim McIsaac/Getty ImagesMiguel Cabrera is hitting .358 with 40 homers.
•
Miguel Cabrera
leads the American League in batting average (.358), RBIs (123) and on-base percentage (.449) and ranks second in homers (40). The Tigers appeared to dodge an injury bullet with Cabrera, who winced swinging at a slider during a game-ending at-bat on Tuesday night. The slugger has dealt with an abdominal strain for a month.
• Designated hitter
Victor Martinez
has been working out in catching gear of late in preparation for potentially playing a game behind the plate this weekend in the NL ballpark. Martinez last caught in 2011, when he started 26 games.
Alex Avila
has been on the DL since Aug. 11 with a concussion and is just due to begin a rehab assignment. Backup
Brayan Pena
injured a toe fouling a ball off his right foot Tuesday.
Bryan Holaday
started Wednesday's game against the
Minnesota Twins
. Detroit has allowed 16 straight steals, the longest active streak in the majors, according to STATS.
• The Tigers acquired rookie
Jose Iglesias
from the
Boston Red Sox
on July 30 to man shortstop in anticipation of losing
Jhonny Peralta
to a Biogenesis-related suspension. The three-team deal sent
Jake Peavy
from the
Chicago White Sox
to Boston. Peralta will be eligible to return from a 50-game suspension with three games remaining in the season.
• First baseman
Prince Fielder
ranks fifth in the AL with 87 RBIs.
• Outfielder
Matt Tuiasosopo
played for the Mets last season, at Triple-A Buffalo. Wally Backman advocated a September call-up for Tuiasosopo, but the Mets instead selected
Fred Lewis
. Tuiasosopo is the younger brother of former University of Washington football players Marques and Zach Tuiasosopo. Marques went on to attempt 90 passes for the Oakland Raiders from 2001-08 and also belonged to the Jets. Their father, Manu, played for the Seattle Seahawks.
• Second baseman
Omar Infante
is hitting .323 (10-for-31) since returning from the disabled list Aug. 12. He missed more than five weeks with a left ankle injury. Infante departed last Saturday's game with lower-back stiffness and a tight quadriceps, but returned to the lineup Tuesday.
• The Tigers released former closer
Jose Valverde
from Triple-A Toledo on Aug. 7. Valverde had been 0-1 with a 5.59 ERA and had nine saves in 12 chances earlier this season at the major league level before he was designated for assignment on June 21. He subsequently had accepted a minor league assignment.
Joaquin Benoit
has 14 saves as well as a 2-0 record and 1.21 ERA in his past 30 appearances. He has not blown a save chance this season.
• Detroit bolstered its bullpen by acquiring
Jose Veras
from the
Houston Astros
on July 29.
•
Rick Porcello
is a product of Seton Hall Prep in West Orange. He hails from Chester, N.J. Porcello is coming off an outing in which he allowed five runs in 4 1/3 innings against the Minnesota Twins.
March, 24, 2013
3/24/13
6:53
PM ET
PORT ST. LUCIE, Fla. --
Matt Harvey
was charged with four runs (three earned) in five innings and the Mets lost to the
Detroit Tigers
, 9-4, Sunday at Tradition Field.
In the other split-squad game,
Jamie Hoffmann
,
Zach Lutz
and
Mike Baxter
homered as the Mets overcame a six-run deficit to beat the
St. Louis Cardinals
, 10-7, in Jupiter. Lutz went 2-for-5 with three RBIs.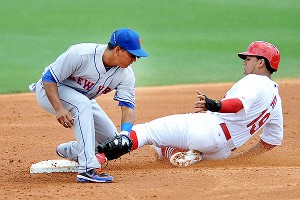 Steve Mitchell/USA TODAY Sports
Ruben Tejada is too late applying a tag on Cardinals center fielder Jon Jay at second base in the second inning at Roger Dean Stadium.

Harvey struck out the side in the first inning, King
Austin Jackson
,
Torii Hunter
and
Miguel Cabrera
. But he walked three and allowed five hits over the next three innings before settling down in the fifth.
"I think it was one of those outings where everything felt really good and I tried to do a little bit too much with it instead of backing off a little bit and executing the pitch and just going with what I had," Harvey said. "Everything clicked toward the end and that's definitely a positive.
"Definitely something I learned is try not to get too pumped up for a team and a lineup like that -- back off and let everything work."
As for his results, Harvey added: "You guys all know me. I'm not happy with the line. But there are definitely positives, and I'm feeling good."
Said Terry Collins: "I just know he was behind a lot in the count, which he hasn't been. He falls behind the first pitch. That's not him."
Primary setup man
Brandon Lyon
surrendered five runs on six hits while recording only one out.
As for the other split-squad contest,
Aaron Laffey
allowed four runs on six hits and two walks in three innings against the Cards. He had not allowed a run in nine Grapefruit League innings entering the start.
Greg Burke
allowed two runs in one inning, while
Jeurys Familia
tossed two scoreless frames.
March, 7, 2013
3/07/13
6:32
AM ET
PORT ST. LUCIE, Fla.
FIRST PITCH:
Matt Harvey
gets the Grapefruit League start today as the Mets face the
Miami Marlins
at 1:10 p.m. at Tradition Field.
Greg Burke
and
Brandon Lyon
also are scheduled to pitch.
The Marlins are scheduled to start right-hander
Ricky Nolasco
.
Thursday's news reports: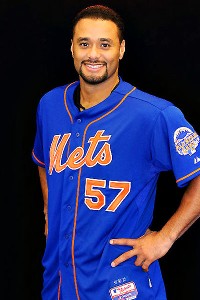 Courtesy of New York Mets
Johan Santana is aiming to enter Grapefruit League play next Thursday.

•
Johan Santana
is
due to appear in a Grapefruit League game
next Thursday against the
Detroit Tigers
in Port St. Lucie. Santana threw off a mound, while
Zack Wheeler
(oblique)
long-tossed Wednesday
. Venezuela manager
Luis Sojo
said
Santana is "very sad"
about being unable to represent his country in the World Baseball Classic. Read more in the
Star-Ledger
,
Newsday
,
Journal
,
Post
,
Record
,
Daily News
and
MLB.com
.
• Columnist Joel Sherman
in the Post
writes about the Mets about to bridge two eras, with Santana fading and Wheeler about to ascend. "What's not to be excited about?" special assistant J.P. Ricciardi told Sherman about Wheeler. "He's got great stuff. He has a great arm. He is a nice kid. And he has a good work ethic. If you aren't going to get excited about him, who are you going to get excited about?"
•
Jenrry Mejia
, who was
flagged for a thyroid issue
in his initial physical, is scheduled to travel back from New York to Port St. Lucie this morning.
•
Miguel Cabrera
led a juggernaut offense with two homers and
Jonathon Niese
tossed 2 1/3 innings as
Venezuela beat the Mets, 14-10
, in an exhibition game Wednesday at Tradition Field. Read more at
MLB.com
.
• Columnist John Harper
in the Daily News
discusses the importance of Niese to the franchise.
•
Kansas City Royals
first baseman
Eric Hosmer
, not
Ike Davis
, was tabbed to replace injured
Mark Teixeira
on Team USA's WBC roster
. Joe Torre acknowledged considering Davis but suggested Hosmer already being in Arizona, where Team USA opens play against Mexico on Friday, was a major factor.
"There were a couple of issues," Torre told David Lennon
in Newsday
. "We were looking for a left-hander, and Ike is certainly someone we talked about. We talked about
Ryan Howard
. But where we were, if we could stay in Arizona -- only because of how close we were to the end and he wouldn't be able to get here for [Wednesday's exhibition] game and stuff -- it just worked out perfect. He's here."
Read more in the
Record
.
• Although it is unlikely to materialize,
Francisco Rodriguez
said he would
like to rejoin the Mets
. K-Rod, who is pitching for Venezuela in the WBC, remains a free agent. Read more in the
Star-Ledger
,
Post
,
Times
,
Newsday
,
Daily News
and
MLB.com
.
•
David Wright
went 2-for-4 with an RBI
and played five innings at third base in Team USA's WBC tune-up against the
Colorado Rockies
.
•
Marlon Byrd
and
Jordany Valdespin
both
got looks in center field
during Wednesday's game against Venezuela.
• Kevin Kernan
in the Post
checks in with
Scott Kazmir
at
Cleveland Indians
camp.
•
From the bloggers
…
Faith and Fear in Flushing
celebrates the prospective return of
Pedro Feliciano
, suggesting the wrong Mets icon's image is gracing the spring-training caps this year. …
Mets Police
reports the Amazin's have a .684 winning percentage in games in which Dan Twohig has attended and kept score, dating to 1980.
BIRTHDAYS:
Jeff Kent
turns 45. … Right-hander Mauro Gozzo turns 47.
TWEET OF THE DAY:
As a former valet attendant, I would gladly accept Dark Chocolate Raisinets in lieu of a tip.

— Collin McHugh (@Collin_McHugh) March 7, 2013
YOU'RE UP: Whom should Joe Torre have chosen to replace Mark Teixeira on Team USA's roster: Ike Davis, Paul Konerko, Ryan Howard or Eric Hosmer?
March, 6, 2013
3/06/13
5:39
PM ET
PORT ST. LUCIE, Fla. --
Miguel Cabrera
slugged homers against
Carlos Torres
and
Elvin Ramirez
in consecutive innings and Venezuela's World Baseball Classic entrant built a huge lead en route to a 14-10 win against the Mets at Tradition Field on Wednesday afternoon.
Game tidbits: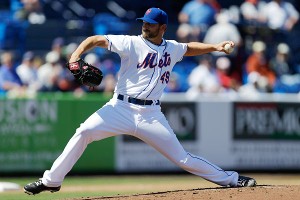 Julio Cortez/Associated Press
Jon Niese pitches against Venezuela on Wednesday.

FORMIDABLE FOE:
Facing a loaded Venezuela lineup,
Jonathon Niese
was charged with four earned runs on six hits and two walks in 2 1/3 innings. Two of the runs charged to Niese scored after being inherited by Torres.
Asked if he would ever see anything like the Venezuelan lineup again this year, Niese said: "Obviously not, unless I'm in the All-Star Game. They have an unbelievable lineup, and they battle very well. They made me throw a lot of pitches. I thought I executed some good ones, and then I didn't execute some. They made me pay for a bunch of them."
Niese stands to be the Opening Day starter if
Johan Santana
is not ready for the April 1 game against the
San Diego Padres
at Citi Field.
"He's working real hard to get back," Niese said about Santana. "He wants that spot more than anybody. It would be a great honor. I'm thankful that the Mets put that trust in me. But, like I said, Johan is working hard to get to that position."
LUCKY SEVEN:
Trailing 12-0, the Mets produced a seven-run fifth inning against
Wil Ledezma
and
Romulo Sanchez
. The damage included a three-run homer by
Marlon Byrd
against Sanchez.
CENTER ATTENTION:
Terry Collins used Byrd and then
Jordany Valdespin
in center field as he tries to identify lineup options. The manager noted postgame that he has been disappointed with the Mets' hitting thus far, so he's clearly experimenting. It marked Byrd's first time in center field and Valdespin's first time in the outfield this spring training.
"Well, he didn't get much action, except for balls blowing over his head that he had to go chase," Collins said about his impressions of Byrd in center. "He's played out there. I just wanted to get him out there and get to see how he looks. I'm going to play him again out there another time. I want to get Valdespin some looks in the outfield. We're not swinging the bats very good. I know it's spring training. I know it's early in spring training. Everybody has got 40 more at-bats to go. I'm looking for somebody to step up here."
DUCK!
Zach Lutz
was hit with a curveball in the back of the helmet by former Mets farmhand Deolis Guerra, but remained in the game and said he was fine afterward. Lutz had been drilled in the head twice with Triple-A Buffalo in 2011, each time suffering a severe concussion.
PARTING SHOT:
Venezuelan
Wilmer Flores
delivered a solo homer with two out in the ninth against his country's national team to cap the scoring.
July, 11, 2012
7/11/12
5:55
AM ET
After the NL All-Stars beat their AL counterparts Tuesday in Kansas City, Citi Field now officially is on the clock for the 2013 All-Star Game.
The Mets reassemble to hold an afternoon workout Thursday in Atlanta. Today,
Jason Bay
(concussion) and
Frank Francisco
(oblique) may begin rehab assignments with Class A St. Lucie at Tampa.
The Triple-A and Double-A All-Star Games also will be held today.
Matt Harvey
is due to pitch second for the International League All-Stars in Buffalo in the Triple-A contest.
R.A. Dickey
is due to appear with
David Letterman
tonight. Dickey tweeted: "I'm bringing a mask and [
Josh
]
Thole's
glove in case he wants to catch a few. Fun!!"
Wednesday's news reports:
•
Dillon Gee
remains hospitalized after doctors discovered hand numbness and coldness was being
caused by a blood clot in his pitching shoulder
. A catheter was used to break up the clot, the Mets announced. Gee will remain hospitalized for a couple of days to ensure the immediate danger is behind him.
"My concern is obviously what the rehabilitation time is going to be,"
Terry Collins
told reporters in Kansas City. "Is he going to miss a month? Is he going to miss two months? Is he going to miss the rest of the season? So we can start to move forward with whatever move we need to make."
The Mets placed Gee, who had been scheduled to start Friday's second-half opener, on the disabled list. Instead,
Chris Young
is
now scheduled to start Friday in Atlanta
, followed by Dickey
on Saturday.
Johan Santana
will test his balky right ankle Thursday during a Mets workout at Turner Field, after which it should be determined whether he faces the Braves on Sunday or the Nationals in D.C. on Tuesday.
Jon Niese
will get the other start. The Mets can go back to Young on Wednesday in Washington if he feels capable, delaying the use of a fifth starter until as late as July 21 against the Dodgers at Citi Field. Ultimately, though, Collins
said
Miguel Batista
will handle Gee's role for now. Collins said he did not want to promote Harvey before he is ready and put him in a position to fail.
The Mets will promote a reliever to take Gee's roster spot. Lefty
Josh Edgin
appears a logical choice, since
Sandy Alderson
has said he is due to be promoted soon anyway. Collins said team officials likely will convene Wednesday to discuss who should get the call-up.
Robert Carson
would be an alternative.
Teammates expressed concern for Gee.
Justin Turner
tweeted
:
Appreciate all the concern for Gee, we are worried too. Please keep him in your thoughts and prayers
Gee's medical troubles hit home with
Bobby Parnell
. Parnell experienced numbness/tingling in his fingers last April, but had a relatively minor issue compared with his teammate Gee. Parnell merely was prescribed baby aspirin after undergoing an angiogram. He never required surgery to break up a clot. "It's scary, Parnell told
Anthony DiComo
at MLB.com
. "Not knowing what's going on inside your body is the worst part. Not being able to control it is the worst part."
Dr.
Sharif Ellozy
, a vascular expert and associate professor of surgery at The Mount Sinai Hospital,
told ESPNNewYork.com
the length of Gee's absence may be contingent upon whether there is damage to the artery in the shoulder. "The fact that he's a pitcher and that it was in the arm that he was pitching from, you suspect there may be some injury [with the artery] where it goes between the clavicle and the first rib in that arm," Ellozy said. "How soon he'll be able to return depends on what they find."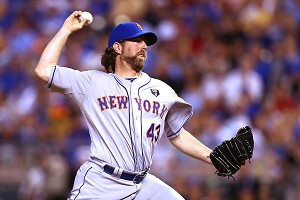 Jonathan Daniel/Getty ImagesR.A. Dickey allowed a pair of baserunners, but tossed a scoreless inning in his first All-Star Game.
Writes
Brian Costa
in the Journal
:
Dr. Lawrence Gardner, the acting co-director of hematology at NYU Langone Medical Center, said arterial clots are generally more serious than those found in veins because they can restrict the flow of blood to muscles and vital organs. The fact that doctors had to insert a catheter, rather than merely putting Gee on blood thinners, indicates that it was more than just a minor issue, Gardner said. According to Collins, doctors are trying to determine how much shoulder damage the clot caused. "His hand was ice cold," Collins said. "No blood flow in there."
The seriousness of blood clots among pitchers has varied widely. Mets reliever Bobby Parnell went on the DL with a clot in his right middle finger last season, and though it required only blood thinners to treat, he still was out more than a month. Detroit Tigers pitcher Jeremy Bonderman missed the last four months of the 2008 season after doctors found a clot in a vein in his pitching shoulder. And he continued to have shoulder problems in 2009.
Read more in the
Star-Ledger
,
Newsday
,
Times
,
Daily News
,
Record
and
Post
.
• Dickey
eventually entered the All-Star Game
in the sixth and surrendered a hit and plunked a batter, but he coaxed a double-play grounder from
Miguel Cabrera
and escaped the inning unscathed in what ended as an 8-0 NL victory.
Carlos Ruiz
, who caught Dickey, got through the knuckleball receiving fine while using
Thole's oversized mitt.
David Wright
, meanwhile, replaced
Pablo Sandoval
and went 0-for-2. Collins, who was a coach on
Tony La Russa's
staff, made a ninth-inning pitching change. Read more in
Newsday
and the
Daily News
.
• Union chief
Michael Weiner
confirmed Tuesday that interleague matchups between natural rivals -- including the Mets and Yankees -- will be
limited to three or four games a season
going forward, not six. The exception will be in years when, for instance, the AL East and NL East line up to play. In those seasons, a six-game, home-and-home slate will still be played. Read more in
Newsday
.
• After being claimed off waivers four times in a five-week span, most recently by the Mets from the Yankees last week,
Chris Schwinden
finally cleared waivers
. So he is now officially with Triple-A Buffalo as a non-40 man roster player.
• Savannah, the organization's lone minor league affiliate in action Tuesday, blanked Delmarva 2-0 behind a complete game from 2011 third-round pick
Logan Verrett
. Read the minor league recap
here
.
•
Mike Sielski
in the Journal
speaks with 19-year-old
Brandon Nimmo
, the Mets' first-round pick in 2011, who is playing for the Brooklyn Cyclones. On
Mike Trout
and
Bryce Harper
being in the majors at his age, Nimmo said: "Even though I think I'm a great athlete and I'm good at baseball, those guys are different, and I have to realize that. For normal high-school guys, it takes four years or so. Twenty-three years old in the majors, you're still young."
TRIVIA:
Who did
Pedro Martinez
oppose in Atlanta, in his second start as a Met in 2005?
Tuesday's answer: Although it has not been formally announced, MLB plans to award the 2014 All-Star Game to the Minnesota Twins.
July, 10, 2012
7/10/12
11:13
PM ET


R.A. Dickey surrendered a leadoff single to Mike Trout upon entering with an eight-run lead in the sixth inning, and Trout swiped second base, but the 37-year-old knuckleballer eventually stranded the Angels phenom to post a scoreless frame in his first All-Star Game appearance.

Phillies catcher Carlos Ruiz got through the inning unscathed as well, although Dickey told reporters in Kansas City afterward that Ruiz on one knuckleball "looked like he was catching with chopsticks."

Dickey struck out Mark Trumbo and hit Paul Konerko with a pitch before coaxing a 6-4-3 double play from Miguel Cabrera to post the scoreless frame and preserve the NL's eight-run lead.

Speaking to reporters afterward, Dickey said about his knuckleball: "I didn't throw many super-duper ones."

David Wright went 0-for-2. After Pablo Sandoval contributed a three-run triple in the first inning, Wright eventually entered at third base. He grounded into a fielder's choice in the fifth against Jered Weaver and struck out looking against Ryan Cook in the seventh.

Matt Cain, who started over Dickey for the NL, tossed two scoreless innings.

Terry Collins, a coach on Tony La Russa's staff, made a ninth-inning pitching change to get some air time.
June, 29, 2011
6/29/11
10:56
PM ET
Recap
|
Box score |
Photos
WHAT IT MEANS:
The Mets (41-39) matched their season high at two games over .500, which they also were with a 3-1 record on April 5.
The 52 runs scored during their current four-game winning streak set a franchise record for a four-game stretch. The previous record had been 50 runs, from June 12-15, 1990 against the Chicago Cubs and Pittsburgh Pirates.
The Mets have now scored eight or more runs in four straight games -- matching the longest streak in franchise history, also done four previous times (2006, 2000, 1998 and 1969).
The Mets allowed five homers, the most since Atlanta went deep that many times against the Amazin's on Sept. 27, 2006 -- when
Pedro Martinez
allowed two and
Darren Oliver
allowed three. They won for only the fifth time in franchise history when allowing that many long balls -- and for the first time without homering themselves.

First Base
New York Mets
2011 Season Stats

| | | | | | |
| --- | --- | --- | --- | --- | --- |
| GM | HR | RBI | R | OBP | AVG |
| 76 | 4 | 32 | 33 | .344 | .299 |
Daniel Murphy
delivered critical two-out, two-run singles with the bases loaded in the seventh and eighth innings to hold off a fierce Tigers comeback.
Outfielder
Don Kelly
closed out the ninth for Detroit, becoming the first Tigers position player to pitch in 11 years. He retired
Scott Hairston
on a flyout.
COLD CALL:
In the seventh, the Tigers pulled within 10-8 on pinch-hitter
Andy Dirks'
two-run homer against
Tim Byrdak
, who apparently was not warming up when summoned.
GAS: Bobby Parnell
registered as high as 103 mph on the Tigers' in-stadium radar gun during the seventh inning.

Shortstop
New York Mets
2011 Season Stats

| | | | | | |
| --- | --- | --- | --- | --- | --- |
| GM | HR | RBI | R | OBP | AVG |
| 77 | 3 | 32 | 65 | .393 | .349 |
JO-SE, JO-SE:
Jose Reyes
singled in each of his first two at-bats, extending his streak of consecutive plate appearances reaching base to eight before it was snapped. In a four-run first inning, Reyes moved to second when
Miguel Cabrera
missed a pickoff throw from
Phil Coke
, advanced to third base on his 30th steal, then scored on a wild pitch. Hairston delivered a bases-loaded triple later in the inning. In a three-run fifth,
Ronny Paulino
-- starting in the cleanup spot for the third time in his career -- had an RBI double.
CAPPER: Chris Capuano
, showing no ill effects from the abdominal issue that prompted the Mets to pull him from his previous start after six innings as a precaution, retired the first eight Tigers batters he faced. But he ultimately surrendered three homers -- solo shots by
Ryan Raburn
in the third and Cabrera in the fourth, then a three-run shot by Cabrera in the sixth that pulled Detroit within 8-5.
Terry Collins
pulled Capuano at that point and inserted
Pedro Beato
. Beato surrendered a solo homer to
Jhonny Peralta
later in the sixth as Detroit closed to within two runs.
Capuano's line: 5+ IP, 6 H, 5 ER, 6 K, 3 HR, 1 WP.
K-ROD TRACKER: Francisco Rodriguez
remained at 29 games finished. He is on pace for 59, four more than the threshold for his contract to kick in at $17.5 million for 2012.
WHAT'S NEXT: Mike Pelfrey
(4-6, 4.78 ERA) opposes Detroit right-hander
Justin Verlander
(10-3, 2.38) in the series finale on Thursday afternoon. Verlander is 8-0 with a 1.56 ERA and .155 opponent batting average in his past 10 starts, and 6-0 with a 0.72 ERA in his past six starts, giving the Mets a staunch test in trying to continue their offensive surge.
March, 10, 2011
3/10/11
6:30
AM ET
Terry Collins
heads to Jupiter with a Mets split squad.
Dan Warthen
heads to Viera with the other half. And
Oliver Perez
heads to the bullpen competition.
On to Thursday's news reports:
• I should have had my suspicions raised when I saw an MLB security official pass through the Mets' clubhouse Wednesday. Turns out, the Daily News reports MLB investigators and the NYPD visited Port St. Lucie to
do further investigating
into fired clubhouse manager
Charlie Samuels
, who is being scrutinized over memorabilia and alleged gambling ties, but who has yet to be charged with any crime. Reports the Daily News:
Samuels remains under grand jury investigation for gambling and "basically looting the Mets clubhouse over the years," one of the law-enforcement sources told the Daily News. Investigators in particular wanted to again talk to some of Samuels' pals, including closer Francisco Rodriguez and Mike Piazza, the police sources said. Neither K-Rod nor Piazza, who was traveling through Port St. Lucie with the Italian national team, are targets in the NYPD investigation, the sources said. "These were guys Samuels hung with and were in a position to know what he was up to," they said.
• Post columnist
Joel Sherman
says the Mets are treating
Johan Santana
prudently, trying to ensure a patient rehab means he is
not compromised for 2012 and 2013
, when he is owed a combined $54.5 million, assuming his 2014 option is not exercised. Sherman notes placing
Ruben Tejada
and
Jenrry Mejia
in Triple-A also is partly with an eye toward next season, and a vast departure from the rushing and win-now-even-if-compromises-the-future approach of
Omar Minaya's
tenure as GM. Writes Sherman regarding Santana:
If he returns in July, great. But every time I ask about Santana, I hear as much about 2012 and beyond as 2011. As pitching coach Dan Warthen
said, "If we get 15 starts, we would be lucky. Twelve would be good. It is all a very tough call. I think we will see Johan this year. But the key is a really healthy Johan, especially for 2012."
Of course,
Carlos Beltran
appears to be an exception to that prudent approach. The day after he was declared inactive for four or five days to let left knee tendinitis calm down, Collins noted Beltran was in the cage, declaring improvement. Perhaps it might have been better to actually let the symptoms calm -- although this isn't exactly as egregious as switch-hitting
Jose Reyes
batting from the right side against right-handers because his right oblique made it too uncomfortable to bat lefty.
•
Dan Martin
of the Post looks at
Lucas Duda
-- who played right field for the first time this spring Wednesday -- as well as
Scott Hairston
and the rest of the field of players who
might need to fill in for Beltran
. "Evidently, if Carlos needs time off, I realize it might be me who could fill in while he's out," Hairston tells Martin. "I'm not paying too much attention to that. I've had experience doing everything in the big leagues. I hope he comes back and is healthy since he's a huge part of our lineup, but I'm prepared for whatever happens." ...
Sandy Alderson
indicated earlier this week that he's not resigned to Beltran opening the season on the disabled list. Still, the GM said, a short-term absence might be best plugged with backup outfielders Hairston and
Willie Harris
. Duda and
Fernando Martinez
would be the prospects up for the role. But Duda is a natural first baseman who is now passable in left field, and who had not played right field in a professional game until Wednesday.
•
Andy McCullough
of the Star-Ledger reveals how
Daniel Murphy
has been trying to
keep the nerve-prone Duda calm
. Writes McCullough:
A horrific slump greeted his [major league] arrival. Duda collected one hit in his first 37 at-bats. The talent of opposing pitchers, like Atlanta's Tim Hudson and Philadelphia's Roy Halladay, stunned him. He felt lost and unable to time anything. "I was getting beat," Duda said. "I was late. I was ahead of balls." During the slump, Duda received a text message from Daniel Murphy, who hit .313 as a late-season call-up in 2008. He offered empathy. He told Duda to relax. "When we get called up, we're scared to death," Murphy said. "Because A, it's more people than we'd ever thought we'd play in front of. And B, we're not entirely sure we belong here yet."
•
Brian Costa
of The Wall Street Journal looks further into
what missing Beltran would mean
.
•
Raul Gonzalez
, an outfielder on the 2002 and '03 Mets, has been selected to be
Miguel Cabrera's
companion, according to Foxsports.com. Gonzalez will be around Cabrera to serve as a support system and
prevent further alcohol abuse
.
•
Luis Castillo
will get plenty of upcoming at-bats to prove he should be the second baseman. Rule 5 pick
Brad Emaus
is the preferred front-office choice but is off to an extremely slow start at the plate as well as in the field that could ultimately put his selection in jeopardy. Murphy will be on the roster in some capacity. "I'm getting more at-bats now, so I'm happy," Castillo
tells Martin
. "If I keep doing what I'm doing, I think everything will work out."
Regardless, Daily News columnist
John Harper
notes
no one has quite distinguished himself
in the second-base competition, with Murphy probably playing the best, although he has yet to get a double-play chance at the position in a Grapefruit League game. Harper says one front-office person was at such a loss about who was leading, they suggested maybe Harris, who has manned the position in 208 major league games. Apparently,
Luis Hernandez
might force himself into the race as well. Harper also suggests Collins was upset with Castillo's energy level earlier in camp. Writes Harper:
Castillo, the incumbent of sorts, has annoyed Terry Collins by moping around in apparent protest of being forced to compete for the job, to the point where the manager called him into his office a couple of days ago to tell him he better start working harder if he wanted any shot at all. Castillo didn't even take pregame ground balls one day last week when he was in the lineup as the DH, as Collins has had to juggle playing time to get looks at all four second-base candidates. And that didn't sit well with the new manager, who is not going to tolerate the laissez-faire attitude that permeated the clubhouse in recent years.
•
David Lennon
in Newsday looks at
Perez moving to the bullpen
. He cites awful relief statistics in Perez's career, although in fairness that was skewed by last season, when he was barely used in the second half and got lit up during sporadic appearances. Writes Lennon:
If history is any indication, the prognosis is not very good. Perez has made 11 relief appearances during his career and posted an 8.36 ERA in that role. Opposing hitters have batted .339 against Perez, who has allowed 19 hits and 14 walks in 14 innings in relief. The only glimmer of hope is the fact that Perez has held left-handed hitters to a .226 average, with a 2.98 walk-to-strikeout ratio. But asking him to duplicate that success out of the bullpen, in high-pressure situations, seems like a tall order.
•
David Waldstein
of The New York Times notes that prospect
Reese Havens
surely would be in camp now, and perhaps
winning the second-base competition
, if persistent injuries hadn't slowed his career. Havens had offseason surgery to remove an inch of a rib, which should address oblique trouble that tormented him in 2010. Havens was taken 22nd overall in the 2008 draft, when the Mets had three picks in the top 33 and took
Ike Davis
18th overall. "All I know is that he plays 10 games a year, and hits 10 home runs," Davis tells Waldstein about Havens, who is a gifted hitter.
• The New York Times looks at
inconsistent statements from the Mets
, who say they're trying to sell 20 to 25 percent of the team because of the uncertainty of the pending $1 billion lawsuit. Yet, the Times notes, the Mets were quietly seeking investors months before the suit was filed in December. Write authors
Richard Sandomir
and
Ken Belson
:
In an interview this week, David Cohen, the chief counsel for the Mets, maintained that the size of the lawsuit was what really motivated the hunt for a partner, not any financial pressures. And while the Mets' owners were looking for buyers in the days before Picard filed his suit on Dec. 7, going public with their search prompted more potential bidders to step forward. "The decision to seek minority investors was not related to any intermittent fluctuations in revenue," Cohen said. "You operate a baseball team, you expect the ticket sales to go up and down based on team performance." Announcing that the team was seeking investors was "deemed a more effective way to reach a broader number of interested investors." But when asked what the owners would do with the money they might make from a sale, Cohen said it would be put into running the team, not pay the owners dividends or be set aside for a possible settlement. "The purpose is to make a positive contribution to the team's resources," Cohen said.
BIRTHDAYS:
John Cangelosi
, who played for 62 games for the '94 Mets, was born in Brooklyn on this date in 1963. ...
Ken MacKenzie
, a Mets reliever in 1962 and '63, was born in 1934. ... Right-hander
Wayne Twitchell
, who made 33 appearances (two starts) for the '79 Mets, was born in 1948.