New York Mets:

Mike Bianco
June, 9, 2012
6/09/12
8:42
AM ET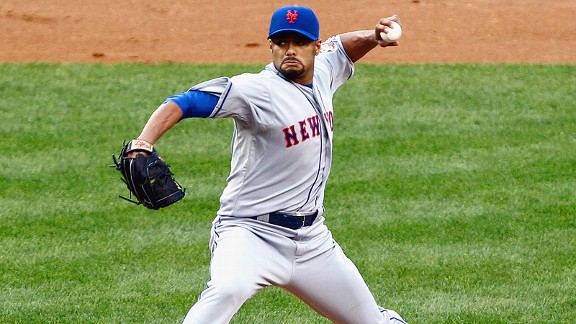 Debby Wong/US Presswire
Johan Santana wasn't sharp in his first game after the no-hitter. Terry Collins blamed himself, saying two extra days of rest deprived Santana of his sharpness.
In his first start since last Friday's no-hitter,
Johan Santana
matched a career high by serving up four homers -- including back-to-back-to-back blasts by
Robinson Cano
,
Nick Swisher
and
Andruw Jones
in the third inning -- as the Yankees routed the Mets in the Subway Series opener, 9-1, Friday in the Bronx.
Yankees starter
Hiroki Kuroda
held the Mets hitless until
Omar Quintanilla's
two-out double in the sixth.
Santana, who entered the outing having tossed consecutive shutouts, had never allowed homers to three straight batters. The last Met to surrender three straight homers:
John Maine
at Dodger Stadium on June 12, 2007. Santana had only surrendered four total long balls
total
in his first 11 starts of the season. His line in an 86-pitch effort: 5 IP, 7 H, 6 R, 6 ER, 1 BB, 5 K, 4 HR.
Afterward,
Terry Collins
blamed himself for Santana's performance, suggesting the two extra days of rest upset the ace's sharpness.
Collins originally wanted Santana to pitch on one extra day of rest Thursday, with
R.A. Dickey
pitching a day early and
Jeremy Hefner
unneeded for a spot start. Santana replied that he did not want to disrupt Dickey's groove. So Santana requested to go on normal rest Wednesday, albeit with a low pitch count. Instead, Collins opted for the two extra days following Santana's 134-pitch no-hitter.
"He's rusty," Collins said. "It's my doing, not his. ... We erred on the side of caution and it cost us the game tonight."
Tonight at 7:15 p.m. on Fox,
Dillon Gee
(4-3, 4.48) opposes Yankees right-hander
Phil Hughes
(5-5, 4.96) in the Bronx.
Saturday's news reports:
• Rookie
Elvin Ramirez
could not limit the damage after Santana departed. Ramirez, making his third major league appearance, walked four and was charged with three runs in 1 2/3 innings. The Mets' lone run came with two outs in the ninth inning against ex-teammate
Ryota Igarashi
. Read game recaps in the
Post
,
Journal
,
Daily News
,
Star-Ledger
,
Newsday
and
Record
.
•
Jon Rauch
rejoined the Mets bullpen after skipping the series in D.C. to allow the inflammation in his "debris"-littered right elbow to calm. He entered with the Mets trailing by nine runs in the eighth and tossed a scoreless frame that included one bloop hit. Rauch said he took anti-inflammatory medication while remaining behind in New York. He assigned the root of the issue to bones grating with each other and irritating a nerve. He told reporters surgery will not be necessary. Read more in the
Star-Ledger
and
Record
.
•
Jason Bay
, scratched from Thursday's lineup because of nausea he blamed on antibiotics being taken for a sinus infection, made his first appearance with the Mets since April 23 in the series opener. Bay started in left field and batted seventh. He went 0-for-3 with a strikeout.
Lucas Duda
served as the DH.
Scott Hairston
, who entered Wednesday's starting lineup after Bay was scratched, started a second straight game against a right-hander over odd-man-out
Andres Torres
. The current outfield crunch is not as severe as it will be next Friday, when the Mets return to National League play at home against Cincinnati and lose the DH. At that point, Duda could shift to first base and
Ike Davis
could be vulnerable. Davis went 0-for-3 with two strikeouts in the opener against the Yankees. Former hitting coach
Howard Johnson
(@20Hojo)
tweeted about Davis
:
"Ike's reputation of questioning umpires on every strike is coming back to haunt him...anything close goes against him..."
Read more on Bay's return and the outfield in the
Post
,
Record
and
Newsday
.
• The Mets could have kept
Chris Young
on paternity leave Friday and activated him today. But team officials opted to activate him a day early, so that he could be at the ballpark and prepare for Tuesday's start in Tampa. The other, and perhaps bigger surprise related to that roster move?
Pedro Beato
, not
Hefner
was optioned to Triple-A Buffalo. Collins reasoned that the Mets needed a long man/spot starter, so presumably
Miguel Batista
is going to take on more bullpen responsibility than mop up. The problem about Friday's game is that Hefner had thrown 99 pitches Wednesday and undoubtedly needed recuperation time, so Ramirez and Batista relieved Santana. Beato did not appear in a game with the Mets during a two-game cameo after coming off the 60-day DL.
•
Josh Satin
cleared waivers and will return to Buffalo.
Jack Egbert
, who cleared waivers the previous day, rejoined the Bisons on Friday. The Mets needed their 40-man roster spots for the addition of Young and activation of Beato. Beato didn't count against the 40-man roster while on the 60-day DL.
• A second X-ray of Quintanilla's left index finger, which was taken in New York after returning from the Nats series, revealed the shortstop had a fracture at the tip. Still, Quintanilla resolved to gut through any pain without missing time.
Ruben Tejada
, who was examined in New York, now will proceed to the Mets' complex in Port St. Lucie, Fla. He is due to next test his balky right quadriceps Monday by running -- six days after pulling himself from a rehab game in Buffalo. Meanwhile,
Ronny Cedeño
(calf) should run this weekend and may be in a rehab game within days. Read more in
Newsday
.
• Did Collins do the right thing giving Santana two extra days of rest? The manager questioned himself after Friday's game. Writes columnist
Bob Klapsich
in the Record
:
The best-case scenario is that Santana was a victim of nothing more than the law of averages: He was due for a stinker after the no-hitter, which was preceded by a complete-game shutout of the Padres. With a streak of 18 consecutive scoreless innings, it figured that Santana would finally return to the race of men. But the darker possibility is that Santana's surgically repaired arm was at least drained and maybe injured after back-to-back complete games. If it's a health-related issue, the real concern is how long it'll take to Santana to bounce back and whether he'll regain the magic in his change-up.
Writes columnist
John Harper
in the Daily News
:
So while taking a beat-down from the crosstown Yankees obviously stings, the Mets can at least take some consolation in the fact that Santana apparently survived the 134 pitches without any long-term effect. At least that's what he was insisting afterward, noting that his fastball velocity was normal (88 to 90 on the radar gun), while saying that he felt strong on the mound. "I just left some pitches up," he said. "My changeup wasn't as sharp as I wanted it to be. You can call that rust or what you want. I just didn't execute some of my pitches, and the rest is history.''
Wrote columnist
Mike Vaccaro
in the Post
: