New York Mets:

Mike Cameron
April, 19, 2012
4/19/12
11:00
AM ET
By
Mark Simon, ESPN Stats & Information
Eric Hartline/US PresswireDavid Wright has performed in a manner worthy of smiling about in 2012.
Welcome to the second edition of "The Week in 'Met'rics," where we celebrate all that is amazin' and some of what is not about Mets statistical and historical accomplishments.
Our biggest resource in this search is the
Baseball-Reference.com Play Index
, a source of much entertainment and amusement.
Stat of the Week
It was a great week of accomplishments for
David Wright
, who matched
Darryl Strawberry's
career RBI mark on Wednesday. The two each have 733 RBI.
Wright became the first player in franchise history to reach base twice (via hit or walk) in each of his first nine games of a season. The last player to do so for any team is former Met
Mike Cameron
, who had such a streak for the 2002 Mariners.
The Mets record for consecutive games reaching base at least twice at any point during the season is 12, set by
John Stearns
in 1977.
Ron Hunt
(1964),
Derek Bell
(2000) and Wright (2009) each had 11-game streaks.
First Things First
The Mets hit a first-inning home run in each of the three games in their series against the Phillies.
Wright had one of those on Saturday, in his first game back from his finger injury, and in hitting one tied an obscure Mets record in the process.
Wright now has 36 career
first-inning home runs
, tied with Strawberry for the most in Mets history.
Wright's five first-inning home runs are the most by any Met at Citizens Bank Park. The only other Met with more than one is
Jose Reyes
, with two.
Also in that game, the Mets recorded their first stolen base of the season (
Mike Baxter
). The Elias Sports Bureau notes that the Mets' first steal coming in their eighth game was the third-longest drought to start a season in franchise history. It took 17 games to nab a steal in 1963 and 12 games in 1962.
Oh, So Niese … Again
Jonathon Niese
pitched scoreless ball over 6 2/3 innings. The Elias Sports Bureau noted that Niese became only the second Mets pitcher in the last 30 seasons to start and win his first two appearances in a season, shutting out the opposition through six innings in each. The other was
Frank Viola
in 1990.
Manny Unhappy Returns
The bizarre pitching line of the week belonged to
Manny Acosta
, who allowed four runs and one hit in relief in the Mets loss to the Phillies on Sunday.
The Mets have had
19 instances of a pitcher allowing four or more runs on one hit or no hits
. This was the third such occurrence in the last 12 months.
Dillon Gee
and
Jason Isringhausen
each had such a line last season, but prior to that, no Mets pitcher had such a line for nearly 10 years!
The last to do so was
Armando Benitez
against the Braves in June, 2001.
Bay (Doesn't Just) Watch
Jason Bay
hit a home run in his first game after missing time due to a finger injury. Bay also robbed Braves shortstop Jack Wilson of a home run, with a leaping catch. It was the second straight year he robbed a Braves shortstop of a home run. He snatched one from
Alex Gonzalez
last season.
Also of note was that for the first time in his Mets career, reliever
Jon Rauch
allowed a hit. Rauch's streak of hitless appearances to start his Mets career ended at five. That matched
Jaime Cerda
(2002) and
Roberto Hernandez
(2005) for the best such Mets career-starting streaks.
Monday's win raised the Mets record to 7-3. We noted that the Mets have started 7-3 on seven previous occasions, and on each of those, they've finished the season at least 10 games over .500.
Some other 10-game milestones:
• The Mets 2.33 ERA through 10 games was sixth-best in team history, the best since the team had a 2.12 ERA through 10 games in 2002. The franchise best was in 1968, the Year of the Pitcher, when the Mets staff posted a 1.67 ERA through 10 games.
• The 83 strikeouts by Mets pitchers tied the 2005 Mets for second-most strikeouts in the first 10 games of the season. The club mark is 88, set in the first 10 games in 1990.
• On the downside, the 85 whiffs by Mets hitters is the most the Mets have ever had in their first 10 games.
Johan gets Chopped
Johan Santana
allowed six runs in 1 1/3 innings in a 9-3 loss to the Braves on Tuesday. It was the shortest start of Santana's career.
Santana is the fourth starting pitcher in Mets history
to give up at least six runs while recording four or fewer outs against the Braves
. The other three are
Mike Scott
(1982),
Bobby Jones
(1997) and
Pat Misch
(2009).
Unhappy ending
The Mets gave up 14 runs to the Braves in their series-finale loss on Wednesday. It's the fourth time in Mets history that they allowed that many runs in a game in Atlanta, the first since 2004, when they yielded 18.
Vintage Metric of the Week
The Mets beat the Braves four times in a row this season, prior to losing to them in the final two games of their series.
When was the first time the Mets beat a team four times in a row?
That would be the inaugural season of 1962. The Mets won the first four games the franchise ever played against the Cubs, with three of those games being decided by one run. They would finish 9-9 against the Cubs that season, 31-111 vs everyone else.
April, 18, 2012
4/18/12
3:29
PM ET
WHAT IT MEANS: David Wright
achieved a career milestone while
R.A. Dickey
had one snapped as the Mets lost to the Atlanta Braves,
14-6
, Wednesday afternoon at soggy Turner Field.
The Mets finished their road trip to Philly and Atlanta at 3-3. They are 7-5 overall. The 14 runs allowed are the most since a 14-1 loss against Arizona on Aug. 1, 2010.
Wright drove in three runs to match
Darryl Strawberry's
record for career RBIs as a Met at 733.
Wright delivered a two-run double in the third inning against
Jair Jurrjens
, which gave the Mets a 3-2 lead at the time. He then matched Strawberry on what was ruled a run-scoring infield single in the fifth that pulled the Mets within 6-4.
Incidentally, only two franchises' career RBI leaders have fewer than the Mets' 733. That would be the Marlins (
Mike Lowell
, 578 RBIs) and Rays (
Carl Crawford
, 592). Next after Wright and Straw:
Luis Gonzalez
, Diamondbacks, 774 and
Tim Wallach
, Expos/Nats, 905.
Also, Wright is now the first major leaguer to reach base safely at least twice in each of his first nine games in a season since
Mike Cameron
with the Seattle Mariners in 2002, according to ESPN Stats & Information.
Dickey's streak of quality starts, which had been the longest active in the majors, ended at 14.
Juan Francisco
,
Dan Uggla
and
Freddie Freeman
homered against the knuckleballer, who ultimately was charged with eight runs in 4 1/3 innings.
The run total against Dickey fell one shy of matching the most runs allowed in a start in his career, and was the most since he allowed eight in two innings while with Seattle against the Chicago White Sox on Aug. 20, 2008.
Uggla had been 0-for-24 in his career against Dickey before a two-run long ball in the third.
DEEP THINKING: Ike Davis
homered three times in the final four games of the trip, including a second-inning long ball Wednesday against Jurrjens. Davis' three-run tiebreaking homer in the series opener against
Tommy Hanson
sparked a 6-1 victory.
LEADING MAN: Kirk Nieuwenhuis
, in his first major league game assigned to the leadoff spot, reached base four times as part of a career-high three-hit day. He produced an RBI single in the sixth that pulled the Mets within 8-5. Nieuwenhuis also scored three times.
Nieuwenhuis and
Jason Bay
stole bases, giving the Mets three as a team this season.
Mike Baxter
had the other, in Philadelphia.
WHAT'S NEXT:
After a team off-day Thursday, the Mets play host to
Angel Pagan
and the San Francisco Giants. The four-game series is the Mets' first matchup with a non-division opponent.
Jon Niese
(2-0, 2.13 ERA) opposes fellow southpaw
Barry Zito
(1-0, 1.13) in Friday's series opener. Struggling
Tim Lincecum
(0-2, 10.54 ERA) is due to pitch Sunday.
February, 19, 2012
2/19/12
6:25
PM ET
Mike Cameron, who played for the Mets in 2004 and '05, announced his retirement Sunday.

Cameron, 39, tweeted from his account (@_darkman44): "Jus wanna say thanks to all my family,friends,teammates, baseball world & followers for the support.. Its been a true blessing for me to put on a MLB uniform for 17yrs!! Deuces everybody gotta go throw to son now!!"
September, 7, 2011
9/07/11
12:53
AM ET
WHAT IT MEANS: Bobby Parnell blew his second save in his past three chances, surrendering a game-tying two-run double to ex-Met Mike Cameron with two out in the ninth.

But Nick Evans bailed out the Mets with a tiebreaking RBI single in the 12th. Jose Reyes added an RBI single and Lucas Duda walked with the bases loaded to face in another run as the Mets beat the Marlins, 7-4.

Reyes (3-for-6, walk) upped his average to .334, retaking the NL batting lead from Milwaukee's Ryan Braun (.333).

Evans also had delivered go-ahead run-scoring singles in the sixth and eighth innings.

Josh Stinson pitched the bottom of the 12th for his first major league save. The game opened in a 74-minute rain delay.

"We've faced some pretty good pitching, and he's taking some pretty good swings," Terry Collins said about Evans. "… I thought in the last two weeks Nick's played and swung the bat just like I hoped he would."

Evans has started 12 of the Mets' past 13 games at first base, but he continues to prepare for a 2012 role as a utility player.

"One of the things Nick has done, and I salute him, is he realizes what his role may be -- and that is those four corners that he's got to play," Collins said. "And so, if you watch, he'll take his early work at third base. He's early, at 2 o'clock. He's in the outfield with Mookie (Wilson) working in right field and left field. So he understands that, yeah, right now he's playing first base. But he knows that if he's going to stick here, it's probably going to be as a guy who can play around."

ANGEL BEDEVILED: Angel Pagan mishandled Emilio Bonifacio's single to center field in the seventh for an error that allowed Bonifacio to reach second base. Greg Dobbs then plated Bonifacio with a two-out double against Manny Acosta in the seventh that evened the score at 2. The run was unearned, although Acosta's seven-inning scoreless streak nonetheless was snapped.

Pagan did deliver a two-out RBI double in the ninth to up the Mets' lead to 4-2 before Parnell's meltdown. And Pagan singled and scored on Evans' RBI in the 12th after Jason Bay's double advanced him to third.

BATTY: Miguel Batista worked out of bases-loaded, one-out jams in consecutive innings and Jason Isringhausen did the same in the eighth as the Mets averted danger each time.

After notching his 100th career win in his Mets debut last week against Florida, Batista this time received a no-decision in his second start with the club.

The Marlins had loaded the bases in the fourth and fifth innings, but each time Batista escaped. In the latter frame, Evans fielded a would-be double-play grounder, stepped on first to retire Logan Morrison, then threw toward second base trying to get lead runner Gaby Sanchez as well. Evans' throw struck Sanchez in the back for an error that allowed the Marlin to reach third base. Batista then issued a pair of walks, but retired Brett Hayes on a double play to wriggle free.

Isringhausen walked the bases loaded in the eighth, but struck out Jose Lopez and Bonifacio to preserve a 3-2 lead.

WHAT'S NEXT: The Mets play their final game at Sun Life Stadium on Wednesday at 5:10 p.m. as R.A. Dickey (7-11, 3.60 ERA) opposes Marlins left-hander Brad Hand (1-5, 4.23). Hand replaced veteran Clay Hensley in the rotation with Florida out of contention. The Marlins move to a new 37,000-seat stadium with a retractable roof in Little Havana next season. The Mets are 73-72 all time at the Marlins' current home entering their final game at the ballpark.
August, 29, 2011
8/29/11
6:53
PM ET
Recap
|
Box score
|
Photos
WHAT IT MEANS: R.A. Dickey
turned in his seventh straight quality start, upping his career-high streak, and the Mets beat the Marlins 2-1 in Game 1 of a doubleheader. After surrendering consecutive singles to open the seventh, Dickey picked off ex-Met
Mike Cameron
at second base to give himself breathing room. The knuckleballer then completed the seventh and departed at 100 pitches. Dickey will return on short rest Friday in D.C.
Jason Isringhausen
struck out the side in a scoreless eighth -- his first time facing at least three batters and fanning them all in five years.
Bobby Parnell
then notched his second save of the season and third of his career, albeit while surrendering a one-out solo homer to
Gaby Sanchez
.
Interrupted by Hurricane Irene, the Mets were bidding to toss consecutive shutouts for the second time this season until Parnell served up the long ball.
Chris Capuano
two-hitter Friday against Atlanta. The Mets did produce consecutive shutouts May 18-19 against Washington, in games started by
Jon Niese
and
Dillon Gee
.
Dickey won for the first time since July 25.
"It felt like a while, but I didn't know the exact date," said Dickey, who maintained he has only been concerned with team wins.
MIAMI VICE:
The Mets built an early 2-0 lead. In the second inning,
Nick Evans
reached on the first of his two infield singles and scored on
Justin Turner's
RBI single. An inning later,
Lucas Duda
reached with one out when right fielder
Mike Stanton
initially broke backward on a fly ball, then could not recover and it dropped in front of him. Duda ultimately scored when pitcher
Anibal Sanchez
missed stepping on first base and failed to complete a would-be 3-6-1 double play on
Josh Thole's
grounder.
BAY WATCH: Jason Bay
went 0-for-3 with a walk and is now 2-for-his-last-41 (.049).
WHAT'S NEXT:
Gee (11-5, 4.37 ERA) starts opposite Marlins right-hander
Ricky Nolasco
in Game 2 of the doubleheader.
Jose Reyes
is due to be activated from the disabled list.
July, 23, 2011
7/23/11
10:11
PM ET
Recap
|
Box score
|
Photos
WHAT IT MEANS: David Wright
drove in two runs for the second straight game since returning from the disabled list and
Justin Turner
and
Carlos Beltran
reached base four times apiece, but the Mets nonetheless slipped to .500 at 50-50 with a 8-5 loss to the Florida Marlins.
FIVE AND DIVE: Chris Capuano
struck out the side in the first inning and took a scoreless effort into the sixth, when things unraveled.
Emilio Bonifacio
extended his hitting streak to 22 games with a swinging-bunt single to lead off the frame. He scored on
Omar Infante's
triple to the right-center gap.
Gaby Sanchez
then launched the first of his pair of two-run homers as the Marlins grabbed a 3-2 lead.
Logan Morrison
added a solo homer with two out to make it a four-run sixth inning.
Florida opened a comfortable 7-3 lead an inning later when Wright committed an error for the second straight game, which allowed a run to score, and Sanchez followed with a two-run homer off
D.J. Carrasco
.
Ryota Igarashi
allowed a run in the eighth.
Lucas Duda
and
Jose Reyes
homered on consecutive pitches to open the ninth off
Leo Nuñez
to pull the Mets within three runs. Duda homered for the first time in 117 at-bats this season.
Both of Wright's errors might have been averted. Replays showed
Daniel Murphy
actually had recovered after receiving Friday's wide throw to touch the bag in time, but the runner was ruled safe. Saturday, Murphy failed to knock down the multi-hop throw that was wide after Wright had made a diving stop of a groundball.
WRIGHT STUFF:
Wright's bases-loaded, two-out single in the fifth against
Clay Hensley
scored Reyes and Turner and had given the Mets a 2-0 lead. Wright now has four RBIs in two games since returning from a stress fracture in his lower back that had sidelined him since May 15. He produced two RBIs in consecutive games for the first time since Sept. 28-29, 2010, according to ESPN Stats & Information.
Wright now has 39 RBIs against the Marlins in Miami. That trails only his 45 RBIs against the Phillies at Citizens Bank Park.
REACHES:
Beltran and Turner both reached base in their first four plate appearances.
Turner went 3-for-4 with a walk and two doubles.
Beltran walked three times, then produced an RBI single off
Burke Badenhop
in the seventh to pull the Mets within 4-3. Beltran grounded out in the ninth.
Reyes stole his first base since returning from the disabled list for a hamstring injury.
CAM DO: Mike Cameron
may have entered the game hitting only .138 in 11 games as a Marlin, but he still has defensive skills. Cameron, manning center field, made a highlight-reel diving catch in left-center in the fourth to rob Murphy of a potential extra-base hit.
WHAT'S NEXT:
The Mets wrap up the first leg of their three-city trip Sunday when
Dillon Gee
(9-3, 3.67 ERA) opposes right-hander
Anibal Sanchez
(6-3, 3.52). Then it's off to Cincinnati for four games, followed by Washington for three.
June, 8, 2011
6/08/11
10:02
AM ET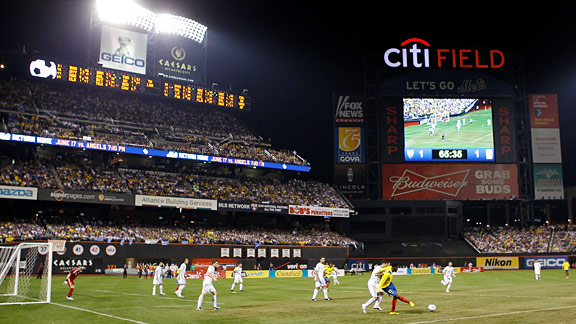 Mike Stobe/Getty Images
Greece tied Ecuador at Citi Field on Monday.
Jose Reyes'
triple in the seventh inning, his MLB-leading 11th and first away from Citi Field, scored both runs as the Mets handed Milwaukee a rare home defeat, 2-1 at Miller Park on Tuesday night. (Watch Reyes discussing his night
here
, and a write-up of his performance
here
.)
Wednesday's news reports:
• While the Mets were away, Citi Field played host to its first soccer match -- a 1-1 draw between Greece and Ecuador. It attracted 39,656 spectators, outdrawing all but the Mets' home-opener crowd of 41,075. (See a photo of Citi Field as a soccer venue
here
.)
Writes
Jorge Castillo
in the Times
:
The match was the first in Queens since Colombia and Slovakia played a scoreless tie at Shea Stadium in August 2003, and it shifted the soccer scene in the metropolitan area from northern New Jersey to New York City for at least one night. All signs point to that continuing in the future. Before Ecuador and Greece played to a 1-1 tie in front of 39,656, the Mets executive vice president Dave Howard said Citi Field would also host a friendly between "two very well-known professional club teams, one from Europe and one from Central America," this summer. He expects an announcement to be made within the next week.
While
Fred Wilpon
and family's financial issues are a major obstacle,
Dave Howard
told Castillo the Mets ownership family had spoken "recently" about bringing an MLS franchise to Flushing. MLS spokesman
Dan Courtemanche
told the Times via email: "We remain focused on securing a 20th team for Major League Soccer in New York. We do not have a set time frame on when we will add a 20th team. Our goal is to have a second team in N.Y. at the earliest opportunity. The N.Y. market is a priority, but it may take a couple of years before we have the team and stadium finalized."
•
Carlos Beltran
was able to return to the lineup after fouling a ball off his right shin in the second inning on Sunday and leaving that game. Read more in
Newsday
, the
Star-Ledger
and
Times
.
• The bullpen, shaky of late, closed Tuesday's game with three perfect innings -- by
Pedro Beato
,
Jason Isringhausen
and
Francisco Rodriguez
. K-Rod said he lost 15 pounds as the result of his inability to eat following having two teeth pulled last week. However, he did not realize he was lighter until Tuesday. Asked by the Post's
Mike Puma
about any possible weight loss, Rodriguez said he weighed the same. Then he weighed himself and learned the dramatic result. K-Rod tells Puma he will
eat five meals a day
for the time being to regain the lost weight.
• Ex-Brewer
Chris Capuano
was a winner in his return to Milwaukee. "I kept saying it wasn't weird to be back," he said. "It's weird to be back."
Jason Bay
is now 0-for-his-last-20. Read game stories from Tuesday's 2-1 win in the
Post
,
Record
,
Star-Ledger
,
Times
,
Daily News
and
Newsday
.
•
Daniel Murphy
was finally held in check in the cleanup spot, going 0-for-3. Tuesday marked Murphy's third straight game batting fourth, with Bay dropping to sixth or sitting during that span. Murphy lost an eight-game hitting streak, during which he had multiple hits in each of the seven starts and hit .567 in 30 at-bats. Writes
David Lennon
in Newsday
:
As a handful of Mets took some early swings Tuesday afternoon at Miller Park, hitting coach Dave Hudgens leaned on one side of the cage and examined each player intently. Across from Hudgens, and studying his teammates just as closely, stood Daniel Murphy , dressed in gym shorts and wearing shower shoes on his feet. Murphy didn't take any turns in the cage. ... "I don't have many skills in this world," Murphy said. "I enjoy watching hitting, seeing how those guys are swinging it. The balls were jumping out there. It was fun to watch."
• Despite Wyoming being one of three states that does not technically sponsor high school baseball, Newsday's
Jim Baumbach
said first-round pick
Brandon Nimmo's
childhood baseball experience is not that dissimilar
from a New Yorker. Writes Baumbach:
Wyoming is one of three states that does not have high school baseball (along with Montana and South Dakota ), so Nimmo did what everyone else has always done there. He played for his local American Legion team, which in Nimmo's case was a team called Post 6, based in Cheyenne. And a closer look at Nimmo's team proves it's really no different from any high school squad on Long Island. There are no players older than 19. And the coach, Tagg Lain, is an English teacher by day in the Cheyenne school district. "I've heard it a lot now, that we don't have high school baseball," Lain said Tuesday, "but here in Cheyenne, Wyoming, where the kids grow up, their experience is not much different."
The Mets took Nimmo 13th overall, and
Tagg Lain
tells Baumbach other teams were prepared to take him in the first round. "I'm sure the people in New York were going, 'So what did we do again?' but I can assure you that had he not gone 13th, he was going to be gone very, very soon thereafter," Lain told the newspaper. "I had other scouts and people texting me saying, 'My heart's broken.' I think there were a number of teams ready to go with him."
Read more on Nimmo in the
Times
and
Journal
.
• The Mets made their second through 30th round selections on Tuesday. See the list
here
, and tidbits about those players
here
. The draft is completed Wednesday afternoon with rounds 31 through 50.
• Ex-Met
Mike Cameron
tells the Post that
Reyes would fit great in a Red Sox uniform
. "It's a different animal here," Cameron told the Post's
Mark Hale
, referring to Boston. "In Boston, there's one team there and the primary focus is nothing else but [a freaking] title. [But] I think they would love him because of the way he plays. Just the energy, man."
BIRTHDAYS:
Former catcher
John Gibbons
turns 49. His 1986 claim to fame was being on the receiving and assisting end of an 8-2-5 double play that won a game against the Padres on Aug. 27. Gibbons appeared in eight games for the Mets' last championship team, and the Mets won every one. ...
Dave Mlicki
, who shut out the Yankees in the first Mets-Yankees regular-season meeting, turns 43.
-Mark Simon
NBA
NHL
COLLEGE BASKETBALL
MLB