New York Mets:

Mike Hessman
July, 9, 2014
7/09/14
9:44
AM ET
NEW YORK -- The Mets received an immediate return from the Aug. 30, 2013, trade of
Marlon Byrd
and
John Buck
to the Pirates, with
Vic Black
joining the major league club for the final month of last season. The other piece acquired in that trade is thriving in the minors.
After hitting .307/.355/.410 in the first half with St. Lucie, 20-year-old middle infielder
Dilson Herrera
ascended to Binghamton during a wave of promotions three weeks ago. The native Colombian is hitting .329 with two homers, 13 RBIs and 10 walks in 17 games since the move to Double-A.
Colombia may not produce the same volume of talent as, say, the Dominican Republic or Venezuela. Of the 224 foreign-born players on MLB rosters on Opening Day, four hailed from Herrera's native country: then Angel and now Pirate
Ernesto Frieri
, the White Sox's
Jose Quintana
, Marlins'
Donovan Solano
and Braves'
Julio Teheran
.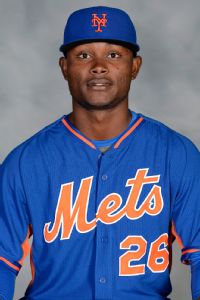 Courtesy of New York MetsDilson Herrera
Herrera nonetheless said he grew up playing baseball from a young age -- 3 or 4 years old -- and particularly looked up to Colombia-born
Edgar Renteria
, who played for 16 seasons in the majors, through 2011.
"Colombia is a big soccer country, but I grew up and never stopped playing baseball," Herrera said through an interpreter.
As for what he particularly admired about Renteria, Herrera added: "On the field he was a really good player, always clutch, and he always came up big for his team. But what impressed me most was how good of a person he was. That's what I liked the most about him."
The Pirates used Herrera exclusively at third base in the Venezuelan Summer League back in 2011, after he first signed. Pittsburgh then only used him at second base for the next two and a half seasons, until last summer's trade. Herrera continued to exclusively play second base after joining Savannah late last season. He helped the Gnats win the 2013 South Atlantic League championship while manning that position.
This season, he is receiving his first professional exposure to shortstop. With St. Lucie, he appeared in 43 games at second base and 19 games at shortstop during the first half. With Binghamton, the split has been nearly 50/50.
"I grew up playing shortstop," Herrera said. "With the Pirates they turned me into a second baseman. And now I feel very comfortable at second base. But I can still play shortstop."
As for the trade that brought him to the Mets, Herrera added: "I was surprised. Obviously I wasn't expecting it. I was sad about leaving relationships and friendships with the Pirates organization, but was happy for the opportunity. I was excited about the opportunity to come to a new organization."
Organization leaders
Average:
John Mora, GCL Mets, .409; Matt Reynolds, Vegas, .358; Jairo Perez, St. Lucie, .358; T.J. Rivera, Binghamton, .346; Emmanuel Zabala, GCL Mets, .340; Luis Guillorme, Kingsport, .333; Jhoan Urena, Brooklyn, .315; Oswald Caraballo, Kingsport, .314; Jeff McNeil, St. Lucie, .313; Dilson Herrera, Binghamton, .312.
Homers:
Andrew Brown, Vegas, 15; Dustin Lawley, Binghamton, 15; Brian Burgamy, Binghamton, 14; Allan Dykstra, Vegas, 12; Wilmer Flores, Vegas, 11.
RBIs:
Allan Dykstra, Vegas, 56; L.J. Mazzilli, St. Lucie, 52; T.J. Rivera, Binghamton, 49; Aderlin Rodriguez, St. Lucie, 48; Matt Clark, Binghamton, 46.
Steals:
Patrick Biondi, Savannah, 18; Dilson Herrera, Binghamton, 16; Jeff McNeil, St. Lucie, 15; L.J. Mazzilli, St. Lucie, 12; Stefan Sabol, Savannah, 12.
ERA:
Marcos Molina, Brooklyn, 0.38; Rob Whalen, GCL Mets, 1.71; Octavio Acosta, Brooklyn, 1.96; Corey Oswalt, Brooklyn, 2.08; Kevin McGowan, St. Lucie, 2.20; Steven Matz, Binghamton, 2.25; John Gant, Savannah, 2.64; Robert Gsellman, Savannah, 2.81; Darin Gorski, Vegas, 2.91; Matt Bowman, Vegas, 3.56.
Wins:
John Gant, Savannah, 9; Gabriel Ynoa, Binghamton, 8.
Saves:
Chasen Bradford, Vegas, 12; Robert Coles, St. Lucie, 12; Randy Fontanez, Binghamton, 10; Akeel Morris, Savannah, 8; Vic Black, Vegas, 7.
Strikeouts:
Darin Gorski, Vegas, 94; Dario Alvarez, Savannah, 86; Matt Bowman, Vegas, 82; Steven Matz, Binghamton, 82; Noah Syndergaard, Vegas, 82.
Short hops
•
Allan Dykstra
has been selected to represent the Mets in the Triple-A All-Star Game. He will serve as the Pacific Coast League's designated hitter in next Wednesday's game at Durham, N.C.
Dykstra also will participate in Monday's Home Run Derby. In fact, four of the six participants have passed through the Mets organization during their career. The others who will be competing in the derby:
Mike Jacobs
,
Francisco Pena
and
Mike Hessman
.
• Four Binghamton players were selected to the Eastern League All-Star Game: infielder
Brian Burgamy
, outfielder
Kyle Johnson
and right-handers
Cody Satterwhite
and
Jon Velasquez
. The 33-year-old Burgamy, 28-year-old Velasquez and 27-year-old Satterwhite all were signed by the Mets out of independent ball. Johnson arrived in the trade with the Angels for
Collin Cowgill
. The game will be played next Wednesday in Altoona, Pa.
Kevin Plawecki
and
Matt Reynolds
clearly merited selection, but already have been promoted to Triple-A.
•
Wilmer Flores
was named PCL Player of the Week for the period ending Sunday. He became the first Las Vegas player to hit six homers in a five-game stretch since
Melvin Nieves
in 1994, when the club was affiliated with the Padres. Flores had league highs for the week with 13 hits, 12 runs scored and 16 RBIs.
• 2013 first-round pick
Dominic Smith
is hitting .439 (25-for-57) in 14 games since June 24.
• Baseball America ranked three Mets prospects in its top 50 in baseball:
Noah Syndergaard
at No. 19, Plawecki at No. 40 and
Brandon Nimmo
at No. 48. Syndergaard and Plawecki will represent the Mets in the Futures Game on Sunday at Target Field in Minnesota.
•
Jeremy Hefner
is due to pitch one inning in a minor-league game Saturday. It will mark his first game action since Hefner underwent Tommy John surgery on Aug. 28. Hefner had his procedure performed nearly two months earlier than
Matt Harvey
had his operation (Oct. 22).
•
Rafael Montero
has thrown live batting practice and is due to enter a game this week for the first time since suffering a left oblique strain and departing a Vegas game after five pitches on June 14.
•
Dario Alvarez
is now a two-time South Atlantic League Pitcher of the Week. The 25-year-old Savannah southpaw has not allowed an earned run in his past 22 innings, which spans seven appearances. Alvarez is 6-0 with one save and a 0.87 ERA in 16 appearances (six starts) this season.
The Mets credit Alvarez's success to cleaning up his delivery, which has improved his consistency and allowed him to throw more strikes. Alvarez had been released by the Phillies after spending three years in that organization, and the Mets' Dominican-based scouts recommended scooping him up.
• 2013 fifth-round pick
Jared King
returned to action in the Gulf Coast League on Saturday after recovering from a fractured right fibula. King had been sidelined since last appearing for Savannah on May 11.
• Savannah's winning streak ended at 11 on Tuesday afternoon when
Dawrin Frias
surrendered a tiebreaking ninth-inning homer to Augusta's
Ryan Jones
. Savannah has produced four 11-game winning streaks since 1993, but none has reached a dozen.
•
Logan Taylor
was due to join Savannah after three Gulf Coast League appearances. Taylor, an 11th-round pick in 2012 from East Oklahoma State College, underwent Tommy John surgery last July. He had a 2.67 ERA in seven starts for the Gnats in 2013.
• Princeton product
Matt Bowman
, whose delivery incorporates
Tim Lincecum's
style, made his Triple-A debut Saturday. He allowed two runs in 3 2/3 innings in a 64-pitch no-decision.
• Right-hander
Cory Mazzoni
has moved to Double-A, which should be a temporary stop en route to Las Vegas. Mazzoni is working back from a strained lat muscle suffered when he started the Mets' Grapefruit League finale this spring training. The 2011 second-round pick out of NC State has now appeared in three games -- one apiece in the Gulf Coast, Florida State and Eastern leagues -- since recovering.
•
Rob Whalen
, who was off to a torrid start with Savannah until developing an infection on his hand that required surgery to clean out, logged an inning Saturday in the Gulf Coast League. It was his first appearance in a game since May 1 with the Gnats. Whalen had been 4-0 with a 1.80 ERA in four appearances (three starts) with Savannah before the issue arose.
•
Marcos Molina
has tossed 19 consecutive scoreless innings for Brooklyn.
• Left-hander
Kurt Horne
, the Mets' 31st-round pick out of high school in British Columbia, is due to make his professional debut Wednesday.
July, 4, 2012
7/04/12
12:00
PM ET
Organization leaders

Average: Eris Peguero, Kingsport, .370; Stefan Sabol, Brooklyn, .348; Cole Frenzel, Brooklyn, .329; Eric Campbell, Binghamton, .329; T.J. Rivera, St. Lucie, .321; Matt den Dekker, Buffalo, .307; Maikis De La Cruz, Kingsport, .302; Josh Rodriguez, Buffalo, .301; Wilmer Flores, Binghamton, .301; Fred Lewis, Buffalo, .300.

Homers: Travis Taijeron, St. Lucie, 15; Cory Vaughn, St. Lucie, 14; Valentino Pascucci, Buffalo, 13; Aderlin Rodriguez, Savannah, 13; Matt den Dekker, Buffalo, 12.

RBI: Aderlin Rodriguez, Savannah, 52; Wilmer Flores, Binghamton, 52; Travis Taijeron, St. Lucie, 52; Valentino Pascucci, Buffalo, 51; T.J. Rivera, St. Lucie, 42.

Steals: Alonzo Harris Jr., St. Lucie, 16; Fred Lewis, Buffalo, 15; Matt den Dekker, Buffalo, 14; Pedro Zapata, Binghamton, 13.

ERA: Luis Mateo, Brooklyn, 0.51; Gabriel Ynoa, Brooklyn, 2.00; Tyler Pill, St. Lucie, 2.58; Rafael Montero, St. Lucie, 2.69; Zack Wheeler, Binghamton, 2.74; Hansel Robles, Brooklyn, 2.87; Collin McHugh, Buffalo, 3.03; Luis Cessa, Brooklyn, 3.21; Angel Cuan, St. Lucie, 3.34; Matt Harvey, Buffalo, 3.41.

Wins: Zack Wheeler, Binghamton, 7; Gonzalez Germen, Binghamton, 7; Matt Harvey, Buffalo, 7; Hamilton Bennett, St. Lucie, 7; Rafael Montero, St. Lucie, 7.

Saves: Fernando Cabrera, Buffalo, 16; Adrian Rosario, Binghamton, 13; T.J. Chism, Savannah, 13; Adam Kolarek, St. Lucie, 11; Robert Carson, Binghamton, 7.

Strikeouts: Matt Harvey, Buffalo, 96; Collin McHugh, Buffalo, 90; Zack Wheeler, Binghamton, 82; Garrett Olson, Buffalo, 77; Gonzalez Germen, Binghamton, 77.

Short hops

• Brooklyn catcher Kevin Plawecki, the 35th overall pick in the draft, took two days away from the Cyclones to attend the Johnny Bench Award presentation in Wichita, Kansas. Plawecki was a finalist for the honor, given annually to the nation's top catcher. University of Florida product Mike Zunino -- the third over pick in the draft, by Seattle -- won the award. New Mexico's Mitchell Garver was the other finalist. Plawecki (.171, 2 HR, 4 RBIs in 35 at-bats with Brooklyn) is day-to-day after being struck on the left hand in the 11th inning Monday. X-rays were negative.

• Second-round pick Matt Reynolds has manned shortstop for Savannah since making his pro debut Saturday. He was used at multiple infield positions while in college at Arkansas, but primarily manned third, where he was named first-team All-Southeastern Conference. The temporary position switch is partly a function of a logjam of third basemen in the Mets system, including Aderlin Rodriguez with the Gnats. While Reynolds will get exposure to shortstop this summer, his future home more likely is back at third base. Reynolds led the Razorbacks with a .323 average, seven homers and 45 RBIs during his junior season.

• Brooklyn right-hander Luis Mateo is 3-0 with a 0.51 ERA entering his next scheduled start, Saturday against Jamestown. Mateo, 22, has struck out 22 and walked two in 17 1/3 innings spanning three starts. He originally was signed by San Francisco in 2008, but the $625,000 contract was voided because of bone chips discovered in his pitching elbow.

Mateo has been named New York-Penn League Pitcher of the Week. Teammate Cole Frenzel (.412, 1 HR, 10 RBIs in 51 at-bats) was named the NYPL's Player of the Week. It marked the first time the Cyclones ever swept the weekly honors.

• Outfielder Adam Loewen, who was beaten out by Mike Baxter for an Opening Day roster spot as a lefty-hitting backup outfielder, returned from a 10-week absence Saturday with Class A St. Lucie after a stress fracture in his right foot healed. Loewen is due to rejoin Triple-A Buffalo today.

• The remainder of 2010 New York-Penn League batting champ Darrell Ceciliani's season may be in jeopardy. Ceciliani, an outfielder selected in the fourth round in '09, has landed on the disabled list for a fourth time this season with St. Lucie with a hamstring injury. Ceciliani has appeared in no more than four games between any two DL stints this season.

• Right-hander Armando Rodriguez has been added to Binghamton's contingent for the Eastern League All-Star game next Wednesday. Rodriguez (2-0, 2.89 ERA, one save) will join infielders Eric Campbell and Jefry Marte as the B-Mets' representatives. Zack Wheeler, who is due to participate in Sunday's Futures Game along with Wilmer Flores, was selected for the Eastern League event but will not attend because of his participation in the prospect showcase in Kansas City.

• Wheeler will face his former organization for the first time Thursday when he pitches at Richmond, the Double-A affiliate of the San Francisco Giants. Wheeler tweeted that he particularly was eager to oppose friend Chris Heston, who is 6-3 with an Eastern League-leading 1.89 ERA. Wheeler's 2.74 ERA ranks fourth in the league, despite consecutive rough outings. Having left breaking pitches up over the plate, Wheeler allowed a career-high seven runs (six earned) in 6 2/3 innings Saturday against Altoona.

• After a two-week stint playing American League affiliates and using a DH, the B-Mets returned to facing NL affiliates this week. That means pitchers hit. And that has created an infield logjam. With the third baseman Flores' promotion from St. Lucie and first baseman Allan Dykstra returning from a fractured left forearm, Campbell has been pushed to left field from first base. And Flores and Marte, also a third baseman, now each have started at first base for the first time in their pro careers during the regular season. The infield-heavy B-Mets are not as congested in the outfield with Pedro Zapata landing on the DL with a right hamstring strain.

• Infielder Zach Lutz, a member of the 40-man roster, is due to begin playing with Class A St. Lucie after recovering from surgery to remove a broken hamate bone in the base of his hand. Lutz was hitting .307 with three homers and 13 RBIs and had a .413 on-base percentage in 27 games with Buffalo before landing on the DL in mid-May. Center fielder Cesar Puello returned to St. Lucie's lineup on Monday after undergoing the same surgical procedure, which cost him nearly six weeks.

• The Bisons' Valentino Pascucci will be one of six competitors in the home run derby Monday at the Triple-A All-Star festivities in Buffalo. Pascucci will go head to head with former Mets farmhand Mike Hessman, who is the active leader in career minor league homers with 354. Pascucci ranks second with 244.

• Seventeenth-round pick Stefan Sabol extended his hitting streak to nine games Tuesday with Brooklyn.

Adam Rubin's farm report appears Wednesdays during the regular season
November, 4, 2010
11/04/10
3:09
PM ET
Five players who had been on the Mets' 40-man roster have been removed and have been outrighted to Buffalo after clearing waivers: right-hander Eddie Kunz, left-hander Raul Valdes, catcher Omir Santos, infielder Mike Hessman and outfielder Jesus Feliciano. Coupled with the waiver claim of infielder Joaquin Arias by the Kansas City Royals, the Mets' roster now has 34 players.
September, 17, 2010
9/17/10
6:21
PM ET
9:46 p.m.: The Mets four-game win streak is over. Billy Wagner shuts down the Mets in the ninth and New York loses 6-4 and falls to 74-74. Niese loses for the fourth time in his last five starts, while Hanson wins for just the second time in 14 starts. Thanks for reading.

9:32 p.m: The Mets are going to have to win in a walkoff. It's 6-4 Atlanta entering the ninth.

9:12 p.m.: Mets waste a pinch-hit double from Nick Evans, and trail 6-4 going to the 8th inning.

9:04 p.m.: The Braves make the call to the bullpen, as Jonny Venters is replacing Hanson. We go to the bottom of the 7th.

8:55 p.m.: The Mets still trail 6-4 as we head to the 7th.

8:25 p.m.: Lucas Duda gets his second hit of the night, a home run to nearly the same spot Heyward hit his to make it a 6-4 game. Niese has been pinch-hit for by Mike Hessman in the bottom of the fourth here. We go to the fifth, Sean Green is in.

8:17 p.m.: Things just got out of hands quickly. Niese walks Tommy Hanson to load the bases, and Omar Infante follows with a chopper down the third base line that squeaks by a diving David Wright to make it 3-3. Heyward then clobbers a home run to right off the subway sign on the Pepsi Porch and it's 6-3 Braves.

8:11 p.m.: The Braves finally crack through with a run. A throwing error to second base by David Wright on a fielder's choice by Matt Diaz prolongs the inning, and Melky Cabrera singles in a run to make it 3-1.

7:58 p.m.: For the first time tonight, Jon Niese has to work himself out of a jam. He walks Omar Infante with two outs, and then gives up a single to Jason Heyward, who reaches second when Carlos Beltran throws to third. Niese works out of it by retiring Martin Prado to end the frame. 3-0 going bottom three.

7:43 p.m.: The Mets strike first and in a big way. Ike Davis works a walk and moves to third when Josh Thole singles to right-center. Davis then scores when Lucas Duda singles to left. Thole later scores when Jon Niese bloops a single to left field to give the Mets a 2-0 edge. Jose Reyes follows with a single to right field past the diving glove of Derrek Lee and it's 3-0. Going to the third.

Braves manager Bobby Cox has aloso been ejected from the game for arguing after Davis' at-bat. It was unsure what his argument was.

7:04 p.m.: Angel Pagan has been scratched from the game because of family issue. Chris Carter is in right field instead and still batting second.

6:17 p.m.: Lineups

Mets
Jose Reyes SS
Angel Pagan RF
Carlos Beltran CF
David Wright 3B
Ike Davis 1B
Josh Thole C
Lucas Duda LF
Ruben Tejada 2B
Jon Niese LHP


Braves

Omar Infante 2B
Jason Heyward RF
Martin Prado 3B
Derrek Lee 1B
Brian McCann C
Matt Diaz LF
Alex Gonzalez SS
Melky Cabrera CF
Tommy Hanson RHP
September, 5, 2010
9/05/10
8:58
PM ET
By
Mark Simon
| ESPNNewYork.com
There's a famous story from the early days of Mets baseball, in which a fan called a local newspaper and asked whether the Mets had won. The person answering the call replied that the Mets had scored 19 runs that day.

Then comes the famous punchline, courtesy of the man making the inquiry.

"But did they win?"

The Mets did in fact win on May 26, 1964, 19-1, over the Cubs, the same Cubs who the offensively-challenged Mets drubbed, 18-5 on Sunday.

The Mets set a club record in that 19-1 game, with 12 hits with runners in scoring position. They broke that mark with a lucky 13 on Sunday.

It's games like these from which we can draw upon some particularly interesting notes, with the help of resources from Baseball-Reference.com, Stats LLC, and the Elias Sports Bureau, the latter of whom verified the nugget above. Others we culled include:

• The Mets have now had seven games in which they've scored at least 18 runs -- all of which have taken place on the road. Four of those have come not only against the Cubs, but in Wrigley Field.

• This was the fourth time in a nine-inning game that the Mets had at least 30 baserunners (they finished with 31), the first since a club record 34 reached in a 19-8 win at Wrigley Field on June 12, 1990.

• It's the third time in Mets history that they had a game with at least 21 hits and nine walks. The other two were the crazy 19-inning, 16-13 win over the Braves on July 4 1985 and the 19-8 win against the Cubs in 1990, mentioned in the preceding note.

• One last note on that 1990 game. It's the only game in Mets history besides the one on Sunday in which the Mets scored at least 18 runs, and every run came via an RBI. The other five instances of the Mets scoring 18+, somewhere along the way, they were aided by an opponents error.

• The Mets tied a season-high for any major league team by recording 13 hits with runners in scoring position. The other team to do that: The Astros against the Cardinals on August 3.

• Also according to the Elias Sports Bureau, this was the first time in Mets history that they scored five or more runs in three different innings of the same game. It was also the first time they had consecutive five run innings since April 23, 2000, also against the Cubs.

• The Mets hadn't scored double figures since netting 14 runs against the Tigers on June 22. Since that game, they were averaging 3.3 runs per game and hitting .233, prior to Sunday.

• The Mets played this game without 3/4 of their regular infield, using Mike Hessman at third base, Ruben Tejada at shortstop, and Luis Hernandez at second base. Hessman played in a game in which his team scored 18 runs before-- against the Mets. He appeared as a pinch-hitter on April 7, 2004.

• Tejada became the sixth shortstop in Mets history to drive in at least five runs in a game, the first since Kazuo Matsui in 2004. The others: Jerry Buchek (1967), Howard Johnson (1990), Dick Schofield (1992) and Jose Reyes (2003). Tejada is the fourth No. 8 hitter with a 5+ RBI game against an NL opponent for the Mets , joining Schofield, Ramon Castro (2005) and Paul Lo Duca (2007).

• Luis Hernandez became the second player in Mets history to record seven at-bats in a nine-inning game. The other was Lenny Dykstra in a 23-10 win against the Cubs in 1987.

• Jonathon Niese got 18 runs of offensive support. In his previous five starts, Niese had gotten a total of 16 runs of support. Niese helped himself with two RBI, joining R.A. Dickey as the only Mets pitchers with a multi-RBI game this season. He's the first Mets pitcher with a multi-RBI game against the Cubs since Rick Reed in 1998.

August, 13, 2010
8/13/10
10:53
PM ET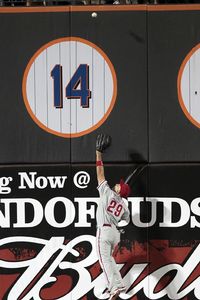 AP Photo/Frank Franklin II
Phillies left fielder Raul Ibanez chases a ball hit by Mike Hessman to the wall during the fifth inning. The hit was initially ruled a home run and changed to a triple after a review.

Mike Hessman
had a memorable first career major league triple.
Hessman originally was ruled to have homered off
Cole Hamels
to lead off the bottom of the fifth inning in a scoreless game between the Mets and Phillies. After a six-minute, 35-second replay review, Hessman instead was placed on third base by the umpiring crew, which ruled a fan reached over the railing and interfered with a ball in play.
It was a difficult ruling, since the railing the fan reached over is several feet above the line at which a homer is awarded. The ball was headed downward, but it's unclear whether the trajectory of the baseball, if unimpeded, would have taken it below the line.
"Obviously when it took a while in there I was having a bad feeling," Hessman said.
Crew chief
Tom Hallion
offered this explanation to a pool reporter postgame: "The feeds that we had from the replay, the fan reaches over the fence, hits his hand and knocks the ball down. And in our judgment, [the baseball] would not have gotten out of the ballpark. That was from our feeds that we had on the replay."
Hallion watched again after the game.
"But it's so hard because the angle is looking from home plate out," he said. "And my experience in looking at replays, it's difficult. I wish you had the perfect angle to see everything. You don't."
Did Hallion think the crew made the correct conclusion with additional time to digest everything?
"No comment on that," he said. "We did our best. Of course an umpire wants to get a call right, OK?"
Said Hessman: "I didn't go in there and look at it, but everyone told me they thought it was a home run."
As for his first major league triple, where he was placed by the crew after the homer reversal, Hessman said with a laugh: "It's probably the only way I'll get one."
Jerry Manuel
had lobbied for Hessman to at least be awarded third base if it wasn't a homer. The Mets suggested Hessman already had achieved second base by the time the ball ricocheted back into play.
"As for him being on third base, the good thing was he ran right out of the box," Manuel said. "When the ball hit the wall and came down, he had already hit second and was on his way to third. I thought that was the right call for us."
July, 26, 2010
7/26/10
6:24
PM ET
After discussions Monday on a conference call, the Mets have opted to keep their staff intact, at least for the short term.
Also, the Mets announce
Rod Barajas
will be placed on the disabled list with a right oblique strain. Slugger
Mike Hessman
, the active leader in minor league homers, will be promoted.
Barajas landing on the DL leaves the Mets with the standard two catchers, and
Josh Thole
is expected to get the bulk of the starts behind the plate.
Hessman was just honored in Toledo, where he spent the previous five seasons, when Buffalo played there over the weekend. He returned July 19 from a hand injury after missing six weeks. He had been hit with a pitch and suffered a fracture, and doctors also detected a benign tumor.
In eight games since returning to the Bisons, Hessman is hitting .188 with one RBI. However, for the season with Buffalo, he's hitting .274 with 18 homers and 58 RBIs in 248 at-bats. He has appeared in 77 major league games with the Atlanta Braves and Detroit Tigers.
His promotion gives the Mets with another desperately needed homer threat, after the Mets originally were expected to bring in a more bona fide utility infielder --
Justin Turner
.
May, 24, 2010
5/24/10
8:02
PM ET