New York Mets:

Mike Scioscia
April, 11, 2014
Apr 11
8:34
PM ET
ANAHEIM, Calif. -- Terry Collins suggested he will rotate his primary outfielders once
Chris Young
is activated from the disabled list next Friday.
Young, who is headed to Triple-A Las Vegas to begin a rehab assignment, will rejoin the Mets late in the next series in Arizona and take batting practice with the club. He then will fly to New York with the team, in advance of being activated when he is eligible next weekend.
Collins will have to figure out at that point how to get enough playing time for four outfielders -- especially given how well
Juan Lagares
and, at least recently,
Eric Young Jr.
have performed.
"The hope is you can give them days off and play the other three," Collins said. "How's it going to work? I don't know yet."
Adam RubinChris Young's return from the DL next Friday should lead to a four-man rotation in the outfield.
Will
Curtis Granderson
be part of that rotation? That seems so, but Collins said: "Too early to know."
Granderson is batting fifth Friday for the first time this season, but Collins said he will be back in the cleanup spot Saturday. Collins insisted the motivation for placing Granderson fifth was to further separate him from No. 2 hitter
Daniel Murphy
, the other lefty hitter in the lineup, since the Angels only have one lefty in the bullpen.
As for Granderson's slow start (.125, 1 HR, 3 RBIs), Collins said: "A lot of it, I truly believe, is it's a new league. He sees new guys. No matter what you say, that's an adjustment that has to be made sometimes. I'll bet if you went over and talked to
Albert [Pujols]
about when he first went to the American League, he may say the same thing.
"I think once Curtis settles in, he's going to be fine. I'm not concerned. I thought he's had some pretty good swings lately. He's drawing some bases on balls, which means he's seeing the ball better."
First thing:
Collins confirmed that both
Ike Davis
and
Lucas Duda
will start Saturday, with one serving as the designated hitter, when the Mets face Angels right-hander
Jered Weaver
.
As for Friday, it's the righties --
Andrew Brown
and
Josh Satin
-- at the DH and first-base spots, respectively, against left-hander
Tyler Skaggs
. Both are starting for only the second time this season. They entered Friday with a combined 15 plate appearances through nine games.
"They need some at-bats. Both of those guys," Collins said. "I just thought it was an opportunity today to get them both in there and we'll see how the rest of the weekend plays out."
Long night:
After a night game Thursday in Atlanta, the Mets flew overnight to LAX and got to their Orange County hotel at 6 a.m. ET/3 a.m. PT.
"A character-testing day," Collins labeled it.
Welcome back:
Collins managed the Angels for three seasons in the late 1990s and ultimately resigned amid a clubhouse insurrection. He said very few people remain around the Angels from those days.
Collins did say Angels third-base coach Gary DiSarcina was one of his favorite players to manage. Angels manager Mike Scioscia and Collins were minor-league teammates with the
Los Angeles Dodgers
.
"It was a long time ago," Collins said. "I've said it many times: I'm a completely different guy than I was 15 years ago -- a lot more mellower, but what I feel is I'm a much better communicator than I was back then. If I would have done 15 years ago what I do today, I don't think we would have had some of the problems creep up which did."
What has remained the same?
"I haven't grown a god-damn inch," Collins joked.
For starters:
Jonathon Niese
likely will be capped at 105 pitches Saturday, in his second start since returning from the disabled list. Niese threw 90 pitches Sunday while limiting the
Cincinnati Reds
to two runs in 5 2/3 innings.
"He cruised pretty good to 90 the other day," Collins said. "So we can tack on 15, probably no more than 20 after that."
Green day:
Ex-Mets outfielder
Shawn Green
, who lives locally, visited
David Wright
and the Mets in the visitors' clubhouse pregame.
Side note:
Ex-Mets reliever
Joe Smith
, who signed a three-year, $15.75 million deal with the Angels last offseason as a free agent, said the Mets informally floated a similar figure. But that was before the Mets had signed Granderson, and Sandy Alderson was not yet willing to commit, while the L.A. offer was already out there.
April, 11, 2014
Apr 11
9:45
AM ET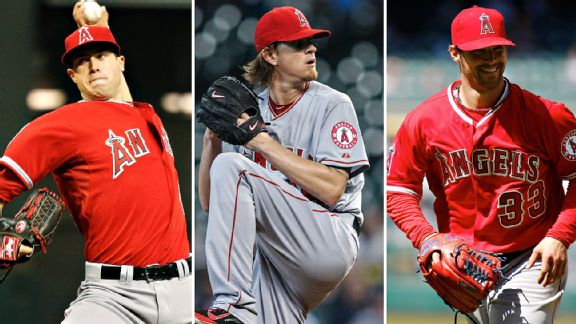 USA TODAY SportsThe Mets are due to face Tyler Skaggs, Jered Weaver and C.J. Wilson this weekend in Anaheim.
METS (4-5, fourth place/NL East) at LOS ANGELES ANGELS (4-5, third place/AL West)
Friday:
RHP
Dillon Gee
(0-0, 4.50) vs. LHP
Tyler Skaggs
(1-0, 0.00), 10:05 p.m. ET
Saturday:
LHP
Jonathon Niese
(0-1, 3.18) vs. RHP
Jered Weaver
(0-2, 6.00), 9:05 p.m. ET
Sunday:
RHP
Bartolo Colon
(1-1, 2.08) vs. LHP
C.J. Wilson
(1-1, 4.61), 3:35 p.m. ET
Angels short hops
• Left fielder
Josh Hamilton
, the reigning American League co-Player of the Week, fully tore the ulnar collateral ligament in his left thumb on a headfirst slide into first base Tuesday and may miss as much as two months. Ex-Met
Collin Cowgill
should see increased playing time in Hamilton's absence, potentially platooning with
J.B. Shuck
. Cowgill, the Mets' Opening Day starter in center field a season ago, was traded last June 25 to the Angels for minor-league outfielder Kyle Johnson, who currently is playing for Double-A Binghamton. Hamilton had been hitting .444 with two homers and six RBIs in 27 at-bats.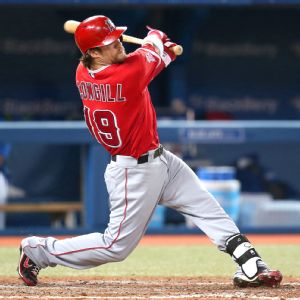 Tom Szczerbowski/Getty ImagesWith Josh Hamilton injured, that means more Collin Cowgill in the starting lineup for the Angels.
• Ex-Mets reliever
Joe Smith
signed a three-year, $15.75 million deal with the Angels as a free agent on Nov. 27. One reason for choosing L.A., aside from the money: His fiancée, Allie LaForce, is a CBS Sports host based at an Orange County studio. She is a former Cleveland sports anchor. While with the
Cleveland Indians
last season, the sidearmer jawed with now-ex-Met
Justin Turner
after a heated plate appearance.
• Center fielder
Mike Trout
, a 22-year-old Millville, N.J., native, signed a six-year, $144.5 million extension with the Angels on March 28. Based on average annual value, the contract became the largest ever for a player who had not yet reached three years of MLB service, according to ESPN Stats & Information. The deal is worth $24.08 million per year, which tops
Buster Posey
's $18.56 million average annual salary that runs through 2021. By total value, Posey's $167 million guarantee ranks No. 1 for a player with less than three years of MLB service, although that contract covers nine years. Trout would not have been eligible for arbitration for the first time until after this season. He was not eligible for free agency until after the 2017 season.
•
Albert Pujols
, 34, had career lows last season with a .258 average, 17 homers, 64 RBIs, 99 games played and 443 plate appearances. He has a 10-year, $240 million contract that includes full no-trade protection. The contract runs through 2021, escalating to $30 million the final year. After a slow start to 2014, Pujols has homered in two straight games, giving him 494 long balls for his career. He would become the 26th player to reach the 500-homer plateau. Pujols also crossed 1,500 career RBIs this week, making him the only active player at that level -- unless you count
Alex Rodriguez
as active.
• The Angels are an MLB-best 84-44 in interleague play since 2007.
• When manager Mike Scioscia took over as manager of the Angels for the 2000 season, he essentially succeeded Terry Collins in that role (although Joe Maddon had managed the final 29 games in 1999).
• The Angels acquired third baseman
David Freese
and right-handed reliever
Fernando Salas
from the
St. Louis Cardinals
on Nov. 22 for
Peter Bourjos
and Randal Grichuk.
• Left-hander
Tyler Skaggs
limited Houston to one unearned run in eight innings in his season debut. The 22-year-old southpaw had been traded by the Angels to the
Arizona Diamondbacks
on Aug. 7, 2010 in the
Dan Haren
deal. He was reacquired from the D-backs in a three-team deal this past offseason that included
Mark Trumbo
landing in Phoenix.
• Catcher
Chris Iannetta
is hitless in his past 15 at-bats.
• DH
Raul Ibanez
, who is 41 years old and off to a 5-for-26 start, is two hits shy of 2,000 for his career. He would become the 12th active player with 2,000 hits and 300 homers.
• The Angels desperately need lefty relief help in a division that now includes
Prince Fielder
,
Shin-Soo Choo
and
Robinson Cano
. The two planned left-handers in the bullpen have experienced medical issues. Rule 5 pick
Brian Moran
will require season-ending Tommy John surgery. And
Sean Burnett
, limited to 13 appearances last season due to an elbow injury that required surgery, had renewed discomfort during spring training and is not active. The lone lefty in the bullpen right now is
Nick Maronde
, who made his first career Opening Day roster. But lefty batters are hitting .323 with a .450 on-base percentage against Maronde in his three-year big-league career. Among the lefty relievers in Triple-A for the Angels: ex-Met
Robert Carson
.
• Hitting coach Don Baylor broke his right thigh bone catching the ceremonial first pitch from
Vladimir Guerrero
on Opening Day. Baylor, 64, hopes to return to the Angels by late May, but the standard recovery time for a fractured femur can be four to six months.
•
Jered Weaver
, plagued by shoulder tendinitis for the past three seasons, has allowed nine runs (eight earned) in 12 innings through two starts. He has surrendered four homers. Weaver's fastball velocity is averaging 85.9 mph this season. It has steadily declined each season since 2010, from 89.9 to 89.1 to 87.8 to 86.5 and now to its current level.
April, 2, 2014
Apr 2
5:44
AM ET
Elsa/Getty ImagesBobby Parnell has a partial tear of the MCL in his right elbow.
NEW YORK
FIRST PITCH:
There was no relief for the Mets on Tuesday's off-day, either.
Bobby Parnell
was
diagnosed with a partial tear
of the medial collateral ligament in his right elbow. He received an injection of platelet-rich plasma and will be idle for two weeks. After that, Parnell will be reevaluated and a decision about Tommy John surgery may be made.
Now,
Jose Valverde
appears the team's closer. Fellow veteran
Kyle Farnsworth
, who had been ticketed for Triple-A Las Vegas, has been
added to the big-league bullpen
with Parnell landing on the disabled list.
The Mets will need to drop a player from the 40-man roster in order to clear a spot for Farnsworth. Right-handed reliever
Ryan Reid
, a waiver claim during the offseason, is one logical possibility.
Meanwhile,
Bartolo Colon
makes his Mets debut on Wednesday at 7:10 p.m. as the Amazin's look to rebound from a 9-7, 10-inning loss on Opening Day.
Colon, who signed a two-year, $20 million deal in early December, opposes
Washington Nationals
left-hander
Gio Gonzalez
.
With a southpaw pitching for the Nats,
Josh Satin
is expected to get the start at first base for the Mets.
Whether
Chris Young
makes his Mets debut remains to be seen. He was sidelined on Opening Day with a right quadriceps strain, which he suffered during the weekend in Montreal.
Wednesday's news reports:
•
Daniel Murphy
, whose wife Tori gave birth to eight-pound, two-ounce son Noah on Monday in Florida, will be
placed on paternity leave
Wednesday. That will allow the Mets to add
Wilmer Flores
in Murphy's absence, which is now permitted to be one to three days.
•
Jonathon Niese
allowed four runs (two earned) in 4 2/3 innings in a minor-league intrasquad game Tuesday night in Port St. Lucie, Fla. Niese threw 76 pitches. The southpaw's
next appearance should come Sunday
, when he is activated from the disabled list to face the
Cincinnati Reds
in the homestand finale. Niese now has pitched twice in game-like settings since receiving a cortisone injection in his left elbow.
• Columnist Ken Davidoff
in the Post
labels the loss of Parnell a challenge. Writes Davidoff:
The well-run teams cope, particularly when it comes to fallen closers -- a position more replaceable than you might think. Last year's Red Sox lost two such pitchers, Joel Hanrahan and Andrew Bailey, to season-ending injuries, and rode third choice Koji Uehara all the way to a parade. The 2012 Giants saw their bearded wonder Brian Wilson succumb to Tommy John surgery in April, so they turned to Santiago Casilla and then Sergio Romo to pick up their second title in three years.
The 2011 Cardinals lost on Opening Day when veteran closer Ryan Franklin blew a save opportunity in the ninth inning and the Padres scored two more in the 10th. A total of eight pitchers recorded saves for St. Louis that season, Jason Motte running the final lap, en route to winning it all.
Now, no one will proclaim these Mets to be as strong or deep as any of the past three champions. Yet all three overcame their early adversity thanks also to unshakable managers, resourceful general managers and flexible owners.
Mark J. Rebilas/USA TODAY SportsRyan Madson remains a free agent.
Experienced closers
Ryan Madson
and Hanrahan are available as free agents if the Mets are so inclined, CBSSports.com's Jon Heyman
tweets
. Hanrahan may not be ready until June, though, as he returns from Tommy John surgery.
Read more on Parnell's injury in the
Times
,
Post
,
Daily News
,
Journal
,
Star-Ledger
,
Record
,
Newsday
and
MLB.com
.
• Frank Viola is due to undergo open-heart surgery on Wednesday morning. The issue had been flagged during a physical at the start of spring training. Viola had been slated to serve as Las Vegas pitching coach.
• Read more on Colon's looming Mets debut in the
Post
.
• Nationals catcher
Wilson Ramos
has a broken hamate bone in his left hand that requires surgery and is due to miss four to eight weeks,
The Washington Post reports
. The newspaper reported Ramos suffered the fracture on a foul tip on Opening Day.
• Oddsmaker Bovada has Terry Collins tied for third on its board of most likely MLB managers to be fired. The leading candidates:
John Gibbons, Toronto, 2-1
Kirk Gibson, Arizona, 5-2
Ned Yost, Milwaukee, 5-1
Collins, Mets, 5-1
Bo Porter
, Houston, 7-1
Mike Scioscia, L.A. Angels, 12-1
•
From the bloggers …
Mets Police
would like the Mets to use numbers, not dots, for the ball-strike-out count on the scoreboard.
BIRTHDAYS:
Former Mets reliever
Hisanori Takahashi
turns 39. ... Infielder Al Weis was born on this date in 1938.
TWEET OF THE DAY:
Can't thank everybody enough for all the kind words and support! Will get through this surgery and be back soon. Good luck all affiliates!!

— Frank J. Viola, Jr. (@FrankViola16) April 2, 2014
YOU'RE UP: How do you believe Jose Valverde will perform in the closer's role?