New York Mets:

Mikey O'Brien
February, 17, 2014
2/17/14
9:43
AM ET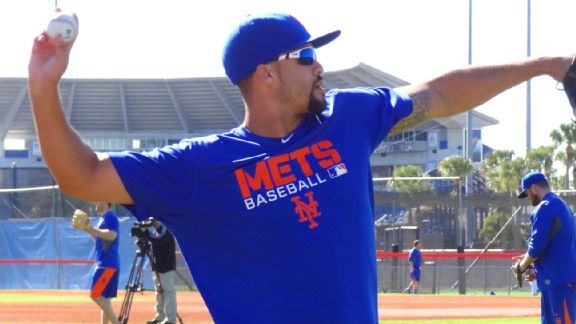 Adam RubinCory Vaughn has an insulin pump in his left pocket while playing.
PORT ST. LUCIE, Fla. -- After completing the season at Class A St. Lucie, Mets outfield prospect Cory Vaughn found himself speaking on the steps of the California State Capitol in Sacramento on Nov. 14, 2012.
The message he delivered on the annual World Diabetes Day: Having juvenile diabetes does not need to be an obstacle to achievement.
"There were a bunch of people around. It was packed and I was nervous," said Vaughn, the son of former MLB outfielder Greg and a fourth-round selection in 2010 out of San Diego State, where he played for Tony Gwynn. "I was on the steps and I was talking. I just let it kind of flow out, and it went real well.
"I'm definitely trying to let everyone know, especially the young kids nowadays with Type 1 diabetes, that you can do anything you want to do if you put your mind to it and really take care of yourself and learn to be disciplined with your diabetes. Just because you have this disease doesn't mean the world is over."
Vaughn, who was diagnosed with
Type 1 diabetes
at age 11, wears an insulin pump in his back, left pocket to regulate his blood sugar, even while playing. He always slides on his right side because a needle with a catheter wrapped around it enters his body by his glute.
Vaughn, 24, hit .267 with 10 homers and 50 RBIs in 295 at-bats last season with Double-A Binghamton. He missed a chunk of last summer after suffering an elbow strain in his right, throwing arm.
Vaughn represented the Mets in the Arizona Fall League. Although he was not added to the 40-man roster during the offseason, he did receive an invite to major-league camp.
Vaughn's Twitter handle --
@sugarfreeCV
-- hints at his diabetes.
He is not the only one in the Mets organization, or baseball, dealing with diabetes. Fellow Mets farmhand Rylan Sandoval, an infielder, also is diabetic. So is right-handed pitcher Mikey O'Brien from the Yankees organization.
As for the original symptoms that suggested he needed medical help, Vaughn said: "I was urinating a lot. I was always thirsty. I had no energy. I'd feel fine one second and then five minutes later I was like I was about to curl up in a ball. My eyes would get real dry. It's a hard thing to describe."
Vaughn replaces the catheter every three days, but the insulin pump regulates his blood levels without him needing to inject himself.
"The pump regulates the sugar levels, and it gives me a small dosage every hour," Vaughn said. "And then I put in the machine how many carbs I'm eating and it regulates that.
"I just have to prick my finger to test my blood sugar every time I eat and then in between to be safe. I'm an over-extremist. I probably test like seven times a day."
That includes testing in the dugout during games, which no longer fazes teammates.
"They'll see me," Vaughn said. "I'll have a little fanny pack in there with my medicine supplies."
Vaughn said issues on a baseball field because of improper blood-sugar levels are exceedingly rare, even with wearing the pump in his back pocket.
"For some reason my pump wasn't working and my blood sugar was going through the roof," Vaughn recalled about an isolated incident. "So I wasn't able to play that day. But that's only happened once, because my pump malfunctioned.
"Especially when my blood sugar is high, my vision gets a little blurry, and it's a real lethargic feeling. I don't feel right at all. It was not good."
Vaughn insisted diabetes has not inhibited his career.
"Not really, because I'm not going to let it do that," he said. "Down the road I'm not going to look back and have any regrets, 'Man, if I would have controlled it better, I could have been here.' I don't want to leave it up to that."
For the first few years after being diagnosed, at ages 11 through 13, Vaughn did not yet have an insulin pump and would need to inject himself.
"I was just on manual injections," Vaughn said. "It was a culture shock. At first, I would cry every time. Like a month later I realized, 'I'm going to be in school. My mamma ain't going to be there. Teachers aren't going to know what to do. You've got to do it yourself.' It's just one of those things where you have to suck it up and realize this is how it's going to be."
Vaughn does hope his increasing profile lends itself to speaking more about the subject.
Said Vaughn: "I would definitely like to venture out and talk to a bunch of young kids and stuff who just got the disease, or who have it and having a hard time with it."
September, 5, 2013
9/05/13
10:31
PM ET
SALT LAKE 5, LAS VEGAS 4:
For the second straight game, the 51s suffered a walk-off loss with
Robert Carson
pitching. Las Vegas now trails the best-of-five series two games to none. After evening the score at 4 in the top of the ninth on
Francisco Pena's
RBI double, Carson surrendered a leadoff single to
Andy Marte
in the bottom half.
Scott Cousins
eventually produced a game-winning sacrifice fly. 51s starter
Rafael Montero
allowed three runs in 4 1/3 innings.
Kirk Nieuwenhuis
had a first-inning solo homer.
Box
TRENTON 2, BINGHAMTON 1:
The B-Mets mustered only two hits and head back to Binghamton trailing two games to none in the best-of-five series. The B-Mets repeatedly

Rodriguez
threatened against Trenton starter
Mikey O'Brien
through the first four innings, but failed to break through. They stranded two in each of the first three innings and left seven aboard overall against the Thunder right-hander while failing to capitalize on five walks. Meanwhile,
Ramon Flores
got the Thunder started in the third by lacing a one-out triple.
Zoilo Almonte
, playing on major league rehab assignment while recovering from a left ankle sprain, then put Trenton on the board with a sac fly.
Josh Rodriguez
put an end to Binghamton's frustrations in the fifth. After working the count full against O'Brien, Rodriguez homered to even the score at 1. It was Rodriguez's first homer since July 6. B-Mets starter
Darin Gorski
preserved the 1-all tie into the seventh.
Mason Williams
then singled. With two outs and a full count,
Ali Castillo
doubled as Trenton took a 2-1 lead. Rodriguez's homer proved to be Binghamton's final hit. Gorski (0-1) allowed two runs on seven hits over seven innings.
Adam Kolarek
contributed a perfect eighth in the loss. Facing elimination, the B-Mets continue the Eastern Division Championship Series against the Thunder on Friday at NYSEG Stadium. Right-hander
Logan Verrett
opposes Trenton right-hander
Shane Greene
. The two hits were the second fewest ever for the B-Mets in a postseason game. They had one on Sept. 8, 2004 at New Hampshire. Binghamton has left 21 runners on base in the opening two games of this series.
Box
Compiled from team reports
July, 27, 2013
7/27/13
12:20
AM ET
SACRAMENTO 9 LAS VEGAS 3:
Jordany Valdespin
went 4-for-4 and drove in all three Las Vegas runs. He is hitting .472 in nine games since a demotion to Triple-A.
Box
TRENTON 4, BINGHAMTON 1
BINGHAMTON 4, TRENTON 1:
Richard Lucas
hit a game-deciding grand slam and
Jeff Walters
logged his B-Mets single-season record 29th save in the nightcap as the B-Mets

Walters
earned a doubleheader split. In Game 1, Trenton scored three first-inning runs against
Erik Goeddel
.
Ramon Flores
doubled and scored when Goeddel tossed a wild pitch.
Andrew Clark
and
Kyle Roller
added RBI doubles. Binghamton responded with one run in the bottom half.
Alonzo Harris
blooped a double and scored on
Cesar Puello's
infield single. In the fifth, Goeddel walked
Reegie Corona
. With Corona later on third, Clark hit a groundball through the legs of first baseman
Joe Bonfe
. Goeddel (9-4) surrendered four runs (three earned) in 4 2/3 innings. Both starters,
Mikey O'Brien
and
Greg Peavey
, held their opponents hitless through three innings in the nightcap. Trenton then produced three hits against Peavey in the fourth, and Roller cracked the scoreboard with an RBI single. The B-Mets got to O'Brien in the fifth. Lucas blasted a grand slam to give Binghamton its first lead of the series. Peavey, who had been relieving with Triple-A Las Vegas, departed after four innings. He allowed one run and three hits in his first start this season.
Armando Rodriguez
, demoted with Peavey from the 51s, was credited with the win. He faced the minimum six hitters and struck out four in two innings. In the seventh, Binghamton handed the ball to Walters. After allowing two singles, he forced
Casey Stevenson
to ground out to end the game. It was Walters' 29th save of the season, passing
Jerrod Riggan
for the most by a B-Met in a single year.
Box 1
,
Box 2
ST. LUCIE 5, LAKELAND 1
ST. LUCIE 2, LAKELAND 0 (9 innings): Matt Bowman
tossed six scoreless innings in the opener. In a scoreless Game 2 in the top of the ninth,
Cory Vaughn
and
Robbie Shields
had RBI singles, making a winner of
Hamilton Bennett
(3-0).
Hansel Robles
,
Tim Byrdak
,
Randy Fontanez
and Bennett combined on the shutout.
Box 1
,
Box 2
SAVANNAH 9, AUGUSTA 4:
The Gnats (14-15/57-14) pounced for nine runs in the first three innings and starter
Gabriel Ynoa
won his South Atlantic League-leading 11th game. In the first,
Maikis De La Cruz
and
Stefan Sabol
each singled. They scored when
Eudy Pina's
double traveled over Augusta center fielder
Andrew Cain's
head. Then, with the bases loaded in the second, back-to-back two-run doubles from De La Cruz and Sabol put the Gnats up 6-0. Ynoa battled through five innings, allowing four runs on 10 hits. In the third,
Phillip Evans
and
Brandon Nimmo
each had run-scoring singles as the Gnats opened a 9-2 lead. Evans finished 3-for-5.
Wanel Mesa
tiptoed around four walks in three innings to earn his first save of 2013.
Box
KINGSPORT 7, BRISTOL 0:
Yoan Gonzalez
tossed seven scoreless innings and combined with
Tyler Bashlor
and
Edioglis Villasmil
on a five-hit shutout.
Amed Rosario
had a three-run homer.
Joe Tuschak
added a solo shot in the ninth and finished with two RBIs.
Box
BROOKLYN 2, STATEN ISLAND 0:
Robert Gsellman
lowered his ERA to 1.74 while earning his first New York-Penn League win this season. Both Cyclones runs came via catcher
Eddie Rohan
, on a homer and RBI double. Gsellman had not allowed an earned run in his first three Brooklyn starts, spanning 18 innings. Friday, he tossed seven scoreless innings, allowing no walks and two hits while striking out five.
Ricky Knapp
recorded his first save, with two scoreless relief innings. Rohan entered the game with only one RBI for the Cyclones.
Box
GCL METS 5, GCL NATIONALS 4:
Starter
Andrew Church
(2-1) tossed five scoreless innings. The Nats scored three runs in the top of the ninth againt
Ty Williams
, but
Cameron Griffin
entered with two outs and the tying run on second base and struck out
Garrett Gordon
to preserve the win. Shortstop
Jean Rodriguez
had three RBIs.
Box
Compiled from team reports
June, 11, 2013
6/11/13
11:41
PM ET
LAS VEGAS 8, TACOMA 6: Zach Lutz
, playing in his first game since injuring an oblique on May 26, hit a two-out, walk-off three-run homer in the ninth to lift Vegas. Newly demoted
Robert Carson
had suffered a blown save in the top half of the inning, surrendering a three-run single with Tacoma down to its last strike as the Rainiers took a 6-4 lead.
Ike Davis
went 0-for-3 with two strikeouts and two walks, including a base on balls ahead of Lutz's game-ending homer.
Mike Baxter
went 2-for-4.
Wilmer Flores
went 3-for-5, including an RBI single in the ninth. The three runs charged to Carson were unearned because of a throwing error by shortstop
Brandon Hicks
earlier in the ninth.
Box
BINGHAMTON 6, TRENTON 5:
Danny Muno's
three-run homer highlifted a four-run second inning against
Mikey O'Brien
.
Cesar Puello
followed with a single, moved to second on a

Muno
botched pickoff and scored when
Allan Dykstra
singled off the glove of shortstop
Carmen Angelini
.
Erik Goeddel
(6-2) surrendered two runs in the bottom half of the frame, but no other damage while working six innings and striking out a season-high eight. With two outs in the sixth, Goeddel issued a walk and surrendered a single. He capped his night, though, by striking out
Kevin Mahoney
to preserve a 4-2 lead. Binghamton tacked on a pair of runs in the eighth against reliever
Danny Burawa
. Left fielder
Ramon Flores
dropped a fly ball from
Richard Lucas
and
Blake Forsythe
walked.
Wilfredo Tovar
then laced a two-run single. B-Mets reliever
Chase Huchingson
allowed three straight to reach with two outs in the eighth.
Jose Pirela
cut Binghamton's lead to three with an RBI single.
Jack Leathersich
entered with two runners on and surrendered a single to Flores.
Neil Medchill
attempted to score from second on the play, but was thrown out by left fielder
Joe Bonfe
. Medchill barreled Forsythe at the plate, but the catcher held on to the ball to end the inning.
Jeff Walters
pitched the ninth and surrendered a two-run homer to
Kyle Roller
, trimming the lead to one. Walters rebounded to strike out Angelini and secure his league-leading 16th save. Puello left the game after getting thrown out at second base in the seventh. He walked off under his own power.
Josh Rodriguez
extended his hitting streak to 22 games with a first-inning single. The B-Mets are undefeated in the last nine games Goeddel has started. Binghamton (39-25) has won 21 of it last 28.
Box

Lawley
ST. LUCIE 4, CLEARWATER 2 (10 innings): Dustin Lawley
hit a two-run homer in the 10th as the Mets (33-29) won their third straight.
Aderlin Rodriguez
had a two-out single before Lawley ripped his team-leading 12th homer.
Chasen Bradford
struck out
Maikel Franco
with runners at first and second in the ninth to escape the jam. Bradford earned his third win.
Hamilton Bennett
allowed back-to-back singles with two outs in the 10th before striking out
Kyrell Hudson
looking to end the game for his fourth save.
Alex Panteliodis
pitched 6 1/3 innings and allowed two earned runs and nine hits.
Estarlin Morel
pitched 1 1/3 scoreless innings in relief. Rodriguez had an RBI single to score
Matt Reynolds
in the first and
Cam Maron
singled to plate
Charley Thurber
in the second.
Box
ASHEVILLE 4, SAVANNAH 3 (8 innings)
SAVANNAH 1, ASHEVILLE 0 (11 innings):
Brandon Nimmo's
bases-loaded walk in the 11th forced in the winning run as Savannah (38-26) split the doubleheader. Starter
Logan Taylor
tossed six scoreless innings.
Paul Sewald
and
Bret Mitchell
(2-2) combined for five scoreless relief innings. The Gnats lost the first game in extra innings when
Beck Wheeler
(0-3) surrendered an eighth-inning run. Starter
Gabriel Ynoa
allowed three runs in the sixth after Savannah took an early 3-0 lead.
Box 1
,
Box 2
Compiled from team reports
June, 5, 2013
6/05/13
11:28
PM ET
TRENTON 10, BINGHAMTON 6:
The B-Mets (34-25) could not overcome an 8-0 deficit after Trenton jumped on starter
Mark Cohoon
. The game's first three batters singled to load the bases and
Kyle Roller
ultimately produced a two-run single in the first.
Jose Pirela
followed with a sacrifice fly as the Thunder took a 3-0 lead. In the second, Cohoon

Cohoon
surrendered three more runs.
Slade Heathcott
had a two-run triple and
Tyler Austin
added an RBI single. Trenton starter
Mikey O'Brien
retired the first 10 B-Mets batters before giving up a one-out single to
Darrell Ceciliani
in the fourth. The B-Mets loaded the bases that frame but could not push a run across. Cohoon also surrendered two runs in the fifth, on a wild pitch and
Reegie Corona's
RBI double. Trailing 8-0, Binghamton produced a six-run fifth.
Danny Muno
had an RBI single. After Ceciliani smacked an RBI double,
Cesar Puello
blasted his 10th homer, bringing Binghamton within three runs. On the next pitch,
Allan Dykstra
also homered. It marked the first time this season Binghamton hit back-to-back homers. Trenton responded in the seventh.
Ryan Fraser
walked two batters, then allowed back-to-back run-scoring hits. Binghamton produced only one hit over the final four innings. Cohoon (3-3) surrendered eight runs in five innings. B-Mets manager
Pedro Lopez
was ejected in the top of the fifth. Ceciliani extended his hitting streak to 12 games.
Cory Vaughn
was out for a second straight game with elbow soreness and will get an MRI, the Press & Sun-Bulletin reported.
Josh Rodriguez
-- who has a 20-game hitting streak -- also missed Wednesday's game after cutting his hand the previous game getting stepped on during a rundown, according to the newspaper.
Box
LAKELAND 4, ST. LUCIE 2:
Lakeland rallied with a four-run sixth and has won the first

Lara
three games of the series, holding the Mets to three combined runs. St. Lucie starter
Rainy Lara
retired 13 straight at one point and had been cruising through five innings before the Flying Tigers rallied. Lara committed a throwing error to first, and
Chad Wright's
RBI single pulled Lakeland within 2-1.
Cam Maron
had a missed catch at home plate for an error that resulted in the second run of the inning.
Jeff McVaney's
go-ahead RBI single made it 3-2. The Flying Tigers added a run on an RBI fielder's choice from
Jason Krizan
. Lara allowed four runs (one earned) and five hits over 5 1/3 innings with one walk and five strikeouts in his second Florida State League start.
Jim Fuller
pitched 1 2/3 scoreless innings in relief.
Hamilton Bennett
pitched a scoreless eighth.
T.J. Chism
worked around a bases-loaded jam in the ninth. The Mets (30-27) jumped to a 2-0 lead in the first.
Dustin Lawley's
ground-rule double scored
T.J. Rivera
to make it 1-0.
Aderlin Rodriguez's
groundout then scored
Matt Reynolds
.
Box
LEXINGTON 4, SAVANNAH 0:
Starter
Robert Gsellman
allowed three runs on nine hits and a walk in six innings. The Gnats (35-23) were shut out by
Alec Mills
and two relievers.
Maikis De La Cruz
had two of Savannah's seven hits.
Box
Compiled from team reports