New York Mets:

Montreal Expos
September, 10, 2013
9/10/13
8:15
AM ET
FIRST PITCH:
Matt Harvey
has yet to visit Dr. James Andrews for a second opinion about whether he requires Tommy John surgery, but he does plan to speak with media today, team officials say.
Harvey plans to discuss his status as he joins Jeff Wilpon,
David Wright
and
Zack Wheeler
for a Manhattan firehouse visit.
Also,
Ruben Tejada
is expected to join the Mets as soon as today, now that his free-agency eligibility
has been delayed
until after the 2017 season.
The series continues tonight at Citi Field with
Dillon Gee
(11-9, 3.53 ERA) opposing right-hander
Jordan Zimmermann
(16-8, 3.30) at 7:10.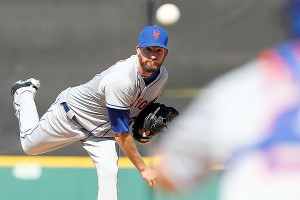 Kim Klement/USA TODAY SportsBobby Parnell requires surgery for a herniated disk.
Tuesday's news reports:
•
Bobby Parnell
requires surgery for a herniated disk
in his neck. Parnell "should" be ready for the 2014 season, according to Terry Collins. "I'm not doing the surgery," the manager said. Read more in the
Post
.
•
Carlos Torres
surrendered four homers and the Mets did not produce a hit against
Gio Gonzalez
until
Zach Lutz'
s leadoff single down the first-base line in the seventh as the
Nats pounded the Mets, 9-0
, Monday.
"I hit it off the end of the bat a little bit and it landed right on the line," Lutz said. "Just some good luck right there. … Gio was just dominating the whole night."
"It's a bittersweet moment," Gonzalez told D.C. reporters. "You're happy you got the win. The team did great. Everybody looked alive today. It's a sad moment when you lose a no-hitter down the line."
Read game recaps from new beat writer Tim Rohan
in the Times
as well as in
The Washington Post
,
Post
,
Daily News
,
Star-Ledger
,
Record
,
Newsday
and
MLB.com
.
•
Aaron Harang
will
make his Mets debut Thursday
, in the matinee series finale against Washington. That will push
Jonathon Niese
to Friday, giving him an extra day of rest.
• Wright rejoined the Mets on Monday. He still has yet to run the bases, but again
resolved to return before the season ends
Sept. 29. Read more in the
Post
,
Star-Ledger
,
Journal
and
Newsday
.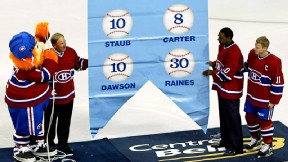 Paul Chiasson/Associated Press/CPAfter the Expos left Montreal, the Canadiens raised a banner in October 2005 recognizing the baseball club's retired numbers. Gary Carter was among the attendees.
• The Mets will finish next year's spring training
at Olympic Stadium in Montreal
with a pair of games against the
Toronto Blue Jays
. Writes Shi Davidi
at sportsnet.ca
:
In July in Toronto, a large contingent of Expos fans staged a rally during a Blue Jays game for the second straight year meant to demonstrate the support for baseball in Montreal, and exhibition contests in their own city would serve their cause even more.
Also standing to benefit is the Montreal Baseball Project, fronted by Warren Cromartie, which is conducting a feasibility study on bringing a team back to the city permanently. A strong showing is sure to get noticed among the game's power-brokers.
Read more in the
Daily News
.
• Mets season ticket holders received notification Monday that prices will
remain the same
in 2014.
• Savannah lost Game 1 of its best-of-five South Atlantic League championship series, 6-1, at Hagerstown.
Jeurys Familia
pitched a scoreless inning in his third minor league appearance since surgery to clean out his right elbow. Read the full recap
here
.
• The Mets may end up trading
Ike Davis
this offseason, but they have
no intention of non-tendering him
, team insiders told ESPNNewYork.com.
• Trading
Frank Francisco
remains a possibility
, a team insider told ESPNNewYork.com. Collins says he is not yet comfortable using Francisco on back-to-back days, because the ex-closer had not done that during his rehab assignment.
• Left-hander
Scott Rice
is
due to undergo surgery today
in Philadelphia for a sports hernia.
• Davey Johnson, 70, is
making his final visit to Queens
as Nats manager. Writes columnist George Vecsey
in the Times
:
Johnson has been around. He was a teammate of Hank Aaron's in Atlanta and Sadaharu Oh's in Tokyo when each of them passed Babe Ruth's career record of 714 home runs. He won three Gold Gloves, hit 43 home runs one season, played in four World Series and was the last out of the 1969 Series, in Shea Stadium, just before the hordes almost tore the place down in ecstasy.
In 1986, he took stock of the talent and close finishes the two previous years.
"I just remember him saying we were going to win the World Series," said Keith Hernandez, now a Mets broadcaster, and an admirer of Johnson. "I thought, 'O.K.' That was something I wouldn't have done, but he put the challenge out there."
Read more in the
Record
.
•
From the bloggers …
Faith and Fear in Flushing
explores the September of the Metropolitan soul.
BIRTHDAYS:
Outfielder
Andrew Brown
turns 29.
TWEET OF THE DAY:
So first new discovery... take the express 7 train rather than the local. Hitting every stop is slightly annoying #newguy

— Victor Black (@Vic_Black_2) September 9, 2013
YOU'RE UP: Are you concerned about Bobby Parnell's availability early in 2014?
September, 7, 2011
9/07/11
9:54
AM ET
Bobby Parnell
blew the save, but
Nick Evans
provided a go-ahead RBI for the third time in the game in the 12th,
lifting the Mets to a 7-4 win
against the Florida Marlins on Tuesday night/Wednesday morning.
The Mets wrap of the series, their final ever at Sun Life Stadium, at 5:10 p.m., Wednesday. The Marlins move to a new stadium with a retractable roof in Miami's Little Havana next season.
Wednesday's news reports:
• The Wall Street Journal determined the Mets have
paid $107.2 million to players on the disabled list
since the start of the 2009 season, the highest in the majors. The sum is $47 million more than the runner-up Detroit Tigers and more than double 24 other teams, according to the report. "You only have a certain amount of payroll,"
Sandy Alderson
told the Journal's
Brian Costa
. "And to have a substantial part of your payroll, whatever that payroll is, absorbed by players not performing is a major factor in success or failure." Writes Costa:
The injuries of the last three years are likely to have some effect on the way the Mets' roster is constructed in the years ahead. Putting aside the larger question of whether the Mets can even afford to be major players in the free-agent market anytime soon, they'll likely be more averse to the risk inherent in pricey, long-term contracts anyway. And that's not just because ownership has been burned by bad deals in the recent past. "It needs to be taken into consideration by the baseball department as well as ownership," Alderson said. "I think you become more risk sensitive and assign value accordingly and not ignore the risk when assessing value."
•
Terry Collins
was decisive over the weekend when Parnell blew a save in saying the right-hander would continue to get the closing opportunities. Collins reasoned it would send a bad message to commit and then decommit. Plus, the Mets are trying to gauge Parnell's worthiness for the role in 2012. After Tuesday's blown save, Collins said he
will meet with Parnell on Wednesday
, and it certainly seemed like the save opportunities will be shared, at least until Parnell works out some kinks.
• Evans became the third player in franchise history to have three tiebreaking RBIs in the same game, joining
Mike Piazza
and
Jason Phillips
. Evans is making the most out of his regular duty at first base. He has started 12 of the past 13 games -- the lone exception Sunday in D.C. when
Josh Satin
made his major league debut. Read game summaries in the
Times
,
Record
,
Star-Ledger
and
Post
.
•
Johan Santana
threw a bullpen session Tuesday afternoon at Sun Life Stadium. Pitching coach
Dan Warthen
said Santana looks
better than he did while pitching in major league games
last year before undergoing Sept. 14, 2010 surgery to repair a torn anterior capsule in his left shoulder. Santana will pitch in a minor league playoff game Friday -- with St. Lucie if it has a game that day. Otherwise, Santana will travel to Savannah, Ga., to play in the South Atlantic League postseason. Santana's throwing program will be halted by Nov. 1, according to Warthen. Santana then will resume activity after Jan. 1 with a program leading into spring training. The ace expects next spring training to be like any other pitcher's structure. Read more in the
Star-Ledger
,
Post
,
Record
,
Newsday
and
Daily News
.
•
Chris Schwinden
,
Valentino Pascucci
and
Mike Baxter
joined the Mets on Tuesday after Triple-A Buffalo's season ended. Left-hander
Mike O'Connor
was designated for assignment (removed from the 40-man roster) to clear a space. Schwinden is
scheduled to start Game 1
of Thursday's doubleheader against the Atlanta Braves at Citi Field. Watch Schwinden discuss his promotion
here
. Pascucci is one of
20 players who represented the Expos
in the majors who still are active. Read more on Schwinden in the
Daily News
.
• St. Lucie
rallied to win the opener
of its best-of-three Florida State League playoff series at Bradenton on Monday night. Brooklyn, which was hosting Staten Island in Game 1 of the New York-Penn League playoffs, was rained out. Both series are on the schedule for Wednesday night, as is Savannah's South Atlantic League opener.
•
David Wright
was
named National League Player of the Week
.
•
Jose Reyes
had two extra-inning hits and inched ahead of Milwaukee's
Ryan Braun
for the National League's top average
-- .334 to .333. The Mets have never had a batting champion. (Read about near-misses
here
.) Writes
Andrew Keh
in the Times
:
For a team that has battled hard this season but is still under .500, it would add some distinction to a long, challenging and often frustrating campaign. "If it happens, I mean, it's great, because not too many people have the opportunity to win a batting title in the big leagues," Reyes said before Tuesday's game. Reyes said that his troublesome left hamstring had given him more than enough to occupy his mind this season. On top of that, he said, he has come to realize as he has grown older that allowing himself to think about his individual statistics -- he is always among the leaders in triples and stolen bases -- had usually hampered his performance on the field.
•
Lucas Duda
, who was content slapping the ball to the opposite field for the first several weeks after his promotion, now is driving the baseball and
regularly producing homers
. He has nine long balls in 2011, beginning with a July 23 shot against then-Marlins closer
Leo Nunez
that traveled 447 feet, the longest at Sun Life Stadium this season, according to Newsday's
David Lennon
. "I think when you first come in, you try to do too much to impress people, overswing and stuff like that," Duda told Lennon. "Once that happened, and I got the opportunity to play every day, that's when I started to relax, be myself and go from there."
BIRTHDAYS:
Jason Isringhausen
turns 39. ... Former Mets reliever
Brian Stokes
is 32. ... Ex-utility player
David Newhan
is 38. His father
Ross Newhan
is a former sports writer for The Los Angeles Times.
September, 6, 2011
9/06/11
7:53
PM ET
The Montreal Expos last played in 2004, but with Valentino Pascucci's promotion to the Mets, there are now 20 players from that defunct club now in the majors. Here's the list, couresy of the Elias Sports Bureau:

Luis Ayala
Miguel Batista
Geoff Blum
Orlando Cabrera
Jamey Carroll
Endy Chavez
Bruce Chen
Bartolo Colon
Scott Downs
Vladimir Guerrero
Livan Hernandez
Maicer Izturis
Ted Lilly
Guillermo Mota
Val Pascucci
Carl Pavano
Jon Rauch
Juan Rivera
Brian Schneider
Javier Vazquez
NBA
NHL
COLLEGE BASKETBALL
MLB
MLS