December, 23, 2013
12/23/13
3:06
PM ET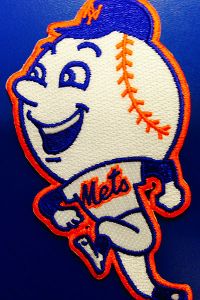 A Mr. Met patch will appear on the left sleeve of the team's blue jerseys in 2014.
A running Mr. Met will make an appearance on the left sleeve of the team's alternate blue uniforms in 2014. The patch will be worn on both the home and road versions of the blue jerseys.
In that same spot, an American flag instead will appear on the Mets' camouflage uniforms, which are scheduled to be
worn on five Mondays next season
.
The more traditional Mets uniforms -- ivory with royal pinstripe, alternate white, alternate black and road gray -- will have the skyline patch on the left sleeve.
July, 16, 2013
7/16/13
9:16
PM ET


NEW YORK -- Mr. Met and the Phillie Phanatic find a common cause.
March, 4, 2013
3/04/13
6:55
AM ET
PORT ST. LUCIE, Fla.
FIRST PITCH:
The Mets get their first glimpse of the
Atlanta Braves
this afternoon as
Tim Hudson
and crew visit Tradition Field.
Jeremy Hefner
, who might be the rotation alternative if
Johan Santana
cannot get ready for the start of the season, pitches for the Mets, along with Rafael Montero and
Bobby Parnell
.
Monday's news reports:
• Santana was displeased with all the attention he received Sunday, a day after Sandy Alderson said he the southpaw did not come into camp in pitching shape and suggested it might be 10 days before Santana stepped onto a mound. Perhaps
driven by the negative attention
, pitching coach Dan Warthen suggested, Santana
threw off a mound
Sunday for the first time since Feb. 19. Catcher
Anthony Recker
set up in front of the plate to cut the distance during the light session.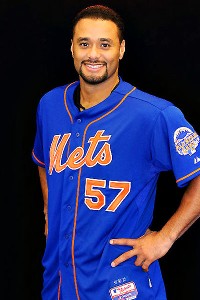 Courtesy of New York Mets
Johan Santana was not a happy camper Sunday.

"What's spring training for?" an agitated Santana asked reporters. "What's practice? To get you better. That's what I'm doing right now. That's what I'm here for, and that's what I'm going to do. That's what I'm working on."
Columnist Joel Sherman
in the Post
isn't impressed with how the Mets handled the Santana issue. Writes Sherman:
All in all, this was another Amway moment for the Mets. There was nothing technically wrong with how either party behaved -- like there is nothing technically wrong with partnering with a company that has been accused of being a pyramid scheme. It just looks terrible when this organization is trying to regain credibility that it is trustworthy and knows what it is doing.
Here were the Mets claiming to have both monitored Santana this offseason -- which Alderson said they did -- and being shocked he did so little work he was not ready to pitch at the outset.
Read more in the
Record
,
Newsday
,
Post
,
Daily News
,
Star-Ledger
and
MLB.com
.
•
Kirk Nieuwenhuis
suffered a left-knee injury
stealing second Sunday. Read more in the
Daily News
and
MLB.com
.
•
Dillon Gee
tossed three scoreless innings in his first appearance against major leaguers since undergoing surgery at last year's All-Star break and
John Buck
produced a three-run homer against his former club, but the
Mets lost to the Marlins, 6-4, Sunday
in Jupiter, Fla. Read more in the
Star-Ledger
,
Post
,
Newsday
and
MLB.com
.
• Warthen told Mike Kerwick
in the Record
he hopes to have
Zack Wheeler
(oblique) back on a mound midweek and in a game in about seven days.
• David Lennon
in Newsday
notes
Mike Piazza
did himself little favor with his autobiography if he hoped to be honored by the Mets. Writes Lennon:
The committee for the franchise's own Hall of Fame has yet to meet on any of this year's candidates, including Piazza, but the Mets weren't thrilled by some of the catcher's comments about the club in "Long Shot." COO Jeff Wilpon, who has the last word on both the Hall of Fame's recommendations and the retired numbers, was criticized in the book as Piazza claimed Wilpon urged him to play with an injury in a spring-training game because it was a sellout. Piazza also ripped longtime media relations director Jay Horwitz, who happens to be a member of the Mets' HOF committee, for not doing a better job of shielding the team's players.

"I felt he was more loyal to the writers and the broadcasters than he was to the players," Piazza wrote.

Are a few stinging sentences enough for one of the Mets' most popular stars of the past two decades to be alienated? That depends. Piazza also declined an invitation to attend SNY's unveiling of the team's 50 greatest players last year (he was No. 6) and team officials buzzed about that dis for months. There is little -- if any -- communication these days between Piazza and the Mets, who are confused as to why he's pulled away to this degree.
• Mets bullpen coach
Ricky Bones
has left camp to serve as the pitching coach for Puerto Rico in the World Baseball Classic.
• Ken Belson
in the Times
takes a look at the team's Mr. Met hats. Belson writes that teams are permitted to wear these new spring-training caps during regular-season games as well, although the Mets would not say if they planned to do so.
• Third base used to be a revolving door for the Mets. But since mid-2004, and presumably now for another eight seasons, it will belong to
David Wright
. So Jared Diamond
in the Journal
asked players who also man that position in camp what it feels like to be boxed out. The Mets are playing
Wilmer Flores
at second base, not third base, in Grapefruit League games -- although the in-season plan apparently remains for Flores to be used at both spots. Writes Diamond:
Since 2005, only one player has appeared in more games at any position for one team than Wright's 1,184 at third with the Mets: Yankees second baseman Robinson Cano (1,197). And while Cano's impending free agency makes his future with the Yankees murky, Wright will likely be a Met for life. … That leaves any third baseman in the Mets system with two options: pray for a trade that may never come -- or find a new position.
"I can't be David Wright. I'm not trying to be David Wright," said Zach Lutz, who has played 269 minor-league games at third base over the past six seasons.
• Jeff Wilpon told Jon Heyman
at CBSSports.com
he is rooting for
Jason Bay
to succeed in Seattle. The Mets still owe Bay $21 million this year, but they deferred $15 million of that sum.
"I wish Jason nothing but the best," Wilpon said. "He was a great teammate. He did everything he could. He put in a lot of work, and he was always at his locker. He's a stand-up guy. It just didn't work out. It was best for him and for us to part ways. If he was a jerk, maybe I'd feel differently. But he's a great person. I'll root for Jason Bay 100 times out of 100 times."
•
From the bloggers
…
The Eddie Kranepool Society
suggests the Mets need Santana ready in July, at the trade deadline, not on Opening Day. … Mike V's Countdown to Opening Day at
Mets Police
stops off at 1998. It marked the first regular-season game played in New York City in March.
BIRTHDAYS:
Jack Fisher, who lost 24 games for the '65 Mets despite a 3.94 ERA, was born in 1939.
TWEET OF THE DAY:
best game ever tonight at 205 came after the real games were over! @givemethelefty was the ringer stepping in 4 David's team #notcountingit

— Justin Turner (@redturn2) March 4, 2013
YOU'RE UP: Who would you like to see step into the rotation if Johan Santana were not ready and Zack Wheeler was placed at Triple-A Las Vegas -- Jeremy Hefner, Jenrry Mejia, Collin McHugh or Aaron Laffey?
August, 10, 2012
8/10/12
7:05
AM ET
R.A. Dickey
tossed his National League-leading fourth complete game and picked up his 15th win, pulling even for the major league lead, as the Mets snapped a nine-game home losing streak with a
6-1 win against the Marlins
on Thursday afternoon.
"Losing is not fun,"
Terry Collins
said. "Losing makes it miserable to walk in the doors every morning, especially when you know you should be better. We know we should be better, and it's a frustrating experience. The guys are not happy about it. The mood in the clubhouse is not the same. Even though they try to make it the same, it's not. So today's win certainly lightens things up a little bit."
The Mets now welcome the Braves for a weekend series.
Matt Harvey
makes his first Citi Field start
in tonight's opener. He opposes left-hander
Paul Maholm
.
Friday's news reports:
•
Andres Torres
went 3-for-3 with a season-high three RBIs and a walk, while Dickey posted 10 strikeouts -- his NL-leading sixth double-digit strikeout performance this season. "It's a hard knuckleball. He shouldn't call it a knuckleball, he should call it something else," Marlins manager
Ozzie Guillen
said. "He should come up with his own name because it's a different type of pitch."
Torres had a double, homer and walk against Marlins starter
Josh Johnson
and is now 5-for-5 with three walks and four extra-base hits in his career against the ace. Read game recaps in the
Times
,
Post
,
Newsday
,
Record
,
Daily News
and
Star-Ledger
.
• Columnist
Joel Sherman
in the Post
expresses concern whether the Mets are in good shape for success in 2013, too. Writes Sherman:
In other words, this isn't a simple plug job. Not when you are three outfielders away from having a legitimate major league outfield. Not when you don't have a starting catcher in a sport already short on catching. Not when significant parts of the Mets' own hierarchy remain unsold that Ike Davis or Daniel Murphy can be part of a first-division right side of the infield. Not when Jonathon Niese is showing second-half endurance issues once more and Dillon Gee has become a physical uncertainty. Not when Jason Bay and Johan Santana are choking the payroll for one more season. And not when even your two best players in 2012 -- David Wright and R.A. Dickey -- are facing their walk years in 2013. Thus, the Mets have to commit significant dollars for a substantial period on both or seriously consider trading them between now and next July 31.
• Harvey resolves to throw more fastballs tonight than in his most-recent start, at San Diego. Read more on Harvey's home debut in the
Post
,
Daily News
and
Newsday
.
•
Jose Reyes
dropped
David Wright's
fly ball in shallow left field in the sun in the fourth inning, which set up the tiebreaking run scoring. Reyes also
lost a 26-game hitting streak
. Successor
Ruben Tejada
extended his hitting streak to a career-high 14 games. "It's embarrassing, of course, but that ball got right in the sun," Reyes told
Peter Botte
in the Daily News
about the dropped fly ball. "It's kind of tough. ... Hopefully that won't happen again. I had it, but in the last moment I lost it in the sun, so I couldn't see it. It almost hit my face."
• With the Mets having all but dropped from wild-card contention, Collins said the plan to use Dickey on short rest regularly over the next several weeks is off the table. However, the manager did say that if Dickey is within
striking distance of a 20-win season or the Cy Young
, he may use the knuckleballer on short rest in the final couple of weeks of the season to try to bulk up his numbers. Dickey countered that he would not want to work on short rest unless it was beneficial to the team.
Columnist
David Lennon
in Newsday
forecasts the Mets engaging Dickey in contract-extension talks in the near future. Unlike Wright, Dickey has made little secret of his desire to get a deal done -- even with dialogue in-season. The Mets have a team option on Dickey for next season at $5 million, just as they have a team option on Wright for $16 million. Writes Lennon:
All Dickey did Thursday was polish his Cy Young candidacy by beating the Marlins with a five-hitter, his NL-leading fourth complete game, in a 6-1 victory. Dickey improved to 15-3 with a 2.72 ERA. His 10 strikeouts upped his total to 166, which is tied with Justin Verlander for tops in the majors. "The numbers speak for themselves," Wright said. "There's probably a lot of teams that would like his services. Who doesn't want a guy that's won 15 games through the second week of August?" The Mets have a $5 million option on Dickey for 2013, so he's under their control for the immediate future. But after lukewarm talks in spring training about an extension, and then a pullback by the Mets into a wait-and-see mode, the front office is beginning to consider reopening those conversations. Earlier this season, the Mets' show-me stance was a calculated gamble to see if Dickey could duplicate his previous two breakout seasons. Instead, he's surpassed the most optimistic projections, earning a trip to the All-Star Game and becoming a real threat to win the Cy Young.
Read more on Dickey in the
Journal
and
Record
.
•
Tim Byrdak
, while resigned to the possibility his career may be over, has resolved to
have surgery to repair a torn anterior capsule
in his pitching shoulder. By undergoing the procedure now, the free-agent-to-be Byrdak holds out hope of pitching again late in the 2013 season. Byrdak needed to undergo the surgery anyway in order to be able to play catch comfortably with his children.
•
Paul Lukas
on ESPN.com tracks down the
no-longer-anonymous apparent creator
of
Mr. Met
.
•
Josh Satin
went 3-for-3 with a walk and scored four times and
Valentino Pascucci
had a three-run homer in Buffalo's 10-1, rain-shortened win at Lehigh Valley.
Lucas Duda
, who figures to return to the Mets at some point this month to see playing time in left field with
Jason Bay's
role reduced, was scratched from Buffalo's lineup with a toothache. Right-hander
Jacob deGrom
, the Mets' 10th-round pick in 2010 out of Stetson, was promoted from Savannah to St. Lucie and will make his Florida State League debut Saturday. DeGrom (6-3, 2.51 ERA with the Gnats) swapped teams with right-hander
Yohan Almonte
, who had a 6.57 ERA in 19 appearances (17 starts) with the Florida State League club. Read Thursday's full minor league recap
here
.
TRIVIA:
Chipper Jones'
first two major league homers came against the Mets. Name the pitchers who surrendered those long balls. (Hint: The homers came in May 1995.)
Thursday's answer: The longest hitting streak in Mets history belongs to
Moises Alou
, who hit safely in 30 straight games in 2007.
August, 9, 2012
8/09/12
12:27
PM ET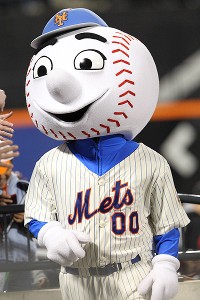 Anthony Gruppuso/US Presswire
Mr. Met's origins have been partly discovered.

Who came up with the original idea for beloved mascot Mr. Met?
ESPN.com's
Paul Lukas
investigates and finds an interesting answer.
We challenge you not to click on every link in
this piece
.
December, 21, 2011
12/21/11
10:57
AM ET
There is nothing really rich people like less than having an embarrassing story on the cover of the
New York Times
.
This story, from Richard Sandomir,
appeared on the front page of the
Times
today. So, another dark day in the crumbling Wilpon ownership. Let's get to some of the details, which would be hilarious if they didn't underline the disgrace this situation has become.
The story details how for $20 million, you can have a non-controlling interest in the Mets. What does this entail? Well, let's look at the highlights from the term sheet the
Times
obtained (with Sandomir's little slaps included below). For $20M, you get:
¶ Access to Mr. Met, the team mascot, although the degree of access is not entirely spelled out. It definitely means you, as a part-owner, can schmooze with Mr. Met at Citi Field. It's less clear whether you could get him to come to your child's birthday party without a fee.
¶ A formal business card, complete with the prominent designation: "Owner."
¶ And if you are a wealthy doctor, commodities trader or real estate mogul who wants to try to swat the ball over the newly pulled-in outfield fences at Citi Field on a Mets day off, you are entitled to attend what appears to be an exclusive kind of fantasy camp: "Owners' workout day."
You also get discounted tickets, free parking and discounted team apparel. Yippee!
The stakes in the team are being sold off because, as you may have heard, the Wilpons are doing a new variation of the movie
Trading Places
.
So, step right up, readers of this blog, bail the Wilpons out and you, too, can see Mr. Met often and park for free!!!
We know this situation is dreadful for you, Mets fans, so let's lighten the mood a little here -- use the comments section below to suggest some additional perks the Mets could include with their ownership stakes.
What would it take for you to buy in, and how much are you willing to offer? (Keep it clean.)
NBA
NHL
COLLEGE BASKETBALL
MLB
MLS
NBA
NHL
COLLEGE BASKETBALL
MLB