New York Mets:

Negro Leagues
June, 28, 2014
Jun 28
11:41
AM ET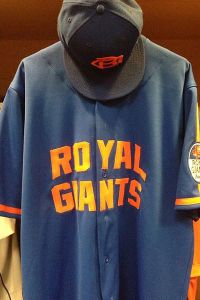 Courtesy of New York MetsBrooklyn Royal Giants uniform
PITTSBURGH -- The Mets will wear uniforms from the Brooklyn Royal Giants on Saturday at PNC Park as the Pirates salute the Negro Leagues.
The Royal Giants played as an independent from 1905 to 1942 as a member of the National Association and Eastern Colored League.
ABOUT THIS BLOG
Adam Rubin

Adam Rubin has covered the Mets since 2003. He's a graduate of Mepham High School on Long Island and the Wharton School of the University of Pennsylvania. He joined ESPNNewYork after spending 10 years at the New York Daily News.
Mark Simon

Mark Simon is ESPN Stats & Information's Baseball Research Specialist. One of several Mets historians working at ESPN, he joined the Worldwide Leader in 2002 after 6 1/2 years as a sports writer at the Trenton Times.
Email Mark » Follow Mark on Twitter »
UPCOMING GAMES
| | W-L | HM | AW | STK | L10 |
| --- | --- | --- | --- | --- | --- |
| NYM | 64-73 | 33-35 | 31-38 | W1 | |
| MIA | 66-69 | 37-31 | 29-38 | L1 | |
| | W-L | HM | AW | STK | L10 |
| --- | --- | --- | --- | --- | --- |
| NYM | 64-73 | 33-35 | 31-38 | W1 | |
| MIA | 66-69 | 37-31 | 29-38 | L1 | |
| | W-L | HM | AW | STK | L10 |
| --- | --- | --- | --- | --- | --- |
| NYM | 64-73 | 33-35 | 31-38 | W1 | |
| MIA | 66-69 | 37-31 | 29-38 | L1 | |
BLOG ARCHIVE:
CATEGORIES:
SEPTEMBER 2014
OCTOBER 2014
NOVEMBER 2014
Sun
Mon
Tue
Wed
Thu
Fri
Sat

1

@MIA
1:10 PM ET

2

@MIA
7:10 PM ET

3

@MIA
7:10 PM ET

4

5

@CIN
7:10 PM ET

6

@CIN
4:10 PM ET

7

@CIN
1:10 PM ET

8

COL
7:10 PM ET

9

COL
7:10 PM ET

10

COL
7:10 PM ET

11

WSH
7:10 PM ET

12

WSH
7:10 PM ET

13

WSH
7:10 PM ET

14

WSH
1:10 PM ET

15

MIA
7:10 PM ET

16

MIA
7:10 PM ET

17

MIA
7:10 PM ET

18

19

@ATL
7:35 PM ET

20

@ATL
7:10 PM ET

21

@ATL
1:35 PM ET

22

23

@WSH
7:05 PM ET

24

@WSH
7:05 PM ET

25

@WSH
7:05 PM ET

26

HOU
7:10 PM ET

27

HOU
7:10 PM ET

28

HOU
1:10 PM ET

29

30

| Sun | Mon | Tue | Wed | Thu | Fri | Sat |
| --- | --- | --- | --- | --- | --- | --- |
| | | | 1 | 2 | 3 | 4 |
| 5 | 6 | 7 | 8 | 9 | 10 | 11 |
| 12 | 13 | 14 | 15 | 16 | 17 | 18 |
| 19 | 20 | 21 | 22 | 23 | 24 | 25 |
| 26 | 27 | 28 | 29 | 30 | 31 | |

Sun
Mon
Tue
Wed
Thu
Fri
Sat

1

2

3

4

5

6

7

8

9

10

11

12

13

14

15

16

17

18

19

20

21

22

23

24

25

26

27

28

29

30
2014 NATIONAL LEAGUE EAST STANDINGS