New York Mets:

Olympic Stadium
March, 30, 2014
3/30/14
5:35
AM ET
Howard Simmons/NY Daily News Archive via Getty ImagesFour of the late Ralph Kiner's children will be on hand at Citi Field on Monday when the Mets honor the Hall of Famer and legendary broadcaster.
MONTREAL
FIRST PITCH:
Opening Day is only a day away.
The Mets completed their exhibition schedule Saturday with a 2-0 loss to the
Toronto Blue Jays
before 50,229 onlookers in Montreal, then flew to New York in advance to Monday's 1:10 p.m. opener against the
Washington Nationals
.
Dillon Gee
(12-11, 3.62 ERA last season) will oppose
Stephen Strasburg
(8-9, 3.00) at Citi Field.
The Mets will have a private workout Sunday at their home ballpark.
Terry Collins on Saturday declined to specify his Opening Day lineup, which basically means declining to reveal whether
Ike Davis
or
Lucas Duda
would start at first base and whether
Eric Young Jr.
or
Juan Lagares
would start in the outfield.
TC has clearly advocated EY Jr. as his leadoff hitter, so the resolution should offer insight as to how much sway the manager actually has. Meanwhile, logic suggests Ike gets the first shot at first base, with very little rope, although that too remains to be seen.
Asked if he knew which Opening Day lineup he intended, Collins succinctly said Saturday: "I do."
Asked if he cared to share it, the manager added: "No."
The Mets are 34-18 in season openers, which gives them an MLB-best .654 winning percentage. That's despite losing the first
eight
Opening Days in franchise history.
Sandy Alderson has floated a 90-win goal for the Mets, but that seems more wishful thinking than being realistic. The Mets have produced five straight losing seasons, and enter 2014 off consecutive 74-88 campaigns.
"We think we're going to be better," Collins maintained Saturday. "We think we're going to do some positive things. We've added some athleticism, some power. Now we've just got to go play."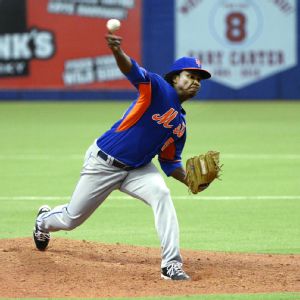 Eric Bolte/USA TODAY SportsJenrry Mejia is scheduled to start Friday against the Reds.
Sunday's news reports:
•
Jenrry Mejia
has made the Opening Day roster over
Daisuke Matsuzaka
. Matsuzaka
described himself as "shocked"
by the decision. Still, there are multiple scenarios in which Matsuzaka never throws a pitch for Triple-A Las Vegas. Mejia is due to visit a doctor Sunday after being struck in the right forearm with a line drive Friday. X-rays in Montreal
were negative
. If Mejia cannot pitch Friday against the
Cincinnati Reds
, or if
Jonathon Niese
cannot come off the disabled list two days later for a homestand-concluding start, Matsuzaka would step in. Matsuzaka might succeed Mejia after one turn of the rotation anyway. Read more in the
Times
,
Star-Ledger
,
Daily News
,
Newsday
and
MLB.com
.
•
Gonzalez Germen
and
Andrew Brown
round out the 25-man roster, with
Kyle Farnsworth
, Eric Campbell, Anthony Seratelli and
Taylor Teagarden
among the players ticketed for Triple-A. See the unofficial Opening Day list of players
here
.
• Columnist Mike Vaccaro
in the Post
recaps the long stretches of futility in Mets history, including 2009 to the present.
• New York City Mayor Bill de Blasio will
throw the ceremonial first pitch
on Opening Day. A pregame ceremony at Citi Field will honor the late Ralph Kiner. It is due to include his children Michael, K.C., Tracee and Kimberlee. Their brother Scott will be in Pittsburgh for a Pirates ceremony honoring their father,
according to the Daily News
, which interviewed Kiner's kids. Read more on the pregame ceremony in the
Daily News
.
• Steve Serby
in the Post
has a Q&A with SNY's Gary, Keith and Ron. On Noah Syndergaard, Ron Darling tells Serby: "I've watched him throw not only in a game, but also on the side. He's a bear, and he's got all the makings of one of those special guys. I think that there's definitely some more polish that he needs."
• The Mets' ballpark-related revenue declined for a fourth straight season in 2013, Jim Baumbach writes
in Newsday
.
• Mike Puma
in the Post
discusses the Davis versus Duda decision.
• Marc Carig
in Newsday
reviews Alderson's call for 90 wins.
•
Curtis Granderson
as the cleanup hitter provides protection for
David Wright
in the No. 3 hole, writes Anthony Rieber in
Newsday
.
• Columnist Joel Sherman
in the Post
doubts you'll see
Matt Harvey
in 2014, with the Mets and agent Scott Boras both prioritizing being cautious. Writes Sherman:
It is not just that there has been a rash of Tommy John surgeries this spring (seven) that has the industry wondering if this is a coincidence or a sea change of some sort. But five starters between ages 24-29 -- Brandon Beachy, Daniel Hudson, Cory Luebke, Kris Medlen and Jarrod Parker -- all needed a second Tommy John in the past six weeks, and in the cases of Beachy, Hudson and Luebke it was within two years of their first. Harvey is 25.
• Harvey tells Rieber
in Newsday
he wants to be a Hall of Famer. He toured the museum at age 17. "Being the best is being in that room," Harvey said. "That was something that I always kind of pictured and hoped that one day my plaque would be up there." Harvey and Masahiro Tanaka's teams actually met in Cooperstown when Harvey was a teenager, Rieber
also writes
.
• The Mets hope to improve their recently dismal home record in 2014. Carig
in Newsday
writes one part of the plan is to curtail access to the players, at least during clubhouse time.
•
From the bloggers …
Faith and Fear
remembers not being able to read about today's game until tomorrow's paper came out. …
NY Mets Life
reviews how Mets players have performed on past Opening Days.
BIRTHDAYS:
Agent Terry Bross, a St. John's product and former Mets pitcher, turns 48. Bross' clients include
Bronson Arroyo
.
TWEET OF THE DAY:
Amazing to be back in the greatest city in the world. Can't wait to start the new season. #LGM #thisisouryear

— josh satin (@joshsatin) March 30, 2014
YOU'RE UP: What do you believe the Mets' record will be in 2014?
September, 11, 2013
9/11/13
8:29
AM ET
FIRST PITCH:
Zack Wheeler
's season has about 20 innings remaining, Mets personnel tell ESPNNewYork.com.
That total further declines when Wheeler (7-4, 3.38 ERA) opposes
Washington Nationals
right-hander
Dan Haren
(8-13, 5.23) at 7:10 tonight at Citi Field.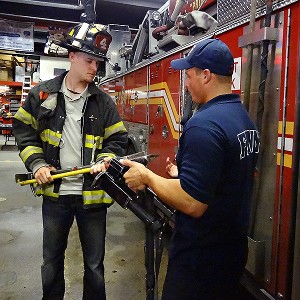 Adam RubinZack Wheeler, who visited a Manhattan firehouse on Tuesday, has about 20 innings remaining in his season.
The rookie has logged 156 2/3 innings this season between the majors and minors. He tossed 149 innings in 2012. Teams generally are comfortable with 30-inning jumps over the previous season for young pitchers.
Wheeler's next outing would come against his former employer, the
San Francisco Giants
, likely next Tuesday. It looks like Wheeler would get one more start beyond that before skipping one turn at the very end of the season.
For the record: The Mets' tragic number for postseason elimination stands at two. A loss tonight would drop them a season-worst 16 games under .500.
Wednesday's news reports:
• Chief operating officer Jeff Wilpon confirmed he
expects the Mets to be changing radio affiliates
for next season. The team has partnered with WFAN since 1987. The Yankees reportedly will move to that spot on the dial. Read more in
Newsday
, the
Times
,
Post
,
Daily News
,
Journal
,
Star-Ledger
and
Record
.
• Dr. Robert Watkins performed surgery on
Bobby Parnell
on Tuesday in California to repair a herniated disk in the closer's back. Sandy Alderson said he expected Parnell
to be unaffected during spring training
. Lefty reliever
Scott Rice
also underwent surgery
, in Philadelphia to repair bilateral sports hernias.
•
Matt Harvey
said he feels great and remains
hopeful he will avoid Tommy John surgery
, but conceded he will lean on doctors' advice, including James Andrews. Harvey is due to visit Andrews on Monday for a second opinion regarding the ace's partially torn ulnar collateral ligament in his pitching elbow. Harvey's comments came as he joined
David Wright
, Wheeler and Wilpon for a
visit to a midtown firehouse
. Read more in the
Post
,
Daily News
,
Newsday
,
Star-Ledger
,
Record
,
Times
and
MLB.com
.
•
Justin Turner
plans to
get an MRI of his right hamstring
this morning after an issue arose as he rounded third base last night.
• With his free-agency eligibility delayed until after the 2017 season,
Ruben Tejada
joined the Mets on Tuesday.
In response to Alderson's recent criticism
of his work ethic, Tejada said he is a hard worker. Read more in the
Post
,
Daily News
,
Journal
,
Newsday
,
Star-Ledger
and
Record
.
•
Dillon Gee
allowed solo homers to
Jayson Werth
and
Adam LaRoche
and
Nats beat the Mets, 6-3
, Tuesday. Read game recaps in the
Post
and
MLB.com
.
• The Mets
released their 2014 schedule
. They open at home on March 31 against the Nats. There are four separate West Coast trips. The Mets play in the Bronx on May 12 and 13, then at Citi Field against the Yankees the following two days. Interleague series include trips to the L.A. Angels (April 11-13), Seattle (July 21-23) and Oakland (Aug. 19-20). The A's (June 24-25), Rangers (July 4-6) and Astros (Sept. 26-28, to close the season) visit Citi Field. The last time the Mets visited Anaheim, back in June 2008, there was a 3 a.m. ET firing. Read more in the
Star-Ledger
.
• The
Toronto Blue Jays
confirmed they will face the Mets in exhibition games
at Olympic Stadium in Montreal
on March 28 and 29, 2014.
• In remembrance of the 9/11 terrorist attacks, the Mets
will wear caps tonight
representing different New York City first-responder organizations during batting practice -- but not in-game.
• Seth Lugo tossed six scoreless innings and Jeff Glenn went 3-for-4 with two doubles and three RBIs as Savannah beat Hagerstown, 6-2. The Gnats evened their best-of-five South Atlantic League championship series at a game apiece. Gabriel Ynoa gets Game 3 on Thursday in Savannah, with Long Island native Steven Matz set for Game 4. Read the full recap
here
.
• Read more on the Mets' firehouse visit in the
Daily News
.
•
From the bloggers …
John Delcos at
Mets Report
considers what still drives people to watch the Mets. …
Faith and Fear
tunes in to the Mets' impending departure from WFAN.
BIRTHDAYS:
Frank Francisco
turns 34.
TWEET OF THE DAY:
@AdamRubinESPN Mayeb you should just post a surgery schedule instead of a game schedule.

— Drew Kerr (@DrewKerr) September 10, 2013
YOU'RE UP: Is there a particular must-see Mets series in 2014?
September, 10, 2013
9/10/13
6:33
PM ET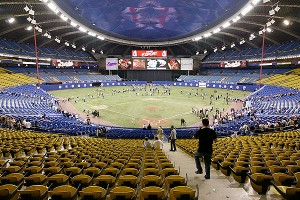 David Boily/MLB Photos/Getty ImagesOlympic Stadium in Montreal was home of the Expos through 2004.
NEW YORK -- The
Toronto Blue Jays
officially have announced a pair of exhibition games at Olympic Stadium in Montreal against the Mets. The games will be played at the former home of the Expos on March 28 and 29.
The Mets then will have an off-day before opening the season on March 31 against the
Washington Nationals
at Citi Field.
The Jays benefit by expanding their fan base in Canada. And Montreal is trying to demonstrate it is worthy of getting a relocating MLB team.
The Expos moved to Washington for the 2005 season and became the Nationals.
September, 10, 2013
9/10/13
8:15
AM ET
FIRST PITCH:
Matt Harvey
has yet to visit Dr. James Andrews for a second opinion about whether he requires Tommy John surgery, but he does plan to speak with media today, team officials say.
Harvey plans to discuss his status as he joins Jeff Wilpon,
David Wright
and
Zack Wheeler
for a Manhattan firehouse visit.
Also,
Ruben Tejada
is expected to join the Mets as soon as today, now that his free-agency eligibility
has been delayed
until after the 2017 season.
The series continues tonight at Citi Field with
Dillon Gee
(11-9, 3.53 ERA) opposing right-hander
Jordan Zimmermann
(16-8, 3.30) at 7:10.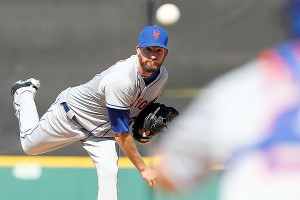 Kim Klement/USA TODAY SportsBobby Parnell requires surgery for a herniated disk.
Tuesday's news reports:
•
Bobby Parnell
requires surgery for a herniated disk
in his neck. Parnell "should" be ready for the 2014 season, according to Terry Collins. "I'm not doing the surgery," the manager said. Read more in the
Post
.
•
Carlos Torres
surrendered four homers and the Mets did not produce a hit against
Gio Gonzalez
until
Zach Lutz'
s leadoff single down the first-base line in the seventh as the
Nats pounded the Mets, 9-0
, Monday.
"I hit it off the end of the bat a little bit and it landed right on the line," Lutz said. "Just some good luck right there. … Gio was just dominating the whole night."
"It's a bittersweet moment," Gonzalez told D.C. reporters. "You're happy you got the win. The team did great. Everybody looked alive today. It's a sad moment when you lose a no-hitter down the line."
Read game recaps from new beat writer Tim Rohan
in the Times
as well as in
The Washington Post
,
Post
,
Daily News
,
Star-Ledger
,
Record
,
Newsday
and
MLB.com
.
•
Aaron Harang
will
make his Mets debut Thursday
, in the matinee series finale against Washington. That will push
Jonathon Niese
to Friday, giving him an extra day of rest.
• Wright rejoined the Mets on Monday. He still has yet to run the bases, but again
resolved to return before the season ends
Sept. 29. Read more in the
Post
,
Star-Ledger
,
Journal
and
Newsday
.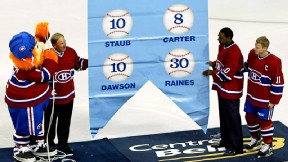 Paul Chiasson/Associated Press/CPAfter the Expos left Montreal, the Canadiens raised a banner in October 2005 recognizing the baseball club's retired numbers. Gary Carter was among the attendees.
• The Mets will finish next year's spring training
at Olympic Stadium in Montreal
with a pair of games against the
Toronto Blue Jays
. Writes Shi Davidi
at sportsnet.ca
:
In July in Toronto, a large contingent of Expos fans staged a rally during a Blue Jays game for the second straight year meant to demonstrate the support for baseball in Montreal, and exhibition contests in their own city would serve their cause even more.
Also standing to benefit is the Montreal Baseball Project, fronted by Warren Cromartie, which is conducting a feasibility study on bringing a team back to the city permanently. A strong showing is sure to get noticed among the game's power-brokers.
Read more in the
Daily News
.
• Mets season ticket holders received notification Monday that prices will
remain the same
in 2014.
• Savannah lost Game 1 of its best-of-five South Atlantic League championship series, 6-1, at Hagerstown.
Jeurys Familia
pitched a scoreless inning in his third minor league appearance since surgery to clean out his right elbow. Read the full recap
here
.
• The Mets may end up trading
Ike Davis
this offseason, but they have
no intention of non-tendering him
, team insiders told ESPNNewYork.com.
• Trading
Frank Francisco
remains a possibility
, a team insider told ESPNNewYork.com. Collins says he is not yet comfortable using Francisco on back-to-back days, because the ex-closer had not done that during his rehab assignment.
• Left-hander
Scott Rice
is
due to undergo surgery today
in Philadelphia for a sports hernia.
• Davey Johnson, 70, is
making his final visit to Queens
as Nats manager. Writes columnist George Vecsey
in the Times
:
Johnson has been around. He was a teammate of Hank Aaron's in Atlanta and Sadaharu Oh's in Tokyo when each of them passed Babe Ruth's career record of 714 home runs. He won three Gold Gloves, hit 43 home runs one season, played in four World Series and was the last out of the 1969 Series, in Shea Stadium, just before the hordes almost tore the place down in ecstasy.
In 1986, he took stock of the talent and close finishes the two previous years.
"I just remember him saying we were going to win the World Series," said Keith Hernandez, now a Mets broadcaster, and an admirer of Johnson. "I thought, 'O.K.' That was something I wouldn't have done, but he put the challenge out there."
Read more in the
Record
.
•
From the bloggers …
Faith and Fear in Flushing
explores the September of the Metropolitan soul.
BIRTHDAYS:
Outfielder
Andrew Brown
turns 29.
TWEET OF THE DAY:
So first new discovery... take the express 7 train rather than the local. Hitting every stop is slightly annoying #newguy

— Victor Black (@Vic_Black_2) September 9, 2013
YOU'RE UP: Are you concerned about Bobby Parnell's availability early in 2014?
September, 9, 2013
9/09/13
2:27
PM ET
NEW YORK -- The Mets and
Toronto Blue Jays
will play a pair of spring-training games at Olympic Stadium in Montreal next year, Sportsnet baseball columnist Shi Davidi reported.
The Mets last played at that ballpark on Sept. 23, 2004 -- during the final days of the Montreal Expos' existence.
Gerald Williams
and
Victor Diaz
homered and
Tom Glavine
earned the victory in the Mets' 4-2 win that day.
Teams often close spring training playing at a non-Florida or Arizona site.