New York Mets:

One-hitters
August, 18, 2010
8/18/10
9:00
AM ET
By
Mark Simon
| ESPNNewYork.com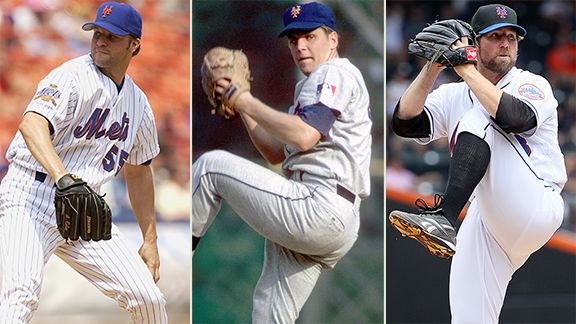 Getty Images
Shawn Estes (left), Tom Seaver (middle), and R.A. Dickey (right) are among those in Mets history who have flirted with a no-hitter, but had to settle for the next-best thing, a one-hitter.
"A Single in First Spoils No-Hitter" read the
New York Times
headline on June 23, 1962, the day after
Al Jackson
pitched the Mets first one-hitter against the Colt 45's (now known as the Astros), allowing nothing after
Joe Amalfitano's
single in the first game of a doubleheader.
That headline writer must have known something was in the fates that deemed that we'd still be talking about how the Mets have never thrown a no-hitter, 48 years later.
R.A. Dickey
, pitching tonight against the Astros, was the latest tease—throwing the Mets 35th one-hitter, a
Cole Hamels
single away from history, against the Phillies last Friday. Mets fans don't have much to celebrate these days (fans of other teams have celebrated 125 no-hitters since 1962), so it seems worthwhile to enjoy what are the best of the near-bests at this time.
In our attempt to be the "Ulti'met" team historian, we've armed ourselves with newspaper reports and internet accounts of all 35 games, supplemented those with a few audio and video tape airings, and studied up on the subject, in an effort to offer the most comprehensive descriptions and accounts possible. Follow along carefully -- there's a lot to detail.
First we must tell how the Mets would lose the second game of Jackson's doubleheader, 16-3, and something would happen in that one that hasn't happened in any game since. The baseball gods must have been laughing as Colts pitcher
Jim Golden
tripled twice in the rout (Golden was golden; he'd go 5-0 against the 120-loss Mets).
Since 1962 --
Pitcher multi-triple games:
1,
Mets no-hitters:
0.
The no-no is still verboten in Metville to this day.
Speaking of pitcher's hitting, four have been responsible for the only hit of a Mets one-hitter, most recently Hamels last Friday. The first of those moundsmen,
Ray Sadecki
would later pitch for the Mets. He'd bust
Jack Hamilton's
bid with a third-inning 20-foot bunt single along the third base line, perhaps the shortest hit in all the Mets one-hitters.
Ah, the bunt hit, forbidden by the unwritten rules of some from busting no-hitters, but welcomed early in the game when the thought of a no-hitter is not on anyone's mind, save for obsessive Mets fans like Dirk Lammers, who runs the website
Nonohitters.com
, which tracks Mets no-hit bids game-by game, sending alerts via Twitter when an opponent gets the first hit of the game.
Sometimes that doesn't take long.
Trot Nixon
of the Red Sox got a bunt hit in the first inning on July 15, 2001, the day of
Bobby Valentine's
1,000th major league managerial victory, a combined one-hitter for
Glendon Rusch
and
Armando Benitez
.
The lone hit was a push bunt between the mound and first base, one fielded by
Lenny Harris
, whose throw to covering second basemen
Edgardo Alfonzo
was late. It's a history mystery what might have happened had Rusch fielded the ball (he said afterwards he should have), but alas this no-hit bid turned out to be the 22nd one-hitter in team annals.
"I loved Glendon because of the attitude he brought to the park," Valentine said recently. "I wish he could have pitched for me every day. He was the perfect choice for my 1,000th win."
Just not perfect enough for a no-hitter.
Nor was
Bobby Jones
one-hit shutout of the Giants in Game 4 of the 2000 NLDS. Jones' wife Kristi told Valentine that her husband would pitch "the game of his life" that day. He did, and were it not for a fifth-inning line drive from
Jeff Kent
that just got over the glove of leaping third baseman
Robin Ventura
, it could've, would've, should've been a no-hitter.
"I wish Robin was 7-foot-4, so he could have caught it," Jones said a few years later. "But he saved me many a time."
Joe Morgan
, announcing the game for ESPN said after Jones got the final out : "I don't think I've ever seen a game pitched this well, other than a perfect game."
Others might beg to differ.
The Mets pitcher to come closest to a perfect game was
Tom Seaver
, whose bid lasted 8 1/3 innings on July 9, 1969, broken by a clean single to center from Cubs centerfielder
Jimmy Qualls
. When Qualls reached first base, who was there to greet him but Cubs coach
Joey Amalfitano
-- the same guy who had the only hit in
Al Jackson's
one-hitter in 1962.
Seaver would describe Qualls in his post-game press conference as "a sticky little hitter." That also seems an apt name for
David Eckstein
, who had the only hit in the first of two
Steve Trachsel
one-hitters as a Met, this one featuring the fewest strikeouts (one) against the Angels in 2003.
Trachsel's other Mets close call was broken up by someone with the fewest career hits of anyone to have the only hit in a Mets one-hitter: Rockies starter
Chun-hui Tsao
(the first of two career hits) in the sixth inning of a game in 2003.
Seaver's five one-hitters are the most in Mets history. His second was a 15-strikeout effort against the Phillies on May 15, 1970 that scores highest in Bill James Game Score metric (a 98) of any of the 198 games Seaver won as a Met.
It was the second time in a month that the Phillies fell victim to a 15 strikeout one-hitter, part of a two-year streak in which the Mets shut them out five times in a row (the 2010 squad would be envious).
Nolan Ryan
had the other, his best performance as a Met prior to being traded, beating future Hall of Famer (and past perfect-game vs the Mets-tosser) Jim Bunning.
It was also the second time in three days that the Mets came that close to a no-hitter.
Gary Gentry
pitched a one-hitter against the Cubs two days prior.
Hall of Famer
Ernie Banks
lined an eighth-inning single to left field, which may have been caught by left fielder
Dave Marshall
had wet grass not caused him to slip in his initial pursuit.
"I thought it would be caught," Banks, who'd hit his 500th homer the day before, told the media after the game, but Marshall was only able to nick the ball with his glove before it dropped in.
THAT one was close. So was
Dwight Gooden's
against the Cubs at Shea on September 7, 1984. Gooden had told Valentine, then the club's third base coach, that he'd no-hit the Cubs someday. Had third baseman
Ray Knight
been able to get
Keith Moreland's
slow roller in the fifth inning out of his glove, he might've kept Gooden's bid intact. Instead, there was no grip, no throw, and no no-no.
The glory days passed Gooden by, but for the Mets one-hitter, the best of times were the early 1970s, with the team netting eight of the 80 thrown in the majors from 1970 to 1974, and the 2000s, in which they had at least one one-hitter from 2000 to 2008.
Seaver and
Gary Gentry
each tossed one against the world-champion Pirates in 1971, the latter broken up by Hall of Famer
Roberto Clemente's
sixth-inning triple. Seaver would throw another vs the Padres on July 4, 1972.
Leron Lee
, father of Derrek, snapped that one with San Diego's only hit with one out in the ninth inning.
Seaver also had the Mets longest no-hit bid, against the Cubs in 1975 (halted by a
Joe Wallis
single with two outs in the ninth) but that doesn't make the list because the game would go extra-innings and the Mets would lose 1-0, the victims of four hits and a game-ending bases-loaded walk.
The last of Seaver's Mets one-hitters came against the Cubs on April 17, 1977. In the fifth inning, Mets catcher
John Stearns
thought Seaver had Cubs third baseman
Steve Ontiveros
struck out, but umpire
Andy Olsen
called the pitch a ball. On 3-2, Ontiveros hit a bloop to right field, for which
Ed Kranepool
dove, but missed by inches.
Seaver would get his no-hitter on June 16, 1978 -- a year and a day after being traded to the Reds. And we should note that in his last appearance for the Mets, he allowed no hits -- albeit in one inning pitched on the next-to-last day of the 1983 season.
Was one of Seaver's games the best Mets-pitched one-hitter?
The combo from
John Maine
(7 2/3 innings),
Willie Collazo
and
Carlos Muniz
against the Marlins on September 29, 2007 (the day before
Tom Glavine
gakked up the season), featured 14 strikeouts from Maine, and only a dink infield hit from Marlins catcher
Paul Hoover
. That one makes the most reasonable case among the most recent efforts.
Dickey's wasn't even the best this season.
Jonathon Niese
joined Seaver with the only one-baserunner, one-hitter earlier in the year against the Padres.
Niese and Dickey both make the list of unlikely one-hitter throwers, joining submariner
Terry Leach
, who threw a 10-inning one-hitter against the Phillies (ex-Mets coach
Luis Aguayo
had the only hit) in his second major league start on October 1, 1982, and not-so-well-liked
Aaron Heilman
, whose no-no attempt against the 2005 Marlins was broken up by an infield hit by current not-so-liked Met,
Luis Castillo
.
---
We break up this story on one-hitters to tell you that:
• The most Mets wins without a one-hitter:
Jerry Koosman
, 140
• The Mets have one-hit a soon-to-be World Series champ three times. We mentioned the two against the 1971 Pirates. The other -- a
Jae Seo
,
David Weathers
,
Armando Benitez
team effort against the 2003 Marlins, just before the beginning of a run in which the Marlins went 57-33 and won the wild card.
• Seven times, more than one pitcher has been required to complete a Mets one hitter. Current Mets analyst
Ron Darling
and
Jesse Orosco
paired on the first of those-- against the Pirates on April 17, 1985. The Mets enlisted the assistance of first baseman Keith Hernandez in that one-- his ninth-inning sac fly brought in the winning run.
• The Padres, who also have never thrown a no-hitter, have 24 one-hitters, including four against the Mets (one in each of four straight seasons from 1991 to 1994). The face of the Padres franchise,
Tony Gwynn
was the final out of a no-hitter by the Braves in 1991, but avoided any dubious distinction with a fourth-inning double, the only hit in a
David Cone
one-hitter for the Mets in 1988.
• This isn't the only thing the Mets haven't done. What's more likely to come first: A Mets no-hitter, or a Mets hitter homering three times in a game AT HOME? Neither has ever happened.
---
Seaver and Ryan are the two Mets who have pitched a one-hitter who are in the Hall of Fame, likely to be joined eventually by
Tom Glavine
and
Pedro Martinez
, who gets partial credit for lasting four innings in a one-hitter against the Rockies on July 12, 2008 (four relievers finished the deal).
We'll give an honorable mention to
Shawn Estes
, recently inducted into the Giants Wall of Fame. Estes threw a one-hitter for the Mets against the Brewers on April 26, 2002, beating the last Met to combine on one,
Glendon Rusch
, 1-0.
This bid was broken up by future ESPN baseball analyst
Eric Young's
seventh-inning single. That's not surprising given that Young hit .417 against Estes in the 36 at-bats in which they went head-to-head, though Estes got the last laugh by getting Young for the game's final out.
Estes couldn't win enough (his four wins as a Met are fewest among the one-hitter tossers), and the Mets don't always win one-hitters. They're 33-2 when they throw one, losing most recently to the Astros in 2006.
Cone and
Jeff Innis
lost their combined one-hitter to the Cardinals on September 14, 1991, but Cone would come back with a winning one-hitter against St. Louis in his next start (the only hit being a
Felix Jose
double to the warning track in left-center in the eighth inning).
"I wanted to treat these fans to something special," Cone told reporters afterwards.
Those 1991 Mets would tease fans by throwing three one-hitters in an 11-day span near season's end (
Pete Schourek
had the other against the Expos, broken up by current White Sox GM
Ken Williams
), but couldn't save the job of their skipper,
Bud Harrelson
, who would be fired a little more than a week later.
Harrelson held the Mets record for most one-hitters played in (of at least nine innings), with eight, until this year, when
Jose Reyes
surpassed him. Reyes also played in two rain-shortened one-hitters (by Glavine and
John Maine
) in 2007.
Reyes should remember the previously mentioned Trachsel one-hitter against the Angels well—it came the same day as his first big league grand slam.
That's a better memory than Mets legend
Darryl Strawberry
has of the one-hitter thrown against the Phillies by
Sid Fernandez
and
Roger McDowell
on May 11, 1985.
Strawberry tore ligaments in his thumb, preserving a then no-no with a third inning catch of a
Juan Samuel
fly ball, an injury that cost him 43 games, and may have made the difference in the Mets failing to beat out the Cardinals in the NL East race.
Strawberry came back from injury to help the Mets to the World Series title the next season.
Jon Matlack
came back from injury (a fractured skull suffered by being hit with a line drive) to nearly do so in 1973 (the Mets lost the World Series in seven games). But in lieu of a World Series, Matlack, who remembered throwing eight no-hitters in high school, threw one-hitters in both 1973 and 1974.
Matlack now works as the Tigers roving pitching instructor. Earlier this year, he tutored
Armando Galarraga
, not long before Galarraga threw his "imperfect game" against the Indians, so he can relate to what the Mets are going through in more ways than one.
"I think it's just bad luck," Matlack said, when asked for a former player's perspective on why we're celebrating Mets one-hitters instead of no-hitters. "The fates that go into it ... The baseball gods just haven't smiled on the Mets yet."
Maybe tonight.
June, 10, 2010
6/10/10
10:25
PM ET
By
Mark Simon
| ESPNNewYork.com
A major cap-tip to Baseball-Reference.com for its assistance in this compilation.
1-
Jonathon Niese's
one-hitter marked the 23rd time a Mets pitcher has thrown a regular season complete game one-hitter of nine innings or more. The Mets also had one in Game 4 of the 2000 NLDS against the Giants from
Bobby Jones
.
2- Of those 23, only two other Mets pitchers threw accomplished the feat without allowing either a hit batsman or a walk --
Tom Seaver
against the Cubs in 1969 (his near-perfect game of 8 1/3 innings) and
Steve Trachsel
against the Rockies.
Niese and Seaver are the only pitchers in Mets history to throw a one-baserunner one-hitter (Trachsel's game also included a Mets error).
3- Technically speaking, it was the 34th one-hitter (complete game or combined) in Mets history (including the Jones' effort in the postseason). But that list includes two losses in which the Mets pitched only eight innings, and two wins in which the Mets pitched fewer than nine innings.
4- This was Niese's 18th major league game pitched. That's the fewest games pitched by any Met to throw a complete game one-hitter (nine innings or more).
Aaron Heilman
held the previous mark, getting a one-hitter in his 21st game, against the Marlins in 2005.
5- Since the Mets came into existence in 1962, Niese is one of only six pitchers to throw a complete game (nine innings or more), yielding one baserunner of fewer, within the first 18 games of his career.
Incredibly, the most recent was by
Mat Latos
, who got the win for the Padres in the first game of the doubleheader. He pitched a one-hitter against the Giants on May 13th in his 17th big league game.
6- Niese is the sixth Mets pitcher, age 23 or younger to throw a complete game one-hitter. The youngest on the list was 19-year-old
Dwight Gooden
(1984 vs Cubs). Others on the list:
Pete Schourek
,
Jon Matlack
,
Gary Gentry
, and
Nolan Ryan
.
7- By the Bill James metric, Game Score (which measures starts based on innings, runs allowed, hits allowed, strikeouts and walks), Niese finished with a game score of 91.
It marked the 40th time that a Mets starter pitched to a game score of 91 or better in a regular season game, the first since
Tom Glavine
scored a 92 with a two-hit, 11-strikeout shutout in 2005.
8- Of a much more trivial nature: Niese drew two walks, marking the 39th time in Mets history that a pitcher had a multi-walk game (the team record is three, shared by
Jay Hook in 1962
and
Jon Matlack in 1975
.
9- This was the third time in Mets history that they pitched a one-hitter against the Padres. The others were by Seaver in 1972 (a no-hitter broken up in the ninth inning) and David Cone in 1988.
10-
Chris Denorfia
, who had the Padres only hit, was born in Bristol, Connecticut, the home of ESPN.
Mark Simon is a researcher for Baseball Tonight. Follow him on Twitter at @msimonespn or e-mail him at webgemscoreboard@gmail.com.