New York Mets:

Opening Day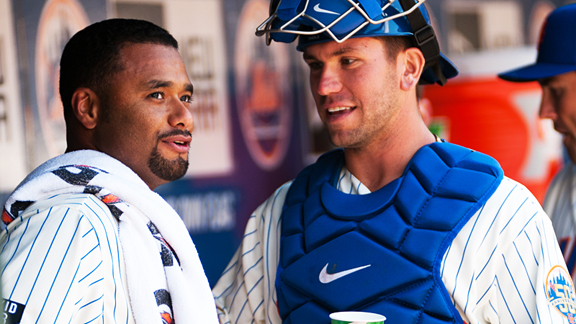 Jeff Skopin/ESPNNewYork.comJohan Santana and Josh Thole had reason to smile after escaping the fifth inning.
Were the fans excited about Opening Day at Citi Field? Judge for yourself after clicking through our photo gallery:
The Scene From Queens

April, 1, 2011
4/01/11
10:03
PM ET
Recap
|
Box score
Mike Pelfrey
surrendered a fourth-inning grand slam to Marlins newcomer
John Buck
and Marlins ace
Josh Johnson
held the Mets hitless until
Willie Harris'
leadoff double in the seventh as Florida won, 6-2, in the first major league game managed by
Terry Collins
since 1999.
The Mets had won five straight Opening Days, the longest active streak in the majors.
Since
Angel Pagan's
grand slam off Arizona's
Clay Zavada
on Aug. 1, 2009, the Mets have served up 17 straight unanswered grand slams to opponents. The 12-0 disparity last season was the largest by a team that failed to muster a grand slam in major league history, according to the Elias Sports Bureau.
The only team to be no-hit on Opening Day remains the 1940 White Sox, who were victimized by
Bob Feller
.
Other details:

Center Field
New York Mets
2011 Season Stats

| | | | | | |
| --- | --- | --- | --- | --- | --- |
| GM | HR | RBI | R | OBP | AVG |
| 1 | 0 | 1 | 1 | .250 | .250 |
•
ALL RIGHT:
Carlos Beltran
started his first major league game in right field since Sept. 30, 2000 against the Kansas City Royals.
He went 1-for-4 on Friday night, and accounted for the Mets' opening run by driving in Harris with one out in the seventh with a double off Johnson into the right-field corner.
Beltran played a full game Friday -- more than either of his two Grapefruit League games at the position this week (five and six innings).
Beltran had an uneventful night in the field, but an active first inning. He recorded the Mets' first two outs of the season, on routine fly balls by
Omar Infante
and
Hanley Ramirez
.
In his first at-bat, Beltran took two pitches, then had a foul pop-out to third base. He then grounded out to second base two innings later.
•
DEBUTANTS:
Second baseman
Brad Emaus
and right-hander
Pedro Beato
, both Rule 5 picks, made their major league debuts.
In his first major league at-bat, Emaus grounded out to Ramirez at shortstop in the second inning to strand
Ike Davis
at second base after a two-out walk to the first baseman, then a balk. Emaus finished 0-for-2 with a walk.
An unaccomplished second baseman, Emaus also was 5-for-5 in fielding chances, including a nifty lunge to his left with the infield in to hold Buck at third base in the sixth to help keep Beato's career major league ERA 0.00.
Beato's first pitch as a major leaguer, to open the sixth, was laced for a double off the wall in left-center by Buck. But Buck ended up being stranded when, following Emaus' solid play on the infield grass,
Chris Coghlan
had an inning-ending flyout to center.
Beato then tossed a scoreless seventh, benefiting from Emaus initiating a double play after fielding Ramirez's grounder.
•
SEVENTH HEAVEN:
Harris started in left field because of his career .500 on-base percentage against Johnson. He went 1-for-3 against the ace (and 2-for-4 overall), including the leadoff shot in the seventh that broke up the no-hit bid. To that point, the Mets' lone runner had come on a two-out walk to Davis in the second.
Lucas Duda
, who had a pinch-hit flyout, is expected to start in left field Saturday.

Starting Pitcher
New York Mets
2011 Season Stats

| | | | | | |
| --- | --- | --- | --- | --- | --- |
| GM | W | L | BB | K | ERA |
| 1 | 0 | 1 | 4 | 2 | 10.38 |
•
DISAPPOINTING:
Pelfrey was charged with five earned runs on four hits and four walks while striking out two in a 97-pitch effort over 4 1/3 innings.
It marked the shortest Opening Day outing by a Met since
Tom Glavine's
debut with the organization on March 31, 2003 at frigid Shea Stadium against the Chicago Cubs, when the ex-Brave allowed five runs in 3 2/3 innings.
Pelfrey, who took the loss, had raced to a 9-1 start last season. He has a 5.63 ERA in 13 career starts against the Marlins. Pelfrey next draws
Joe Blanton
on Wednesday in Philadelphia.
The final run charged to Pelfrey perhaps should have been unearned.
Blaine Boyer
, who replaced Pelfrey, coaxed a two-out grounder from
Gaby Sanchez
in the fifth. The hop ate up Davis at first base and was scored a hit as Florida took a 5-0 lead.
The tone was set right away in a 25-pitch first inning by Pelfrey, in which he stranded two runners in scoring position. He opened the frame with a 10-pitch walk to Coghlan.
•
MET FAN: David Wright
aimed to reduce his strikeout total after a career-high 161 in 2010. There's no shame given the opposing pitcher, but Wright K'd in his first two ABs of 2011 as well -- on a sharp-breaking curveball looking, then swinging at a 97 mph fastball from Johnson.
•
HAMMY WHAMMY:
Marlins right fielder
Mike Stanton
left the game after five innings with a tight left hamstring.
•
PATIENCE:
Perhaps as a sign of the plate discipline being preached, nine of the game's first 10 Mets batters took the first pitch. Only Pagan swung at Johnson's first offering. Reyes, a relatively free swinger, actually took the game's first five pitches before grounding out on a full-count offering.

Starting Pitcher
Florida Marlins
2011 Season Stats

| | | | | | |
| --- | --- | --- | --- | --- | --- |
| GM | W | L | BB | K | ERA |
| 1 | 1 | 0 | 2 | 3 | 2.70 |
•
MET KILLER:
Johnson, last year's NL ERA leader, improved to 8-1 in 13 career starts against the Mets.
•
BUCH SHOT: Taylor Buchholz
, in his debut as a Met, served up a homer to
Logan Morrison
-- the first batter he faced.
•
K-ROD TRACKER: Francisco Rodriguez
has finished none of the Mets' first one games. He needs 55 games finished in the final 161 games in order for his contract to vest for 2012 at $17.5 million.
•
NEXT:
Game 2 of the series is Saturday at 7:10 p.m., with left-hander
Jon Niese
facing Marlins right-hander
Ricky Nolasco
.
March, 31, 2011
3/31/11
8:58
AM ET
By
Mark Simon
| ESPNNewYork.com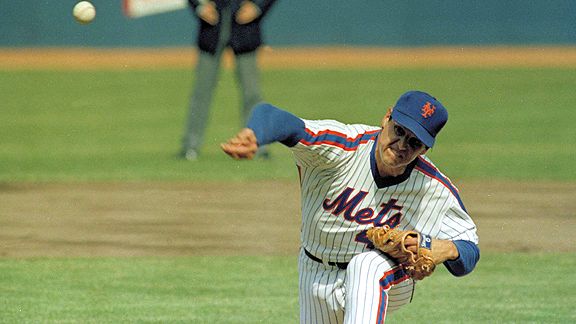 Richard Drew/AP Photo
Tom Seaver got help from Mike Howard both on and off the field upon his return to the Mets in 1983 .
Each Thursday, Mark Simon will commemorate the Mets' 50th season with stories and notes related to the history of the team. The goal will often be to find little-known notes, facts and anecdotes, and we begin that mission with our first piece here:
For some major leaguers, Opening Day marks the beginning of what they hope will be long and prosperous baseball careers, or a fresh start to a new season filled with hope and excitement.
In the case of former Met
Mike Howard
, he's the rare player for whom Opening Day represents the ending of a big league career.
In the 1983 season opener, the Mets beat the Phillies, 2-0, in a game most remembered for
Tom Seaver's
return to the team after five-and-a-half seasons with the Reds. Forgotten is their right fielder that day, Howard, was the last to start the opener at that position before the arrival of Mets legend
Darryl Strawberry.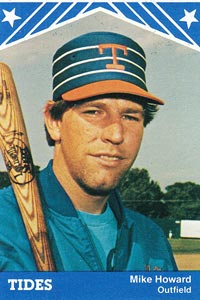 TCMA
Howard as a Tidewater Tide in '82.

With the game scoreless in the sixth inning, Howard came up with the bases loaded and no outs, and singled off Hall of Famer
Steve Carlton
to put the Mets ahead. It would be the last of 66 major league at-bats for Howard, who finished with a .182 batting average and 12 base hits.
"The thing I remember about that day was that I was with Seaver warming up in the bullpen," Howard said. "When he finished throwing, he said 'I need to do something' [to kill time before the game started], so I pointed to a guy who had a cast on his arm, or was in a wheelchair and said to Tom that he should give the guy a baseball. I was thinking 'Wow. Tom Seaver just asked
me
what to do.' That was cool."
The Mets had a glut of outfielders in the mix before Strawberry's arrival, so others got opportunities in the next few games. After not needing him for two-and-a-half weeks, the Mets sent Howard to Triple-A. Howard remembers clubhouse manager
Herb Norman
telling him to take his Mets uniform with him. Howard declined.
"I'll be back," Howard said, not knowing at the time that he wouldn't be.
"I was a utility guy, the insurance man," said Howard, whose nickname was "Mad Dog" because his style of play emulated that of
Pete Rose
, such as how both sprinted to first base after drawing a walk. "The problem with being the insurance guy is that you never use him, because you don't know when you're going to need him."
Howard went into a funk after being demoted, hitting below .200 at Triple-A. He was sent to rookie ball with the intent of adding catcher to the list of positions he could play. (Howard played every one, including pitcher, at some point in his pro career.) But the Mets didn't recall him.
Howard became a free agent that offseason, signed with the Pirates organization, but retired after an injury-filled season and the knowledge that his wife,
Vicki
, was pregnant.
According to the Elias Sports Bureau, he's one of only three players since the end of World War II whose last major league game was as a starter in his team's opening game (the others:
Lew Riggs
of the 1946 Dodgers and
Manny Lee
with the 1995 Cardinals).
Howard has held a variety of jobs since retiring from baseball. For the last 10 years, he has been self-employed as a painter and carpenter in Jackson, Miss., where he lives with his family.
A year after the Mets put leftover items from Shea Stadium up for sale, Howard's daughter,
Kallie
, found both his jersey, and an eight-foot canvas picture that hung in the ballpark that featured her father in the background, on E-Bay. She bought them and gave them to her father for his birthday. They've since replaced her wall of Barbie dolls in the family home.
Howard admitted difficulty in making the transition from ballplayer to former ballplayer, but in the last few years, he's embraced it. This year, he went to spring training in Arizona to catch up with his ex-roommate, Giants manager
Bruce Bochy
. And he's well known in Jackson.
"There are four Mike Howards in Jackson," Howard said with a laugh. "I'm the ballplayer, not the optometrist. I can't go anywhere in town without people saying they know me."
Five Things You Might Not Know About the Mets and Opening Day
(cap-tip to
Baseball-Reference.com
)
1--The Mets' five-game Opening Day win streak is the longest current streak in the major leagues, and their 32-17 mark on Opening Days is the best by any team.
2--The Mets' subsequent Opening Day right fielder, Strawberry, has the team's best batting average in season openers. He was 11-for-22 (.500) with four home runs and eight RBIs.
3--
Tom Seaver
was 6-0 with a 2.13 ERA in 11 season openers for the Mets, but was 0-for-22 as a hitter in those games.
4-- Only one Met making his major league debut has homered in an Opening Day game --
Kaz Matsui
in 2004.
Brad Emaus
would be the sixth Mets position player to make his major league debut by starting on Opening Day. The only other second baseman was
Kelvin Chapman
, who went 2-for-5 in a 1979 win over the Cubs.
5-- Feeling down about the Mets coming into 2011? At least it's not 1963, when the Mets followed up their 120-loss season. The famous story told in the 1981 book
This Date in Mets History
is that after the Mets' first pitch of the season sailed wide, a fan in the upper deck of the Polo Grounds yelled loud enough for the ballpark to hear: "Wait 'till next year!"
NBA
NHL
COLLEGE BASKETBALL
NFL