New York Mets:

Oscar Suarez
April, 10, 2012
4/10/12
9:00
AM ET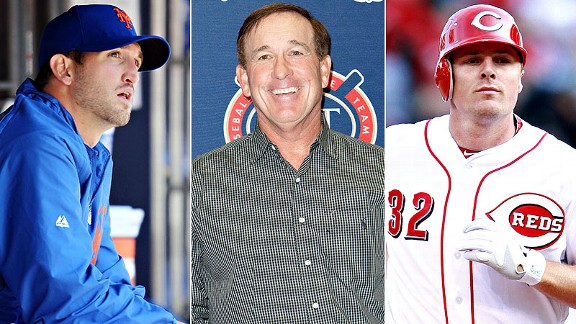 Getty Images
Jon Niese (left) received a recruiting call from Gary Carter (center) after being selected in the seventh round by the Mets in 2005. Meanwhile, the Mets would have taken Jay Bruce (right) in the first round that June if Mike Pelfrey already was off the board.
Jon Niese
has a new contract that guarantees him $25.5 million over five years. He has a new nose, courtesy of cosmetic surgery paid for by ex-teammate
Carlos Beltran
. And on Sunday, Niese had the franchise's latest flirtation with the first no-hitter in Mets history, carrying the bid into the seventh inning before Atlanta's
Freddie Freeman
singled.
The Easter performance came on what would have been
Gary Carter's
58th birthday. That may be fitting, given Carter's modest role in Niese becoming a Met.
A post-draft recruiting call to Niese by Carter -- who had been inducted into the Hall of Fame only two years earlier -- helped sway the southpaw to sign with the Mets out of Defiance (Ohio) High School, despite Niese slipping all the way to the seventh round, recalled Toronto Blue Jays scout
Russ Bove
, who ran the draft in '05 for the Mets.
Niese, who happened to be born on the day Carter won the World Series with the Mets on Oct. 27, 1986, had committed to the University of Cincinnati and was viewed as unsignable by many organizations.
Niese had been holding out for early-round money.
"I go down to Port St. Lucie to meet all of the new signees," Bove recalled. "And Gary Carter says to me, 'How is Niese doing?' It hit me like a lightning bolt. I said, 'Gary, if I call the kid, will you talk to him?' He said absolutely. So Gary Carter got on the phone and he said, 'I was projected to be a first-round pick. I was taken in the third round. I took my disappointment right to the Hall of Fame.' He said, 'You come and play for me, you'll have fun. You'll work hard. And you'll win.' He really gave him a pep talk."
Minutes later, Bove's phone rang.
Oscar Suarez
, Niese's agent at the time, had called.
"We want to get Jonathon Niese done," Suarez told Bove.
Niese on Monday downplayed Carter's influence, but said he certainly appreciated the call.
"I wanted to sign anyway, but that call was kind of neat," Niese said. "It took me by surprise. It was really neat to get a call from a guy like that."
Niese's rise has cemented that once-panned 2005 draft as a solid one for the organization. In fact, seven years later, the story of that draft has turned out quite differently from the early, negative reviews. Bove was reassigned after running the '05 draft -- a decision he felt was political, with new employees disparaging the holdovers.
Despite the Mets forfeiting their second- and third-round picks because they signed
Pedro Martinez
and Beltran the previous offseason as free agents, five players drafted and signed by the Mets in '05 have appeared in the majors:
Mike Pelfrey
(first round), catcher
Drew Butera
(fifth), Niese (seventh),
Bobby Parnell
(ninth) and
Josh Thole
(13
th
).
The Mets also took catcher
Luis Martinez
in the 11
th
round and
Pedro Beato
in the 17
th
round, but neither signed. Beato was drafted the following year in the first round by Baltimore and signed with the Orioles. He ended up back with the Mets in the Dec. 2010 Rule 5 draft.
Butera and Martinez, both catchers, made their major league debuts elsewhere, with the Minnesota Twins and San Diego Padres.
Niese's upside particularly has made that draft quietly successful. Carter, along with the other minor league managers at the time, had watched video of Niese in the draft-preparation room and were enamored.
"Gary loved Niese from the video," Bove said. "He was a strong-bodied left-hander. I compared him to
Jerry Koosman
. He had that real thick, strong body, and we liked the way his arm worked. And, of course, we really liked the curveball. A left-hander with a good curveball."
The recruiting call from Carter that Bove believes prompted the call from Suarez to get the deal done was not the only late hurdle. The commissioner's office was adamant that teams not go over the recommended signing bonuses for the round in which the amateur was selected.
Fred Wilpon
and family, loyal to
Bud Selig
, were not going to be the first to go over the prescribed slot.
The Texas Rangers handed another seventh-round pick -- high school right-hander
Jake Rasner
-- $250,000, though. That gave Bove the ammunition to convince his bosses to hand Niese $175,000.
"We had to wait until somebody else went over. So the kid was holding out," Bove said. "We were waiting to see when somebody else went over so we could up the ante. … As much as I'd like to, I won't blame that one on the Wilpons. That was the commissioner's office. Of course, the Wilpons would never have been the first ones to go over.
"After we took him, and we got him signed, I got calls from some of my buddies saying, 'How the hell did you sign this guy? We have him as unsignable.'"
Niese, though, said Monday he really did want to turn pro rather than pitch in college.
Meanwhile, there was one other wrinkle to that '05 draft, which nearly changed the complexion even further: Had one of the first eight teams to pick in the first round selected Pelfrey, the Mets already had agreed to a prearranged deal with the agent for
Jay Bruce
to take the outfielder ninth overall out of high school in Beaumont, Texas, according to Bove. But Pelfrey was still around when the Mets selected, and Bruce ultimately went 12
th
overall to the Cincinnati Reds instead.
"You know what? He was the guy we wanted," Bove said about Pelfrey. "I really, really liked him. But if we didn't get Pelfrey, we were going to take Jay Bruce. We did have a deal cut with Bruce's agent, if Pelfrey wasn't there. We would have got Bruce signed right away."
As for the recruiting call from Carter to Niese, here's the kicker:
"The funny part of the story, when I called Jonathon and said, 'Hey, a guy wants to talk with you, Gary Carter,' he had no idea who Gary was," Bove said. "But, of course, when he heard the Hall of Fame, then he came to life."
Said Niese: "I got to thinking and looked him up and realized who it was and was like, 'Wow.' … I'm happy how it worked out."
"In-depth" appears Tuesdays during the regular season.