New York Mets:

Pat Murphy
June, 2, 2014
Jun 2
5:40
AM ET
PHILADELPHIA
FIRST PITCH:
For the first time in franchise history, the Mets are playing five straight days against the same opponent on the road. The series against the
Philadelphia Phillies
finally concludes on Monday at 7:05 p.m., with the Amazin's already having earned the series win.
Bartolo Colon
(4-5, 4.73 ERA) opposes right-hander
Roberto Hernandez
(2-2, 3.76) in the finale.
Monday's news reports:
• After being forced to leave Sunday's game in the 10th inning with pain in his right rib cage,
Juan Lagares
is
due to undergo an MRI
on Monday morning at the Hospital for Special Surgery in Manhattan. The expectation is Lagares will land on the disabled list.
Matt den Dekker
, who was demoted before Sunday's game to clear a roster spot for the addition of extra arm
Dana Eveland
, never left for Las Vegas and should be re-promoted assuming Lagares lands on the DL. Read more in the
Post
,
Newsday
,
Star-Ledger
and at
MLB.com
.
• For the fourth time in franchise history, the Mets have played three straight extra-inning games. In the latest installment, they came away a winner Sunday.
Lucas Duda
had a tiebreaking two-run homer in the top of the 11th and the
Mets held on for a 4-3 win
against the Phillies.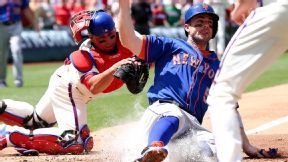 Bill Streicher/USA TODAY SportsDavid Wright scores Sunday's opening run on a sacrifice fly in shallow foul territory.
The teams have now played 14-, 14- and 11-inning games the last three days. It is the first time in the majors that a pair of teams played three straight games of at least 11 innings since the
Seattle Mariners
and
Toronto Blue Jays
did so Sept. 16-18, 1991.
Jonathon Niese
required only 91 pitches to navigate eight innings. He departed for a pinch hitter to open the ninth with the score tied at 2.
Duda has four game-winning RBIs this season, tied with
David Wright
for the team lead.
"That kind of juice got him to the big leagues," Terry Collins said about Duda's decisive homer against
Phillippe Aumont
, which went to left-center.
Read game recaps in the
Post
,
Daily News
,
Times
,
Journal
,
Star-Ledger
,
Record
,
Newsday
and at
MLB.com
.
• Tyler Kepner
in the Times
catches up with 30-year-old
Jeff Francoeur
, who is trying to revive his career with Triple-A El Paso, a
San Diego Padres
affiliate. Frenchy is hitting .278 with nine homers in 53 games, but it's his mound activity that has been creating a stir. He has appeared in six lopsided games this season to save the pitching staff -- including four against the Mets' affiliate, Las Vegas. All but one of Francoeur's relief appearances has been scoreless, with the lone blemish in the other coming on a three-run homer by
Andrew Brown
. Francoeur has allowed four hits, three walks and hit three batters in 5 1/3 innings.
"Say something happens," Francoeur told Kepner. "I've talked to my wife about it: I absolutely would give it a go, pitching, before I got out of baseball. Because one thing about me, I've always had one of the best arms in baseball, and it's very accurate. I throw strikes. I'd love to. It would be fun."
Said El Paso manager Pat Murphy: "He's an authentic little boy. The little kid that's good for everybody to have is still in him. That's what makes it special being around him every day."
• Jim Chairusmi
in the Journal
catches up with former Mets catcher
Paul Lo Duca
, who now is an analyst for the horse-racing network TVG. "I take it very seriously," Lo Duca told Chairusmi. "Baseball was always my love and horse racing is my passion. While some people play fantasy football, I play the horses."
As for his former teammate Wright, Lo Duca added: "They've given David no help. They build a mammoth ballpark that isn't attractive to free agents. I hope he gets a chance to be on a contending team again."
• Lynn Worthy
in the Binghamton Press & Sun-Bulletin
profiles catching prospect Kevin Plawecki. The Purdue product hit .359 with five homers and 28 RBIs in 103 at-bats in May for the Double-A B-Mets.
•
Josh Satin
is hitting .320 with two homers and 10 RBIs and has a .365 on-base percentage in 20 games since a demotion to Las Vegas. He primarily has played second base, his original position in the minors.
"I was almost relieved a little bit because I needed some time to get right with my swing," Satin told Todd Dewey
in the Las Vegas Review-Journal
about his May 10 demotion. "Last year, being here and getting [220] at-bats really helped me. When I went up there, I was ready to play. Obviously I wasn't thrilled to get sent down here, but I knew it was the right thing for me."
• Steven Matz tossed 6 2/3 scoreless innings and combined with Paul Sewald and Beck Wheeler on the shutout as St. Lucie beat Daytona, 6-0. Jeff McNeil went 3-for-4 with three RBIs as Savannah beat Rome, 4-3. Read the full minor-league recap
here
.
•
Bobby Abreu
isn't a Hall of Famer, but his numbers -- including a career JAWS of 51.2, 17th all time for a right fielder -- surprisingly are not that far off,
the Times writes
.
•
From the bloggers …
Faith and Fear
feels pretty good about the Mets' advantage over the Phillies in the mascot department.
BIRTHDAYS:
Mike Stanton
-- the former lefty reliever, not slugger now known as Giancarlo -- turns 47. … Kelvin Chapman was born on this date in 1956. … Reid Cornelius is 44.
TWEETS OF THE DAY:
If mets new bullpen keeps it up then there will be a ton of wins in the future. It's all coming together

— Adam Wheeler (@AdamWheeler3) June 1, 2014
YOU'RE UP: How should Terry Collins configure his outfield minus Juan Lagares?
June, 21, 2013
6/21/13
6:00
AM ET
ATLANTA
FIRST PITCH:
While the recent hype is rightfully about
Matt Harvey
and
Zack Wheeler
,
David Wright
understands
Jonathon Niese
is an integral piece, too.
So the Mets will hope for the best when Niese gets his left shoulder examined Friday by team doctors in New York.
"You talk about the electric stuff of both Harv and Wheeler, but then Niese I think is a front-end-type guy when he's healthy and he's right," Wright said. "Whether it's injuries or just inconsistencies, he's very, very underrated. When he's on, he's as tough as anybody from the left side."
The Mets, meanwhile, awake today in the City of Brotherly Love, where they face the
Philadelphia Phillies
this weekend.
Jeremy Hefner
(1-6, 3.96 ERA) opposes NL loss leader
Cole Hamels
(2-10, 4.40) in Friday's 7:05 p.m. series opener.
Read the series preview
here
.
Friday's news reports:
• Niese appears headed to the disabled list after
experiencing pain in his cranky pitching shoulder
during the fourth inning Thursday.
Greg Burke
is
expected to join the Mets
this weekend in Philadelphia from Triple-A Las Vegas, a source told ESPNNewYork.com. As a result of Niese's shoulder issue, the Mets have found an unattractive way to trim the rotation from six to five starters.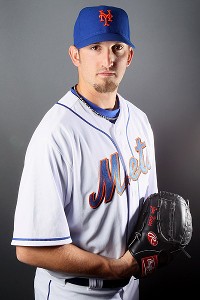 Elsa/Getty ImagesJon Niese's shoulder will be examined today in New York.
Writes columnist David Lennon
in Newsday
:
According to Sandy Alderson's 2014 blueprint, Jonathon Niese figured to be the ideal building block.
Left-handed. Twenty-six years old. Under the Mets' control through 2016, with two additional option years, and roughly $24 million guaranteed.
All Niese had to do this season was continue being Jonathon Niese, and the Mets would feel confident about slotting him between Matt Harvey and Zack Wheeler. But after the dynamic duo lived up to the hype this week, the dream scenario veered off course last night when Niese left in the fourth inning with what the Mets described as "left shoulder discomfort."
Read more in the
Post
,
Daily News
,
Star-Ledger
,
Record
,
Times
,
Newsday
and
MLB.com
.
• Wright
homered twice
,
Josh Satin
had the go-ahead RBI and
Josh Edgin
retired
Jason Heyward
for the final out of the eighth after inheriting the tying run on third base as the
Mets beat the Braves, 4-3
, Thursday at Turner Field. The Mets won the rubber game of the five-game set, becoming the first visiting team this season to win a series in Atlanta.
• After a
spirited pregame chat with his former college coach
, who is now managing Triple-A Tucson,
Ike Davis
homered twice, doubled and drove in three runs Thursday for Las Vegas. Terry Collins said Davis is
making an effort to reduce the hitch
in his swing while working with hitting coach George Greer as well as Wally Backman. Read more in the
Post
,
Daily News
,
Star-Ledger
,
Newsday
and
Record
.
• Kevin Plawecki belted a three-run homer in his first career Florida State League at-bat and St. Lucie beat Palm Beach, 8-6. Plawecki, Jayce Boyd and Bret Mitchell had been
promoted from Savannah to St. Lucie before Thursday's game
. Brooklyn posted its first win of the season behind John Gant's five scoreless innings. Read the full minor league recap
here
.
• MCU Park, home of the Brooklyn Cyclones, was hit hard by Superstorm Sandy. The extensive ballpark refurbishment included a new artificial turf field, which replaced natural grass. That will allow the team to more easily host other events. Writes Dave Caldwell
in the Journal
about the days after the storm:
When Billy Harner, the team's director of communications, walked into his office, he first noticed "the obvious stuff," like photos that had been hanging on the wall were on the ground, covered in grime.
"When I picked up one photo that was of sentimental value to me -- a photo of Shea Stadium that my father had hanging in his office before he passed away -- I saw my keyboard underneath the poster," Harner said. "Laying across the keyboard was a shrimp, antennas and all."
• Jay Schreiber
in the Times
sees a light at the end of the tunnel for the Mets.
•
From the bloggers …
MetsMinors.net
spotlights left-hander Steven Matz, who quietly is having a solid season at Savannah. …
Metsmerized
suggests Harvey could become the best pitcher the Mets have ever drafted, and wouldn't swap him for any other pitcher in the game. … John Delcos at
Mets Report
recommends the Mets enjoy Harvey and Wheeler and the rest will take care of itself.
BIRTHDAYS:
Lefty reliever Jeff Musselman, who was acquired from the
Toronto Blue Jays
on July 31, 1989 for Mookie Wilson, turns 50.
TWEET OF THE DAY:
The @Braves are pretty funny with the walk up songs for the @NewYorkMets . Haven't figured them all out yet, Mrs. Robinson for D Wright?

— David Aardsma (@TheDA53) June 20, 2013
YOU'RE UP: How concerned are you about Jon Niese's shoulder?
June, 21, 2013
6/21/13
1:42
AM ET
ATLANTA --
Ike Davis
again put on a show for his former college coach.
A day after reaching base five times against Triple-A Tucson, Davis homered twice and finished 3-for-5 with three runs scored Thursday night as Las Vegas beat the Sidewinders, 7-5.
Davis has increased his Pacific Coast League average to .306 through 10 games.
Before Thursday's hitting display, Tucson manager Pat Murphy -- who was the head coach at Arizona State during Davis' college career -- described Davis as someone lacking confidence. Murphy and Davis had an animated conversation before Thursday's game.
"I see a young man that's lost his confidence," Murphy told 51s broadcaster Russ Langer on the pregame show. "And I see a young man that's kind of searching right now. I'm confident he'll find himself. He always has. This is probably his first struggle ever -- like real struggle, sent down and 'you're not good enough right now, Ike.' That's probably his first time he's ever faced this. So you can't underestimate, as we all know, what you go through, the pain that he feels right now and the fears that he has. I'd like to do anything I could to help him find his best self -- find how he can take this pain on and feel it and then move on from there. I think he will."
Murphy said he is particularly fond of Davis as a person.
"Ike Davis is very, very special to me," Murphy said. "People know, when he came to college, there was huge expectations on Ike. He was the talked-about guy, and we had a lot of good players around him. But Ike rose to every expectation. He took on every challenge, and he did it well. He was a great pitcher for us. He was a great outfielder for us. And, of course, a great hitter and a force that made other players around him better. It's unbelievable to see him. It was good catching up with him. It gets me choked up to think about being around Ike. He babysat my kid at times. We've got fond memories together. Ike was special. His mom and dad are special. That's something you never lose. It's a connection you'll never lose."