New York Mets:

Paul Kinzer
October, 31, 2012
10/31/12
10:07
PM ET
Francisco Rodriguez
will receive more than $2 million in a settlement with his former representative, Paul Kinzer, and that agency, USA Today reported.
The claim originated from the agent's failure to submit a no-trade list, which allowed the Mets to hurriedly trade K-Rod in 2011 to the
Milwaukee Brewers
.
Former Mets closer
February, 21, 2012
2/21/12
6:47
AM ET
The Mets undergo physicals today, with the first official workout Wednesday. Still, there will be plenty of activity at the Port St. Lucie complex today, including
Johan Santana
scheduled for his second mound session since resuming activity after a winter hiatus.
Terry Collins
also gives a state-of-the-team briefing.
Tuesday's news reports:
•
Francisco Rodriguez
is mulling filing a grievance or taking legal action against his former agents,
USA Today reported
. The issue stems from K-Rod's no-trade list not being properly submitted, which allowed the Mets to trade the reliever to the Brewers last July, despite Milwaukee being on the intended 10-team no-trade list. Rodriguez's side contends that the Brewers using him as a set-up man diminished his value as a closer during the offseason, and he was forced to accept arbitration and return to Milwaukee on a one-year, $8 million contract. Writes
Bob Nightengale
:
Attorney Richard Johnson said Rodriguez was pondering a malpractice and fraud suit after a 10-hour mediation hearing last week with his former agents, Paul Kinzer and Arn Tellem of the Wasserman Media Group, did not produce a settlement. He could file a grievance with the MLB Players Association. "They did something atrocious," Johnson said. "Their arrogance makes this so evil. It's like rear-ending somebody but instead of stopping your car and trading insurance information they blew up the car and ran away. They committed negligence and turned it into a fraud case."
An attorney for K-Rod's former agency told USA Today the issue is not really the no-trade clause. "This is a fee dispute," attorney
Bert Deixler
told the newspaper. "The no-trade-list issue is a red herring. We promised to keep confidential what has occurred, will occur in mediation, and we think it is proper for us to keep that promise."
• In advance of Thursday's scheduled court hearing on motions to dismiss and summary judgment in the clawback lawsuit against
Fred Wilpon
and family,
Richard Sandomir
in the Times
reviews last week's court filings
. The trustee suing the Wilpons uses the term "Saul's cookie jar" to refer to the consistently high returns
Bernard Madoff
delivered to the family and asserts the Mets purposely deferred players' contracts because the interest they had to pay out on those deferrals was dwarfed by the returns Madoff could produce with the additional available capital that wasn't immediately distributed as player salary. Writes Sandomir:
Who is in the end right on matters of the Madoff "vig" -- and much else -- could well be settled at a jury trial that is set to begin March 19 in federal court in Manhattan. The filings that included references to the Madoff "vig" were contained in the last big legal swings of the bat before a formal hearing Thursday. That is when both sides make a final argument to have all or part of the multimillion-dollar legal action dismissed or ruled on immediately. The vig was described by David Katz, one of Saul's sons, during a sworn deposition in late 2010 when he was questioned about one way that the family company, Sterling Equities, made money with Madoff. "You borrow money at 5 percent and you'd make 10 percent," David Katz said. "You'd make a 'vig,' as my father would say, on the Bernie investment."
•
Mike Kerwick
in the Record
profiles 6-foot-11
Jon Rauch
, who signed a one-year, $3.5 million deal to serve as the set-up man to former Toronto Blue Jays teammate
Frank Francisco
. Kerwick notes that despite his large frame, Rauch is no longer a flame-thrower, having undergone two shoulder surgeries. "I don't throw hard," Rauch told Kerwick. "Everybody expects me to throw 96, 97, 98 mph because of my size. But I'm not that kind of pitcher." Writes Kerwick:
The Mets reliever has ink running up and down both arms, ink canvassing his back, ink sneaking up the right side of his neck. For those keeping score, that's how many tattoos? "A lot," Rauch said. "And several more to come."
• Before
Carlos Beltran
was traded to the San Francisco Giants in July, he suggested to
Jon Niese
to get a nose job
, and told Niese he'd foot the bill. Well, Niese went through with it in October, and said a positive byproduct of his aesthetic decision is that he is now breathing easier. Niese said instead of his nasal passage being like a partially open door pre-surgery, it was like "somebody ripped the hinges off the door and smashed it sideways into the wall." The southpaw lightheartedly said he plans to send Beltran the medical bills. Read more in
Newsday
, the
Star-Ledger
,
Times
,
Post
and
Daily News
.
• Beltran's Sands Point home on Long Island is now for sale,
Newsday reports
. Asking price: $5.8 million. Writes
Valerie Kellogg
:
Apparently the stolid St. Louis Cardinals outfielder has a knack for music -- the more than 7,500-square-foot home includes a karaoke bar. Built in 2005, the seven-bedroom, six-bath house comes with a pool, a home theater, a gym and an outdoor stone bar and kitchen. The property is more than two acres. The home features a courtyard in front of the home as well as coffered ceilings, a great room with a barrel ceiling, French doors, a cedar roof and copper gutters, according to the listing.
• Top prospect
Zack Wheeler
is not in major league camp, but he
worked out with major leaguers Monday
, after arriving in Port St. Lucie a few days ahead of the step camp for top prospects, which opens next weekend. Wheeler is a profilic tweeter, which
Andy McCullough
notes
in the Star-Ledger
. Writes McCullough:
His public persona creates a contrast with fellow hard-throwing prospect Matt Harvey. "People have asked me that before," Harvey said. " 'Why aren't you on Twitter?' " He shrugged. "I don't really like people knowing what I'm doing all the time." Wheeler harbors none of those inhibitions. Each day he provides updates on his life. On Mondays, he likes to visit Moe's Southwest Grill for their $5 burritos. He shoots pictures of his offseason bullpen sessions and provides running commentary during the Grammys. He watches "Eastbound and Down" and "Swamp People."
Read more on Wheeler in
Newsday
.
•
R.A. Dickey
regrets that
Tim Wakefield's
retirement means he's the
lone active knuckleballer
in the majors. Read more in the
Post
.
• Columnist
Mike Vaccaro
in the Post
says there are an awful lot of "ifs" that have to break right for the Mets if they are to amount to anything this season. Writes Vaccaro:
If everything goes perfectly ... then Jason Bay and David Wright will press the rewind button on their careers, and Lucas Duda and Ike Davis will press fast forward, and Daniel Murphy will figure out a way to stay out of the way around second-base pileups, and Ruben Tejada's knack for getting on base will give you at least one substantive argument against the segment of your soul that already misses Jose Reyes. If everything goes perfectly ... then Santana will deliver 25 to 30 starts that resemble what he used to be, and Mike Pelfrey will -- all together now -- "finally figure it all out," and Jon Niese and Dillon Gee will patch together a six-month season, rather than the three-month fragments they have specialized in, and the bullpen will catch magic, and hey, why not, if the Giants can uncover a Victor Cruz and the Knicks can unearth a Jeremy Lin, maybe the Mets can find someone somewhere who we've never heard of this morning and will be all we can talk about four months from now.
•
Harvey Araton
in the Times
talks
Jeremy Lin
with
David Wright
. "It's a little different, basketball from baseball," Wright told Araton. "In basketball, one guy can make so much difference. At the same time, it should give every sport, every team, this refreshed look on what they have, what certain players can bring to the table. You never know. I'm sure now -- whether it's basketball, football, baseball or hockey -- people are going to think twice before they just waive a guy. Everybody is going to be looking for that next Jeremy Lin."
TRIVIA:
Who has the most career strikeouts as a Mets hitter?
(Monday's answer:
Miguel Batista
threw the final pitch of the 2011 season. In fact, Batista tossed a two-hit shutout in a 3-0 win against the Cincinnati Reds in the Mets' season finale. Batista, who turned 41 on Sunday, became the oldest pitcher in franchise history to toss a nine-inning shutout.)
November, 14, 2011
11/14/11
7:41
PM ET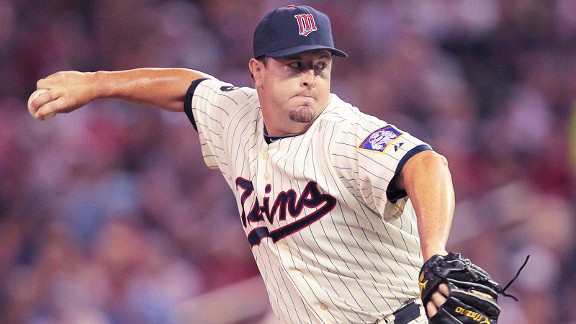 Jesse Johnson/US Presswire
Matt Capps, who went from the Nationals to the Twins in the trade for Wilson Ramos, is now a free agent.
Paul Kinzer
sees a match between client
Matt Capps
and the Mets, who need a closer. And Kinzer intimated there already had been dialogue between the parties.
"Yeah, I could see it," Kinzer said about a fit with the Mets.
Asked if he had seen the interest already, Kinzer smiled and repeated: "I could see it."
Sandy Alderson has resolved to sign a closer from outside the organization, although the price tag is expected to be a notch below that
Jonathan Papelbon
category (four years, $50 million) that also includes
Heath Bell
,
Ryan Madson
and
Francisco Rodriguez
.
Brad Lidge
does not sound like a match according to industry sources, but
Jon Rauch
might be.
Jonathan Broxton's
agent recently acknowledged the Mets had not been in contact.
Capps, 28, went 4-7 with a 4.25 ERA and 15 saves in 69 relief appearances for the Twins last season.
Kinzer expects him to sign during the winter meetings, the first week of December. That's the time frame when former Kinzer client K-Rod signed with the Mets three years ago.
"Matt is one of my most popular guys," Kinzer said. "… I think he's going to be closing somewhere. I'll just put it that way."
Kinzer said the Twins have expressed interest in re-signing Capps.
"
Terry Ryan
called right away when he got the job back," Kinzer said. "He expressed interest in Matt coming back. He's such as presence in the clubhouse and a good teammate. And the Twins really value that."
Alderson, for his part, was asked whether Papelbon's contract could upset the Mets' plans by dragging up the price for even second-tier closers.
"I wouldn't say it's irrelevant," Alderson said. "Once that contract was signed, agents out there are taking another look at where they stand. So it's not irrelevant. But I don't expect it to have a major impact on us."
Alderson intimated the Mets could be looking for someone like Capps -- as opposed to a closer potentially with a low base salary and incentives because he is coming off an injury such as Broxton.
"We're looking at a whole variety of people," Alderson said. "We're not necessarily just looking for somebody who is rehabbing, who might be looking for an opportunity to come back. We may be looking for more than one. It could happen through the trade market. It could happen through free agency. We're looking at a variety of possibilities. And it could be that we'll end up with more than one addition in the bullpen at the back end."
July, 11, 2011
7/11/11
3:51
PM ET
Scott Boras confirmed he is now representing Francisco Rodriguez, replacing Paul Kinzer.

Because there is little chance Rodriguez will sign another contract with the Mets, the only impact for the organization would be whether it affects the Mets' ability to trade K-Rod.

Rodriguez has an undisclosed 10-team no-trade list -- it was submitted once and not updated, a team official once said.

Boras indicated Tuesday that K-Rod would not be inclined to be a set-up man for the final months of this season. So, essentially, if K-Rod can block a deal, he would to a club not intending to have him close.

"This man is built to be a closer," Boras said.

The interesting twist has little to do with the Mets.

If K-Rod's $17.5 million vesting option kicks in at 55 games finished -- he's currently at 34, on pace for 61 -- the bonus should belong to his former agent.

But if K-Rod falls short, or a new contract overrides the current one, that commission may belong to Boras. A high-profile agent not affiliated with this affair speculated there would be a grievance by Kinzer if a new deal somehow overrode the vesting option and prevented Kinzer from collecting the commission on the vesting option year.
July, 9, 2011
7/09/11
10:32
PM ET
Scott Boras has a new Mets client. The Mets' web site reports Francisco Rodriguez has switched to Boras from Paul Kinzer. Kinzer negotiated the deal with the Mets that will be worth four years, $51 million assuming the closer finishes 55 games this season.

Since this is K-Rod's last deal with the Mets, the impact may be minimal to the organization. The only issue that could arise is if the Mets try to trade K-Rod to one of the 10 teams on his no-trade list, and Boras has a difficult stance as far as securing an extension or some other additional compensation.
July, 8, 2011
7/08/11
6:33
PM ET
Closer Francisco Rodriguez met before and after Thursday's game at Dodger Stadium with agent Scott Boras, The Wall Street Journal reported.

Since this is K-Rod's final contract with the Mets in all likelihood, switching agents from Paul Kinzer to Boras -- or anyone else -- would have minimal impact if it materialized. The only potential exception would be a swift switch before the July 31 trade deadline, when a new agent might have a different stance on the Mets attempting to trade the closer to one of the 10 teams on his no-trade list.

Kinzer negotiated the three-year deal with a vesting option for K-Rod with the Mets that could be worth $51 million over four years assuming the closer finishes 55 games this season.

Agents are free to woo the clients of other agents as long as contacts are disclosed.

"I've talked to 10 or 15 of the Mets when they're out here, and a lot of them I don't represent," Boras told the Journal. "I wouldn't read anything into those things."

Said Kinzer to the Journal: "It's a sad part of the business. I'm not out trying to take everybody else's players. I sign new players, but when I do, usually my players bring them to me. I don't attack them whenever they come into L.A."