New York Mets:

Paul Maholm
May, 18, 2014
May 18
8:04
PM ET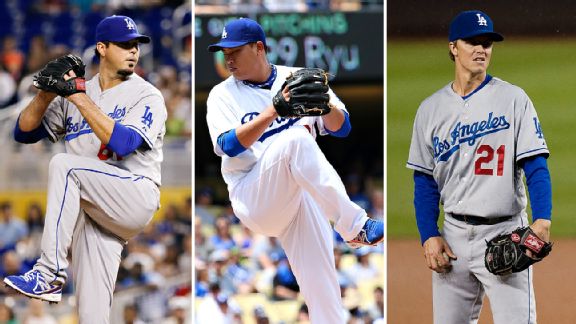 Getty ImagesThe Mets face Josh Beckett, Hyun-Jin Ryu and Zack Greinke at Citi Field.
METS (20-23, fourth place/NL East) vs. LOS ANGELES DODGERS (23-22, third place/NL West)
Tuesday:
RHP
Rafael Montero
(0-1, 4.50) vs. RHP
Josh Beckett
(1-1, 2.38), 7:10 p.m. ET
Wednesday:
RHP
Jacob deGrom
(0-1, 1.29) vs. LHP
Hyun-Jin Ryu
(3-2, 3.00), 7:10 p.m. ET
Thursday:
LHP
Jonathon Niese
(2-3, 2.54) vs. RHP
Zack Greinke
(7-1, 2.03), 7:10 p.m. ET
Dodgers short hops
•
Josh Beckett
on Tuesday earned his first win since Sept. 30, 2012. He had been 0-6 in 14 starts. Beckett did not pitch after mid-May last season and ultimately underwent surgery to remove a rib. That procedure attempted to alleviate thoracic outlet syndrome -- a pinched nerve affecting his right arm. For the season, the 34-year-old Beckett leads the L.A. rotation in WHIP (1.056) and hits per nine innings (6.3). Beckett is throwing his fastball a career-low 35.5 percent of the time. He now throws a curveball a career-high 30.1 percent.
•
Hyun-Jin Ryu
pitched a four-inning simulated game Friday and will reenter the rotation Wednesday, officially pushing originally listed starter
Paul Maholm
to the bullpen. That also could push reliever
Chris Withrow
to the minors despite a 2.77 ERA, because Withrow is not out of options. Ryu landed on the DL with left-shoulder inflammation.
Maholm (1-4, 5.40 ERA) enters the series off a start against the
Miami Marlins
in which he allowed 10 runs (five earned) on 11 hits and three walks in 3 2/3 innings.
Reed Johnson
homered against him on a 62 mph curveball, the slowest pitch resulting in a long ball in the majors since
Jose Bautista
sent a 61.7 mph offering also from Maholm over the outfield wall on May 28, 2013, according to ESPN Stats & Information. Maholm made three relief appearances in March/April, including during the club's season-opening trip to Australia.
Darron Cummings/Associated PressEx-Met Justin Turner will be at Citi Field with the Dodgers on Tuesday.
•
Justin Turner
, a surprise non-tender by the Mets on Dec. 2, returns to Citi Field as a visitor. Turner (.230, 0 HR, 5 RBIs in 74 at-bats) started five times at third base in a six-game stretch through Wednesday with
Juan Uribe
dealing with a mild hamstring strain.
• Dodgers outfielders
Carl Crawford
,
Andre Ethier
,
Matt Kemp
and
Yasiel Puig
have combined to hit .354 (79-for-223) with 15 doubles, 10 homers and 40 RBIs in May.
Puig lost a pair of lengthy streaks Sunday by going 0-for-3 and getting hit by a pitch on the back of the leg in his final plate appearance. He had produced an RBI in eight straight games, matching the franchise record previously accomplished four times, most recently by
Adrian Beltre
in 2004. He also lost a career-high 16-game hitting streak. Showing more strike-zone discipline than a year ago, Puig ranks seventh in the NL in batting average (.322) and tied for second in RBIs (35). The story about Puig's defection from Cuba, which includes black-market smugglers, was chronicled in April
in ESPN The Magazine
.
Ethier largely has been the odd man out. With Kemp resting Sunday, Ethier started for only the third time in L.A.'s past 10 games.
•
Zack Greinke
has allowed two earned runs or fewer in 21 straight starts. That matches
Roger Clemens
(1990-91) for the longest streak in the majors since earned runs became an official stat in 1913, according to the Elias Sports Bureau. Greinke ranks first in the NL in wins (seven) and third in ERA (2.03), trailing only Cincinnati's
Johnny Cueto
(1.25) and Chicago's
Jeff Samardzija
(1.62). Greinke has thrown six different types of pitches this season.
• Second baseman
Dee Gordon
leads the majors with 25 steals. That's 10 ahead of runner-up
Eric Young Jr
.
• Backup catcher
Drew Butera
, the son of former major-league catcher Sal Butera, originally was a Mets farmhand. Two years after he was drafted in the fifth round, Butera was sent to the
Minnesota Twins
with Dustin Martin on July 30, 2007 for
Luis Castillo
.
No. 1 catcher
A.J. Ellis
returned from the disabled list Wednesday after missing 34 games with a left-knee injury that resulted in April 8 arthroscopic surgery.
Miguel Olivo
was dispatched to Triple-A Albuquerque with Ellis' activation.
Butera, incidentally, has pitched twice for the Dodgers since Wednesday in lopsided losses. He tossed a 1-2-3 inning, topped out at 94 mph and capped the initial appearance with a strikeout of Miami's
Marcell Ozuna
. Three days later at Arizona, Butera surrendered a double and then two-run homer to
Paul Goldschmidt
in the eighth inning of an 18-7 loss. Butera subsequently recorded two outs, including an inning-ending strikeout of
Martin Prado
.
•
Adrian Gonzalez
's 10 homers are tied for third the NL, trailing only
Troy Tulowitzki
(13) and
Giancarlo Stanton
(12).
•
Kenley Jansen
has 12 saves in 14 chances and has struck out 31 batters in 18 2/3 innings.
•
Brian Wilson
, who looked so dominant in the season opener in Australia, has mightily struggled. Wilson, 32, has a 9.45 ERA and has allowed 18 hits and 13 walks (one intentional) in 13 1/3 innings. He already has allowed three homers -- a total he has not exceeded since serving up seven long balls in 62 1/3 innings in 2008 as
San Francisco Giants
closer.
•
Clayton Kershaw
has made two starts since returning from the DL, a trip required because of a strained muscle in his upper back. He'd like to forget the latter outing. Kershaw surrendered seven runs in 1 2/3 innings against the Diamondbacks on Saturday. He allowed four extra-base hits in the second inning alone -- matching the combined total from his three previous starts this season. Kershaw came into the outing with a 25-to-1 strikeout-to-walk ratio, but issued two free passes in a seven-run second inning.
August, 19, 2013
8/19/13
10:08
PM ET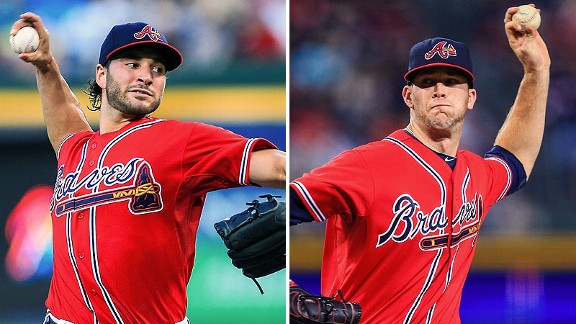 USA TODAY SportsThe Mets face Brandon Beachy and Alex Wood during a two-game series at Citi Field.
METS (57-66, third place/NL East) vs. ATLANTA BRAVES (76-48, first place/NL East)
Tuesday:
RHP
Zack Wheeler
(5-2, 3.43) vs. RHP
Brandon Beachy
(2-0, 4.50), 7:10 p.m. ET
Wednesday:
LHP
Jonathon Niese
(5-6, 4.25) vs. LHP
Alex Wood
(2-2, 2.61), 1:10 p.m. ET
Braves short hops
•
Brandon Beachy
made his season debut July 29 after missing 13 months recovering from Tommy John surgery. He took the rotation spot vacated by
Tim Hudson
, who underwent ankle surgery after getting stepped on by
Eric Young Jr.
at Citi Field during Atlanta's last visit. Beachy had the NL's best ERA at 2.00 when he tore the ulnar collateral ligament in his right elbow on June 16, 2012 against the
Baltimore Orioles
.
• The Braves are 19-3 since July 26. They own a season-high 15½-game lead over the second-place
Washington Nationals
. The last time Atlanta enjoyed a larger division lead came when it won the NL East in 2002 by 19 games over the Montreal Expos, while going 101-59.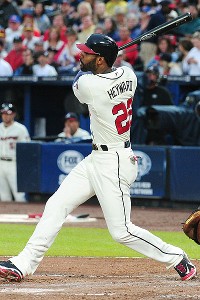 Win McNamee/Getty ImagesJason Heyward has moved to the leadoff spot.
•
Craig Kimbrel
has an NL-leading 39 saves. He has converted 29 straight chances, topping the previous franchise record of 27 straight set by
John Smoltz
from Aug. 8, 2002 through May 1, 2003. Over his past 25 appearances, Kimbrel has struck out 42 batters while allowing 10 hits and 10 walks in 25 innings.
Overall, Atlanta's relief corps ranks first in the majors in ERA (2.40), opponent batting average (.213) and WHIP (1.11).
• Since emerging as the leadoff hitter on July 27,
Jason Heyward
is batting .370 (30-for-81) with five homers, 15 RBIs and a .433 on-base percentage.
Andrelton Simmons
, who previously occupied the leadoff spot the bulk of the time, mostly has dropped to eighth.
• Rookie
Alex Wood
, a second-round pick out of the University of Georgia in 2012, makes his seventh major league start -- and third career start against the Mets. In his previous two appearances against the Mets, he has allowed a combined five earned runs on 10 hits and five walks (one intentional) in 7 1/3 innings.
•
Jordan Schafer
has started the Braves' last four games against right-handed pitchers over
B.J. Upton
in center field. Upton is hitting .186 with eight homers and 21 RBIs in 317 total at-bats. He is in the first season of a five-year, $75.25 million deal.
•
Dan Uggla
is on the DL after undergoing LASIK surgery to correct his vision.
Tyler Pastornicky
,
Paul Janish
and rookie
Philip Gosselin
have started at second base over the past five games in Uggla's absence. Gosselin was promoted after Pastornicky tore the ACL in his left knee.
The Braves also have signed second baseman
Tyler Greene
to a minor league contact and assigned him to Triple-A. He previously was with the
Chicago White Sox
.
Uggla ranked second on the Braves in homers with 21 and had a team-leading 62 walks when he landed on the DL. But he also had the worst batting average (.186) among major league qualifiers and led the NL in strikeouts (146).
• Left-hander
Paul Maholm
, on the disabled list since July 29 with a bruised left wrist, is nearing a return after making a rehab start Saturday with Class A Rome.
July, 25, 2013
7/25/13
7:17
AM ET
NEW YORK
FIRST PITCH:
Zack Wheeler
, who tossed six scoreless innings in his major league debut at Turner Field in Atlanta, albeit with five walks, gets another crack at the Braves in an early start this afternoon.
Wheeler (3-1, 3.58 ERA) opposes rookie left-hander
Alex Wood
(0-2, 2.45) as the Mets look to salvage a split of the four-game series. First pitch: 12:10 p.m.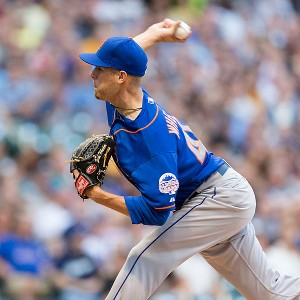 Tom Lynn/Getty ImagesZack Wheeler pitches on turn, despite recently dealing with a blister issue.
The Mets earlier this week debated delaying Wheeler's start a day to allow a blister to further heal, but ultimately decided it was a nonissue and kept him on regular rest. Wheeler has dealt with blister issues throughout his pro career -- both as a
San Francisco Giants
farmhand and with the Mets.
Wood steps in for fellow southpaw
Paul Maholm
, who landed on the disabled list on the eve of the series with a bruised wrist.
With the Mets facing a left-hander,
Josh Satin
should start at first base and
Juan Lagares
in center field.
Justin Turner
also is due for his first start since returning from the disabled list.
Terry Collins planned for Turner to be used at a middle-infield position, but Turner might start at third base if
David Wright
needs a day for a sore back/neck. Wright inadvertently
hit himself with the shattered bat during his own swing
in the fourth inning Wednesday night.
Thursday's news reports:
• The
Texas Rangers
are scouting
Marlon Byrd
among a bevy of outfield options, writes
CBSSports.com
.
Alex Rios
of the
Chicago White Sox
appears Texas' primary target, according to the report. Writes Jon Heyman:
Ideally, Texas would have loved to make a run at young Marlins superstar Giancarlo Stanton, Hunter Pence (a local, being a U-T Arlington product) or perhaps Michael Cuddyer, but with those three apparently unavailable at the moment, the Rangers are surveying a market that's heavy on far lesser talents. Pence would seem to have the best chance to be traded of those three, and Texas would target him if he becomes free. Nolan Ryan is said to be a fan.
Seattle, which has Raul Ibanez, Kendrys Morales and Michael Morse, isn't ready to trade anybody yet. And most believe they'll ultimately keep at least Ibanez and Morales now that they are showing decent signs of life. …
The Rangers reportedly have looked at Norichika Aoki, as well, and Danny Knobler reported they are scouting Marlon Byrd, their former player. Other outfielders who could go in trades include Justin Ruggiano, Chris Denorfia, Nate Schierholtz and Alejandro De Aza.
• Tim Hudson suffered a
gruesome fracture of his right ankle
when he was stepped on while covering first base by runner
Eric Young Jr
. on Wednesday night. Hudson had taken a scoreless effort into the eighth inning when the injury occurred.
"I saw them get tangled up,"
Dan Uggla
told the Atlanta Journal-Constitution
. "I was just hoping he Charley-horsed him or something. I didn't see the extent of it. Once I saw Huddy's reaction, I was like, 'Oh, no. This isn't good.' …
"He was kind of in disbelief, obviously in a lot of pain. You could see just the thoughts going through his head, 'This can't be happening. … This is unbelievable.' That sort of thing. I know he was in a lot of pain."
Young
expressed remorse for what happened
.
"I'm hustling down the line like I always do, going for the base," Young said. "I saw his foot, as I'm going for the base, right there in the middle, as I came down, I knew I didn't get any of the base. I know I got all of his foot. I pretty much knew it was probably broke right as I did it, and that's why I sprinted right back to him and tried to console him as much as I could and apologize.
"I was able to see Tim before they took him to the hospital. He told me it wasn't my fault, just one of those freak plays that happened."
Read more on the injury and reaction in the
Post
and
Daily News
.
•
Evan Gattis
, Uggla and
Andrelton Simmons
all homered against
Jeremy Hefner
as the
Braves beat the Mets, 8-2
at Citi Field. Hefner surrendered six runs (five earned) in 4 1/3 innings. He became the first Mets pitcher to allow three homers in a home game this season. Hefner
has allowed 13 earned runs in 6 1/3 innings
over his past two starts.
Daniel Murphy
had two doubles, but also committed two errors.
Columnist John Harper
in the Daily News
summarizes the night.
Read game recaps in the
Post
,
Newsday
,
Star-Ledger
,
Record
,
Times
and
MLB.com
.
• Read more on Wright's status after getting struck with his own bat in the
Star-Ledger
and
Daily News
.
•
Lucas Duda
and Travis d'Arnaud returned to game action for the first time Wednesday, in the same Gulf Coast League game. D'Arnaud went 1-for-3 and caught five innings in his first official action since fracturing the first metatarsal in his left foot on April 17 with Triple-A Las Vegas.
Duda, who landed on the DL with an intercostal muscle strain on his left side after a June 21 game, went 0-for-2 with a walk. He played five innings in left field. It would have been far more noteworthy because of the implications for
Ike Davis
if Duda had played first base, but that was not the case. Read more in the
Post
.
•
Jonathon Niese
, on the DL with a shoulder issue, is
ready to pitch in a Gulf Coast League game
this weekend or shortly thereafter. He likely will need multiple rehab starts before returning, so rejoining the Mets in mid-August is most likely. Read more in the
Star-Ledger
.
•
Jenrry Mejia
joined the Mets in advance of Friday's start opposite
Jordan Zimmermann
in Game 1 of a doubleheader at Nationals Park.
Matt Harvey
opposes
Ross Ohlendorf
in the nightcap that day. The other matchups that series:
Dillon Gee
versus
Dan Haren
on Saturday and
Carlos Torres
versus
Taylor Jordan
on Sunday.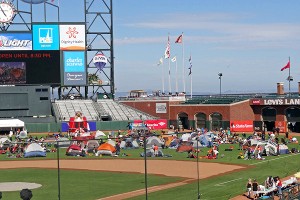 Adam RubinThe San Francisco Giants annually host a sleepover for fans on the night of a day game at AT&T Park.
Mejia told Jorge Castillo
in the Star-Ledger
that he has bone spurs in his right elbow that will need to be surgically removed during the offseason. Doctors proposed removing them during spring training when the issue first flared up, but Mejia preferred taking anti-inflammatory medication to get through the discomfort and to deal with it after the season. Read more in the
Journal
and
Record
.
• Matching an event annually staged at San Francisco's A&T Park, the Mets will host a sleepover for fans at Citi Field on Aug. 10. Unlike with the Giants, it will not occur the night of a home day game. Tickets, which range $175-$200 per person and include admission to the Sept. 28 game against the
Milwaukee Brewers
, go on sale at 10 a.m. today at
Mets.com/sleepover
. The Mets also announced PR man Jay Horwitz bobblehead day will be held Aug. 23. There's also a Third Eye Blind concert after that game against the
Detroit Tigers
.
• Columnist Larry Brooks
in the Post
suggests the Mets are laying the groundwork for a brighter future.
• Mark Cohoon became the all-time innings-pitched leader in Binghamton history and closer Jeff Walters matched Jerrod Riggan's B-Mets single-season record with save No. 28 in a 6-3 win against Reading. Read the minor league recap
here
.
BIRTHDAYS:
Billy Wagner, now spending time with his alpacas, turns 42. … Where's Mota? Guillermo Mota is celebrating his 40th birthday.
TWEET OF THE DAY:
Join me at Mets Social Media Night Aug. 23 @ Citi Field & receive my Bobblehead. For tix visit http://t.co/TcCIqXZaAZ http://t.co/x5n8fXXm65

— Jay Horwitz (@Jay_HorwitzPR) July 24, 2013
YOU'RE UP: Should the Mets hold onto Marlon Byrd unless overwhelmed by a trade offer?
July, 22, 2013
7/22/13
4:57
PM ET
Paul Maholm
has been placed on the disabled list with a bruised left wrist and will not face the Mets on Thursday. Rookie southpaw
Alex Wood
(0-2, 2.45 ERA) instead will start the finale to the four-game series.
NEW YORK -- Left-hander
July, 21, 2013
7/21/13
8:55
PM ET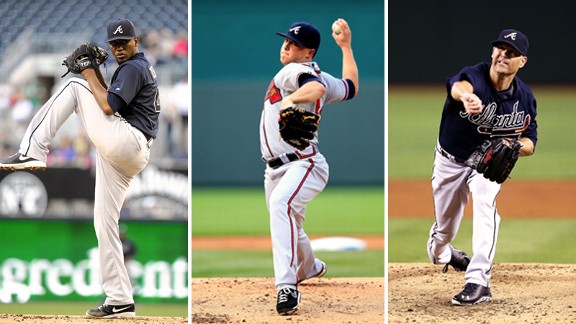 Getty ImagesThe Mets face (l to r) Julio Teheran, Kris Medlen and Tim Hudson the opening three games of the series.
METS (43-51, fourth place/NL East) vs. ATLANTA BRAVES (55-43, first place/NL East)
Monday:
RHP
Dillon Gee
(7-7, 4.32) vs. RHP
Julio Teheran
(7-5, 3.35), 7:10 p.m. ET
Tuesday:
RHP
Carlos Torres
(0-1, 0.79) vs. RHP
Kris Medlen
(6-9, 3.64), 7:10 p.m. ET
Wednesday:
RHP
Jeremy Hefner
(4-7, 3.93) vs. RHP
Tim Hudson
(7-7, 4.08), 7:10 p.m. ET
Thursday:
RHP
Zack Wheeler
(3-1, 3.58) vs. LHP
Paul Maholm
(9-9, 4.41), 12:10 p.m. ET
Braves short hops
• The depleted Braves outfield is expected to get
Jason Heyward
back Monday from a right hamstring strain, which he suffered sliding into third base on July 11. Heyward is due to play center field, where he has only appeared in four career games at the major league level. Heyward will return to right field once
B.J. Upton
returns from the disabled list.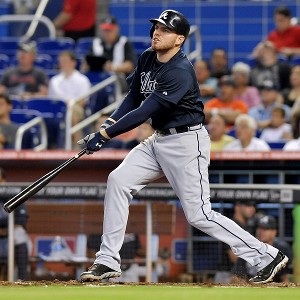 Steve Mitchell/USA TODAY SportsFreddie Freeman had to sit out the All-Star Game with a thumb injury.
• Left-hander
Paul Maholm
was sent home to Atlanta to have his sprained left wrist checked, leaving in doubt his availability for Thursday's start against the Mets.
Brandon Beachy
or rookie
Alex Wood
are the likely alternatives if Maholm is unable to start. Maholm injured the wrist batting July 10. He then departed Saturday's start when the issue flared up. He is 0-3 with a 10.13 ERA this month.
Beachy has made eight minor league starts since returning from 2012 Tommy John surgery. Wood, a southpaw, had been dispatched to Triple-A before the All-Star break to get continued work.
• Right-handed reliever
Kameron Loe
, who was signed by the Braves on May 11 after appearances with the
Chicago Cubs
and
Seattle Mariners
this season, was promoted Sunday.
•
Freddie Freeman
, who attended but could not participate in the All-Star Game due to injury, returned Saturday after missing two starts with a jammed left thumb. He had suffered the injury applying a tag at first base. Freeman had beaten out
Yasiel Puig
in the "Final Vote" among fans for an All-Star Game berth. He was replaced by teammate
Brian McCann
. Freeman entered Friday's game as a defensive replacement and had a first-base collision right away with
Adam Dunn
, but showed no ill effects.
• McCann has homered in three of his past four games.
• Left fielder
Justin Upton
returned Friday after missing the final two games before the All-Star break with a calf injury.
• Backup catcher
Gerald Laird
left Sunday's game with a bruised left hand in the fourth inning after being hit by a pitch.
Evan Gattis
returned Sunday after missing 24 games with a right oblique strain. Gattis had started the game in left field before shifting to first base once Laird departed.
• Second baseman
Dan Uggla
has 19 homers, matching his 2012 total.
• Closer
Craig Kimbrel
has converted 17 straight saves. Since blowing a save on May 7 at Cincinnati, Kimbrel has allowed one run and 12 hits while striking out 36 in 23 innings.
Kimbrel is the first player in franchise history to reach the 20-save plateau in each of his first three seasons in the majors. With three more saves, he will match
John Smoltz
as the only closers in Braves history with three 30-save seasons.
• Atlanta's 29 come-from-behind wins lead the National League.
•
Reed Johnson
has five hits in his past six pinch-hit appearances.
June, 18, 2013
6/18/13
10:34
PM ET
ATLANTA --
Chipper Jones
sat alongside
Zack Wheeler
's parents in the second row behind home plate.
Jerry Seinfeld tweeted: "Wheeler!!!!!"
Yes, this was a big deal.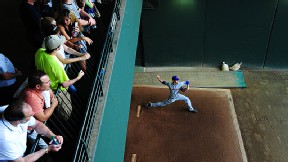 Scott Cunningham/Getty ImagesZack Wheeler attracted a crowd while warming up for his major league debut.
Making his major league debut in a stadium 30 miles from his home of Dallas, Ga., Wheeler overcame early control issues to toss six scoreless innings against the
Atlanta Braves
on Tuesday night.
His final line: 6 IP, 4 H, 0 R, 0 ER, 5 BB, 7 K, 102 pitches (55 for strikes).
Wheeler qualified for the win after
Josh Satin
singled and
Anthony Recker
belted a two-run homer against
Paul Maholm
to break a scoreless tie in the top of the seventh.
The New York Mets swept the NL East-leading Braves in a day-night doubleheader with a 6-1 nightcap victory.
Wheeler became the third starting pitcher in franchise history to earn the win in his MLB debut while tossing six or more scoreless innings, joining
Masato Yoshii
(1998) and Dick Rusteck (1966).
The performance capped an uplifting day that included
Matt Harvey
taking a no-hit bid into the seventh inning
in the 4-3 matinee victory
.
Harvey's line in his MLB debut, for the record: 5.1 IP, 3 H, 0 R, 0 ER, 3 BB, 11 K against the
Arizona Diamondbacks
on July 26, 2012.
Tweeted Dwight Gooden: "Today after watching @MattHarvey33 & @Wheelerpro45 it looks like the @Mets could have the best one-two punch in @MLB for years to come!!"
The 23-year-old Wheeler undoubtedly experienced early jitters. He walked
Andrelton Simmons
, the first batter he faced, then earned a mound visit from
David Wright
after falling behind No. 2 hitter
Jason Heyward
, 2-0.
Wheeler rallied to strike out Heyward with a 97-mph, full-count fastball.
He walked
Freddie Freeman
on four pitches later in the first, earning a visit from pitching coach Dan Warthen as well. Wheeler ultimately retired
B.J. Upton
on a fielder's choice grounder to escape unscathed from a 23-pitch first inning.
Sore subject:
Scott Atchison
, in his return from the disabled list, never threw an official pitch.
Atchison was summoned to start the bottom of the seventh inning after Wheeler departed. He lasted one warm-up pitch. At least it was not an elbow problem.
Atchison clutched his groin after his first warm-up pitch, received a mound visit from trainer Ray Ramirez and departed. Warthen summoned
Brandon Lyon
to replace him. The team subsequently announced Atchison had a sore right groin.
Lyon surrendered two hits and a sacrifice fly to
Justin Upton
as Atlanta pulled within 2-1, but the Mets answered with four runs the following half-inning thanks in part to sloppy Braves fielding.
Round number:
Wright recorded his 1,500th career hit. He is the 30th active player to reach that milestone.
What's next:
Shaun Marcum
(0-8, 5.43 ERA), still in search of his first Mets win, opposes right-hander
Kris Medlen
(3-7, 3.09) at 7:10 p.m. Wednesday.
September, 7, 2012
9/07/12
10:06
PM ET
WHAT IT MEANS:
Jason Heyward
's solo homer in the fourth was the only damage surrendered by
Jon Niese
in six innings, but the Mets offered no support at the plate and the
Atlanta Braves
ultimately won, 3-0, at Citi Field on Friday night.
The Mets placed a pair of runners on base in four of the first six innings and failed to score each time. They were 0-for-10 with runners in scoring position during the game.
OUCH:
Andres Torres
got his leg caught underneath him after ranging into right-center to catch
Martin Prado
's second-inning line drive. Torres left the game. The team labeled it a left knee bruise. He was replaced by
Jordany Valdespin
in center field.
LAR-RRRYY:
Greeted with a mixture of polite applause and boos,
Chipper Jones
went 0-for-4 in the opener of his final series at Citi Field. He struck out with the bases loaded for the second out of the top of the third.
Jones also committed a potentially costly error in the sixth inning, with Atlanta nursing a 1-0 lead. Braves starter
Paul Maholm
seemingly coaxed
Jason Bay
into an inning-ending double-play grounder to Jones, but the third baseman threw wide to second and the Mets had two on with one out.
The faux pas didn't cost the Braves.
Chad Durbin
entered and struck out pinch hitter
Justin Turner
looking.
Luis Avilan
then entered and, after a passed ball advanced both runners into scoring position, Avilan coaxed
Lucas Duda
into an inning-ending groundout to first base. Duda was pinch hitting for Niese.
WELCOME BACK:
Jenrry Mejia
handled the final two innings, in his first major league action since Sept. 15, 2010, before Tommy John surgery. He surrendered a two-out solo homer in the ninth to
Dan Uggla
. Mejia is expected to enter the rotation later this month, with
Matt Harvey
due to be shut down after two more starts. Mejia had a 2.75 ERA as a starter and a 5.48 ERA as a reliever with Triple-A Buffalo this season.
WHAT'S NEXT:
Jeremy Hefner
(2-5, 4.52 ERA) opposes right-hander
Kris Medlen
at 4:05 p.m. Saturday. The Braves have won Medlen's past 18 starts, the longest streak in the majors since the Yankees won 20 straight starts by
Roger Clemens
in 2000.
August, 11, 2012
8/11/12
7:34
AM ET
Matt Harvey
surrendered a two-run homer to
Jason Heyward
in the first inning,
Josh Edgin
surrendered a two-run homer to
Dan Uggla
in the eighth, and
Paul Maholm
tossed a three-hit shutout as the
Braves beat the Mets, 4-0
, Friday night at Citi Field.
Johan Santana
(6-7, 3.98 ERA)
returns from the disabled list
for Saturday's 7:10 p.m. start opposite right-hander
Kris Medlen
(2-1, 2.37).
Saturday's news reports:
•
Dillon Gee
told ESPNNewYork.com it was
"unrealistic" to expect him to return this season
. Gee nonetheless said he is recovering well from July 13 surgery to patch a damaged artery in his pitching shoulder.
• In his second-to-last series at Citi Field,
Chipper Jones
was scratched from Friday's start with back spasms, which he
blamed on the bed in his Manhattan hotel room
.
Juan Francisco
subbed at third base and made a pair of stellar defensive plays -- backhanding
Andres Torres'
leadoff grounder in the first despite cheating in for a bunt, then ranging to his left to retire
Rob Johnson
and end the eighth. Read more in
Newsday
and the
Atlanta Journal-Constitution
and
Daily News
.
•
Terry Collins
expects Santana will be capped at 90 pitches tonight. The southpaw only threw 38 pitches in Sunday's rehab start with Brooklyn, but tossed additional pitches off a bullpen mound after departing the game at Coney Island to up his count to a number comparable to an ordinary start.
Brian Costa
in the Journal
notes Santana had not been the same pitcher since his June 1 no-hitter. Writes Costa:
Pitching coach Dan Warthen said the difference was evident in Santana's overall demeanor. "There were four or five starts where it just wasn't Johan," Warthen said. "He generally lights up a room. He has enough energy to light up this whole city on game day." After the no-hitter, Warthen said, "He was having the kind of energy that would light up a 20-watt bulb." The fatigue led to reduced arm speed, Warthen said, which led to lapses in control. Santana initially dismissed the ankle injury. But two more dreadful outings convinced the Mets he needed a breather. Now, they will find out if it was enough.
Santana's fastball hit 90 miles per hour during a rehab start in Brooklyn last weekend, a benchmark he hadn't reached in a while. "I think you will see pretty much what you saw early in the season the rest of the year," Warthen said. "I think we'll see 87 to 90 miles per hour. I think we'll see better control. But I think you're going to see a stronger, probably more consistent high-end velocity guy next year. I don't think you're going to see the whole Santana package until next year."
Read more in
Newsday
, the
Star-Ledger
and
Record
.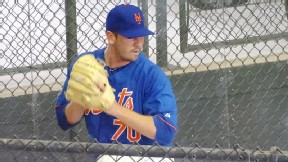 Adam Rubin
Matt Harvey lamented walking five in his Citi Field debut.

• Harvey retired the final nine batters he faced in a six-inning outing, but the 2010 first-round pick
expressed disappointment with his early control
, which led to five walks, matching the most he has surrendered at any level as a professional. He downplayed having extra energy in his Citi Field debut, since it came in his fourth major league start.
"You only have your debut once," Harvey said. "Obviously I was really excited to be here in New York and pitch in front of the Mets fans, and my family especially. But there was no extra nerves or adrenaline. It was another game and I had to do my job and go out and try to win."
Collins complimented how Harvey rallied from the early difficulties. "I was very he impressed, especially after the second inning. He's at almost 60 pitches in the second inning and really pitched well after that," the manager said. "I hope he got a lot out of this game. He's got all the talent he needs to compete up here. All he has to do is make pitches."
Collins expressed disappointment with the two-run homer Edgin surrendered to Uggla. The manager likened it to a homer Edgin surrendered to Jones on July 13 at Turner Field, in Edgin's major league debut. Collins' point: Edgin needs to be cautious with righty batters, especially when the stretch of batters he is being asked to face includes the lefty-hitting Heyward, lefty-hitting
Freddie Freeman
, Uggla and then the lefty-hitting Francisco.
"That's exactly what it reminded me of," Collins said about Jones' homer in Atlanta during the second-half-opening series. "And I reminded him of it. You've got three lefties you've got to get out. You can't let the one guy who can beat you, beat you. And that's the exact same situation that Chipper got."
Said Edgin about Collins' message: "You've got a lefty on deck. Don't give Uggla anything to hit. I mean, I gave him one right down the middle."
Read game recaps in the
Post
,
Times
,
Newsday
,
Star-Ledger
,
Daily News
and
Record
.
• A pair of Mets farmhands flirted with no-hit bids that came up slightly short. Brooklyn's
Hansel Robles
carried a perfect game two outs into the eighth. His Cyclones teammates actually were no-hit into the ninth inning, but won 1-0 on
Phillip Evans'
walk-off RBI single. Meanwhile, Binghamton's
Mark Cohoon
took a no-hit bid into the seventh inning and ultimately posted his fifth career shutout in a 5-0 win against Harrisburg. Read Friday's full minor league recap
here
.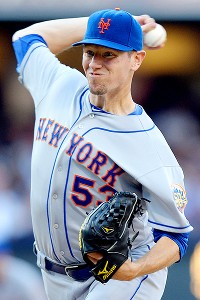 Jake Roth/US Presswire
Jeremy Hefner is giving Twitter another shot.

•
Jeremy Hefner
, who quit Twitter after backlash to sharing his thoughts about the Chick-fil-A boycott, has started a new account. It's
@jeremy_hefner53
.
•
Mike Puma
in the Post
reports
Lucas Duda
may return to the majors before rosters expand Sept. 1, although Puma described Duda as "sulking" while with Buffalo after the demotion.
•
Ike Davis
sat Friday against the lefty Maholm. Collins wanted to get righty-hitting
Ronny Cedeño
in at second base. And
Daniel Murphy
entered the game 5-for-6 in his career against Maholm, so the manager wanted to get him in the lineup at first base. Collins said Davis won't automatically sit against southpaws, but Davis is hitting only .173 against lefties this season, so the pattern could repeat itself. "Trust me, it's going to get better," Davis told
Mark Hale
in the Post
, alluding to his 2012 production. "I don't think you're going to see a season where I'm at .216 at this point too many times."
• The Mets inked right-handed reliever
Drew Carpenter
, a former Blue Jay and Phillie,
to a minor league deal
and assigned him to Binghamton.
•
Tim Bontemps
in the Post
profiles B-Mets infielder
Wilmer Flores
, who has shuttled around the infield in Double-A after previously exclusively playing shortstop in the minors with the organization.
TRIVIA:
Which player did Harvey retire for his first major league strikeout?
Friday's answer: Jones' first two career homers came against the Mets at Shea Stadium, against
Josias Manzanillo
on May 9, 1995, then against
Pete Harnisch
a day later.
August, 10, 2012
8/10/12
11:22
PM ET
Terry Collins
complimented
Matt Harvey's
resolve in bouncing back from some early erratic control. But Harvey, who retired the final nine batters he faced in a six-inning performance Friday, reiterated a theme he uttered on the road trip: A loss is a loss.
Harvey surrendered a two-run homer to
Jason Heyward
in the first inning, but no other damage in what became a 4-0 loss to Atlanta in his home debut. He limited the Braves to two hits while walking five and striking out three in six innings. Despite a solid 3.63 ERA, he dropped to 1-3 in his major league career.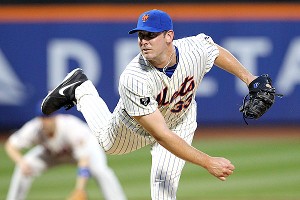 Brad Penner/US Presswire
Matt Harvey rallied to toss five scoreless innings after surrendering a two-run homer to Jason Heyward in the first.

"It was definitely a battle," Harvey said. "Coming out and walking five guys in the first three innings, that's the last thing you want to do. You never want to come out and give up two runs in the first inning and throw 30-something pitches, either. I did everything I could to figure it out as quick as possible. I was fortunate enough to keep the team in sort of winning distance. But, like I've said in the past, I don't like to lose. I don't like to give up runs. Tonight I didn't do my job very well."
Said catcher
Rob Johnson
: "I just felt like he was just missing a little bit. It wasn't like huge misses to me behind the plate. He was just missing two or three inches off the plate. And these guys were patient enough to not swing at them. And that led him, obviously, to some high pitch counts. He brings that ball back two inches and it's a totally different ballgame."
The Braves came away impressed, though, even though Harvey was outdueled by
Paul Maholm
.
Maholm faced only 29 batters in a complete game. His 95 pitches were the fewest required by a Braves pitcher in a shutout since
Greg Maddux
needed 89 pitches apiece in back-to-back four-hit shutouts in 2000, against the Marlins and Diamondbacks.
"He's got great stuff," Braves catcher
David Ross
said about Harvey. "The guy's throwing 96 [mph], throwing hard. But he's got to learn how to pitch. Once he learns how to pitch, he's going to be really good.
"Pauly [Maholm], when you're throwing 87 out there, you've got to know how to pitch from the get-go. And he's gotten nothing but better as he's gotten older. There's something to be said about veteran pitchers that know what they want to do to every hitter and know how to read hitters like catchers do and try to get on the same page as catchers. And that's why you try to bring young pitchers along and try to let those guys work through things and figure it out. Because this isn't Triple-A, this is the big leagues. So you've got to go through some bumps and bruises."
Harvey took a third-inning liner off his right thigh, but shook it off.
"I think it pissed me off," Harvey said. "I'm going out and walking people. And then I go out and get smoked by a line drive. It pissed me off, to be honest with you."
As for his first four major league outings, he overly-harshly summarized: "You look at my record. I haven't done my job very well. Whether it's walking too many guys or giving up runs, I've got to do better."
August, 10, 2012
8/10/12
9:36
PM ET
WHAT IT MEANS: Matt Harvey
surrendered a two-run homer to
Jason Heyward
in the first inning and walked five batters during his outing, but the rookie rallied to retire the final nine batters he faced in his first home start.
Harvey had no margin for error, though. Left-hander
Paul Maholm
, a trade-deadline acquisition from the Cubs, dominated the Mets as Atlanta won Friday's series opener,
4-0
, at Citi Field.
Maholm limited the Mets to three hits in his fourth career shutout. The southpaw faced the minimum number of batters through five innings. The lone two baserunners during that span --
Ruben Tejada
after reaching on a first-inning error and
Daniel Murphy
after singling the following inning -- were erased with double plays.
It was the second complete-game shutout of the Mets this season. Toronto's
Brandon Morrow
also performed the feat May 19 at Rogers Centre.
Harvey, after three road starts, took the mound Friday night at Citi Field to Foreigner's, "Feels Like the First Time." As promised, he then began firing fastballs, after drifting to other offerings in his previous start in San Diego.
Eight of the nine pitches to leadoff batter
Michael Bourn
were fastballs. That plate appearance resulted in a walk. The No. 3 hitter Heyward followed with a two-run homer on a 94 mph fastball in the lower-middle portion of the strike zone -- his sweet spot -- during what became a 33-pitch first inning.
The five walks matched the most by Harvey in a professional game. He also walked five with Triple-A Buffalo against Toledo on June 3, although one base on balls in the game against the Tigers' affiliate was intentional.
After
Rob Johnson's
one-out double in the sixth, and with the Mets trailing 2-0 and Harvey's pitch count at 101,
Justin Turner
pinch hit for the rookie. Maholm ultimately stranded Johnson at third base.
Harvey's line: 6 IP, 2 H, 2 R, 2 ER, 5 BB, 3 K, 1 HR.
Harvey was hit in the right thigh with a line-drive comebacker off the bat of
Freddie Freeman
in the third inning, but remained in the game.
Dan Uggla
added a two-run homer in the eighth against
Josh Edgin
.
OVER & OUT:
Tejada's hitting streak ended at a career-high 14 games when he was retired to end the game. Tejada went 0-for-4.
BAY WATCH: Jason Bay
, returning to the lineup for the first time since his severe playing-time reduction with the Braves starting the southpaw Maholm, went 0-for-3 as his average dropped to .152. Bay did smoke a shot to the track in right-center that Bourn ran down.
WHAT'S NEXT: Johan Santana
(6-7, 3.98 ERA) returns from the disabled list to oppose right-hander
Kris Medlen
(2-1, 2.37) on Saturday at 7:10 p.m. Santana likely will be capped at 90 pitches,
Terry Collins
said.
August, 10, 2012
8/10/12
10:38
AM ET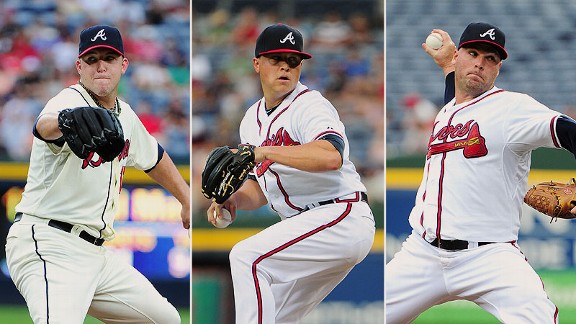 Getty Images
The Braves send (l to r) Paul Maholm, Kris Medlen and Ben Sheets to the mound this weekend at Citi Field.
METS (54-58, third place/NL East) vs. ATLANTA BRAVES (64-47, second place/NL East)
Friday:
RHP
Matt Harvey
(1-2, 3.86) vs. LHP
Paul Maholm
(9-7, 3.75), 7:10 p.m. ET
Saturday:
LHP
Johan Santana
(6-7, 3.98) vs. RHP
Kris Medlen
(2-1, 2.37), 7:10 p.m. ET
Sunday:
LHP
Jon Niese
(8-6, 3.82) vs. RHP
Ben Sheets
(4-1, 1.41), 8:05 p.m. ET
Braves short hops
• After a deal to acquire
Ryan Dempster
from the Cubs unraveled (he ultimately landed in Texas) the Braves instead obtained left-hander
Paul Maholm
from Chicago on July 30 with outfielder
Reed Johnson
and cash for right-handers
Arodys Vizcaino
and
Jaye Chapman
.
Before the trading deadline, the Braves also acquired infielder
Paul Janish
from Cincinnati. That acquisition, which came during the second-half-opening series against the Mets, resulted from rookie
Andrelton Simmons
suffering a non-displaced fracture of the fifth metacarpal in his right hand. Atlanta also lost
Jack Wilson
during that Mets series, with a dislocated middle joint in his right pinkie.
Maholm lost his Braves debut Saturday despite limiting Houston to three runs in seven innings. In his final seven games (six starts) with the Cubs, the 30-year-old southpaw went 5-0 with a 1.00 ERA. The Braves have a $6.5 million team option on Maholm for 2013. Janish is hitting .198, but has only one error in 24 starts at shortstop since the deal.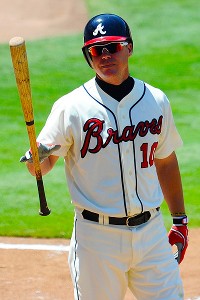 Dale Zanine/US Presswire
Despite a solid season, Chipper Jones reiterated he will retire after 2012.

•
Chipper Jones
(.316, 10 HR, 48 RBIs) recently told the Atlanta Journal-Constitution he still intends to retire after the season, despite his success. Jones, 40, will be honored at Turner Field during Atlanta's final regular-season home series, which fittingly is against the Mets. Atlanta makes one more visit to Flushing this season -- Sept. 7-9. Jones ranks sixth on the all-time list among switch-hitters with 2,694 hits. He trails only
Pete Rose
(4,256),
Eddie Murray
(3,255),
Frankie Frisch
(2,880),
Omar Vizquel
(2,863) and
Roberto Alomar
(2,724).
• A strong Cy Young candidate, closer
Craig Kimbrel
has 31 saves (in 33 chances), trailing only Pittsburgh's
Joel Hanrahan
(33 saves). The last closer to win the award was the Dodgers'
Eric Gagne
in 2003. Kimbrel, 24, has struck out 75 and allowed only 17 hits and 11 walks in 43 innings. If he finishes at this rate, his 15.70 strikeouts per nine innings would be the second-best of any closer in a single season while producing 30-plus saves. The only better:
Carlos Marmol
had a 15.99 strikeout-per-nine-innings rate while amassing 38 saves with the Cubs in 2010.
• Atlanta's bullpen tossed 4 2/3 scoreless innings Wednesday at Philly in relief of
Tim Hudson
. The relief corps has allowed 18 earned runs and struck out 110 in 102 innings over 32 games since July 3. That's a 1.59 ERA during that span. The Braves are 64-1 when holding a lead in the seventh inning or beyond, the best winning percentage in the majors, according to the Elias Sports Bureau.
•
Ben Sheets
is 4-1 with a 1.41 ERA since joining the Braves following a two-year absence from the majors while recovering from Tommy John surgery.
• Right fielder
Jason Heyward
turned 23 Thursday. He is one of six major leaguers to have produced at least 15 homers and 15 steals this season, joining
Ryan Braun
,
Ian Desmond
,
Hanley Ramirez
,
Alex Rios
and
Mike Trout
.
• The Braves have won 12 of their past 15, and 23 of 32 since July 3.
•
Brian McCann
and
David Ross
have combined for 24 homers, the most in the NL from the catching position. McCann has nine homers and 22 RBIs in his past 23 games.
• Center fielder
Michael Bourn
is eligible for free agency after the season.
• Left-handed reliever
Jonny Venters
, who led the majors in relief appearances last season with 85, returned from the DL on July 21 after missing two weeks with an elbow impingement. He recently had elbow soreness surface and was given a week off, but returned to action Sunday. Lefty batters are hitting .281 against Venters this season, after hitting only .127 in 2011.
• Right-handers
Tommy Hanson
(lower-back strain) and
Jair Jurrjens
(groin strain) are on the DL. Jurrjens (6.89 ERA) had been reassigned to the bullpen before the injury.
Last series results
Altanta won, 3-0, at Turner Field, July 13-15 (AP game recaps)
Braves 7, Mets 5:
It was a big day for Atlanta catcher Brian McCann, who celebrated the birth of his first child. It was also a big day for his backup, David Ross, who helped power the Braves' offense in McCann's absence. Ross homered and drove in four runs, Chipper Jones also connected and the Braves survived a crisis at shortstop to beat the Mets. The Braves had chosen to wait to replace rookie Andrelton Simmons, who broke his right little finger and will be out at least a month. Atlanta then lost shortstop Jack Wilson with another pinkie injury in the game. The Mets-killer Jones hit the 49th homer of his career against the Amazin's, in the sixth off Josh Edgin, who was making his major league debut.
More
Braves 8, Mets 7:
Jason Heyward singled to cap a three-run eighth-inning rally and the Braves took advantage after the umpires reversed a call. The Braves' comeback prevented a shaky R.A. Dickey from getting his 11th win in a row. Bobby Parnell (2-2) gave up RBI singles with two outs in the eighth to Michael Bourn, Marin Prado and Heyward. Terry Collins was ejected while disputing a call in Atlanta's two-run fifth. With the score 3-all and Prado on first base with one out, Heyward hit a sinking liner that left fielder Jordany Valdespin charged. Dale Scott initially ruled Valdespin made a diving catch and Prado, who had reached second, was trapped while retreating for an apparent inning-ending double play. After the umpires conferred, they ruled Heyward's ball bounced. The umpires placed Prado on second.
More
Braves 6, Mets 1:
Freddie Freeman hit a three-run homer in a six-run fifth inning and Ben Sheets (1-0) allowed two hits and one walk with five strikeouts in six scoreless innings in his first start since July 19, 2010. Johan Santana (6-6) gave up eight hits, six runs, two walks and struck out three in five innings. Dan Warthen was ejected during a mound visit. When plate umpire C.B. Bucknor reached the mound, Warthen began arguing with him over the strike zone afforded Santana.
More
June, 13, 2011
6/13/11
9:26
PM ET
Recap
|
Box score
|
Photos
WHAT IT MEANS:
With a 3-1 loss to the Pirates, the Mets split the four-game series. They again fell short in their bid to reach .500 for the first time since they were 22-22 on May 20, after beating the Yankees in the Subway Series opener in the Bronx.
BIG PELF:
After surrendering a first-inning RBI single to
Neil Walker
,
Mike Pelfrey
retired 11 straight Pirates. That streak ended when Pelfrey surrendered a solo homer to
Brandon Wood
to lead off the bottom of the fifth, which staked Pittsburgh to a 2-0 lead.
Pelfrey was replaced by pinch-hitter
Lucas Duda
in the eighth after a leadoff walk to
Ruben Tejada
. The Opening Day starter's line: 7 IP, 2 ER, 4 H, 0 BB, 6 K. Pelfrey threw 81 pitches (54 strikes).
In the last 18 games, Mets starting pitchers have a 2.54 ERA (34 earned runs in 120 2/3 innings).
RUNNING OUT OF INNINGS:
The Mets made two costly baserunning gaffes.
With the Mets trailing 1-0 in the fifth, and with
Daniel Murphy
on second and Tejada on first with one out, Pelfrey missed a bunt attempt. Catcher
Michael McKenry
, in his first game with the Pirates after being acquired Sunday night in a trade with the Boston Red Sox, fired to second and caught Murphy too far off the base.
Then, on a sacrifice fly by
Jose Reyes
that scored Tejada and pulled the Mets within 2-1 in the eighth, Duda -- who had singled to advance Tejada to third base -- did not properly tag up at first base on the sliding catch by left fielder
Jose Tabata
. Duda was thrown out for a double play. (He may have thought the ball short-hopped Tabata.)
A day earlier,
Angel Pagan
had been ruled out on the bases on a sacrifice fly when he failed to retouch second base while retreating to first base.
OBSTRUCTED VIEW:
Second base umpire
Jerry Layne
ruled
Reyes impeded Tabata's path from first to third base on
Xavier Paul's
single in the first inning. Layne awarded Tabata third base. Tabata, who briefly slowed but did not appear to make contact with Reyes, had been thrown out at third base by the center fielder Pagan and began walking off the field when he learned of the obstruction call. Reyes was charged with an error. The decision, which Reyes and then
Terry Collins
argued, proved costly. It was Tabata who ended up scoring the game's opening run on Walker's ensuing single.
SILENT NIGHT:
The Mets mustered only three hits in seven scoreless innings against southpaw
Paul Maholm
, two by Murphy, the lone left-handed bat in the starting lineup.
POISON PEN: Manny Acosta
, in his first appearance in eight days, loaded the bases with one out in the eighth.
Tim Byrdak
entered and issued a two-out walk to the righty-hitting Walker to force in a run.
D.J. Carrasco
then entered for his first major league appearance since returning from Triple-A Buffalo and coaxed a flyout to right field.
K-ROD TRACKER: Francisco Rodriguez
did not appear. He remained at 25 games finished, on pace for 61. That would place K-Rod six over the games-finished threshold for his contract to kick in at $17.5 million for 2012. Said Collins: "I'm being totally honest with you: No one has come and said, 'Why'd you use him?' Or, 'You can't use him.' Or, 'You shouldn't use him.' All I know is he's helping us win games. The one night I brought him in a game that didn't count to have him finish the game because it was what we had to do to make sure he stays ready, because if he's not ready he's not going to pitch well when we need him."
WHAT'S NEXT:
The Mets open a three-game series in Atlanta on Tuesday at 7:10 p.m.
Jon Niese
(5-5, 3.51 ERA) opposes major league ERA leader
Jair Jurrjens
(8-2, 1.82) in the series opener.