New York Mets:

Peter King
March, 23, 2014
Mar 23
6:34
AM ET
PORT ST. LUCIE, Fla.
FIRST PITCH:
The final week of spring training begins with a pair of games for the Mets.
Jenrry Mejia
opposes
Washington Nationals
right-hander
Tanner Roark
at 1:10 p.m. in Port St. Lucie (PIX11/WOR 710 AM). Jenn Austin will sing the national anthem at Tradition Field. She is the fiancée of Mets catching prospect and Hicksville, Long Island, native Cam Maron.
Isaac Brekken/Associated PressJenrry Mejia makes what may be his final case for an Opening Day roster spot Sunday against the Nats.
At ESPN Wide World of Sports at Disney,
John Lannan
opposes
Atlanta Braves
right-hander
Freddy Garcia
at 1:05 p.m. (no Mets TV/radio).
UPDATE:
Carlos Torres
instead will start the road game, with Lannan remaining at home to work in relief.
With
Daisuke Matsuzaka
looking like he will claim a spot in the rotation and Lannan seemingly penciled into the bullpen, Mejia may find himself the odd-man out and instead in a stacked Triple-A Las Vegas rotation to open the season. The 51s' rotation should include Noah Syndergaard, Rafael Montero and Jacob deGrom.
Sunday's news reports:
• There should be a firm resolution about
Kyle Farnsworth
's status soon. Farnsworth, who is not expected to make the Opening Day roster, has
an out in his contract Sunday
.
•
Daniel Murphy
had
five plate appearances in a minor-league game
Saturday, but did not run after making contact. It marked his first game action since injuring his right calf one week ago. Murphy should return to the Grapefruit League lineup Sunday, Terry Collins said. Read more in the
Star-Ledger
and
MLB.com
.
•
Travis d'Arnaud
snapped an 0-for-21 drought
with a two-run homer, shortstop
Wilmer Flores
drove in four runs and
Ike Davis
went deep as the
Mets beat the Marlins, 10-2
, Saturday in Jupiter.
Bartolo Colon
produced an RBI single
that drew a loud reaction from the Roger Dean Stadium crowd while also limiting Miami to two runs in 6 2/3 innings.
Read more on Colon and the game in the
Post
,
Daily News
,
Star-Ledger
,
Record
,
Newsday
and
MLB.com
.
Read more on d'Arnaud's recent struggles and adjustments in the
Post
,
Newsday
and
Star-Ledger
.
Read more on Davis in the
Daily News
.
• Steve Serby
in the Post
has a Q&A with
David Wright
. On his December wedding and how marriage can improve his baseball play, Wright tells Serby: "I've had problems in the past of kinda taking baseball home with me. And I think that this will help me out in the fact that I'll be able to separate the two. And I think ultimately that'll make me a better player because … especially when I'm struggling, when the team's struggling, I have a tendency to just constantly think about it."
•
Kirk Nieuwenhuis
has opened eyes this spring, but the educated speculation is
Andrew Brown
instead will
claim the extra bench spot
with
Jonathon Niese
scheduled to open the season on the disabled list. Niese is due to be activated for a start on April 6 against the
Cincinnati Reds
, at which point the Mets' bench would need to return to five position players.
• Ken Belson
in the Times
reviews the recent history of the pitcher batting eighth, which Collins may employ on occasion this season. "I wouldn't want to be blamed if it ended up costing the team a game," analyst Ron Darling told Belson.
•
Josh Satin
annually has a high batting average on balls in play. His theory why? "My whole philosophy of hitting -- which is kind of similar to what [the Mets] want -- is swing at the best pitch you're going to get and don't swing at marginal pitches, which I think creates maybe a few more strikeouts but allows you to square the ball up more," Satin told Anthony Rieber
in Newsday
. "You square the ball up more, you're going to have a higher batting average on balls in play, especially if you strike out a little more. It's not like it's a surprise to me."
• Rep. Peter King (R-NY), the chairman of the House Committee on Homeland Security,
attended Saturday's Mets game
wearing a Brooklyn Cyclones jersey with his last name and No. 44 on the back.
• Columnist Bob Raissman
in the Daily News
applauds
Matt Harvey
for speaking out. Raissman, incidentally, notes that SNY ratings were 14 percent higher when Harvey pitched last season than the network's season average.
• The Mets suggest there are not a rash of Tommy John surgeries in the system, and that Harvey's surgery as well as
Jeremy Hefner
's last year skew the impression. "You're talking like three percent of our guys are having Tommy John," Dickie Scott, who helps oversee the Mets' minor-league operations, told Mike Vorkunov
in the Star-Ledger
about the total organization-wide. "When Matt Harvey is one of our guys, it sounds like 90 percent."
•
Chris Young
talks with Matt Ehalt
in the Record
about his winter getting hitting lessons from Hall of Famer Rod Carew.
BIRTHDAYS:
Former Mets pitcher
Mike Remlinger
turns 48.
TWEET OF THE DAY:
Duda challenged me to a race last year and I declined. If Colon offers the challenge, it's on.

— Mike Puma (@NYPost_Mets) March 22, 2014
YOU'RE UP: Do you believe all the Mets starting position players will be healthy and available on Opening Day?
March, 22, 2014
Mar 22
12:23
PM ET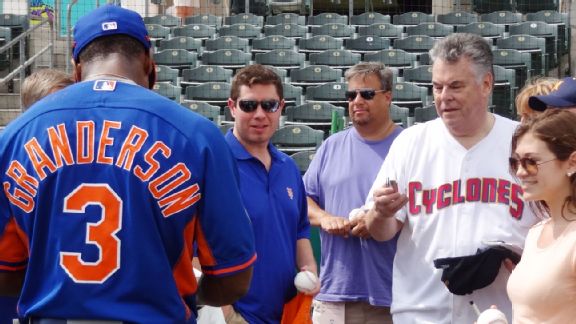 Adam RubinRep. Peter King (R-NY), wearing a Brooklyn Cyclones jersey and with point-and-shoot camera in hand, takes in batting practice from the field Saturday.
April, 9, 2011
4/09/11
9:22
AM ET
Chris Capuano
gets his first Mets start Saturday, opposite Washington left-hander
Tom Gorzelanny
, as the Mets look to return to .500 and avoid losing their second straight series.
Saturday's news reports:
•
R.A. Dickey
matched a career high with five walks and the Mets went 0-for-10 with runners in scoring position in Friday's 6-2 loss to the Nationals in the home opener. Read game recaps in the
Post
,
Times
,
Newsday
,
Daily News
,
Star-Ledger
,
Record
and
Washington Post
.
Dickey says the index finger on his nail should be fine for his next start, which is scheduled for Wednesday at Citi Field against the Colorado Rockies. Read more on Dickey's performance in
Newsday
.
• Mets executive VP
Dave Howard
tells Newsday's
Neil Best
ticket sales have been fine
. The Mets announced a crowd of 41,075 for the home opener. Writes Best:
Observers are certain to keep a close eye on ticket sales all season, both as a referendum on the team from fans and as a key barometer of the Mets' financial health, or lack thereof. "We're encouraged by where we are,'' said Dave Howard, executive vice president of business operations. He said more than 85 percent of full-season ticket-holders renewed, and that the team has sold more tickets overall than at this time last year. He would not say what that number is. "Given all the circumstances, I'm encouraged,'' he said. "How we go the rest of the year is going to be largely dictated by how the team performs, and I think this team is a better team than last year's. If the team is more competitive and stays that way throughout the year, given the fact we have substantially lower prices, it should translate into an uptick in ticket sales.''
The Times, you may recall, reported the Mets sold the equivalent of 10,000 season tickets when partial plans are counted as fractions. That means it's very possible the Mets will be announcing crowds in the 15,000 range during the Monday-Thursday series against the Rockies.
•
Richard Sandomir
of The Times
speaks with fans at the home opener
about the state of the Mets. "It's a scary situation with Madoff,"
Annie Neglia
, a physical education teacher from Oceanside, L.I., tells Sandomir. "But I can't focus on that. I've got to focus on pitching, hitting and running. Let's keep buying beer and they'll be OK."
• Newsday's
Tom Rock
discusses the new
seven-day DL for concussions
. "I think it's a good idea,'' says
David Wright
, who was beaned by a fastball from
Matt Cain
two seasons ago and suffered a concussion. "That was probably the best thing for me, to go against what I wanted to do and kind of trust the doctors. I didn't feel like I needed all 15 days, so I think it's good that you have that seven-day option.''
• Rep.
Peter King
(R-NY)
doesn't like the amount of money
trustee
Irving Picard
is billing while trying to recover funds for
Bernard Madoff
victims -- currently about $288 million, according to a report. You may recall King, according to the Daily News, also supports the government covering all losses of victims, rather than the recovery being footed by clawback lawsuits such as the one against
Fred Wilpon
and family because they allegedly withdrew more than they deposited from certain accounts.
• Daily News columnist
John Harper
looks at the mixed day
for
Jose Reyes
. His diving stop of
Rick Ankiel's
sharp, one-hop grounder with the bases loaded resulted in an inning-ending double play in the fifth and limited the damage against Dickey. Yet Reyes also struck out two innings later with two runners in scoring position and the Mets trailing 3-2. Even a groundout to the right side of the infield would have evened the score after
Chin-lung Hu
had sacrificed two runners ahead a base. Reyes is batting .303. But he does not have a walk, so his on-base percentage also is .303. Writes Harper:
The thing is, it wasn't simply that Reyes struck out in such a key situation. It was the way he struck out that the Mets' new talent evaluators surely noted with displeasure, as he looked like a man without a plan at the plate -- which has been a knock on him forever. Indeed, advance scouts have been telling their pitchers for years that in a key situation, Reyes will chase pitches early in the count, especially changeups, and either get himself out or get himself into bad counts that give the pitcher a huge advantage. "We have one rule with Reyes in a big spot," an NL scout told me during spring training a few weeks ago. "Don't throw him a strike until he makes you do it. Because more times than not, you won't have to."
•
Davey Johnson
, who managed the Mets' last World Series winner, is a Nationals adviser. He
spoke Friday
with the Star-Ledger's
Dave D'Alessandro
about his former club. "Fans here expect a winner, and they've been kind of teased a little bit," Johnson says. "That's how it goes around here, and sometimes the fans drive you to do better. But as long as the effort is there from top to bottom, why should there be gloom? It's not like they aren't trying. How can anyone deny that? They built this amazing stadium. And there are a lot of positives. The manager just has to get them to play."
• Post columnist
Mike Vaccaro
has
this take
on the home opener:
All the goodwill accrued during the season's first week hasn't evaporated entirely. The Mets have talked splitting the season up series by series, and there's still a chance to win this series, still a chance for a quality homestand, still a favorable April schedule in which to get themselves above sea level. And if you believe in Collins, you believe that can happen. You believe there really will be more nights when the good Mets are on display and the bad Mets are kept at bay. It just would've been nice if they could've traded places on Opening Day.
BIRTHDAY:
Grame Lloyd
was born in 1967.
March, 26, 2011
3/26/11
6:30
AM ET
Carlos Beltran
is scheduled to play five innings in right field in a minor league game Saturday. As long as he doesn't step foot in a Grapefruit League game, the Mets can still place him on the DL if needed and he would only have to miss three regular-season games.
On to the day's news reports:
• Rep.
Peter King
(R-Seaford) floats the idea of the government bailing out Ponzi scheme victims, and in essence
supports those who profited keeping that money
. Victims of
Bernard Madoff
lost about $20 billion, according to trustee
Irving Picard
, the man charged with recovering funds. Newsday reports that King, who has received roughly $9,000 in political donations from
the Wilpons
the past decade, said about the trustee suing Mets owners: "I think Picard has abused his power and the media has sort of fallen for it." The newspaper reports Picard and his law firm have made roughly $131 million while recovering about $10 billion for victims (1.31 percent of the sum collected).
• Remember when Beltran went into
Terry Collins'
office and defused a potentially sticky situation by volunteering to move from center field to right field? Well, that was all the way back on Feb. 28. Now, Beltran is finally ready to appear in a game at the position, after dealing with left knee tendinitis in addition to his arthritic right knee. "Honestly, I'm taking this day by day," Beltran tells Newsday's
David Lennon
. "In my mind, since I've been out on the field, doing my rehab, I've been confident that I wanted to be in the [Opening Day] starting lineup. Based on what I did [Thursday] in the field -- running the bases and going full speed, 100 percent -- if I don't feel anything then, I'm more confident now."
•
Mike Sielski
notes how Beltran sometimes
reads the back of the baseball cards
in his locker of him to remind himself what kind of player he has always been. "You have to be realistic with yourself," Beltran tells Costa regarding his knee injury. "I told my wife that I will play this game until I feel that I can't produce. If I don't feel I can produce, it doesn't matter if they pay me one, two million dollars. There's no reason for me to play. I'd embarrass myself. I don't want to embarrass myself. No one wants to embarrass himself."
• Read more about Beltran in
Newsday
and the
Post
.
•
Pedro Martinez's
portrait is now on display in the Smithsonian's National Portrait Gallery. Read the Associated Press story and see the image via the Post
here
.
• Post columnist
Kevin Kernan
discusses how
Chris Young
effectively hides the ball
, giving the batter less reaction time and making the pitch seem quicker. "His front foot hits the ground and his arm is down behind his body, there's a fulcrum effect," catcher
Mike Nickeas
tells Kernan. "Chris is bright, a hard worker. He's a thinker. He's constantly thinking steps ahead, that's something that's a nice feature to have on a pitcher, a guy who can see a couple of batters ahead as opposed to a guy who is just focusing on his pitch."
•
Andy McCullough
of the Star-Ledger
talks about the positives
of Young and
Chris Capuano's
springs, but also writes:
At FanGraphs.com, a sabermetrically inclined analysis website, Capuano and Young each project a 62 percent chance to land on the disabled list this year. The site's projection system is based on a formula involving a player's age, number of trips to the DL and starts completed in the past three seasons. Neither pitcher measures well under that standard. But Young gives Mets fans reason to believe. For now.
•
Steve Popper
of the Record notes that
Daniel Murphy
finally got to turn a double play
in a Grapefruit League game as the pivot man at second base Friday in Jupiter against the Marlins. Writes Popper:
It seemed like an inconsequential play in a long line of Grapefruit League games when Dewayne Wise grounded into a 6-4-3 double play. But when Daniel Murphy walked into the clubhouse he was greeted by Ike Davis and Nick Evans, who immediately quizzed him. Was that your first double play?" Davis asked. And when Murphy confessed it was his first this spring, Davis said, "I'm a first baseman and I've had two." Evans shook his head and said, "I've had more than you." Murphy took the jokes, pleased that he finally got the chance.
•
David Waldstein
of the Times
looks at .094 career hitter
Mike Pelfrey
. "I've kind of been in a slump the last six years," Pelfrey tells Waldstein. Pelfrey asked to participate in Friday's minor league intrasquad game beacause he is having trouble bunting too. Collins plans to have minor league pitchers throw to the Mets pitchers the next several days, until camp breaks, to get more proficient in that area, because the manager largely has been displeased with the showings.
BIRTHDAYS:
Jose Vizcaino
turns 43. He played infield for the Mets from 1994 through July 29, 1996, when he was traded to the Cleveland Indians with
Jeff Kent
for
Carlos Baerga
and
Alvaro Espinoza
.