New York Mets:

Phil Hughes
November, 28, 2013
11/28/13
10:21
AM ET
Phil Hughes
is likely to get a two-year deal, with the Mets out of the bidding because they are unwilling to guarantee more than one year, George King reported
in the Post
.
Hughes earned $7.15 million with the Yankees in 2013. The
Los Angeles Angels
,
Minnesota Twins
,
Seattle Mariners
and
Kansas City Royals
reportedly have expressed interest.
Hughes went 4-14 with a 5.19 ERA last season while logging 145 2/3 innings.
"Look where the market is for starting pitchers," a talent evaluator told King. "He is 27 and has never had shoulder or elbow surgery. If I was him, I wouldn't want a one-year deal. Two years ago, he won 16 games."
Free-agent right-hander
September, 5, 2013
9/05/13
12:40
PM ET
By
Mark Simon
| ESPNNewYork.com
As a Mets fan, you can certainly be envious of the Yankees latest postseason push, but if you're watching the Yankees, you should also be watching with an eye to 2014.
We'll be writing a lot in this space about the 2014 offseason outlook, and there are a number of current Yankees who may have some appeal to the Mets next season.
Here's a look at three of them to keep an eye on in the final weeks of this season.
Curtis Granderson
Granderson will turn 33 this offseason and will be a free agent after three productive years and one injury-filled season with the Yankees in 2013.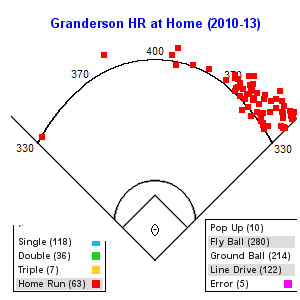 Yankee Stadium has been good to Curtis Granderson
Granderson's appeal comes in the power of his bat, which produced 41 and 43 home runs in 2011 and 2012 and has tallied four in 127 at-bats in 2013. He has more homers than any lefty-hitting American League player over the last three seasons.
The one concern with that is that Granderson has benefited
a lot
from his home ballpark, Yankee Stadium. He's hit 63 homers on 402 balls in the air in the Bronx, 49 homers on the 421 balls he's hit in the air in other venues.
The image on the right shows Granderson's home-run spray chart in Yankee Stadium. He certainly would lose some of those homers playing 81 times a year at Citi Field instead.
Granderson's best days as a centerfielder may be behind him. His defense was valued at -16 Defensive Runs Saved the last two seasons. But in 26 games in the corners this season, he's a positive- two Defensive Runs Saved.
Phil Hughes
With
Matt Harvey
either out or of uncertain health for 2014, Sandy Alderson indicated the need for a veteran pitcher for 2014 (which sounds a lot like the role
Shaun Marcum
was supposed to fill.
Prior to this season, Hughes would have been someone with modest appeal, given his body of work and age (he doesn't turn 28 until June). But Hughes is 4-13 with a 4.86 ERA and was demoted to the bullpen earlier this week by Joe Girardi. He's homer prone, especially at home, somewhat so on the road, as the chart on the right notes.
Hughes could fit the Mets as either a starter or reliever, which is why his performance in the latter role is worth watching. In 2009, he had a 1.40 ERA, with 65 strikeouts, 13 walks, and only two home runs allowed to the 193 batters he faced in 44 relief appearances. Hughes' upcoming usage may shed some insight into a possible fit as an eighth-inning man for some team in 2014.
Joba Chamberlain
The Mets have had their ups-and-downs at picking relievers in the Alderson era. Chamberlain would be one who would seem to be there for the taking, with a 4.23 ERA and 1.54 WHIP this season.
But there are a couple of aspects of this performance that are unusual. His 11 percent walk rate and 4.6 percent homerun rate are considerably higher than they were in any season from 2010 to 2012. Chamberlain's slider needs fixing. He gets a good miss rate with it (40 percent), but it's hittable. Opponents have a .300 batting average when an at-bat ends with one this season.
Chamberlain would still seem to be an intriguing gamble for this reason. He's still throwing hard. His fastball velocity averages 94.7 mph, the same as 2012 and approximately the same as 2011. That's just a hair under what
Bobby Parnell
averaged prior to his injury.
The team that can get Chamberlain's head right would seem to have something significant to gain.
Do you think the Mets should pursue these players? Share your thoughts in the comments.
May, 28, 2013
5/28/13
5:49
AM ET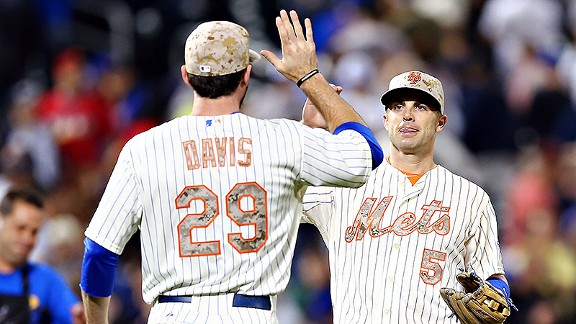 Elsa/Getty Images
David Wright celebrates the Mets' 2-1 win Monday with Ike Davis.
FIRST PITCH:
Growing up in Connecticut, where fans divide their allegiances between New England and New York sports,
Matt Harvey
picked the Patriots, Rangers and Yankees as his teams.
Boyhood idol Paul O'Neill is long retired, but Harvey -- who used to attend Subway Series game at Shea Stadium --
will get to face the Bombers
for the first time tonight. Harvey (5-0, 1.93 ERA) opposes
Hiroki Kuroda
(6-3, 2.67) as the Mets attempt to win three straight games for the first time since posting a season-high three-game winning streak April 6-8.
Joe Girardi said he has admired Harvey since viewing his major league debut last July 26. Girardi said he called a friend who is a Mets fan after watching Harvey strike out 11 in 5 1/3 scoreless innings against the
Arizona Diamondbacks
to relay how special a pitcher the Mets had promoted.
Harvey is bidding to improve to 6-0.
The best start in franchise history is 10-0 by Terry Leach in 1987. The only better starts this millennium:
Dillon Gee
opened 2011 with a 7-0 record and
R.A. Dickey
was 6-0 in 2010.
If Harvey is spared a loss, he will tie Armando Reynoso's team record for most consecutive starts without a loss to begin a season (11 in 1997), according to ESPN Stats & Information. Harvey enters tonight's outing tied with six others at 10 starts, including Dwight Gooden (1988) and
Kenny Rogers
(1999).
Tuesday's news reports: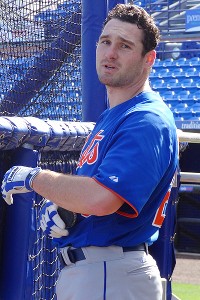 Adam Rubin
Daniel Murphy delivered Monday's decisive hit.

•
Daniel Murphy
delivered a two-out, tiebreaking single in the eighth against
David Robertson
to
lift the Mets to a 2-1 Memorial Day win
in the Subway Series opener at Citi Field. Murphy had been robbed of a two-run homer in the sixth when center fielder
Brett Gardner
reached over the wall to take away his shot.
The Yankees had been 22-0 when leading after six innings.
David Wright
evened the score at 1 with a homer against
Phil Hughes
in the seventh. Wright produced his first long ball at Citi Field since the final home game of 2012, snapping a 27-game drought. He now has nine career homers against the Yankees, passing
Mike Piazza
and
Cliff Floyd
for the most in franchise history by a Met.
Read more on Wright in
Newsday
.
Jordany Valdespin
, who walked as a pinch hitter, scored the tiebreaking run on Murphy's single. Terry Collins noted Valdespin showed discipline in that plate appearance -- not chasing pitches out of the strike zone, which he had been doing only a week earlier.
Jonathon Niese
became the
latest Mets starter to get a hard-luck no-decision
. Niese limited the Yankees to a sixth-inning run, when Gardner had a leadoff triple and scored on Laynce Nix's single. The southpaw's line: 7 IP, 8 H, 1 R, 1 ER, 1 BB, 4 K.
Niese's performance comes on the heels of
Shaun Marcum
's no-decision Sunday night despite limiting the
Atlanta Braves
to two runs in seven innings.
Jeremy Hefner
had the identical fate Friday despite allowing two runs in six innings.
Read more on Niese in
Newsday
.
One down note:
Ike Davis
went 0-for-3 with three strikeouts -- a sobering encore to Sunday's tiebreaking two-run single. A demotion remains distinctly possible in the coming days.
Read game recaps in the
Times
,
Post
,
Daily News
,
Star-Ledger
,
Newsday
and
Record
.
• The paid attendance of 32,911 was by far the lowest in the history of the Subway Series, which began in 1997. The previous low had been 36,372 at Shea Stadium on June 28, 2003, when the afternoon game was played in the Bronx and a rainout makeup was played in Flushing in the evening. The only other sub-40,000 attendance also was a rainout makeup: 37,305 for Game 1 of a split doubleheader at Yankee Stadium on June 27, 2004.
The historically low demand also is reflected in ticket prices. Writes Jared Diamond
in the Journal
:
Even with phenom Matt Harvey pitching for the Mets on Tuesday, the average ticket on the secondary market for Tuesday's game costs $112.49. Last season, the average ticket on the secondary market for the three Subway Series games at Citi Field all cost more than $120. (In fairness, last year's games were all on the weekend.)
The situation in the Bronx looks even worse, with the two games at Yankee Stadium commanding the cheapest average ticket price for any Subway Series game in the past four years. The average seat for Wednesday's game costs $76.40 -- less than tickets for the teams' two spring-training games in April 2012 ($77.99 at the Yankees' home in Tampa, $77.79 at the Mets' complex in Port St. Lucie).
Read more in
Newsday
.
• Murphy
flipped his bat
after delivering the game-deciding RBI single, but Collins and Murphy dismissed it as exuberance over a desperately needed hit for a struggling team. Collins did not think it was akin to Valdespin's homer admiration in a lopsided game against the
Pittsburgh Pirates
that resulted in retaliation the following day. Girardi dismissed Murphy's expression as an issue.
•
Bobby Parnell
, despite an
Ichiro Suzuki
four-pitch walk,
rolled through the ninth
for his eighth save. Both of Parnell's blown saves this season involved defensive misadventures behind him --
Ruben Tejada
's eighth-inning throwing error in Colorado on April 16, then
Collin Cowgill
breaking the wrong way on a fly ball in an eventual 15-inning loss in Miami on April 29.
Writes Bob Klapisch
in the Record
:
Parnell's 0.90 WHIP is lower than the Braves' Craig Kimbrel and better than eight of the NL's top 10 saves leaders. But you won't get Parnell to brag about his success. To the contrary, he's been humbled by the ugly seasons in the past and in close contact with his darker angels.
Read more in
Newsday
.
• The Mets will recognize retiring
Mariano Rivera
pregame today. Rivera
met with Mets employees and select fans
in the Jackie Robinson Rotunda on Monday afternoon. Read more in the
Times
,
Star-Ledger
,
Daily News
and
Newsday
.
• After seven straight games with Murphy in the leadoff spot, Tejada
assumed that role Monday
. Mets leadoff batters entered the series with a league-worst .266 on-base percentage. Read more in the
Star-Ledger
.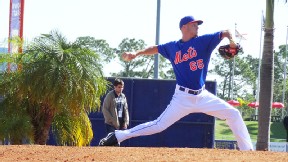 Adam Rubin
Zack Wheeler surrendered a pair of homers Monday.

• Zack Wheeler
was charged with five runs (three earned)
on four hits and three walks in an 80-pitch performance spanning four innings. He surrendered a pair of homers. The Mets are expected to wait until mid-June, once the Super 2 deadline has passed, to promote Wheeler.
"In my opinion, he's ready," Las Vegas manager Wally Backman told Brian Costa
in the Journal
. "It is nice to have him so you can season him a little bit more. We want him to go there and be successful. But, in my opinion, he's done everything he has to do to get to where he needs to go."
Contrasting Harvey and Wheeler to Costa, Backman added: "Harvey is a little more outspoken right now. Zack is a little more quiet, but he definitely has the competitiveness in him. It is two different personalities, but I believe they're going to compete against each other. I think Zack has the same thought process about being the best."
Said Wheeler: "I think I'm ready, but it is really not my decision."
Read more in
Newsday
.
• Catcher Francisco Pena had two homers and four RBIs in Las Vegas' 9-7 comeback win. Pena is hitting .385 since making his Triple-A debut 10 days ago. With
Andrew Brown
and
Zach Lutz
both out with oblique injuries,
Brandon Hicks
played first base for a second straight day, while
Josh Satin
served as DH. Neither Hicks (.130) nor Satin (.294) is on the 40-man roster.
Josh Rodriguez
scored on a wild pitch in the ninth as Binghamton beat Portland, 6-5. Gabriel Ynoa allowed one run in eight innings to improve to 6-2 as Savannah beat Greenville, 4-1.
Read the full minor league recap
here
.
• Michael Salfino
in the Journal
notes the winning percentage differential at the time of the Subway Series is the biggest ever between the Mets and Yankees.
• The best ERA among former UNC teammates in the Subway Series belongs to the Yankees'
Adam Warren
(1.14 ERA), not Harvey, notes Daniel Barbarisi
in the Journal
. "Well, he's thrown a few more innings than I have," Warren told Barbarisi.
• Read more on Harvey facing the Yankees in
Newsday
.
• Analyst Keith Hernandez was cited by Richard Sandomir
in the Times
for referring to a broken bat as a "dead soldier" on the Memorial Day telecast. An SNY spokesman told Sandomir: "We'll address the matter with Keith. It was an honest mistake and a poor choice of words." Read more in the
Daily News
.
•
From the bloggers …
John Delcos at
Mets Report
discusses which Mets could be peddled before the trading deadline.
BIRTHDAYS:
Ex-Met/Yankee Ryota "Rocket Boy" Igarashi turns 34. He is pitching for Softbank in Japan. … Retired catcher Mike DeFelice, who also managed two years at Kingsport in the Mets system, is 44.
TWEET OF THE DAY:
Thank you, #Mets, for helping us get back to having first place to ourselves! #RedSox

— J-Law (@jclawrence78) May 28, 2013
YOU'RE UP: After taking Game 1, and with Matt Harvey on the mound Tuesday, how confident are you the Mets will have bragging rights when this season's reduced, four-game Subway Series is completed?
August, 31, 2012
8/31/12
10:49
PM ET
BUFFALO 8, ROCHESTER 5:
Buffalo built a 7-0 lead.
Fred Lewis
doubled and walked three times in five plate appearances while scoring twice.
Jordany Valdespin
went 2-for-4 and drove in two runs.
Chris Schwinden
(9-9) allowed three runs on four hits and three walks in six innings.
Box
BINGHAMTON 8, TRENTON 5:
The B-Mets slugged three homers, including back-to-back shots by
Wilmer Flores
and
Allan Dykstra
.
Dustin Martin
had a three-hit night, finishing a double shy of the cycle. Flores capped a red-hot August with his fourth homer in the last nine games. He hit .377 in 28 games in August. After being held to one run over 13 innings in their two previous games against Trenton starter
Brett Marshall
, the B-Mets tagged the righty for three runs in the first.
Wilfredo Tovar
singled and Martin plated him with a homer. Flores was hit by a pitch and scored later in the frame on
Eric Campbell's
sac fly. In the second, the B-Mets added to their lead with back-to-back doubles by
Pedro Zapata
and Tovar. Flores and Dykstra trumped that feat with back-to-back homers later in the frame. With Tovar on second, Flores sent a 2-1 pitch over the left-field wall for his eighth homer this season. Dykstra blasted a solo shot to dead center, his seventh homer. It was the first time the B-Mets hit consecutive homers this season.
Ryan Flannery
entered in the sixth for Trenton and allowed a run on two hits. Martin extended Binghamton's lead to eight with an RBI triple. B-Mets starter
Greg Peavey
marched through six scoreless innings. He allowed four hits and walked three, but coaxed four double plays. His fortune changed in the seventh when the Thunder produced four runs on five hits, cutting the B-Mets' lead to four.
Brad Holt
took over in the eighth and surrendered a solo homer to
Luke Murton
.
Ryan Fraser
tossed a perfect ninth, capping his fourth save with a strikeout. Peavey (8-8) went at least seven innings for the fourth straight start and collected his fourth win in August.
Box
ST. LUCIE 7, BRADENTON 3:
St. Lucie matched its single-season record for wins in team history with No. 81 Friday. The 2000 team that included
Heath Bell
,
Endy Chavez
and
Jason Phillips
also reached that total.
Chase Huchingson
pitched 6 1/3 innings and allowed three runs and six hits with one walk and 11 strikeouts.
Jeff Walters
tossed 1 2/3 innings and gave up one hit and struck out two.
Adam Kolarek
pitched a scoreless inning and struck out two.
Richard Lucas
went 2-for-4 with two runs scored with two RBIs.
Aderlin Rodriguez
finished 1-for-4 with an RBI.
Cory Vaughn
also had a hit and RBI. St. Lucie has two regular-season games remaining.
Box
SAVANNAH 4, KANNAPOLIS 2:
Yucarybert De La Cruz's
two-run homer in the third staked the Gnats to a 3-0 lead.
Alex Panteliodis
limited Kannapolis to two runs on five hits in seven innings.
Box
BROOKLYN 5, STATEN ISLAND 1:
Hansel Robles
(6-1) collected the win and finished the month with a 4-0 record and without allowing an earned run in August. The Cyclones remained a game ahead of Batavia in the wild-card race. Robles allowed four hits and two walks and hit a batter while surrendering an unearned run in five innings. Entering the game, Robles hadn't allowed a run since Aug. 4 -- a span of 22.0 innings. He still hasn't allowed an earned since July 28. His streak without allowing an earned run extended to 36.0 innings, the longest by a Cyclones starter this season. The Yankees did score first.
Matt Duran
singled with one out and
Exicardo Cayones
was hit in the leg by a pitch.
Jose Rosario
then hit a grounder to second baseman
Jeff Reynolds
, who misplayed it to load the bases. After Robles retired
Isaias Tejeda
for the second out,
Taylor Dugas
drew a two-out walk, scoring Duran. Brooklyn struck back in the third when
Jorge Rivero
led off with a double. Reynolds then grounded out, moving Rivero to third.
Maikis De La Cruz
walked, bringing up
Brandon Nimmo
, who was hit by a pitch to load the bases.
Dimas Ponce's
sacrifice fly tied the score at 1. The Cyclones took the lead in the fourth when
Kevin Plawecki
led off with a towering homer. After the Cyclones added two runs in the fifth, ex-Met
Pedro Feliciano
entered in a rehab appearance. The first batter Feliciano faced was
Alex Sanchez
, who homered for a 5-1 lead. This marked the second straight year that a Yankees pitcher on a rehab assignment has given up a home run to a Cyclones player. Last year
Phil Hughes
gave up a solo homer to
Nelfi Zapata
.
Box
Compiled from team reports
June, 9, 2012
6/09/12
10:05
PM ET
Recap
|
Box score
|
Photos
WHAT IT MEANS:
Dillon Gee
walked the leadoff batter three times in a four-inning span. The final of those free passes came back to sting him.
Mark Teixeira
followed a leadoff walk to
Curtis Granderson
in the sixth with a two-out, two-run homer that lifted the Yankees to a 4-2 Subway Series win against the Mets on Saturday night at the Stadium.
Teixeira's homer -- which erased the Yankees' one-run deficit -- was the first hit allowed by Gee since the first inning, when the Bombers scored a run but stranded the bases loaded on
Raul Ibañez's
inning-ending, double-play grounder.
Gee's final line: 7 IP, 5 H, 3 R, 3 ER, 3 BB, 5 K.
Granderson added a solo homer against
Bobby Parnell
in the eighth.
On Sunday, the Mets will try to avoid getting swept in the Bronx for only the second time since the interleague matchup began in 1997. The lone instance right now came in 2003.
WRIGHT STUFF:
A half-inning before Teixeira's long ball,
David Wright
had staked the Mets to a 2-1 lead in the top of the sixth with a solo homer against
Phil Hughes
. Wright snapped a 56 at-bat homerless drought against the Yankees. His last long ball against the Yankees had been June 28, 2008, against
Andy Pettitte
.
Q FACTOR: Omar Quintanilla
, playing with a fracture at the tip of his left index finger, pulled the Mets even at 1 with a third-inning homer against Hughes. It was Quintanilla's first major league homer since Aug. 24, 2008, against Cincinnati's
Mike Lincoln
, while playing for the Colorado Rockies.
ANDRES THE NOT-SO-GIANT:
After striking out in his first three at-bats,
Andres Torres
had a chance for redemption in the seventh. But batting with two men in scoring position after
Scott Hairston
stole second, Torres flied out to left field and the Mets remained trailing, 3-2. Torres is hitting only .163 (13-for-80) against right-handed pitching this season.
OUCH? Jason Bay
, who returned to the lineup this series from a fractured rib on his left side, got to find out whether it is fully healed. Bay caught
Robinson Cano's
fly ball in foul territory in left field to end the third inning. He bumped the wall as he made the grab. Stay tuned postgame.
Terry Collins
has chosen to use
Lucas Duda
as DH to maximize the quality of the Mets' outfield defense rather than ease Bay back and use him only to bat.
WHAT'S NEXT: Jon Niese
(4-2, 4.11 ERA), pitching for the first time since a rapid heartbeat prompted his removal from a game last Sunday, opposes Pettitte (3-2, 2.78) in the series finale. The Mets plan to fly to Tampa after the game and spend Monday's off-day in Florida. It's a team-sponsored family trip, with Busch Gardens on the itinerary. Also in Florida,
Ronny Cedeño
is due to more aggressively test his calf running the bases Sunday at the team's Port St. Lucie complex, in a prelude to beginning a minor league rehab assignment shortly thereafter.
June, 8, 2012
6/08/12
11:00
AM ET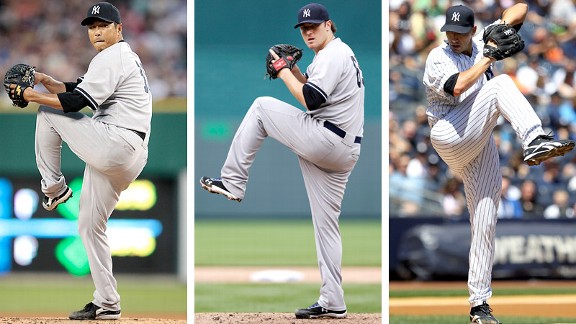 Getty Images
The Mets face (l to r) Hiroki Kuroda, Phil Hughes and Andy Pettitte in the Subway Series.
METS (32-26, third place/NL East) vs. NEW YORK YANKEES (31-25, second place/AL East)
Friday:
LHP
Johan Santana
(3-2, 2.38) vs. RHP
Hiroki Kuroda
(4-6, 3.82), 7:05 p.m. ET
Saturday:
RHP
Dillon Gee
(4-3, 4.48) vs. RHP
Phil Hughes
(5-5, 4.96), 7:15 p.m. ET
Sunday:
LHP
Jon Niese
(4-2, 4.11) vs. LHP
Andy Pettitte
(3-2, 2.78), 1:05 p.m. ET
Yankees short hops
• With a blood clot issue behind him,
Mariano Rivera
is due to undergo surgery Tuesday to repair a torn ACL.
David Robertson
, who briefly took over the closing role before suffering a left oblique strain, may begin a rehab assignment soon.
Rafael Soriano
now is effectively handling the closing role. Since Rivera became Yankees closer in 1997, the most saves in a season by another Yankees pitcher were
Steve Karsay's
12 in 2002. Soriano now has eight.
• Ex-Met
Ryota Igarashi
, a waiver claim by the Yankees from Toronto, has been promoted from Triple-A. He replaces long man
Freddy Garcia
, another ex-Met, who went on bereavement leave because of his grandfather's death in Venezuela. Igarashi was 0-1 with a 3.60 ERA and had 11 strikeouts in five innings spanning three appearances with Scranton/Wilkes-Barre.
•
Andy Pettitte
, back from retirement, enters the Subway Series having limited Tampa Bay to two hits in 7 1/3 scoreless innings in his most recent outing. Pettitte -- who turns 40 next Friday -- has struck out 32 batters in 35 2/3 innings over five starts while producing a 2.78 ERA.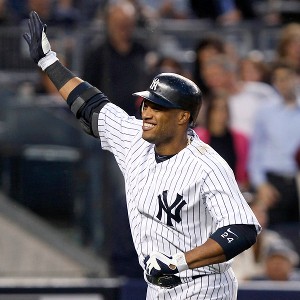 Seth Wenig/Associated Press
Robinson Cano has six homers in his past 18 games.

•
Derek Jeter
is 0-for-his-last-13. That is the captain's longest streak since going hitless in 14 straight at-bats from May 14-17, 2011. Jeter (.319) nonetheless is second in MLB with 75 hits, tied with
Miguel Cabrera
and trailing only
Melky Cabrera
(87). Jeter leads in the balloting among American League shortstops in the first All-Star Game voting totals announced.
Mark Teixeira
,
Robinson Cano
and
Curtis Granderson
rank second at their positions, which would make Granderson a starting outfielder.
•
Phil Hughes
tossed a complete game against Detroit, allowing one run, in his most recent start.
• Granderson has played every inning for the Yankees this season. The only other players to have logged every defensive inning for their teams have played this season, according to the Elias Sports Bureau:
Dan Uggla
,
Adam Jones
and
Starlin Castro
. Granderson did go 0-for-5 and matched a career high with four strikeouts Thursday against Tampa Bay. He has 22 homers against left-handed pitching since the start of last season, the most in the majors during that span.
• The Yankees have the best all-time winning percentage in interleague play (.592, 158-109). The Chicago White Sox rank second at .586, followed by the Los Angeles Angels (.569), Boston Red Sox (.567) and Minnesota Twins (.562).
• The Yankees have struggled with runners in scoring position, hitting .217 (103-for-474) this season. Cleanup hitter
Alex Rodriguez
has only 22 RBIs in 207 at-bats in 2012. Despite errors by A-Rod and
Nick Swisher
on Thursday, the Yankees have been solid in the field, though. Their 22 errors are the fewest in the majors.
•
Hiroki Kuroda
, who signed a one-year, $10 million deal during the offseason, has been wildly uneven, despite allowing two earned runs of fewer in seven of 11 starts. He has been prone to the long ball, having surrendered 11 homers in 68 1/3 innings. From 2008 to 2010 with the Dodgers, Kuroda allowed an average of 13.3 homers per season. Kuroda has a 7.36 ERA in the first inning. Only three current American League pitchers have more losses against the Mets than Kuroda's five --
Carl Pavano
(seven),
Derek Lowe
(six) and
Kevin Millwood
(six).
• Teixeira visited an ear, nose and throat specialist to determine the cause of a cough that won't go away. The verdict: Texeira has residual nerve damage to a vocal cord from a bronchial illness. Teixeira, despite a slow start, has 10 homers.
•
Brett Gardner
was unable to play in a rehab game with Class A Tampa on Thursday because of a cranky elbow, all but ensuring he will remain on the DL through the Subway Series. Lefty-hitting
Raul Ibanez
, in his first season as a Yankee, at 40 years old, has stepped into the primarily left-field role and flashed power (9 homers in 153 ABs). Righty-hitting
Jayson Nix
picks up some starts against southpaws.
• Cano has been streaky. He has six homers in his past 18 games. He had only three in his first 38 games.
• Catcher
Russell Martin
, who delivered a grand slam Tuesday against the Rays, homered for the second time in the series Thursday. He is hitting .357 (10-for-28) with seven RBIs in his past nine games. That has lifted his average from .173 to .210.
Last series results
Yankees won, 2-1, at Citi Field, July 1-3, 2011 (AP game recaps)
Yankees 5, Mets 1:
Filling in for injured Derek Jeter, Eduardo Nunez got the big hits and made a clutch throw. Nunez had an RBI single among his career-high four hits and threw out Jose Reyes at third base on a favorable call for the Yankees. Mark Teixeira hit a two-run double, and Alex Rodriguez and Robinson Cano added RBI doubles. Ivan Nova (8-4) and six relievers stifled a Mets offense that scored 54 runs in its past five games. Jon Niese (7-7) was pitching for the first time since leaving his start June 25, 2011 with a rapid heartbeat. After giving up three runs in the first, he shut down the Yankees through six innings.
More
Yankees 5, Mets 2:
Eduardo Nunez homered in his latest big game at the plate and Bartolo Colon came off the DL to pitch six scoreless innings. Subbing at shortstop, Nunez is 7-for-8 with a homer and three doubles in the first two games of the series. Jose Reyes departed after two innings with tightness in his left hamstring. Held scoreless for the first five innings, the Yankees touched up rookie Dillon Gee (8-2) with four straight sharp hits in a four-run sixth. Curtis Granderson lifted a 1-2 pitch to right for his 22nd homer before Mark Teixeira and Alex Rodriguez singled. Robison Cano ripped a two-run triple and Nick Swisher followed with a sacrifice fly. Nunez added a solo homer off Tim Byrdak in the ninth to make it 5-0.
More
Mets 3, Yankees 2 (10 innings):
Down to their last strike against Mariano Rivera, the Mets wouldn't wilt. Pinch-hitter Ronny Paulino came through with a tying single off Rivera, Jason Bay drove home the winning run and the Mets ended the Yankees' seven-game winning streak. Playing without Jose Reyes, the Mets were shut down by Freddy Garcia for seven innings before rallying against Rivera in the ninth to avoid a Subway Series sweep at Citi Field. With two outs and nobody on in the ninth, Bay walked on a full count. He went to third on Lucas Duda's single and scored the tying run when Paulino punched a 1-2 pitch through the right side.
More
June, 19, 2010
6/19/10
7:29
PM ET
David Wright gave Phil Hughes plenty of credit after the righthander shut down the Mets – and the third baseman, in particular – on Saturday afternoon.

Wright went 0-for-4 in the Mets' 5-3 loss to the Yankees, striking out three times. Two of those Ks came against Hughes (10-1, 3.17 ERA). The third strikeout came against Joba Chamberlain in the eighth inning with one on and the Mets down two runs.

"He was good against us at our place," Wright said of Hughes, who took the loss in a May 22 showdown with Pelfrey at Citi Field. "But today he really had everything working. His fastball seemed to really explode on you (and) his fastball had a lot of life. He was throwing his cutter for strikes and dropping that big curveball in there to keep you off balance. There's a reason he's (10-1) and he's been as dominant as he has."

Wright is hitting .333 (12-for-36) with two homers, 12 RBI and nine strikeouts during the Mets' current road trip, which wraps up Sunday against the Yanks. He has 31 RBI in his last 31 games. Wright has had success recently on sliders and curves late in the count, but went down swinging at Chamberlain's 87-mph slider to end the eighth. Through May 21, Wright was 3-for-35 in at-bats that ended in curves or sliders but he entered play today 10-for-31 in at-bats that ended in curves or sliders over the past 23 games.

CARLOS 'CLOSER': Injured center fielder Carlos Beltran had three plate appearances Saturday in an extended spring training game in Port St. Lucie. He played one inning in center field before the game was halted due to poor weather conditions.

Mets GM Omar Minaya didn't rule out the possibility of Beltran starting a minor-league rehab assignment, though he said he didn't want to set any specific time table for the Mets' $119 million man. Beltran is playing in Florida as part of a rehabilitation of his surgically-repaired and arthritic right knee. The 33-year-old had offseason surgery in January to repair his knee. Minaya expressed optimism that Beltran is "closer" to starting a minor league rehab assignment. At that point, Beltran would be on a 20-day timetable to be activated.

"The leg hopefully continues to keep getting stronger and hopefully he's getting closer to being able to be sent on a full rehab assignment," Minaya said.

The Mets will be forced to find at-bats for Angel Pagan, one of the most consistent Mets, once Beltran returns to his role as starting center fielder. Beltran would likely split time with Pagan (.296 BA, 4 HR, 31 RBI) in center field initially before taking over full-time when he's ready.

CASTILLO NOT GOING TO PUSH IT: Minaya said the Mets wouldn't rush injured second baseman Luis Castillo back to Queens.

Castillo is on the DL with bruised feet. He is now eligible to be activated. Ruben Tejada would have to be sent back to Triple-A Buffalo to make room for Castillo. The team placed Castillo on the disabled list June 4.

"We want to make sure when he's coming back, he's playing," Minaya said of Castillo. "Sometimes when you push it too much (the injury is re-aggravated)."

Minaya said Castillo continues to work out, hit and take ground balls in Port St. Lucie.

PEREZ WON'T GET CALL: Oliver Perez was eligible to be activated from the 15-day DL on Saturday, but the Mets say the lefthander isn't close to being activated.

The Mets avoided an ugly standoff with Perez when they put him on the disabled list on June 4. He'd been refusing a minor-league assignment for weeks and the Mets put him on the disabled list when they needed to make room on the roster for Jonathon Niese. Sending Perez to the DL was the easiest way to open a roster spot for Niese.

Minaya said Perez threw 70 pitches in a simulated outing and the tendinitis in his right knee is "coming along."

"Yesterday, he had a good outing," Minaya said on Saturday. "We'll see how he bounces back sometime next week."

Jerry Manuel said the team hasn't made a decision regarding Perez's return.

METS TRADE FOR MINOR LEAGUER PADILLA: The team announced after Saturday's game that they had acquired OF Jorge Padilla in a trade with the Toronto Blue Jays. Padilla has been assigned to the Bisons and activated by Buffalo immediately.

Padilla, 30, hit .330 (61-185) with four home runs and 27 RBI in 50 games with Triple-A Las Vegas of the Pacific Coast League this season and led all full-season minor-leaguers with a .367 BA in 95 games with Triple-A Syracuse in 2009.