New York Mets:

Randy Johnson
January, 6, 2015
Jan 6
2:02
PM ET
By
Mark Simon
| ESPNNewYork.com
We ran through Pedro Martinez's
success against the Mets earlier today
, and his accolades are well deserved. But the Mets did fairly well against the three other players elected Tuesday, and we thought that was worth noting as they are saluted on their special day.
John Smoltz
Smoltz has a lot of connections to the Mets, a team he went 5-13 against for his career. He earned his first career win against them on July 23, 1988, a 6-1 victory over Bob Ojeda. Smoltz held a Mets lineup that included Lenny Dykstra, Darryl Strawberry and Gary Carter to one run and two hits over eight innings.
Most will think Smoltz's best-pitched game was either his Game 7 win against the Pirates in the 1991 NLCS or his epic duel with Jack Morris in Game 7 of the 1991 World Series.
But statistically, the game that ranks best by Bill James Game Score (a statistical measure that rates starts, with most rating from 0 to 100) was one against the Mets on Sept. 6, 1998, a three-hit, 12-strikeout shutout. I was there in the stands that night, and it remains the best-pitched game I've seen someone have against the Mets in person in my 33 seasons of watching. He was admittedly helped by a wide plate (the teams combined to strike out looking 13 times), but he was dominant.
The two games perhaps better remembered by Mets fans are Game 6 of the 1999 NLCS, when Smoltz came out of the bullpen and was tagged for a dramatic game-tying home run in the seventh inning by Mike Piazza, and his start on April 10, 2005, when he struck out 15 in 7 1/3 innings in a pitchers' duel with Pedro, losing when he gave up a two-run home run to
Carlos Beltran
in the eighth.
Smoltz does get the Mets on one thing: In the regular season, he was 24 of 24 in save chances against them. That's the most career saves for any pitcher who never blew a save chance against the Mets.
Randy Johnson
The Mets had Randy Johnson's number. He won 303 games in his career, but went 6-7 against the Mets. The Mets are one of three teams against whom he had a losing record, the others being the Yankees (6-8) and the Rays (3-5).
One reason for Johnson's struggles against the Mets was his issues with hitters like Joe McEwing.
McEwing went 8-for-26 against Johnson in his Mets career (.308 batting average), including 4-for-6 with three doubles and a home run in 2000. Two of the doubles (including one in a 12-pitch at-bat) and a home run came in a memorable Mets win on May 21, 2000 (Elias notes he's the only player to have three extra-base hits in a game against Johnson). Another non-star with success against Johnson was Dae-Sung Koo, a relief pitcher who after a mortifying first major league at-bat (in which he basically swung while stepping out of the batter's box), doubled against Johnson.
Johnson did have a few pretty dominant games in those six wins. He pitched a two-hit shutout with 11 strikeouts against them in 2002 and struck out 14 in 8 1/3 scoreless innings in a win in 2004.
There is one game Johnson would probably like to have back. In Game 1 of the 1999 NLDS, Johnson was charged with seven runs and took the loss when Edgardo Alfonzo hit a go-ahead grand slam against Diamondbacks reliever Bobby Chouinard in the ninth inning. The Mets would win the series in four games.
Craig Biggio
Biggio grew up in Smithtown, New York, about 40 miles from Shea Stadium, but the Mets handled him pretty well. He hit .250 with a .711 OPS in roughly a full season's worth of games against them (163). That was his lowest OPS against any NL team.
One Biggio moment that stands out came on July 14, 1996, in the first game of a doubleheader between the Mets and Astros at Shea. He doubled in the third inning, but was thrown out trying to advance to third base on a fly ball to right field, when Alex Ochoa made an amazing on-the-fly throw to nail him (a play memorable enough that Mets announcer Gary Cohen included it on his highlight reel during a public appearance not long afterward). Mets manager Dallas Green described the throw as Clemente-like and that's what it took to get Biggio, who stole 414 bases in his career.
But there were good moments, too.
Biggio ranks fifth all time in doubles with 668 and the first of those came against the Mets at Shea Stadium on July 1, 1988. He also tagged the Mets for the third and final walk-off home run of his career, beating Jerrod Riggan with a 10th-inning shot on July 31, 2001.
November, 25, 2014
11/25/14
8:58
AM ET
NEW YORK -- The National Baseball Hall of Fame and Museum will announce its 2015 class of inductees on Jan. 6 at 2 p.m.
Eligible voters who have been members of the Baseball Writers' Association of America for 10 years may select as many as 10 candidates on their ballots.
Those candidates appearing on 75 percent of the submitted ballots are elected.
In a new wrinkle, candidates may only remain on the ballot for as many as 10 years, provided they continue to appear on 5 percent of the ballots cast. That's down from 15 years, although Don Mattingly (15th year on ballot), Alan Trammell (14th year) and Lee Smith (13th year) are grandfathered and remain.
Here is my Hall of Fame ballot. I used all 10 slots I was allotted, and still was unable to fit Lee Smith (whom I voted for two years ago, but now do not have room to include).
First-year candidates
Randy Johnson
,
Pedro Martinez
and
John Smoltz
get my vote. So does
Mike Piazza
, the ex-Met who garnered 62.2 percent of the vote a year ago -- within striking distance of the 75-percent threshold. The others:
Jeff Bagwell
,
Craig Biggio
,
Barry Bonds
,
Roger Clemens
, Tim Raines and
Curt Schilling
.
Raines reappears on my ballot this year. Like Smith, I voted for him two years ago, but could not fit him last year, when the class included players such as now-elected
Tom Glavine
,
Greg Maddux
and
Frank Thomas
.
Other notable players I omitted (for now, at least), include:
Jeff Kent
,
Edgar Martinez
,
Mike Mussina
and Trammell.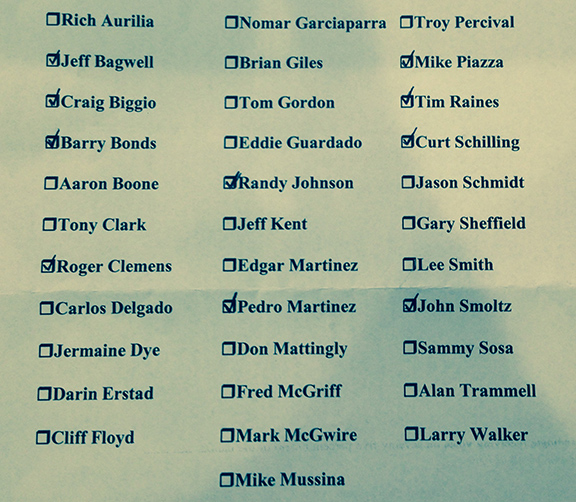 June, 22, 2010
6/22/10
9:00
AM ET
By
Mark Simon
| ESPNNewYork.com
Tuesday will mark the first time that the Mets see Tigers righthander,
Justin Verlander
, who may break the Citi Field radar guns with his sometimes-overpowering fastball.
Verlander threw 15 pitches in 2009 that the Pitch F/X system tracked at 100 miles-per-hour, peaking at 100.8. That was the most such pitches of any major league starter last year. He's thrown eight so far in 2010, including one in his last start that resulted in a strikeout of
Ryan Zimmerman.
Verlander's teammate,
Joel Zumaya
, led the majors with 135, and is averaging 99.3 miles-per-hour per pitch in 2010, but there are no guarantees the Mets will see him, and they won't see him for nearly as many innings as they'll see Verlander.
Verlander is averaging almost 96 miles-per-hour on his fastball, the fastest velocity among American League starters. There are two pitchers the Mets could see later this season --
Ubaldo Jimenez
and
Stephen Strasburg
-- who throw harder, but Verlander's first up, so he's our topic of the day.
The Mets have had varying degrees of success against starting pitchers whose fastball challenged triple digits on the radar gun. Recent opponents have included
Randy Johnson
and
Roger Clemens
, both of whom the Mets handled well in the latter stages of their career (they also had modest success, albeit without great numbers against
Nolan Ryan
after he joined the Astros in 1980).
The Mets saw a
Kerry Wood
in Cleveland last week who was a shell of the pitcher who gave them a lot of trouble in the prime of his career from 1998 to 2003.
The oldest of Mets fans may remember
Jim Maloney
, a flamethrowing righty of similar ilk to Verlander whose prime years were from 1963 to 1966, ages 23 to 26.
Maloney threw four shutouts against the Mets in that stretch, a one-hitter, a two-hitter, a three-hitter, and a five-hitter. He also had another start in which he took a one-hit shutout into the ninth and his last start against the Mets was a 1-0 win in 1969 in which he allowed two hits in 8 2/3 innings.
But the game for which Maloney is best known was actually a loss to the Mets. On June 14, 1965, Maloney struck out 18 batters and took a no-hitter into the 11th inning, but a lack of run support kept the game even until
Johnny Lewis
homered leading off the frame. Maloney, whose career would end early due to arm issues and a torn Achilles, would finish a hard-luck 1-0 loser, despite pitching an 18-strikeout two-hitter.
The Mets won't be complaining if they get a similar result.
---
Speaking of near no-nos, Thursday, the Mets will see a softer Tigers tosser:
Armando Galarraga
who shares something in common with them. He's never thrown a no-hitter, though he's come about as close as close can be.
The fate Galarraga suffered against the Indians on June 2 was very Metsian in nature, losing a perfect game against the Indians on a missed call by first base umpire
Jim Joyce
.
Mets fans may have a particular sympathy for this or they may say "Try walkng in our shoes!" After all, their team has now gone more than 7,700 games without one.
---
One thing to watch on Tuesday: Whether
Austin Jackson
starts for the Tigers in center field, not just because he can can hit, but because of his defensive ability.
Baseball Info Solutions, which has a +/- system that charts every ball hit based on how often it's turned into an out, has Jackson rated at +13/+22, the best in the majors.
What does this mean?
If you took Jackson and an average centerfielder positioned at normal depth, and hit them the same balls that were hit Jackson's way, Jackson would turn 13 more of them into outs than the average player, and those 13 balls would have accounted for 22 bases (combining potential singles, doubles, triples). That could be attributable both to Jackson's skill and where he's positioned by the Tigers coaching staff.
Translation: Jackson steals would-be hits frequently, and if he's healthy (he's missed time with back spasms), that could play a role in these next three games.
---
Twitter Trivia:
Monday, we posted the question at (
@msimonespn
): Name the only pitcher to accumulate 20 career wins with both the Mets and the Tigers.
The teams have shared some pretty good pitchers, though not necessarily at the height of their careers. But the answer is not
Mickey Lolich
,
Frank Tanana
,
Kenny Rogers
, or Yankee-killer
Frank Lary
. It's
Dave Mlicki
, who won 24 games for the Mets from 1995 to 1998 and another 24 for the Tigers from 1999 to 2001. Walt Terrell (coincidentally another Tiger who once lost a no-hitter in the ninth inning) came close, but mustered only 19 Mets wins.
Mark Simon is a researcher for Baseball Tonight. Follow him on Twitter at @msimonespn or e-mail him at webgemscoreboard@gmail.com.