New York Mets:

Randy Niemann
June, 12, 2012
6/12/12
5:41
AM ET
After an off-day to regroup following getting swept in the Subway Series, the Mets resume play with a stern test -- the AL East-leading Tampa Bay Rays at the Trop.
Chris Young
(0-0, 3.60 ERA) makes his second major league start since returning from surgery to repair a torn anterior capsule. He opposes Rays right-hander
Alex Cobb
(2-2, 4.12).
Tuesday's news reports:
• The Mets could look to upgrade the bullpen if they continue in at least the wild-card race, but whether they will be a contender is still playing out. Regardless, don't look for
Sandy Alderson
-- who received prized prospect
Zack Wheeler
for
Carlos Beltran
last July -- to turn around and trade a significant minor leaguer.
Columnist
Ken Davidoff
in the Post
identifies Minnesota's
Matt Capps
, Oakland's
Grant Balfour
and Houston's
Brett Myers
as relievers who potentially will be available at the trade deadline. "And that's the hard part," Alderson said about trade versus preserving the farm system. "Of course we want to win. We all want to win. It would be important for the fan base. It would be important for ownership. But, at the same time, we have to sort of take everything into account." Regarding the bullpen, Alderson said: "This is an area to begin to look at externally."
The GM added: "One of the interesting things that exists currently is now people have expectations. When you lose six out of seven, people are unhappy. … From two months ago when nobody cared, in that sense, we've made progress. You want to be able to satisfy those expectations at some point."
•
Warner Fusselle
, the radio voice of the Brooklyn Cyclones since the team's inception in 2001 and a former host of "This Week in Baseball,"
died Sunday night
. He was 68. Read more in the
Daily News
.
•
Brian Costa
in the Journal
notes that while
Andres Torres'
attention deficit hyperactivity disorder (ADHD) is not causing his subpar production, his difficulty concentrating can make it more challenging to break the funk. Torres takes medication for the issue and was the subject of a documentary that recently was screened for the first time.
A switch-hitter, Torres is hitting .205 overall as a Met, and .163 against right-handed pitching. Once the Mets lose the DH on Friday back at Citi Field, and with
Kirk Nieuwenhuis
playing strongly, something will have to give with the outfielders' playing time. Assuming
Jason Bay
-- no given -- and
Lucas Duda
play regularly in the outfield along with Nieuwenhuis, Torres' playing time will decrease. If Duda shifts to first base for
Ike Davis
, another distinct possibility, that relieves some outfield crowding. But none of that accounts for getting
Scott Hairston
playing time, particularly against southpaws.
Writes Costa:
There is only so much information Torres can absorb before his mind strays. "He has kind of a difficult time staying on task," [hitting coach Dave] Hudgens said. "He's a great worker, great guy, really loves the game, but it's difficult for him to stay on one thing that he's trying to work on a lot of times." That is evident simply in talking to Torres by his locker. At times, he'll be only midway through one sentence when he jumps ahead to the next. He had been talking about hitting for less than a minute Sunday when he became distracted by the name on a reporter's credential. "Is that a Latin name?" he asked. It is just as difficult for Torres to keep his body at rest, which is why he works out constantly. After a game in Pittsburgh last month, Torres did push-ups off the seat of his chair while his teammates hit the showers.
• Bay, who is 0-for-11 since returning from the DL, tells
Mike Puma
in the Post
he still can play. "Production-wise, it hasn't been on par, I understand that, but I still feel like I can do those things -- that is the frustrating part," Bay told Puma. "If I didn't feel like I can do it, I think it wouldn't be that tough. You wouldn't be so hard on yourself, but I feel like I can do it and it's just been a couple of years of searching for it." Bay only has 68 plate appearances this season as a result of time lost due to a rib fracture, so he is unlikely to reach 500 plate appearances this season. Reaching that threshold, then again getting 500 PAs in 2013, would trigger a 2014 vesting option at $17 million. Bay (.197, 3 HR, 5 RBIs) still can trigger with it 600 plate appearances next season.
• Young is returning from the same surgery that was performed on
Johan Santana
. Only Young has done so more quickly than Santana. Young's procedure was performed on May 16, 2011. Santana underwent the shoulder surgery the previous September. "It represented more than just a no-hitter to my wife and I," Young said about Santana's no-hitter to
Anthony McCarron
in the Daily News
. "It represented hope that I'm going to be as good as ever, too. I know what it meant to the Mets, to the organization, and to the fans, the history there. But to me, I feel like it took on an even bigger meaning, symbolically."
Writes McCarron:
At one point in May, Young told Santana he was hurting. His arm lapsed into what Young described as "the same kind of dead arm period you can get in spring training." "He said he was feeling like he was hit by a truck," Santana said. "I'm like, 'I know exactly how you feel. Me, it was a train.'" On Santana's advice, the Mets scheduled some extra rest for Young and he rebounded quickly. "I was achy and sore and since then, my arm has responded great and I anticipate it will continue to," Young said.
The morning after his first major league start in 13 months start, Young's wife went into labor and he went on paternity leave. Doctors had been planning to induce labor that day, but she went into labor naturally, Young told
Mike Kerwick
in the Record
.
Grant Christopher
is the newest addition to the family.
• Columnist
Bob Klapisch
in the Record
reports
Jim Duquette
and 10-year-old
Lindsey
are doing well a week after the former Mets GM donated a kidney to his daughter. Writes Klapisch:
Both were crying, although for different reasons. Lindsey wept "out of pure fear," said Jim, as the anesthesiologists converged on the little girl who was afraid of the bottomless black sleep where there are no sweet dreams. It broke Jim's heart to see his child weeping, although he was coming apart, too. "But I was crying because I knew this was the start of something better for Lindsey," he said. "For all of us." It's been one week since the transplant, and Lindsey's doctors believe her nightmare, which began in 2004, finally may be over. Her new kidney, Jim's gift, is functioning at 100 percent efficiency. Even though she will be on an immune-suppressing medication for the rest of her days, Lindsey soon could return to the life she'd nearly forgotten.
Read more
in the Daily News
.
• After
David Wright
and
Omar Quintanilla's
errors opened the door for a Yankees comeback from a three-run deficit Sunday,
Anthony Rieber
in Newsday
concludes the Mets are a bad defensive club. Writes Rieber:
The Mets, who begin a three-game interleague series against the Rays Tuesday night in St. Petersburg, Fla., were the fourth-worst defensive team in the majors going into Monday's action. But here's the rub: The three teams with fielding percentages below the Mets' .978 -- Tampa Bay, Baltimore and San Francisco -- are all playoff contenders. As are the Mets, though their stock is dropping after they lost six of seven, including all three to the Yankees in the first go-round of the Subway Series. "We've talked about this time and again," manager Terry Collins said Sunday after a 5-4 loss in the Bronx. "We aren't the kind of club that can make a lot of mistakes. When you give teams as good as the New York Yankees or anybody else in the big leagues multiple-out innings, they're gonna get ya. We saw it several times in the last two weeks where we haven't made plays and the next thing you know, it becomes a big inning."
Read more on the Mets' lackluster fielding
in the Times
.
• Former Mets VP
Tony Bernazard
, who oversaw the farm system under
Omar Minaya
, is now working as a liaison to players for agent
Scott Boras
,
Danny Knobler
writes
at CBSSports.com
. Bernazard was at Yankee Stadium on Sunday for the Subway Series finale.
• The Mets' top two picks are now signed. The team confirmed the signing of first-round pick
Gavin Cecchini
, a prep shortstop from Louisiana, last Friday for a reported $2.3 million. Now,
Jim Callis
reports
in Baseball America
, the Mets' supplemental first-round pick (35th overall), also is on board. Purdue University catcher
Kevin Plawecki
signed for $1.4 million, according to the magazine. The commissioner's recommended amount for that slot was $1,467,400.
• Center field prospect
Matt den Dekker
was named Eastern League Player of the Week and was promoted to Triple-A Buffalo on Monday. Den Dekker hit .340 with eight homers, 29 RBIs and 10 steals in 238 at-bats with Double-A Binghamton.
• After tossing four scoreless innings for Buffalo,
Jeurys Familia
ran into trouble in the fifth, allowing five runs, including a two-run homer by
Lew Ford
. The game was called due to rain after that inning, and Norfolk beat the Bisons, 5-4. Read Monday's full minor league recap
here
.
•
Jose Leger
was named the manager of the Class A Kingsport Mets. The Appalachian League team begins play next Tuesday. Former Mets bullpen coach
Jon Debus
originally was due to serve as Kingsport manager, but instead became minor league rehab coordinator based in Port St. Lucie, Fla., when
Randy Niemann
left the organization to join
Bobby Valentine
with the Red Sox. Leger managed a Dominican Summer League Mets team the past two seasons and is a former minor league infielder with the Minnesota Twins.
•
Anthony McCarron
in the Daily News
notes
Jon Rauch
retweeted expletive-filled tweets directed at him from fans after the reliever served up Sunday's game-ending homer to
Russell Martin
.
TRIVIA:
The Mets won only one game in the last series between the Mets and Rays in St. Petersburg, in 2001. Who were the starting pitchers in that game?
Monday's answer: In the ill-fated
Scott Kazmir
-for-
Victor Zambrano
swap, the teams also exchanged relievers. The Mets received
Bartolome Fortunano
.
Jose Diaz
was sent to the Rays.
January, 9, 2012
1/09/12
11:35
PM ET
Randy Niemann, who most recently oversaw rehab for the Mets in Port St. Lucie, including Johan Santana's comeback, is bolting for the Boston Red Sox. Niemann will serve as an assistant pitching coach on Bobby Valentine's staff, MLB.com reported.

Niemann served as Mets bullpen coach before returning to work at the Mets' Florida complex.
July, 24, 2011
7/24/11
2:10
PM ET
Johan Santana and rehab coordinator Randy Niemann discuss the southpaw's progress after Santana threw a bullpen session Sunday in Miami. Santana is expected to pitch for Class A St. Lucie on Wednesday in his first minor league rehab game.
July, 24, 2011
7/24/11
12:19
PM ET
Johan Santana
pronounced Sunday's 45-pitch bullpen session at Sun Life Stadium before the series finale between the Mets and Marlins a success. And assuming he awakes Monday feeling OK, he will proceed to a minor league game on Wednesday.
Rehab coordinator
Randy Niemann
, who traveled from Port St. Lucie to Miami for Sunday's session, suggested Santana already had started a spring-training program as much as 10 days ago.
"I think we actually started spring training a week ago, a week and a half ago, when we moved the bullpens closer to together," Niemann said. That's what you would do in spring training. He's gotten to the point where, if he recovers, and he's feeling good, we can start getting into games, like you would in spring training."
Santana should throw about 45 pitches in his first rehab game.
"I felt good overall," Santana said about Sunday's session, which came two days after he threw a three-inning simulated game in Port St. Lucie, Fla. "I think all the work that we have been doing is paying off. The way I'm feeling right now, I'm getting closer. ... We still have some way to go, but I'm feeling better. And that's what we're looking for day in and day out -- that every day I feel better, every time I throw in the bullpen or off the mound I feel good. The last couple of times has been really good."
Read the full news story
here
.
February, 21, 2011
2/21/11
1:59
PM ET
Here's the press release on the Mets' minor league appointments:

The New York Mets today announced the appointments of six instructors to the minor league and player development staff: Dave Jauss to the newly created role of Coordinator of Staff Development, Brian Chicklo as Medical Coordinator, Rick Tomlin as Roving Pitching Instructor, Mark Brewer as Short Season Roving Pitching Instructor, Jack Voigt as Outfield/Baserunning Coordinator and Randy Niemann as Rehabilitation Pitching Coordinator.

Jauss, 54, will oversee the development of staff and player preparation in his new position. Last season, Jauss served as the bench coach on the Mets' major league staff.

Chicklo, 39, served as the Triple-A trainer for the past nine seasons. This year will his 12th in the Mets' organization.

Tomlin begins his third season with the Mets. He spent his previous two seasons as the pitching coach for Brooklyn (A) of the New-York Penn League.

Brewer also will act as the pitching coach for the GCL Mets (R) of the Gulf Coast League. Last season, Brewer served as the pitching coach for Binghamton (AA) of the Eastern League.

Voigt, 44, moves to his new role from Buffalo (AAA) of the International League where he was the Bisons hitting coach.

Niemann, 55, enters his 24th season with the Mets' organization. Last season, the Scotia, CA native was the big league club's bullpen coach.

The Mets previously announced the appointment of Dick Scott as the Minor League Field Coordinator. Scott spent last season in the same role with the Houston Astros.

Kevin Morgan (Coordinator of Instruction/Infield Coordinator), Lamar Johnson (hitting coordinator), Bob Natal (catching coordinator), David Pearson (Rehabilitation & Physical Therapy Coordinator), Jason Craig (Strength & Conditioning Coordinator), Ken Coward (Assistant Strength & Conditioning Coordinator) and Rafael Landestoy (International Field Coordinator) all return to their positions from last season.
November, 23, 2010
11/23/10
12:53
PM ET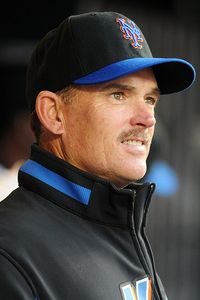 James Escher/Icon SMI
HoJo
Sandy Alderson
confirmed that hitting coach
Howard Johnson
would not remain on the major league staff, but would continue to have a role in the organization. The only major league staff holdovers will be pitching coach
Dan Warthen
and third base coach
Chip Hale
.
Terry Collins
acknowledged interest in
Larry Bowa
, but clearly indicated he would not be the bench coach. Collins joked that he needed a Type B bench coach to balance out his personality. That could bode well for even-keeled Triple-A manager
Ken Oberkfell
.
Collins pledged to have diversity on his staff as well as balance promoting staff from the minors and hiring from outside.
"I've got a lot of names," Collins said. "Sandy and I already have talked this morning briefly. No. 1, certainly I'm going to bring in somebody with a different personality than me as the bench coach. We don't need two of us on that bench like this. So we're going to change that."
On Bowa, Collins said: "I talked to Larry. He's a great friend. And I'm going to call Larry about some things. But I wanted Chip to be back. I know he did a great job. I'm going to bring somebody up from the minor leagues. I want to bring in some other people. I want to have a diverse staff. I think it's important to have that. ... We can't stop teaching. So I've got to have some guys who can work. This is a work-in-progress. I want coaches who have the ability to work and can get this done."
Asked if former bench coach
Dave Jauss
would assume Collins' role as minor league field coordinator, Alderson said: "That's something we haven't finalized."
Alderson said the next hitting coach could come from inside or outside organization, but "I'd like to spend some time in trying to get the right fit."
May, 25, 2010
5/25/10
5:29
PM ET
Manager Jerry Manuel said he does not even need to have a conversation with Francisco Rodriguez after the closer allegedly had a heated exchange with bullpen coach Randy Niemann during the latter innings of Sunday's series finale against the Yankees.

"I guess they had a disagreement," Manuel said. "By the time it got to me, Randy said there was no issues after that and it was resolved. You're going to have some issues in the bullpen or in the dugout or whatever. I don't see that as an issue at this point."

K-Rod minimized whatever occurred, calling portrayals of the incident false.

"Of course it is," Rodriguez said. "I never got into it with nobody. I have nothing to say. No comments."

Manuel said K-Rod has no issues with his usage, such as getting up and then going unused.

"He enjoys pitching," Manuel said. "He likes to pitch. I haven't had any issue with him as far as what his role is. His role is to save games and be the last guy down there. That's what he does."

STRAW STIR: Next on the anything-but-baseball list, players reportedly objected to Darryl Strawberry's candid assessment of their performance during a recent address to the Mets.

But right fielder Jeff Francoeur minimized that as well.

"Shoot, my dad has jumped me 75 times harder than that before. I can take criticism and I can use advice," Francoeur said. "It's not like he just let us have it. He wanted to let us know that we're better than we're playing and that we need to do better. It's not a big deal. It's not like he came in (cursing) at the whole clubhouse. He just wanted to kind of let us know we need to pick it up a little bit. And sometimes you need to be reminded of that. I don't know what got going about it, but I didn't think it was that big a deal to be honest with you. I thought it was fine. If it was some Joe Blow coming in and saying it, yeah, but Straw has done a lot for the organization. He played here for a long time and had success. I think he was just trying to mind us of, 'We need to be better than we are.'"

FAMILY MATTERS: Manuel's son Anthony, who played for the independent Atlantic League's Newark Bears, was married at a Manhattan courthouse on Monday. The skipper and his wife attended.

SOMETHING BREWING: Jon Niese threw his first bullpen session Tuesday since suffering a hamstring injury and indicated afterward he felt fine. Niese expects to return from the DL when he's eligible next Tuesday. The Mets need one spot starter before going back to Niese, on Saturday in Milwaukee. Manuel indicated Raul Valdes may be too valuable in a bullpen role to face the Brewers in that game with Hisanori Takahashi already in the rotation.

FIRST THING: Daniel Murphy will stick to first base Tuesday in his first game with Triple-A Buffalo. Murphy also played that position exclusively during a weekend rehab assignment with Class A St. Lucie.

BETTER FOOTING: Luis Castillo returns to second base after twice being scratched during the Yankees series because of a bone bruise below his left foot. Manuel indicated Castillo's foot will be taped differently. Castillo was examined Monday and avoided the DL.

ALL-STAR SNUB? Will the Mets have any all-stars in Anaheim? Well, they'll have to have one by rule. But Rod Barajas may be it, at this point. In the first voting totals announced Tuesday, no Met leads in his position. And other than David Wright ranking second to Philadelphia's Placido Polanco at third base, no Met ranks higher than fifth at his position. Barajas, by the way, doesn't even rank in the top five National League catchers.
May, 25, 2010
5/25/10
10:32
AM ET
Closer Francisco Rodriguez got into a heated argument with bullpen coach Randy Niemann over his usage on Sunday night against the Yankees, according to a report.

The New York Times reported K-Rod had to be separated from Niemann by other relievers.

Last week, John Maine and Jerry Manuel had a heated exchange in the dugout after Maine was pulled after five pitches in Washington.

And K-Rod and then-Mets VP Tony Bernazard had a verbal altercation upon boarding a team bus in Atlanta last season, weeks before Bernazard was fired.