New York Mets:

Ray Knight
April, 12, 2012
4/12/12
8:34
AM ET
Stephen Strasburg
allowed two hits in six scoreless innings to outduel
Johan Santana
and the
Washington Nationals beat the Mets, 4-0
, in Wednesday afternoon's rubber game. After opening the season with four straight wins, the Mets headed into Thursday's off-day losers of two straight and tied with the Nats atop the division standings.
After mustering a season-low three hits and issuing 10 walks in the series finale against Washington, the Mets attempt to regroup in Philadelphia on Friday night, when
R.A. Dickey
opposes
Cliff Lee
.
Jon Niese
then faces
Vance Worley
on Saturday, followed by
Mike Pelfrey
and
Cole Hamels
on Sunday.
By the way, on the Citi Field revised dimension tracker, the Mets now have taken advantage of the new specs for two additional homers, whereas opponents have yet to capitalize.
Lucas Duda
went deep in the fourth inning Saturday against Atlanta's
Jair Jurrjens
, while
Kirk Nieuwenhuis
took advantage in the fourth inning two days later against Washington's
Edwin Jackson
.
I'll be chatting Mets at SportsNation at 11 a.m. today. Please join me
here
.
Thursday's news reports:
• Santana tossed 99 pitches, four over the soft cap
Terry Collins
had publicly identified, and the southpaw's highest pitch count in any organized game since Aug. 28, 2010. With a short bench minus active
David Wright
, Collins used Santana to bunt in the bottom of the fifth. Santana tossed 84 pitches in his first 2012 start. Collins said the Mets actually hoped to keep Santana to 105 pitches Wednesday, not 95. He was removed Wednesday after a six-pitch leadoff walk in the sixth to
Jayson Werth
. The lone run to score against Santana came on a second-inning wild pitch. He became the sixth pitcher in franchise history to limit an opponent to no more than one run in each his first two starts to a season and yet not be credited with at least one win. The others:
Pat Mahomes
(2000),
Pete Harnisch
(1995),
Rick Anderson
(1986),
Ron Darling
(1985) and
Don Cardwell
(1969). Read game recaps in the
Star-Ledger
,
Times
,
Record
,
Journal
,
Daily News
,
Post
and
Newsday
.
• Collins expressed confidence
Wright
will return to the lineup Friday
, four days after suffering a fracture to his right pinkie diving back into first base on a pickoff throw from the Nats' Jackson. (Of course, the manager initially also wishfully believed Wright's abdominal tear would be a day-to-day thing.) Wright, who received a customized splint Wednesday, is due to see a hand specialist at the Hospital for Special Surgery today. "I'm not a doctor," Collins told reporters. "I don't mean to step on the doctor's toes. I will never do that. But when they give us a final diagnosis of the whole thing, my gut tells me that you'll see him Friday."
After Wright's Thursday visit to the specialist, there may be more clarity about whether a disabled list trip is required. If Wright lands on the DL, Collins expects to shift
Daniel Murphy
to third base. Wright has only been on the DL twice in his career -- after a 2009 beaning by San Francisco's
Matt Cain
that resulted in a concussion, and last season after discovering he was playing with a stress fracture in his lower back. Read more in
Newsday
and the
Star-Ledger
.
• Columnist
Bob Klapisch
in the Record
offered this review of Santana-Strasburg and the Mets' three-hit attack:
That's the surcharge they're paying for David Wright's injury: Without him, the lineup looks lost, rudderless. Ike Davis is a walking ghost with one hit in his first 20 at-bats, and Lucas Duda (.136) and Jason Bay (.158) aren't much better. In all, the Mets struck out 15 times, and not just because of Strasburg. Washington's relief corps registered six of the last nine outs with punch-outs. The effect was impossible to ignore -- it was as if the four-game winning streak never happened. Collins watched in disgust as the Mets issued 10 walks, seven by his relievers in the last four innings. And he couldn't help but criticize the Mets' passivity at the plate, noting in particular how many pitches they took "right down the middle." This underscores just how narrow the Mets' axis of success really is. They can't generate enough offense without Wright, and they'll soon need Santana to go deeper than five or six innings per start.
• Columnist
David Lennon
in Newsday
echoed the concern about a Wright-less lineup. Wrote Lennon:
This lineup, as currently constructed, can't sustain Wright's prolonged absence. The only righthanded threat, and we're using that term loosely here, is Bay and he's 3-for-19 with eight strikeouts after whiffing twice more Wednesday. Ike Davis snapped an 0-for-18 opening skid with his sixth-inning single to avoid tying Todd Pratt for the dubious record of hitless streak for a Mets position player to start a season. It was one of only three hits by the Mets as they slipped to .167 (9-for-54) with runners in scoring position. Wright, remember, was batting .583 (7-for-12) with a .647 on-base percentage, a home run and four RBIs before he injured his finger diving back to first base. The Mets can't come close to replacing that. Not now, anyway.
• Wrote columnist
Bill Madden
in the Daily News
:
You could just feel the pall once again settling in over Citi Field as all the dire prognostications for this Mets team seemed back on track. Ordinarily, a 4-2 home stand in which Johan Santana turned in two strong, almost vintage, though abbreviated outings would be cause for optimism -- if only all the things Terry Collins privately worried about hadn't reared their ugly heads so quickly.
• Columnist
Joel Sherman
at his Post blog
advocates MLB creating a seven-game DL because of situations like Wright's knuckle injury. Writes Sherman:
Would some teams abuse the seven-day DL as a way, for example, to remove a starter who wasn't going to play seven days anyway and get an additional player on for a week? Probably. But you can minimize the abuses by a) Making it a seven-game, not seven-day DL so that off-days and/or rainouts cannot be used to manipulate. b) Create an injury clearing house at MLB whereby any seven-game DL stint has to be signed off on by a doctor not affiliated with the team. c) Not allow the use of the seven-game DL after the All-Star game, so teams are not abusing the privilege during a pennant stretch. Remember that rosters can expand to 40 men after Sept. 1 anyway.
•
Ike Davis'
sixth-inning single Wednesday snapped an 0-for-18 start. It was the longest season-opening skid by a Mets position player since
Todd Pratt
opened the 2001 season hitless in 19 at-bats, according to the Elias Sports Bureau.
Jason Bay
, meanwhile, went 0-for-3 with two strikeouts as his average dipped to .158. Collins was ejected by plate umpire
Larry Vanover
for arguing a called third strike against Bay. "I actually feel pretty good," Bay told reporters afterward. "I've faced some good pitching the last couple days and it's really a matter of just building on it. I feel like I'm having good at-bats as far as seeing the ball and doing certain things. There were times the last few years you're kind of guessing and not even close. But I don't feel like I'm there at all." Read more in
Newsday
and the
Daily News
.
• Duda had an entertaining Q&A with
Steve Serby
in the Post
. The exchange includes:
Q: Bo Jackson was your boyhood idol?
A: Bo Knows Everything. Bo Knows tennis, Bo Knows cycling, Bo Knows bowling ... I had that picture of him where he had like the football pads and he had like a baseball bat in his hand and ... cycling shorts on. I just think he was a freak athlete. It's awesome to see anybody climb up a wall and run two steps on the side of the wall and catch a ball.
•
Sean Ratliff
, who underwent four eye surgeries and missed all of last season after being struck late in 2011 spring training with a foul ball, played his first regular-season game on Wednesday night since Sept. 6, 2010. Ratliff started in left field for Class A St. Lucie. Meanwhile, in Triple-A Buffalo's home opener,
Zach Lutz
launched two homers in a win against the Scranton/Wilkes-Barre Yankees. Read the full minor league recap
here
.
• On the 50th anniversary of the first game in Mets history,
Roger Craig
threw out the ceremonial first pitch at Citi Field before Wednesday's game. Craig started Game 1 for the 40-120 Amazin's, on April 11, 1962 -- an 11-4 loss at St. Louis. Read more in the
Record
,
Post
and
Newsday
.
• Strasburg was allowed to reach the 100-pitch plateau for the first time. Read more in the
Times
.
• 1986 Met
Ray Knight
said in a radio interview he has felt shunned by the organization,
according to the Daily News
. "I've never been able to get anybody from the Mets to really call me," Knight said, the newspaper reported. "I get invited to the big events, but the Mets have just never treated the players the way the other clubs do. Detroit, Houston, Cincinnati, I always get notes, cards, stuff from them. I never get anything from the Mets. I don't know what I did to the front office. I always tried to be a professional and comport myself with class. But I've never had anybody act as if it mattered."
•
Mike Harrington
profiles
Jordany Valdespin
in the Buffalo News
. Valdespin started a fifth straight game in center field Wednesday.
TRIVIA:
Strasburg beat the Mets on Wednesday in his second career start against them. Which current MLB pitcher had the most starts against the Mets before finally being credited with a win?
Wednesday's answer: The other six active MLBers who have 500 career RBIs and primarily play third base, along with Washington's
Ryan Zimmerman
and Wright:
Alex Rodriguez
,
Chipper Jones
,
Scott Rolen
,
Aramis Ramirez
,
Adrian Beltre
and
Eric Chavez
.
October, 27, 2011
10/27/11
9:00
AM ET
By
Mark Simon, ESPN Stats & Information
Over the last three weeks, Mark Simon has reminisced here about the 1986 postseason. The 1986 Mets won the World Series in an exhilarating fashion. Here's a look at Game 7 of the 1986 World Series, a game played 25 years ago today.
Every person I've spoken to about attending Game 7 of the World Series said that there was a sense of inevitability in Shea Stadium that the Mets would prevail over the Red Sox in the decisive final game.
As the late sportswriter for the New York Daily News,
Vic Ziegel
, wrote in making his prediction for the series, "Life is Easy, the World Series is hard."
Game 7 was indeed hard for the Mets, but in the end, they would come out on top. Let's review it from start to finish.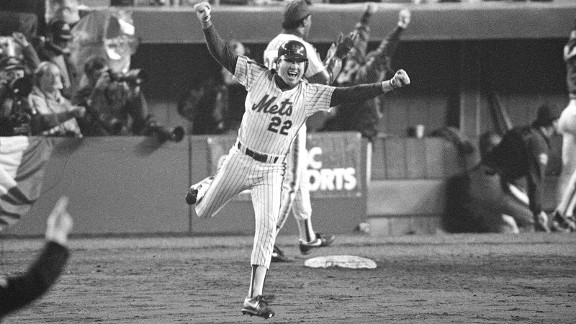 AP Photo/Richard Drew World Series MVP Ray Knight's go-ahead home run made it a great night for the world-champion Mets
Game 7, Shea Stadium: Mets 8, Red Sox 5
With rain having postponed the contest by a day, the Mets were able to start
Ron Darling
on his regular four days rest, but Red Sox manager
John McNamara
changed his starter from
Oil Can Boyd
, who got clobbered in Game 3, to
Bruce Hurst
, who won both Games 1 and 5. Hurst would be starting on three days rest.
After a scoreless first inning, it was Darling who looked tired.
In the second inning, Darling got ahead 1-2 on Red Sox rightfielder
Dwight Evans
, then had two pitches just miss and two more get fouled off, one barely, before Evans hit a mammoth home run to left center field.
Darling got ahead of Gedman, 1-2, then was forced to wait through a three-minute delay after fans knocked over some temporary stands down the right field line.
When play resumed, Gedman hit the next pitch to right center field. Right fielder
Darryl Strawberry
jumped, got the ball in his glove, than watched the momentum of his elbow hitting the fence jar the ball loose and over the wall for a home run.
The Red Sox tacked on another run to go up 3-0 on a walk to
Dave Henderson
, a sacrifice by Hurst and a smoked one-hop single by
Wade Boggs
past diving shortstop
Rafael Santana
.
From the second through fifth innings, the Mets bats slumbered, starting with when cleanup hitter
Gary Carter
failed in his try for a bunt hit. Hurst faced 13 batters and retired 12 of them, averaging 12 pitches per frame to get closer to victory.
The Mets needed a jolt and got it, first from
Kevin Mitchell
, who threw
Jim Rice
out attempting to get a leadoff double in the third inning, and then from
Sid Fernandez
, who came on in relief of Darling with a man on second and two outs in the fourth inning.
After walking Boggs, Fernandez got the leading hitter in the series,
Marty Barrett
, to fly to right, than retired the next six hitters over two innings of relief.
Hurst had retired 11 in a row by the time
Lee Mazzilli
pinch hit with one out in the sixth. A midseason pickup after the release of
George Foster
, Mazzilli reached out and pulled a single in the shortstop-third base hole. Then,
Mookie Wilson
hit a line drive that whizzed past Boggs for a hit. Wilson almost got picked off first by the catcher, Gedman with
Tim Teufel
up (Wilson jarred his shoulder against Buckner's knee and there was an intriguing moment where Buckner checked to make sure Wilson was ok).
Teufel walked on a 3-1 pitch to load the bases for Hernandez, who was 0-for-8 with runners in scoring position to this point in the series. After taking a nasty curveball for a strike, Hernandez lashed a fastball up and away into left center for a hit that scored both Mazzilli and Wilson and made it a 3-2 game.
Carter than poked a fly ball to shallow right that Evans smothered, but couldn't catch, and though Hernandez got thrown out at second base, Backman, pinch-running scored to tie the game, 3-3. Rice's diving catch of Strawberry's fly to left ended the inning, but the teams were now even through six innings.
Reliever Roger McDowell made quick work of the Red Sox in the top of the seventh, throwing seven straight strikes to retire the side in order.
McNamara called for
Calvin Schiraldi
to relief Hurst, a gamble considering that Schiraldi blew the save in the eighth inning, then couldn't finish the Mets off in the 10th inning of Game 6.
Schiraldi went to a 2-1 count on
Ray Knight
, the hitter he was a strike away from retiring to end Game 6, then threw a belt-high fastball that Knight crushed over the fence in left center for a go-ahead homer.
Vin Scully
noted it was the first home run hit by the home team in the whole series. It also meant that this was the first time all postseason that the Mets would be pitching with a lead at home.
It was a lead that got extended when Schiraldi gave up a hit to pinch-hitter
Lenny Dykstra
, wild pitched him to second base on an errant pitchout attempt, then gave up an opposite field shot down the first base line to shortstop
Rafael Santana
that Buckner couldn't reach. A successful two-strike sacrifice by McDowell chased Schiraldi for reliever
Joe Sambito
, who walked two and gave up a sacrifice fly to Hernandez.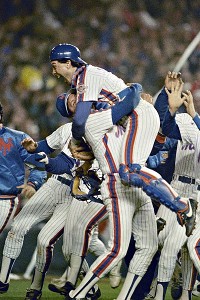 AP Photo/Paul BenoitThe Mets enjoyed their moment as World Series champions
The Mets led 6-3 heading to the eighth, but now it was the Red Sox turn to come back, as police on horseback settled in the bullpen to defend against overzealous fan celebration.
Buckner and Rice each singled, and Evans doubled them both in with a shot into right center field. That necessitated a pitching change, with
Jesse Orosco
replacing McDowell. Orosco got Gedman to softly line to Backman at second base, struck out Dave Henderson swinging on a curveball, and got pinch-hitter
Don Baylor
to ground to shortstop, with Santana perfectly positioned to make the play.
In the bottom of the eighth, the Mets padded their 6-5 lead against Game 4 starter
Al Nipper
when Strawberry homered to right on an 0-2 hanger (his stroll around the bases was timed at nearly 30 seconds). Then later in the inning, Orosco, with men on first and second and the situation clearly calling for a bunt, chopped a single up the middle to make it 8-5.
There was one last moment of levity when Wilson got clipped on the knee by a pitch as me made the same move to avoid the ball that he successfully did in Game 6. Then came the business of finishing the season.
Orosco did that without issue, getting
Ed Romero
to pop to Hernandez, who made a basket catch near home plate, and Boggs to ground to second before striking out Barrett on a high, outside fastball to end the game.
It was a long, hard journey through 13 games in the postseason, but in the end the Mets were both lucky and good. And they were champions.
Turning Point
NBC gave its Player of the Game honors to Fernandez for his shutout work in relief.
Only five relievers have retired at least seven batters without allowing a hit in a World Series winner-take-all-game. None have done so since Fernandez.
What They Wrote
"Arrogant, yes.Rally caps, encores, high fives and hugs. The New York Mets did everything but wave pompons during the 1986 baseball season and it's easy to see how they became the most disliked team in baseball.But surely, by now, you can also see why they were the best."
-- Rick Talley, Los Angeles Daily News
Article 59- There was a mist hovering over Shea Stadium last night, a mist into which the upper deck disappeared.It suggested that this game for the World Series championship was being played in an ether not of this world - a heavenly and, yes, fitting backdrop to the conclusion of what may be the greatest three weeks baseball has ever witnessed.
John McGill, Lexington (Ky.) Herald-Leader
"People across the country said the New York Mets were arrogant, uppity, boastful. But Satchel Paige used to say that if you can do it, it ain't braggin'. The mighty Mets, winners of 108 games in the regular season, won the 83rd World Series last night because they had the most important quality of champions: resilience."
- Barry Lorge, San Diego Union
"Somewhere between first base and heaven, Ray Knight took flight, his feet carried by wings of joy, and a kid's backyard dreams - a Georgia kid's dreams learned at his father's knee, the dreams carried from the Iowa bush leagues to the Big Apple."
-- Dave Kindred, Atlanta Journal-Constitution
Quote of the Day
"This is what we've been striving for all year. We're there."
-- Gary Carter
"These last three weeks explain why this is the great American pastime."
--Mookie Wilson
"We were one pitch away from winning the world championship (Saturday). We're the second-best team in baseball. We had a hell of a year."
-- Bill Buckner
For Further Reading
There is a treasure trove to be found on the Mets if you simply type 1986 Mets into Google, YouTube, or EBay. Among the highlights, full coverage of the Mets trip to the White House to be honored by President
Ronald Reagan
, the 1986 team highlight video, and jersey and fan apparel from that era. If you're a 1986 Mets fan, it's worth checking out.
Stats To Remember
1- The Mets rally from three runs down tied the second-biggest comeback in a winner-take-all World Series game, matching that of the 1960 Pirates (against the Yankees) and the 1975 Reds (against the Red Sox). The 1925 Pirates had the biggest rally, coming back from a 4-0 deficit to beat the Washington Senators, 9-7.
2--
Ray Knight
is the only player in postseason history to get the game-winning RBI in both the clinching game of the LCS and the World Series, with both coming in the seventh inning of the game or later. He had the go-ahead hit in the 16th inning of Game 6 of the NLCS against the Astros.
3--
Jesse Orosco
is the last pitcher to get an RBI in the eighth inning or later of a postseason game. He is the only relief pitcher to get an RBI that late in Game 7 of a postseason series. Orosco would not get another hit for the rest of his career, which didn't end until 2003.
October, 25, 2011
10/25/11
12:01
AM ET
By
Mark Simon, ESPN Stats & Information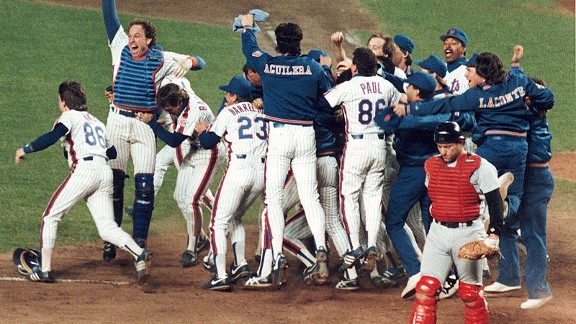 Focus on Sports/Getty Images Rich Gedman (front right) is the picture of Red Sox despair as the Mets celebrate the most improbable win in team history, a 6-5 triumph over the Red Sox in Game 6 of the World Series.
Over the last three weeks, Mark Simon has reminisced here about the 1986 postseason. The 1986 Mets won the World Series in an exhilarating fashion. Here's a look at Game 6 of the 1986 World Series, played on October 25, 25 years ago.
"I'm sitting here and I still don't believe it."
That's what Hall of Fame-honored sportswriter
Bus Saidt
wrote to open his story for my former employer, the
Trenton Times
, and it still holds true 25 years to the day after the most remarkable, unbelievable and amazing of the Mets' 3,854 regular-season and postseason wins. Let's review all that went into the greatest game of the greatest season in Mets history.
Game 6, Shea Stadium: Mets 6, Red Sox 5
Game 6 of the 1986 World Series began as Game 6 of the 1986 NLCS did, with Mets starting pitcher
Bob Ojeda
on the ropes early.
He allowed a run in the first inning on a two-out double by
Dwight Evans
that hit the top of the fence in left center and a run in the second on a two-out RBI single to left field by
Marty Barrett
just in front of
Mookie Wilson
.
The lead could have been bigger. Evans' ball hit the top of the fence. Had it gone over, it would have been a three-run homer instead of a single-run double. In the second inning, a catch by backpedaling right fielder
Darryl Strawberry
on
Bill Buckner's
fly ball to right field saved two more runs from scoring.
As
Vin Scully
pointed out on NBC's telecast, there had not been a come-from-behind win in the World Series yet. With AL MVP
Roger Clemens
on the mound for the Red Sox, that stat hung over the Mets through the first four innings, in which they were hitless.
But Ojeda settled down, as he did in Game 6 of the NLCS, and that kept the Mets in the game.
They would rally to tie in the fifth inning. Strawberry walked, then stole second and
Ray Knight's
single past Clemens into center field on a 2-2 breaking ball brought Strawberry home.
Wilson then had a great at-bat after falling behind 0-2. He took two balls well out of the strike zone to even the count, than fouled two off before hitting a breaking ball into right field for a hit. When Evans bobbled the ball, Knight went to third base.
That turned out to be huge, because it meant he could score to tie the game rather than just advance to third when pinch-hitter
Danny Heep
grounded into a double play
Hernandez made a nice play on a Clemens bunt to get a force play that thwarted a Red Sox threat in the sixth. The Mets then left runners at the corners in the home sixth when Clemens struck out Mets catcher
Gary Carter
with a nasty fastball on the outside corner and got Strawberry to ground out.
In the seventh, the Red Sox took the lead partly thanks to Knight's throwing error at third base, which put runners at first and third with one out (instead of having a man on second with two outs). On a 3-2 pitch, with
Jim Rice
running on reliever
Roger McDowell's
delivery, Evans grounded out. The Mets were unable to get a double play, allowing a run to score and Boston to take a 3-2 lead.
The Red Sox had a chance for another run, but Wilson threw Rice out at the plate on
Rich Gedman's
hit to end the inning.
Clemens got through the seventh, but was pinch-hit for in the eighth inning with the Red Sox threatening (he'd exceeded 130 pitches by this point and there is controversy over whether Clemens asked out due to a blister, or was removed by manager
John McNamara
). The Red Sox had another chance to add to the lead, but
Jesse Orosco
got Buckner to fly out to end the eighth.
Trailing by a run with six outs left in their season, the Mets rallied.
Lee Mazzilli
got a two-strike single and was safe at second when Red Sox reliever
Calvin Schiraldi
's throw on
Lenny Dykstra's
bunt couldn't be handled cleanly by Red Sox shortstop
Spike Owen
.
Wally Backman
advanced the runners to second and third with a sacrifice bunt.
An intentional walk to
Keith Hernandez
loaded the bases for Carter, who took three balls, then lined to deep enough left to plate Mazzilli with the tying run. Strawberry flied out to leave the teams tied heading to the ninth.
After Gedman's double play ended the Boston ninth, the Mets had a great chance to win in the home frame, putting the first two men on base (after Boston botched another bunt). But
Howard Johnson
failed on his first bunt attempt, then struck out. Mazzilli and Dykstra both flied out to send the game to extra innings.
Red Sox center fielder
Dave Henderson
, whose home run in Game 5 of the ALCS helped the Red Sox overcome a 3-1 deficit against the Angels, got a low fastball to his liking from reliever
Rick Aguilera
and pounced on it, crushing it for a home runjust below the loge seats in left field.
The Red Sox tacked another run on at the end of the inning when Wilson misjudged
Wade Boggs'
two-strike liner to left, which turned into a double, and Boggs scored on Barrett's full-count single (Barrett was 10-for-14 in the series with men on base). That made it 5-3 and put the Red Sox within half-an-inning of their first championship since 1918.
The only solace a Mets fan could take at this point, with the season three outs from devastating completion, was that the team had the 2-3-4 hitters up in the bottom of the 10th. But when Backman popped to left and Hernandez skied to center, it looked like the Mets were done for the year.
"Everybody sitting very quietly in that New York Mets dugout," said Mets radio announcer
Bob Murphy
, "hoping against hope that something will start to happen."
The public address system played "Charge!" as Carter came to the plate and, perhaps overeager, Carter popped the first pitch foul, but it went out of play behind home plate. Schiraldi then missed up-and-in with one fastball and down and away with another. On his 2-1 offering, Carter slammed the pitch into left field for a hit.
Kevin Mitchell
came up as a pinch-hitter representing the tying run. He started to swing at an inside fastball checked it and fouled it off. Schiraldi then went to a curveball away and Mitchell whacked it to center for another hit.
With two men on, the Mets had some life, and had one of their best clutch hitters up in Knight, who took a fastball down the middle for a strike, then hit a slow roller down the third base line that Boggs let roll foul.
The next pitch is an oft-forgotten one in the grand scheme of what happened, but the results were impressive. Schiraldi threw a tailing fastball, that came inside but Knight adjusted, curled his back foot, and got just enough of the good part of the bat on the ball to muscle it into shallow center for a hit, allowing Carter to score and Mitchell to advance to third base.
With the Red Sox lead now a run but still just an out from victory, McNamara pulled Schiraldi for
Bob Stanley
, with Wilson at the plate.
Wilson fouled off the first pitch solidly, than took a fastball wide for ball one and another high for ball two. Wilson fouled the next pitch off his foot, to put Boston within a strike of the title. He fouled the next pitch straight down into the dirt, and another foul behind the plate on a pitch away.
Stanley reversed course on the next pitch and tried to come inside, but came too far inside. Gedman, the catcher, reached for the ball, but never moved his body to block it as Wilson leapt to avoid it, and the ball went to the backstop. Mitchell came racing home with the tying run.
Wilson fouled the next two pitches off and the Mets were fortunate on the last of those, because according to TV analyst
Joe Garagiola
, had Stanley tried for a pickoff at second base, he'd have had Knight out easily.
Instead came the 10th pitch of the at-bat, one that Wilson was able to roll along the first base line. The ball trickled to Buckner at first base, but then bounced right through his legs for the most infamous miscue in sports history. Knight leapt on the plate with the winning run.
As Scully noted they were "not only alive, they are well" and they would be playing the Red Sox in a Game 7 for the championship.
Turning Point
There were so many turning points in this game, and we were able to document most of them above, but there were also a couple of bad karma moments of which you may not have been fully aware.
The more well known of them is that McNamara didn't bring
Dave Stapleton
in to play first base in the bottom of the 10th inning. Stapleton, a far better and far healthier defender than Buckner, had relieved Buckner at first base in all seven of the Red Sox postseason wins.
McNamara had the perfect opportunity to do so after Buckner grimaced when hit just below the belt buckle by a pitch in the top of the 10th, but chose not to make the switch.
Interestingly, Buckner was left in to play first base in the ninth inning of Game 4 of the ALCS, with the Red Sox leading the Angels, 3-0. The Red Sox blew that game too, losing 4-3 in 11 innings.
Also, someone saw fit to vandalize the visitors bullpen with spray-paint graffiti, as the initials R.C. can be seen in the background of a couple of NBC's pre-celebration shots of Red Sox players in the 10th inning. We don't know who committed the "crime," but one of the shots did feature Clemens exchanging high-fives with his teammates.
What They Wrote
"Bill Buckner has just limped off the field, carrying the weight of the world on his back. He can ice those aching ankles all night so he can play in Game Seven of the World Series tonight, but there isn't enough ice to freeze the pain in his heart."
-- Ray Sons, Chicago Sun-Times
"The ghosts of World Series past, of seven-game losses in 1946 and 1967 and 1975, wrapped their cold fingers around the Red Sox' throats Saturday night and choked the life out of what the people of Boston had been calling 'The Possible Dream.'
"If the Red Sox couldn't win their first World Series in 68 years after leading ... by two runs ... with two out ... and the bases empty in the bottom of the 10th inning of Saturday's sixth game, well, maybe it's impossible after all."
-- Kevin Modesti, L.A. Daily News
"Their history has been one of pathos and heartbreak, of lofty dreams and crushing disappointments. But no night in the 68-year-old losing legacy of the Boston Red Sox could match what befell them last night."
- Peter Pascarelli, Philadelphia Inquirer
"It was enough to make you believe there are curses that haunt this team. It was enough to make you believe that the Mets are on some highway toward destiny."
-- Jayson Stark, Philadelphia Inquirer
"From 200 miles away, you could practically feel New England quaking with fear, grief and disbelief. The Boston Red Sox were one out away from their first World Series championship since 1918 early this morning, and the New York Mets rose up like the ghosts of Denied Christmases past and extended big-league baseball's most extraordinary postseason by one more game.
"The denouement of this stirring October drama is scheduled tonight at Shea Stadium, but the forecast is for rain, possibly lasting two days. But 48 hours of steady showers would likely not produce more moisture than the tears shed by the Red Sox's long-suffering fans last night."
- Barry Lorge, San Diego Union
"I can only imagine what the good citizens of Boston are doing now. Are the blindfolds in place? Are they out on the window ledges? Have they wrapped up the sharp instruments?"
- Tony Kornheiser, Washington Post
"If the World Series had been a pleasure cruise to the fans of most teams, it has been to two generations of Bostonians, a stateroom on the Titanic, a deck chair on the Lusitania, first class passage on the Hindenburg."
-- Bruce Lowitt, St. Petersburg Times
"It would not happen this time, the Boston Red Sox had promised. Not in this World Series. Their failures belong to the past. That was then, this is now. Alas, the team that lived by the last strike in the American League playoffs died by the last strike when the World Series was in hand against the New York Mets in Game 6."
-- Hal Bock, Associated Press
Quote of the Day
"My legs didn't have any effect. I felt good out there. It just shows you anything can happen. I feel lousy. Tomorrow, hopefully, will be a different story. We don't have a day or two to forget about it. You can't get down about it.
"Hey, we outhit them tonight. We hit good out there. We just made some big mistakes. I hate to say I missed a ground ball. I did concentrate on that ball. I saw it well. It bounced and bounced and then it didn't bounce. It just skipped. I can't remember the last time I missed a ball like that, but I'll remember that one."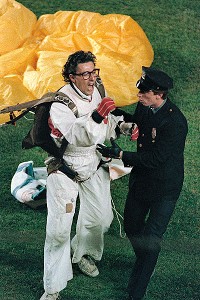 Amy Sancetta/A.P. PhotoMichael Sergio chanted "Let's Go Mets" as police escorted him off the field.
"It was a slow roller with a lot of spin on it. I thought I watched it good. I was playing deeply Than I normally do because I didn't want it to get through the infield.
"If Mookie didn't run so fast I'd get down on a knee to block it. It bounced and bounced And then skidded right under my glove. I was waiting for it to bounce. It didn't."
-- Bill Buckner
Further Reading
Perhaps foreshadowing a bizarre night, with Buckner at the plate in the first inning, a Mets fan,
Michael Sergio
, parachuted onto the playing field. He would be escorted away by police, but not before getting some laughs and a high-five from Mets pitcher Ron Darling.
Earlier this year, New York attorney
Eric Turkewitz
interviewed Sergio for his blog. His story can be found
here
.
Stats/Notes To Remember
1-- There have only been three instances in World Series history in which a game ended on a play that was ruled as an error.
The Mets have been involved in two of them- this one and Game 4 of the 1969 World Series, in which the Mets won when Orioles pitcher Pete Richert hit
J.C. Martin
in the back with his throw on Martin's bunt attempt, allowing
Rod Gaspar
to score the winning run.
2-- Baseball Info Solutions, a Pennsylvania-based company, does video review of every play from every major-league game. Their video tracking found that in 2011, there were 20 balls hit to the same area, and at the same approximate speed that Wilson's ball was hit to Buckner. All 20 of those were turned into outs.
3--
Bill Buckner
made his major league debut for the Dodgers on September 21, 1969. He pinch-hit in the ninth inning and popped out.
What was prominent about that game? The Giants beat the Dodgers that day, 4-3 in walk-off fashion.
The game ended on a ground ball to Dodgers shortstop
Maury Wills
.
It went through his legs for a game-ending error.
October, 21, 2011
10/21/11
9:00
AM ET
By
Mark Simon, ESPN Stats & Information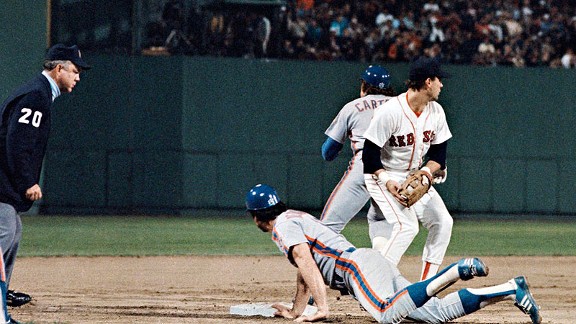 Rusty Kennedy/A.P. PhotoA botched rundown play played a major role in Game 3 of the 1986 World Series.
Over the next week, Mark Simon will reminisce here about the 1986 postseason. The 1986 Mets won the World Series in an exhilarating fashion. Here's a capsule look at Game 3 of the 1986 World Series, played on this date, 25 years ago.
Game 3: Mets 7, Red Sox 1
Down two games to none, the Mets were in desperate need of a momentum shift in the early part of Game 3 of the 1986 World Series. They got just what they needed for their biggest win of the season to this point.
The best thing that could happen for the Mets was that they never gave Red Sox fans a reason to cheer. Leadoff hitter
Len Dykstra
hit a 1-1 pitch from cocky Red Sox starter
Dennis "Oil Can" Boyd
(who'd said the day before the game that he would "master" the Mets) a couple of seats inside Fenway Park's right field foul line and the Pesky Pole for a home run.
It was the Mets' first extra-base hit of the series (the NBC telecast noted they were only the third team to go without one in the first two games, joining the 1926 Yankees and 1939 Reds). They'd add a bunch more.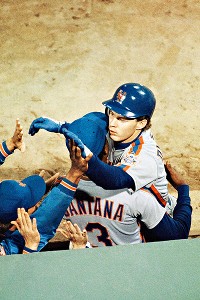 Ray Stubblebine/A.P. PhotoLen Dykstra's home run got the Mets offense going in a big way.
Wally Backman
and
Keith Hernandez
each followed with singles and
Gary Carter's
line-drive double to left center field made it 2-0, with runners still on second and third and nobody out.
After a
Darryl Strawberry
strikeout (his 17th in 29 postseason at-bats) came the game's most bizarre play, an 11-second sequence of significance.
Ray Knight
hit a ground ball to third and it looked like the Red Sox would squelch the Mets' rally.
Hernandez got stuck in a rundown when the throw came to home plate, and was retreating to third base as Carter was coming toward the same bag.
But the Red Sox completely messed things up.
Rich Gedman
tossed the ball to third baseman
Wade Boggs
, who was in front of the base and unable to make a play on Hernandez, who ducked around him and slid back into third base.
Carter was a step away from third, but turned and dashed back to second base at the last possible moment. Boggs made a short throw to shortstop
Spike Owen
, who was unable to do anything about Hernandez, so he chased Carter back to second.
Owen ran Carter back three-quarters of the way, but then stopped, turned and looked at Hernandez. That gave Carter just enough time to dive back into second base ahead of a late throw from Owen to second baseman
Marty Barrett
.
Instead of being an out away from getting out the inning with two men on base, Boyd had to deal with a bases-loaded situation.
He got flustered, and gave up a two-run single to center to designated hitter
Danny Heep
two pitches later. It was 4-0 after half-an inning and the Mets had all they would need.
It took starter
Bob Ojeda
, who was traded by the Red Sox to the Mets that offseason, seven pitches to get through a 1-2-3 first inning and his success in that frame carried through the next six.
Ojeda give up a run-scoring single to Barrett in the third, but with two men on base, struck out
Bill Buckner
on a high fastball (via NBC, Buckner was toughest in the majors to strike out in 1986, statistically) and got
Jim Rice
to ground out on the next pitch to end that scoring threat.
Buckner would get another shot as the tying run at the plate in the fifth inning, but Ojeda coaxed another ground out to end the inning.
Boyd settled down, but the Mets got to him again in the seventh inning. Carter singled in two more runs to make it 6-1 and an RBI hit from Knight in the eighth inning against reliever
Joe Sambito
completed the night's scoring.
Ojeda gave the Mets seven very good innings, the second time he'd won a big game for the Mets this postseason.
Turning Point
The turning point of this game actually took place the day before when manager
Davey Johnson
gave the team the day off rather than have them go through a between-games workout and media day at Fenway Park. Players said afterward that this move took much of the pressure off the team and made them a more relaxed group for Game 3.
What They Wrote
"When Dennis 'Oil Can' Boyd takes the mound, he likes to think of himself as Satchel Paige. But on Tuesday night, he looked more like a page out of Red Sox history."
-- Lisa Nehus Saxon, Los Angeles Daily News
"Call it whistling past the graveyard.
"Just as old elephants trundle off into the jungle to be all alone and lemmings hurl their little bodies en masse into the sea, left-handed pitchers with a death wish usually come to Fenway Park.
"Usually.
"But
Bobby Ojeda
, discarded less than a year ago by the Boston Red Sox, who thought that he would forever be haunted in this southpaw's chamber of horrors, a lefty's graveyard, returned to tame the beast."
- Fran Blinebury, Houston Chronicle
"The old place was so quiet you could hear the ghosts of
Babe Ruth
,
Tom Yawkey
and
Eddie Collins
walking about."
- Ray Sons, describing the late innings, Chicago Sun-Times
Quotes of the Day
"The only person who got mastered tonight was Boyd."
-- Len Dykstra
"He made a big mistake saying what he did. We wanted to stick it up his nose. We want him to pitch Game 7, too, so we can stick it up his nose then, too."
-- Darryl Strawberry
""I just screwed up. I heard the crowd roar when I first turned to second. I looked back. By the time I turned back, it was too late."
-- Spike Owen, describing the botched rundown.
"Those were the Mets you saw out there tonight. The real Mets."
-- Davey Johnson
For Further Reading/Viewing
"Batting Stance Guy"
Gar Ryness
was able to impersonate the stances of 14 members of the 1986 Mets in under a minute. You can check out his impressions
here
.
Stats To Remember
1-- Dykstra is the only leadoff hitter in postseason history to have a four-hit game, with one of those hits being a home run. Dykstra, who never had a five-hit game in his major league career, had four four-hit games in 1986, most on the Mets and tied for second-most in the NL behind Padres outfielder
Tony Gwynn's
five.
2-- The Mets have had four leadoff home runs in their postseason history. Dykstra's is the only one to come on the road. The other three were by
Tommie Agee
(1969 WS Game 3),
Wayne Garrett
(1973 WS Game 3), and
Jose Reyes
(2006 NLCS Game 6).
Despite their minimal postseason experience, comparative to some teams, the Mets four leadoff home runs are tied with the Indians for second-most in postseason history, trailing only the Yankees, who have six.
3-- Ojeda had five ROAD starts during the regular season in which he pitched at least seven innings and allowed one run or fewer, tying him with
Mike Scott
,
Rick Rhoden
, and
Tom Browning
for the most such starts in the NL.
July, 22, 2011
7/22/11
10:55
AM ET
By
Mark Simon
| ESPNNewYork.com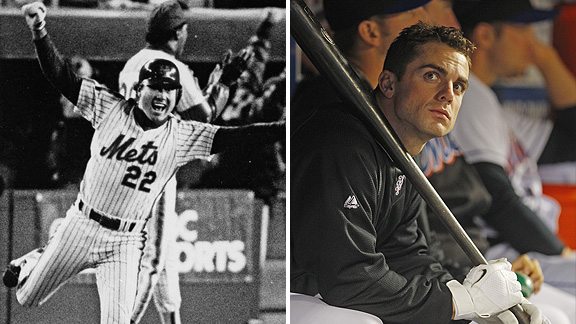 AP Photo/Richard Drew (left), Paul Bereswill (right)In 1986, Ray Knight (left) had the kind of season, one culminating with a championship, that David Wright hopes to have someday.
The Mets hope to get some significant punch back in the lineup today with the return of
David Wright
from the back injury that sidelined him for two months.
Twenty five years ago today, the Mets got some significant punch from their third baseman, albeit of a different nature.
Friday marks the 25th anniversary of one of the wackiest games in Mets history, a 6-3 14-inning win over the Reds in Cincinnati. The game is well-remembered for a few reasons.
The Mets tied that game with two outs in the ninth inning, when right fielder
Dave Parker
dropped
Keith Hernandez's
fly ball, allowing two runs to score.
An inning later, with the score still tied, the two teams got into a bench-clearing brawl when Reds center fielder
Eric Davis
slid hard into third base on a steal attempt.
Mets third baseman
Ray Knight
got into a shoving match with Davis, which evolved into Knight, a former boxer who was a fiery competitor, throwing a punch at Davis. Fights broke out all over the field and when the dust settled, the Mets found themselves short players due to ejection.
Manager
Davey Johnson
had a clever solution. He alternated two pitchers -- lefty
Jesse Orosco
and righty
Roger McDowell
-- with one on the mound and one in the outfield. Orosco ended up catching a fly ball from future Hall of Famer
Tony Perez
. The Mets finally won in the 14th on a
Howard Johnson
three-run homer.
But back to Knight and his role, not just in that game, but in the Mets' last championship season. You could make the argument that on a team that featured
Keith Hernandez
,
Gary Carter
, and
Darryl Strawberry
, that Knight was the true MVP.
That would be not just the Most Valuable Puncher, but Most Valuable Player.
Let me use one of these new sabermetric stats to support my case.
Win Probability Added looks at every plate appearance a player has in a given season and rewards or penalizes based on how much that plate appearance impacted his team's chance to win. It's a scoring system that values both production and timeliness of production. A home run in a tie game means more than one in a 10-0 blowout.
Knight had plenty of timely production in 1986.
His most notable regular-season hit was a walk-off home run against the Astros on July 3. The Mets won in a fashion that foreshadowed the way they won Game 6 of the 1986 World Series, rallying from two runs down in the bottom of the 10th inning (the final score was even the same as Game 6, 6-5). Knight went from being a goat (he'd struck out in his first four at-bats) to a hero, homering off
Frank Dipino
.
Hits like that are worth a lot of Win Probability points. So is a .357 batting average with runners in scoring position that ranked second-best in the National League.
Knight finished the season sixth-best in the NL in Win Probability Added, a smidge behind Hernandez for the team lead.
Knight didn't have a great NLCS against the Astros, but came through in two significant spots, with a two-strike game-tying sacrifice fly in the ninth inning of Game 6, and the go-ahead hit in the 16th inning of the same contest.
In the World Series, Knight hit .391 and would keep Game 6 alive, fighting off an 0-2 pitch with two outs in the 10th inning to get an RBI hit. He'd score the winning run when
Mookie Wilson's
grounder went through
Bill Buckner's
legs.
Then in Game 7, Knight hit the home run that gave the Mets the lead for good, off
Calvin Schiraldi
to snap a 3-3 seventh-inning tie. It capped what was one of the most clutch seasons in Mets history.
It's that which Mets fans feel they've been missing from Wright, who was one of the Mets' most clutch hitters from 2005 to 2007, with three straight seasons of an on-base percentage over .400 with runners in scoring position. In his next three seasons, Wright's strikeout totals in such situations greatly increased, and in only one of those years was his OBP above .380
Wright had the fifth-best Win Probability Added in baseball from 2006 to 2010. He dropped to 44th in 2010.
So if you ask What2Watch4, as we sometimes do in this space, from Wright, we'd tell you to keep an eye on his productive punch, the kind Knight showed throughout 1986.
July, 4, 2011
7/04/11
11:00
AM ET
By
Mark Simon
| ESPNNewYork.com
Additional notes from Sunday's improbable win in the Subway Series finale in Flushing ...
1--
Ronny Paulino's
two-out, game-tying hit was among the "clutchest" the Mets have had in quite some time. A check of
Baseball-Reference.com
shows it was the first time the Mets had gotten a game-tying or go-ahead RBI with two outs and two strikes in the ninth inning in more than four years.
The last was a game-evening home run by
Damion Easley
in the 10th inning of an eventual win over the Rockies on April 24, 2007. The Mets would win in 12 innings on an
Endy Chavez
squeeze bunt.
2--
My
Yankeemetrics-writing
statistical counterpart in Stats & Information,
Katie Sharp
, made sure to share that getting two-out baserunners against
Mariano Rivera
is a significant accomplishment.
The Mets had four in a row reach base safely, including one via error, after Rivera got the first two outs in the ninth.
Opponents were 6-for-37 with one walk when faced with a two-out situation versus Rivera prior to Sunday's outburst.
3--
The Mets now have five walk-off wins against the Yankees. Sunday's came seven years to the day of one of the wackiest -- a 10-9 win that ended when
Kazuo Matsui
beat
Tanyon Sturtze's
throw home on a dribbler to the right of the mound by
Shane Spencer
.
4--
Jason Bay's
walk-off hit was the first game-ending hit by a Mets player this season. (They previously had won in walk-off fashion on a
Justin Turner
hit by pitch.) By calendar date, this is the second-latest the Mets have earned their first walk-off hit in a season.
The latest came in the strike-shortened season of 1981, when the Mets did not produce their first walk-off hit until current first base coach
Mookie Wilson's
game-winning homer against the Cardinals on Sept. 20.
5--
Speaking of anniversaries, the win came on the 25th anniversary of one of the most memorable wins for the 1986 Mets, also a come-from-behind walk-off triumph.
The Mets beat the Astros in 10 innings that day, 6-5, rallying from a 5-3 deficit in the 10th inning.
Darryl Strawberry
tied the game with a two-run home run off Astros reliever
Frank Dipino
. Two outs later,
Ray Knight
-- who had struck out in four straight plate appearances -- homered to win.
June, 29, 2011
6/29/11
10:00
AM ET
By
Mark Simon
| ESPNNewYork.com
There's a lot of baseball clutter in this statistician/historian's brain, and sometimes it can feel like it's just too much information for the mind to handle.
The Elias Sports Bureau tells us that the last time that both of those teams won games by at least 10 runs in the same day was on July 27, 1985.
That date may not be remembered as one of the
best
in New York sports history, but it's one of the most interesting, and the interest lies in the story of the Mets' half of this pair of baseball blowouts.
That day, a 10-year-old boy and his father sat eight or so rows behind the Astros dugout for the doubleheader between the Mets and Houston. By game's end, the boy was asking his father: How could such a thing have happened?
He wasn't referring to the Mets fans harsh treatment of the Astros debuting starting pitcher in the nightcap,
Charlie Kerfeld
, a portly fellow who resembled
John Candy
, and who would later best be known for giving up
Gary Carter's
game-winning hit in Game 5 of the 1986 NLCS. Kerfeld walked seven Mets in 3 1/3 innings and lost Game 2, 7-3.
Nor was he referring to the out-of-town scoreboard, which flashed a score of
Yankees 14, Rangers 2
by the end of the night -- a tough defeat for Rangers rookie manager
Bobby Valentine
, whose team yielded five home runs to the Bronx Bombers.
What the scorebook-touting youngster (the writer of this piece) wanted to know was if he was correct in his calculation that the Mets, in their Game 1, 16-4 rout of the Astros, had scored 16 runs,
with all 16 runs being unearned
. It was one of the first major statistical discoveries he made in a lifetime filled with many.
I've since gotten validation on this note many times from our colleagues at Elias. It's true every time. That day, still historic 26 years later, was one that would fit last week's list of unique Mets occurrences.
The short version of how the Mets did this is that the Astros made five errors, including three combined in the seventh and eighth innings, during which the Mets scored six runs apiece. The big hits included a three-run home run by ex-Astros third baseman
Ray Knight
and a pair of RBI doubles by Carter.
How
often
does a team score 16 runs, all unearned? Turns out it's equally as difficult as going 299 games without a grand slam, and then hitting two in the same game, which the 2011 Mets did on Tuesday night. Both have happened just once in major league history.
Mark Simon is ESPN's Baseball Research Specialist, who oversees baseball content for the Stats & Information Group. He writes about Mets history each week in his "Remember When We Met" posts.